With fall comes cooler weather and, of course, football. Whether you are a big fan of college football, the NFL, or just enjoy watching your favorite sport, enjoying a variety of snacks and foods during the big game is a big part of the game day experience. From grilled recipes to cook at your next tailgate to crockpot dips and desserts, here are a list of some of the best recipes to make for game day.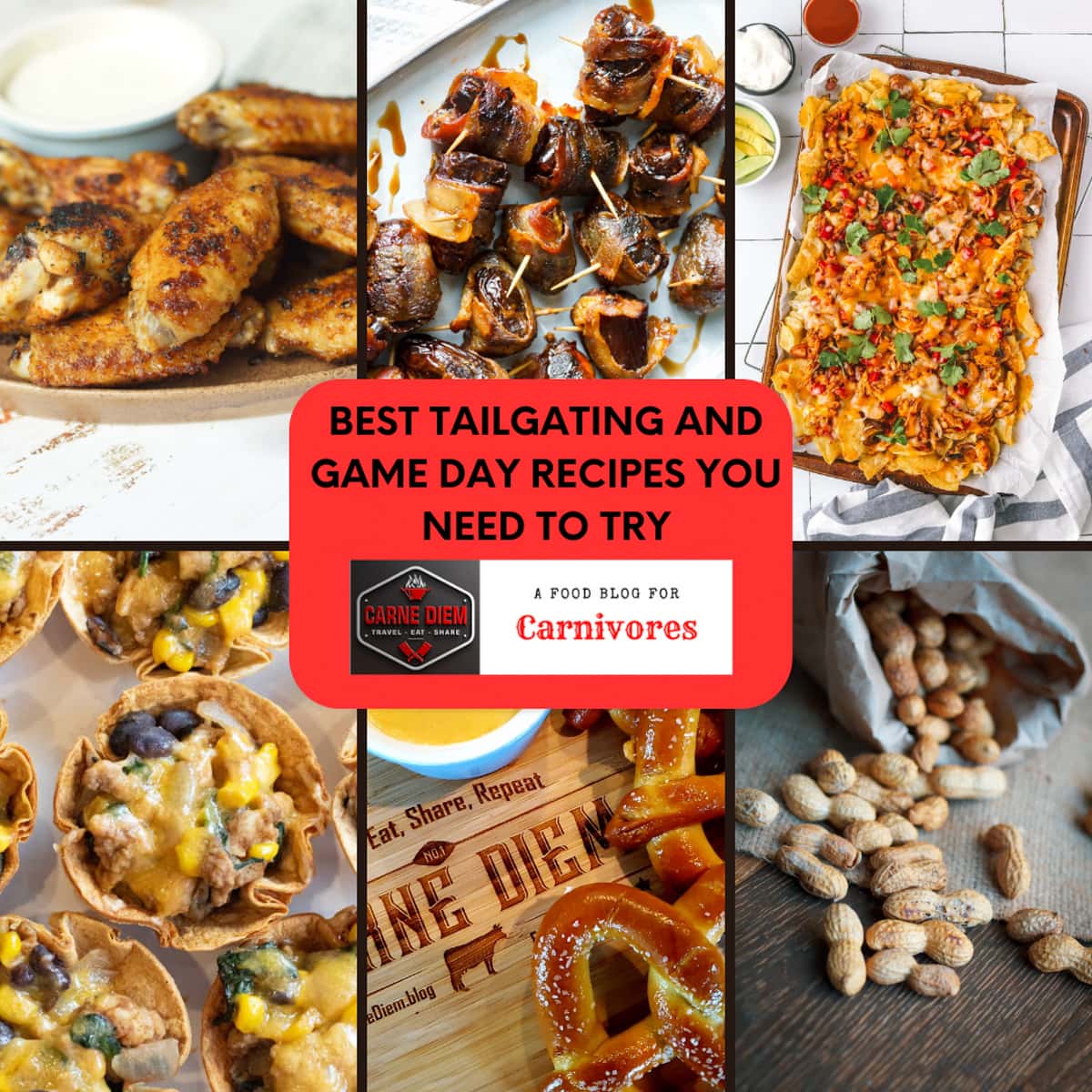 Best Tailgate Recipes to Make on Your Grill or Smoker
Living in Kansas City, tailgating is a big part of our sports culture. Here are some of our favorite foods to grill at your next tailgate. From simple appetizers to grilled meats, these grilled foods are sure to impress your guests.
Everything is better with bacon and these bacon wrapped pickles are sure to impress your guests. Served with a garlic dip, this game day appetizer can be prepped ahead of time and finished on the grill at your tailgate.
Vegetarians love sports too. Keep them happy with these smoky grilled cauliflower bites that make for a great appetizer for the big game.
You don't have to be a Chief's fan to enjoy these grilled pork tomahawk chops. These marinated pork chops are grilled and beer braised until fall apart tender.
These quesadillas are stuffed with all of your favorite burger toppings and then can be finished on your grill or a Blackstone.
Don't bring plain old hotdogs to game day. Impress your guests with these bacon wrapped hotdogs that are loaded with Tex-Mex flavor.
Always a tailgating classic food, these beer brats are the king of encased meats.
Step outside the box at your next tailgate or football game watch party with these New Orlean's inspired chargrilled oysters.
Cheese stuffed jalapeno peppers are wrapped in sausage and bacon and then grilled to perfection before being glazed with a tangy BBQ sauce in what might be the perfect game day food.
This quick and easy appetizer is perfect for enjoying before the game or as part of your tailgate party spread.
Making flatbread pizza on your grill is a great way to take your tailgating food to the next level.
Stuffed with cheese, meat, or nuts, these grilled bacon wrapped dates are the perfect finger food at your Super Bowl party or tailgate.
Another perfect recipe to make on a Blackstone at your tailgate party, these crispy wonton tacos are filled with seared ahi tuna and a spicy wasabi sauce.
Best Chicken Wing Recipes for Game Day
Few foods are more iconic to watching than sports than chicken wings. From spicy traditional buffalo wings to Asian or Italian inspired wings, party wings are always a must for the big game.
All of the flavor without the mess. These smoked dry rubbed chicken wings are perfect from preseason to the Super Bowl.
These Asian inspired wings can be grilled at home or at the game and then are finished with a tangy teriyaki sauce.
These fried wings are another quick recipe your can cook up and enjoy while watching the big game.
Grab some extra napkins and dig in because you won't be able to stop eating these Italian inspired party wings.
Step outside the box with these Thai inspired wings with a spicy peanut sauce.
Be the Star or Your Big Game Watch Party with these Nacho Recipes
Nachos are another game day staple, but that does not mean that you have to be stuck with stale chips and sad nacho cheese sauce. These epic nacho recipes are sure to impress your guests.
Crunchy wonton chips are topped with juicy pulled beef short ribs in this Asian inspired nacho recipe that is perfect for watching the big game.
Inspired by the Taco Bell nachos, these sheet pan nachos are a quick and easy nacho recipe for enjoying on game day.
Tortilla chips are swapped out for Cajun fried potato slices in this Tex Mex version of Irish nachos.
Sheet pan nachos are a great way to make an epic appetizer for Game Day. These kettle chip nachos are topped with flavorful barbeque chicken.
These game day nachos are made with crunchy wonton chips and topped with Cajun grilled chicken, chorizo, and a rich and creamy Asiago cheese sauce.
Best Game Day Snack and Finger Food Recipes
Every game day food spreads need a variety of small snacks and finger foods. When it comes to snacking while watching the game, variety is the spice of life. From football themed pretzels to fried finger foods, these are some of our go to recipes to make while watching your favorite sports team.
Few snacks are more iconic to sporting events than salted peanuts. These roasted peanuts are smoked in the shell and ready for game day.
These Asian inspired fried wontons are filled with sausage, ginger, and water chestnuts. The make for a great game day recipe to make for your friends.
Football inspired snacks are always a hit and these chocolate dipped pretzels are a fun and easy snack to have during the game.
Enjoy the game while eating these tasty lettuce wraps filled seasoned turkey and taco fillings.
Extra buffalo chicken dip? Try these crispy fried wontons filled with spicy buffalo chicken dip.
Like a charcuterie board on a stick, these handheld snacks are a perfect addition to your tailgate party.
Get ready for SEC football with these Southern inspired fried sausage balls. Dip in a spicy remoulade sauce or enjoy on their own.
Quick and easy recipes are always a plus when making food for a crowd. These caprese sliders are a great sandwich option to have at your tailgate party.
Barbeque meets Asian cuisine in these pulled pork lumpia. Fried and crispy, they will be the All-Star of your sporting watch party.
Ready in under 10 minutes these sweet pepper appetizers are ready for the big game so you don't miss a minute of the action.
Jalapenos, BBQ brisket and bacon!?! Sign me up. This may be the champion of game day recipes and appetizers.
Epic Dips for your Game Day Tailgate
Cheese dip, taco dip, layered dips. Dip recipes for tailgating at the game or watching the game on tv with friends are a must. These homemade dip recipes are Super Bowl worthy appetizers to share during your favorite sporting event. Get the crock pot ready because these game day dips are sure to impress.
This vegetarian party dip if perfect for dipping chips or veggies in during the big game.
Spicy jalapeno dip will be a grand slam hit with the guests at your tailgate party home watch party.
Gluten free and vegetarian friendly, this Deviled egg inspired dip will keep everyone at your tailgate happy.
Smoked queso was a Tik Tok sensation last year and it still makes for a fun and tasty party dip for tailgating.
Filled with taco meat, salsa, cream cheese, and queso this warm taco dip will be the talk of your Super Bowl party or whatever event you are watching.
Heat up your crock pot and your belly with this spicy buffalo chicken dip made with Tabasco hot sauce.
This 7-layer dip is coming in hot and ready for all of your party guests to enjoy.
Make it ahead of time and serve it warm or cold. This Southern favorite is loaded with bacon and ready for the big game.
This Mediterranean dip with whipped feta cheese and Sumac can be prepared ahead of time so it is ready for your guests and the big game.
Fall means Oktoberfest and football, and this smoked beer cheese dip is perfect for both occasions.
Prepare this spicy hummus ahead of time then finish on your grill or smoker at your tailgate or party.
This simple crock pot dip only takes minutes and is the perfect dip for game day.
A classic party food, this fresh guacamole should be in your regular game day rotation.
Best Game Day Dessert Recipes
Even rapid sports fans have a sweet tooth. Here are a few of the best sweets to bring to your sports watch party or tailgate.
This fun and festive chocolate bark is a great sweet treat to serve to your guests while watching the game.
This fruit dessert is great for throwing on the grill at your tailgate and will keep the festivities going with its boozy Amaretto whipped cream.
Whip up these sweet finger foods for the game. Bet you can't eat just one.
Make this decadent dessert for your tailgate party or watch party and wait for the compliments.
Looking for more great recipe collections? Check out some of our other round ups of the best recipes you need to be making.
Thank you for taking the time to visit our blog. If you tried and enjoyed our recipe please share with others and please leave us a comment and review. We also love to see your pics so don't forget to tag us @Carne_Diem_Culinary or #CarneDiemBlog. To be notified of future recipes please follow us on Facebook, Instagram, or Pinterest, or sign up for our e-mail notifications. Until next time, Carne Diem!