Last Updated on October 4, 2023 by Carne Diem
Origin: American South, North American
Method: Smoker
Jump to Recipe
Pimento cheese is a staple of the American South that actually has its basis in New York City and the creation of American Cream cheese. Over the years, as pimento farming became more popular in the South, this cheese spread gained popularity. Over the years, what started as a cream cheese and pimento brick cheese developed into the pimento cheese we recognize today, which includes a shredded hard cheese, such as cheddar, and mayonnaise.
For our Smoked Bacon Pimento Cheese, we use a mixture of cheddar and gouda, along with diced bacon, before smoking the pimento cheese. This pimento cheese recipe is super easy to make and a fun appetizer to make on your grill or smoker.
How do you make homemade pimento cheese?
To make the smoked bacon pimento cheese you will need cheddar cheese, gouda, diced pimentos, mayonnaise, cream cheese, bacon, salt, garlic powder, and cayenne pepper.
For an even better version of this smoked pimento cheese with bacon, try switching out the mayonnaise for some bacon aioli. This is the same great aioli used in our Jalapeno Coleslaw With Bacon Aioli and adds a great depth of flavor to any dish that would normally call for mayonnaise. If you have made our Scratch Aioli, that also works as a great substitution here as well.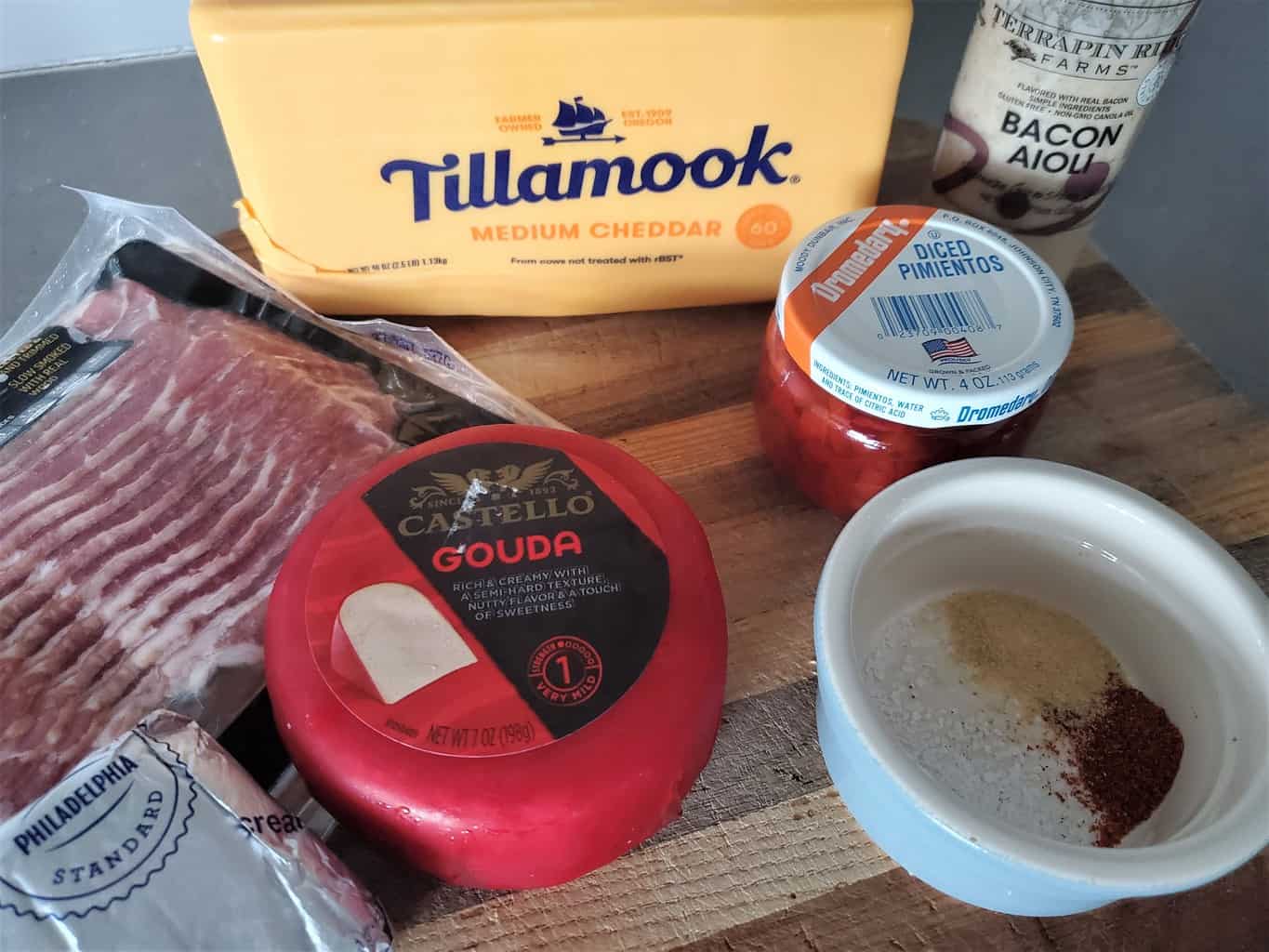 Shred the gouda and cheddar into a bowl, or use a food processor to make short work of it. While you can use pre-shredded cheese, pre-shredded cheese uses anticaking agents, so we prefer to use block cheese in this recipe.
Next, drain and rinse the pimento peppers. If they are not already diced, then dice them and add them to the bowl with the shredded cheese
Add the softened cream cheese, mayonnaise and spices to the bowl and stir to combine.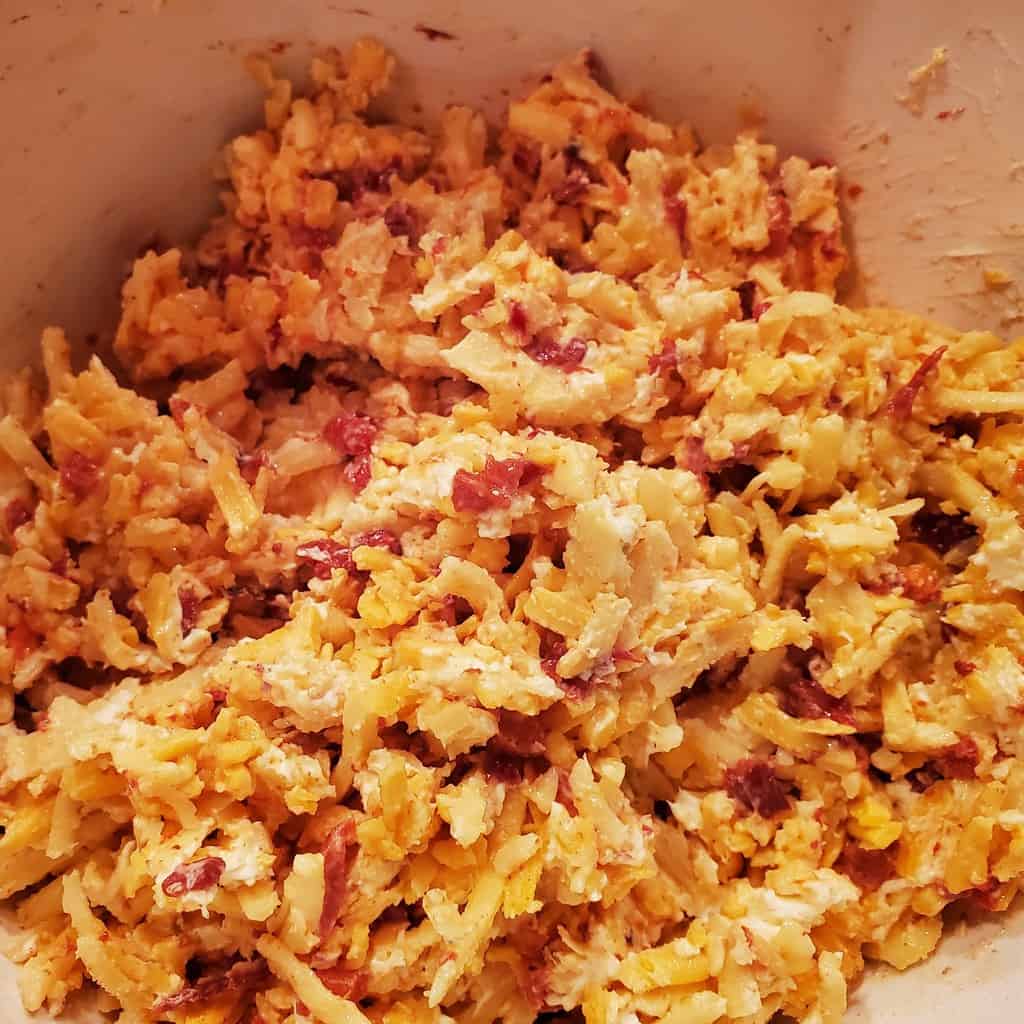 Fry the 3 slices of bacon then allow to cool and finely dice it. Add to the bowl with the pimento cheese and stir to combine.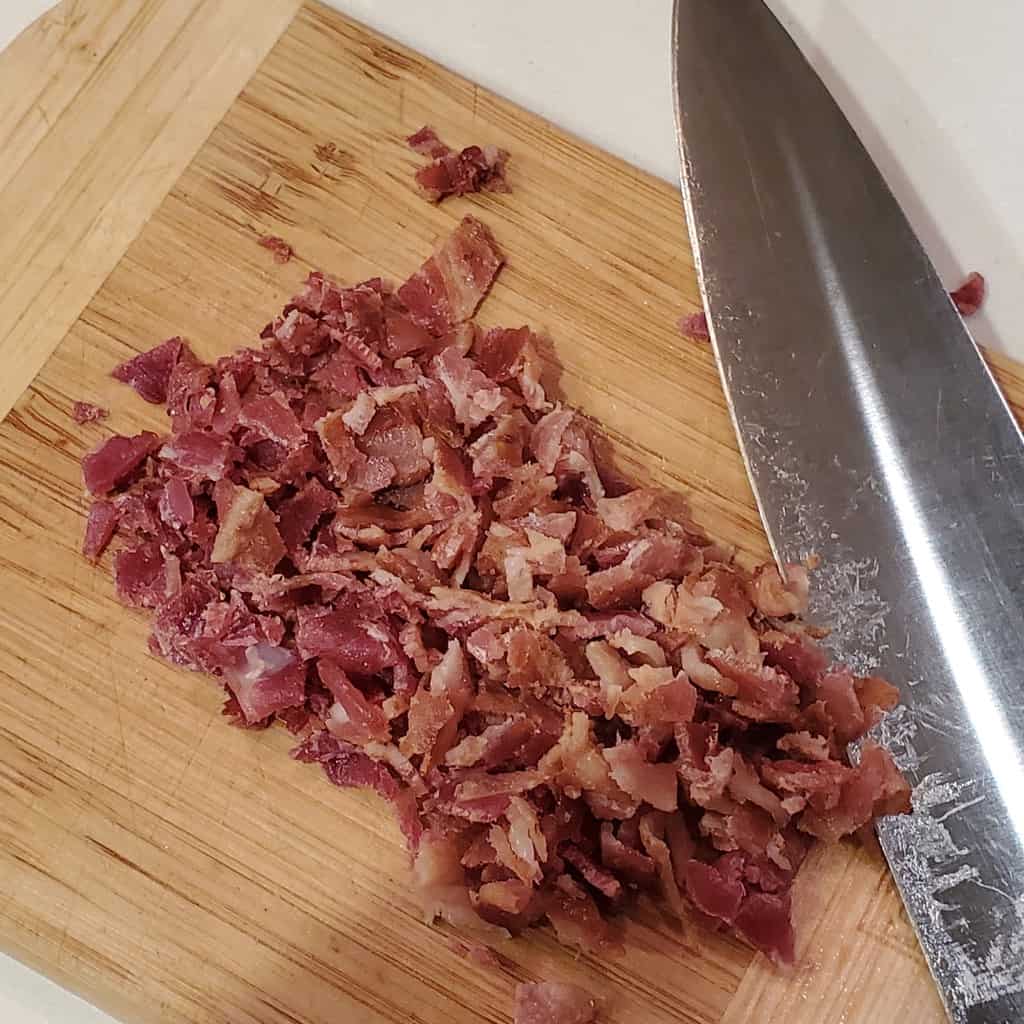 At this point you can eat the bacon pimento cheese as is or refrigerate it until you are ready to smoke it.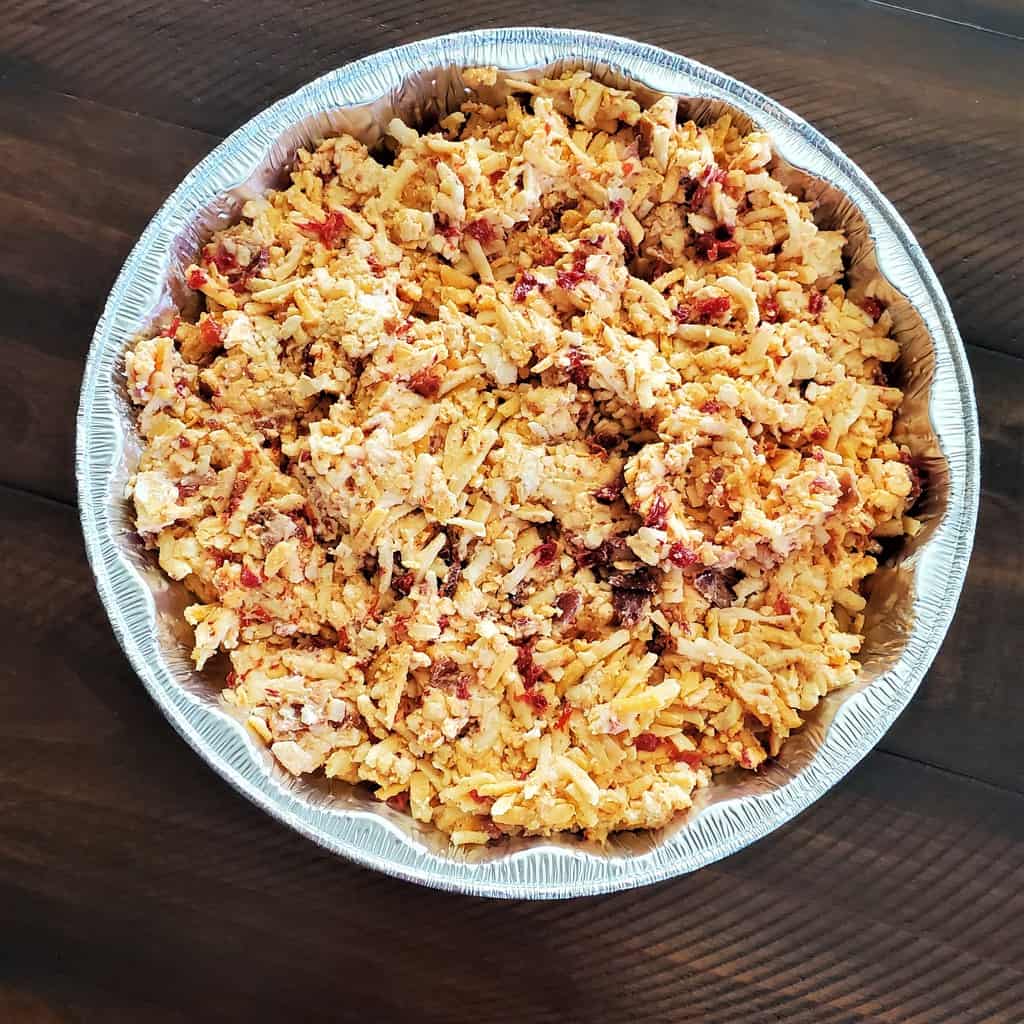 Cooking the Smoked Bacon Pimento Cheese
To smoke the pimento cheese, heat your smoker to 200 degrees. We find it easiest to smoke the cheese in a foil pie pan.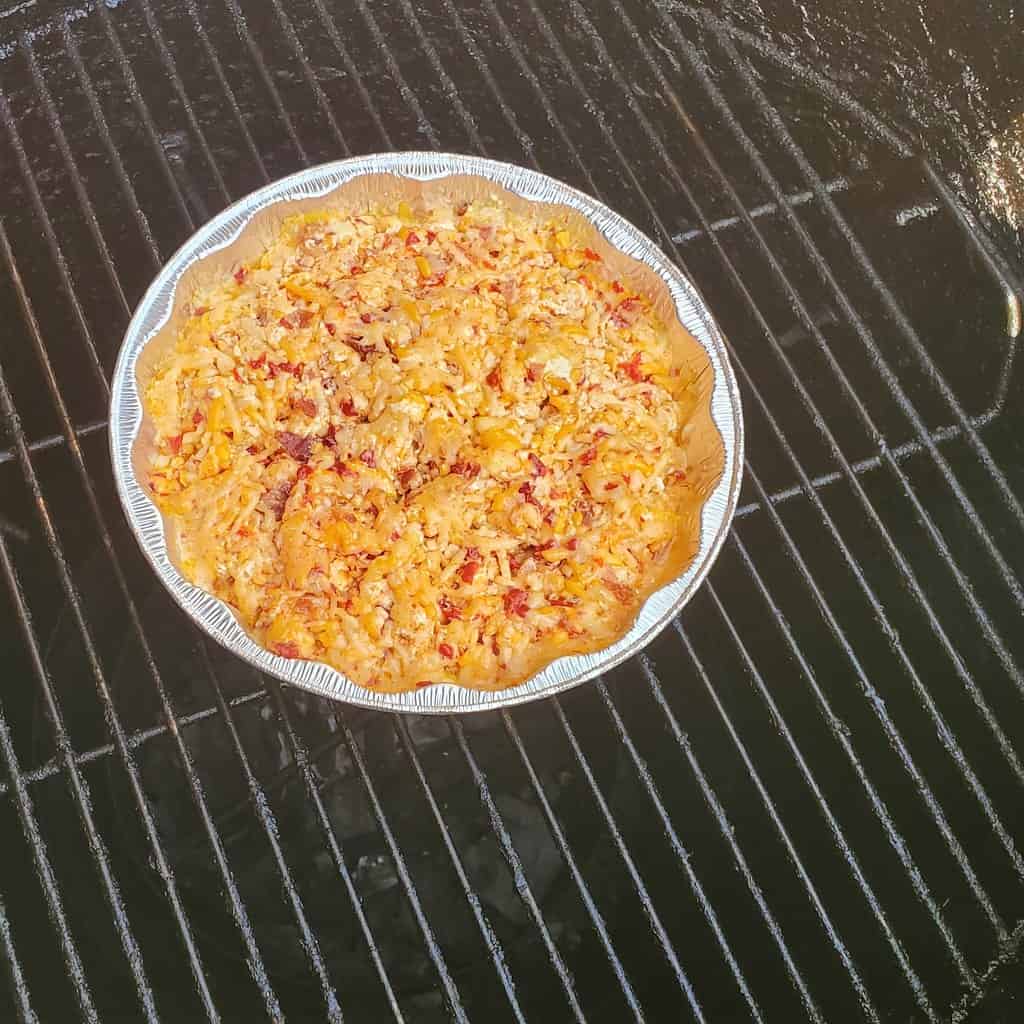 We cooked this batch on our Gateway Drum Smoker but you can make some killer smoked pimento cheese dip on a pellet smoker or ceramic smoker like a Big Green Egg, or whatever smoker you prefer.
Serving the Smoked Bacon Pimento Cheese
After about 45 minutes on the smoker, you should have a nice melty smoked pimento cheese dip. Eating the dip warm with some crackers and veggies is one of our favorite ways of enjoying this smoked pimento recipe.
If you prefer to eat your pimento cheese chilled, then refrigerate overnight. At this point you can remove the cheese to a cutting board and finely chop the cheese. If you prefer a more traditional shredded cheese texture for your pimento cheese, then put the cheese in the freezer for about an hour to harden it a bit, then shred into a bowl.
For more great dips and appetizers to make on your grill of smoker be sure to try our Cast Iron Spinach Artichoke Dip, Smoked Taco Dip, and Smoked German Beer Cheese Sauce, or Wood Fire Pizza Dip.
Other Uses for Pimento Cheese
While it is uncommon for us to have leftovers of our smoky pimento cheese, when we do we love to use it for some killer pimento grilled cheese sandwiches and pimento cheese stuffed jalapeno poppers. It also works great as a base for some creamy bacon mac and cheese.
Frequently Asked Questions
What cheese is typically used to make pimento cheese?
Southern pimento cheese is typically made with cheddar cheese. Some classic versions are made with cream cheese.
Why is the top of my smoked cheese dip oily?
Some cheeses, such as cheddar contain high levels of oil which can separate during cooking. If this occurs, stir the smoked cheese dip well, to reconstitute the oil, prior to serving.
How long will homemade pimento cheese last?
While it may keep longer, we recommend using the homemade pimento cheese within 2 weeks of making it. The cheese should be stored, covered, in the refrigerator.
Thank you for taking the time to visit our blog. If you tried and enjoyed our recipe, please share with others and please leave us a comment and review. We also love to see your pics so don't forget to tag us @Carne_Diem_Culinary or #CarneDiemBlog. To be notified of future recipes please follow us on Facebook, Instagram, or Pinterest, or sign up for our e-mail notifications. Until next time, Carne Diem!
📖 Recipe
Smoked Bacon Pimento Cheese
Pimento cheese is a staple of the American South. In this version we combine shredded cheddar and gouda cheese with diced bacon, cream cheese, and mayonnaise before smoking the pimento cheese dip on our smoker.
Ingredients  
6

ounces

Cheddar Cheese

shredded

7

ounces

Gouda

shredded

¼

cup

Mayonnaise

3

slices

Bacon

cooked and chopped

4

ounce

Pimento Peppers

diced

4

ounces

Cream Cheese

softened

½

teaspoon

Salt

½

teaspoon

Garlic Powder

¼

teaspoon

Cayenne Pepper
Instructions 
In a bowl combine the shredded cheeses, softened cream cheese, mayonnaise and spices.

Drain and rinse the diced pimentos and add them to the bowl.

Fry up the 3 slices of bacon then finely chop and add to the bowl. Mix well to combine.

Spread the pimento cheese in a 9-inch foil pie dish and preheat your smoker to 200 degrees.

Smoke the bacon pimento cheese for 45 minutes, until warm and melted.

Serve warm with crackers and veggies or refrigerate overnight then chop or re-shred the cheese. (If shredding, it may help to place the cheese in the freezer for about 1 hour to help firm up the cheese.)
Nutrition
Calories:
623
kcal
Carbohydrates:
6
g
Protein:
27
g
Fat:
55
g
Saturated Fat:
26
g
Polyunsaturated Fat:
9
g
Monounsaturated Fat:
15
g
Trans Fat:
1
g
Cholesterol:
144
mg
Sodium:
1267
mg
Potassium:
227
mg
Fiber:
1
g
Sugar:
3
g
Vitamin A:
1906
IU
Vitamin C:
30
mg
Calcium:
680
mg
Iron:
1
mg