Last Updated on November 20, 2023 by Carne Diem
Method: Smoker, or Oven
Jump to Recipe
This hot taco dip is layered with cream cheese, salsa, seasoned ground beef, queso, and a Mexican cheese blend. This hot taco dip has been one of our most popular Game Day Appetizers for tailgates and watch parties.
We have been making some version of this Smoked Taco Dip for years. My siblings and I grew up eating the original version of this 5-layer taco dip at pretty much every Super Bowl Party or family get together of our entire childhood. As I grew older it was one of the first appetizers that I learned to make when I got together with college buddies to watch a game or for an easy tailgate food. Over the years I have made few changes to my mom's original recipe including this version where we make the zesty taco dip on a smoker, but it still remains an easy family favorite dip recipe.
Making the Smoked Taco Dip
Ingredients for the warm taco dip
To make this layered hot smoked taco dip you will need hamburger, cream cheese, salsa, taco seasoning, queso, and shredded cheese.
Hamburger- You will need one pound of hamburger for the hot ground beef taco dip. We typically use 80:20 ground beef for the taco dip recipe, but you can use a leaner meat if you choose.
Cream Cheese- You will need 16 ounces of cream cheese for the smoked taco dip. We use fall fat, but you can use a reduced fat cream cheese if you choose.
Salsa- To make the 5-layer taco dip choose your favorite salsa. This is the layer where you can best adjust the spice level of the dip. Use a hot salsa for a spicier version, or mild salsa for a more family friendly appetizer. You will need about 2 cups of salsas for this recipe.
Taco Seasoning- You will need 1 packet of taco seasoning, or about 3 tablespoons of your favorite taco seasoning to season the ground beef. We like McCormick taco seasoning or we make a homemade seasoning.
Cheese Dip or Queso- You will need about 1 cup of your favorite cheese dip or queso for the hot taco dip. You can use jarred cheese dip, or Mexican style queso also makes a great choice.
Shredded Cheese- Finally, you will need to top the layered taco dip with 8 ounces shredded cheese. We typically use a combination of Colby, Cheddar, or Pepper Jack Cheese, but you can use your favorite.
The great thing about this hot taco dip recipe is that it is completely customizable. Feel free to adjust ingredients or ratios.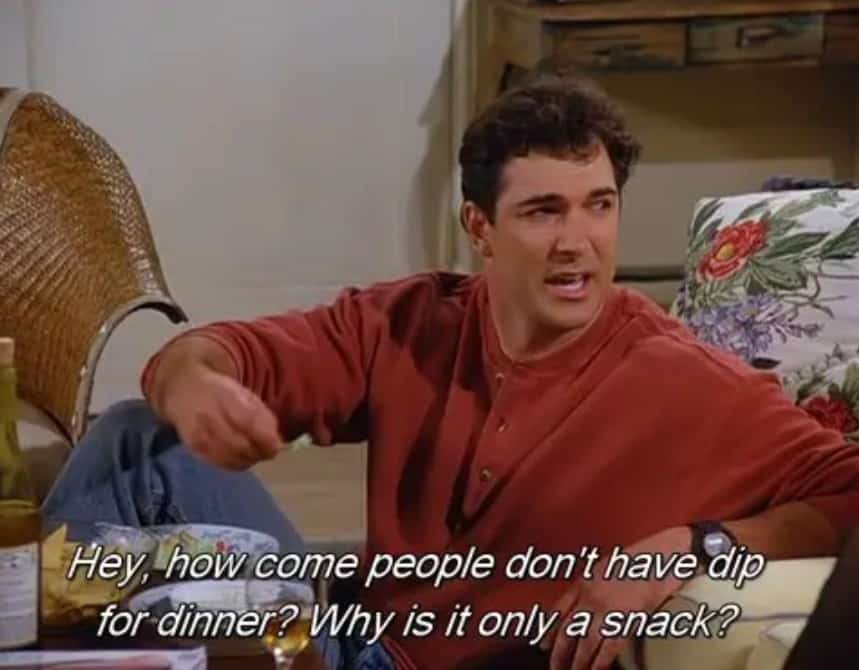 Cook and season the taco meat
Heat a pan or skillet over medium heat and then brown the ground beef. Add the taco seasoning to the meat and follow and package direction as far as water or broth than needs to be added. If you are using our homemade taco seasoning add 3 tablespoons of seasoning along with ¾ a cup of water and then simmer for 15 minutes. After 15 minutes, remove from the heat.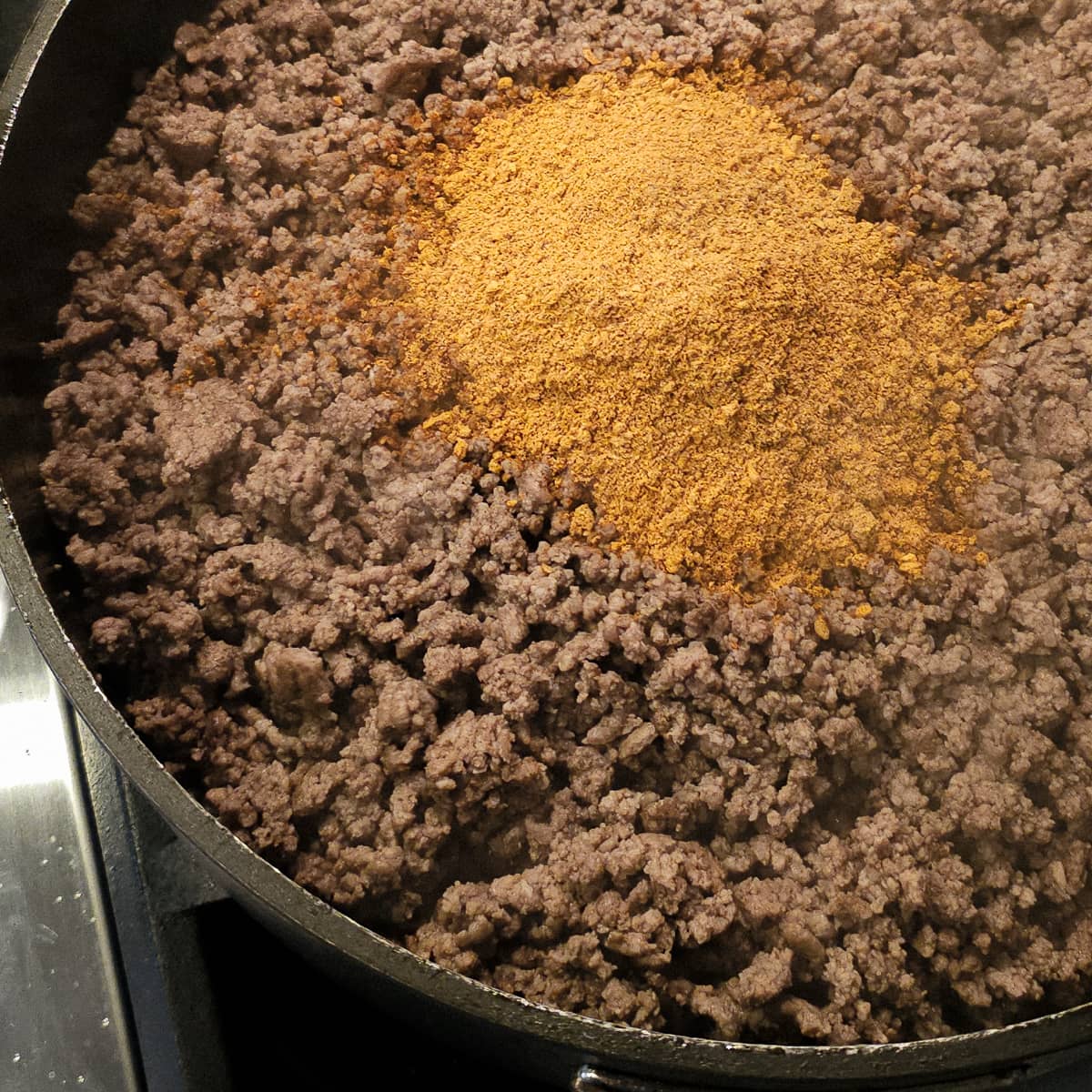 Layering the 5-layer taco dip
First, spread the cream cheese along the bottom of a 9x13 baking pan or foil pan or use a cast iron pan. Use a foil pan or cast-iron pan if you plan on smoking the taco dip unless you have a very understanding spouse or you plan on cleaning the dirty baking dish that you just mucked up on the smoker.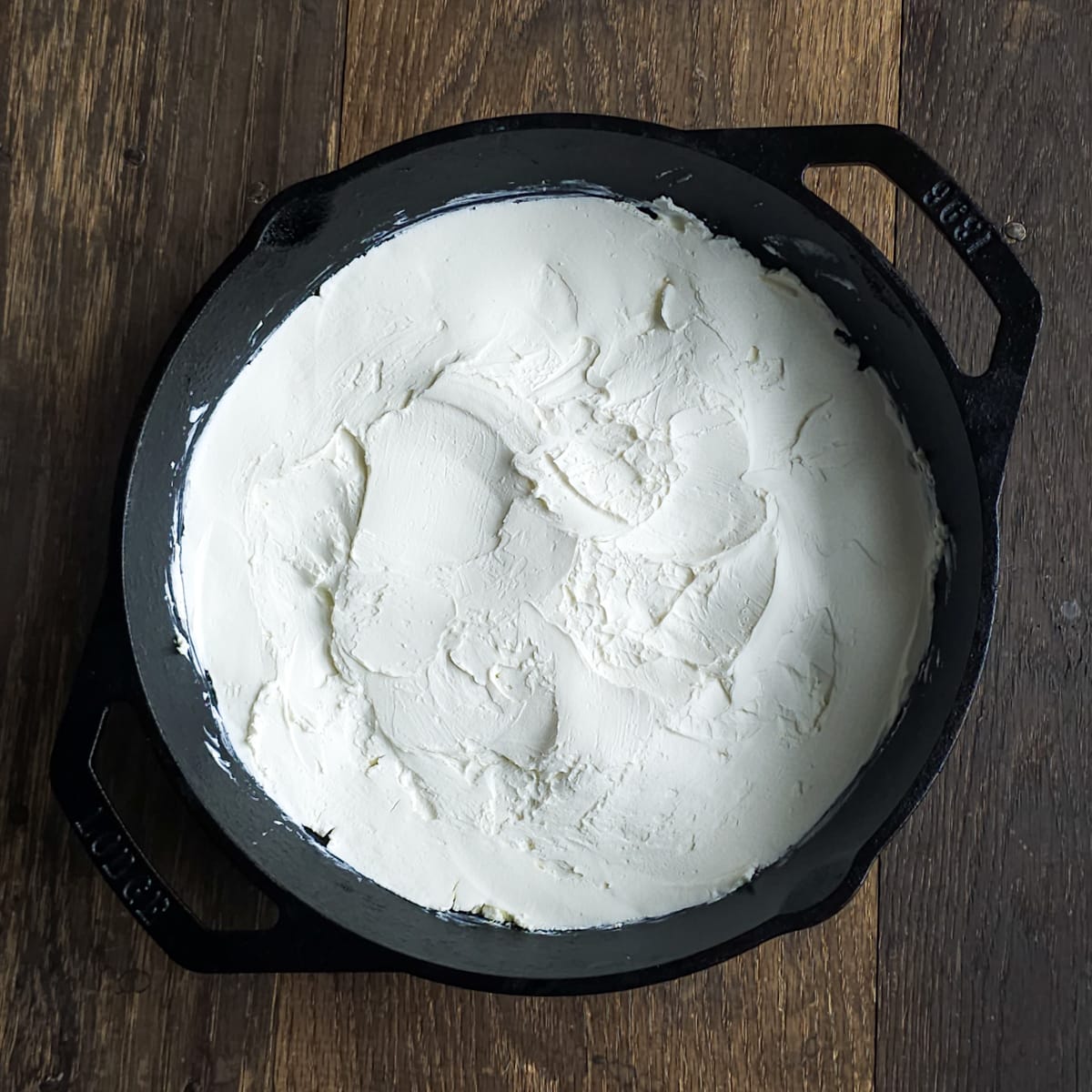 Follow the cream cheese layer with a layer of the queso or cheese dip and then top that with your favorite salsa. As mentioned, the salsa layer is where you can make this smoked taco dip into a spicy taco dip. Just add some medium or hot salsa. We find chunky style salsa works best for this recipe.
Spread the salsa evenly to completely cover the cheese layers.
Next top the salsa layer of the taco dip with the seasoned and cooked taco meat. Spread the taco meat evenly across the pan.
Finally, top the zesty taco dip with the shredded cheese. Our recipe calls for 8 ounces of shredded cheese but, I can't lie, we often use some extra because who does not love more cheese.
At this point you can freeze the 5-layer taco dip until it is needed. We often make a double batch and eat one right away and freeze the other until our next game day party.
Smoke the ground beef taco dip
After the explosion of popularity with smoked queso over the last few years, we were very excited to see how the hot taco dip that we grew up with would taste cooked on our grill or smoker. We were thrilled with how the Smoked Taco Dip turned out.
To make the hot taco dip on a smoker or grill, preheat your grill or smoker to 300 degrees. For a milder smoke flavor, we make the smoked taco dip on our Yoder pellet smoker. When we want a heavier smoke flavor, we use a wood or charcoal burning smoker like our Big Green Egg or Gateway Drum Smoker. If you have a wood burning smoker but prefer less smoke flavor, then cover the dip with foil halfway through the cook.
Cook the layered taco dip over indirect heat for about 30 minutes, then rotate the pan 180 degrees. Cook for an additional 15 minutes, check the dip, and continue cooking until the cheese is melted and golden brown and the dip is bubbling.
Making a Baked Taco Dip in an Oven
To make this hot layered dip in an oven simply heat the dip in a 350-degree oven, for about 20-30 minutes, or until the shredded cheese is melted and bubbly.
What to Serve with Layered Taco Dip
Serve the dip warm with your favorite tortilla chips. The hot taco dip also goes well with warm pita on slices on naan bread, or even veggies. Our kids also love the leftovers rolled up into flour tortillas for zesty taco dip burritos.
If you are looking for more great Game Day appetizers or Super Bowl recipes then be sure to check out our Buffalo Chicken Wontons, Pub Style Irish Nachos, and Asiago Cream Nachos with Blackened Chicken and Chorizo. For more great dips be sure to try our Cast Iron Spinach Artichoke Dip and Jalapeno-Cilantro Hummus.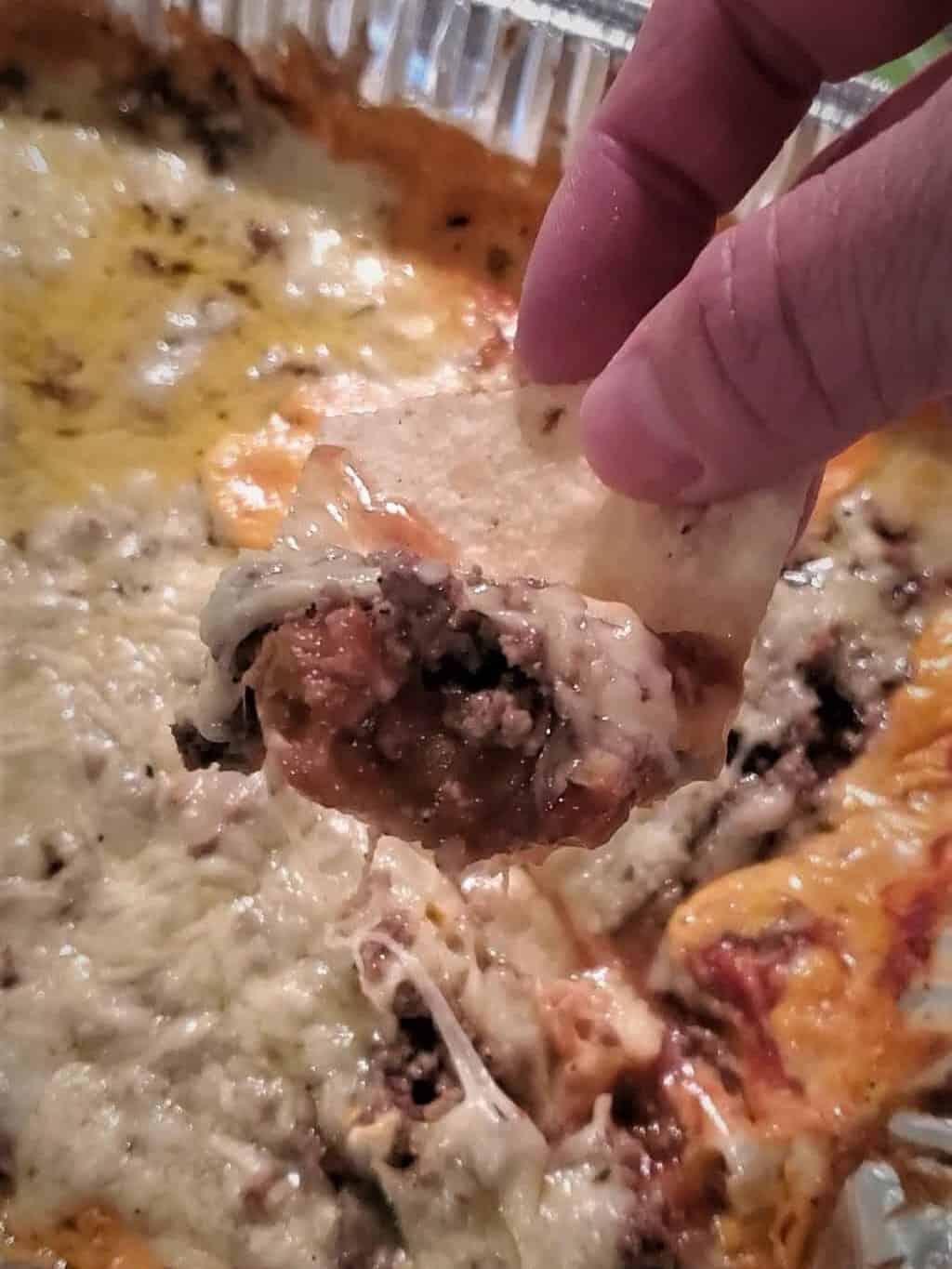 Frequently Asked Questions
Can you freeze the layered taco dip?
Yes, this layered taco dip freezes well and can be made ahead of time. To cook, let the dip thaw in the refrigerator overnight.
What is the best wood for smoking a taco dip?
We find mild woods like fruit woods work well. Pecan is also a good choice for smoking appetizer dips.
What is the best way to reheat the warm taco dip?
The layered taco dip is best reheated in an oven at 300-350 degrees, covered in foil, until warmed back through.
Thank you for taking the time to visit our blog. If you tried and enjoyed our recipe, please share with others and please leave us a comment and review. We also love to see your pics so don't forget to tag us @Carne_Diem_Culinary or #CarneDiemBlog. To be notified of future recipes please follow us on Facebook, Instagram, or Pinterest, or sign up for our e-mail notifications. Until next time, Carne Diem!
📖 Recipe
Smoked Layered Taco Dip
Step up your appetizer game with this Smoked Taco Dip. This hot taco dip recipe with cream cheese and ground beef can be made on your BBQ grill or smoker or just in an oven.
Ingredients  
1

Pound

Hamburger

3

Tablespoon

Favorite Taco Seasoning

1 one packet

16

Ounces

Cream Cheese

1

Cup

Queso or cheese dip

2

Cups

Favorite Salsa

8

Ounces

Shredded Cheese

Colby, cheddar, pepper jack, or combination
Instructions 
Brown the ground beef and then add the taco seasoning and cook per package instructions. Simmer for 15 minutes then remove from the heat.

Spread the softened cream cheese onto the bottom of a 9x13 pan.

Next spread the cup of queso or cheese dip followed by the 2 cups of salsa.

Next layer the seasoned cooked taco meat onto the dip.

Finish the layered dip by topping with the shredded cheese.

Heat your grill or smoker to 300 degrees. Cook the taco dip, over indirect heat, for 30 minutes then rotate 180 degrees. Cook for an additional 15 minutes and then continue to cook until the cheese topping is melted and bubbly.

Enjoy with your favorite tortilla chips.
Nutrition
Calories:
725
kcal
Carbohydrates:
53
g
Protein:
26
g
Fat:
46
g
Saturated Fat:
26
g
Polyunsaturated Fat:
3
g
Monounsaturated Fat:
10
g
Cholesterol:
136
mg
Sodium:
2163
mg
Potassium:
539
mg
Fiber:
3
g
Sugar:
15
g
Vitamin A:
2061
IU
Vitamin C:
3
mg
Calcium:
539
mg
Iron:
3
mg