Last Updated on March 10, 2022 by Carne Diem
Protein:
Method: Stovetop and Oven or Grill/Smoker
Jump to Recipe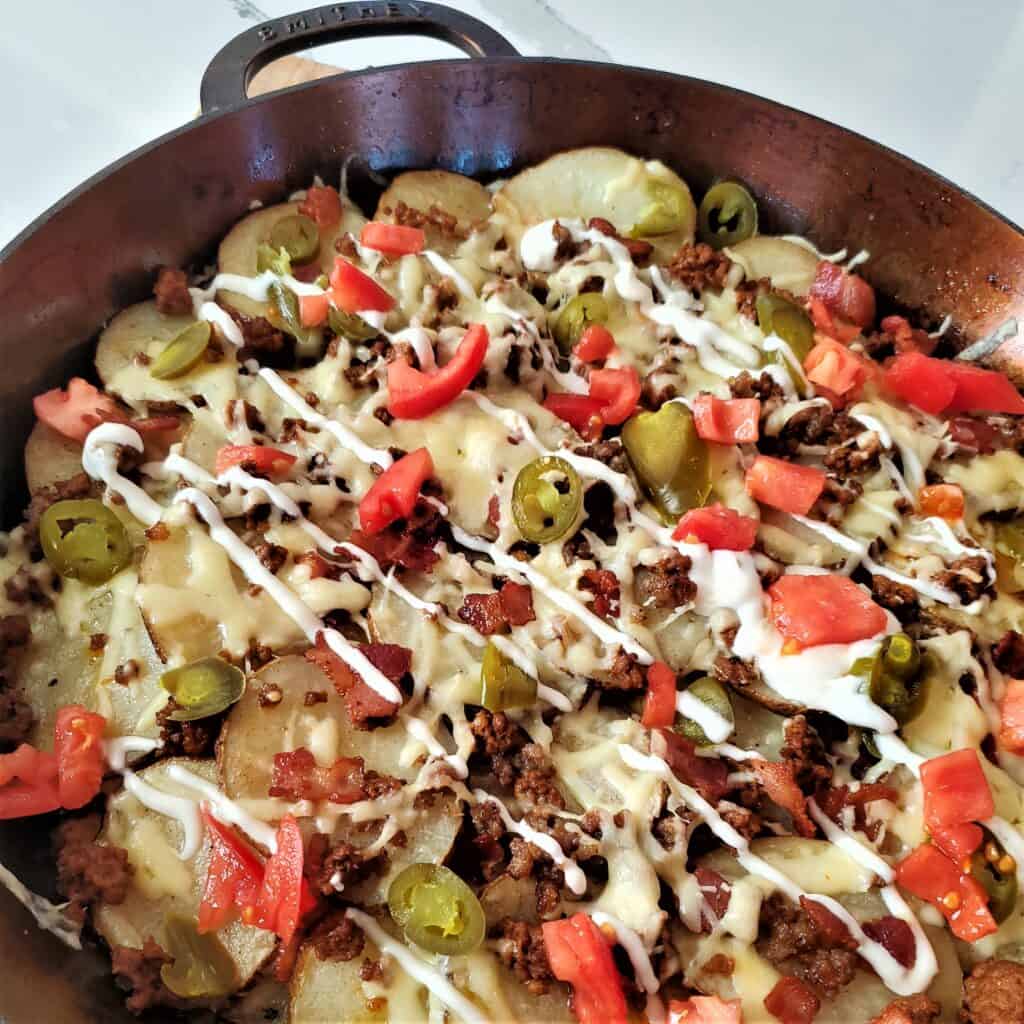 Full disclosure, when you travel to Ireland you will be unlikely to ever find these Pub Style Nachos at any local pub or restaurant. Similar to Corned Beef this is very much an Americanized "Irish" recipe. Regardless, it is still delicious. In our Pub Style Irish Nacho Recipe thinly sliced potatoes are fried and seasoned with a bit of Cajun seasoning. The Irish Nachos are then topped with seasoned taco meat, bacon, tomatoes, jalapenos, and sour cream.
Making the Pub Style Irish Nachos
To make these Irish Potato Nachos you will need 3-4 russet potatoes, Cajun seasoning, 4 slices of bacon, 1-2 cups of cheddar cheese, 1 pound of ground beef, a tomato, 1 jalapeno, sour cream, and your favorite taco seasoning.
Prep the potatoes
First you will need to do a little prep work on the potatoes. Rinse and scrub the potatoes. If desired, you can peel them, but we prefer to leave the skin on. You will want to use large Idaho or Russet potatoes for this recipe.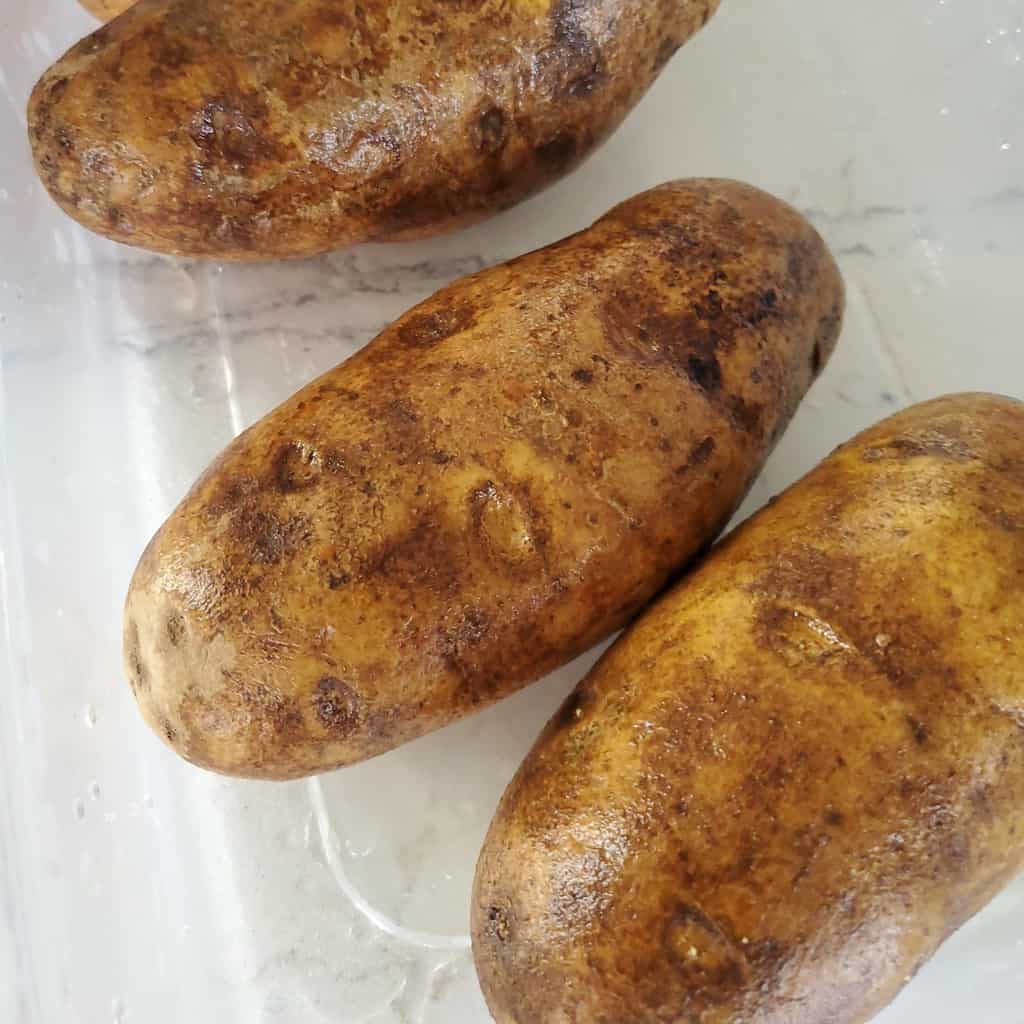 Next thinly slice the potatoes with a knife or a mandoline. We use a Swissmar mandoline, and it has served us well for years. As always take care when using it and always use the cutting guard. We like our slices a little thicker for this recipe so we typically use the thick setting on the slicer.
Next soak the sliced potatoes in some ice water for about 30 minutes. This helps keep the potatoes from discoloring. It also removes some of the excess starch which keeps the potatoes from getting gummy when frying. This is the same method we use in our Always Crispy French Fries. If you do not plan on cooking right away you can place the potatoes in the refrigerator to soak overnight.
When you are ready to cook remove the potatoes from the ice water and rinse under cold water for about a minute. Pat the potato slices dry, then dust them with a little bit of Cajun seasoning. Use your favorite or for a great homemade version check out our recipe for Blackened Chicken a la Mer for our favorite Cajun seasoning recipe. We typically use about a tablespoon of seasoning but you can adjust to taste.
Frying the potatoes
To fry the potatoes heat some oil in a pan or fryer over medium heat, or about 375 degrees. You will want enough oil to fully coat the bottom of your frying pan. Working in batches fry the potatoes until cooked through. This typically takes about 6-8 minutes, and you will want to flip the potato slices half way through. If needed, add more oil between batches and allow the oil to come back up to temp.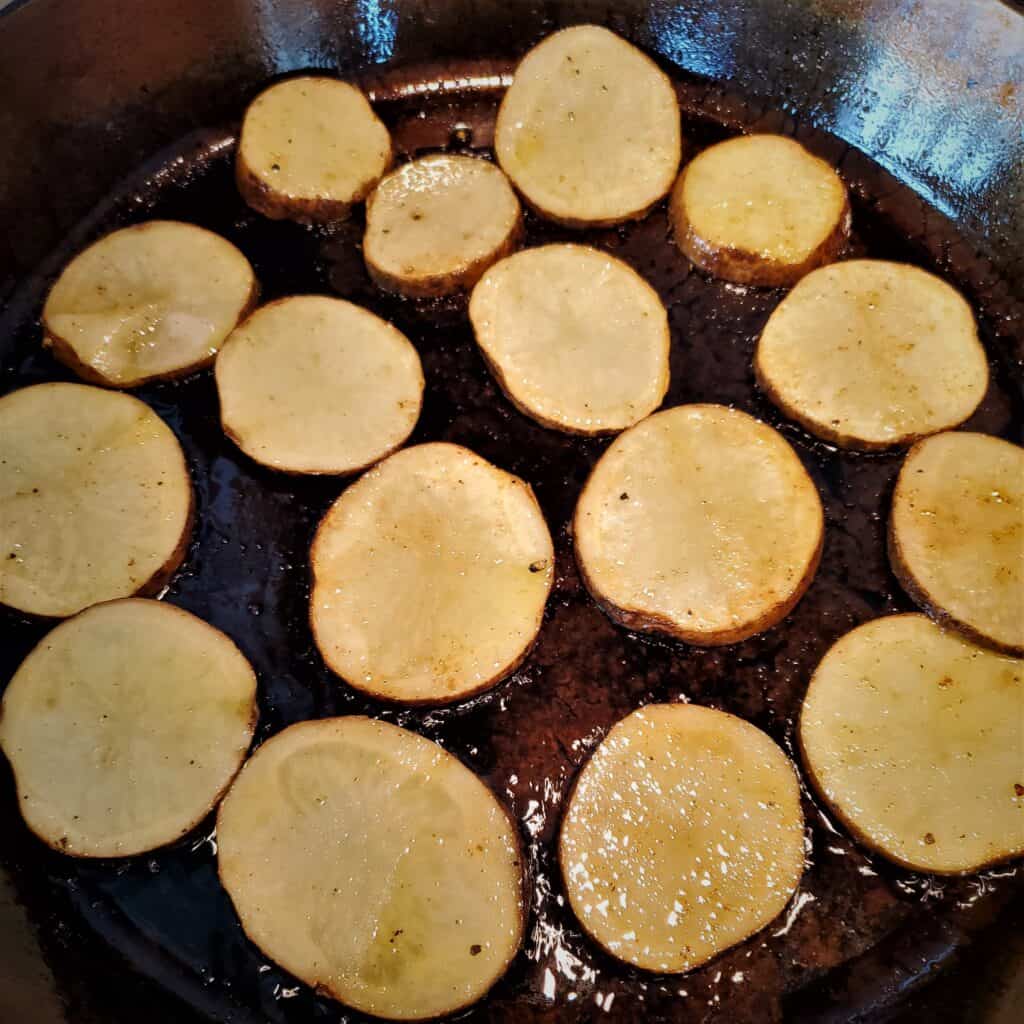 Once they are done cooking, remove the potato slices to a paper towel lined bowl or tray while you prepare the rest of your ingredients.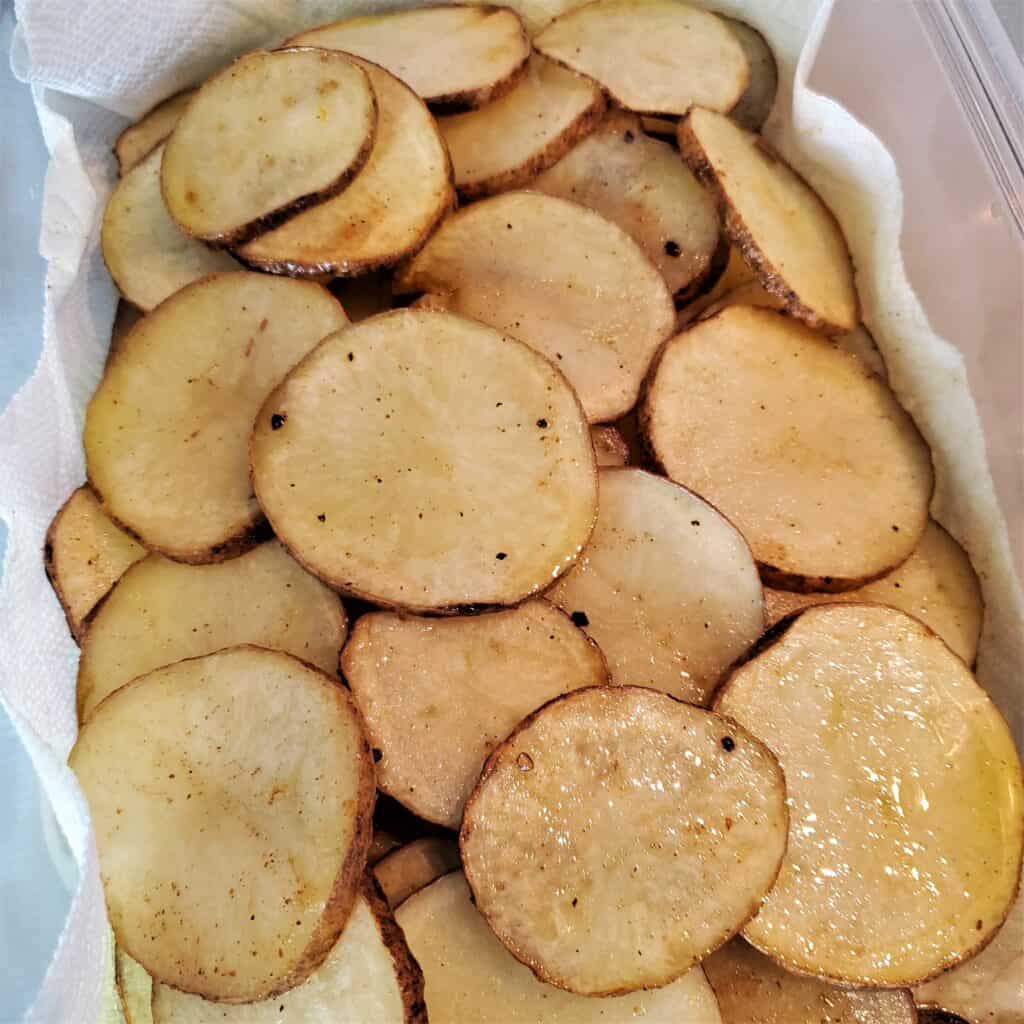 Prepare your taco meat for the Irish Potato Nachos
Now it is time to prepare your taco meat. Brown 1 pound of ground beef and then drain the fat. We typically use 80:20 for this recipe but your can go leaner if you want. Next, mix in 3 tablespoons (1 taco seasoning packet) worth of taco seasoning and ¾ a cup of water. Use your favorite taco seasoning or use our homemade taco seasoning from our Scratch Beef Enchilada or Navajo Taco recipe. Allow the taco meat to simmer for about 15 minutes, until most of the liquid is reduced.
Shred your cheese and prepare any additional toppings
Next, shred about a cup or two of cheese depending on your preference. We like to use a white Irish cheddar for our Pub Style Irish Nachos.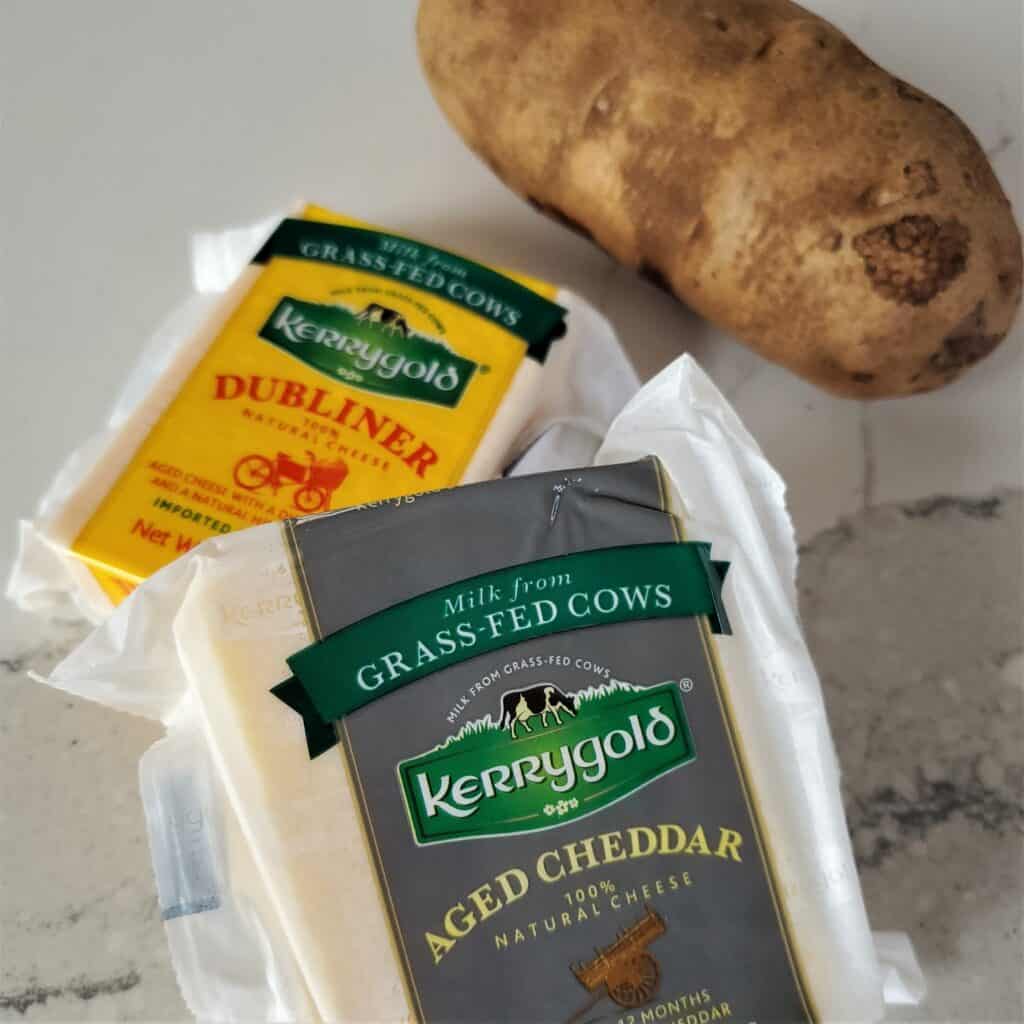 If you are using bacon go ahead and dice it up and fry it to your desired doneness. If using, dice your tomatoes and slice your jalapenos, or you can used jarred pickled jalapenos if you wish.
Finishing the Pub Style Irish Nachos
Arrange the fried potatoes along the bottom of a large cast iron or other oven safe dish. You can double up on the layers if needed or layer the nachos if you have extra potatoes, depending on the size of your pan.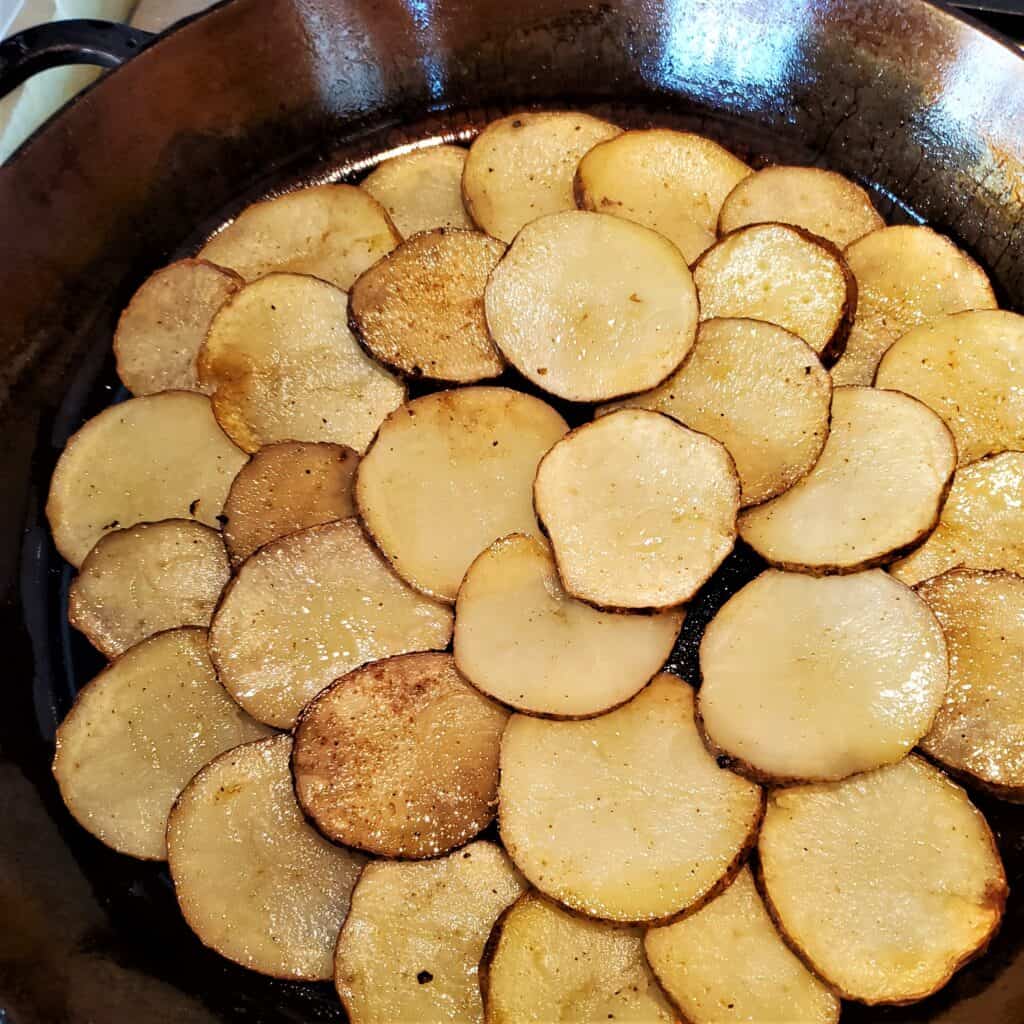 Top the fried potatoes with the taco meat, bacon bits, and shredded cheese. Place in a 425 degree oven and bake for about 20 minutes, or until all of your cheese is melted.
Carefully remove the Irish Potato Nachos from the oven and top with diced tomatoes, jalapenos, and sour cream. Feel free to add any other of your favorite nacho toppings like green onions, olives, or even fresh guacamole. Eat while warm. You will need a fork for this one!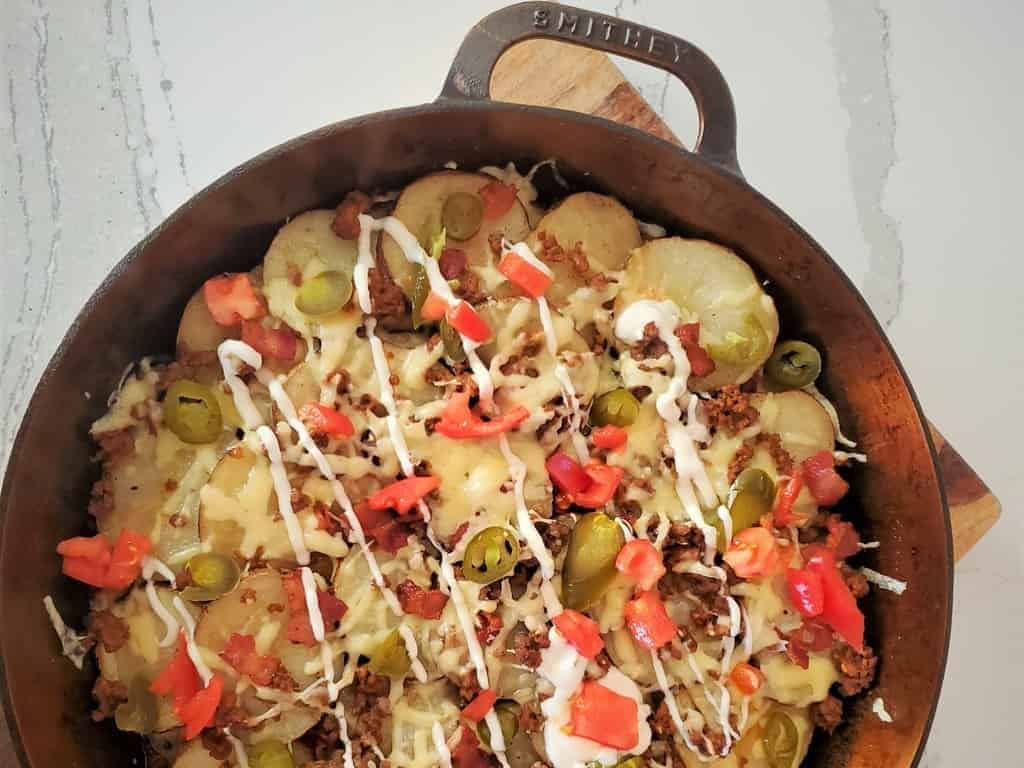 If you have extra potatoes give our Always Crispy French Fries, Peruvian Lomo Saltado: Stir-fried sirloin steak and fries or Smoked Jalapeno Twice Baked Potatoes a try.
For more awesome nachos whip up some Asiago Cream Nachos with Blackened Chicken and Chorizo.
Thank you for taking the time to visit our blog. If you tried and enjoyed our recipe, please share with others and please leave us a comment and review. We also love to see your pics so don't forget to tag us @Carne_Diem_Culinary or #CarneDiemBlog. To be notified of future recipes please follow us on Facebook, Instagram, or Pinterest, or sign up for our e-mail notifications. Until next time, Carne Diem!
📖 Recipe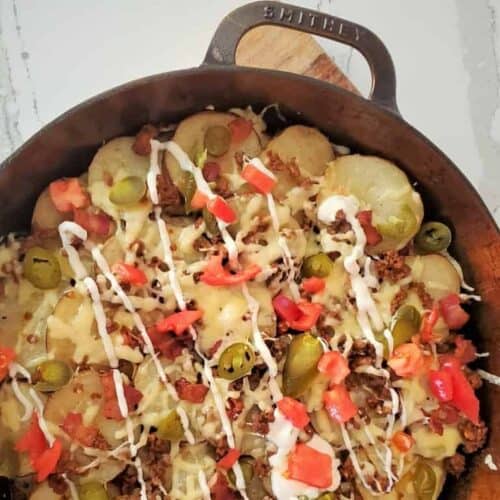 Pub Style Irish Nachos
Our Pub Style Irish Nachos are sure to be a hit. Cajun seasoned and fried potato slices are topped with warm taco meat, melted sharp cheddar cheese, smoky bacon, spicy jalapenos, diced tomatoes and tangy sour cream.
Equipment
1 Cast Iron Pan

or other large oven safe dish
Ingredients  
3

Russet Potatoes

1

Tab

Cajun Seasoning

4

Slices

Bacon

1

Pound

Ground Beef

3

Tab

Taco Seasoning

¾

Cup

Water

1

Tomato

diced

2

Cups

Cheddar Cheese

shredded

1

Jalapeno

sliced

Sour Cream

for topping
Instructions 
Scrub and rinse the potatoes then thinly slices into discs.

Soak the potato slices for at least 30 minutes in ice water, or as long as overnight.

Drain the potatoes and and allow to dry on a paper towel lined plate.

Season with a bout 1 tablespoon of Cajun Seasoning

Heat enough oil to cover the bottom of your frying pan over medium heat, about 375 degrees. In batches, fry the potatoes for about 7-8 minutes, flipping them over half way through.

Remove the fried potatoes to a paper towel lined plate.

Brown your ground beef and drain the excess fat. Add in the taco seasoning and about ¾ of a cup of water.

Simmer for about 15 minutes.

Dice the bacon and fry to desired doneness.

Arrange the fried potato slices along the bottom of a large cast iron pan or other large oven safe dish. Top with the taco meat, shredded cheese, and bacon. You can layer the nachos if you are using a smaller pan.

Bake the Irish nachos in a 425 degree oven for about 20 minutes, or until the cheese is melted.

Top with the diced tomatoes, jalapenos, and sour cream.
Nutrition
Calories:
496
kcal
Carbohydrates:
22
g
Protein:
27
g
Fat:
34
g
Saturated Fat:
16
g
Polyunsaturated Fat:
2
g
Monounsaturated Fat:
13
g
Trans Fat:
1
g
Cholesterol:
103
mg
Sodium:
490
mg
Potassium:
769
mg
Fiber:
2
g
Sugar:
2
g
Vitamin A:
697
IU
Vitamin C:
12
mg
Calcium:
303
mg
Iron:
3
mg