Last Updated on October 17, 2023 by Carne Diem
Protein: Bison
Origin: Native American, North American
Method: Stovetop, Flattop
Jump to Recipe
These Indian tacos consist of puffy fry bread topped with seasoning ground bison, cheese, olives, tomatoes and your favorite taco toppings. The fry bread tacos are easy to make in a skillet at home but you can also make the Navajo tacos on a Blackstone or griddle, making for a fun and delicious meal.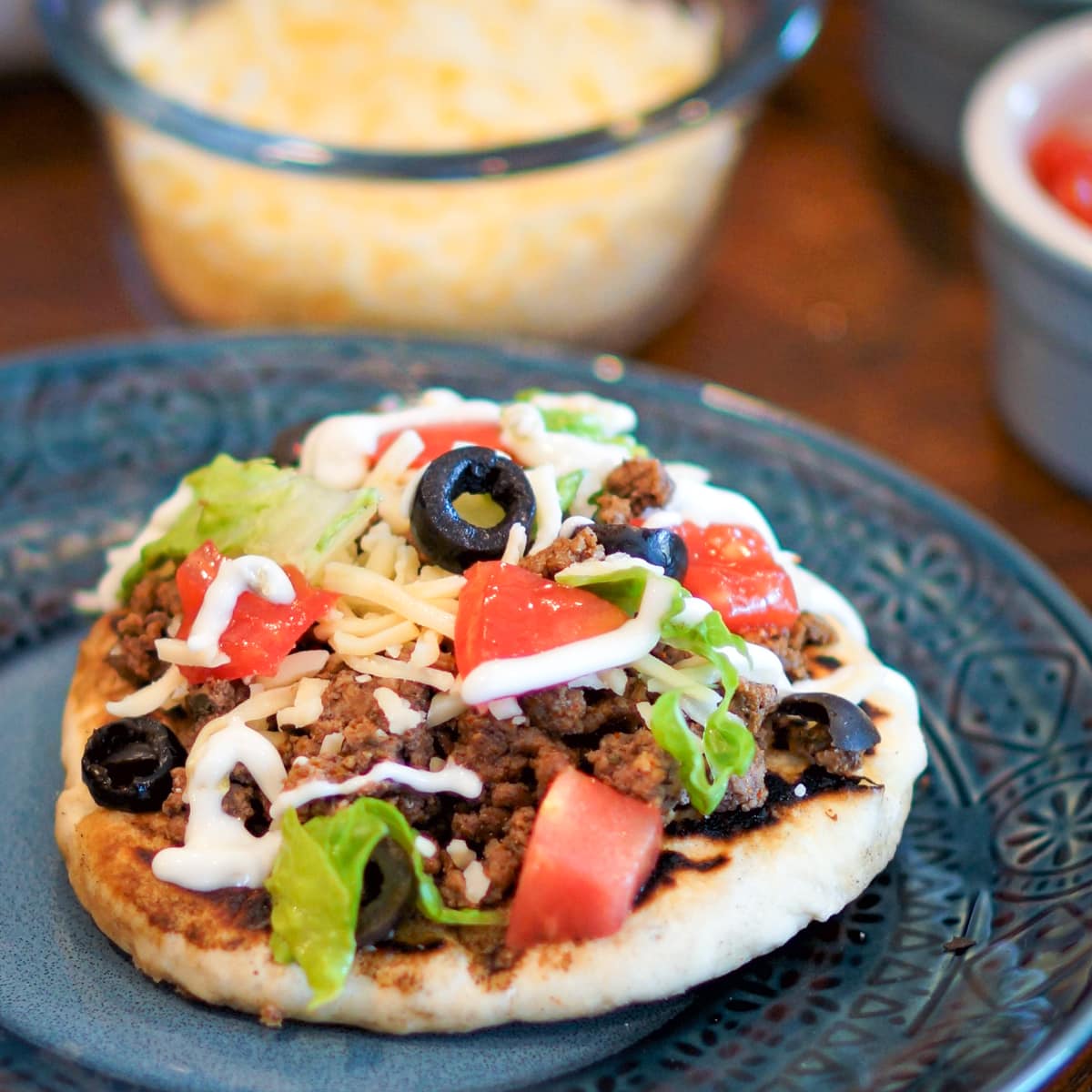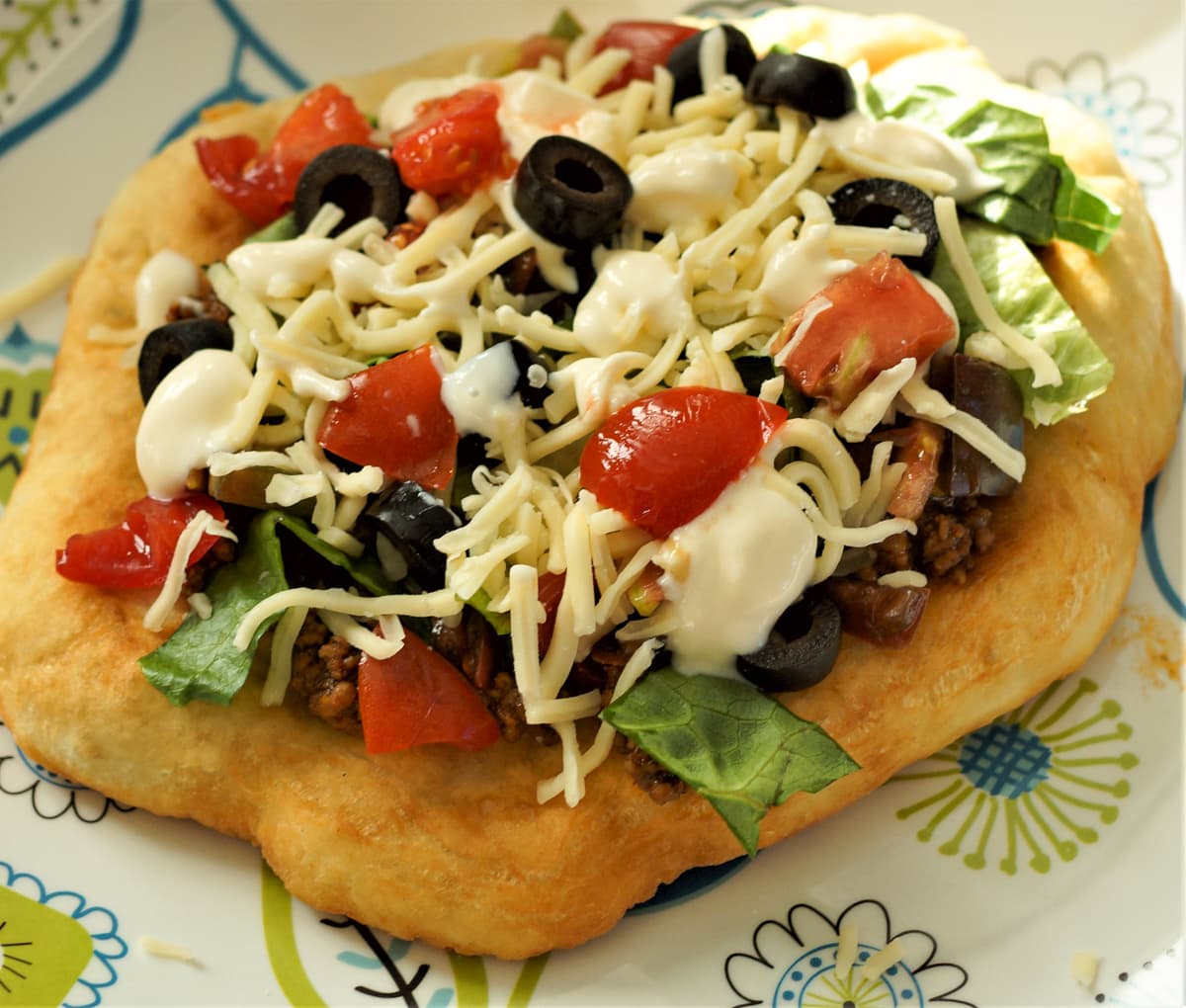 I still remember our yearly field trip to the Mid-America All Indian Center each year as a child. Native American history and the effects of westward expansion, has always been fascinating to me. I also remember the yearly indulgence in the Navajo fry bread tacos that the center served us for lunch. Admittedly, after moving away for college, these Native American tacos did not really cross my mind until we did a family vacation to Death Valley a few years ago and a small restaurant on a nearby Timbasha Shoshone reservation hit our foodie radar. Immediately, it was like a wave of childhood memories streaming back to me.
A little history of Navajo fry bread
As positive of a memory as Navajo tacos are for me, for the Native American community it is quite a bit more complicated. While it is considered by some a symbol of Native American pride and unity, for others, the fry bread connects the present to the painful narrative of Native American history. (Smithsonian Magazine)
Navajo fry bread originated over 155 years ago, when the United States forced Native Americans living in Arizona to make the 300-mile "Long Walk" and relocate to New Mexico. This land did not easily support their traditional staples of vegetables and beans. To prevent the indigenous populations from starving, the government gave them canned goods as well as white flour, processed sugar and lard—the makings of fry bread. As a result, this food became a necessity for survival and for some a painful reminder of this time.
Still, for a large portion of the Native American population frybread represents much more than the oppression they have experienced. The bread is a central part of powwows that bring together the Native American community and often serve as a means of fighting against past oppressions (powwows were once illegal).
Making Homemade Navajo Fry Bread Tacos
Making Indian tacos at home is easy and fun. We love making these traditional tacos on a flat top or griddle like a Blackstone or our Cooking Steels, but the recipe is also easy to make on your stovetop. To make the Navajo taco recipe you just need to make your fry bread, season and cook your meat, and top the Indian tacos with your favorite toppings.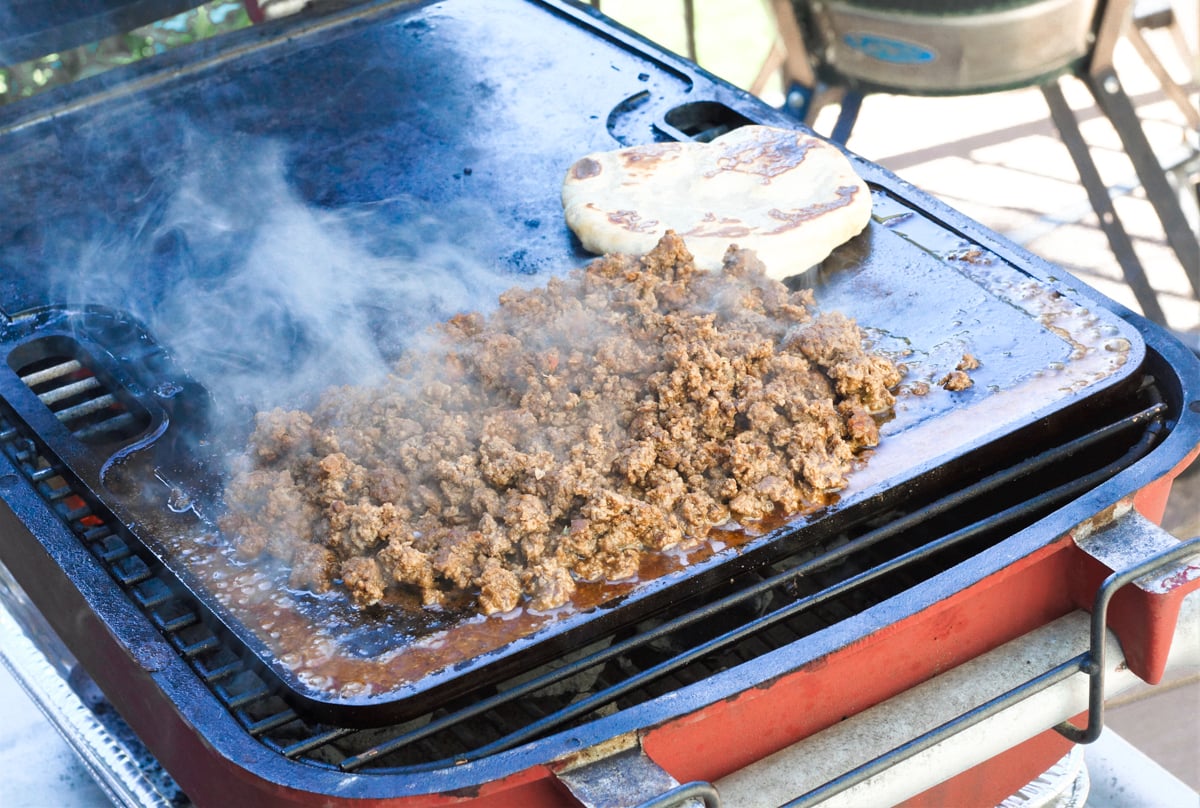 Gather Your Indian Taco Ingredients
For this recipe we attempted to keep things simple, using ingredients that may have been available at the time. Remember that most of the supplies were canned goods from the U.S. Government. We took a few liberties with the recipe as cheese and ground meat are both probably items that were not used, but both are an integral part of the Indian tacos that I remember eating as a child.
Making the Navajo fry bread
Making the Indian fry bread recipe is simple, consisting of flour, milk, baking powder, and salt.
Simply sift together the flour, salt, and baking powder in a medium sized bowl.
Next, stir in the milk and mix well to combine. The dough will be very stiff and slightly dry. If it appears too dry and flaky, add about a tablespoon more of milk. After the dough is uniform, remove it to a lightly floured surface and form into a balls, slightly bigger than a golf ball.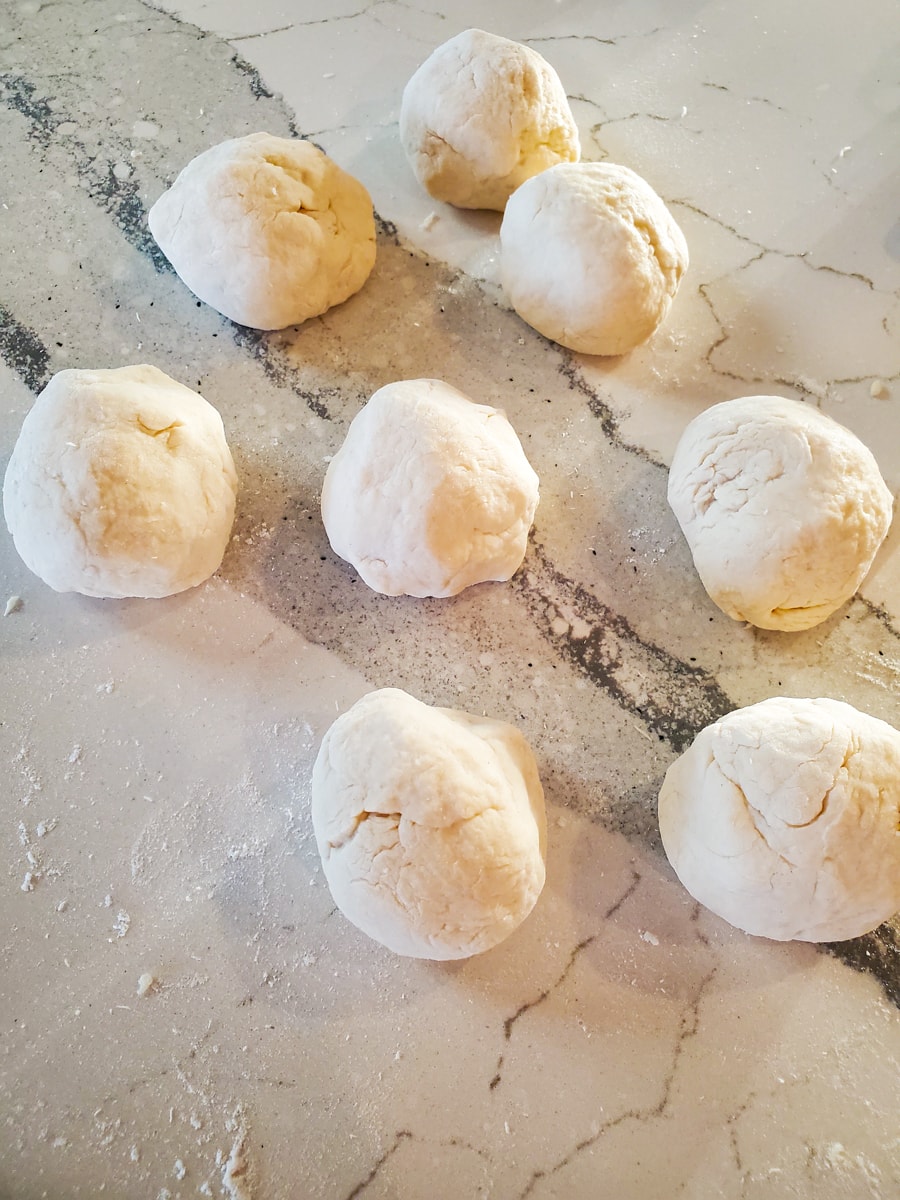 For the meat we elected to use ground bison as it, when viewed through the lens of my childhood self growing up in mid-Kansas, is how I pictured these tacos would have been made. If you have never had ground bison, give it a try; it is leaner than most ground beef and with great flavor. If you prefer to use ground beef, that is perfectly ok, too.
Roll the balls into about 6-8 inch rounds. The dough should not be at all sticky, so if your rolling pin is sticking to the dough, dust the dough with a tiny amount of flour.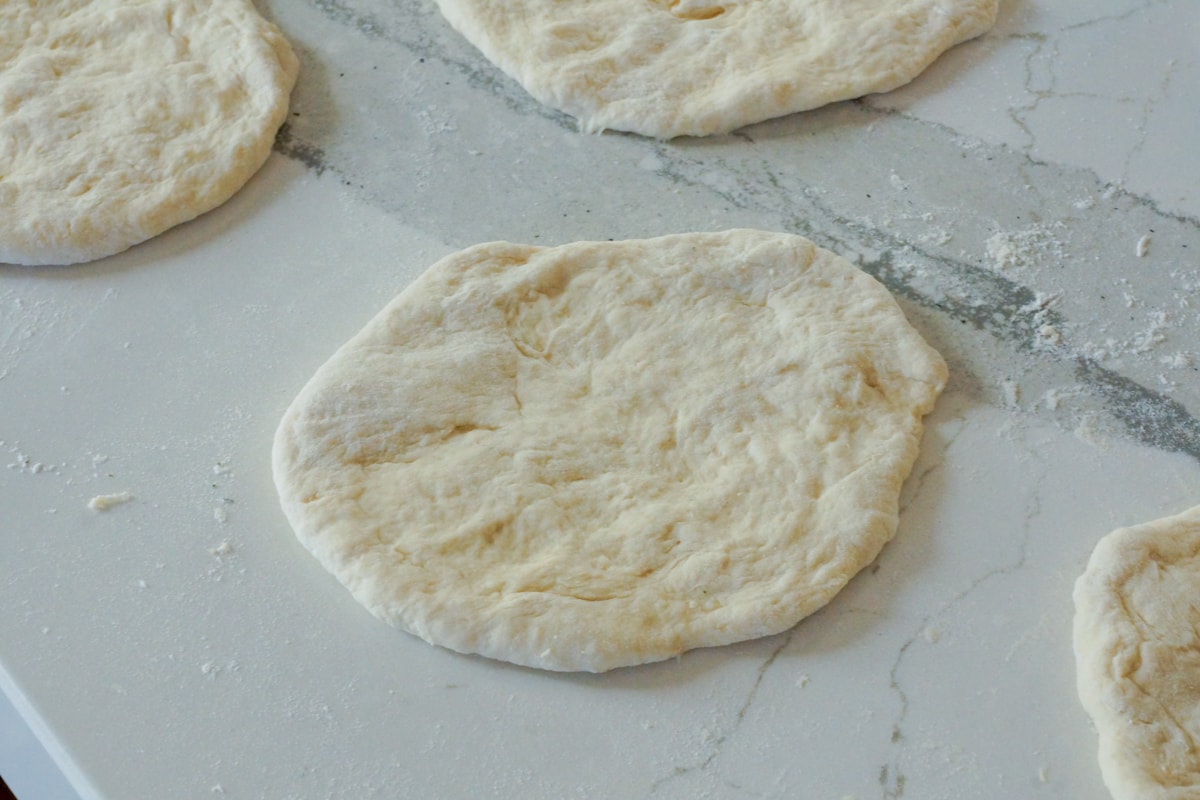 While you are forming the dough, heat the lard in a heavy bottomed skillet to 350-360 degrees.
One thing that is authentic to how these would have been made is the use of lard to fry the fry bread. We used rendered beef tallow for this recipe, and Epic Provisions continues to be one of our favorite brands for products that put the entire animal to use for cooking. You can check out more of their products at https://epicprovisions.com/.
Fry the Navajo fry bread, one at a time, in the lard for about 1-2 minutes per side. The bread will form large bubbles and should be browned nicely. The goal is to achieve a golden brown on the outside with a soft chewy center. Remove the fried bread to a plate lined with paper towels while you repeat the process with the remaining dough.
To make the fry bread on a Blackstone or griddle, heat the flat top to 350-360 degrees and make sure it is generously oiled. Fry the dough on the flat top for about 2 minutes then flip and cook the other side. You may need to add additional oil to the surface as you cook more of the fry bread.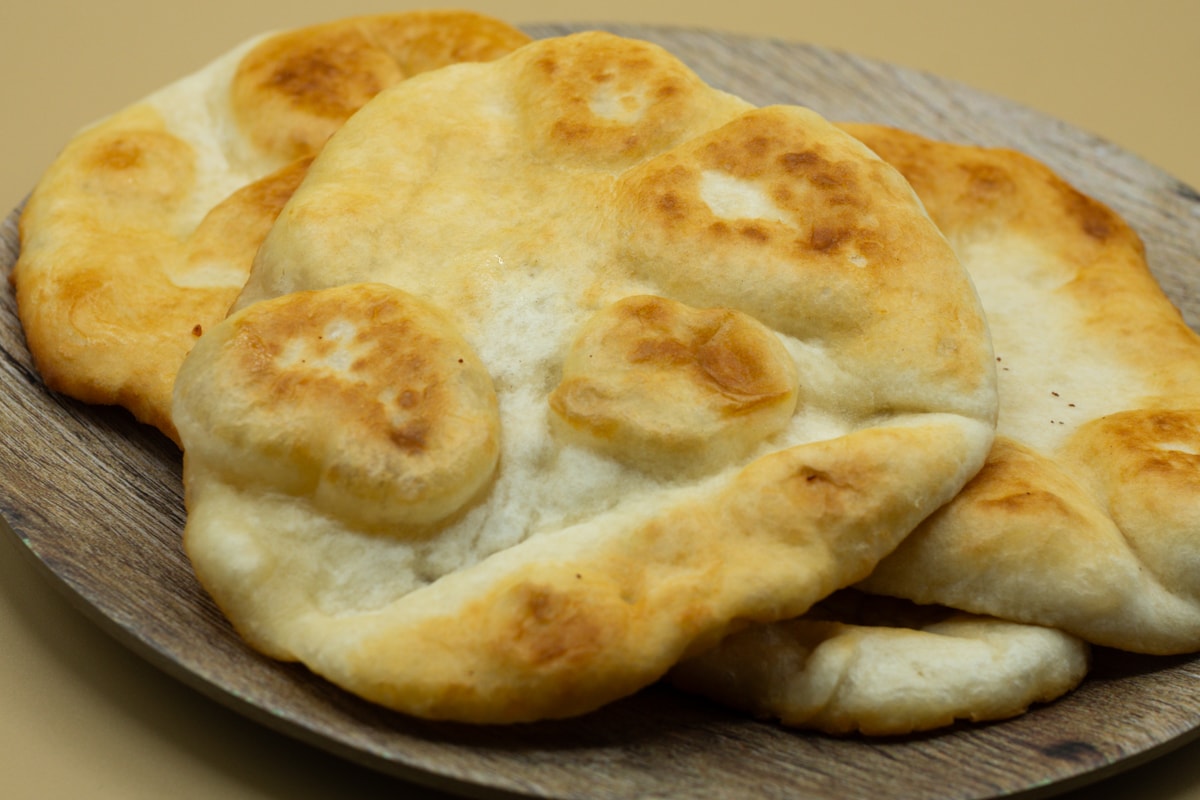 Best meat for Indian tacos
We like to use ground bison for our Navajo tacos as it is leaner, and just seems to fit better with the recipe. If desired you can also use ground beef. The instructions for cooking the meat is the same regardless of which meat you choose.
Cooking the ground bison
To make the seasoned beef or bison heat a skillet over medium heat. Add 1 pound ground bison and cook until just browned. Drain the meat (bison is pretty lean so often not much fat) and then add in ⅔ a cup of water with 3 tablespoons of our taco seasoning. You can also use your favorite taco seasoning cooked to package instructions.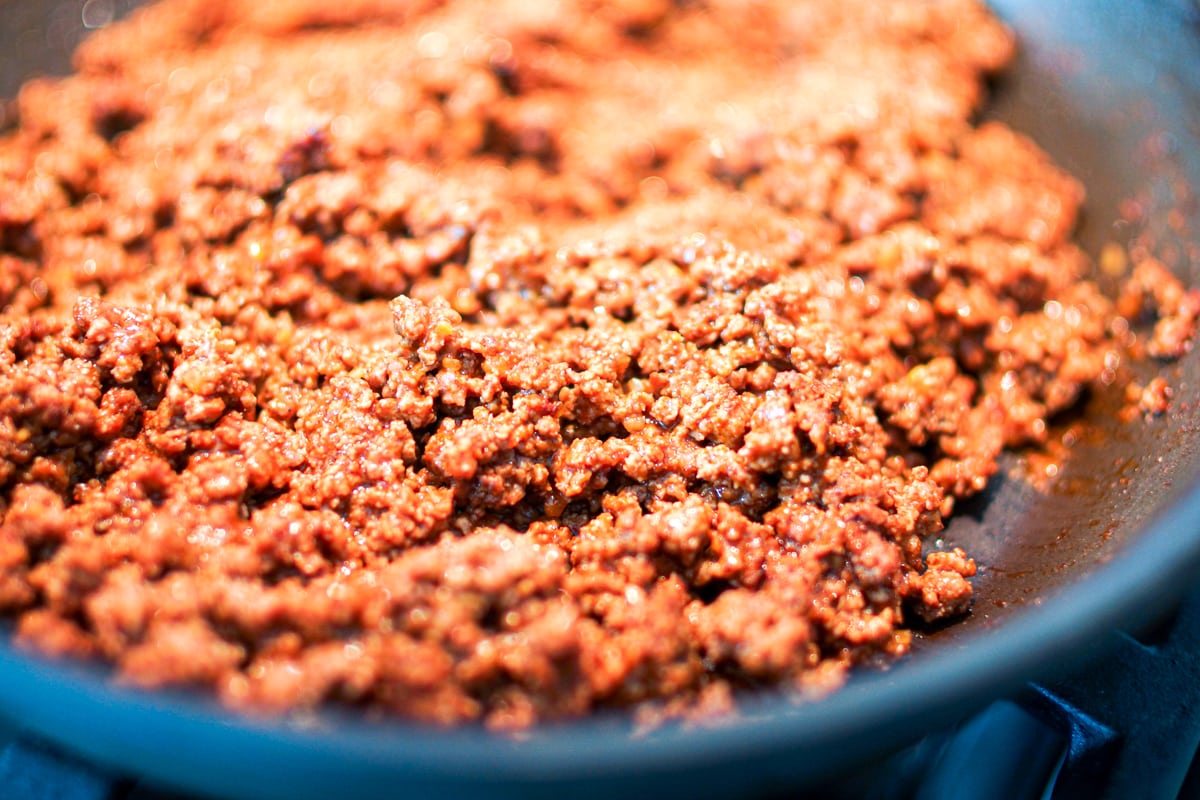 If you are cooking the ground beef on a Blackstone or griddle, mix the meat with the taco seasoning and half of the water and cook on a 350 degree griddle. Stir the meat frequently and add the additional water, gradually, as the liquid cooks off.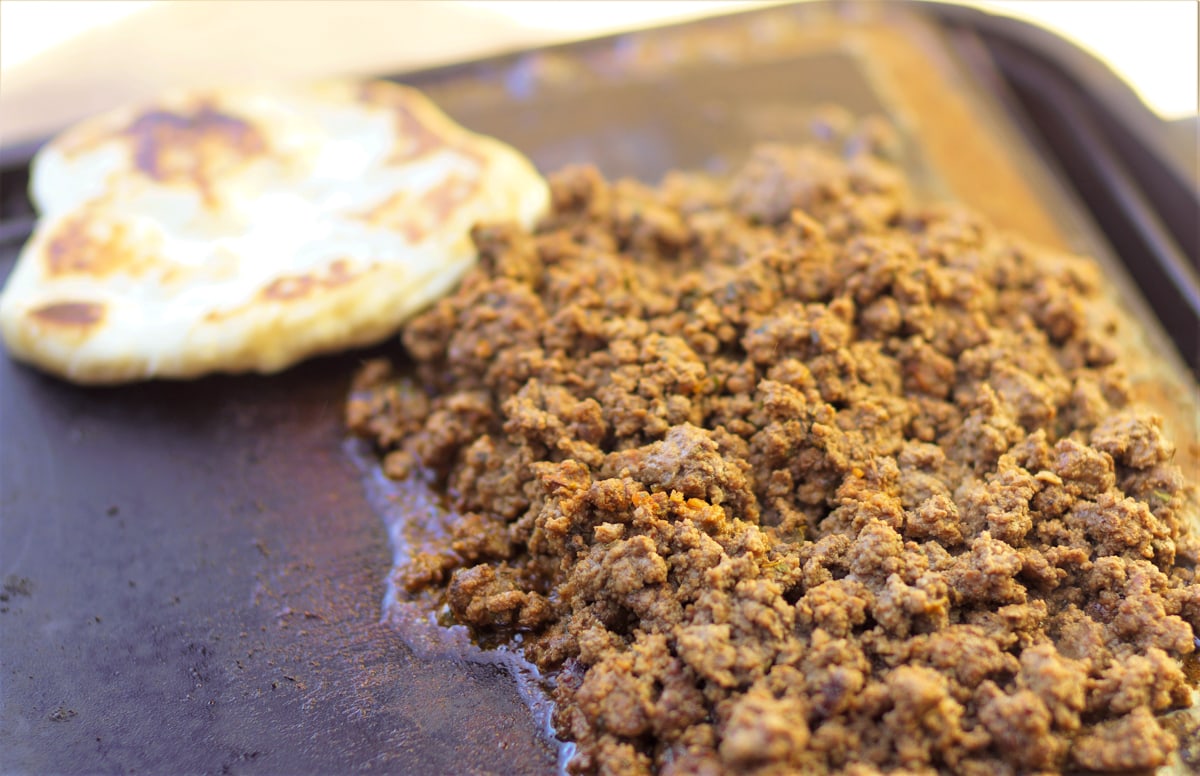 Toppings for Navajo Fry Bread Tacos
Feel free to include your favorite taco toppings. For these tacos we used vine ripened tomatoes, sliced olives, sour cream, and chopped romaine lettuce. Other toppings to consider include beans, a mild salsa, cilantro, and corn. We also used our family's all time favorite cheese for all things taco: Chihuahua.
Other cheese options for Indian tacos would include cheddar, Mexican mozzarella, pepper jack, or monteray jack cheese.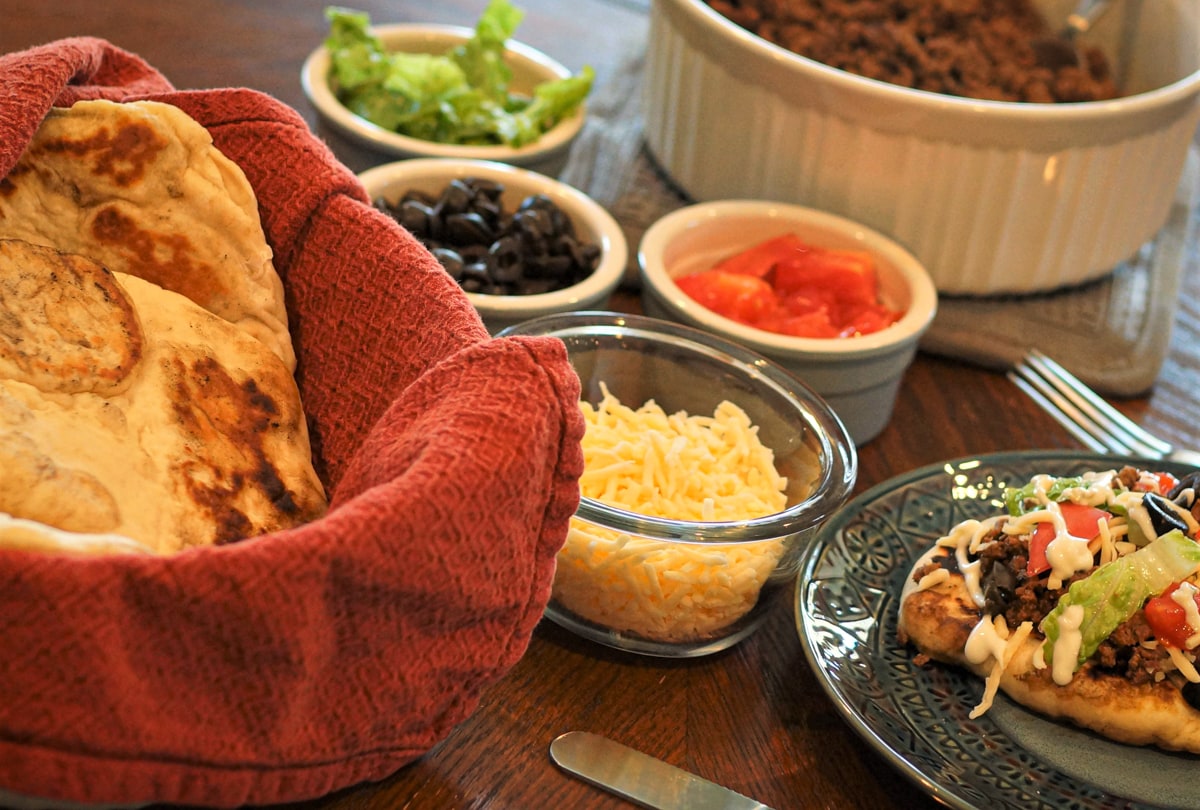 Serving the Homemade Navajo Tacos
To serve, let everyone pick out a piece of warm frybread and load it up with toppings. Top the Navajo Fry Bread Tacos with the warm seasoned bison then load it up with cheese and additional toppings. We like to keep it pretty traditional but feel free to experiment with your favorites.
If you have extra Indian fry bread, season it with a little butter, cinnamon, and sugar or with honey and powdered sugar for a tasty dessert. Looking for something different, try one of our other desserts like our Blackberry Slump.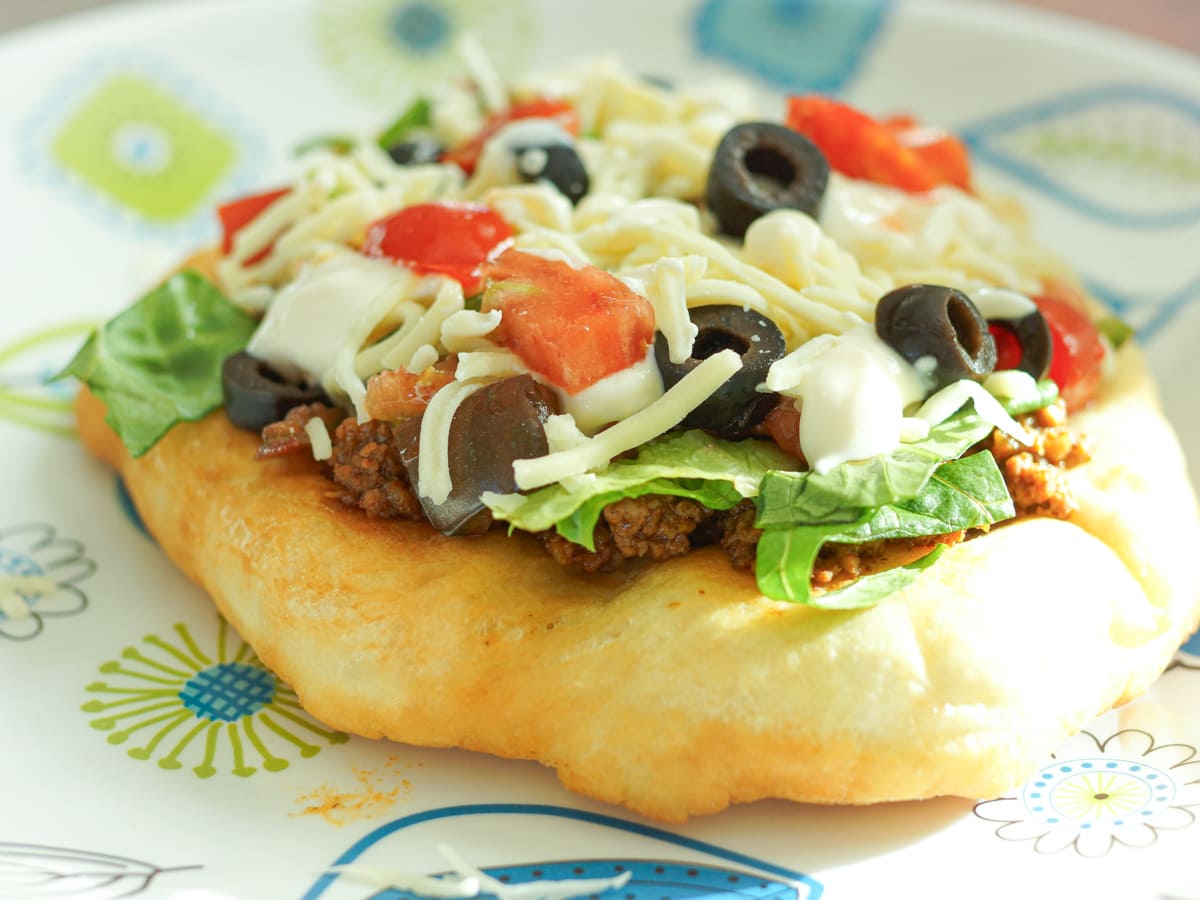 Who doesn't love tacos? Check out more of our taco recipes to make on a grill or smoker: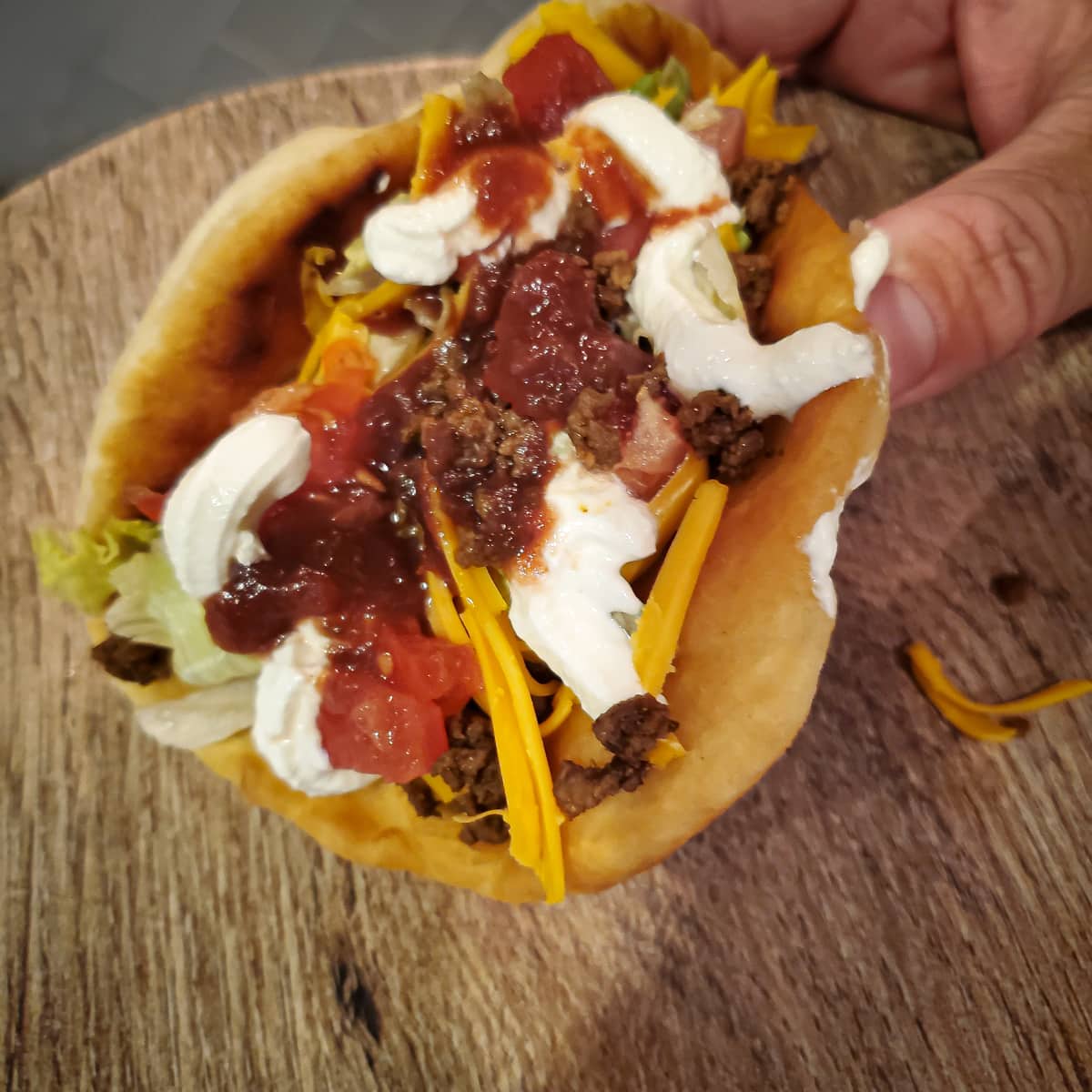 Frequently Asked Questions
Is ground bison healthy?
Compared to ground beef, buffalo is a leaner meat, typically around 10% fat, making it a healthier options for those trying to limit their fat intake.
What temperature should your oil by for fry bread?
Frybread is best cooked at a temperature of 350-360 degrees. This temperature allows the inside of the bread to fully cook, without overbrowning the outside of the bread.
What is is best cooking oil for making fry bread?
Our preference is using lard when cooking frybread. If you are using a cooking oil, try to use one with a high smoke point like avocado or grapeseed oil.
What is the best way to reheat fry bread?
Fry bread is easily reheated in a skillet or on a flat top. You do not need to add additional oil, just preheat the surface to 350 degrees and heat the bread for about 2 minutes per side. Leftover can also be reheated in an oven. Wrap the bread in foil and reheat at 350 degrees for about 10 minutes.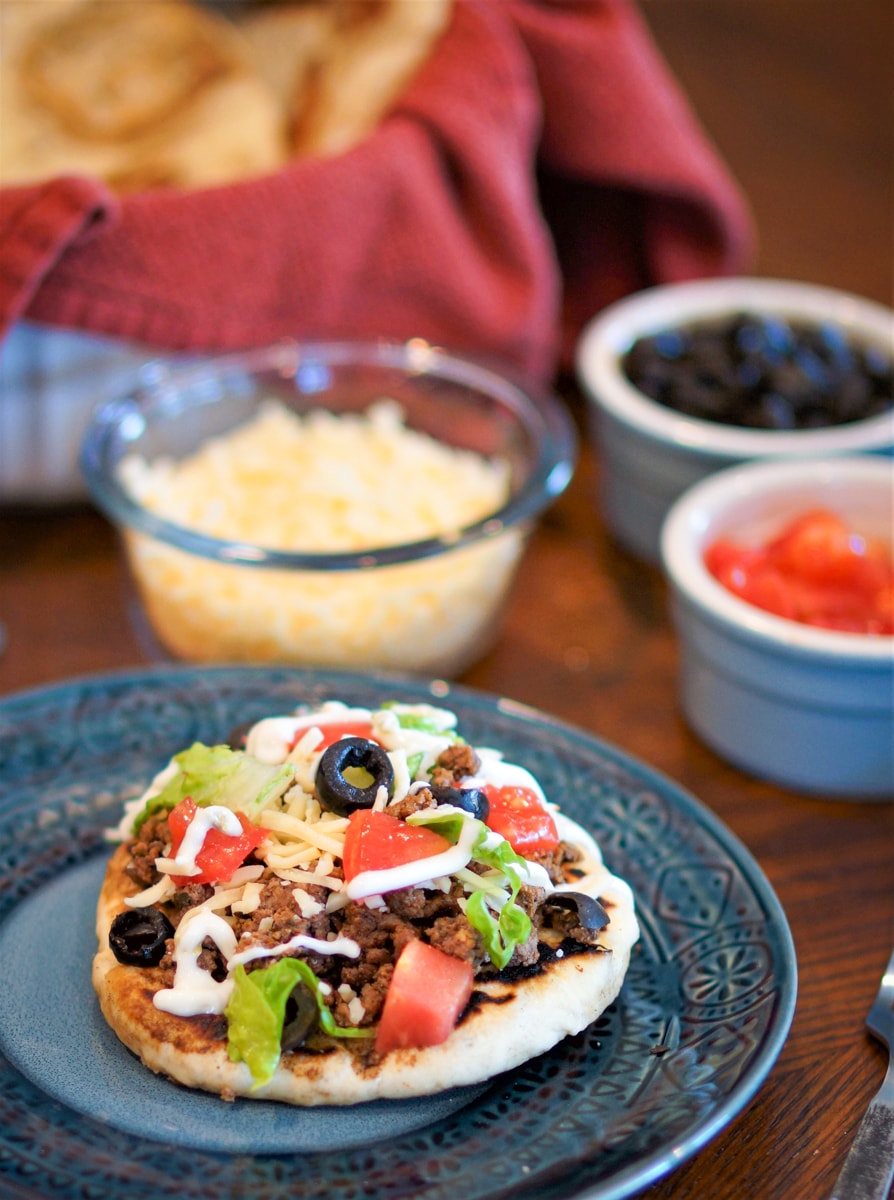 Thank you for taking the time to visit our blog. If you tried and enjoyed our recipe, please share with others and please leave us a comment and review. We also love to see your pics so don't forget to tag us @Carne_Diem_Culinary or #CarneDiemBlog. To be notified of future recipes please follow us on Facebook, Instagram, or Pinterest, or sign up for our e-mail notifications. Until next time, Carne Diem!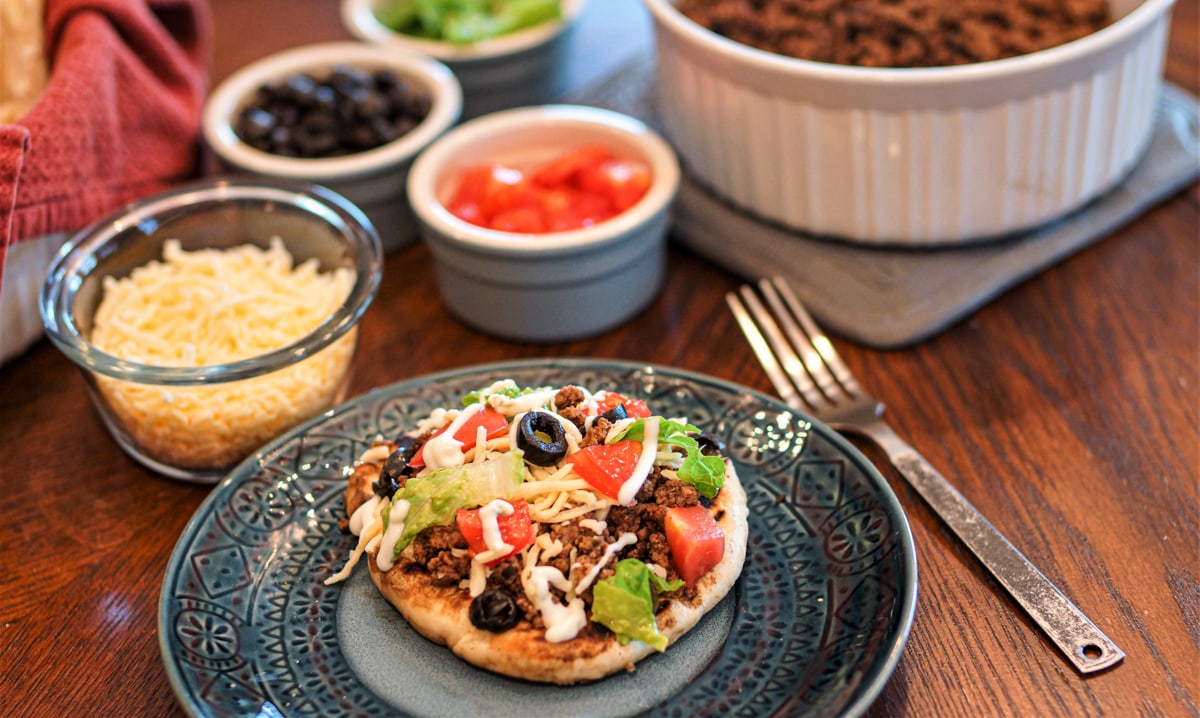 📖 Recipe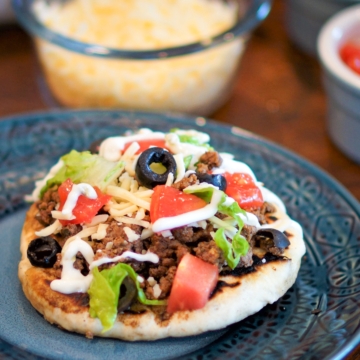 Navajo Frybread Tacos
Navajo frybread has a complicated history, but these Navajo Frybread Tacos bring back a lot of childhood memories from growing up in central Kansas. Topped with lean ground bison and all the fixins, these are sure to be a hit with the entire family.
Ingredients  
1

Pound

Ground Bison

Beef Tallow, Lard, or Oil

for frying

Vine Ripened Tomatoes

chopped, for topping

Sliced Black Olives

for topping

Sour Cream

for topping

Shredded Chihuahua Cheese

for topping

Romaine Lettuce

chopped, for topping
Taco Seasoning (See note)
1

Tablespoon

California Chile Powder

1

Tablespoon

Hatch Chile Powder

1

Tablespoon

New Mexico Chile Powder

1

Tablespoon

Paprika

1

Tablespoon

Oregano

1

teaspoon

Salt

1

teaspoon

Onion Powder

1

teaspoon

Garlic Powder

½

teaspoon

Corn Starch

½

teaspoon

Cumin
Fry Bread
2

cups

Flour

1

cup

Milk

1

Tablespoon

Baking Powder

1

teaspoon

Salt
Instructions 
Prepare the taco seasoning and set aside.

Sift together the flour, salt, and baking powder. Stir in the milk and mix until well combined. Dough should be firm and dense but not flaky.

Divide the dough into equal sized balls, slightly larger than a golf ball, then flatten or roll into circles about 6-8 inches in size.

Heat the lard until the oil is at about 350-360 degrees, then fry each bread about 90 seconds per side. The bread should be golden brown and puffy. Remove the cooked fry bread to a paper towel lined plate.

In a separate skillet brown the ground bison or beef. Drain any fat then add ¾ cup of water and 3 tablespoons of the seasoning. Stir well to combine and simmer for about 5 minutes.

Top the Navajo fry bread with seasoned meat and then top with any taco toppings that you wish.
Notes
Use 3 Tablespoons of the seasoning for one (1) pound of ground beef, chicken or turkey. The mixture will yield enough seasoning for two (2) pounds of meat.
Nutrition
Calories:
364
kcal
Carbohydrates:
38
g
Protein:
20
g
Fat:
14
g
Saturated Fat:
6
g
Polyunsaturated Fat:
1
g
Monounsaturated Fat:
5
g
Cholesterol:
57
mg
Sodium:
1122
mg
Potassium:
435
mg
Fiber:
3
g
Sugar:
3
g
Vitamin A:
1317
IU
Vitamin C:
2
mg
Calcium:
208
mg
Iron:
5
mg