Protein:
Origin: American South, Tex-Mex
Method: Stovetop or Grill
Jump to Recipe
Today I am posting about one of my all time favorite foods, and one of the first meals I ever learned to make outside of grilled cheese and Ramen noodles. That's right everyone: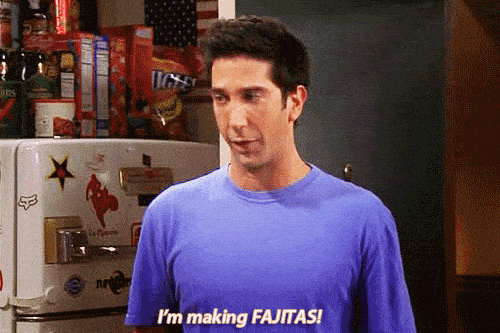 My wife and I have been making these at least once a month since college. In the beginning, we always used a favorite store bought Fajita seasoning. Recently we have finally tweaked our homemade seasoning to the point that we now prefer it over our go to store bought seasoning (though there are still a lot of similarities). While during the winter months we can still be found making these Cast Iron Chicken Fajitas on the stove in the kitchen, when warm weather rolls around, this is a perfect dish for the grill. We have also discovered recently how easy and wonderful these fajitas are when cooked over our Breeo firepit.
Making the Cast Iron Chicken Fajitas
Prepare the seasoning
For the seasoning, you will need chili powder, salt, onion powder, sugar, cumin, garlic powder, oregano, cinnamon, nutmeg, coriander, cayenne, and lime powder, crystallized lime, or citric acid. For the chili powder, we like to use a mixture of Hatch chili powder, California chili powder and New Mexico chili powder. The recipe given should be enough seasoning to make 2 large chicken breasts worth of fajitas. We typically make this seasoning in bulk so we always have it ready for when our fajita cravings hit.
Season the meat and veggies
Slice your veggies and chicken.
Drizzle the chicken and veggies with a little olive oil then liberally apply the seasoning.
Cooking the Cast Iron Chicken Fajitas
Heat about 2 tablespoons of oil in a cast iron pan or skillet. Depending on the size of your pan and how done you like your veggies we often cook the veggies separately first until done to our liking, then remove them and heat the chicken.
You want to cook over medium-high heat until the chicken is just done. Typically about 5-7 minutes. If you have an instant read thermometer you can check the temp of one of the larger pieces and the chicken is done at 165 degrees internal temp.
If you cooked them separately, go ahead and add the veggies back in and reduce the heat to low to keep warm until ready to serve.
Cooking the Cast Iron Chicken Fajitas on a grill or firepit.
Some unique cooking considerations/temp management
Cooking on a grill or firepit is a great way to make these Cast Iron Chicken Fajitas but presents a few unique challenges. Temperature control is more challenging than on a stovetop. So is knowing exactly what temp you are cooking at. There are several ways to address this. One is to use an infrared thermometer to check the temp at your grill grate.
The second is using what I like to call the dad method. This was how my father always taught me to cook over fire. Hold your hand at about the level of the grill grate (obviously do not place your hand on the grill grate that would just be silly). For a medium-high heat you will only want to keep your hand there for 1-2 seconds,. If you can keep your hand there for 5-6 seconds, this is more of a medium heat. Obviously this is not a scientifically backed method with considerable variation between people, but is good for a nice estimate.
The third method, and the one I use most commonly, is to estimate how hot the cook temp is by watching the food. If I place food in the pan and it pops and tries to jump back out, I am cooking a little to hot. If it does nothing or takes several seconds before it begins to sizzle then I am cooking at more of a simmer. For these fajitas you want the food to sizzle when you add it but not so high that it is popping up in the pan.
Cooking over flames vs. coals or embers
Another consideration that I see brought up is if you should be cooking over a flame or let the fire burn down into coals or embers. I honestly do both, however, cooking over coals or embers is going to give you a much more even or consistent heat. For a recipe like this one where I am cooking in a cast iron pan and can easily monitor how the food is cooking using one of the above methods, I will typically not wait for embers or coals and am perfectly fine cooking over flame. For something like a steak, however, or a food that is going to be dripping grease into the fire, you are much better off cooking over a nice bed of coals.
Back to the Cast Iron Chicken Fajitas
Heat 2 tablespoons of oil in a cast iron pan over medium-high heat. You can check your temp by throwing a single piece of pepper or onion in the pan to see how it reacts. Adjust the grill grate as needed to optimize your temp.
Cook the peppers and onions for a couple minutes until just beginning to soften. If you prefer crunchier veggies, you can skip this precooking step and cook everything together.
Add the chicken to the pan and continue cooking over medium high heat. Stir the chicken frequently, to brown on all sides.
Cook until the chicken reaches an internal temp of 165 degrees, typically about 5 minutes. Raise the grill grate up to keep the Cast Iron Chicken Fajitas warm until you are ready to serve.
Serve on warm flour tortillas with your favorite salsa, shredded cheese, sour cream, and guacamole. Enjoy with a large margarita on the rocks. Don't forget to check out these other great Tex-Mex and Mexican inspired resipes:
Scratch Fire Roasted Chile and Beef Enchiladas
Thank you for taking the time to visit our blog. If you tried and enjoyed our recipe please share with others and please leave us a comment and review. We also love to see your pics so don't forget to tag us @Carne_Diem_Culinary or #CarneDiemBlog. To be notified of future recipes please follow us on Facebook,  Instagram, or Pinterest, or sign up for our e-mail notifications. Until next time, Carne Diem!
📖 Recipe
Cast Iron Chicken Fajitas
These Cast Iron Chicken Fajitas are perfectly seasoned with a blend of chili peppers, cumin, warming spices, and a touch of lime. They are super easy to make and easily cooked on your grill or smoker, or on your stovetop.
Ingredients  
2

Large Chicken Breasts

cut into slices

1

Onion

sliced

2

Bell Peppers

sliced

Olive Oil
Seasoning
1

tea

Mild Hatch Chile Powder

½

tea

California Chile Powder

½

tea

New Mexico Chile Powder

½

tea

fine Kosher Salt

½

tea

Onion Powder

½

tea

White Sugar

½

tea

Cumin

½

tea

Garlic Powder

¼

tea

Lime powder or crystallized lime

May substitute Citric Acid

¼

tea

Oregano

¼

tea

Cinnamon

¼

tea

Nutmeg

¼

tea

Coriander

¼

tea

Cayenne
Instructions 
Prepare the seasoning by mixing together the fajita seasoning ingredients.

Drizzle the chicken and veggies with a little olive oil then liberally apply the seasoning.

Heat a large pan of skillet over medium high heat and add 2 tablespoons of oil.

Cook the veggies and chicken until the chicken reaches and internal temperature of 165 degrees (about 5-7 minutes). For softer veggies add the veggies a few minutes before adding in the chicken.

Serve warm on flour tortillas with your favorite toppings.
Nutrition
Calories:
169
kcal
Carbohydrates:
8
g
Protein:
25
g
Fat:
3
g
Saturated Fat:
1
g
Polyunsaturated Fat:
1
g
Monounsaturated Fat:
1
g
Trans Fat:
1
g
Cholesterol:
72
mg
Sodium:
443
mg
Potassium:
620
mg
Fiber:
2
g
Sugar:
4
g
Vitamin A:
2252
IU
Vitamin C:
80
mg
Calcium:
27
mg
Iron:
1
mg