Jump to Recipe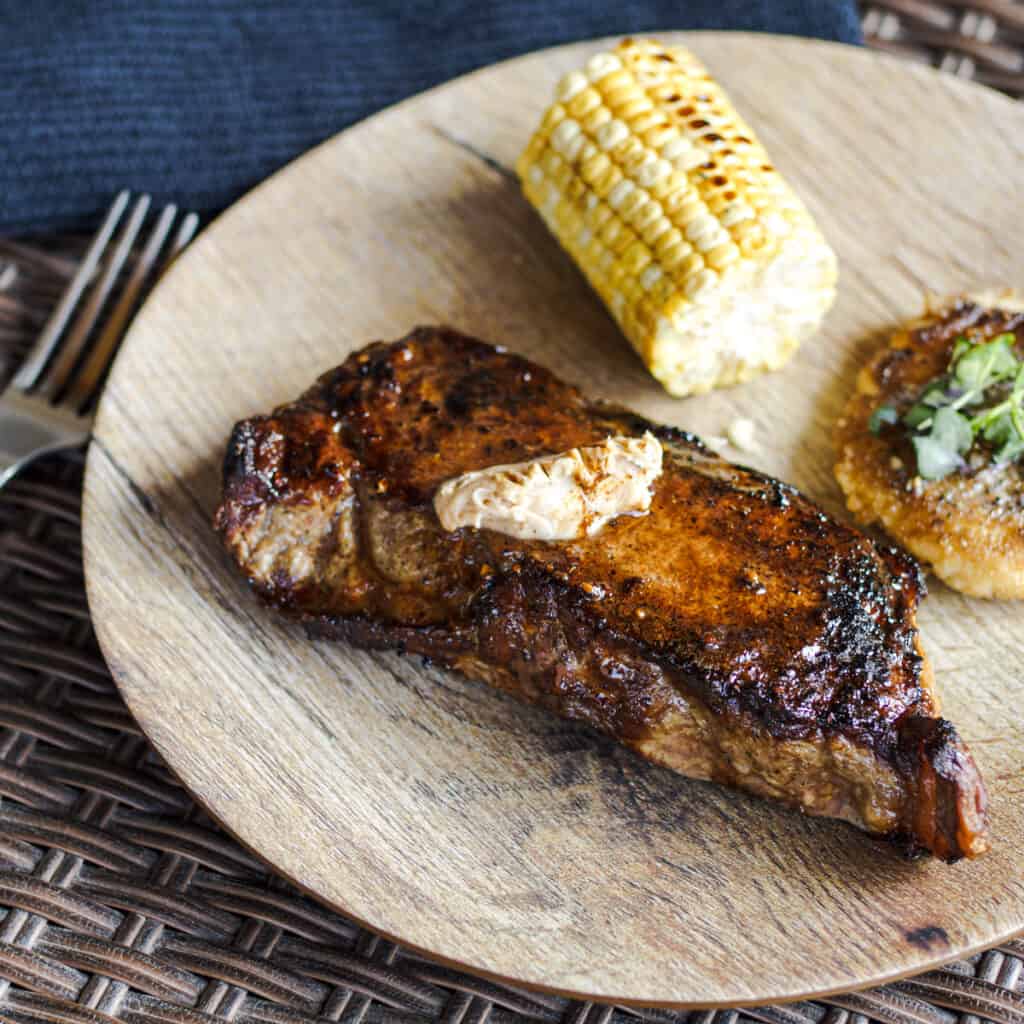 Compound butter with roasted or smoked bone marrow is a fantastic way to add rich umami flavor to your steaks and other proteins. This marrow butter is super simple to make and can easily be portioned for use throughout the year.
Is Bone Marrow Healthy?
Bone marrow indeed has many health benefits. It is high in collagen, which is good for bones and skin, as well as glucosamine which is beneficial for arthritis. In addition, compounds in the marrow have anti-inflammatory properties and may be beneficial in lowering risk in people with diabetes or heart disease. In short bone marrow is both delicious and good for you.
How to Make Bone Marrow Compound Butter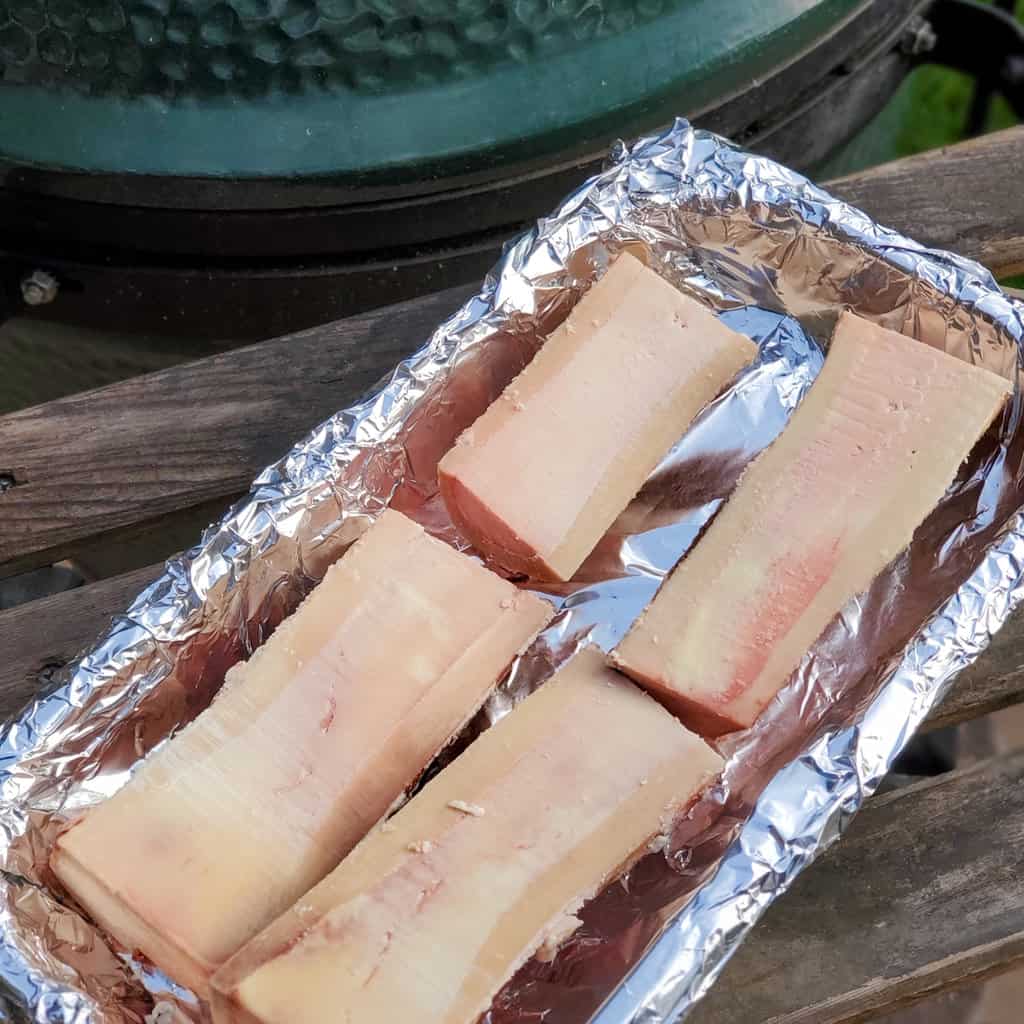 Making a compound butter with roasted bone marrow is super simple with only a few ingredients. You will need some marrow bones, butter, parsley, and black pepper. Make sure your marrow bones are cut lengthwise.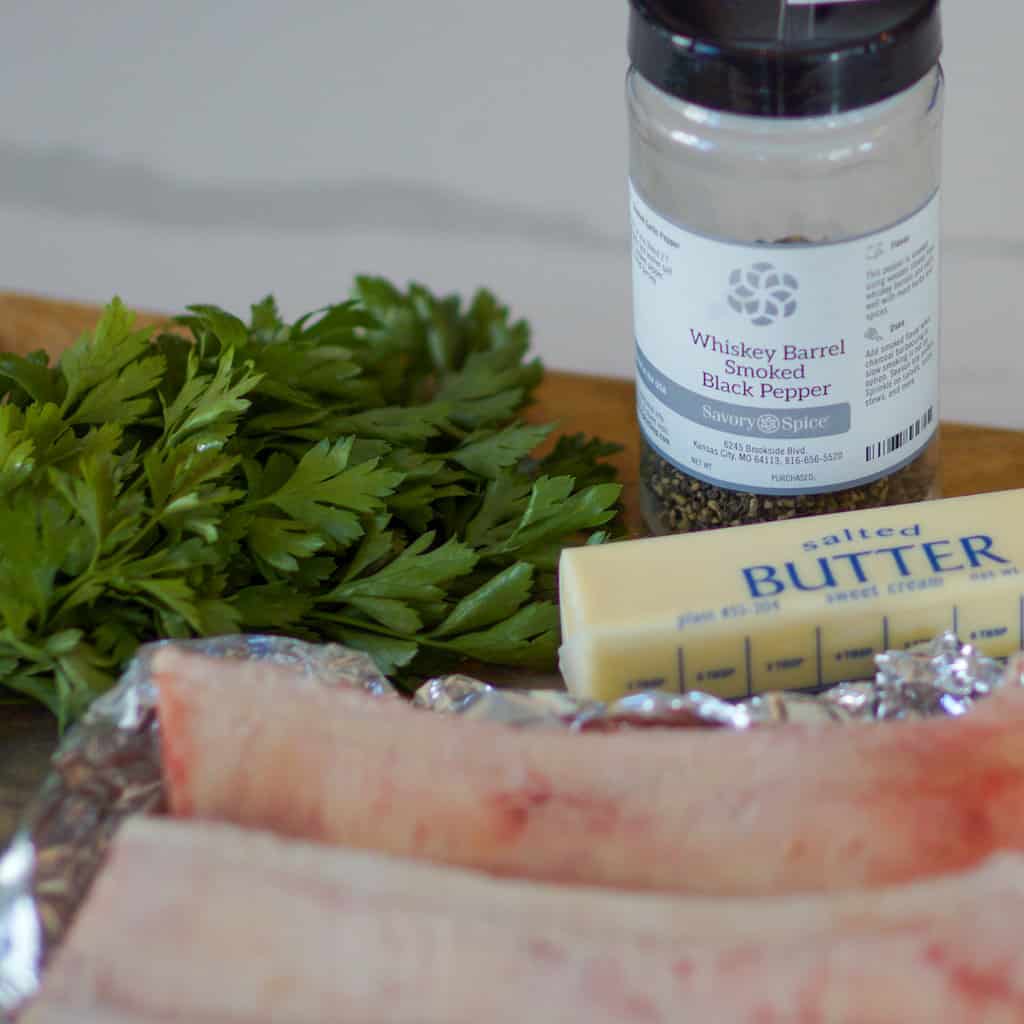 Making Smoked Bone Marrow Compound Butter on Your BBQ Grill
To smoke the bone marrow, prepare your grill or smoker for indirect heat. Heat the smoker to 375- 400 degrees. We prefer to smoke the bone marrow at a lower temperature than in the oven to develop more smoke flavor. The prolonged cooking time at a lower temp may cause more of the marrow to melt and leak out so we typically smoke them over a pan to catch any of the bone marrow drippings.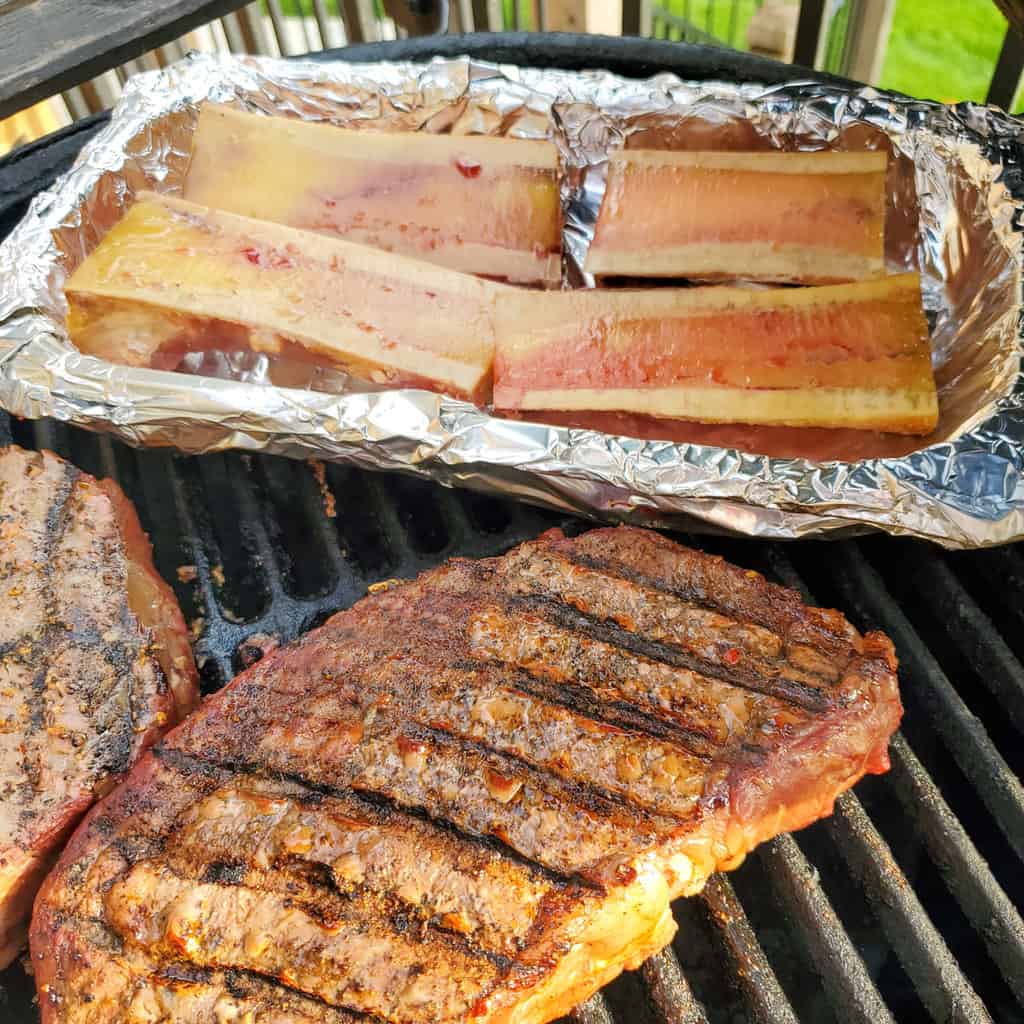 Cook the bone marrow for about 20-25 minutes, or until the bone marrow reaches and internal temperature of 145-150 degrees. Visually the marrow should begin to pull away from the bone and be slightly browned. If probing with a temp probe of toothpick, there should be no resistance.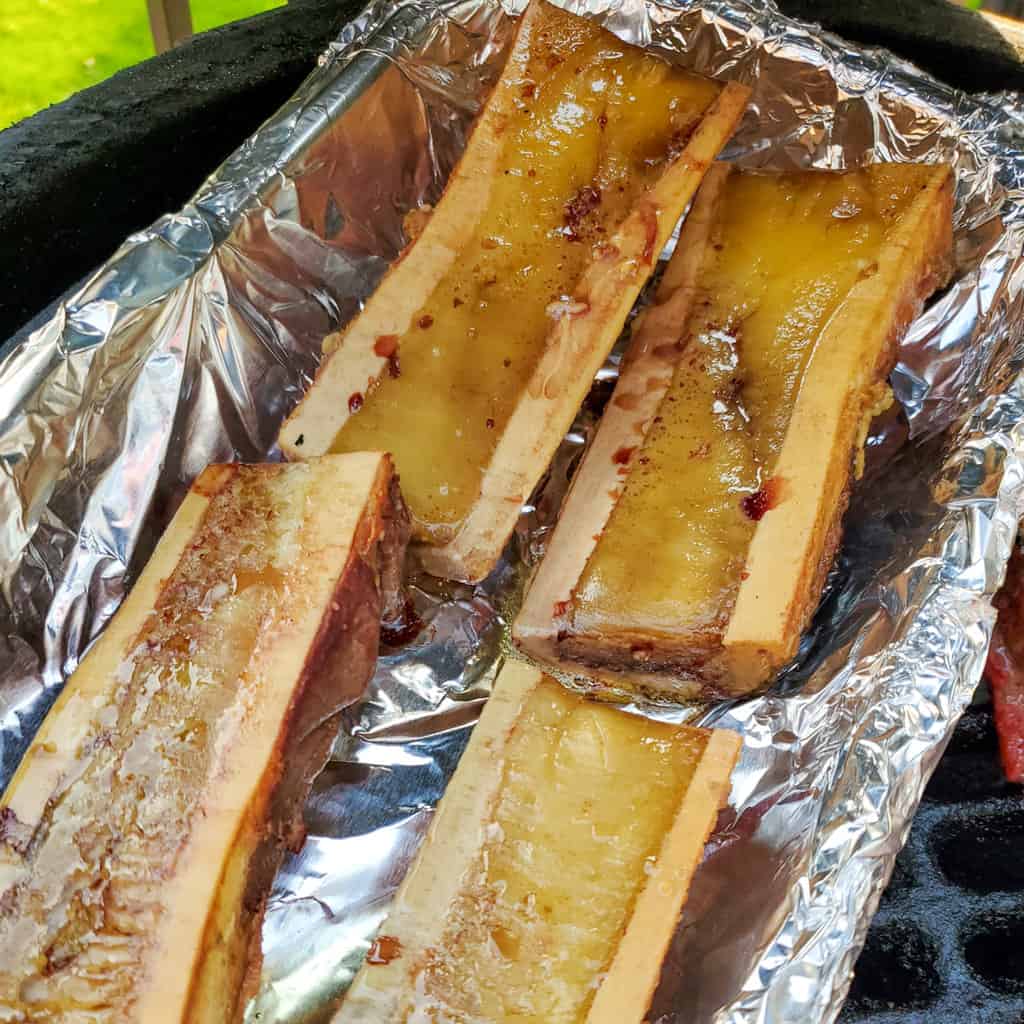 Making Roasted Bone Marrow Compound Butter in Your Oven
If you choose not to add smoke flavor to your roasted bone marrow you can prepare it in the oven. Preheat your oven to 450 degrees. Roast the bone marrow for 15-20 minutes until it reaches an internal temperature of 145-150 degrees.
Mix the marrow butter
Carefully scoop the roasted bone marrow from the bones and into a bowl. Be sure to add back any of the drippings that leaked into the pan. Add the softened butter, black pepper, and parsley. Stir and mix well until evenly combined. At this point the marrow butter is ready to be used or made into individual portions and refrigerated.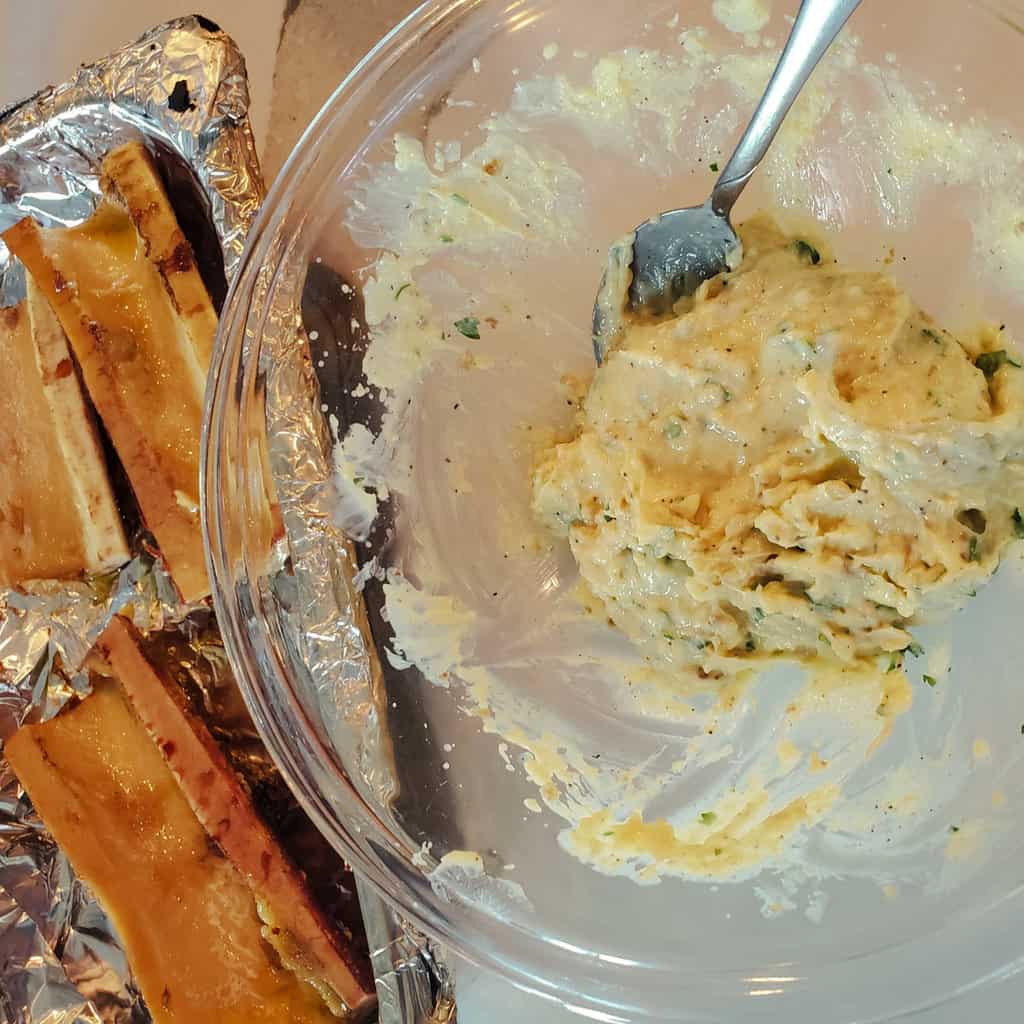 Uses for Bone Marrow Butter
This compound butter with roasted bone marrow is the perfect addition to grilled steaks like an Ancho-espresso rubbed ribeye, Sous Vide Florentine Style Porterhouse, or your favorite steak. It can also be used in wraps for brisket or even just great spread on some crusty bread.
Storing the compound butter
Unused marrow butter can be frozen until needed. Bring to room temperature before using. We find it helpful to make into individual portions using a mold tray or ice cube tray, then you can pull out the butter as needed. To store as larger portions, use a sheet of plastic wrap to roll the compound butter into a log, then wrap tightly and freeze. Slice off portions as you need them.
For more great steak sauces and toppings check out our Easy Chimichurri Recipe or Malbec Sauce For Steak.
Thank you for taking the time to visit our blog. If you tried and enjoyed our recipe, please share with others and please leave us a comment and review. We also love to see your pics so don't forget to tag us @Carne_Diem_Culinary or #CarneDiemBlog. To be notified of future recipes please follow us on Facebook, Instagram, or Pinterest, or sign up for our e-mail notifications. Until next time, Carne Diem!
📖 Recipe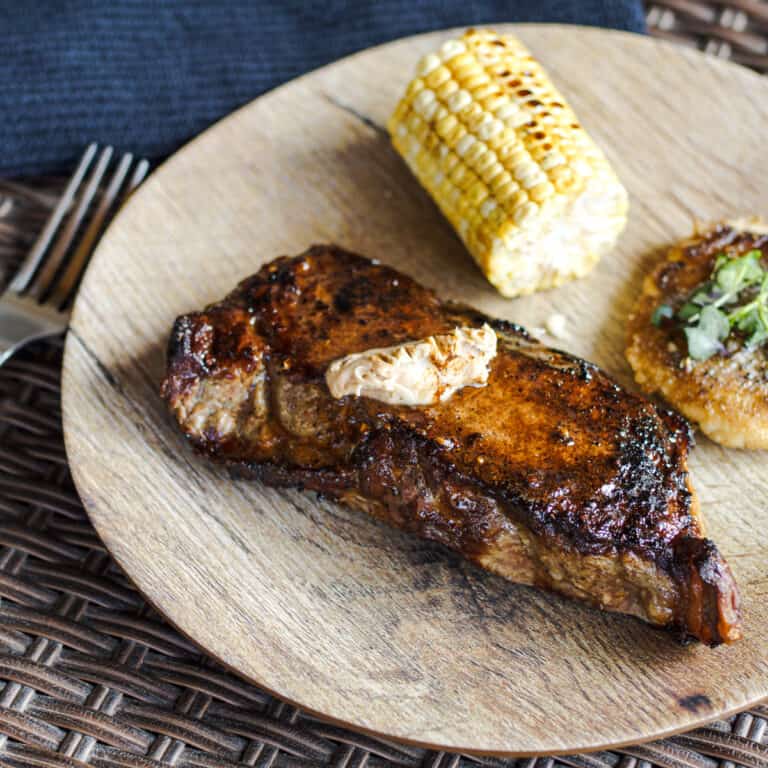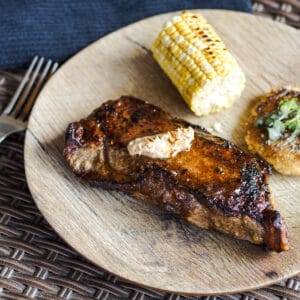 Smoked Bone Marrow Compound Butter
This smoked bone marrow compound butter makes the perfect topping to add that umami punch to your steak or other grilled meats. It is super easy to make and can be portioned and saved for use throughout the year.
Ingredients  
2

Marrow Bones

8

Tablespoons

Butter

softened

1

Tablespoon

Parsley

¼

teaspoon

Black Pepper
Instructions 
Allow the butter to soften and finely chop the parsley.

Heat your grill or smoker to 375-400 degrees and set up for indirect heat. Place the marrow bones in or above a pan and cook until they reach an internal temperature of145-150 degrees and the marrow is starting to pull away from the bone. This typically takes about 25-30 minutes.

Scoop the roasted bone marrow out of the bone and into a bowl. Add in all of the pan drippings, butter, pepper, and parsley and mix to combine.

Roll into a log shape or place into an ice cube tray to make individual portions. Unused potions can be frozen for future use.
Nutrition
Calories:
145
kcal
Carbohydrates:
0.1
g
Protein:
1
g
Fat:
16
g
Saturated Fat:
6
g
Polyunsaturated Fat:
0.3
g
Monounsaturated Fat:
2
g
Trans Fat:
0.4
g
Cholesterol:
24
mg
Sodium:
72
mg
Potassium:
6
mg
Fiber:
0.03
g
Sugar:
0.01
g
Vitamin A:
333
IU
Vitamin C:
1
mg
Calcium:
3
mg
Iron:
0.4
mg