Protein:
Method: Skillet or Flat Top Griddle
Jump to Recipe
After cooking a BBQ competition we often find ourselves with a lot of leftover meats. Over the years we have come up with a number of ways to use our leftovers, especially when it comes to brisket and pulled pork. While we love the tried and true favorites like brisket chili, brisket topped Smoked Mac and Cheese, or pulled pork tacos, we have recently discovered our all-time favorite way to use our leftover brisket. Smoked Brisket Quesabirria Tacos!
Those that know me are aware of my slight taco obsession. I have spent the last few months working my way across the many great Mexican restaurants and taquerias in Kansas City to find the best tacos in the city. For those unaware, Kansas City was recently named one of the destination cities when it comes to tacos. Throw in the fact that it is already a BBQ destination and this combination just makes sense.
Of all of the tacos out there quesabirria tacos have become a recent favorite. They are traditionally made using lamb, goat, or beef birria, which is a slow simmered stew. For quesabirria tacos the tender juicy meat is then removed and shredded. The fat is skimmed from the top of the stew, and the meat and cheese tacos are then fried in the flavorful fat from the stew. The tacos are then served with a side of the consommé for dipping the tacos in.
Making The Brisket Quesabirria Tacos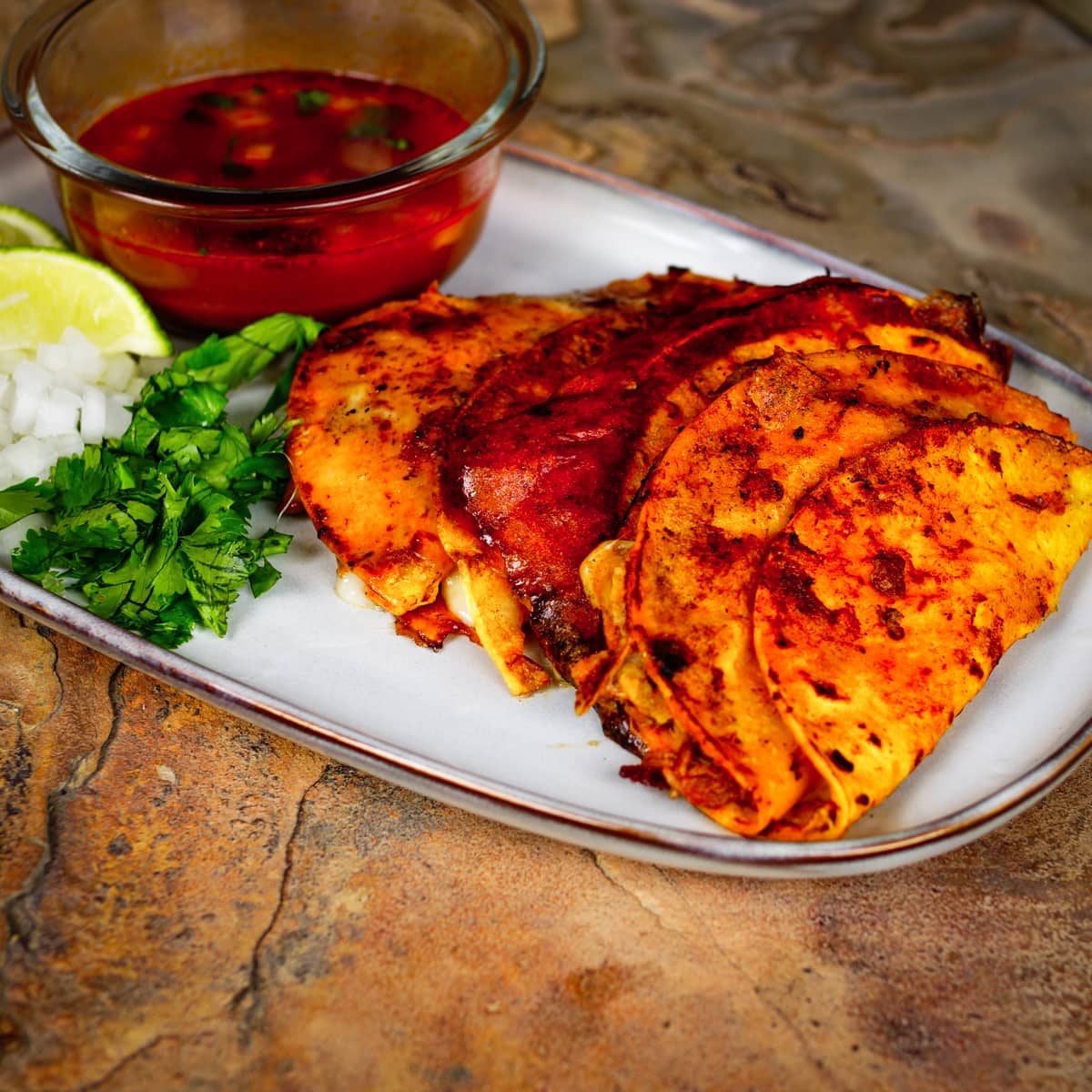 For our version of these Brisket Quesabirria Tacos, we take our leftover brisket and simmer it in au jus left over from cooking our brisket. You can also use a store bought au jus or even a flavorful beef broth if that is easier or more accessible.
First, bring the au jus or broth along with the smoked brisket to a boil and then reduce to a simmer for 30 minutes.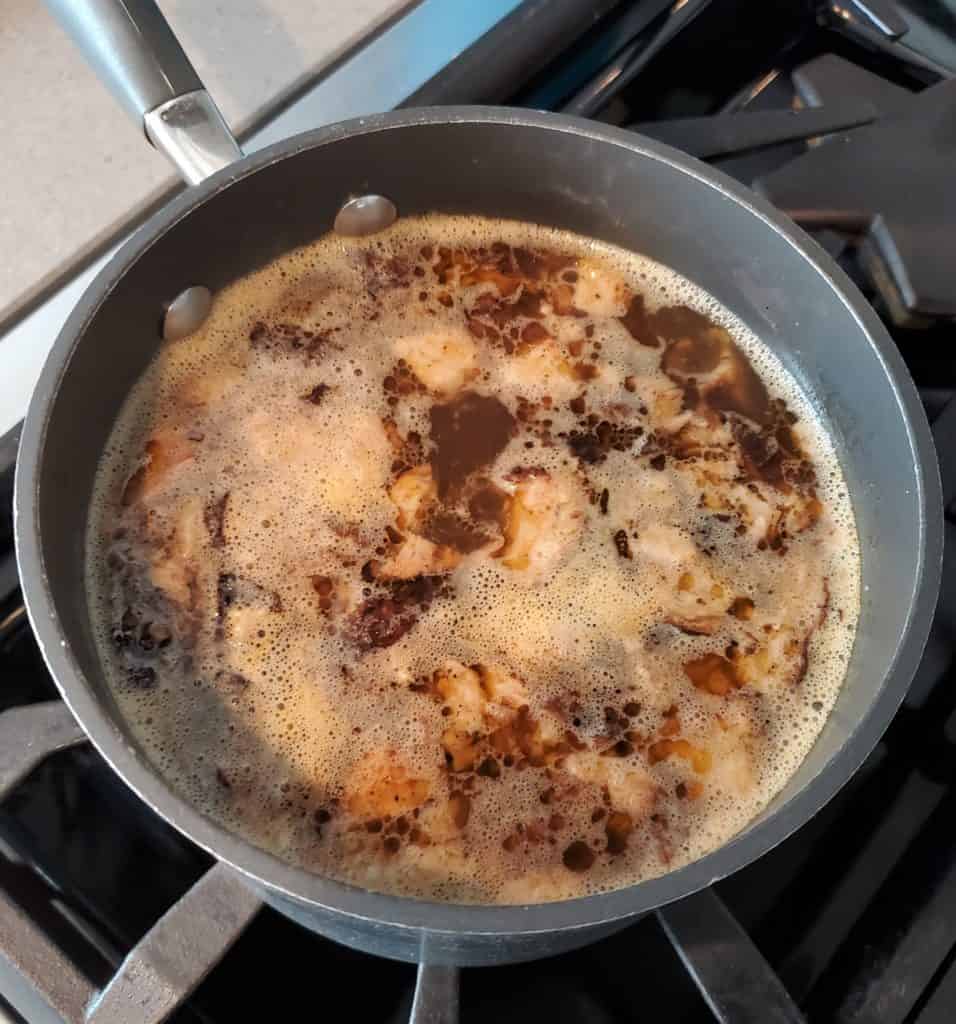 You will need about 1 pound of brisket for the Quesabirria Tacos with Smoked Brisket. You can use either the point or the flat for the recipe. Our favorite version is with burnt ends that we slow simmer and then chop up a little more before going into the tacos.
Looking for more great brisket recipes? Check out our Brisket Burger Sliders with Horseradish Aioli, Homemade Pastrami: Smoked Corned Beef, Taiwanese Beef Noodle Soup with Smoked Beef, and BBQ Poutine With Smoked Brisket.
What is the best cheese for Quesabirria Tacos
Traditional quesabirria tacos typically use a Mexican style low moisture mozzarella, and it undoubtedly makes for some damn fine tacos. Oaxaca and Chihuahua cheese are also some of the best cheeses to use for Quesabirria tacos.
Our favorite versions of our Brisket Quesabirra Tacos, however, keep with the theme of BBQ-Mexican Fusion and use smoked mozzarella. The added layer of smoky-melty goodness makes these tacos out of this world good.
If you happen to have any left over smoked mozzarella then why not try our smoked lasagna or Uruguay's Chivito: The Ultimate Steak Sandwich.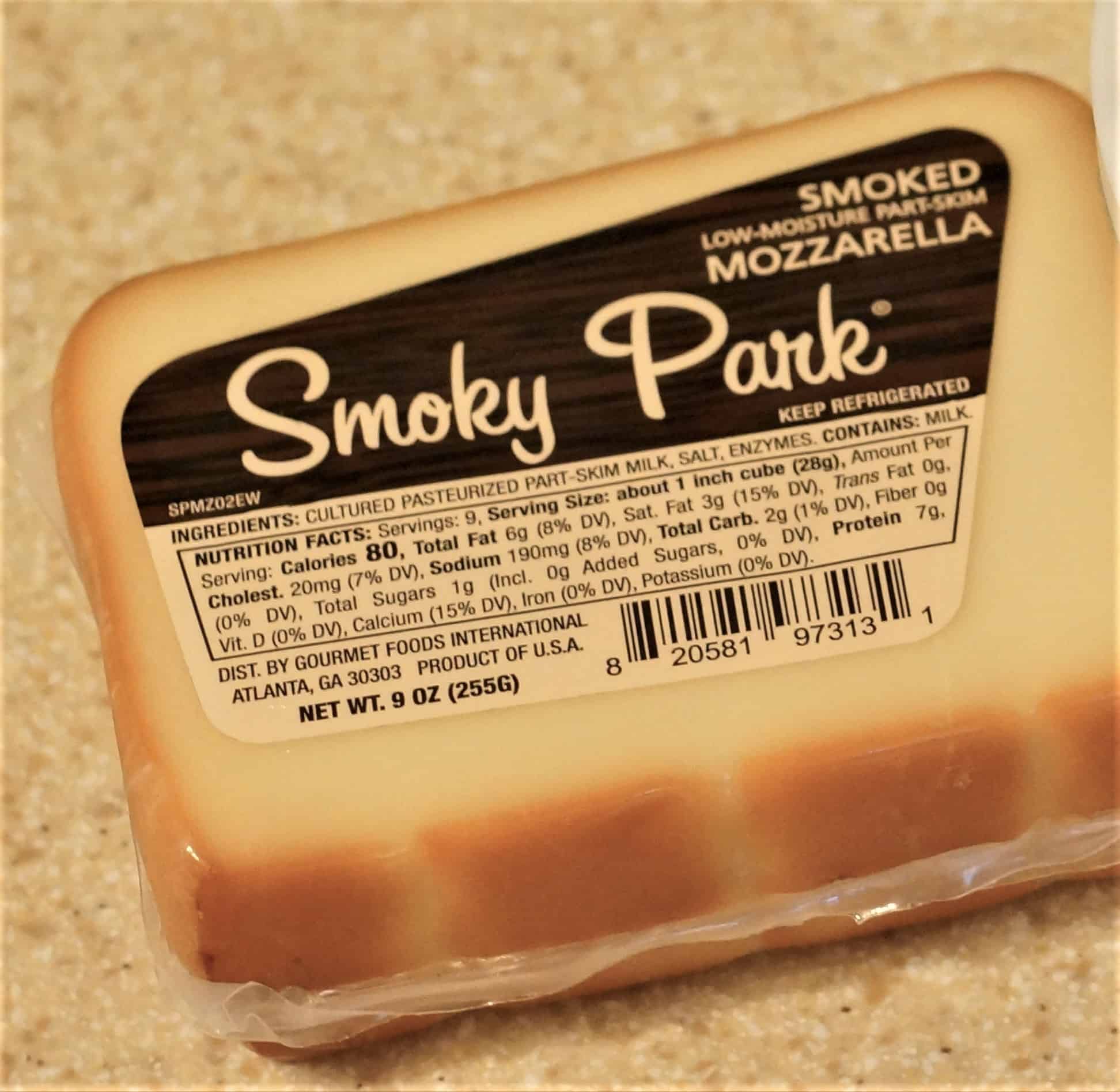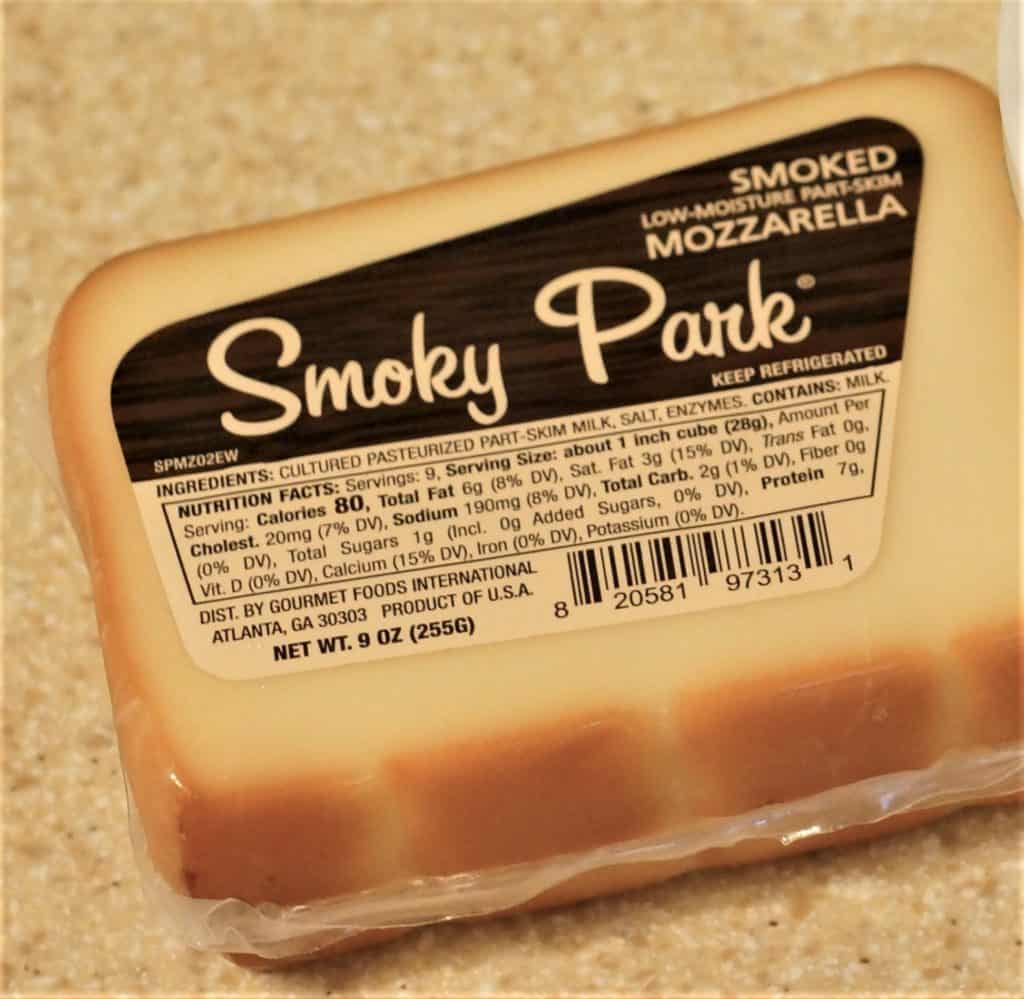 Frying the Quesabirria Tacos with Smoked Brisket
As mentioned, traditionally quesabirria tacos are fried in some of the skimmed fat from the actual birria stew. For our Quesabirria Tacos with BBQ Brisket we wanted to try to keep with this tradition as much as possible, so we elected to fry our tacos in beef tallow. Rendered beef tallow is a fantastic cooking fat that adds some wonderful beefy flavor to dishes and has a high smoke point which is great for frying and searing foods.
To finish the tacos you are going to want to use 2 street taco sized corn tortillas per taco.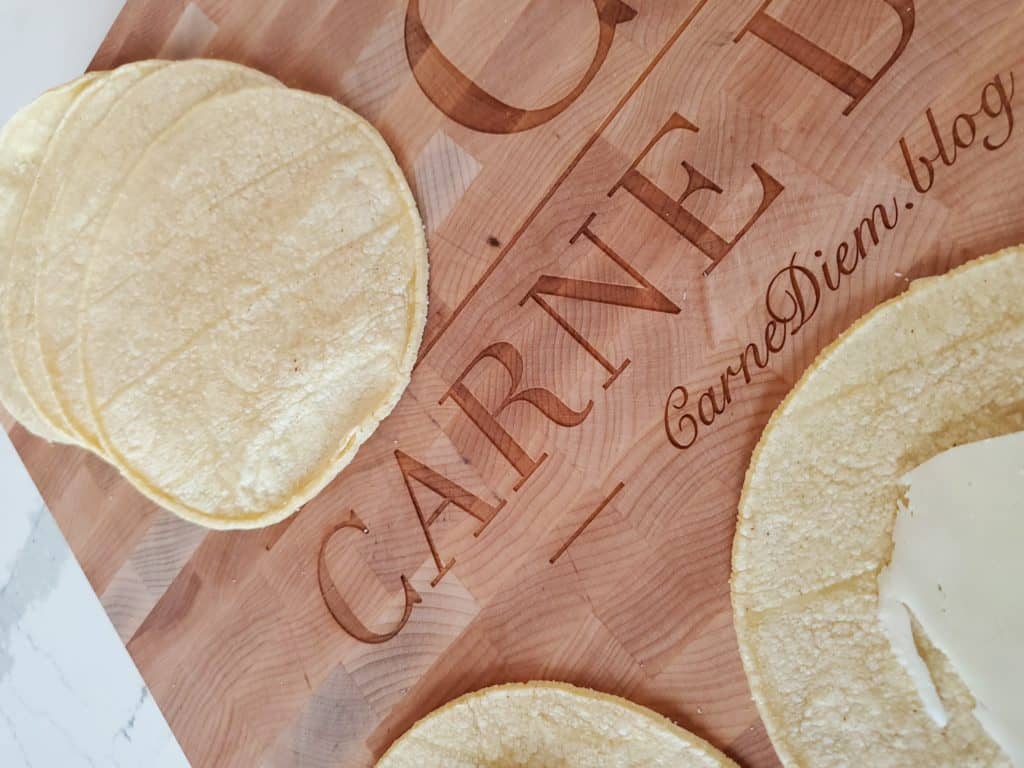 Melt the beef tallow in a large skillet or on a flat top grill. We find it best to work in batches so you don't overcrowd your pan. Cook the corn tortillas for about 30 seconds, then flip them over and add the cheese. Cook for about another 30 seconds.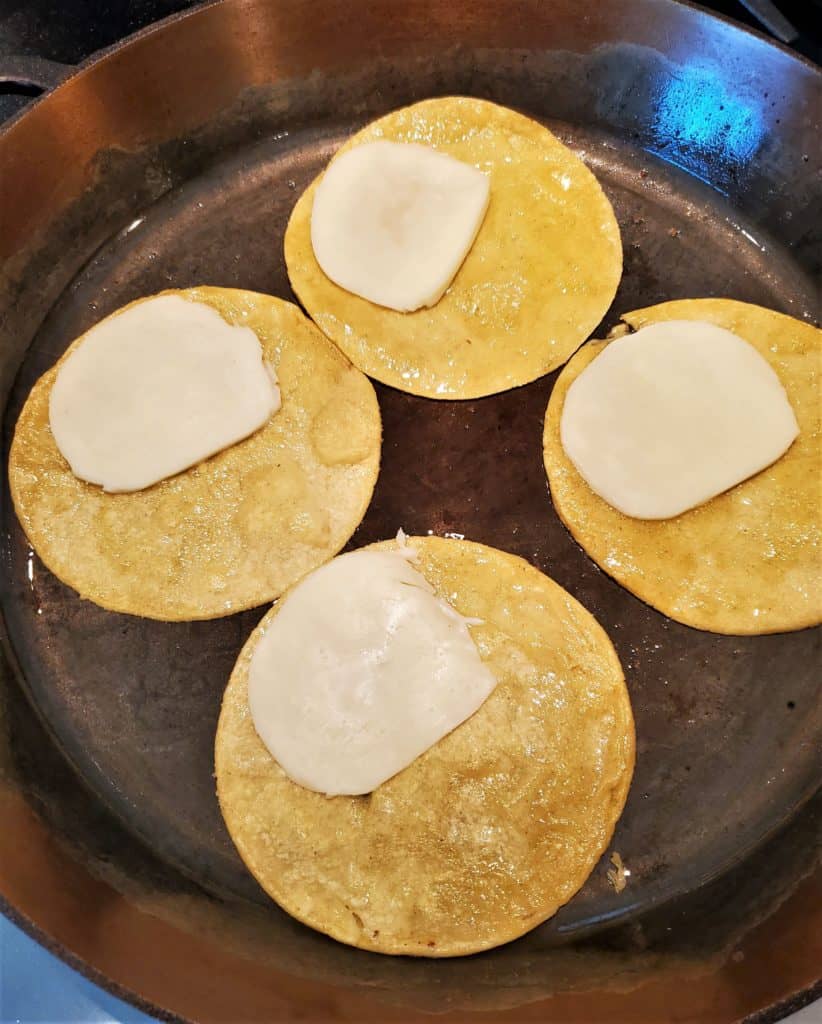 Add the shredded or chopped brisket or burnt ends to half of the tortillas, then place the corn tortillas with the brisket on top of the tortillas filled with just cheese.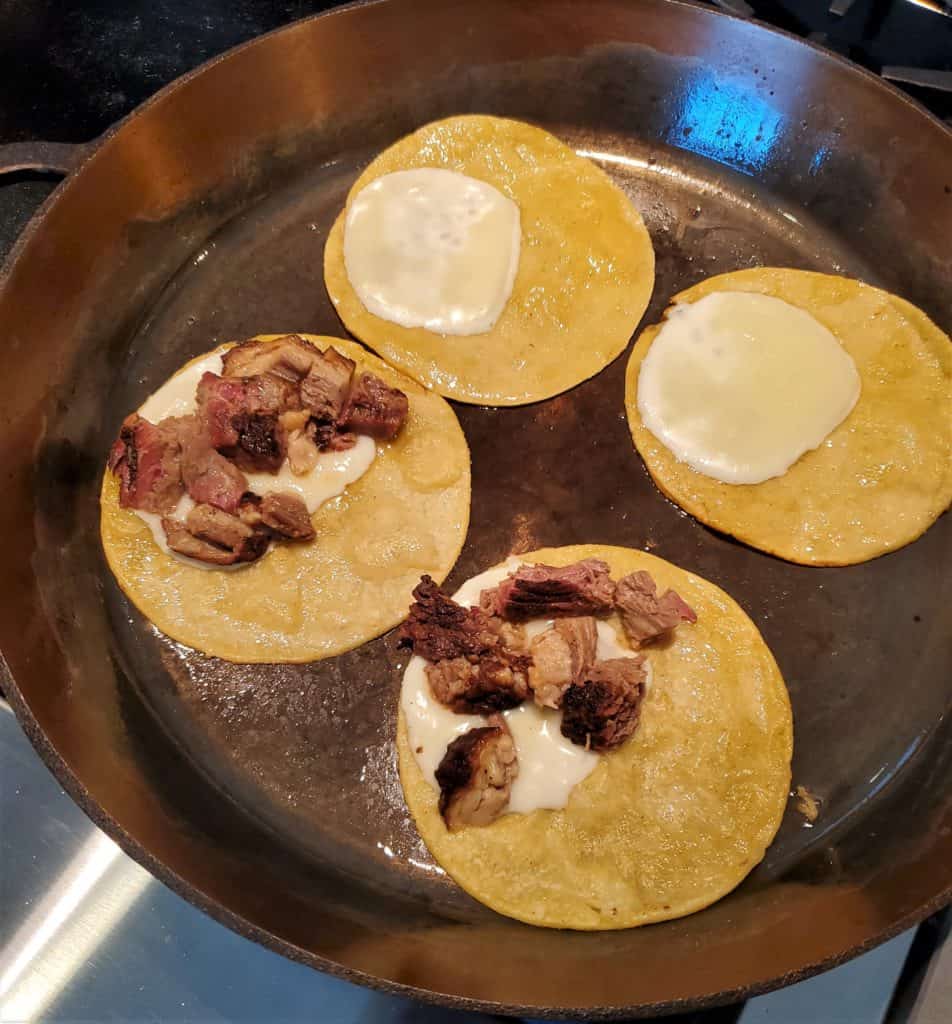 Fold the tortillas over to form a taco and press down gently with a spatula to help the taco hold its shape.
Once the cheese is nice and melted, remove the Brisket Quesabirra Tacos to a paper towel lined plate. Repeat the process with the remaining tacos.
Making Smoked Brisket Quesabirria Tacos on a Blackstone Griddle or flat top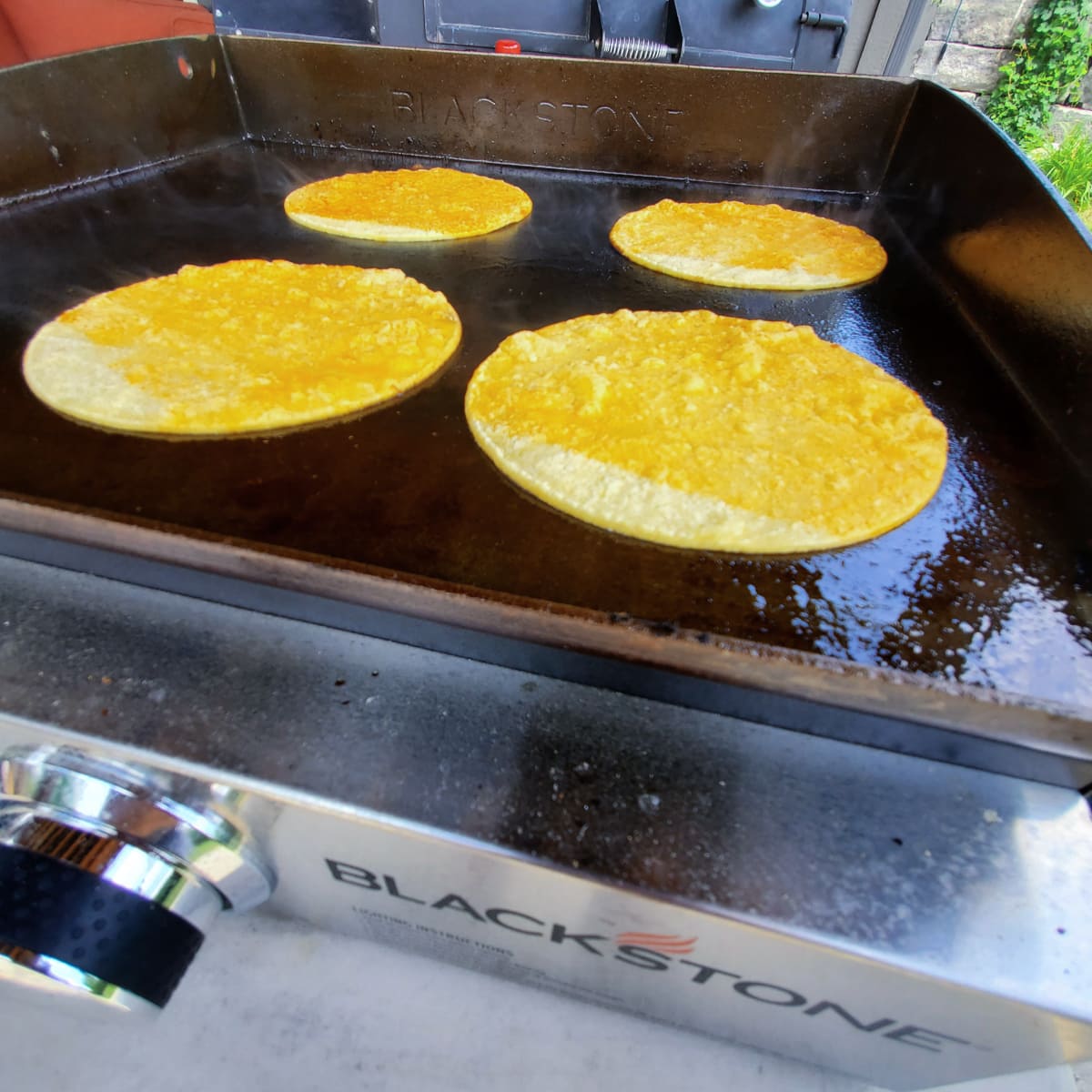 To make the quesabirria tacos on a Blackstone of griddle heat oil or beef tallow on the flat top over medium high heat. Dip the corn tortillas in the fat layer from the consommé and fry for about 15-30 seconds. Flip the tortillas over and with cheese. Top half of the tortillas with the smoked brisket and cook for about 15 seconds.
Next place the tortillas the the brisket, on top of those that just have the cheese. Fold over and cook on both sides for about 30 seconds per side, or until the tortilla is crispy and the cheese is melted.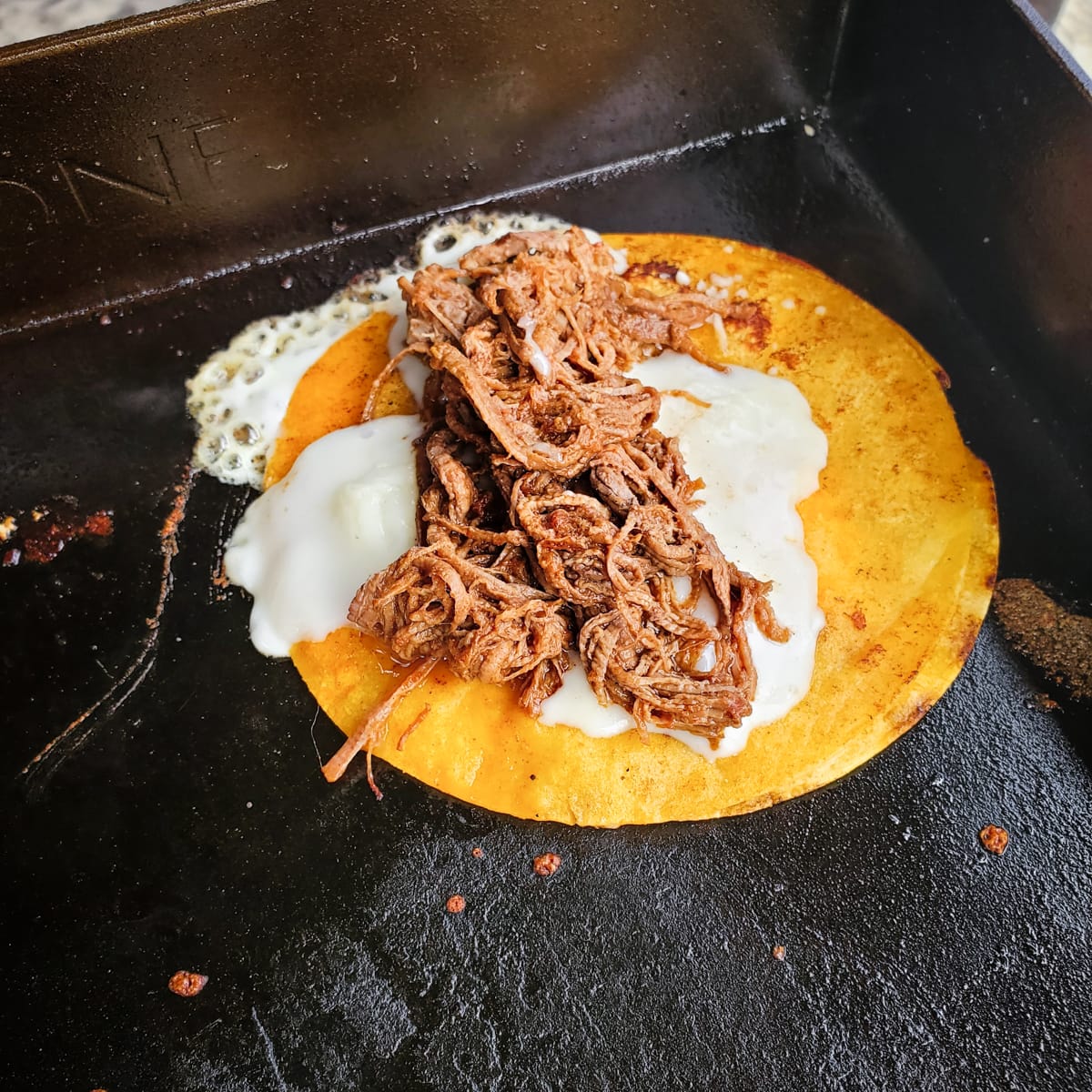 Repeat the process with the remaining tacos.
Enjoy your quesabirria tacos!
Serve the Brisket Quesabirria Tacos with some of the warm consommé, hot sauce, or salsa. Enjoy with some fresh guacamole, charro beans, and perhaps a spicy Margarita or Mezcal Paloma.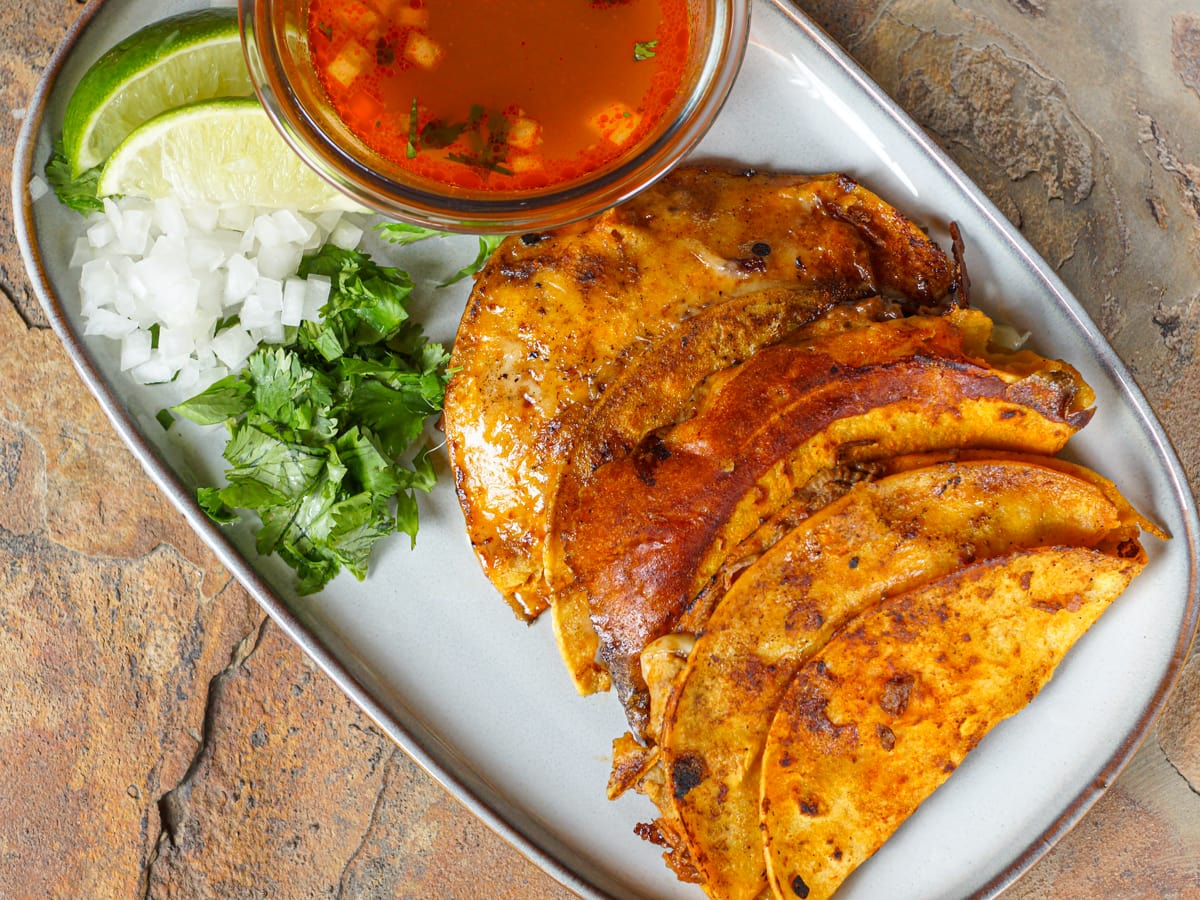 Looking for something a little more authentic? Why not make some authentic lamb birria from scratch or beer braised beef cheek barbacoa to use in your tacos.
Thanks again for visiting Carne Diem. If you tried and enjoyed our recipe, please share with others. Also don't forget to tag us @Carne_Diem_Culinary or #CarneDiemBlog, we love to see your pics! To be notified of future recipes please follow us on Facebook,  Instagram, or Pinterest, or sign up for our e-mail notifications.
📖 Recipe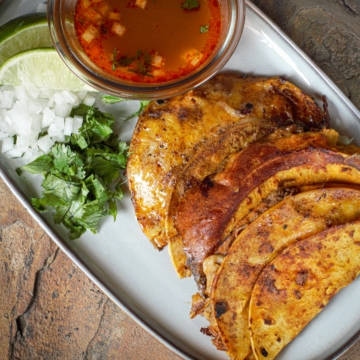 Brisket Quesabirria Tacos
These Brisket Quesabirria Tacos are a fusion of two of our favorite foods, brisket and birria style tacos. Tender smoked brisket is simmered in a rich au jus then loaded into corn tortillas with smoked mozzarella before being fried to perfection in beef tallow. This recipe can be made in a skillet or a griddle like a Blackstone.
Equipment
Skillet or Flat top grill
Ingredients  
12

Street Taco Sized Corn Tortillas

12

Slices Smoked Mozzarella or Mexican Mozzarella

1

Pound

Smoked brisket or burnt ends

Beef Tallow

or lard or cooking oil for frying

2

Cups

Au jus or flavorful beef broth
Instructions 
Add the au jus or beef broth to a small pot along with the cooked smoked brisket. Bring to a boil then reduce to a simmer. Simmer for 30 minutes.

Heat the beef tallow or cooking oil over medium heat. Working in batches, fry the corn tortillas for about 30 seconds.

After frying for 30 seconds flip the tortillas over and add a slice of the mozzarella to each corn tortilla. Fry for 30 seconds, then add some of the warm brisket to half of the tortillas.

Place the tortillas with the brisket and cheese on top of those with just cheese. Fold over into a taco and cook until the cheese is melty.

Remove to a paper towel lined plate. Repeat the process with the remaining tacos.

Serve warm along with a cup of the au jus for dipping.
Nutrition
Calories:
242
kcal
Carbohydrates:
23
g
Protein:
20
g
Fat:
8
g
Saturated Fat:
2
g
Polyunsaturated Fat:
1
g
Monounsaturated Fat:
3
g
Cholesterol:
48
mg
Sodium:
394
mg
Potassium:
391
mg
Fiber:
3
g
Sugar:
1
g
Vitamin A:
13
IU
Calcium:
65
mg
Iron:
2
mg