Protein:
Method: Smoker, Oven, Steamer
Jump to Recipe
I will try to avoid the obligatory Meg Ryan/Katz's Deli: "I'll have what she's having" video clip here, but this Homemade Pastrami is OMG level good. This Jewish deli delicacy was believed to be brought to America by Romanian Jewish immigrants, and has become an American-Jewish deli staple ever since. If you can find some high quality brisket flat corned beef, this recipe is really pretty simple. Just season the corned beef, throw it on the smoker and then, if desired finish or reheat it by steaming it and you have some of the best pastrami you will ever taste.
If you are looking for more European inspired dishes then be sure to check out some of these great recipes:
Tenderloin Tip Beef Stroganoff
Shrimp Mozambique: Spicy Portuguese Shrimp
Making the Homemade Pastrami
The first step in making a great Homemade Pastrami is using a high quality corned beef. We typically make our own, and making your own corned beef is a fun and satisfying way to go about making pastrami. When choosing a store bought corned beef, you want to try to find a corned brisket flat. A lot of times this is labeled as such or if you are unsure, ask your butcher. Corned beef made from the point of a brisket is fattier and, while great for corned beef dishes, is not the best choice for making pastrami.
Remove the corned beef from its brine and rinse under cold water. We highly recommend soaking the corned beef in water overnight to then draw out more of the salt brine, but if you don't have time do do this make sure you thoroughly rinse the brisket before applying any rub and avoid adding any more salt to the rub.
Make your pastrami rub
To make the rub for the smoked corned beef brisket combine the spices in a bowl and mix to combine. If you don't have some of the spices listed in the recipe feel free to substitute as you see fit. Make this recipe your own. We do recommend using a combination or coarse/whole spices, and finely ground spices in your rub.
Next gently crack the spice mix using a mortar and pestle or the back of a spoon.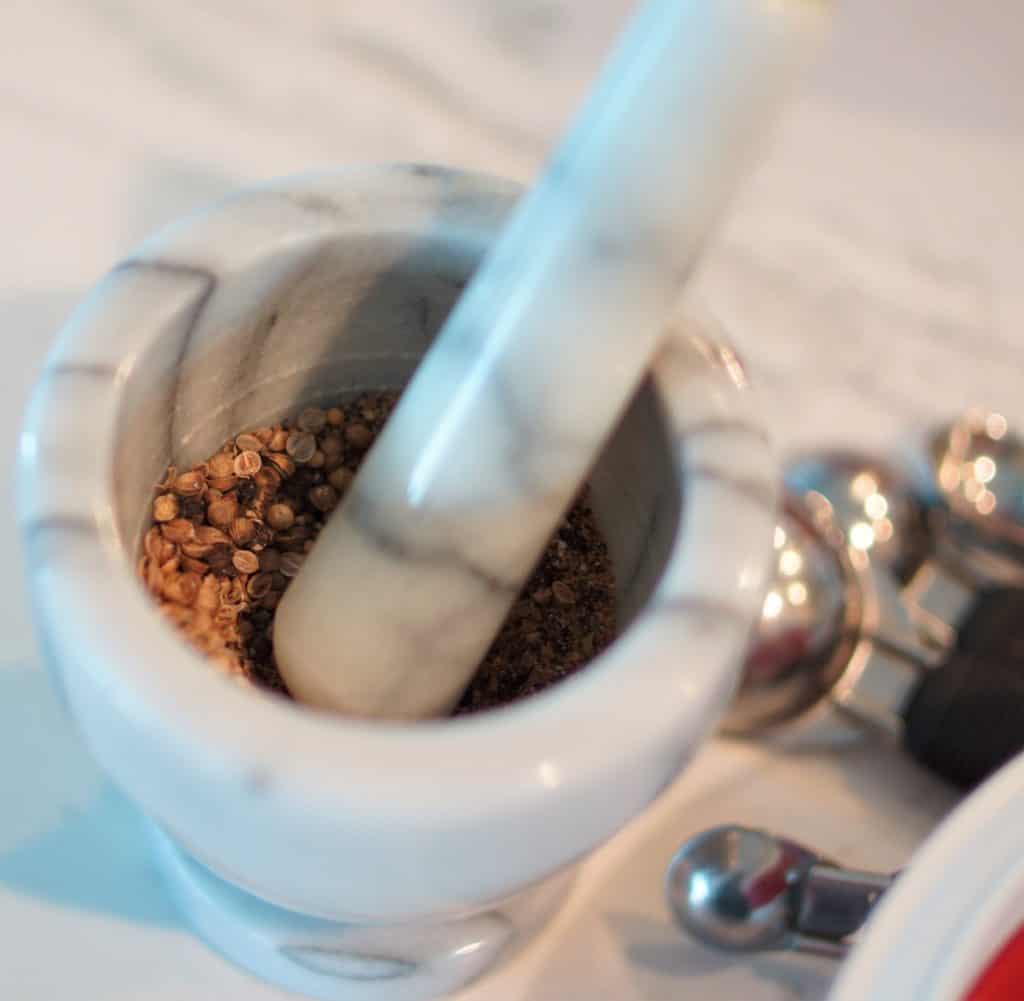 Season the smoked corned beef
Generously coat the corned beef brisket with the rub. Generally a binder is not needed, but if you feel more comfortable using a thin layer of mustard as a binder, that is fine too. Let the Homemade Pastrami sit at room temperature while you heat up the smoker.
Smoking the pastrami
Preheat you grill or smoker to 225-250 degrees. We strongly recommend monitoring the temperature with a meat thermometer.
Smoke the corned beef until it reaches an internal temperature of 165 degrees and the rub appears set on the meat. The time needed to do this can vary greatly depending on your grill or smoker but on average figure about 1-2 hours per pound.
Continue smoking or steam the Homemade Pastrami
At this point you have a couple options. You can treat the pastrami like a brisket and continue smoking it to about 198-205 degrees, you can wrap it and continue it in the smoker or oven, or you can steam it. Traditionally, pastrami is finished by steaming it. We are fortunate enough to have a steam oven so that is how we always elect to finish the pastrami. For those without a steam oven you can still accomplish the same thing by placing the pastrami on a wire grate over a pan of water, and then wrapping the pan and brisket with foil. It works best to start with hot water in the pan and make sure the brisket is not sitting in the water. If you are are using the steam method, cook the meat until it reaches 203-205 degrees then remove from the oven or smoker.
Serving the Smoked Corned Beef Brisket
When you are ready to eat, slice the pastrami across the grain.
At this point you can eat it as is or slap some of it on some rye bread with some mustard and go to town. Serve with your favorite sides or some Jalapeno Coleslaw. Need ideas on how to use leftover pastrami? Give our Breakfast Pastrami Hash a try.
If you just can't get enough smoked beef, be sure to check out our Halifax Style Smoked Donair: Canada's Gyro, Big A$$ Meatballs, with Truffle Burrata, and Beef Short Rib Burnt Ends.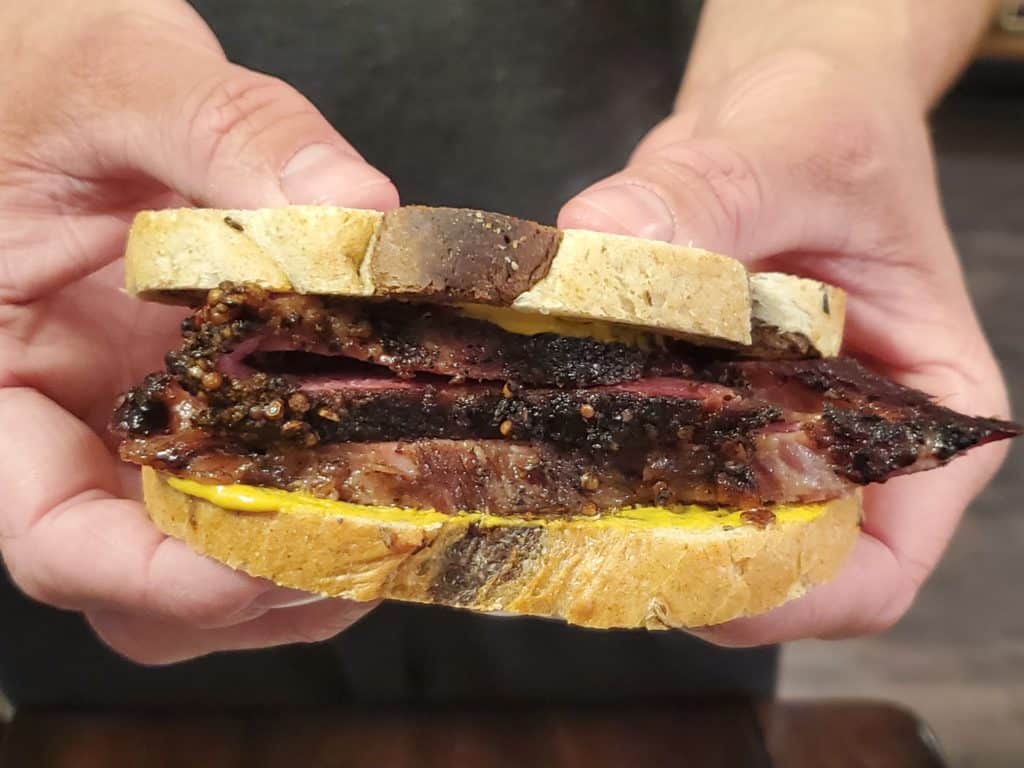 Thanks again for visiting Carne Diem. If you tried and enjoyed our recipe, please share with others. Also don't forget to tag us @Carne_Diem_Culinary or #CarneDiemBlog, we love to see your pics! To be notified of future recipes please follow us on Facebook,  Instagram, or Pinterest, or sign up for our e-mail notifications.
📖 Recipe
Homemade Pastrami: Smoked Corned Beef
Pastrami is the quintessential Jewish deli meat. Homemade pastrami is even better, and not that difficult to make. Our smoked corned beef recipe makes for some OMG fabulous pastrami that you will want to make again and again.
Ingredients  
2-4

pound

Corned Beef Brisket Flat
Pastrami Rub
1

Tab

Peppercorns

1

Tab

Whiskey Smoked Cracked Pepper

2

Tab

Coriander Seeds

1

tea

Mustard Seed

1

Tab

Smoked Black Pepper

1

tea

Garlic Powder

1

tea

Onion Powder

2

tea

Paprika

1

Tab

Brown Sugar
Instructions 
Combine the rub ingredients in a bowl or mortar and pestle and gently grind the spice mix, cracking open the whole spices.

Remove the corned beef from the brine solution and rinse under cold water to remove as much brine solution as possible. We recommend then soaking the brisket overnight in fresh water in the refrigerator to further draw out some of the brine.

When you are ready to cook, pat dry the brisket and generously apply the rub. Let sit at room temperature while you prepare your smoker.

Heat your smoker to 225-250 degrees. Smoke the corned beef brisket to an internal temperature of 165 degrees, (about 1-2 hours per pound).

At this point, finish the pastrami by continuing to smoke or wrapping in foil and smoking to 203-205 degrees internal temperature. For a more authentic version finish by steaming the pastrami to a finishing temp of 205 degrees.

Slice across the grain and serve warm or serve as a sandwich on rye bread.
Nutrition
Calories:
327
kcal
Carbohydrates:
6
g
Protein:
23
g
Fat:
23
g
Saturated Fat:
7
g
Polyunsaturated Fat:
1
g
Monounsaturated Fat:
11
g
Cholesterol:
82
mg
Sodium:
1843
mg
Potassium:
535
mg
Fiber:
2
g
Sugar:
2
g
Vitamin A:
31
IU
Vitamin C:
42
mg
Calcium:
43
mg
Iron:
3
mg