Last Updated on October 4, 2023 by Carne Diem
Travel, Eat, Share: Local edition
Our blog's motto has been 'Travel, Eat, Share' and was based upon the principals of sharing great foods from around the world that we discover during our travels and recreate at home. When Covid struck in 2020 our travelling came to a halt. In some ways this became a bit of a blessing in disguise as we quickly realized that there is a world of flavors and cuisines right at out fingertips in Kansas City. We have spent the last couple years discovering great local restaurants and rediscovering some old favorites. Sticking with the 'Share' in our motto we felt it would be a great idea to break from our usual food blogging and share some of our favorite local eats, starting with one of our favorite foods: tacos.
Welcome to Taco Town USA
For those that are unaware, Kansas City has a thriving taco culture and has been named one of the best taco destinations in the United States. People flock to local eateries to complete the Kansas City Taco Tour. I began my mission after being inspired by Kansas City Magazine's list of the 35 essential KC tacos. What began as a goal to eat these 35 tacos turned into a year long obsession with determining what, in my opinion, are the best tacos in Kansas City.
Live Every Day Like It Is Taco Tuesday

Harry S. Truman (I Think)
As I made my way across the City of Fountains I searched for the best of what I consider to be the core street tacos: Asada, Pastor, Barbacoa, and Carnitas. I also quickly realized that I was going to have to include the ever trendy Quesabirria tacos on this list, as they quickly became a favorite. Finally, I included a 'best of the rest' because there are some fantastic 'outside the box' and other traditional variations of tacos well worth trying. After eating at over 50 local taco joints and hundreds of tacos, these are what I feel are The Best Tacos on Kansas City for 2022.
Best Carne Asada Tacos in Kansas City
When it comes to street tacos, carne asada is typically the first variation that first comes to mind. Citrusy marinated steak, grilled to perfection and then topped with diced onions and cilantro. Top them with a little hot sauce and you are in taco heaven. Of all of the categories this was by far the most difficult as there are a lot a great carne asada street tacos in Kansas City.
Address: 7425 Quivira Rd, Shawnee, KS 66216 and 1311 Minnesota Ave, Kansas City, KS 66102
I guess that it should be no surprise that one of our favorite steak tacos comes from the taco counter at a meat market. The carne asada was tender and flavorful, just like it should be. Pay a quick visit to the salsa bar to top your tacos to your personal preference and you are ready to dig in. After your meal, browse the market for some great Latin ingredients. Mi Pueblito has also become our go to Latin grocery for picking up fresh and dried chilis for recipes like our Scratch Fire Roasted Chile and Beef Enchiladas or fresh crema for our Salvadorian Pollo en Crema.
Address: 5420 Truman Road Kansas City, MO 64127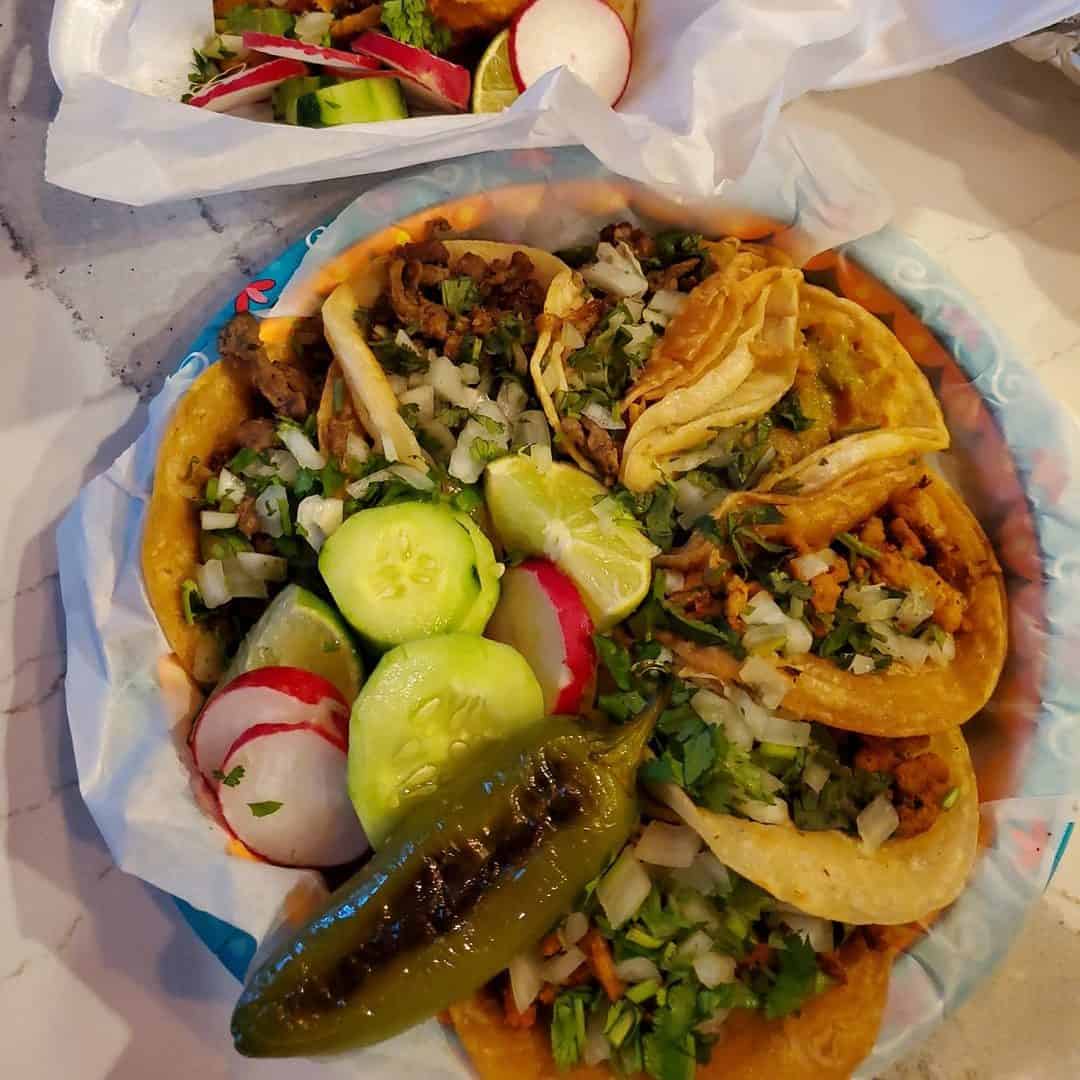 This non assuming food truck in front of the Auto Zone on E. Truman road was one of the greatest finds on our taco tour. In fact, is was one of the 2 taco spots to make our list twice. Every taco we tried at Taco La Guera was fantastic but their carne asasa street tacos quickly separated them from the rest of the pack. As a side note my daughter, who became inspired by my taco tour, decided to find here favorite chicken quesadilla in Kansas City when she accompanied my on my food travels. Tacos La Guera was her favorite which I guess gives them the triple crown.
Address: 7927 Wornall Rd, Kansas City, MO 64114
Taco Cacao was the other Kansas City location to make our list twice. Their carne asada tacos featured larger pieces of steak than some of the others and the tacos were topped with grilled onions, side stepping the tradition of diced raw onions. We can't wait to revisit once they move into their brick and mortar location and are excited that they have now opened additional food trucks throughout Kansas City.
Best Tacos Al Pastor in Kansas City
Those that know me know that I hold a very special place in my heart for al pastor tacos. The combination of achiote marinated pork and sweet caramelized pineapple are a match made in heaven. I have spent years trying to come up with a worthy al pastor recipe, but it is great to know that when I don't feel like spending days making it myself there are some absolutely fantastic al pastor tacos to be had in Kansas City.
Address: 903 N 7th St Trfy, Kansas City, KS 66101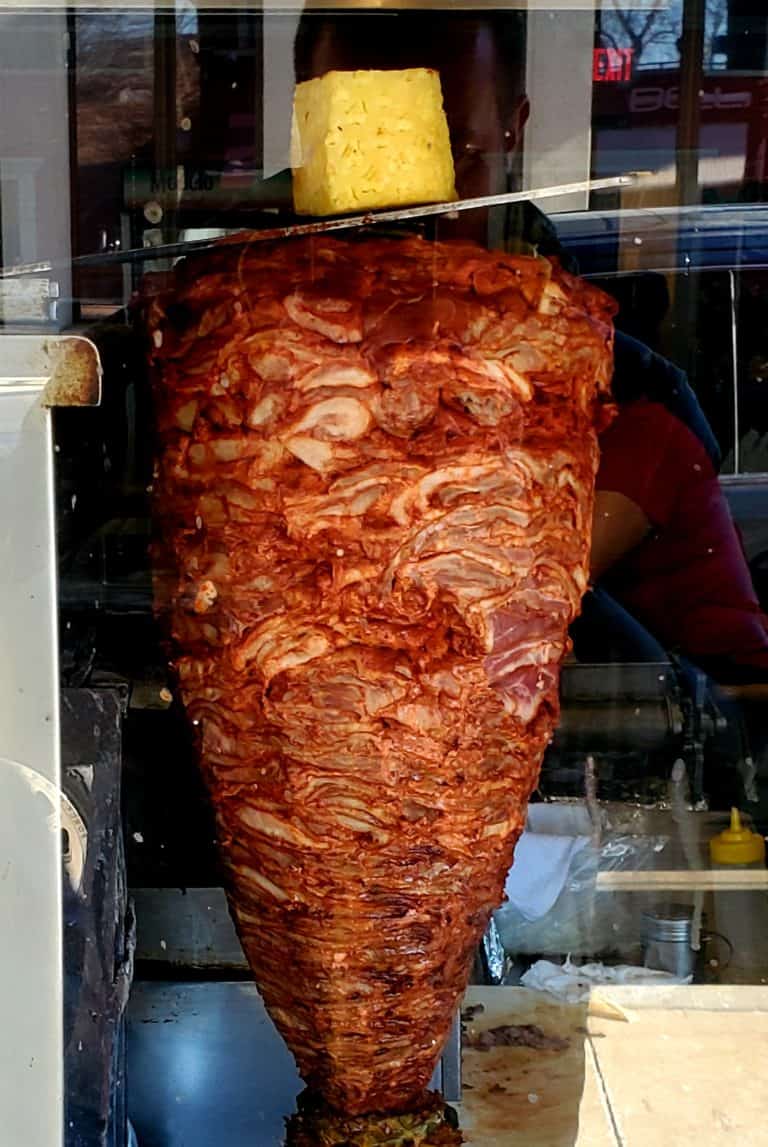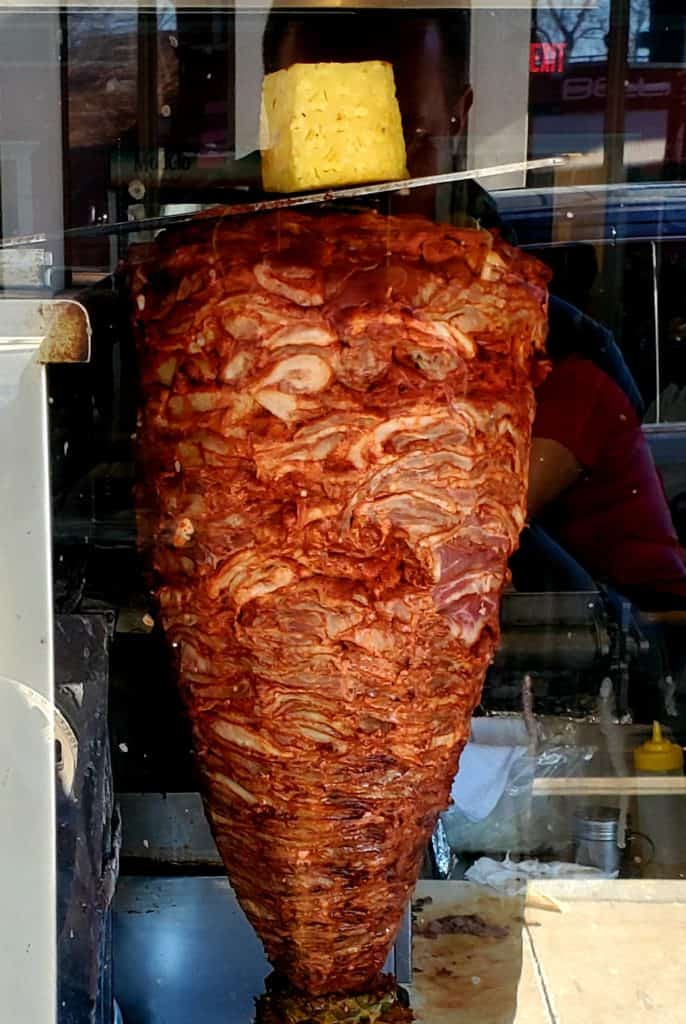 When you mention the best al pastor tacos in Kansas City, El Camino Real in KCK is almost always mentioned. We can't disagree. Serving traditional al pastor sliced off a trompo you can't get any more authentic or delicious.
Address: 801 SE 3rd St, Lee's Summit, MO 64063
This hidden gem in Lee's Summit was a well guarded secret of us East Jackson County residents. The secret is out, however, as lines form before opening on the Sundays that their Quesabirria is on the menu. We agree that it is worth the wait, but their al pastor is the taco that I always go back for. Be sure to check their Facebook page for their hours before venturing out to this fantastic food truck parked in front of the Safelite Auto Glass in Lee's Summit.
Address: 802 Southwest Blvd, Kansas City, MO 64108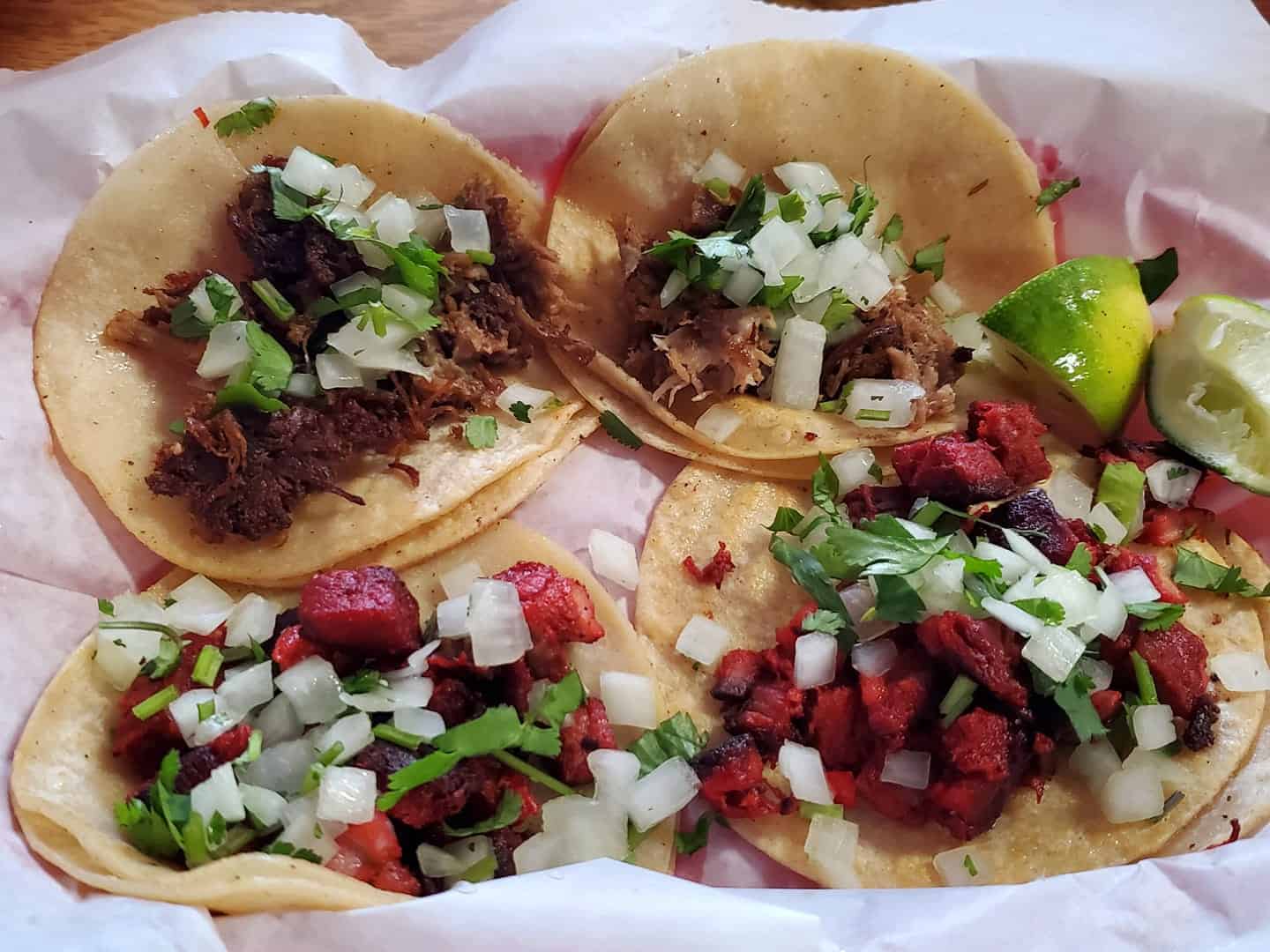 This Southwest Boulevard staple made Kansas City Magazines list of best tacos for their carnitas. In our opinion, however, it was their al pastor tacos that we left talking about. Was that cinnamon we tasted? The al pastor tacos at Rico's Tacos Lupe were unique and we loved every bite.
Best Carnitas in Kansas City
This braised pork from the Mexican state of Michoacán is not always our go to taco living in the land of BBQ and pulled pork. However, don't sleep on this delicious taco either.
Address: 1230 Merriam Ln, Kansas City, KS 66103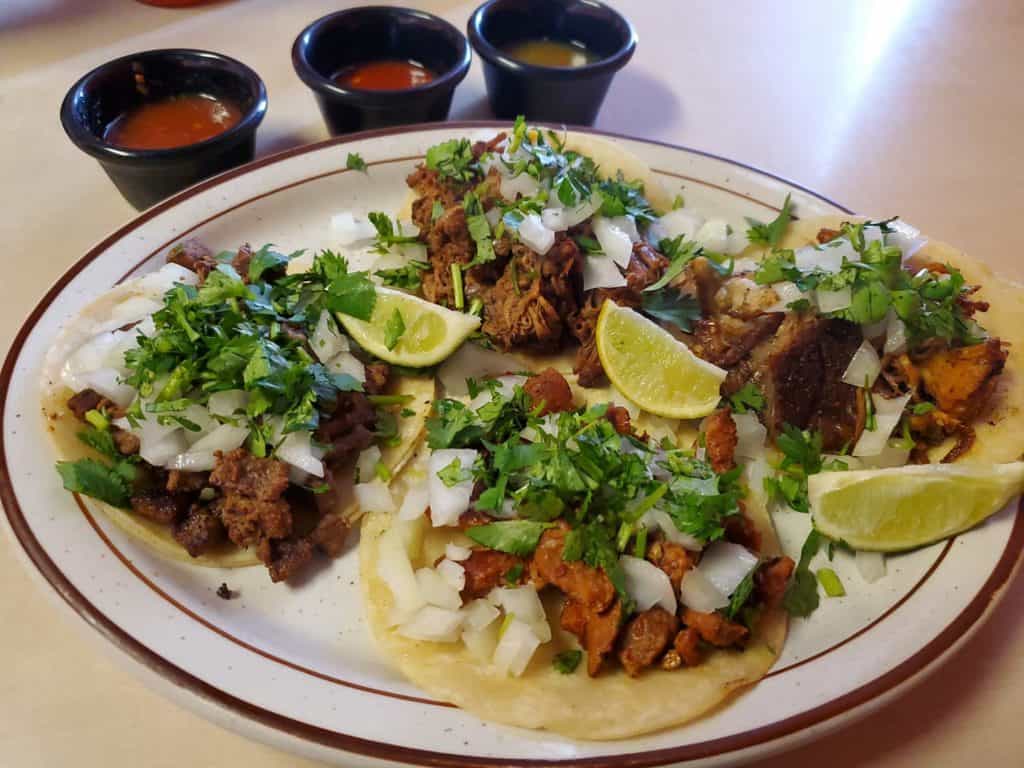 The carnitas at Tacos El Matador could not be any more different that the carnitas from our other favorite, but we loved them all the same. They managed to perfectly crisp up the pork on a flat top while still maintaining the meat's juiciness and flavor. Try the carnitas tacos with a variety of their hot sauces.
Address: 3208 Strong Ave, Kansas City, KS 66106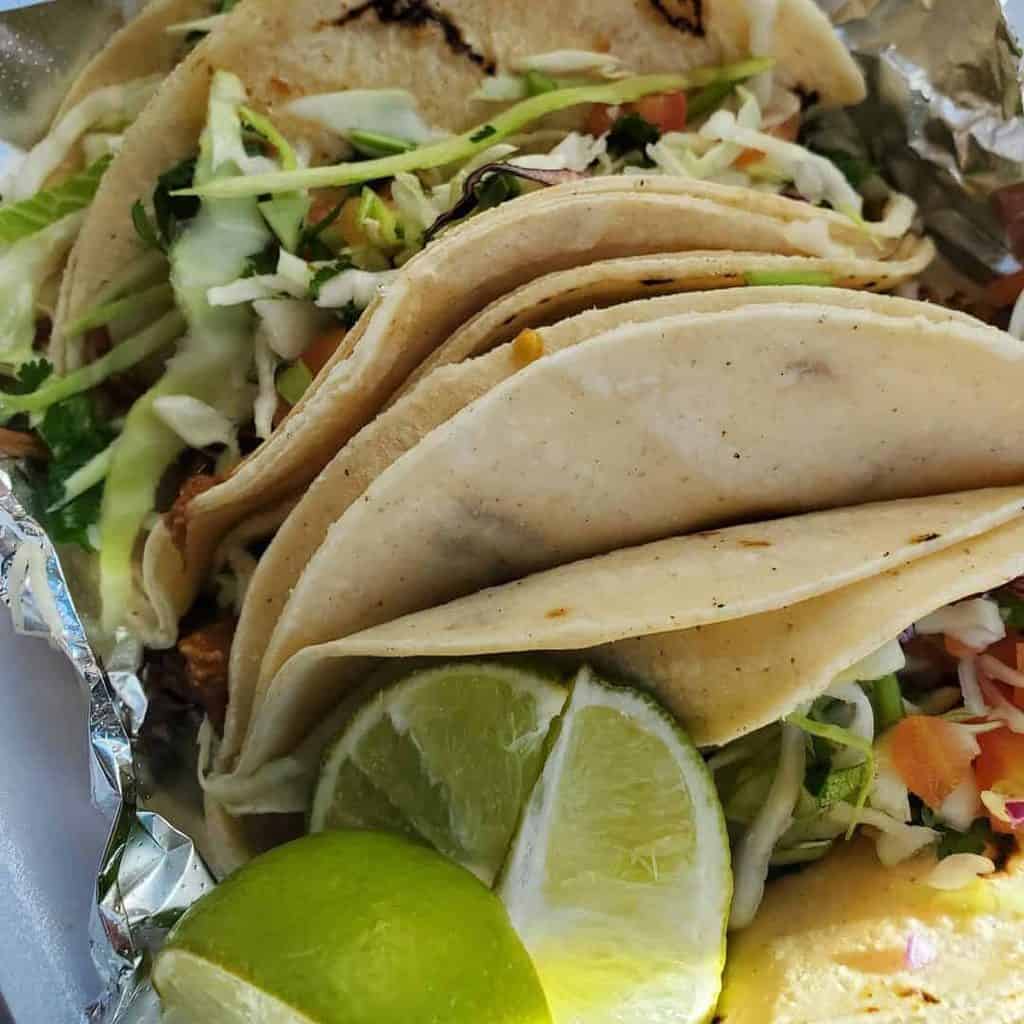 I guess that if it is in your name you better know what you are doing and Pepe's Carnitas delivers. To pack anymore juicy flavor into a carnitas taco just might defy the laws of physics. Make sure to have a couple extra napkins handy because these carnitas are so juicy that the tortillas tend to give up trying to hold all that flavor in after a bite or two.
Best Barbacoa in Kansas City
While you may find it a challenge to find truly authentic barbacoa cooked with traditional methods in Kansas City, there are countless taquerias offering great barbacoa that will have you wondering why you ever stepped foot in a Chipotle. Whether it be beef cheeks, cabeza, or another cut of beef, this tender shredded beef is one of our favorites.
Address: 830 Kansas Ave, Kansas City, KS 66105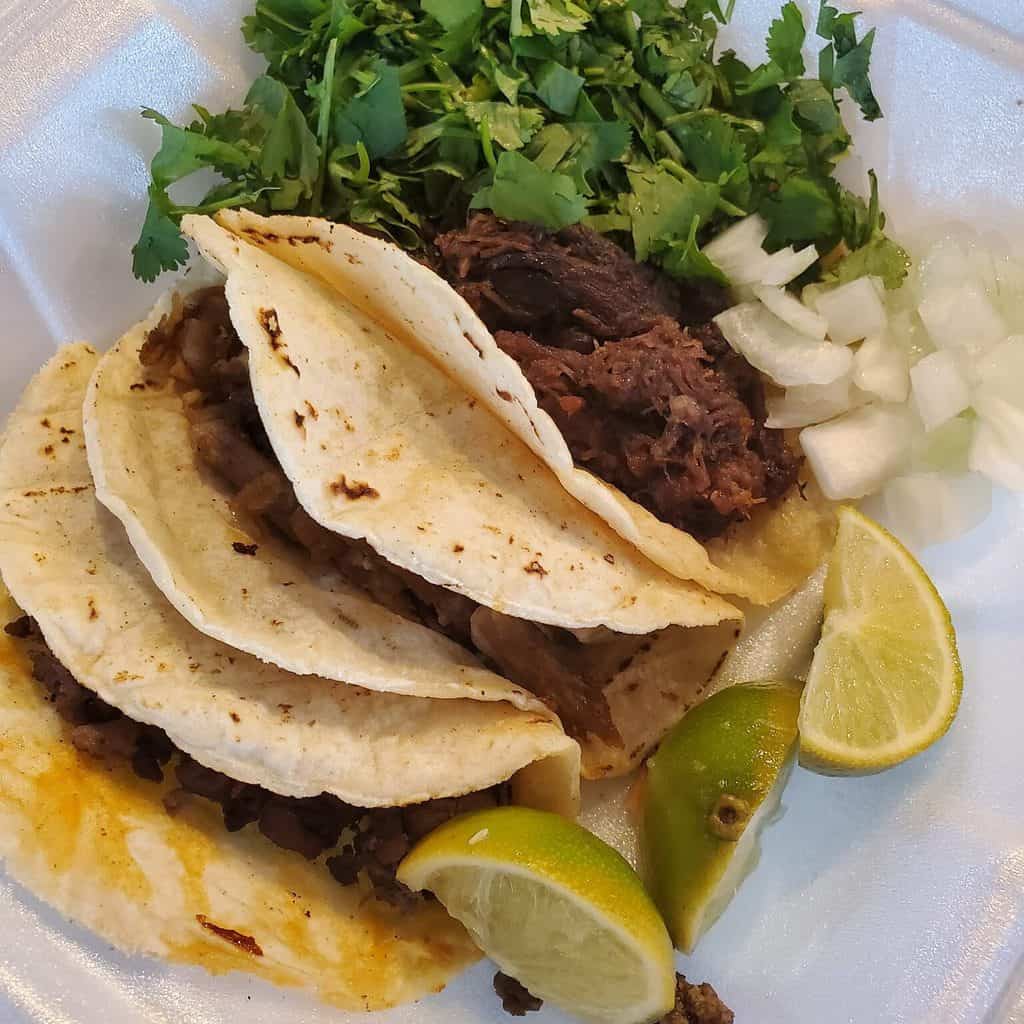 When the tortillas are being made fresh right in front of you and the meat is coming right from their own meat market it is really hard to go wrong. Honestly you really can't go wrong with any of the tacos from Carniceria y Tortilleria San Antonio. If forced to choose, however, their barbacoa is spot on. Order a few and take a trip to their salsa and topping bar to load them up. Don't forget to get some fresh tortillas for the road on your way out.
Address: 1150 Minnesota Ave. Kansas City, KS 66102 and 1231 E Santa Fe St, Olathe, KS 66061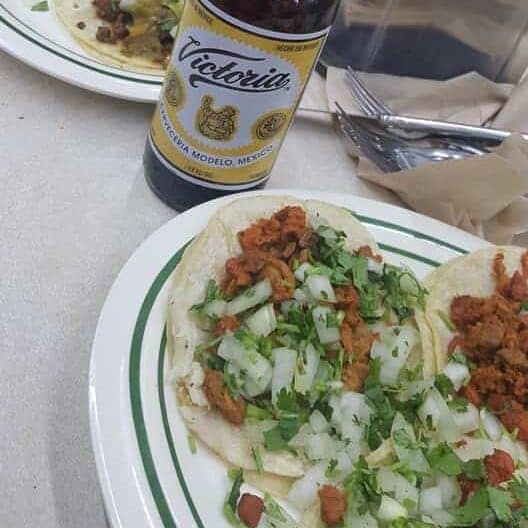 Going into my my pilgrimage to find the Best Tacos in Kansas City, Bonito Michoacan was my go to taco joint. It still remains one of my favorites, where no matter what type of taco you love, they do it well. As far as a standout taco, their barbacoa has become one of my wife's favorite tacos in Kansas City and I can't disagree. Grab a drink from the cooler or beer from the ice box and wait in the line to order from the taco counter.
Address: 10450 Metcalf Ave, Overland Park, KS 66212
The barbacoa at El Fogon lives up to the reputation set by KC Magazine as one of the best tacos in Kansas City. Their entire lineup is solid so mix it up and try a variety. Makes for a great location to get your authentic street taco fix for those that don't want to venture out of Johnson County.
Feel like trying barbacoa at home? Try our Beer Braised Beef Cheek Barbacoa.
Best Quesabirria Tacos in Kansas City
I have no idea how we were so late to jump on this taco bandwagon. Quesabirria tacos may just be the best thing since sliced bread (if by sliced bread you mean tortillas filled with juicy shredded beef, lamb, or goat and cheese, dipped in consume and fried and then served with more consume for dipping the tacos in).
Address: 904 N 18 St, Kansas City, KS 66102
El Menudazo was one of the top locations that I had to try once I discovered the culinary perfection that is the quesabirria taco. Sadly, it took me way longer to make it over there than it should of. The owner is friendly and the food is great. I went back and forth about naming a favorite taco in Kansas City but decided against it, but their lamb quesabirria would defiantly make a top 3. Even my wife that does not care for lamb called it one of the best tacos she has ever had and our daughter (the quesadilla eater) literally drank all of the consume.
Unfortunately, with the passing of Chico Lucero El Menudazo closed in 2022 and we are left with a birria sized hole in our heart. Rumors of reopening as a pop-up have started stirring on social media, so we can only hope.
Address: 1100 s 7 Hwy, Blue Springs, MO 64014
Another East Jackson County staple, Tacos El Sombrero continues to serve up great tacos from the Orscheln parking lot off 7 highway in Blue Springs. Having eaten there several times and enjoying their tacos, I was fortunate enough to try their quesabirra tacos at a food truck round up in Blue Springs last summer. I was blown away. The meat was so juicy and flavorful that it almost did not need the consume (I still used it because it was great too). It is not always on the menu, but get in line when it is.
Address: 5420 Truman Road Kansas City, MO 64127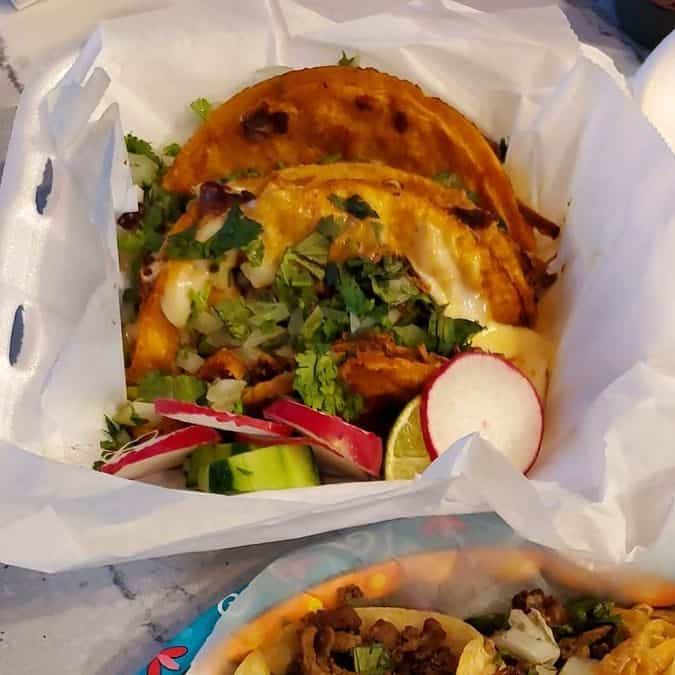 As mentioned earlier, Tacos la Guera is not just doing a few things right, they are doing everything right. Why expect anything different from their quesabirria tacos. Juicy, flavorful, delicious!
Ready for the ultimate Kansas City-Taco fusion. Try our Brisket Quesabirria Tacos.
Best of the Rest:
Address: 3430 Independence Ave, Kansas City, MO 64124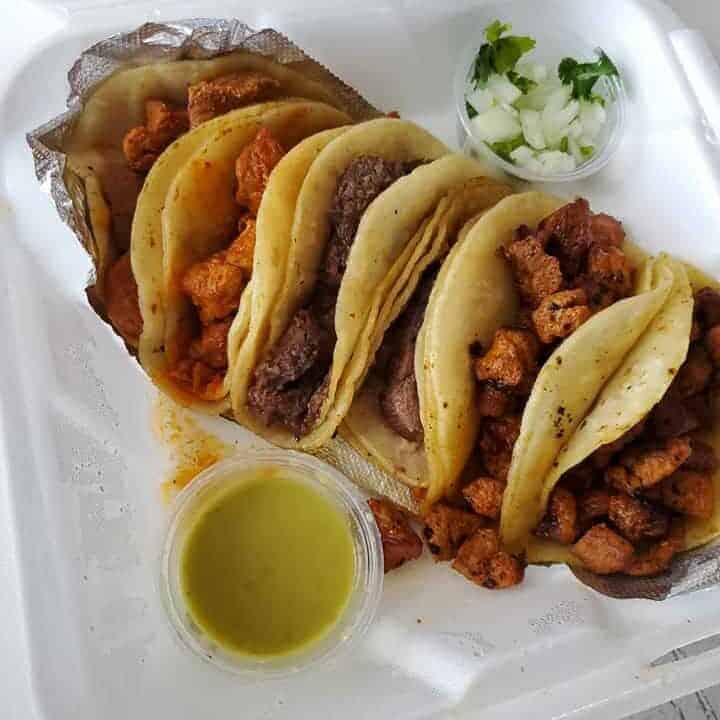 El Paso Del Norte on Independence Avenue in Kansas City, Missouri was the first new location on my taco tour. Their Guisado Rojo tacos were a new taco for me and they quickly became a favorite. As I worked my way around the metro looking for the Best Tacos in Kansas City that spicy pork taco always remained near the top of the list. If you enjoy a spicy taco, this may just be the best bite in KC.
Sancho Streetside: Asada El Carbon and Tijuana Sausage
Address: 6505 Nieman Rd, Shawnee, KS 66203
So typically I take magazine reviews with a grain of salt, but most of the food reviews from Kansas City Magazine have been pretty spot on. I was very surprised at how many of their rankings for best tacos in Kansas City ended up on my final list as well. While there were a few I disagreed with, the Tijuana Sausage Taco from StreetSide Sancho was not one of them. This was one of our favorite non-traditional/fusion tacos in the metro. Their Asada El Carbon was a close second. Sadly their permanent location is now closed but there food truck is still serving up great tacos.
Address: 7927 Wornall Rd, Kansas City, MO 64114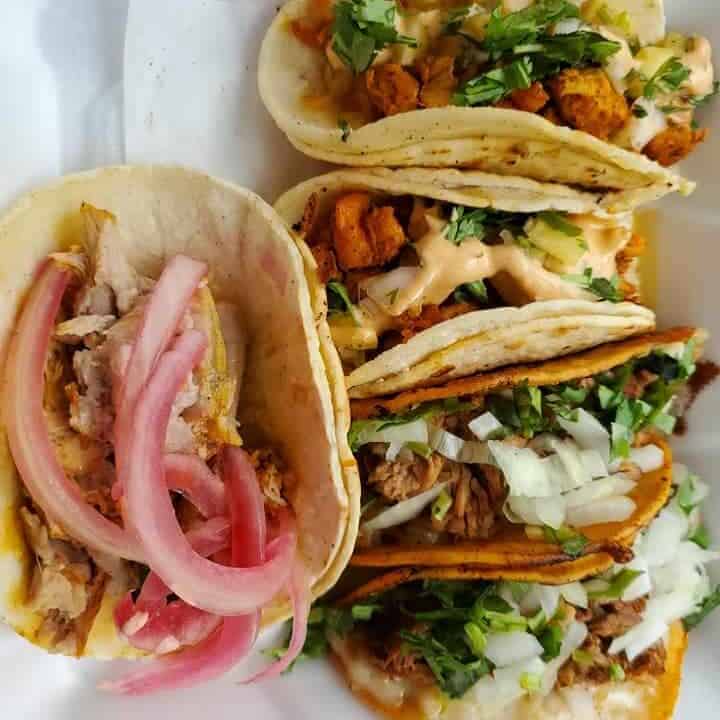 The pollo pastor taco from Taco Cacao can go head to head with the best chicken tacos in Kansas City. Tender, juicy, and a little smoky, it is one great taco.
Fenix: Beef Short Rib Taco
Address: 7313 W 80th St, Overland Park, KS 66204 (In Strang Hall)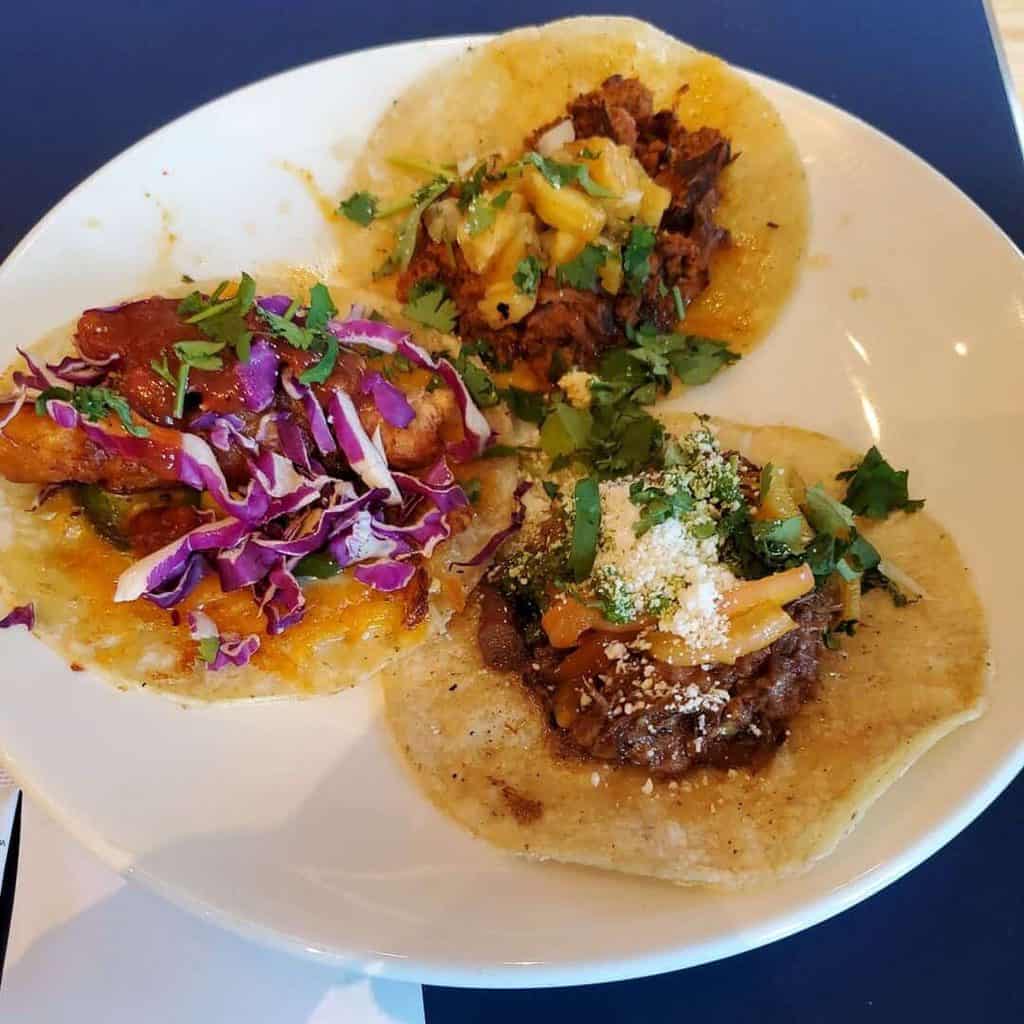 Fenix at Strang Hall claimed to serve 'Tacos Reborn' and their beef short end taco lives up to the billing. There are so many fantastic International offerings at Strang Hall but when you want a great taco, this is the one you want.
Address: 1600 Central Ave, Kansas City, KS 66102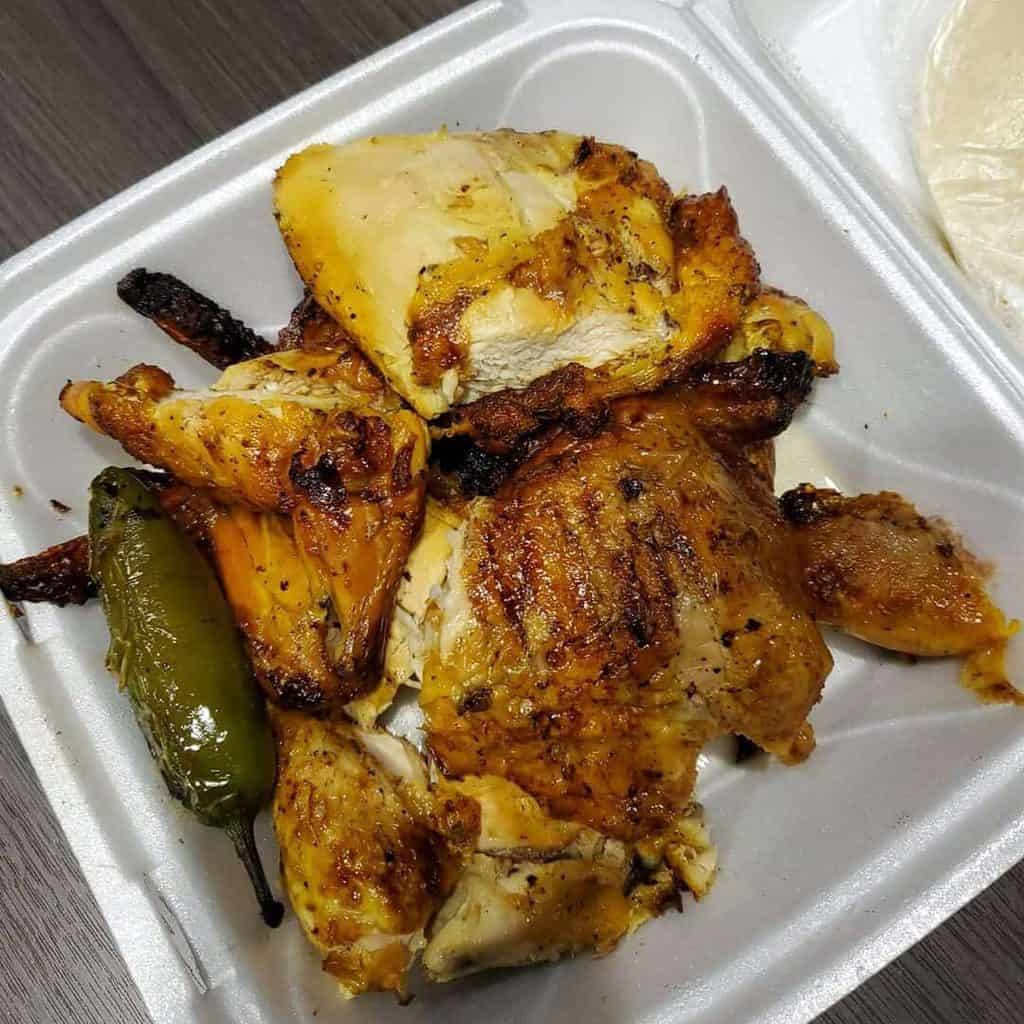 While the smoked and grilled chicken from El Pollo Rey seems to garner a lot of the attention in town (rightfully so, it is also delicious), it was the roast chicken from the small stand on Central Avenue that captured our hearts (and taste buds). These spatchcocked yard birds were packed with flavor from the marinating process and were perfectly juicy and tender. The flavor was so fantastic that I do not think any of us even touched the salsa or other accompaniments.
If you are looking for great taco recipes to make at home, look no further.
Thanks again for visiting Carne Diem. Do you have a favorite that we missed? Please let us know. Don't forget to tag us @Carne_Diem_Culinary or #CarneDiemBlog, we love to see your pics! To be notified of future recipes or reviews please follow us on Facebook, Instagram, or Pinterest, or sign up for our e-mail notifications.