Last Updated on October 20, 2023 by Carne Diem
Protein:
Origin: North American, Canadian, American Midwest
Method: Oven or Smoker, Stovetop
Jump to Recipe
Our beef brisket poutine is a Kansas City twist on the classic Canadian dish. Tender, smoked burnt ends are piled high on crispy fries with cheese curds and topped with a homemade brisket au jus gravy.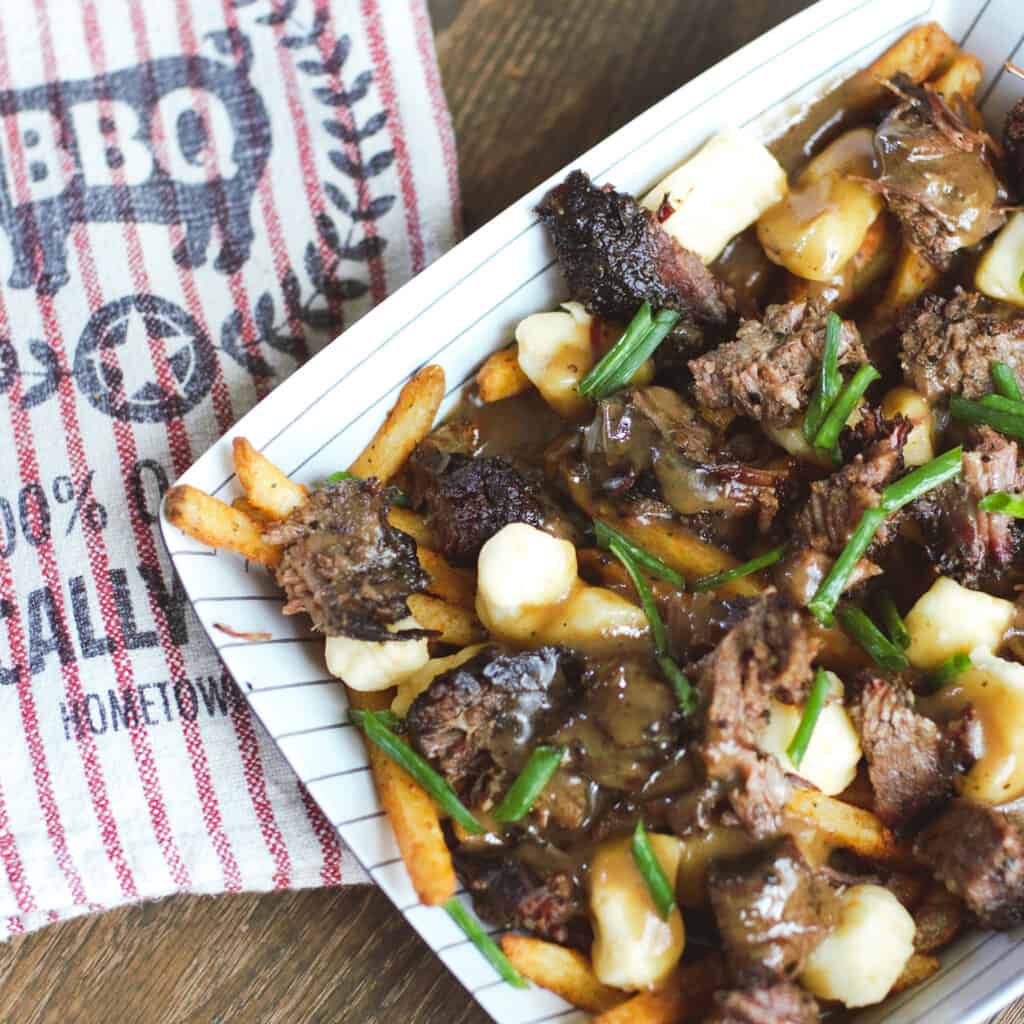 This smoked brisket BBQ poutine has become one of our favorite BBQ appetizers around Kansas City. Restaurants like Q39 make different versions of this BBQ fusion dish. Often after a competition cook or after making brisket at home, we are left with leftover brisket. Thankfully, over the years we have come across a number of recipes to make use of this BBQ staple like brisket chili and our Brisket Quesabirria Tacos.
This smoked brisket poutine has also become one of our go to recipes for making delicious meals out of leftover brisket. It combines those juicy BBQ brisket burnt ends on top of crispy fries, cheese curds, and smoky peppercorn gravy made from au jus from the brisket. While this may not be the healthiest dish that you have ever eaten, it just might be the tastiest.
What is Poutine?
Poutine is the National Dish of Canada and originated in Quebec in the 1950's. Traditionally it consists of French fries topped with cheese curds and a brown gravy. Our version uses au jus from our smoked brisket to make the gravy and is then topped with smoked burnt ends or chopped brisket.
How to Make BBQ Poutine with Smoked Brisket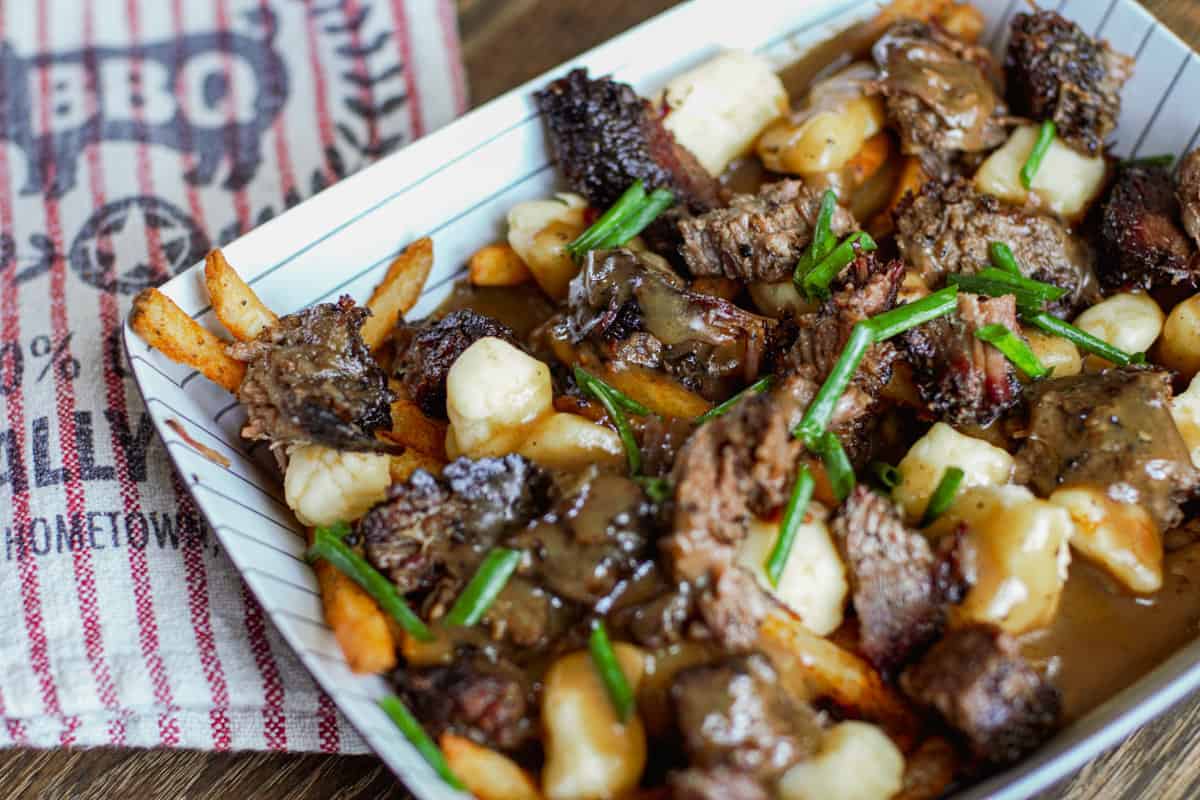 Gather Your Ingredients
To make BBQ Brisket Poutine you will need cheese curds, French fries, chives, au jus and, of course, brisket. We also use some garlic powder, whiskey barrel smoked peppercorns, and Worcestershire sauce to add a little extra flavor to our peppercorn beef gravy.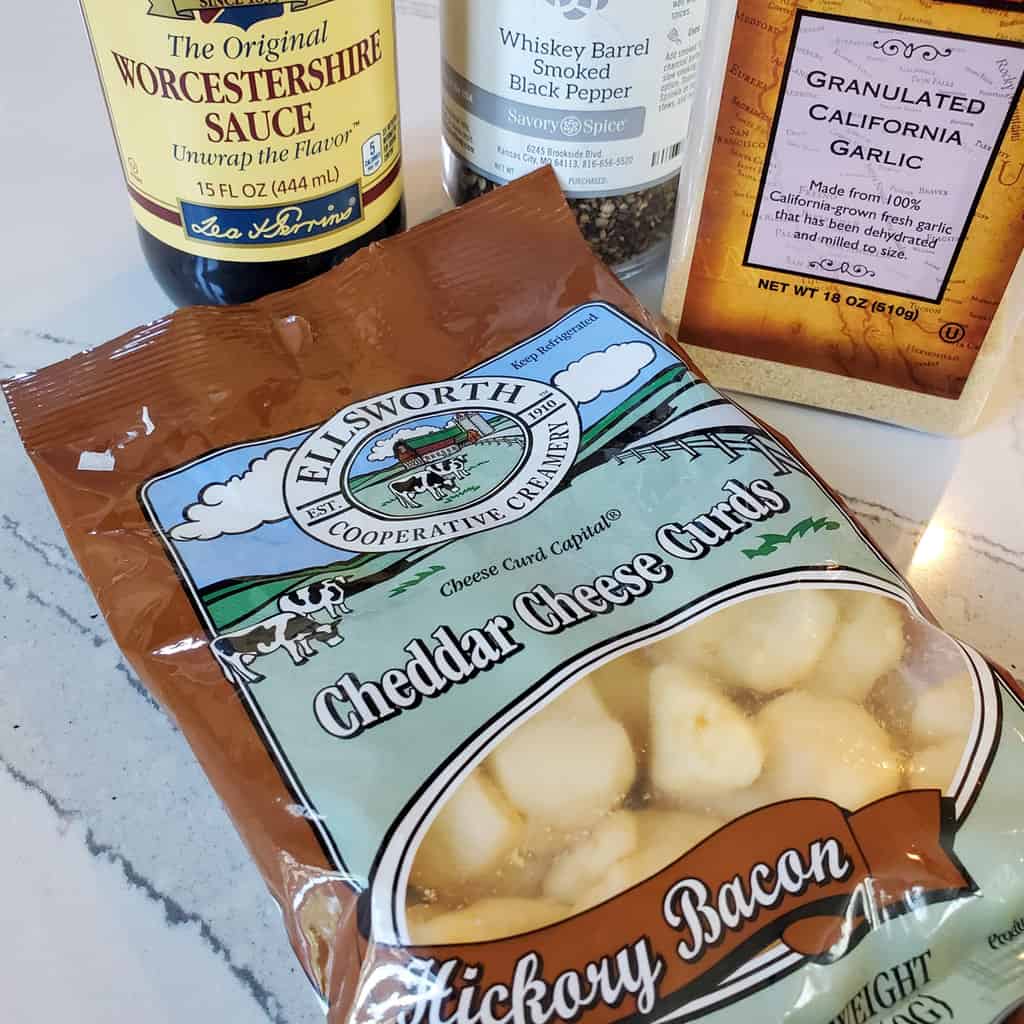 How To Make The Peppercorn Beef Gravy For the Poutine
To make the beef gravy for your BBQ Poutine we typically like to collect the au jus from our brisket wrap. There is no reason to let that liquid gold go to waste. You will need 2 cups of the au jus to make the gravy, so if you are a little short, top it off with beef broth, or water if you want a little less salt. If you do not have brisket au jus you can use 1 cup of store bought au jus and 1 cup of beef broth. We have found if you use 100% store bought au jus the gravy can end up a bit salty. If you have a fat separator, you can use that to help separate the fat from the au jus.
Most of the flavor in your peppercorn beef gravy is going to come from the au jus, but you are going to need to thicken it up some. For this we make a cornstarch slurry which is basically just water and cornstarch. Mix the cornstarch and water until well combined.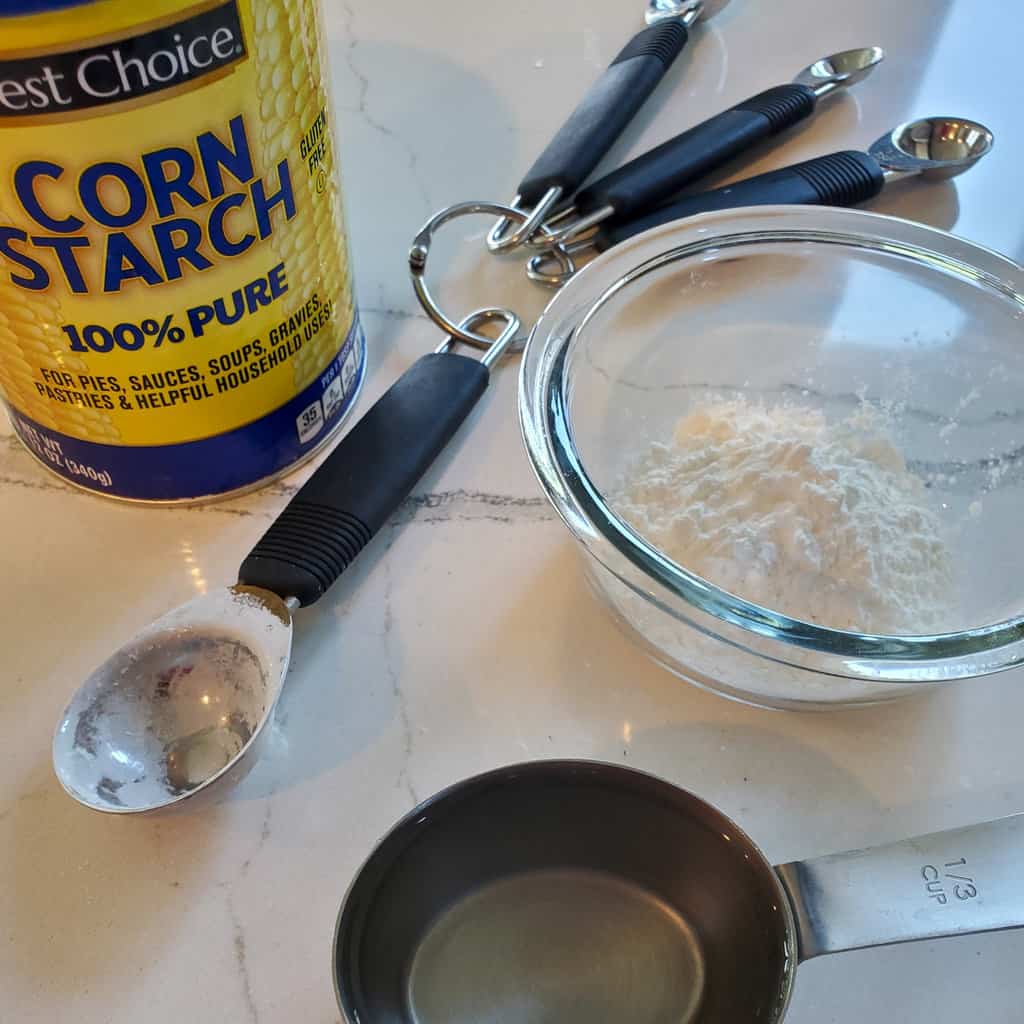 Add the au jus or the au jus/beef broth to a sauce pan and bring to a gentle boil.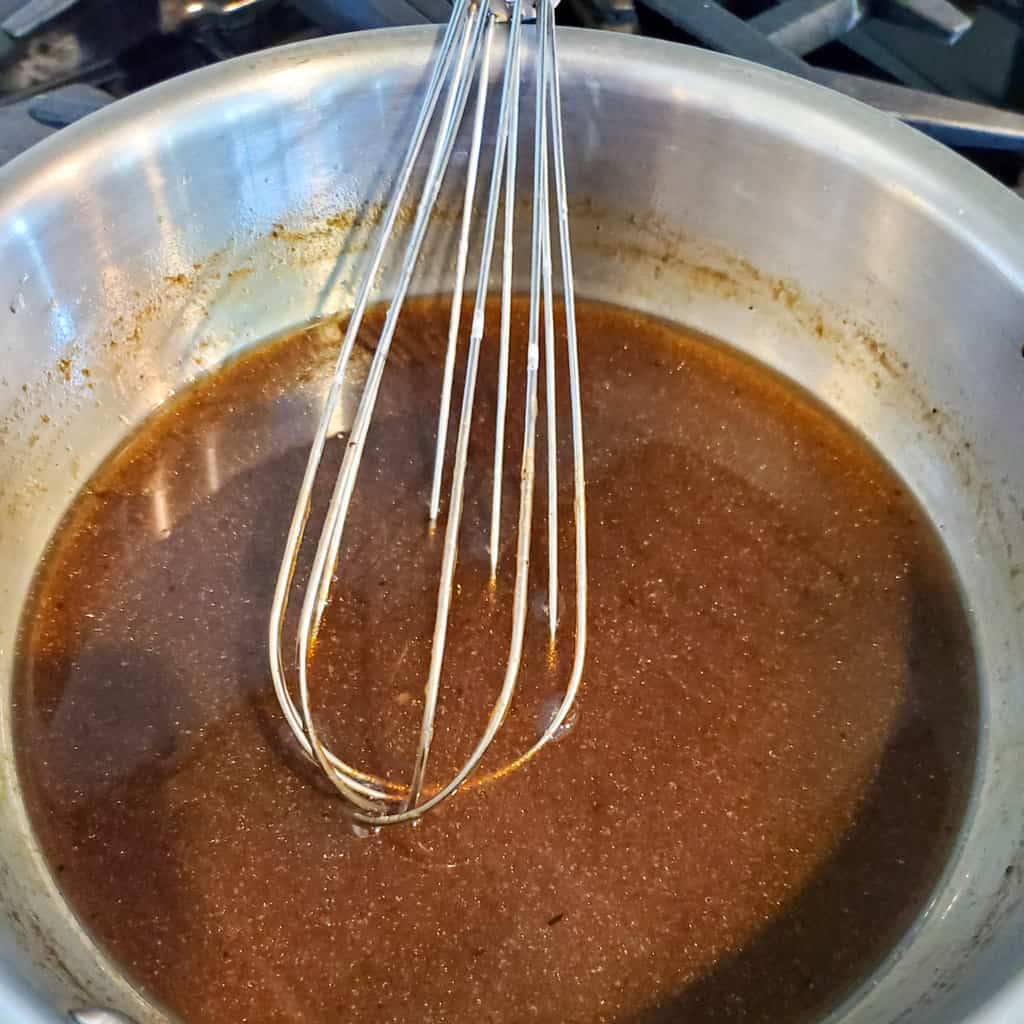 Next, add in the seasonings and Worcestershire sauce.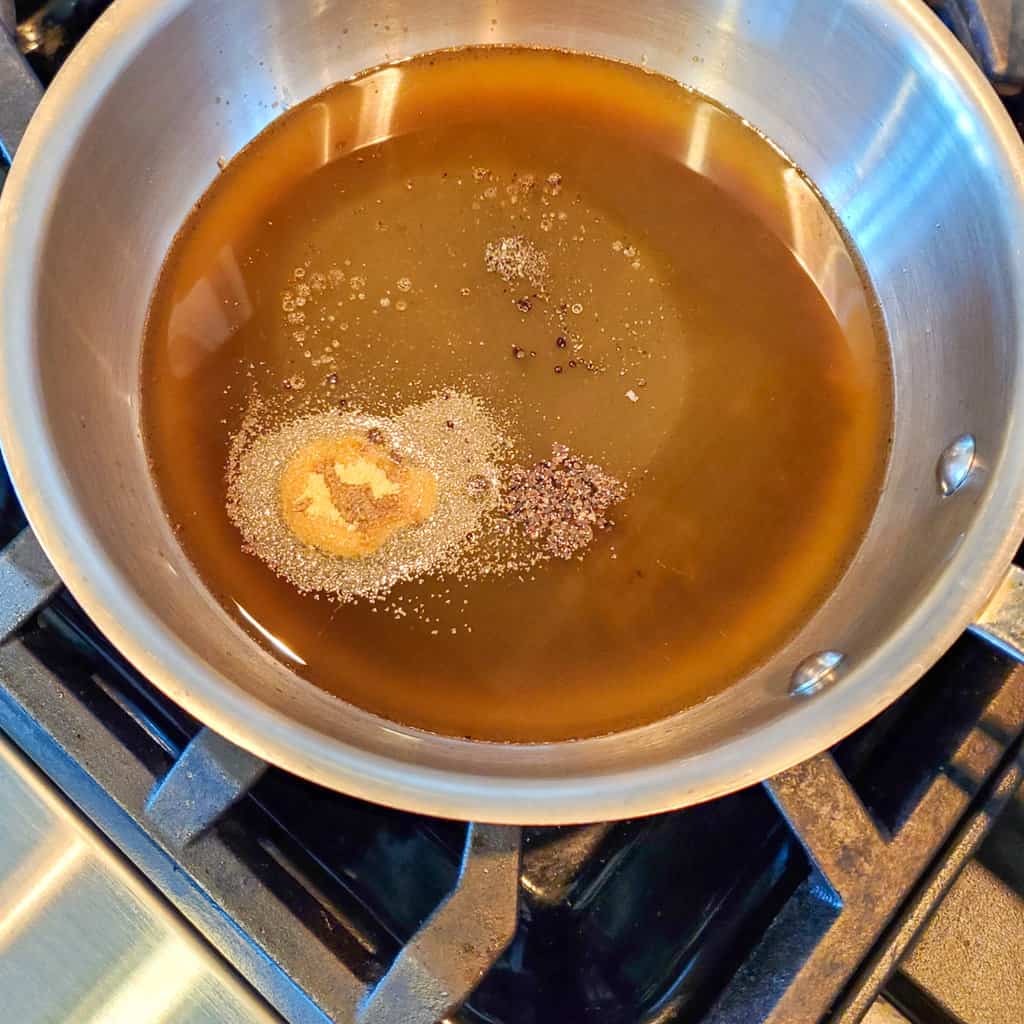 Slowly add in the cornstarch slurry a little at a time (about 1-2 tablespoons at a time), while whisking constantly. Continue adding the cornstarch slurry until you have reached the desired consistency. More than likely you will not need all of the slurry, and often only need a few tablespoons. Be sure to wait about a minute between cornstarch additions.
Once you have your perfect au jus gravy reduce the heat to just keep the gravy warm. If you overshoot and end up with a gravy that is too thick, thin with a little water or beef broth.
Best French Fries to use with BBQ Poutine
We strongly recommend using a crispy French fry for the Kansas City Style BBQ Poutine as they hold up better to the beef gravy. Our favorite is homemade Always Crispy French Fries, but if you have a favorite feel free to use it. Have left over fries? Be sure to try our Peruvian Lomo Saltado and Smoked Lebanese Chicken Shawarma, or use them as a side for our Spicy Double Smash Burger on Texas Toast or Tempura Pork Tenderloin Sandwich.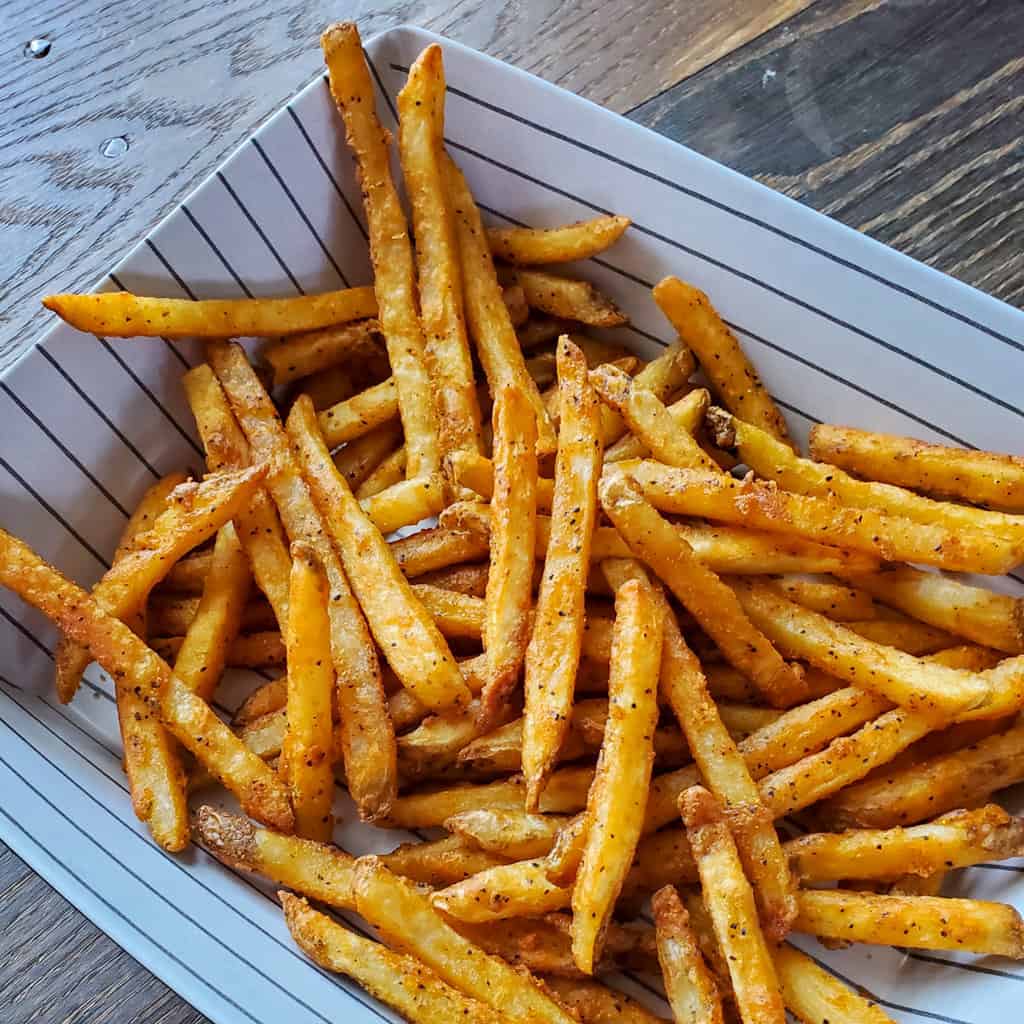 Assemble Your Kansas City Style BBQ Poutine
Place the fries in a pan or large serving plate. Top with the cheese curds. For this recipe we used hickory bacon cheese curds from Ellsworth Creamery, but any cheddar cheese curds will work well.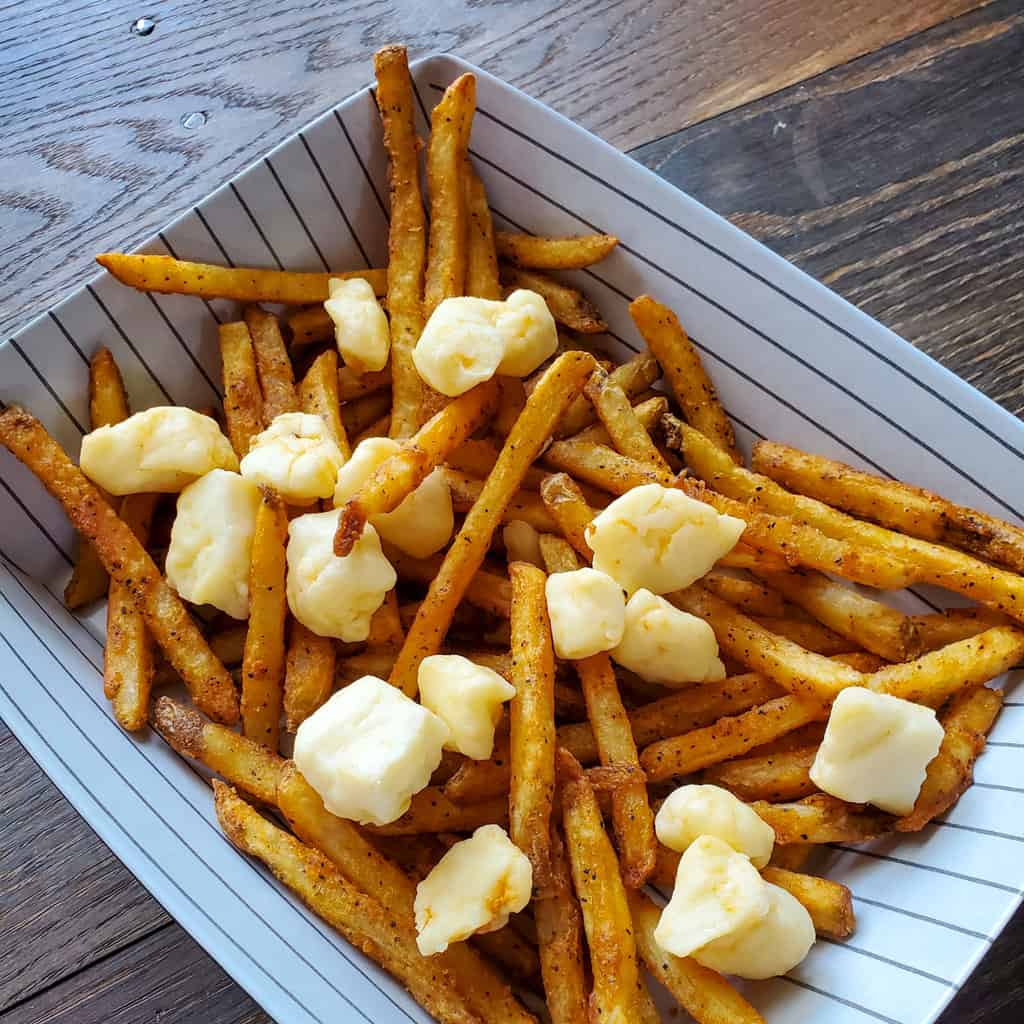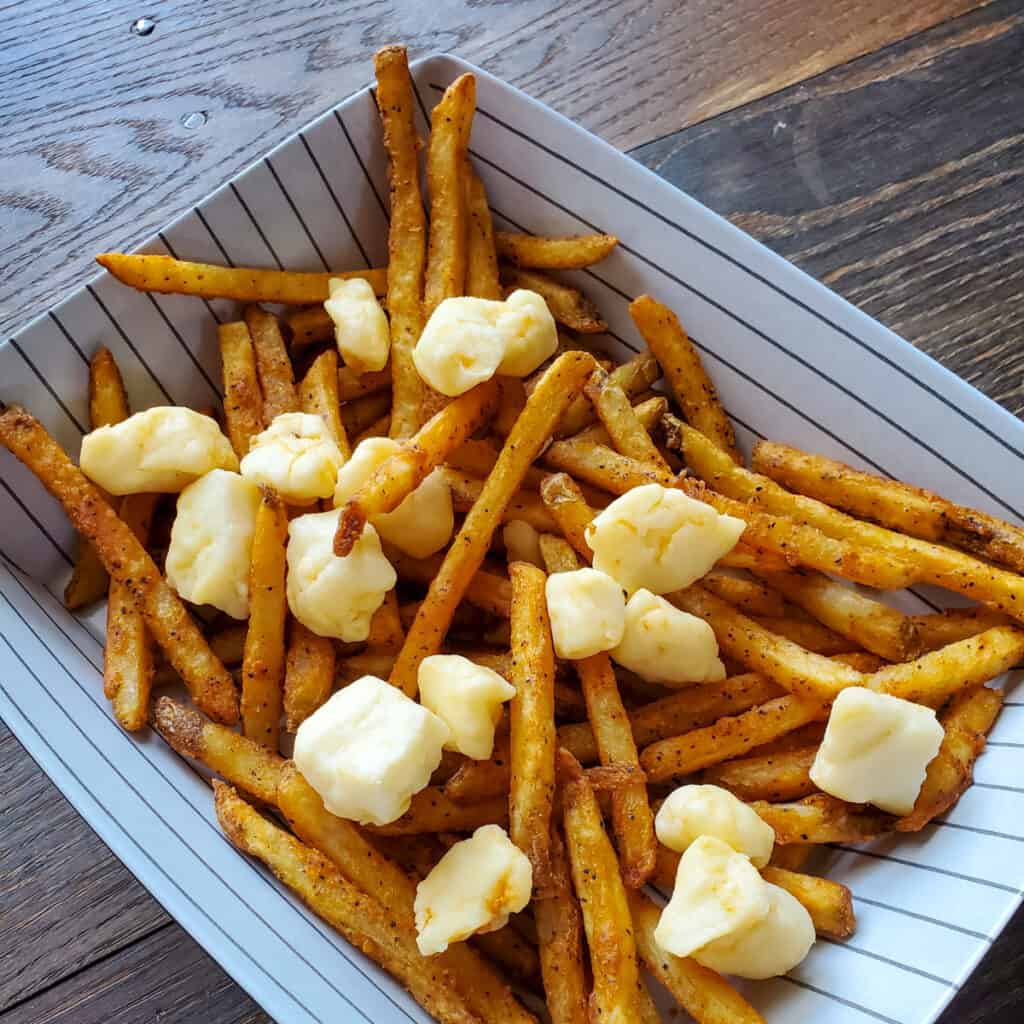 Next top the BBQ poutine with the smoked brisket and then pour the warm peppercorn gravy over the top.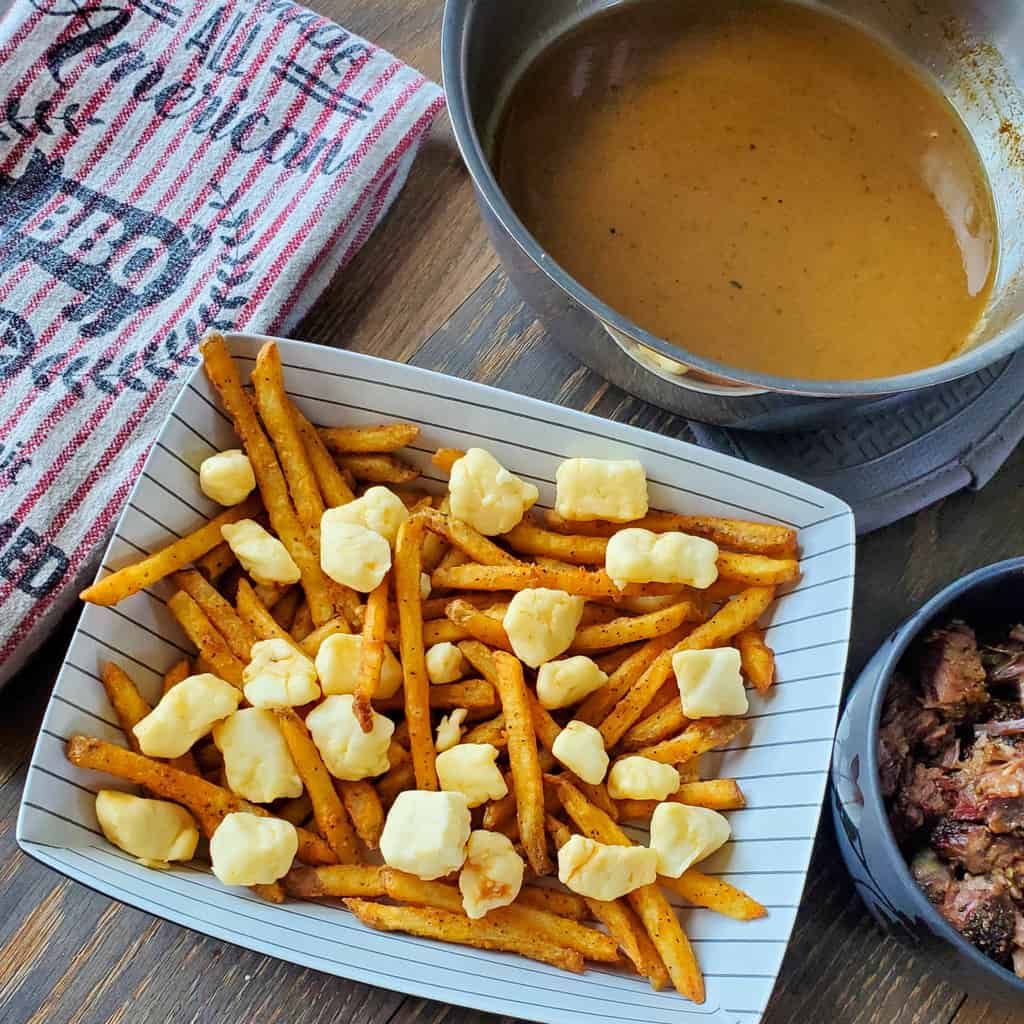 Finally, top with the sliced chives.
Devour while warm. We recommend eating while fresh as reheated poutine will typically result in soggy fries. If you do have leftovers they should be stored in a covered container in the fridge and eaten within 3 days.
For more great brisket or brisket inspired meals be sure to check out some of our best BBQ brisket recipes: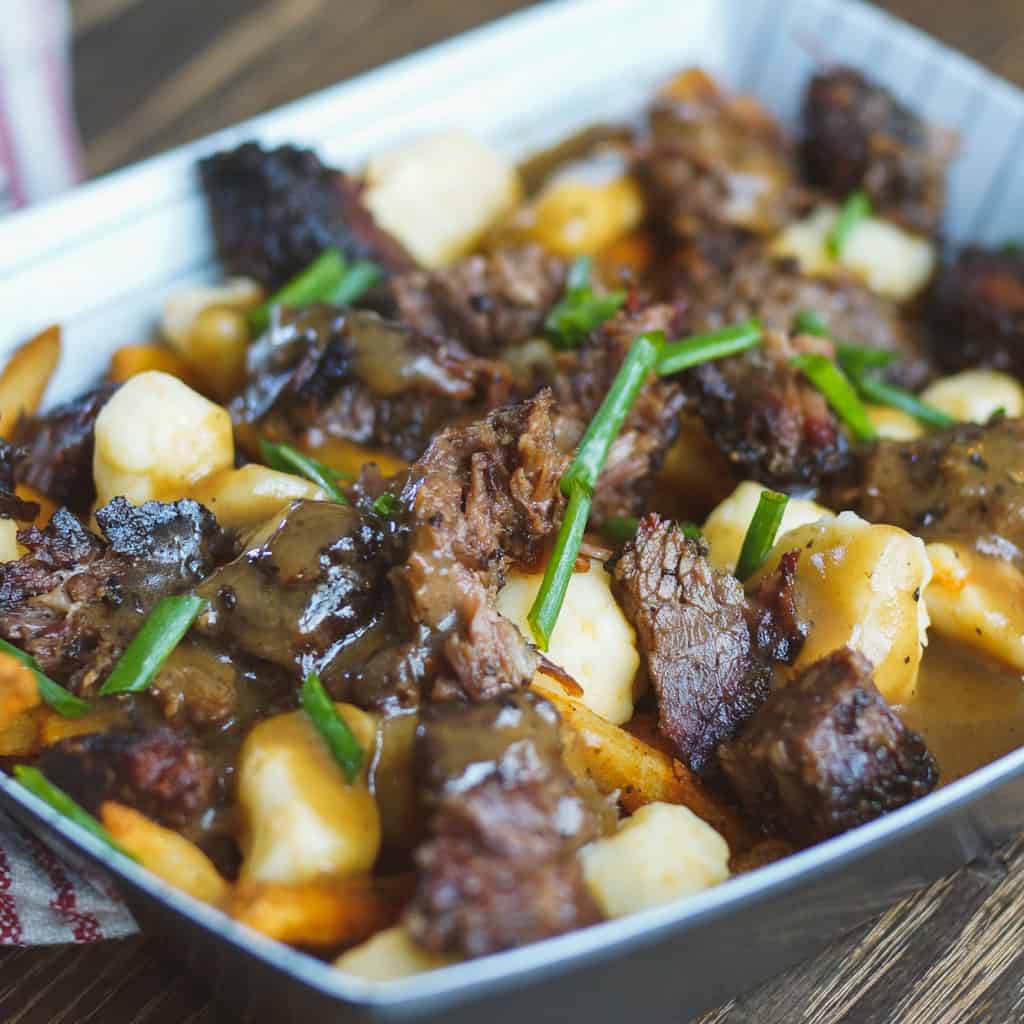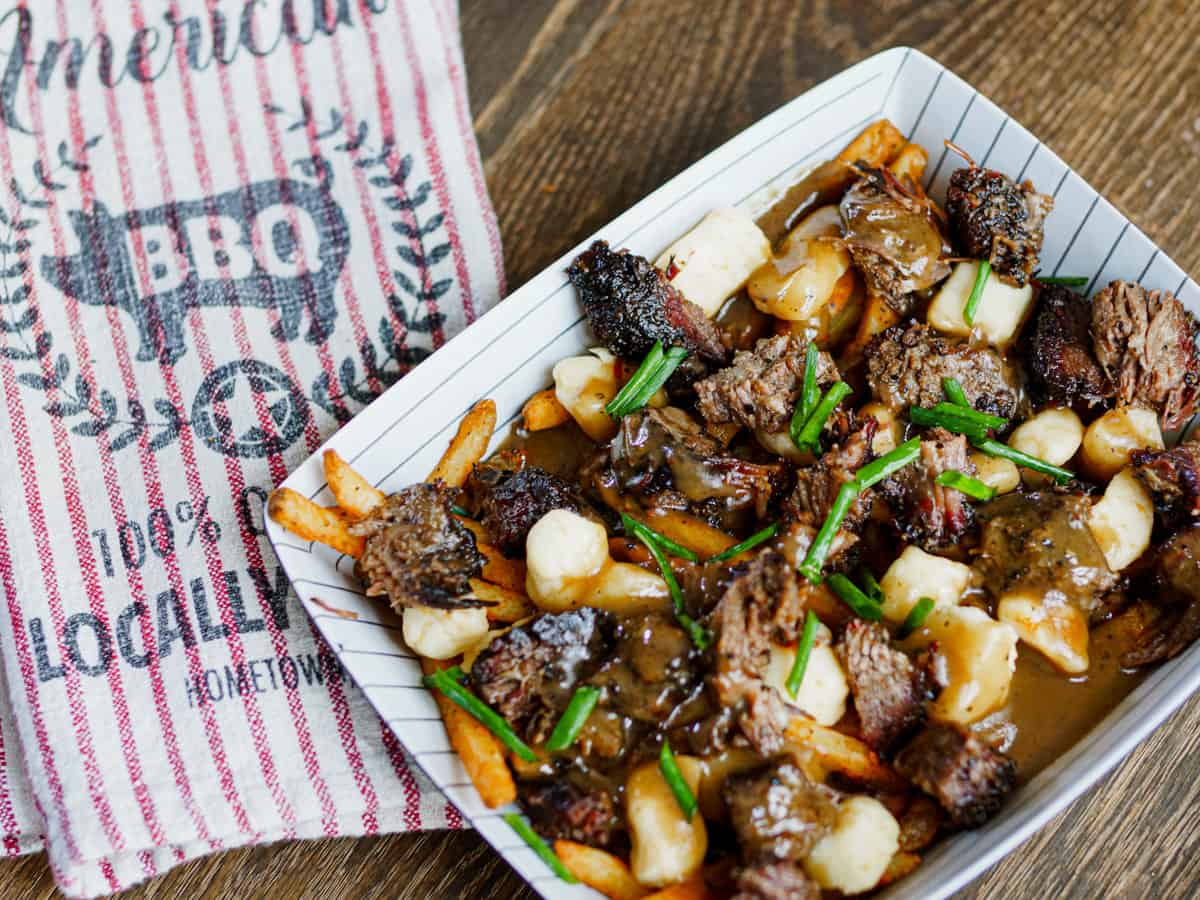 Frequently Asked Questions
What is the best meat for BBQ poutine?
Making a poutine with burnet ends is or favorite was to make this BBQ fusion dish. Sliced or chopped brisket or pork burnt ends work well too.
What is the best way to reheat leftovers?
Because the fries tend to get soggy after awhile poutine is best eaten soon after making it. If you want to reheat leftovers then reheat in a 350 degree oven, uncovered, for about 10-15 minutes.
How do I thicken the gravy?
If your gravy is still too thin, thicken with an additional cornstarch slurry. Bring to a brief boil then reduce to a simmer.
Thank you for taking the time to visit our blog. If you tried and enjoyed our recipe, please share with others and please leave us a comment and review. We also love to see your pics so don't forget to tag us @Carne_Diem_Culinary or #CarneDiemBlog. To be notified of future recipes please follow us on Facebook, Instagram, or Pinterest, or sign up for our e-mail notifications. Until next time, Carne Diem!
📖 Recipe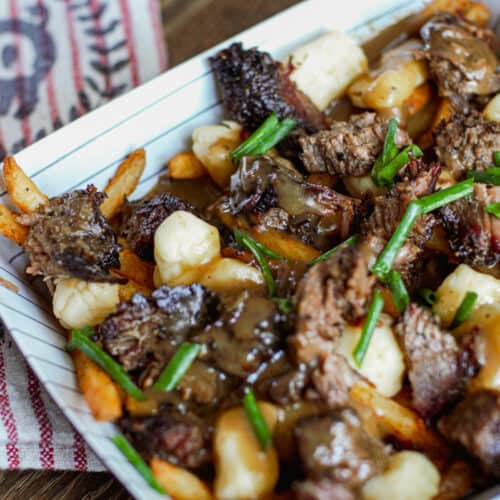 BBQ Poutine with Smoked Brisket
Smoky BBQ Poutine with brisket or burnt ends is one of our go to recipes to use up any leftover brisket. Topped with cheese curds and creamy peppercorn gravy made from the brisket au jus, this is one indulgent BBQ lovers dream.
Ingredients  
1

Pound

Chopped Cooked Brisket or Burnt Ends

1

Pound

Cooked French Fries

2

Tablespoons

Chives

Sliced

8

Ounces

Cheese Curds
Peppercorn Gravy
2

Cups

Brisket au jus

or beef broth

1

teaspoon

Garlic Powder

1

teaspoon

Worcestershire Sauce

1

teaspoon

Coarse Ground Peppercorns

⅓

Cup

Water

3

Tablespoons

Cornstarch
Instructions 
Cook your fries per package instructions, or better yet make them fresh.

If using leftover brisket, reheat it and keep warm.

In a small bowl make the cornstarch slurry by mixing the cornstarch and the water.

In a saucepan, heat the brisket au jus or beef broth to a gentle boil then add in the peppercorns, Worcestershire sauce, and garlic powder.

Slowly add in the cornstarch slurry a couple tablespoons at a time, whisking continuously, until you reach your desired thickness. You will likely not need to use all of the slurry. Reduce heat to keep warm.

Place the cooked fries in a pan or a large plate. Top with the cheese curds and the brisket. Pour the desired amount of gravy on the poutine then top with the chives.
Nutrition
Calories:
366
kcal
Carbohydrates:
21
g
Protein:
22
g
Fat:
22
g
Saturated Fat:
9
g
Polyunsaturated Fat:
1
g
Monounsaturated Fat:
7
g
Cholesterol:
65
mg
Sodium:
746
mg
Potassium:
451
mg
Fiber:
3
g
Sugar:
0.1
g
Vitamin A:
36
IU
Vitamin C:
4
mg
Calcium:
215
mg
Iron:
2
mg