Protein:
Method: Grill or Smoker or Oven
Jump to Recipe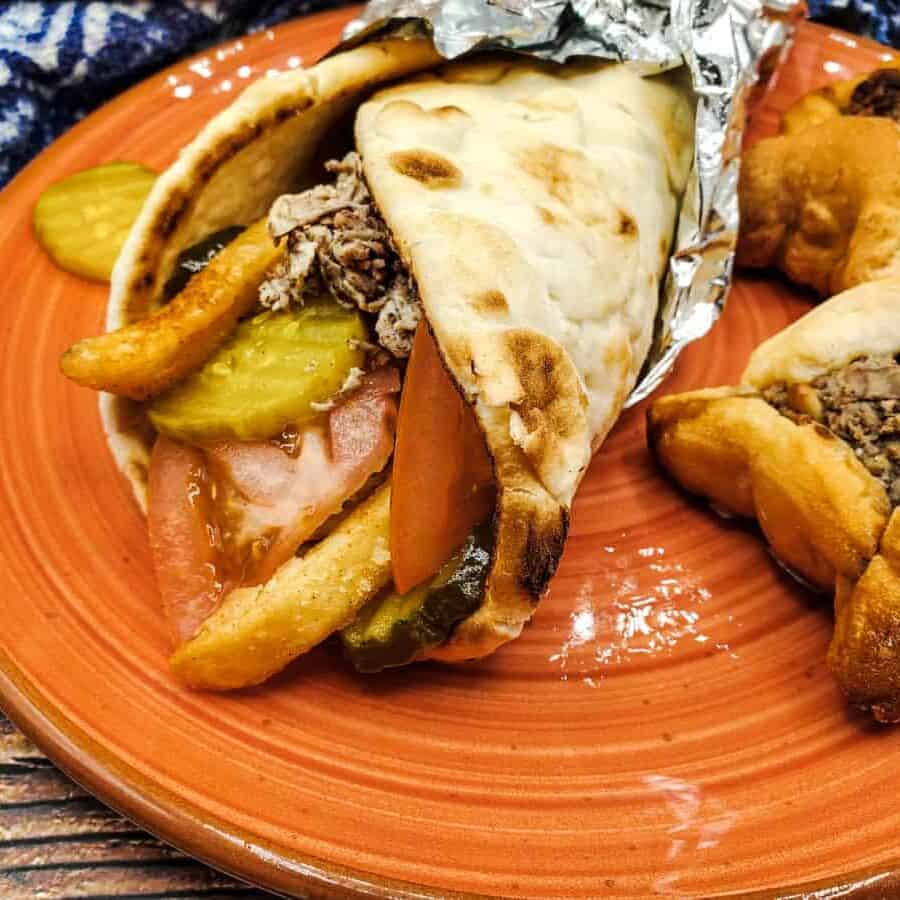 I was first introduced to Lebanese chicken shawarma while studying in Jacksonville, Florida. There was a small hole in the wall shawarma shop in the strip mall down the road from where I was staying, and another student recommended it. I went in not knowing what to expect, as I had never had Middle Eastern food before. I left with a newfound obsession for shawarma.
Chicken shawarma became one of the very first international dishes that I ever tried to recreate at home, and something that I seek out whenever I travel. It the past we traditionally made the shawarma in our oven, but recently have tried to make it a little more authentic by cooking it on a trompo on our grill. Our Smoked Chicken Shawarma is one of our favorite Middle Eastern dishes to prepare on our grill.
Making Smoked Lebanese Chicken Shawarma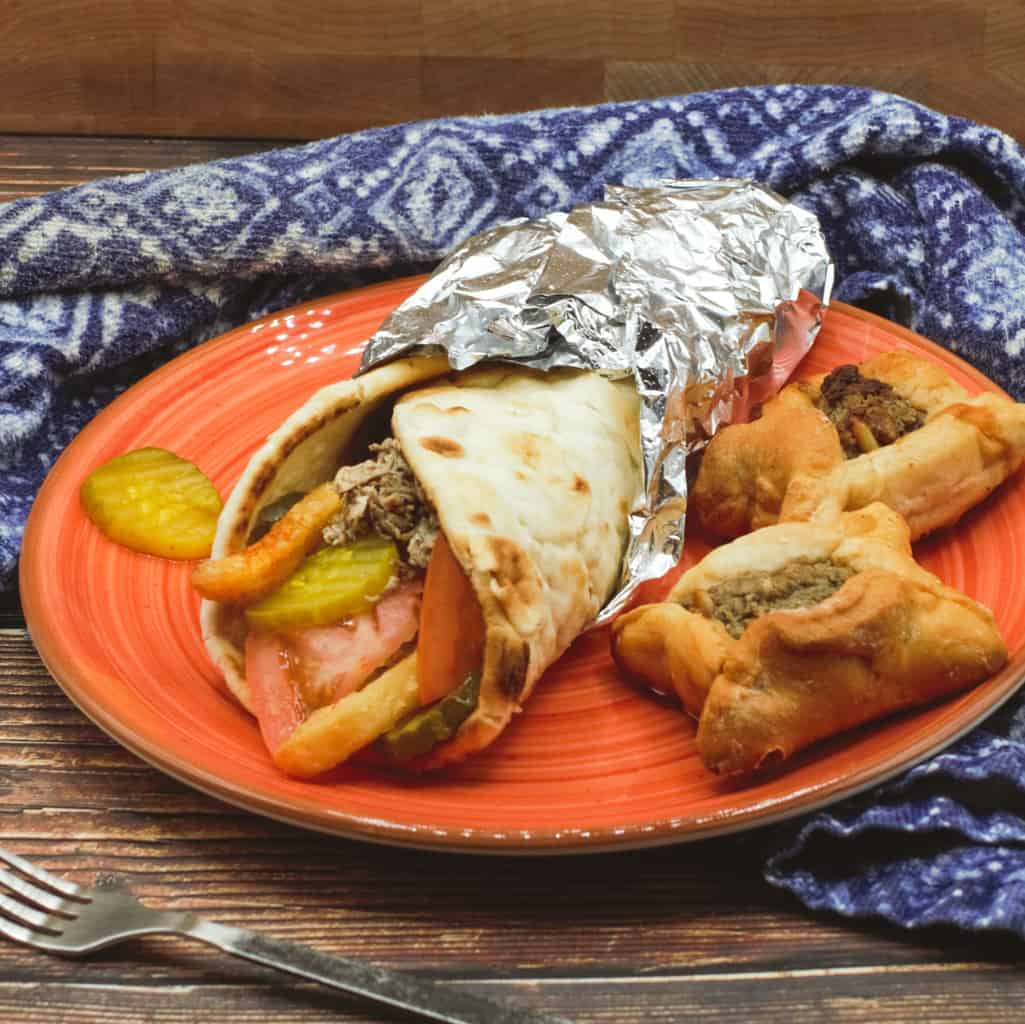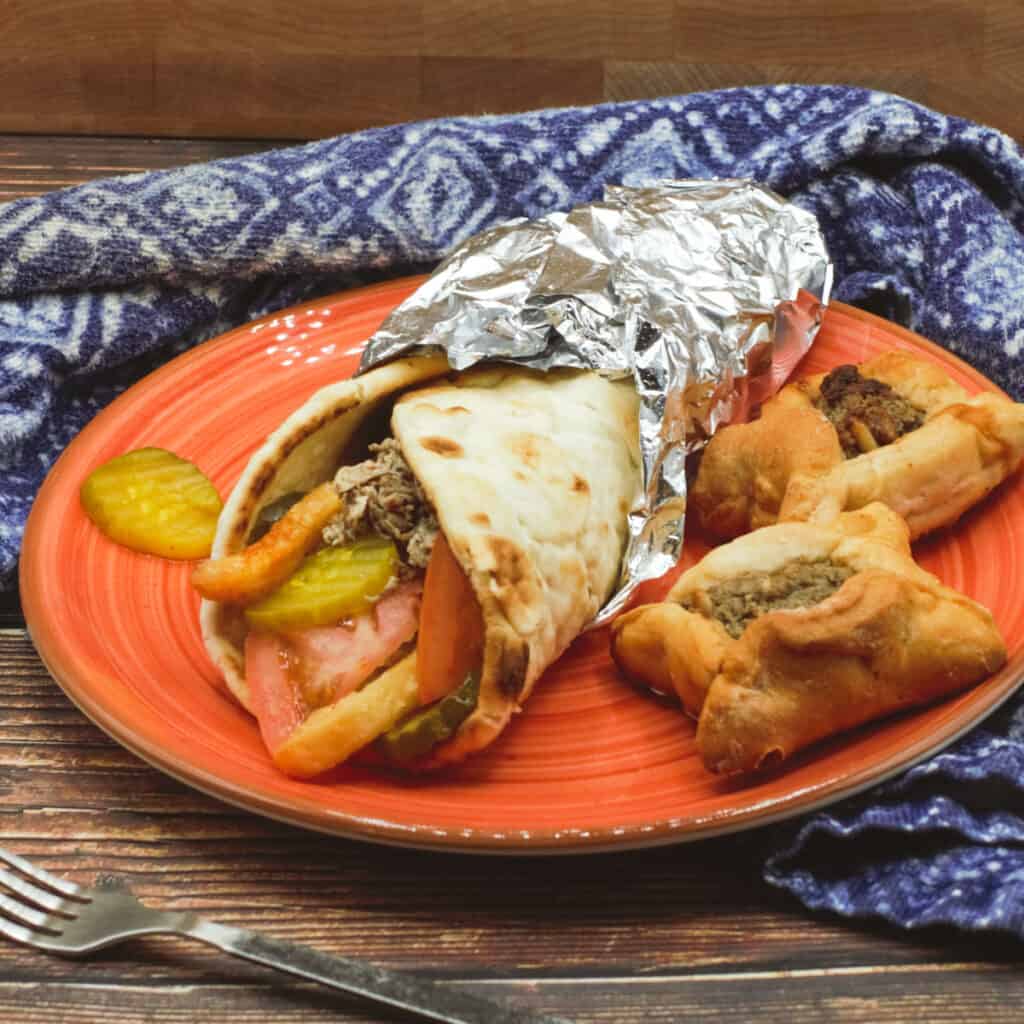 Make the Chicken Shawarma Marinade
The first step in making some great Middle Eastern shawarma is making the best shawarma marinade. Thankfully the process is easy and can be whipped up in a few minutes once you have the ingredients. Basically, you just need some lemon juice, olive oil, and spices.
Make Lebanese 7 spice
The shawarma marinade consists of a Lebanese spice mix known as baharat. You may also see this spice mix referred to as Lebanese 7 spice. Don't worry if you have never seen this spice mix before, it is easy to make at home and uses fairly common spices.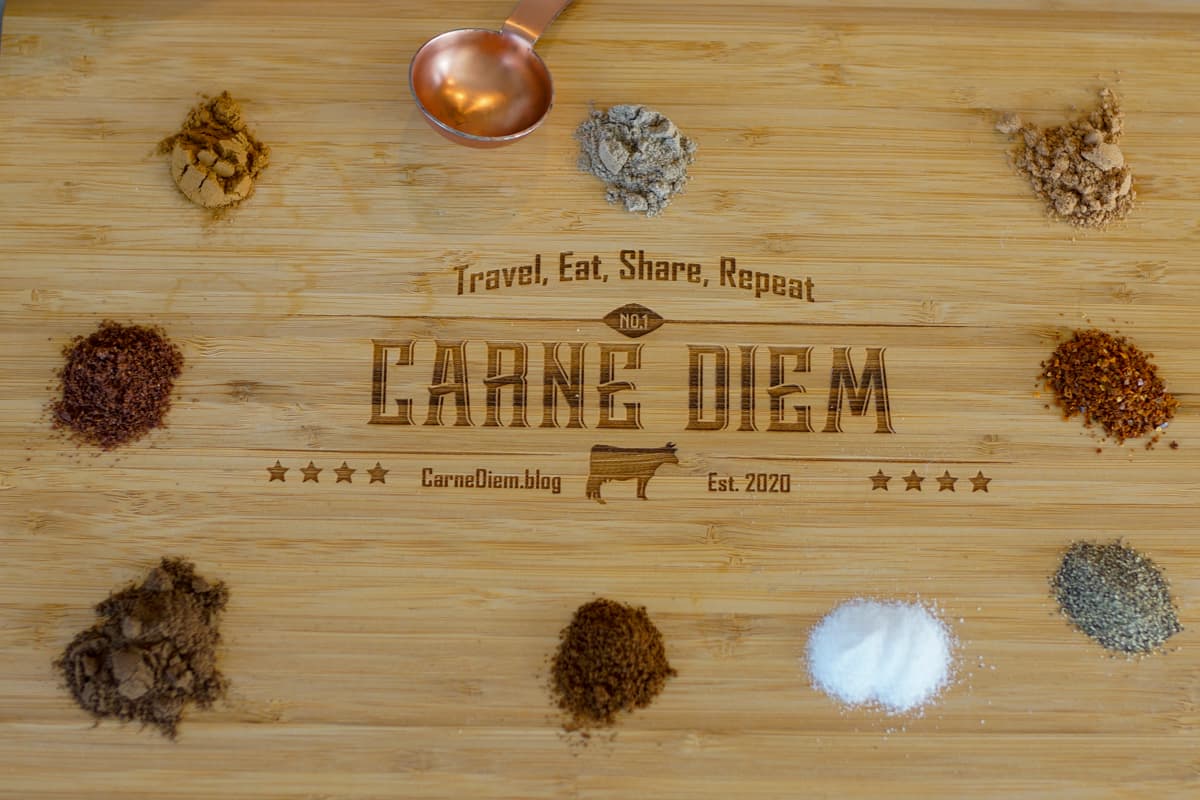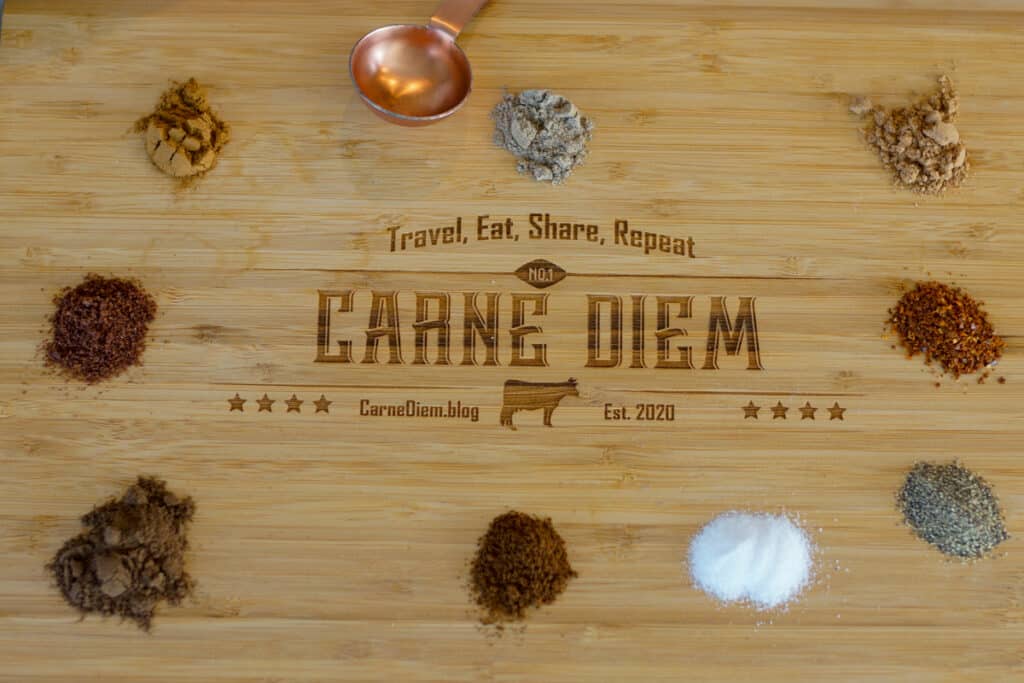 Lebanese 7 spice tends to contain the same basic ingredients including all-spice, black pepper, cinnamon, cloves, coriander, cumin, nutmeg, and paprika. Every region and even household has their own variations and differing ratios so you will also typically see spices such as cardamom, Aleppo, and even ginger and garlic included in the spice mix.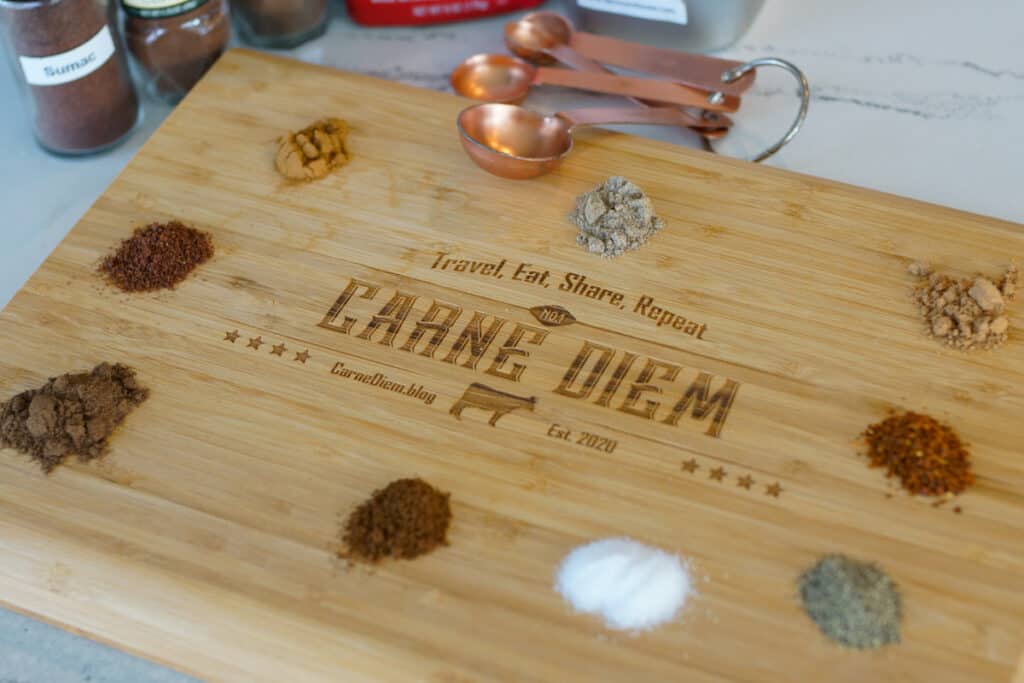 For our homemade baharat we use equal amounts of Aleppo pepper, allspice, black pepper, cardamon, cinnamon, coriander, cumin, nutmeg, paprika, sumac, and salt. We also include a little bit of ground cloves to finish the spice mix.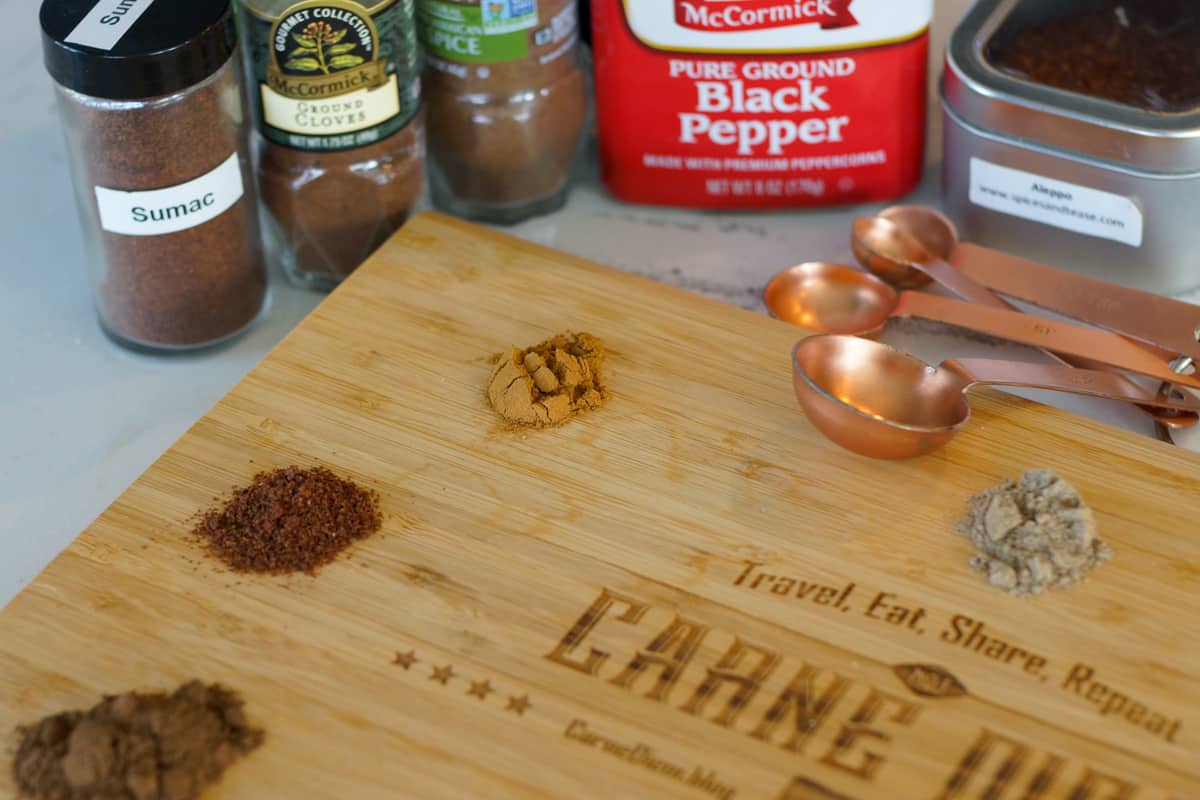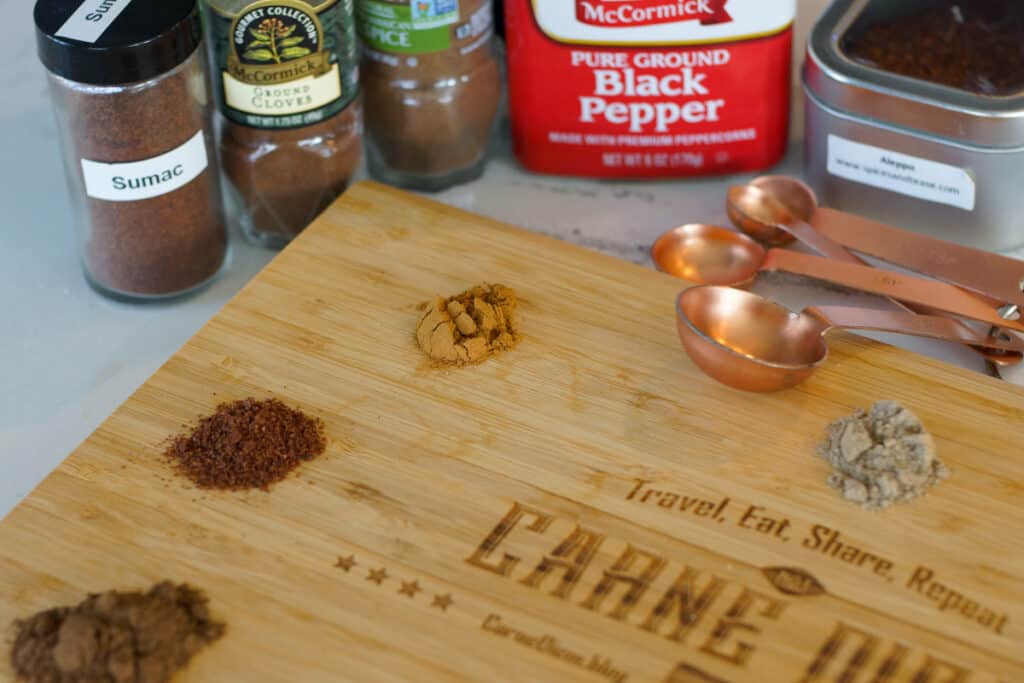 Mix your marinade
Combine your spice mix with the lemon juice and olive oil and mix well to combine. You will want to marinate the chicken for about 4 hours to 8 hours. Due to the lemon juice in the marinade, we do not recommend marinating the chicken any longer than overnight or the chicken will break down too much and become mushy.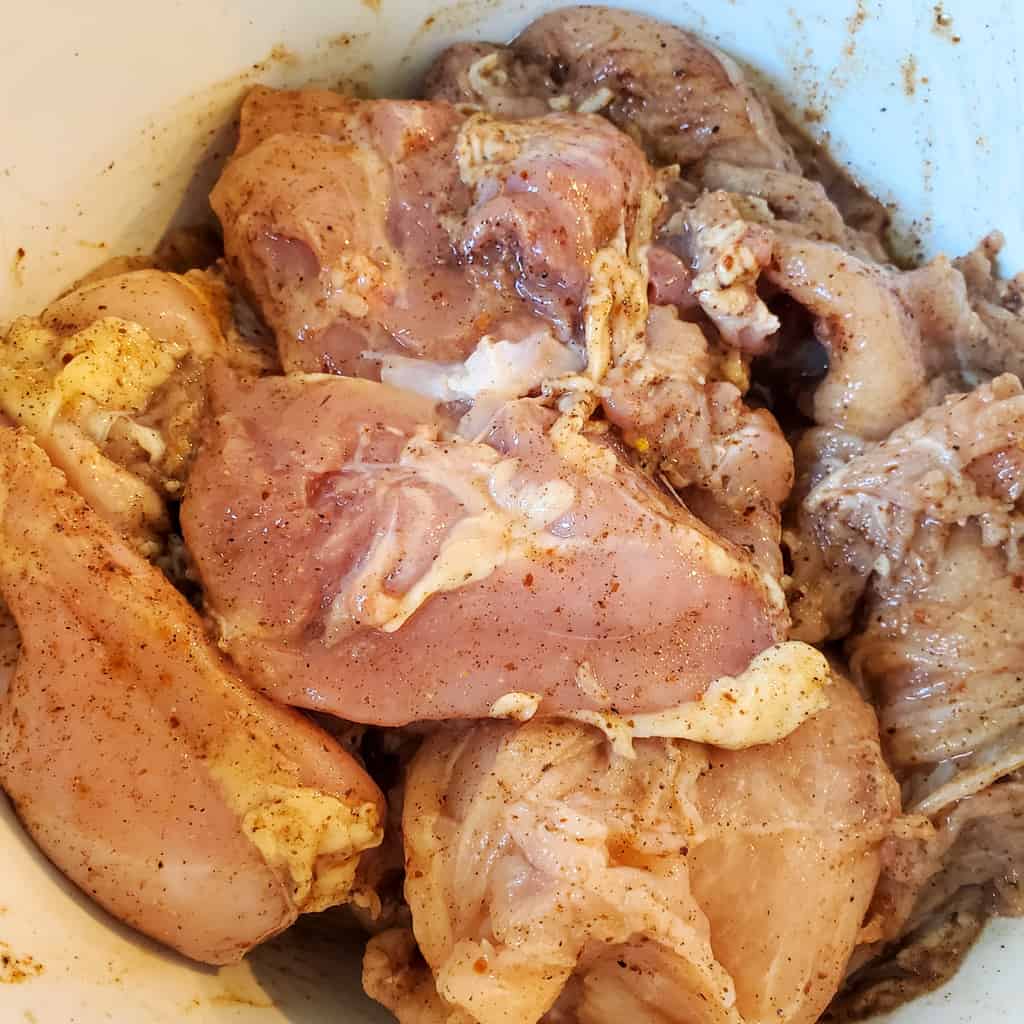 How to make the Lebanese Garlic Sauce
We have found our favorite chicken shawarma sandwiches contained a Lebanese Garlic Sauce. This sauce is known as Toum in Lebanon and is basically an emulsification of garlic, oil, and lemon juice.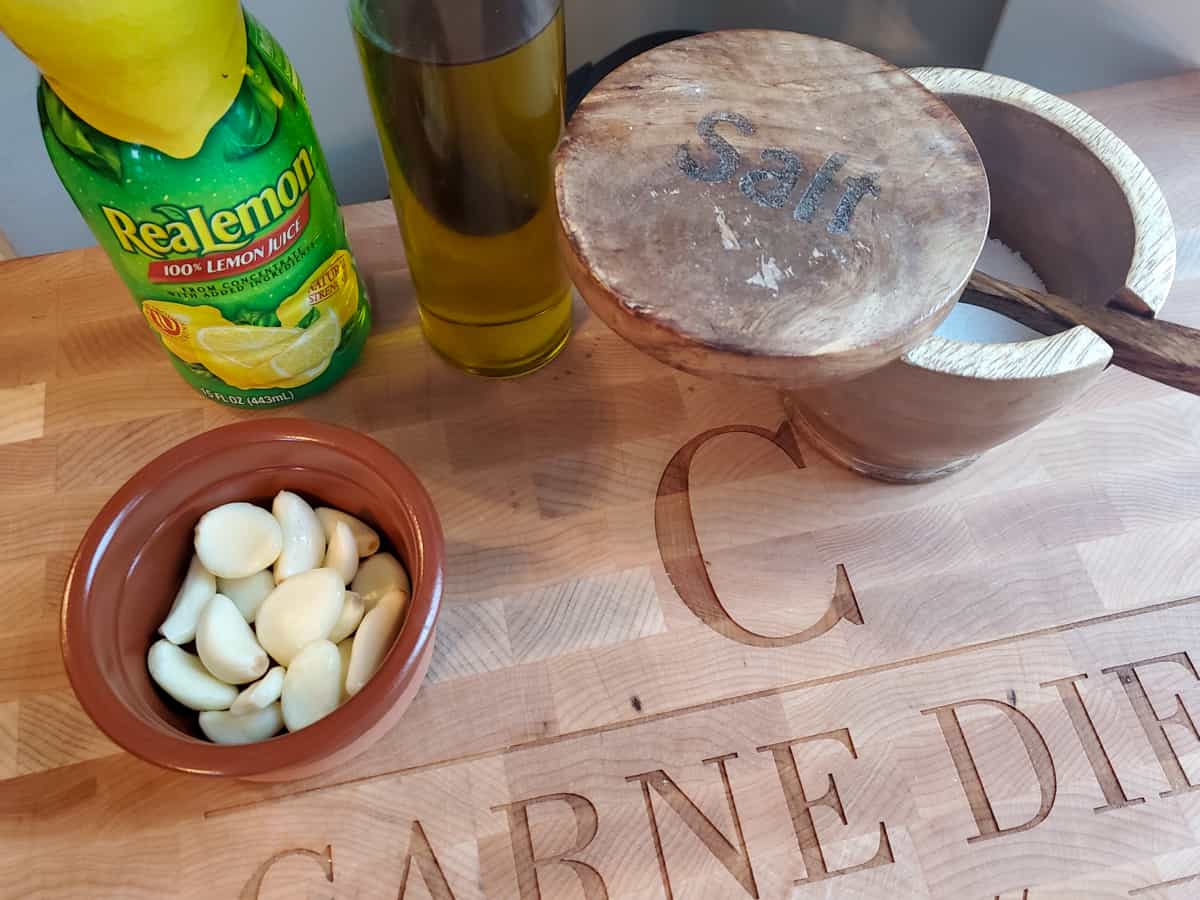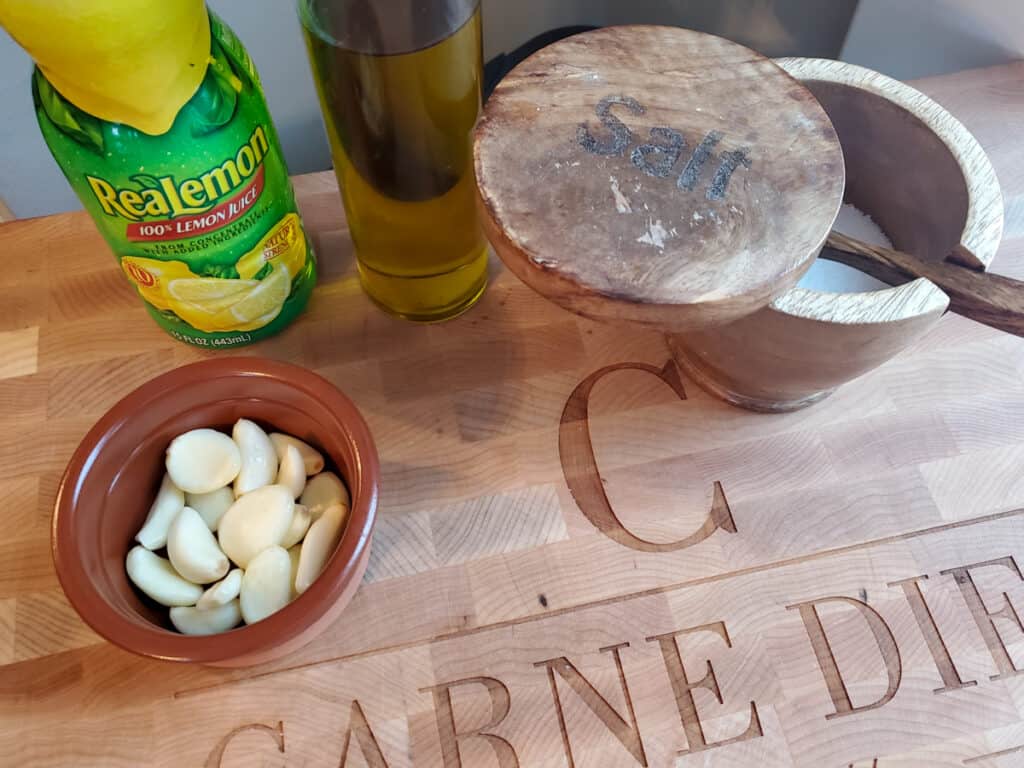 Toum is most easily made in a food processor but, if you are patient, you can use a blender. The key is to add the oil to the garlic very, very slowly to keep the emulsification from breaking. If you rush it and your Toum ends up breaking, you can save it by adding in a little egg white, though this is not the traditional way of making Toum. Again, patience is key. After finely chopping the garlic with the salt, in the food processor, very slowly add in the olive oil and lemon juice. Wait for the mixture to become fluffy and creamy before adding more oil and lemon juice.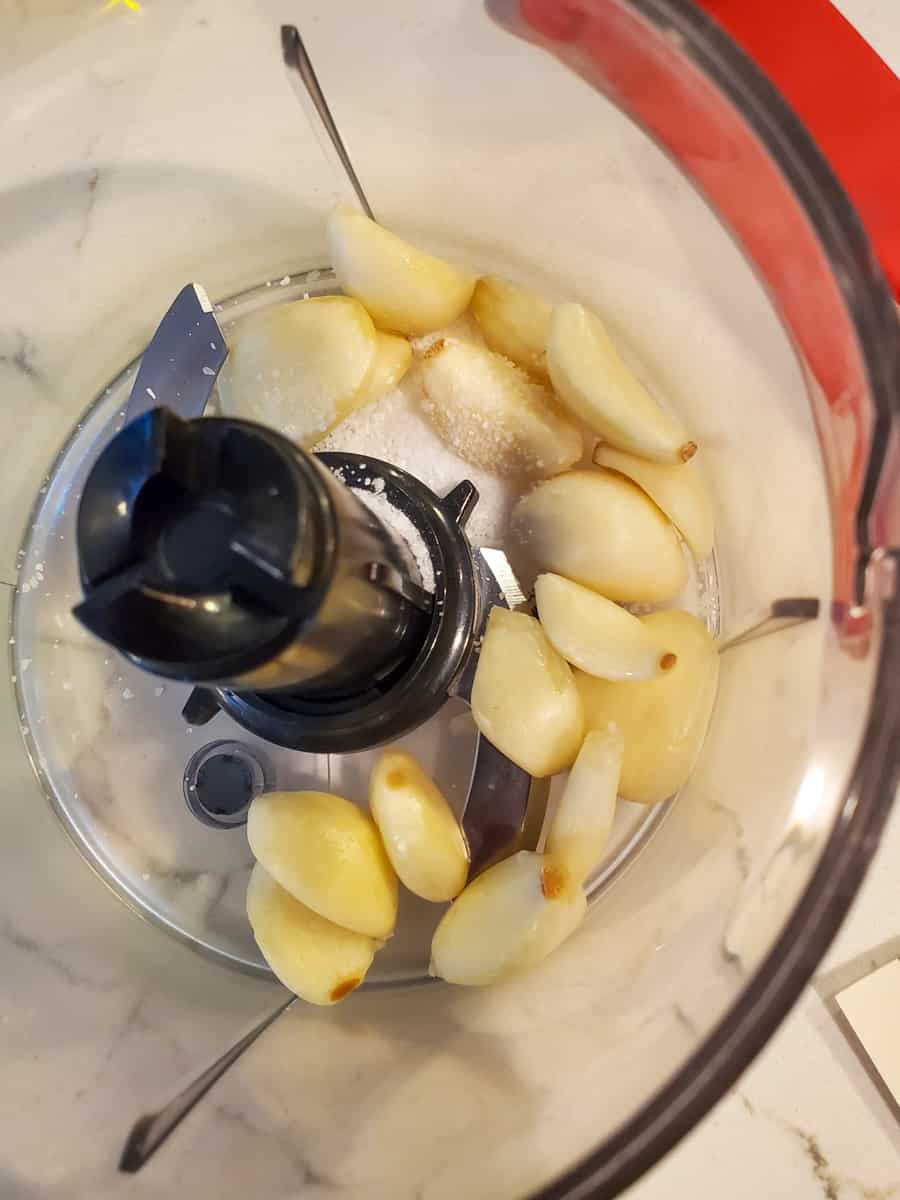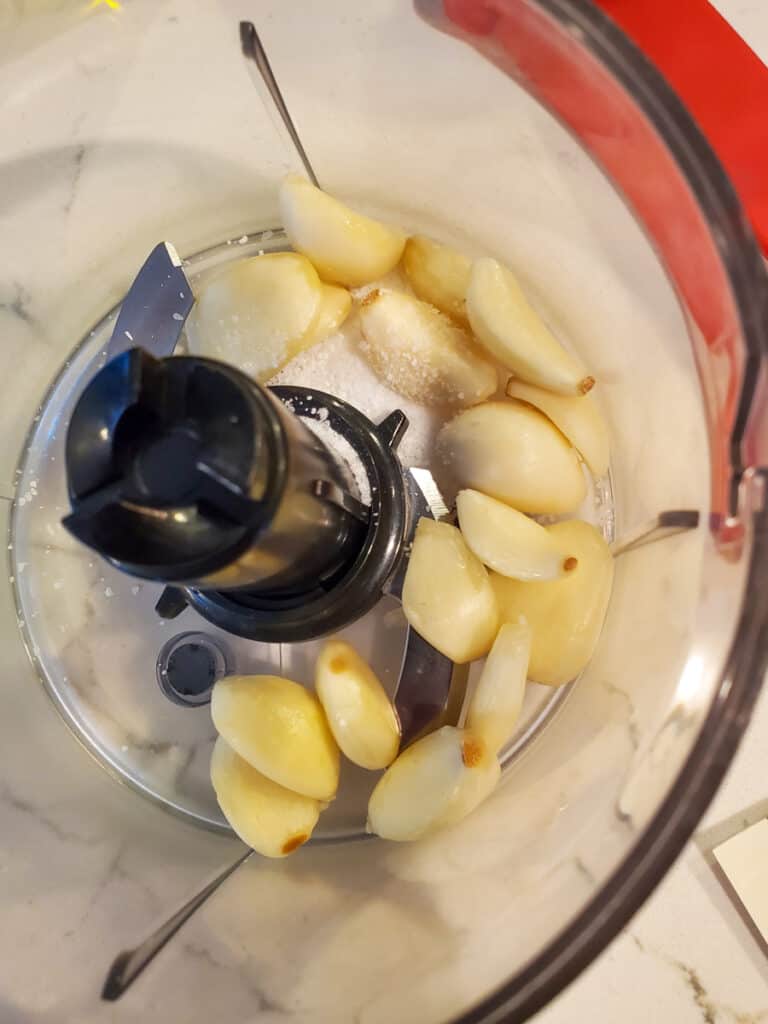 We recommend making the Lebanese garlic sauce pretty close to the time you will be using it. You can make it ahead of time and refrigerate it, but you run the risk of the emulsification breaking down.
Cooking the Chicken Shawarma on your Grill or Smoker
We like to make our chicken shawarma on a Big Green Egg with a trompo. A trompo is a vertical spit used to roast meats like Shawarma, al Pastor, and doner kebabs. You can use any grill or smoker that you want that is capable of cooking with indirect heat. You can also make the shawarma in the oven if you do not want any of the smoked flavor.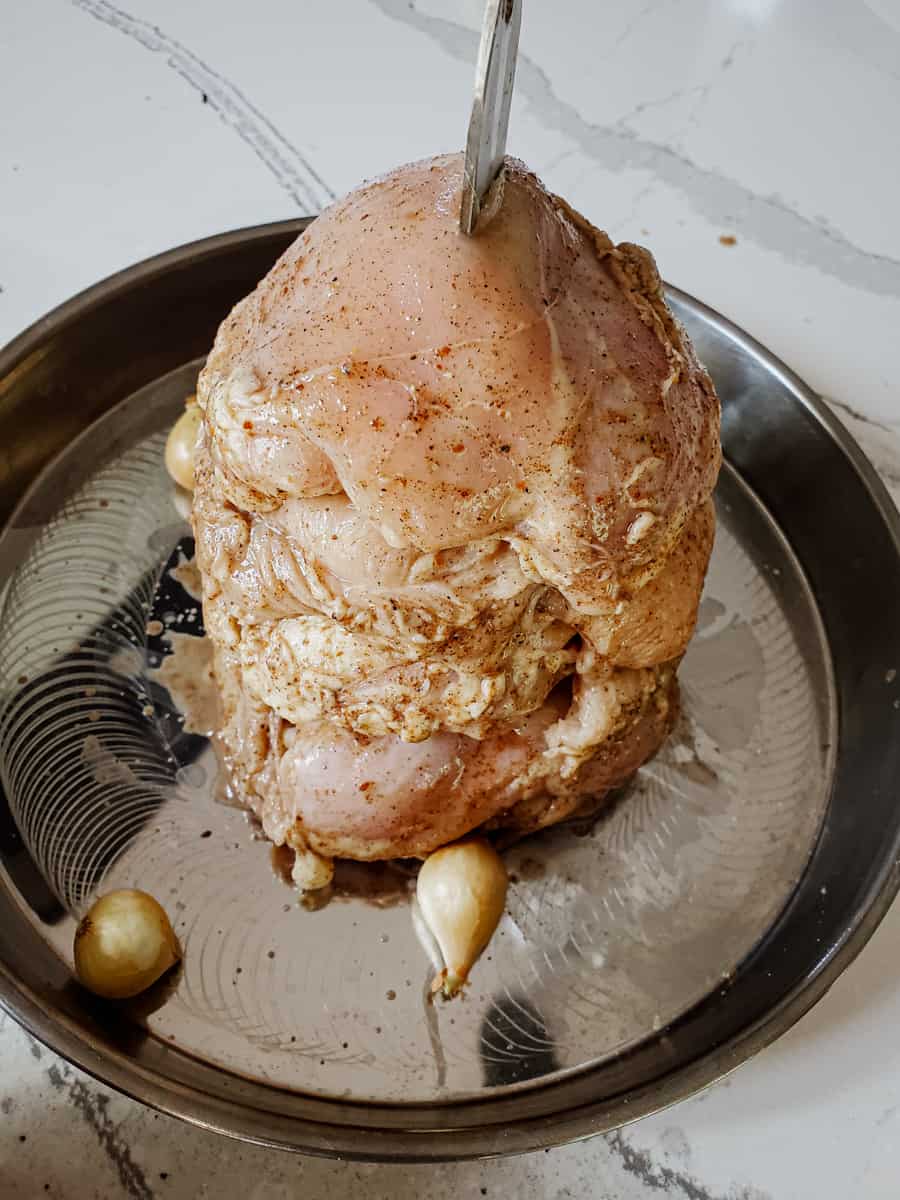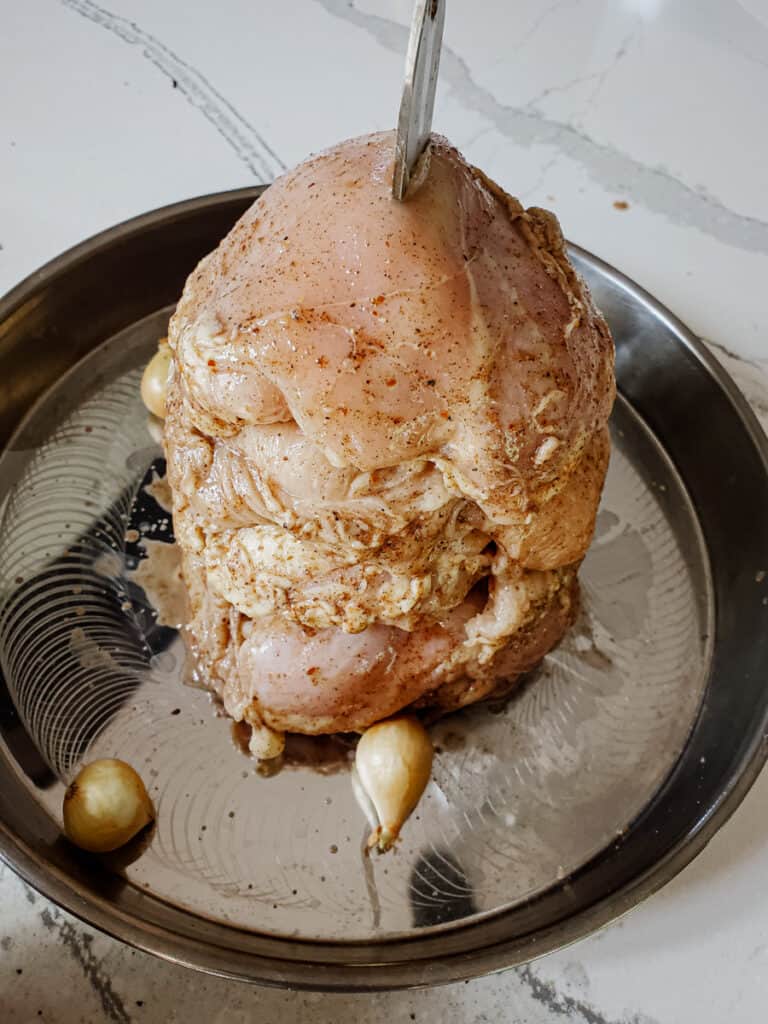 Carefully remove the chicken from the marinade and alternate placing pieces of the chicken thighs and breasts on the trompo.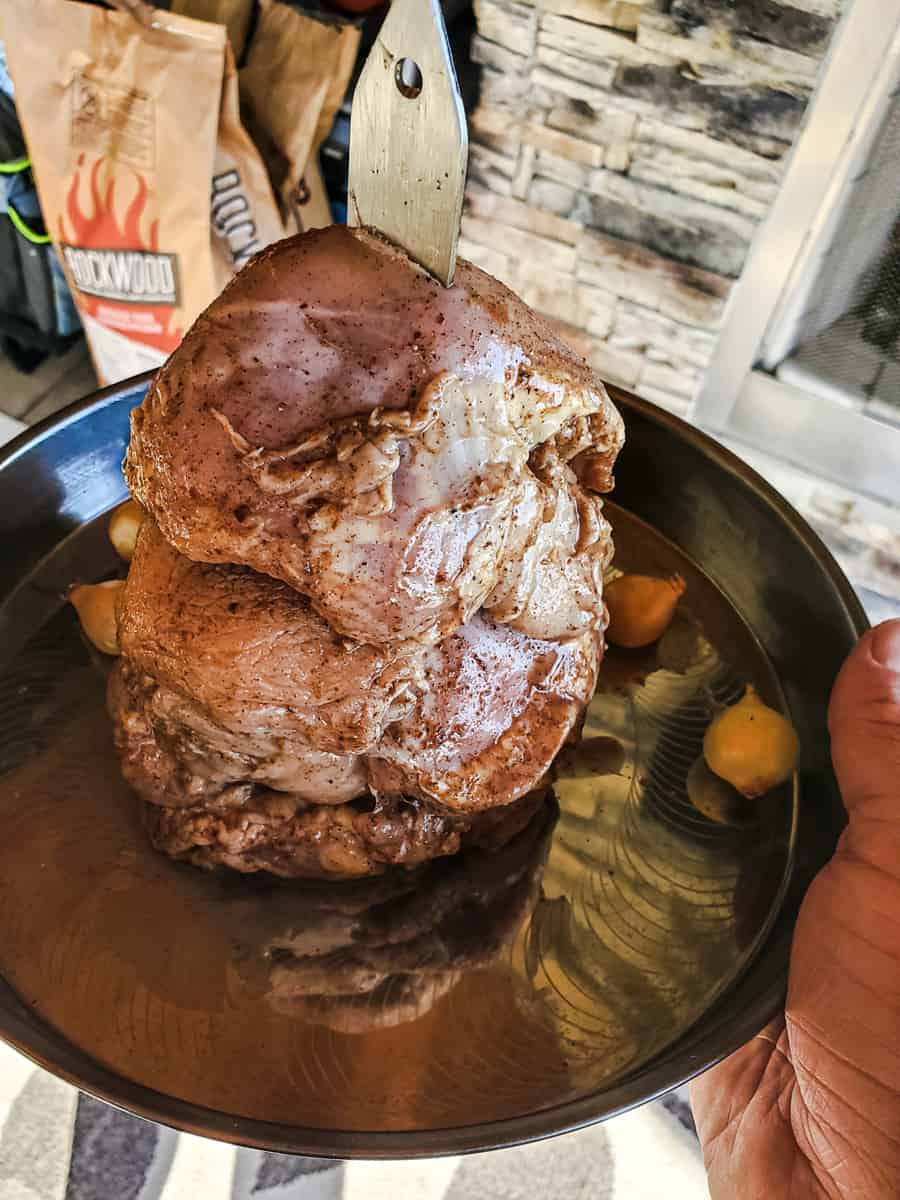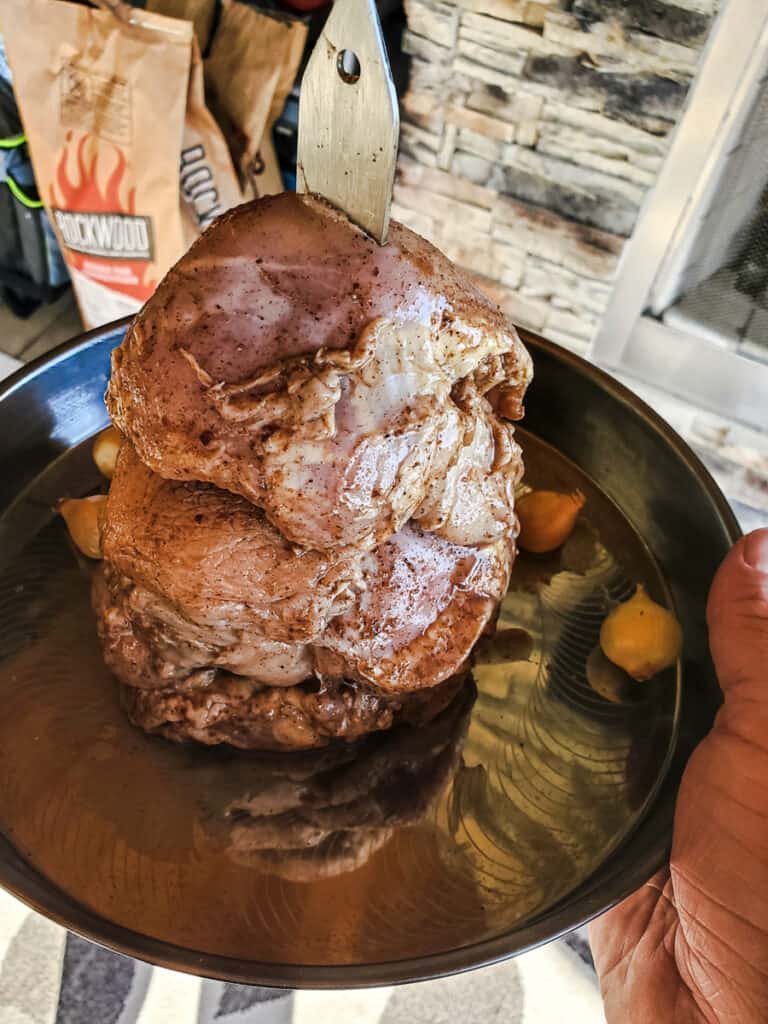 To make Lebanese Shawarma on a BBQ you will need to set up your grill or smoker for indirect heat. We typically cook the chicken shawarma at 300-350 degrees. If you want a little more smoke flavor, cook at a lower temperature.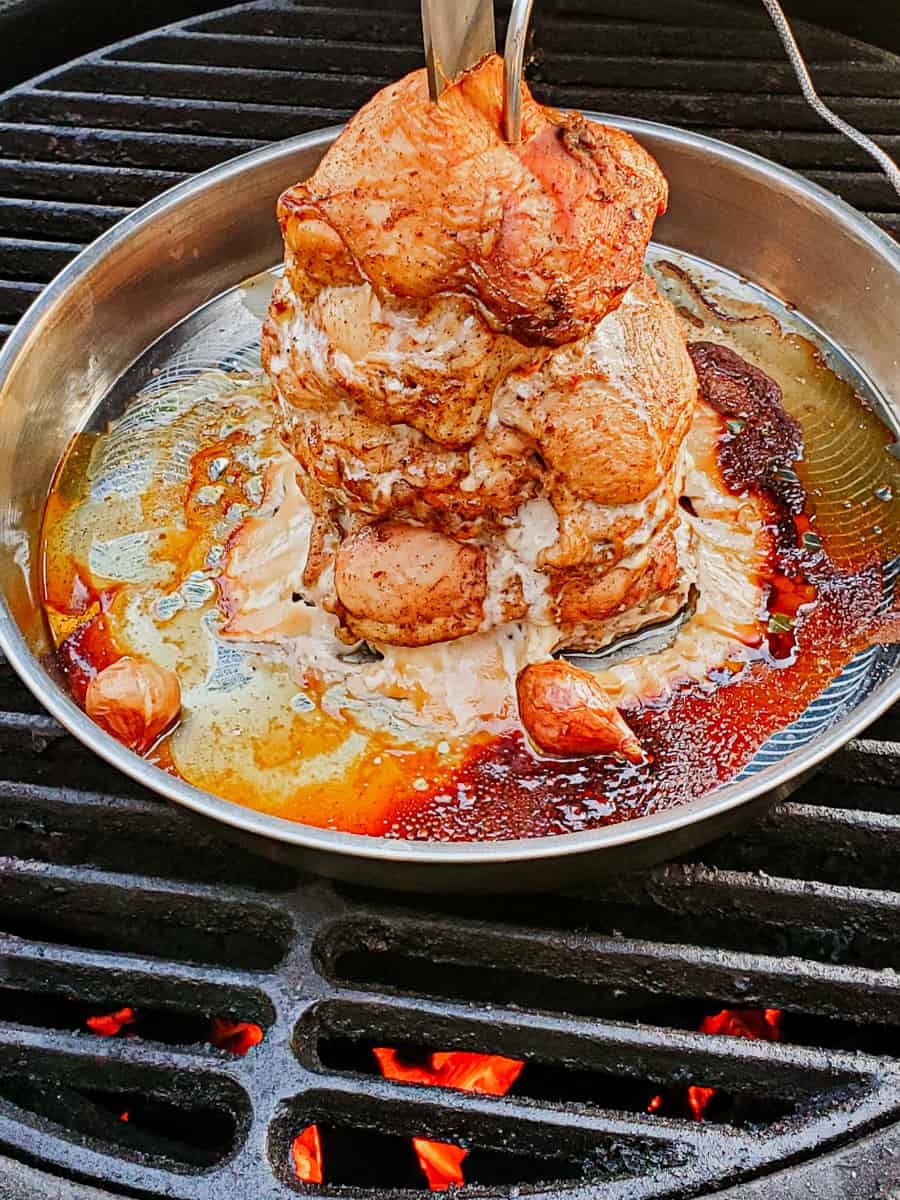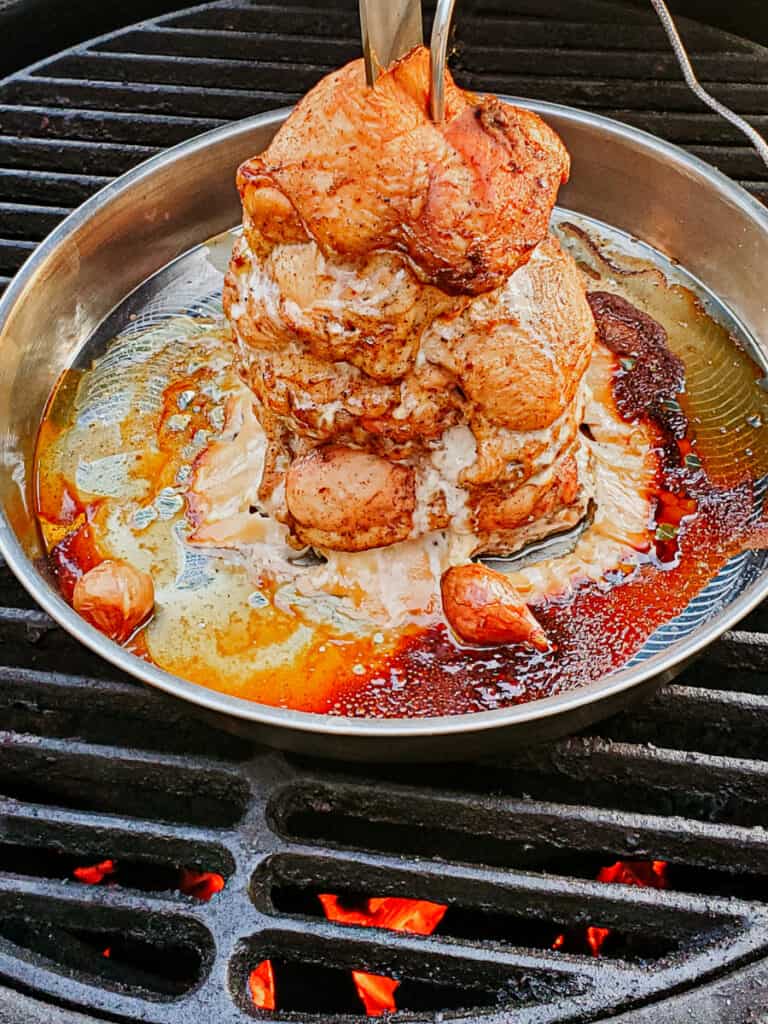 On average the Smoked Chicken Shawarma will take about 2.5 to 3 hours to cook, but you want to monitor the progress with a temperature probe. We have found the shawarma is best when you remove it from the smoker at an internal temperature of around 175-180, which gives the chicken thighs more time to become tender.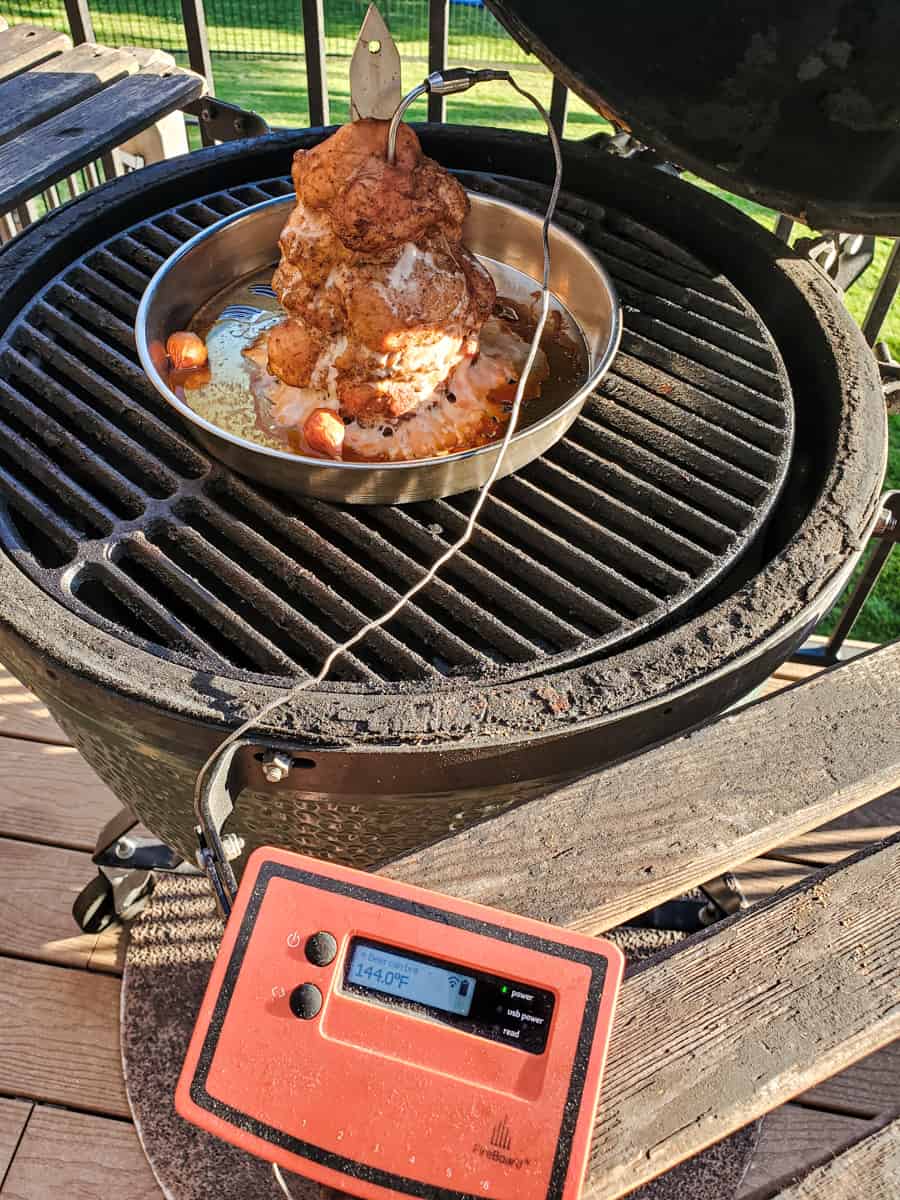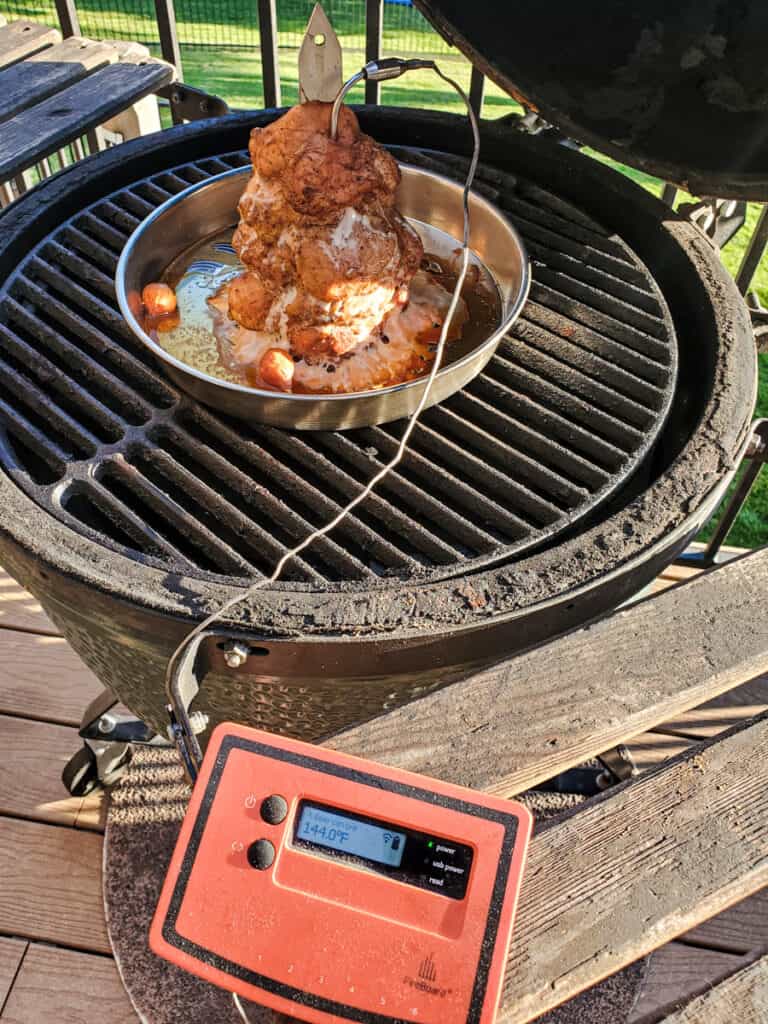 Best way to eat Chicken Shawarma
Once the smoked chicken shawarma is done cooking, remove it from the grill. Thinly slice the chicken off of the trompo for serving. There are many options on how to enjoy the shawarma such as over rice or even by itself. Our favorite way to eat chicken shawarma, however, is as a sandwich wrapped in a pita or Middle Eastern flat bread.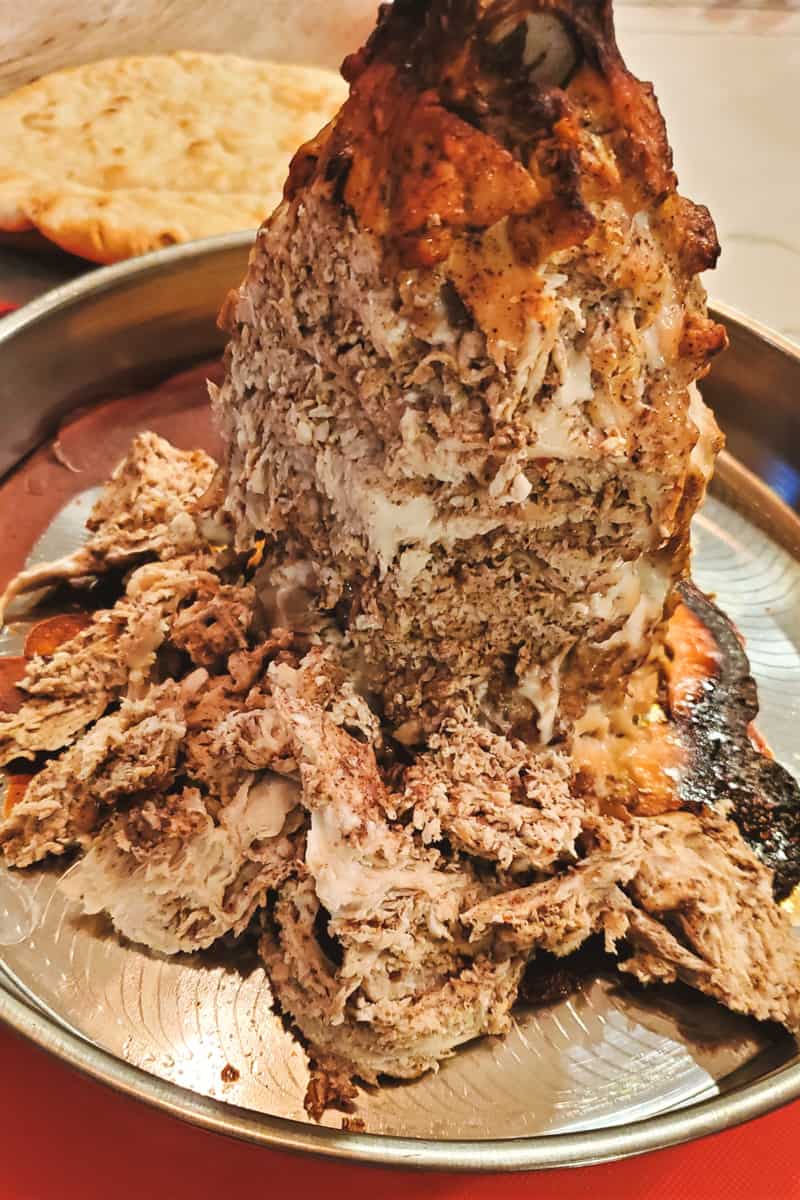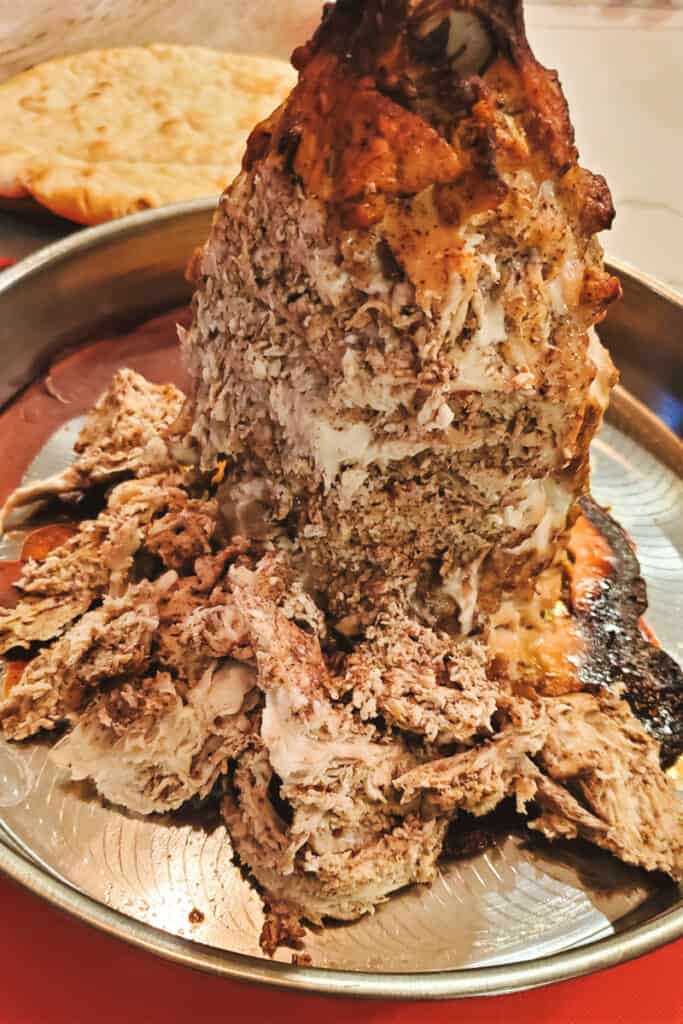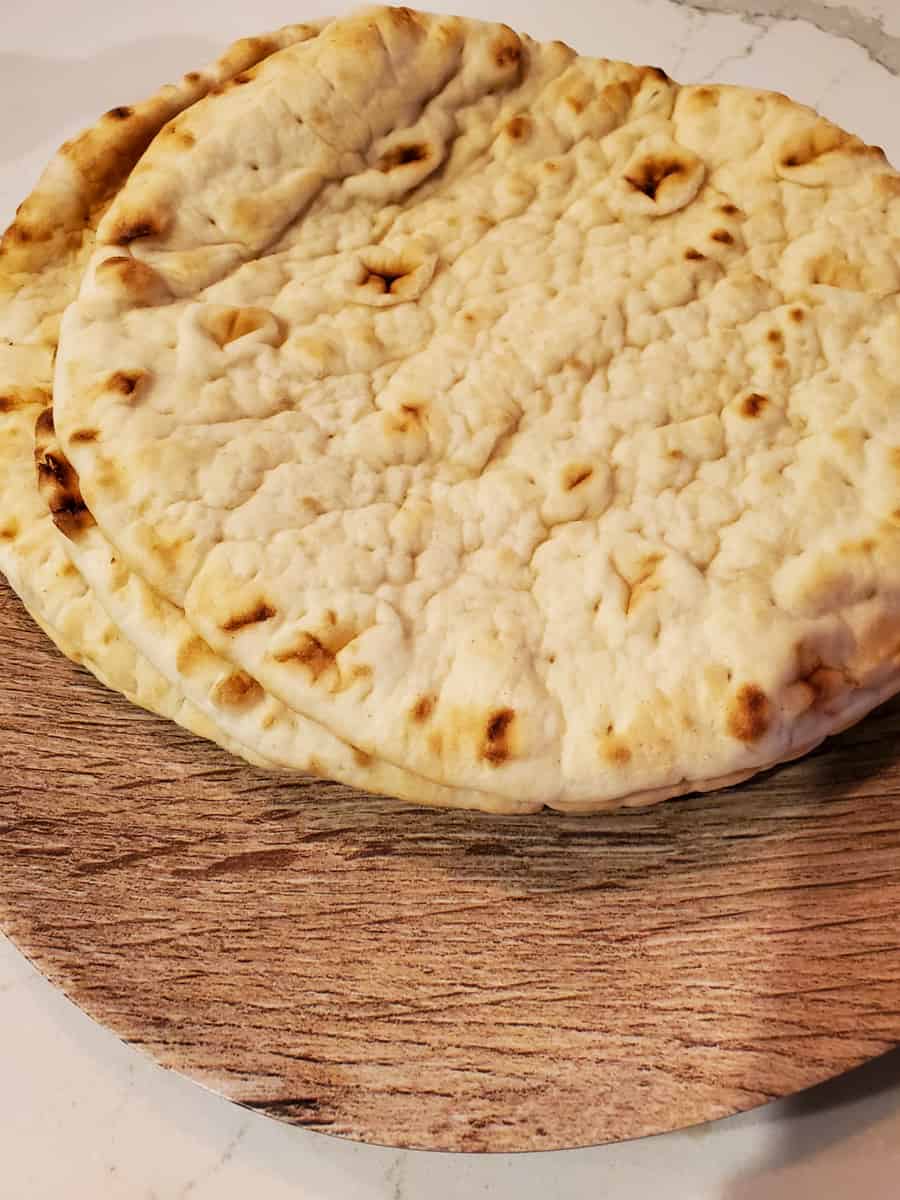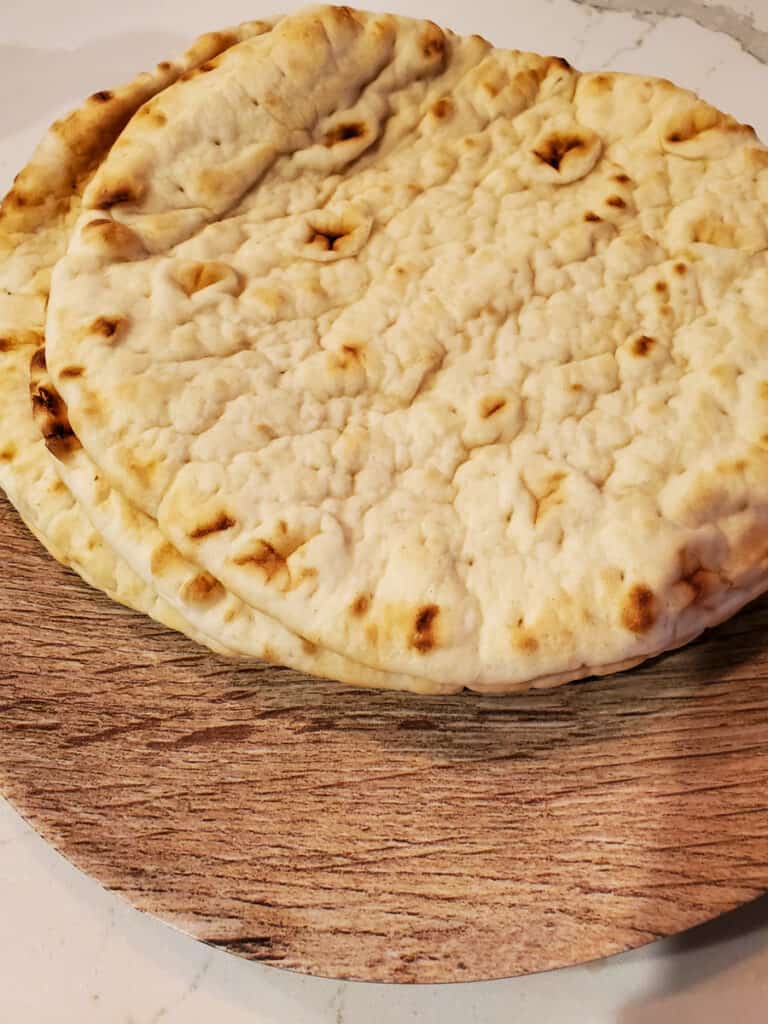 Much like a hamburger, you can load your Chicken Shawarma Pita sandwich just about any way you want. My wife's favorite is smothered with spicy hummus, tomatoes, and lettuce.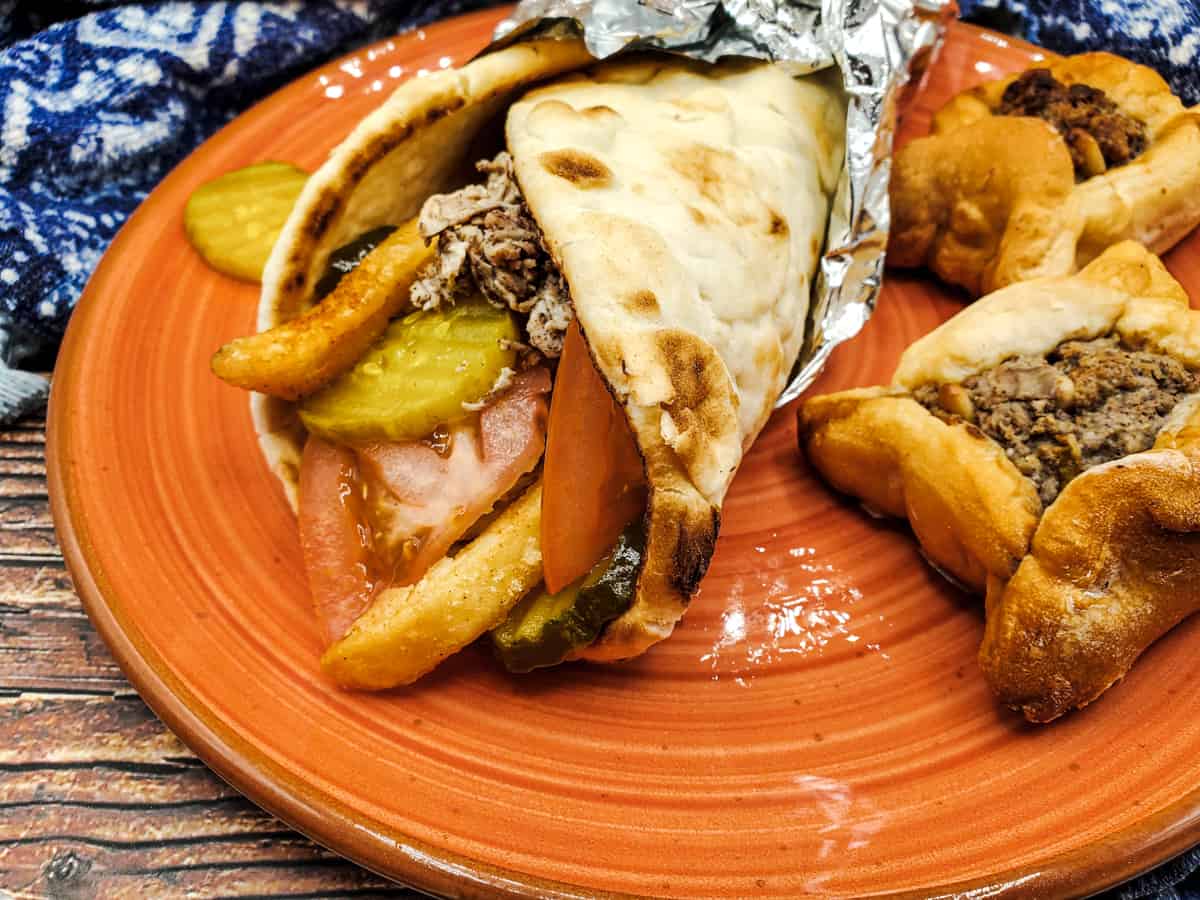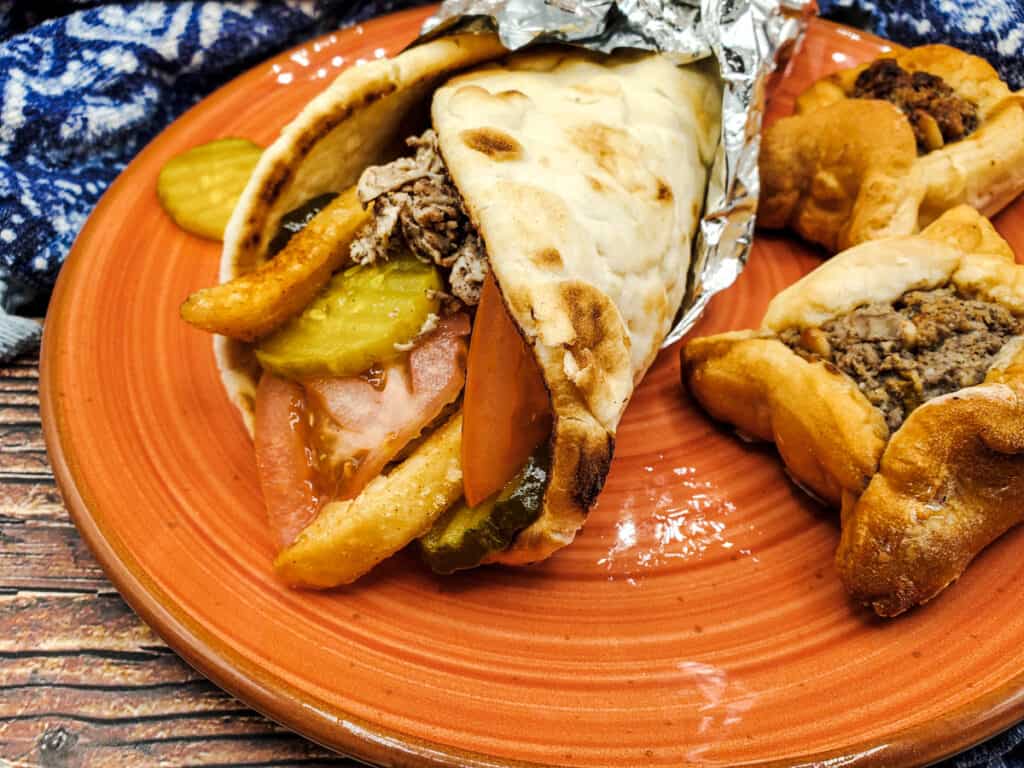 I always find myself preparing my shawarma sandwich, the same way that it was prepared when I was first introduced to the dish years ago. I prefer to load up my warm pita bread with the marinated chicken, then top it off with pickles, tomato slices, French fries, and the shawarma garlic sauce. Then it is time to wrap it up and dig in.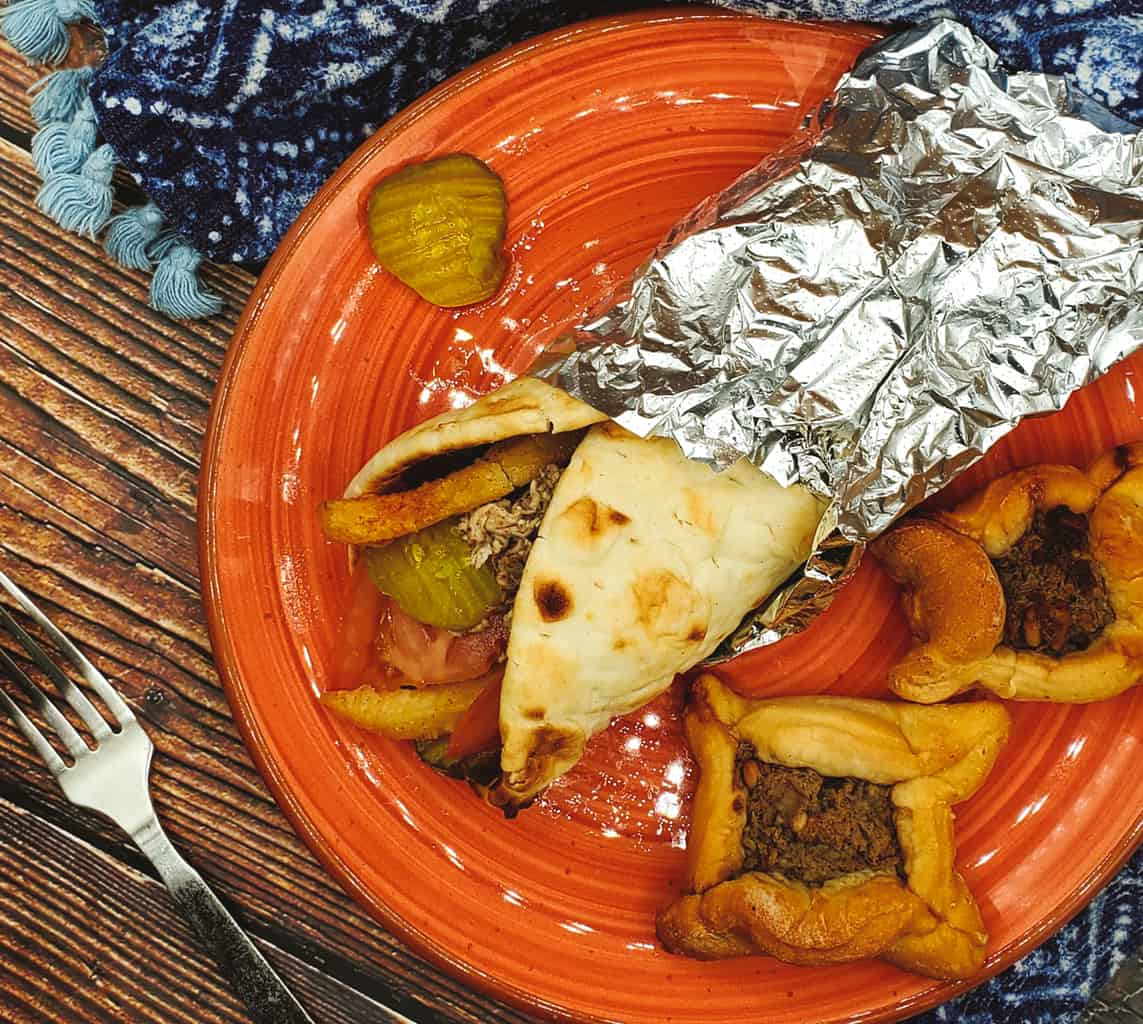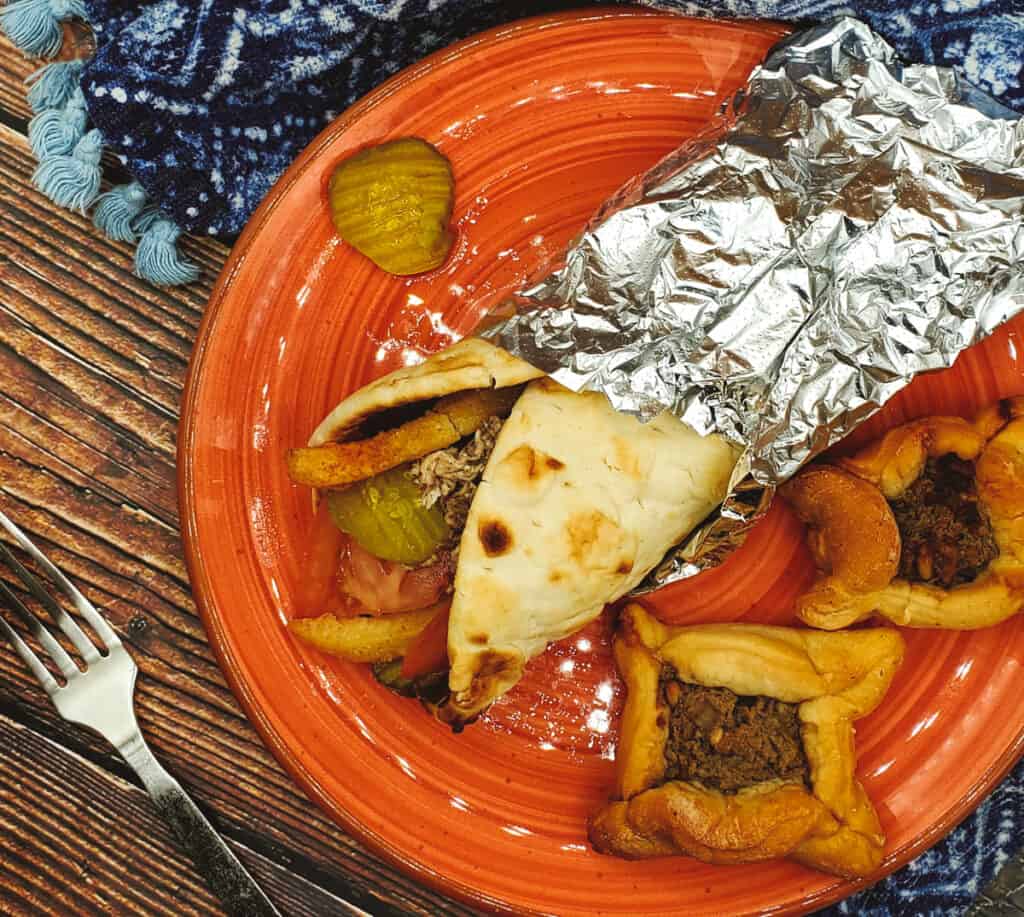 For more great Middle Eastern recipes be sure to check out a few of our favorites: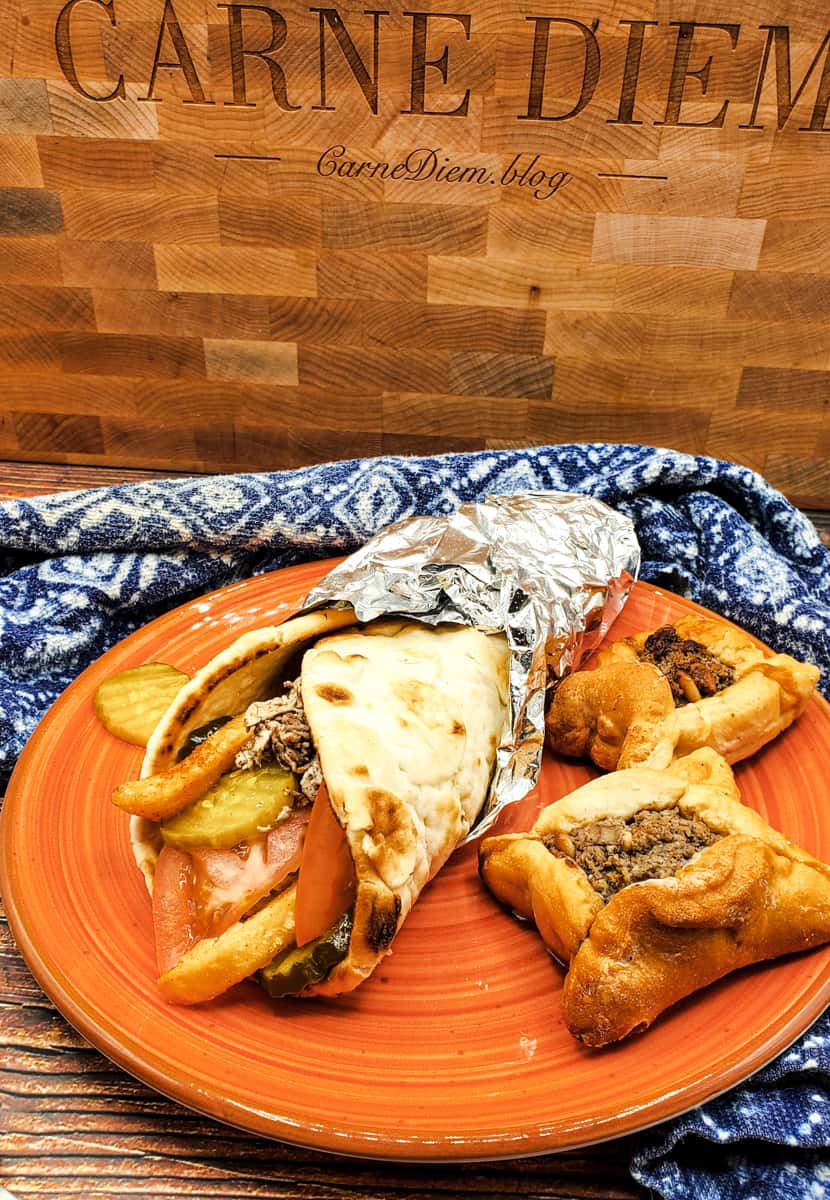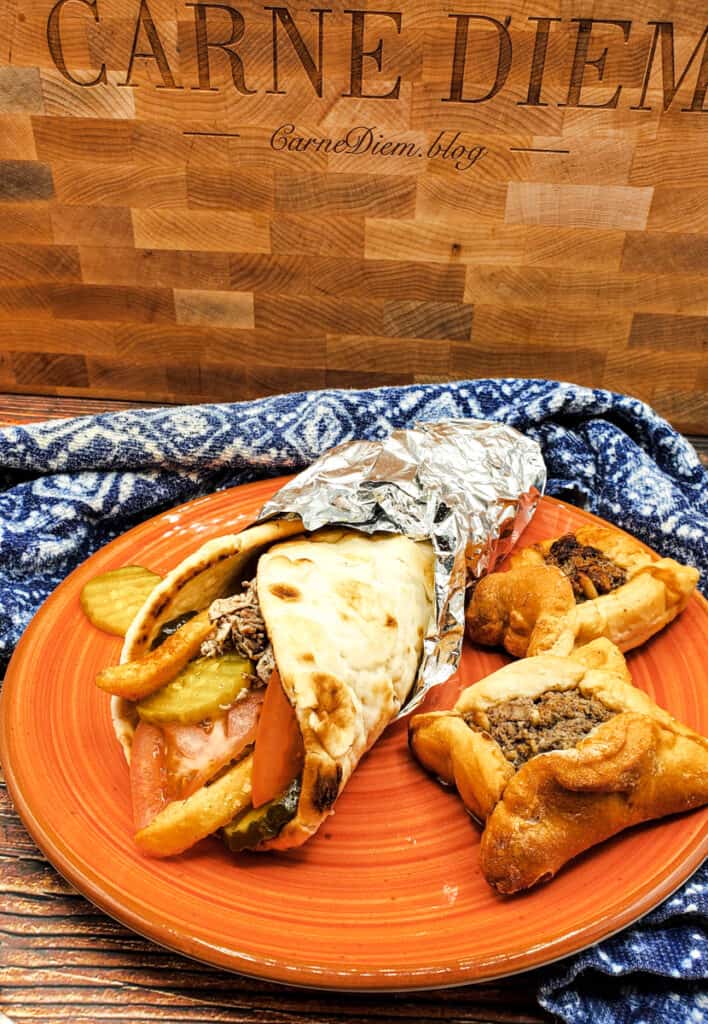 Thank you for taking the time to visit our blog. If you tried and enjoyed our recipe, please share with others and please leave us a comment and review. We also love to see your pics so don't forget to tag us @Carne_Diem_Culinary or #CarneDiemBlog. To be notified of future recipes please follow us on Facebook, Instagram, or Pinterest, or sign up for our e-mail notifications. Until next time, Carne Diem!
📖 Recipe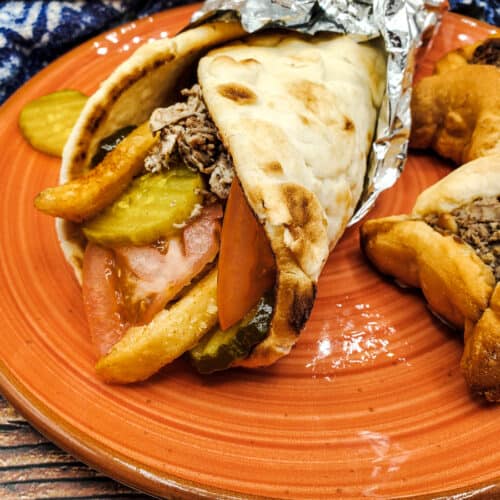 Smoked Lebanese Chicken Shawarma
Shawarma is one of the Middle East's greatest culinary exports. This Smoked Lebanese Chicken Shawarma is smoked on a vertical spit on your BBQ grill, but the recipe turns out equally great in your home oven.
Ingredients  
1

Pound

Chicken Breast

Thinly sliced

2

Pounds

Boneless and Skinless Chicken Thighs

8

Pita Breads

2

Tomatoes

Sliced

Pickles

½

Pound

French Fries

optional
Marinade
¼

Cup

Lemon Juice

2

Tablespoons

Olive Oil

1

teaspoon

Aleppo Pepper

substitute crushed red pepper

1

teaspoon

Allspice

1

teaspoon

Black Pepper

1

teaspoon

Cardamon

1

teaspoon

Cinnamon

1

teaspoon

Coriander

1

teaspoon

Cumin

1

teaspoon

Nutmeg

1

teaspoon

Paprika

1

teaspoon

Salt

1

teaspoon

Sumac

optional

½

teaspoon

Ground Cloves
Garlic Sauce
1

Large Head of Garlic

about 10 cloves

½

Cup

Olive Oil

2

Tablespoons

Lemon Juice

½

teaspoon

salt
Instructions 
Combine the spice mix ingredients with the lemon juice and the olive oil and mix to combine.

Thinly slice the chicken breast and add to a bowl with the chicken thighs and the marinade. Mix well to coast all of the chicken and cover and refrigerate for 4-8 hours.
Making the garlic sauce
Add the garlic cloves and salt to a food processor and pulse until finely chopped. Very slowly add in a small amount of oil and process until a creamy and thickened. Continue to very slowly add in the olive oil and lemon juice, maintaining a creamy texture.
Cooking the Shawarma
Remove the chicken from the marinate and carefully skewer the meat onto a vertical spit or trompo.

Heat your grill or smoker to 300-350 degrees and set up for indirect heat. Cook the chicken shawarma until it reaches an internal temperature of about 175-180 degrees. This typically takes about 2.5-3 hours.
Serving the Shawarma
Thinly slice the chicken and serve on warm pita or flat bread with the garlic sauce, pickles, tomatoes, fries, and any additional toppings that you desire.
Nutrition
Calories:
592
kcal
Carbohydrates:
43
g
Protein:
40
g
Fat:
28
g
Saturated Fat:
5
g
Polyunsaturated Fat:
4
g
Monounsaturated Fat:
17
g
Trans Fat:
1
g
Cholesterol:
144
mg
Sodium:
1049
mg
Potassium:
786
mg
Fiber:
3
g
Sugar:
1
g
Vitamin A:
402
IU
Vitamin C:
12
mg
Calcium:
79
mg
Iron:
3
mg