Jump to Recipe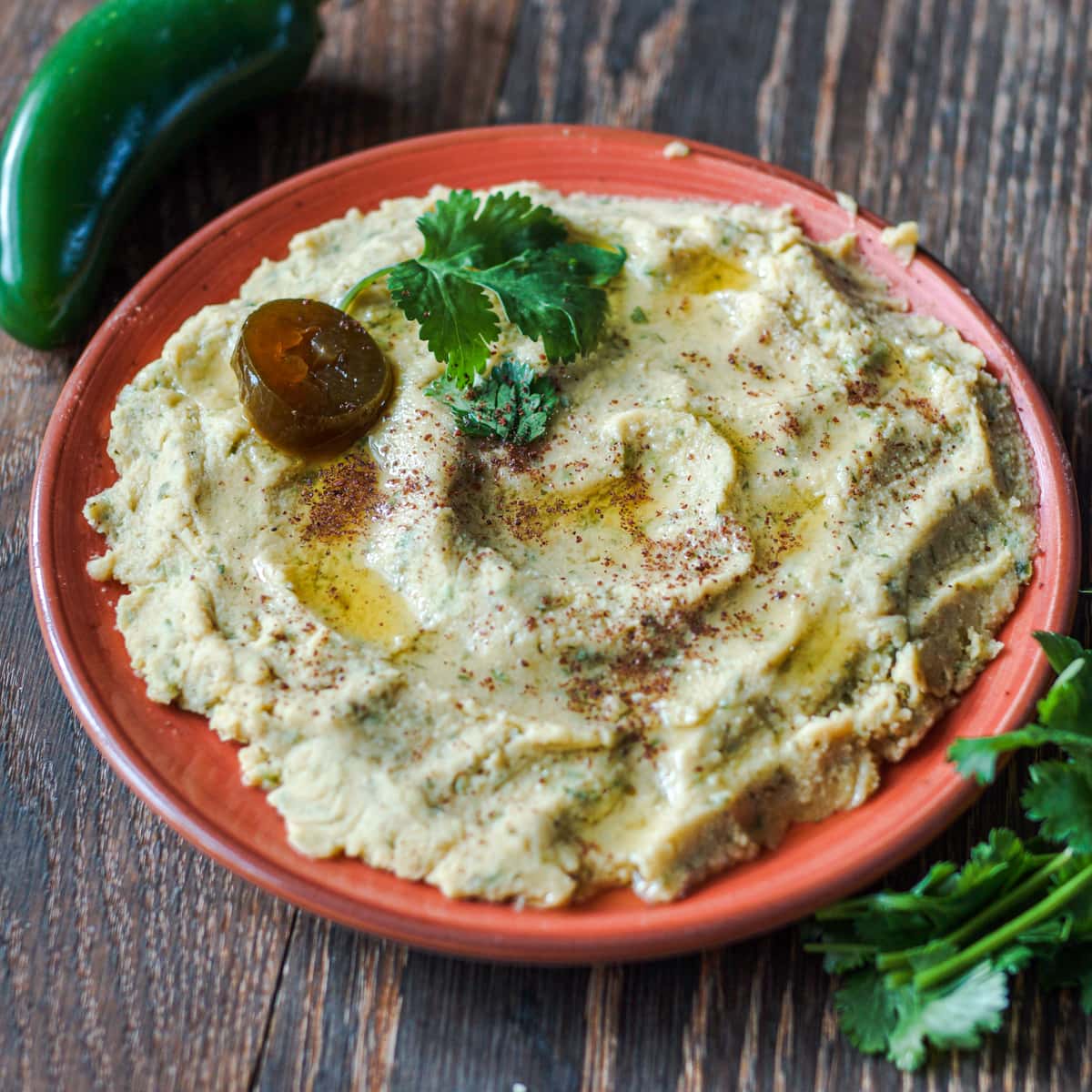 Hummus is a classic Middle Eastern dish consisting of ground chickpeas, blended with olive oil, lemon juice, and various spices and seasonings. It is the perfect accompaniment to your meal or makes for a great appetizer. Our simple version includes jalapenos for a bit of kick, fresh cilantro and swaps the lemon juice for lime for a little Latin twist on this fantastic dip. To really elevate the dish the hummus is then smoked for an added level of flavor.
Making The Jalapeno-Cilantro Hummus
This is a quick and easy hummus recipe that you can whip up in minutes and will stay great to eat for days so you can make it ahead of time and focus on other more complicated dishes. To make the hummus you will need canned garbanzo beans, cilantro, jalapeno peppers, garlic, lime juice, olive oil, and salt. Many traditional hummus recipes also include tahini (sesame seed paste), but we feel that this version tastes better without it. If you are a purist, please feel free to add a little to the hummus.
What are garbanzo beans?
Garbanzo beans are just another name for chickpeas, so use either interchangeably in the Jalapeno-Cilantro Hummus recipe.
Drain the garbanzo beans and then add them to a colander and rinse under cold water.
Add the chickpeas to a food processor along with the minced garlic and salt.
Pulse the mixture until well chopped. Add the lime juice to the food processor and pulse one more time. With a spatula scape the edges of the bowl until well combined.
On low speed, turn on the food processor and slowly add the olive oil. You want to add the oil in a slow but steady stream.
After adding all of the oil, again scrape the edges of the bowl, then add in the diced jalapenos and chopped cilantro.
Middle age is mostly getting super excited about different flavors of hummus - an unknown but very wise soul
Pulse the mixture a few times to combine evenly. For a smoother Jalapeno-Cilantro Hummus pulse a little longer to further chop up the peppers and cilantro.
At this point the jalapeno-cilantro hummus is ready to eat, but to really kick up the flavor, keep reading on how to make some killer smoked hummus.
Making Smoked Hummus
To make smoked hummus, oil the bottom of a cast iron pan or other oven proof dish. Evenly spread the hummus in the pan. Drizzle the top of the hummus with a little extra olive oil to prevent the smoked hummus from becoming too dry.
Preheat your smoker to 225-250 degrees and set up for indirect heat. For this recipe we smoked the hummus on our Big Green Egg for an extra smoky flavor. For a more subtle flavor, the smoked hummus can be made on a pellet grill like a Traeger.
Smoke the hummus until warmed through, typically about 30-45 minutes. If you want a stronger smoke flavor, you can smoke the Jalapeno-cilantro hummus even longer.
Serving the Jalapeno-Cilantro Hummus
The smoked hummus can be served either warm or cold. To enjoy warm, grab some pitas and dig in. To serve the smoked hummus cold, remove the Jalapeno-Cilantro Hummus to a bowl. Cover and refrigerate until ready to eat.
This dip does great on its own along with some warm pita bread or pita chips. It also is a great accompaniment to your favorite Middle Eastern or Mediterranean dishes like Smoked Lebanese Chicken Shawarma, baked kibbeh, or Grilled Souvlaki (Greek Chicken Skewers). Better yet make it a part of a full mezze spread and invite your friends and family over.
If you just can't get enough jalapenos, be sure to check out these recipes that are sure to please all of you spicy food lovers.
Thanks again for visiting Carne Diem. If you tried and enjoyed our recipe, please share with others. Also don't forget to tag us @Carne_Diem_Culinary or #CarneDiemBlog, we love to see your pics! To be notified of future recipes please follow us on Facebook,  Instagram, or Pinterest, or sign up for our e-mail notifications.
📖 Recipe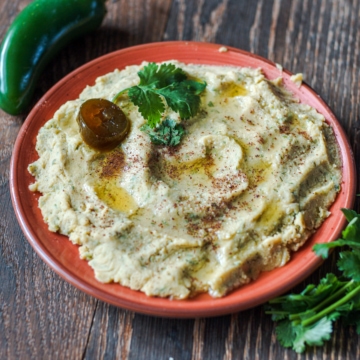 Smoked Jalapeno-Cilantro Hummus
This takes this classic Middle Eastern dip and adds a bit of a spicy twist with the addition or jalapenos and cilantro. The chickpea hummus is then smoked for an added layer of flavor.
Ingredients  
30

Ounces

Garbanzo Beans (2 Cans)

drained and rinsed

¾

Cup

Cilantro

chopped

2

Jalapenos

seeded and finely diced

½

Cup

Olive Oil

3

Tab

Lime Juice

2

Garlic Cloves

minced

½

tea

Salt
Instructions 
Drain the garbanzo beans/chickpeas and rinse under cold water.

Add the garbanzo beans to a food processor along with the minced garlic and salt. Pulse several times to finely chop then scrape the sides, add the lime juice and pulse a couple more times.

Scape the sides of the bowl again then run the food processor on low while you slowly add the olive oil. Once all of the oil is added, scape the sides of the bowl and add the diced jalapenos and chopped cilantro.

Pulse a few times to combine well or run the food processor a bit longer for a smooth consistency.

For a smoked version, spread the hummus in a well-oiled cast iron pan or oven proof dish. Smoke over indirect heat at 225-250 degrees for 30-45 minutes.

To enjoy warm, dig right in. For a cold smoked hummus, move to a bowl and cover and refrigerate until ready to use.
Nutrition
Calories:
217
kcal
Carbohydrates:
15
g
Protein:
5
g
Fat:
16
g
Saturated Fat:
2
g
Polyunsaturated Fat:
2
g
Monounsaturated Fat:
10
g
Sodium:
442
mg
Potassium:
179
mg
Fiber:
5
g
Sugar:
1
g
Vitamin A:
158
IU
Vitamin C:
7
mg
Calcium:
41
mg
Iron:
1
mg