Last Updated on October 6, 2023 by Carne Diem
Sauces, Rubs, and Accompaniments
Origin: African, Middle Eastern
Jump to Recipe
This traditional hot sauce from the Levant countries of Palestine, Syria, Lebanon, Jordan, and Israel brings the heat. With hot red chiles, jalapenos, walnuts, parsley, cilantro, garlic, and lemon, this hot pepper sauce is a flavor explosion.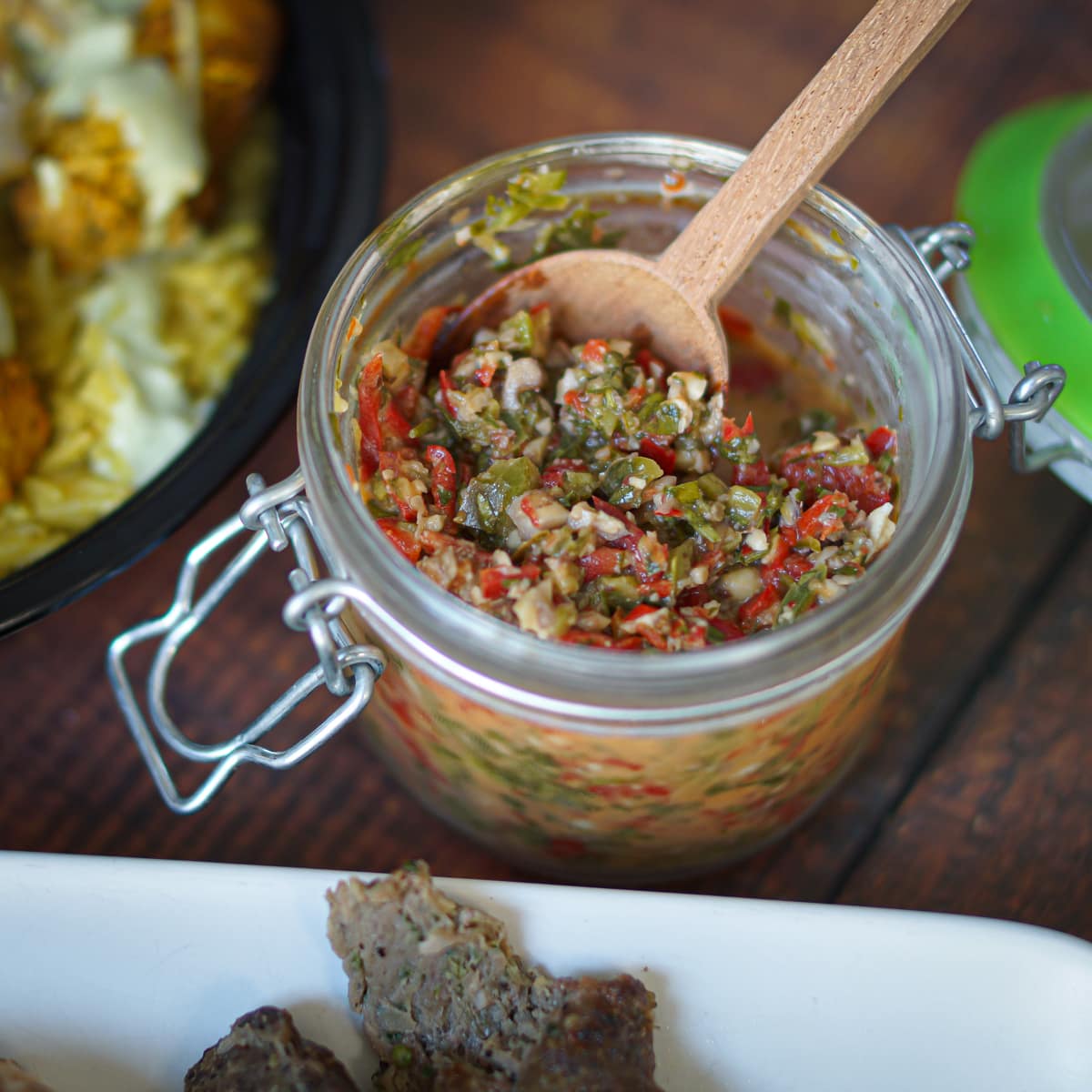 This homemade shatta sauce is inspired by our favorite versions of this fiery hot sauce from local restaurants Baba's Pantry and Clay and Fire. Like a good salsa, there are many regional variations of this hot sauce. We make our shatta with walnuts, fresh herbs, and hot chiles. This spicy Middle Eastern Hot Sauce makes the perfect accompaniment for grilled meats and veggies or as part of a Mezze spread.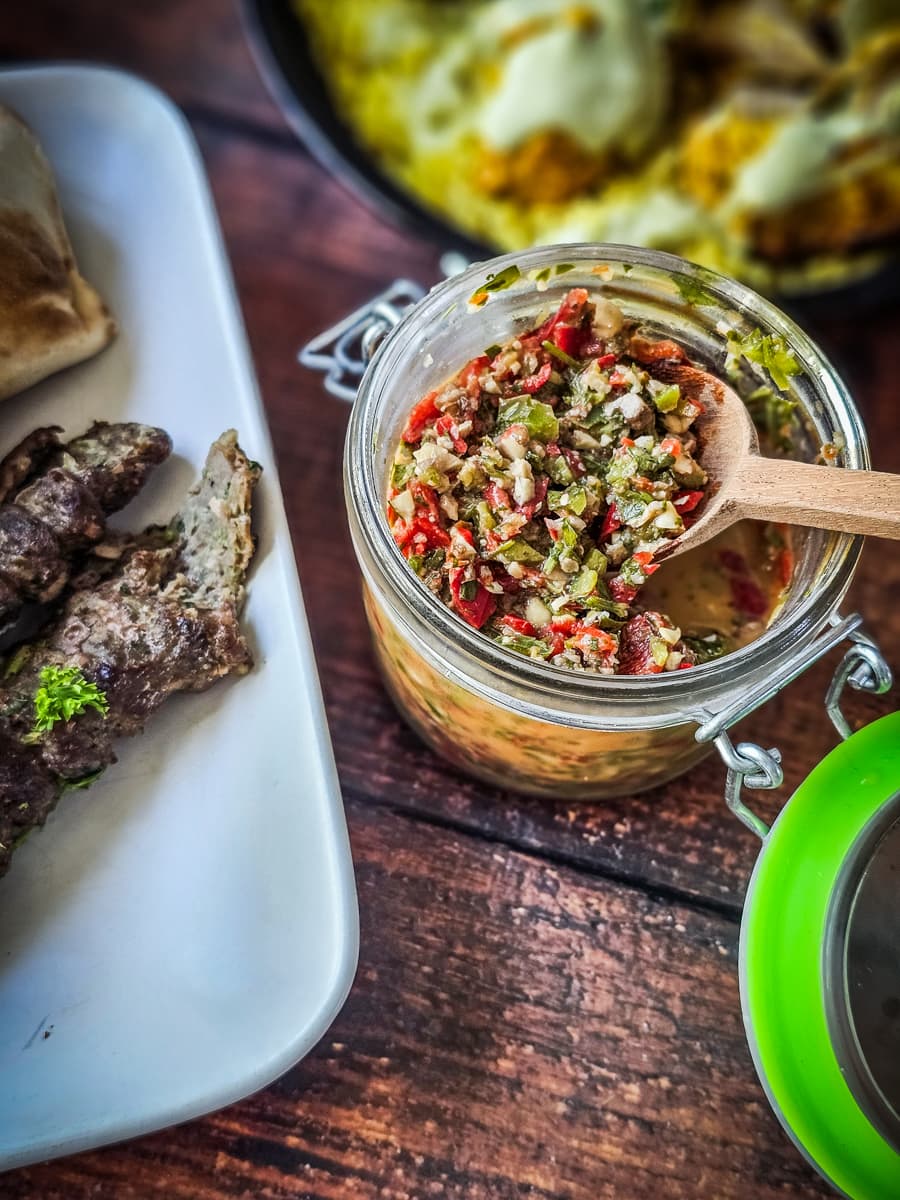 Making the Shatta Hot Sauce
To make the homemade Palestinian Shatta you will need hot peppers, fresh cilantro, fresh parsley, lemon, garlic, olive oil, vinegar, and walnuts.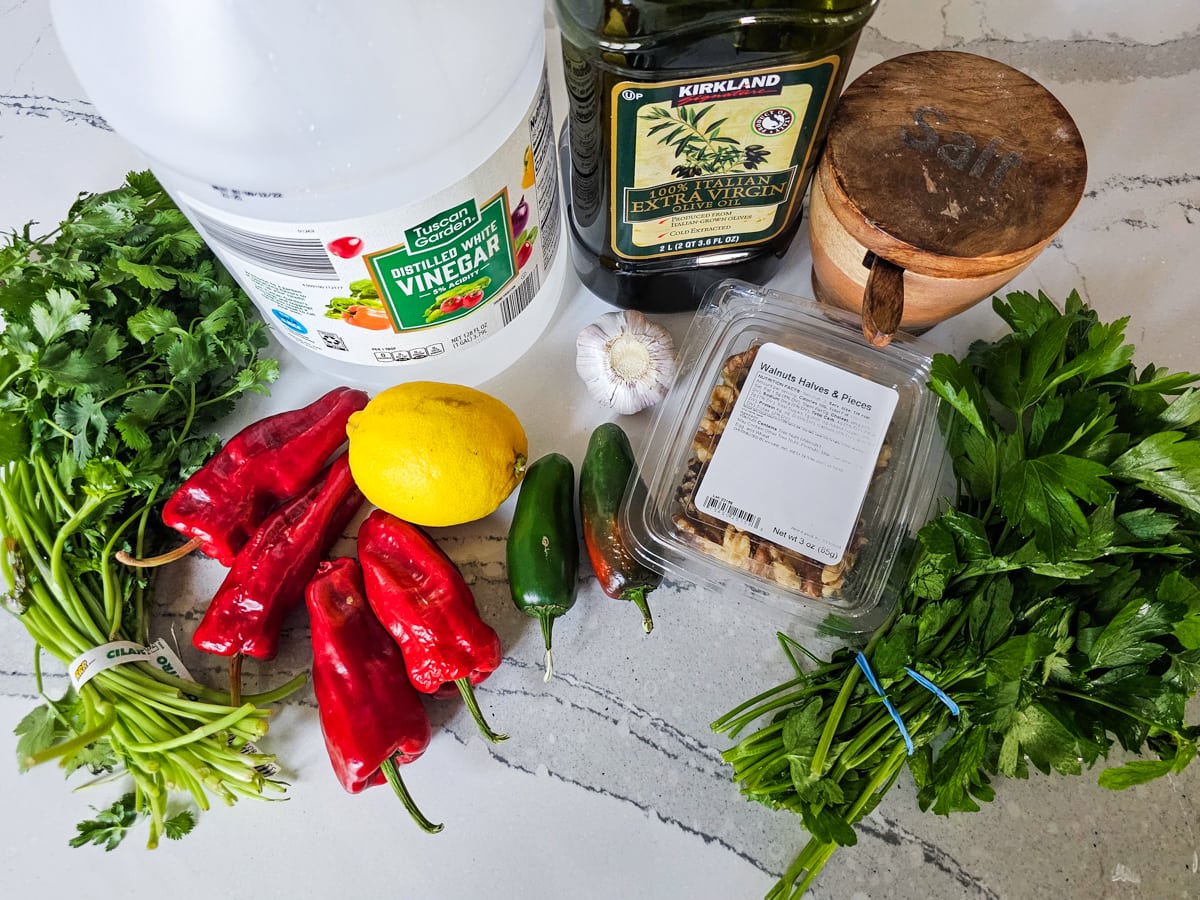 Making the spicy shatta sauce recipe only takes a few minutes. Rinse the peppers and herbs. Remove the stems and seeds from the chile peppers. Take care when handling hot peppers and consider wearing gloves when working with super-hot varieties.
If you want to increase the spice on the sauce, leave as much of the pith or ribs of the peppers as possible. This is the placenta of the chile and contain the majority of the capsaicin glands. The seeds should be removed as, despite popular belief, they do not contain capsaicin and will only increase bitterness.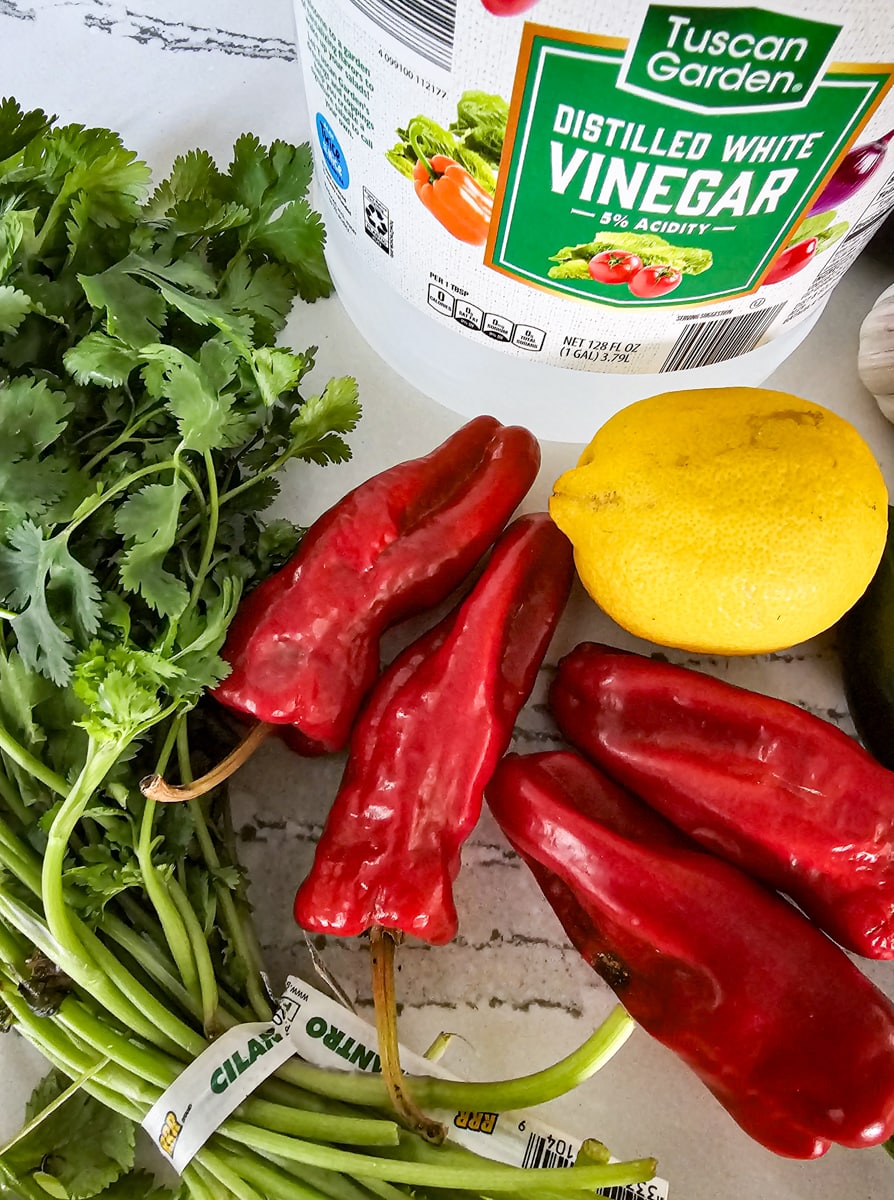 Fermenting the chiles
Authentic Middle Eastern Shatta typically used fermented chiles. We typically skip this step as we find letting the entire shatta sauce meld together for a couple days has yielded similar results, but if you want to ferment the chiles before using here is the process.
Slice the chile peppers and place in a jar with the salt. Stir to combine, then seal the jar and place in a warm spot. Allow the peppers to ferment for 3 days then use in the shatta recipe as described below.
Chop the sauce in a food processor
To finish the Palestinian shatta, add the garlic and salt to the food processor and pulse to mince. Scrape the sides of the bowl, then add the peppers. Pulse a few times to chop the hot chiles. Next, add the parsley, cilantro, and liquid ingredients. Pulse until well combined. The shatta should still be coarse but not chunky.
This vinegar and lemon juice are important elements of the shatta, as they provide acidity to the dish. This helps with flavor and also helps preserve the hot sauce and slow spoilage. Based on preference you can adjust the ratio of lemon juice and vinegar, as desired.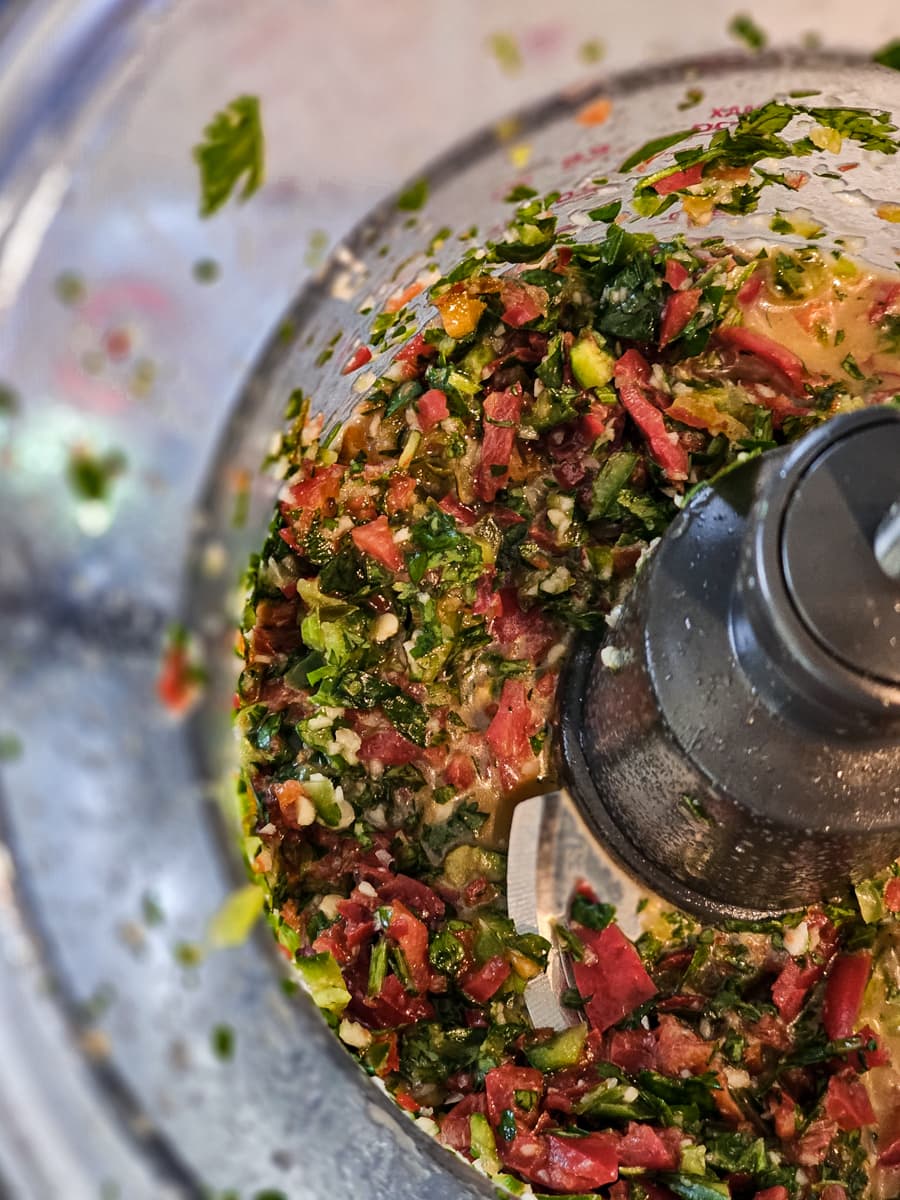 Finally, stir in the chopped walnuts and stir to combine. Place in an airtight container and place in the refrigerator until ready to use.
Use of nuts in shatta is fairly common, especially in Egyptian version of the hot sauce. The walnuts can be omitted for those with a tree nut allergy or substituted for pine nuts if desired.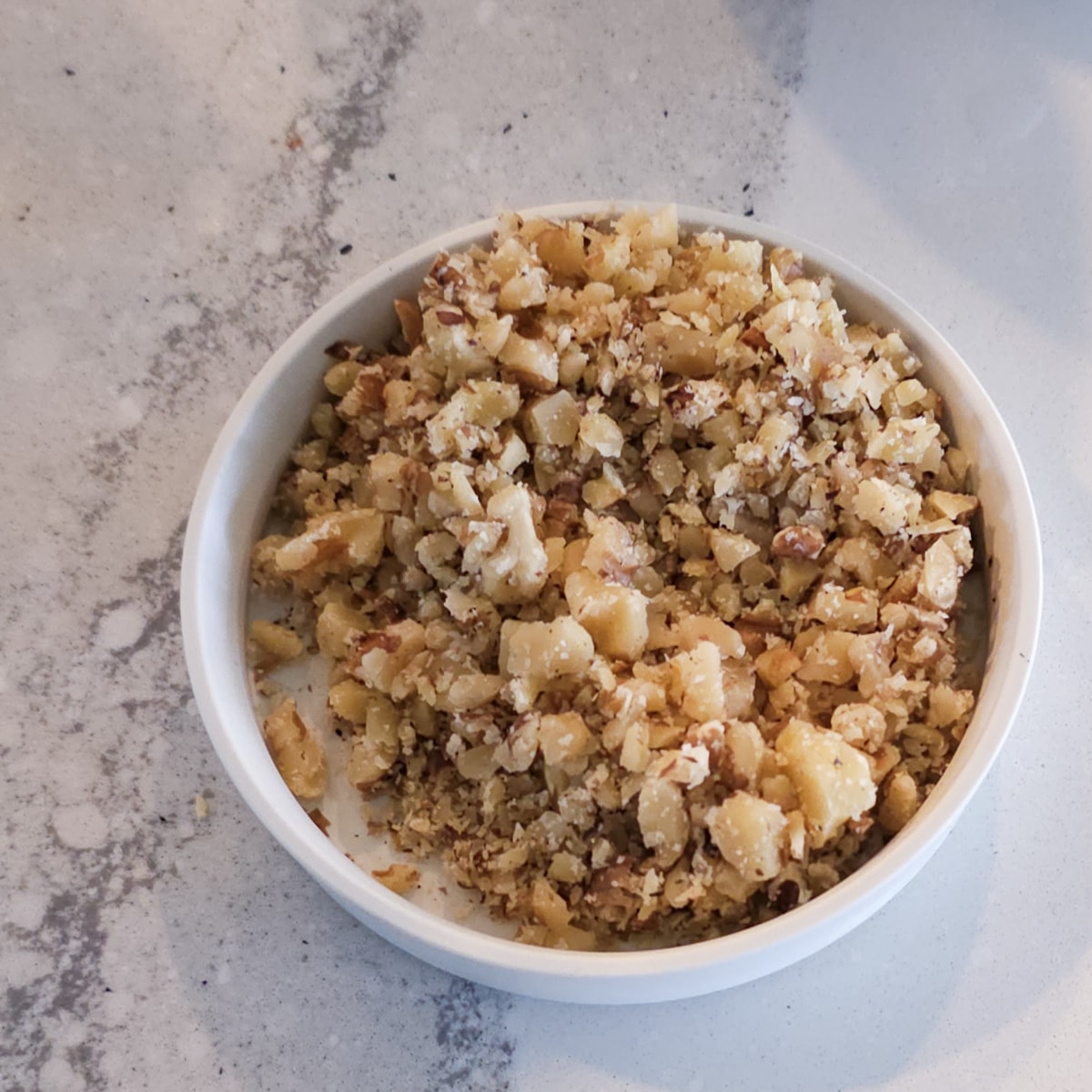 Although, it will last considerably longer, we find the fresh shatta hot sauce is at its best when used between 1 day and 7 days of making it. Due to the use of fresh herbs in the shatta, leftovers should be discarded after 2 weeks.
Best Peppers to Use in Shatta Hot Sauce
Traditionally, Middle Eastern Shatta is made of local varies of chiles. There are both red and green varieties of the North African Hot Sauce with red shatta utilizing red chile peppers, and green shatta using green chiles. Similar to salsa in the U.S., shatta recipes can vary greatly and use a variety of chiles and ingredients.
For our Middle Eastern Shatta recipe we tried to keep things as authentic as possible and made the shatta with Aleppo peppers that we grew in our garden. Fresh Aleppo chiles can be difficult to find in the United States, but red Fresno chiles would make a good substitute.
If you love spice, check out these recipes that bring the heat:
For a Green Shatta recipe jalapenos and serrano chiles can be used. Using these peppers will typically result in a milder hot sauce so you can increase the spice level by adding some crushed red pepper flakes or fresh habanero peppers. In some regions you may see this green version called Zhog or Zhoug sauce and this version from Palestine always contains cilantro.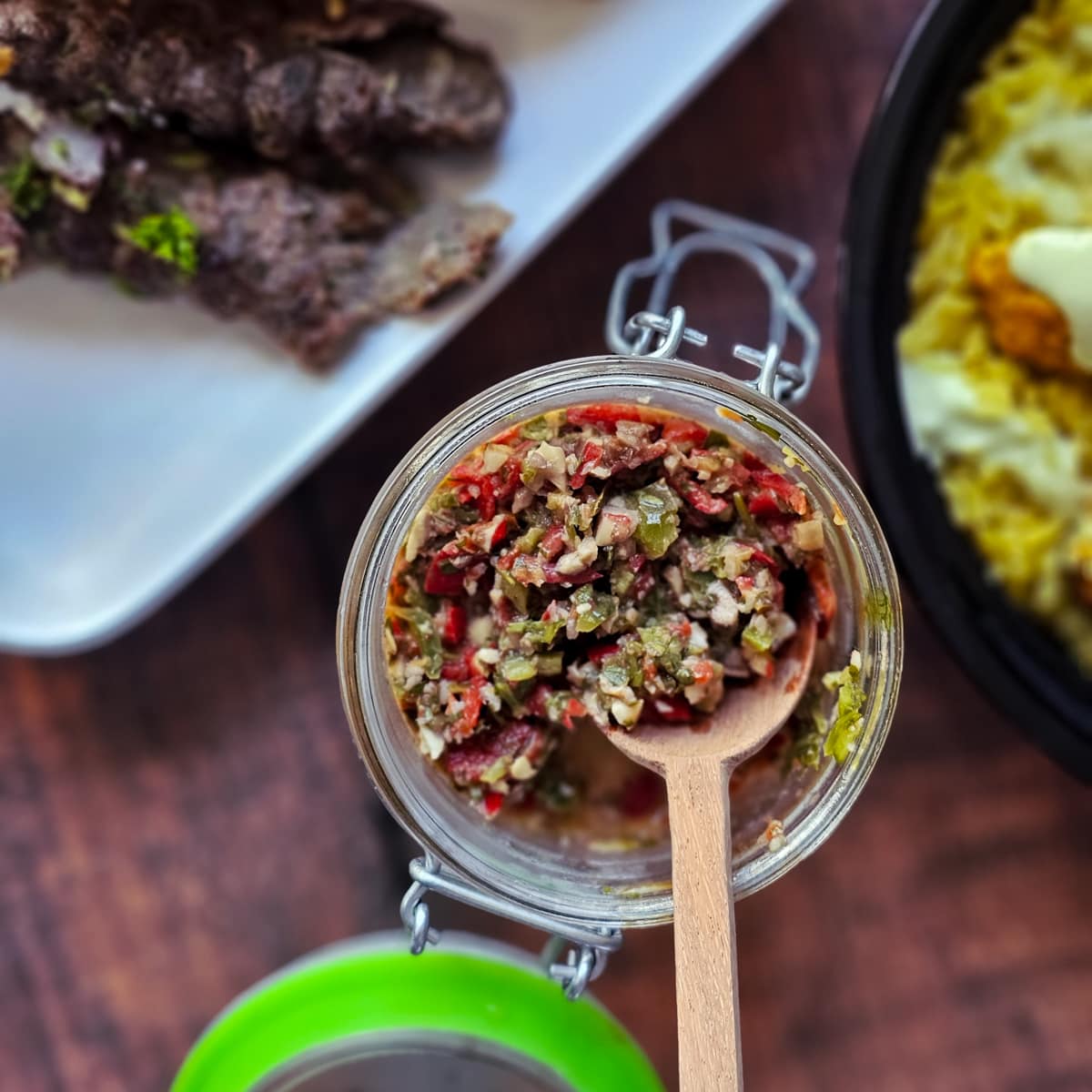 What To Serve with Middle Eastern Shatta
This fiery Palestinian pepper sauce is typically served with a variety of Middle Eastern and Northern African dishes. Shawarma, grilled chicken, kebabs, and hummus would all benefit from the addition of the Palestinian shatta. Add it to pizza, wraps, eggs, or any dish that you wish to add some spice to.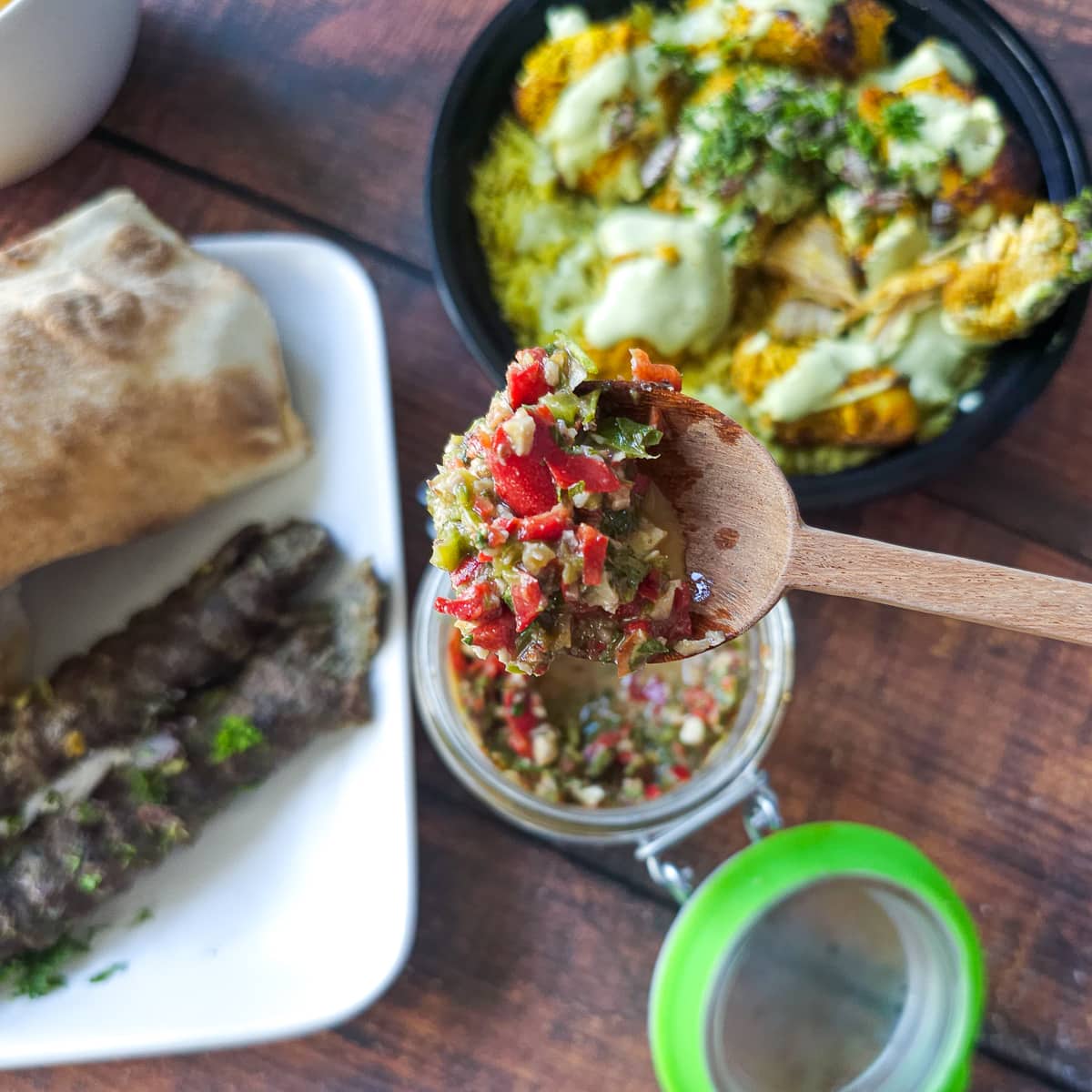 Be sure to check out more of our homemade sauce recipes here:
Frequently Asked Questions
Does Shatta contain nuts?
Some of our favorite Middle Eastern Shatta recipes contain chopped nuts like walnuts. Including nuts in the shatta recipe is not a requirement, however, and may be omitted for those with a nut allergy.
Is Shatta Sauce spicy?
In short, yes. Traditional shatta is spicy and typically ranges from very spicy, extremely spicy. As this is typically served as a condiment to eat with other dishes, a little bit of this fiery Middle Eastern hot sauce goes a long way.
What is the difference between red and green shatta?
The only real difference between red shatta and green shatta sauce is the color of the peppers used in the recipe. Both versions can be found frequently in Palestine and the surrounding Levantine countries.
Are Shatta and Zhoug the same?
Zhoug or Zhog sauce is a variety of Middle Eastern shatta sauce that contains cilantro. This version is popular in Israel, Palestine, and Yemen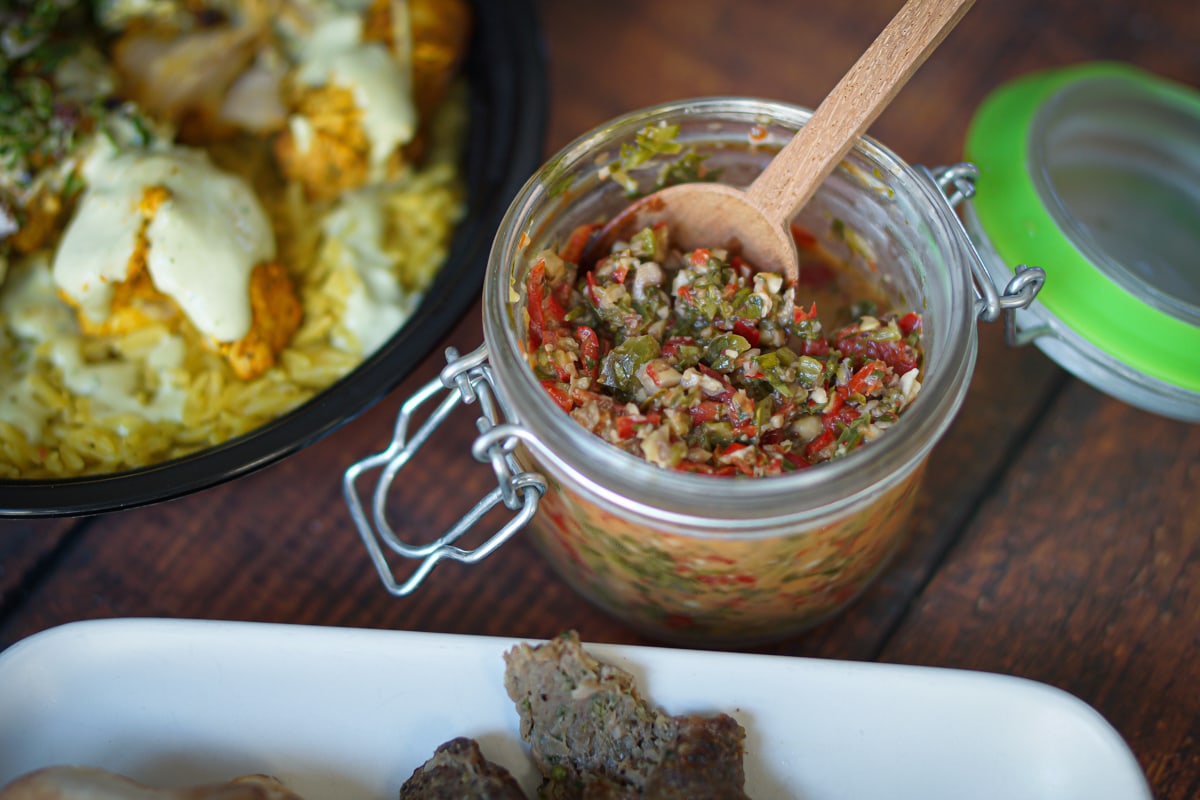 Thank you for taking the time to visit our blog. If you tried and enjoyed our recipe, please share with others and please leave us a comment and review. We also love to see your pics so don't forget to tag us @Carne_Diem_Culinary or #CarneDiemBlog. To be notified of future recipes please follow us on Facebook, Instagram, or Pinterest, or sign up for our e-mail notifications. Until next time, Carne Diem!
📖 Recipe
Palestinian Shatta: Spicy Middle Eastern Pepper Sauce
Also known as Zhoug sauce, this fiery Middle Eastern hot sauce is made with spicy red chiles, fresh herbs, and walnuts. Use as a condiment to kick up the heat level for your favorite grilled meats, eggs, vegetables, or part of a mezze spread.
Ingredients  
6

ounces

Spicy Red Peppers

like Aleppo or Fresno

2

Jalapenos

4

Garlic Cloves

2

Tablespoons

Vinegar

½

Lemon

Juiced

¼

Cup

Cilantro

Chopped

¼

Cup

Fresh Parsley

Chopped

1

teaspoon

Kosher Salt

2

Tablespoons

Olive Oil

2

Tablespoons

Walnuts
Instructions 
Rinse the chiles and remove the seeds and stems. Leave the piths/ribs for increase spice or remove to lessen the spice level.

Slice the chiles and place in a jar with the salt.. Seal and set in a warm place to ferment for 3 days. (This step is optional, but the authentic way to prepare shatta).

Rinse the cilantro and parsley. Remove the stems.

Add the garlic to the food processor and pulse to chop. Add the chiles, herbs, and pulse to coarsely chop.

Add the liquid ingredients and pulse to combine. The shatta should be finely chopped, but you do not want a paste, nor do you want large chunks.

Finely chop the walnuts and stir into the hot sauce. Place in a sealable jar and refrigerate overnight.
Nutrition
Calories:
60
kcal
Carbohydrates:
3
g
Protein:
1
g
Fat:
5
g
Saturated Fat:
1
g
Polyunsaturated Fat:
2
g
Monounsaturated Fat:
3
g
Sodium:
293
mg
Potassium:
101
mg
Fiber:
1
g
Sugar:
1
g
Vitamin A:
461
IU
Vitamin C:
36
mg
Calcium:
13
mg
Iron:
0.3
mg