Protein:
Method: Smoker
Jump to Recipe
These days you will find people making everything into burnt ends. From corned beef burnt ends, pork belly burnt ends, and even hot dog burnt ends, people are in love with these tender morsels of meat.
While burnt ends are more famously made from smoked brisket, in the Kansas City area, you may also find BBQ joints serving up smoky pork burnt ends made from pork butt as well. Classic barbeque joints like LC's BBQ and Jack Stack BBQ serve up smoked burnt ends made from pork shoulder, along with their more traditional beef burnt ends.
Why make burnt ends with pork butt?
Pork butt or shoulder is a fantastic cut for making poor man's burnt ends. Making burnt ends from pork butt is typically much cheaper way of making barbeque burnt ends versus what you will pay for brisket or even chuck. Pork butt is also a very forgiving cut making it great for beginners learning how to BBQ. When made with boneless pork butt, you can also trim the meat to a thinner thickness so that you can maximize that bark, which is so important in great burnt ends.
Looking for more of the best recipes using pork butt or shoulder? Check out our list of some of the best pork butt recipes and pork shoulder recipes here:
Making Pork Shoulder Burnt Ends
How to select the best pork butt for BBQ
When at the store and looking for a pork shoulder or pork butt to use for barbeque, look for meat that is well marbled. You want thin striations of fat running through the meat. Pork butt has a lot of intramuscular fat, so you do not need a large fat cap on the pork. Unlike beef, where aging is beneficial you want to get your pork as fresh as possible.
Trimming your pork butt
When making burnt ends from a pork butt, using a boneless pork butt is going to be a lot easier. Trim the excess fat from the outside of the Boston butt. Next, find a vein of fat between the muscles of the pork butt and cut along the line. I typically start at the end with the money muscle. Continue, to cut and "unroll" the pork but so it is about 1.5-2 inches thick.
Trimming in this manner will maximize the bark for your pork shoulder burnt ends.
What is the best barbeque rub for pork butt?
There are a lot of great BBQ rubs for pork, and a lot of it comes down to personal preference. Some of our personal favorite rubs for barbecue pork include Cimarron Docs and Meat Church rubs like Honey Hog and Holy Voodoo. Of course, making your own BBQ rub is also a fun way to experiment with flavors.
Liberally season both sides of the trimmed pork butt. Pork butt can handle a fair amount of rub, so don't skimp.
Smoking pork butt for burnt ends
To smoke the pork burnt ends, fire up your grill or smoker and set up for indirect heat. Your pork butt can be smoked between 225-300 degrees, but 250 is a good starting point for smoking pork shoulder.
We cooked these pork shoulder burnt ends on a Big Green Egg, but they turn out equally great on a pellet smoker, drum, or offset. Smoke the pork butt until the bark is set and does not rub off when you run your finger over it. This will typically occur around 165-175 degrees but can vary depending on your smoker type and the contents of your barbeque rub. We highly recommend using a meat thermometer for this cook. We use a Fireboard for most of our cooks but there are also affordable meat thermometers on Amazon.
Once you bark is set you may choose to wrap your smoked pork butt in foil or butcher paper. This will speed up the remainder of the cook but is not absolutely necessary. Continue to cook the pork butt until it reaches an internal temperature of 185 degrees. You do not want to go much past 185 degrees, or you will run the risk making the pork too tender and ending up with pulled pork instead of pork that you can cut for burnt ends.
Once the smoked Boston butt has reached 185 degrees it is ready finish making the pork burnt ends.
Cube and finish the pork burnt ends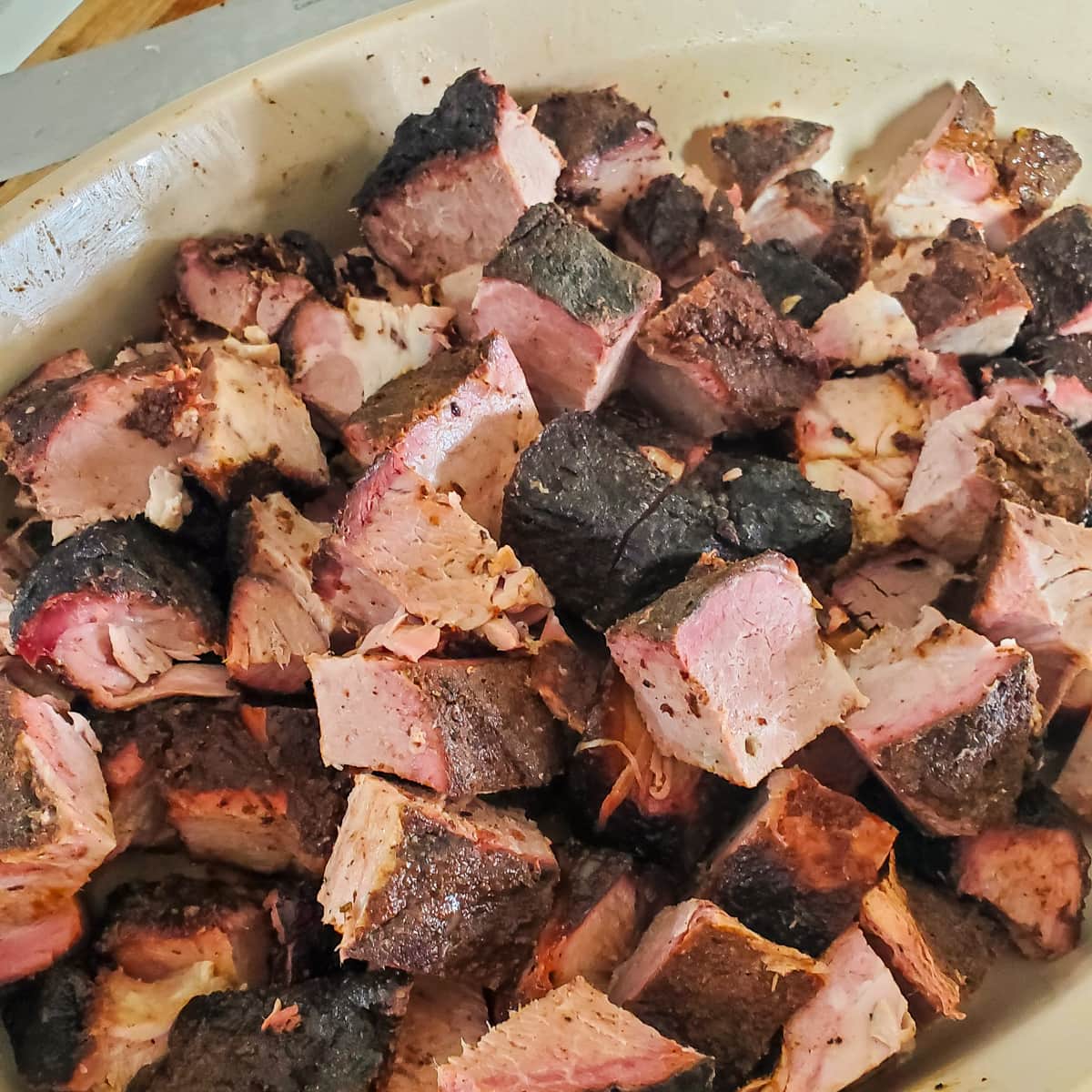 Cut the smoked boneless pork butt into roughly 1-inch to 1.5-inch cubes. Place the cubed pork butt into an oven safe dish or foil pan and lightly sauce with your favorite BBQ sauce. Return the pork butt burnt ends to the smoker. Smoke, uncovered, for 15-30 minutes to set the sauce, as desired.
Your poor man's pork burnt ends from pork shoulder are now ready to eat. Serve with additional sauce and any of your favorite side for barbeque meat.
What to serve with Barbeque Pork Burnt Ends
Pork butt burnt ends go great with traditional sides for BBQ like slaw, baked beans, crispy French fries, pasta salad, and cheesy corn. If you feel like getting a little more adventurous, try some of our other smoked side dishes to pair with BBQ:
Enjoy the barbeque pork burnt ends with a tall glass of beer or a cocktail like a Campari Old Fashioned or Kansas City Horsefeather.
Thank you for taking the time to visit our blog. If you tried and enjoyed our recipe, please share with others and please leave us a comment and review. We also love to see your pics so don't forget to tag us @Carne_Diem_Culinary or #CarneDiemBlog. To be notified of future recipes please follow us on Facebook,  Instagram, or Pinterest, or sign up for our e-mail notifications. Until next time, Carne Diem!
📖 Recipe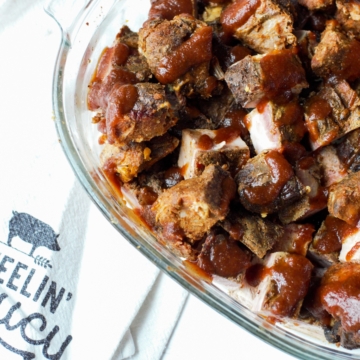 Smoked Pork Shoulder Burnt Ends
These barbeque pork burnt ends are made from boneless pork shoulder and make the perfect meat to cook on your smoker.
Ingredients  
5

pound

Boneless pork butt

¼

Cup

Barbeque rub

½

Cup

Barbeque Sauce
Instructions 
Trim the excess fat from the outside of the boneless pork butt. Starting at the side of the butt, cutt the pork butt about 1.5 inches from the bottom and "unroll" the pork so it is one flat piece, about 1.5-2 inches thick.

Liberally season the pork on all sides with the BBQ seasoning.

Smoke the Boston butt at 225-250 degrees until it is formed a nice bark. Typically, this occurs at a temperature of about 165-175 but can vary. At this point you may choose to wrap the pork shoulder or continue to smoke it unwrapped. Cook to an internal temperature of 185 degrees.

Cube the pork butt into roughly 1.5-2-inch cubes and place in a foil pan. Toss with about ½ cup of sauce and return to the smoker. Cook, uncovered for about 15-30 minutes to set the sauce.

Serve warm with additional sauce if desired.
Nutrition
Calories:
340
kcal
Carbohydrates:
10
g
Protein:
43
g
Fat:
13
g
Saturated Fat:
5
g
Polyunsaturated Fat:
2
g
Monounsaturated Fat:
6
g
Trans Fat:
0.1
g
Cholesterol:
136
mg
Sodium:
296
mg
Potassium:
877
mg
Fiber:
3
g
Sugar:
5
g
Vitamin A:
133
IU
Vitamin C:
0.2
mg
Calcium:
131
mg
Iron:
5
mg