Protein:
Origin: Southeast America, North America
Method: Smoker
Jump to Recipe
Living in Kansas City and competing on the KCBS BBQ circuit I am very appreciative of the competitive nature of BBQ. No doubt the battle lines have been drawn and Pitmasters from around the U.S. have all thrown in their hat as claiming that their region produces the best Que in America. Texas, Kansas City, Memphis, the Carolinas, all want a stake at the crown.
After several "BBQ road trips" around the U.S., I feel like I finally have an answer to the age old question of who has the best BBQ. There is no one best BBQ mecca. All of the heavyweights have certain things that they do exceptionally well, that their other meats may be overshadowed by the competitors. Want the best brisket in the U.S.? Texas has hands down the best that I have tried. Ribs? As a KC boy I still believe that Joe's KC has the best ribs in America (and I have the late Anthony Bourdain on my side). Memphis is a close second. When it comes to burnt ends, in my opinion there is KC and no one else even close. Finally we come to pork. Honestly, I feel that while Texans and KC claim to smoke the best pork in America, it feels like almost an afterthought to their staples. The pork I have had in the Carolinas actually feels like it was made with love.
Eastern North Carolina Style Pork
When it comes to Carolina BBQ you have 3 main styles. Eastern North Carolina, Lexington (Piedmont) style, and South Carolina style. When it comes to the best pork in America, it is ENC style that has stolen my heart. Typically Eastern North Carolina Style Pulled Pork involves cooking a whole hog. Thankfully, you can get the same great taste at home smoking a pork butt. If you have the desire and means to cook a whole hog, go for it, it is a lot of fun. Or you can start small with our Spanish Cochinillo Asado: Roast Suckling Pig.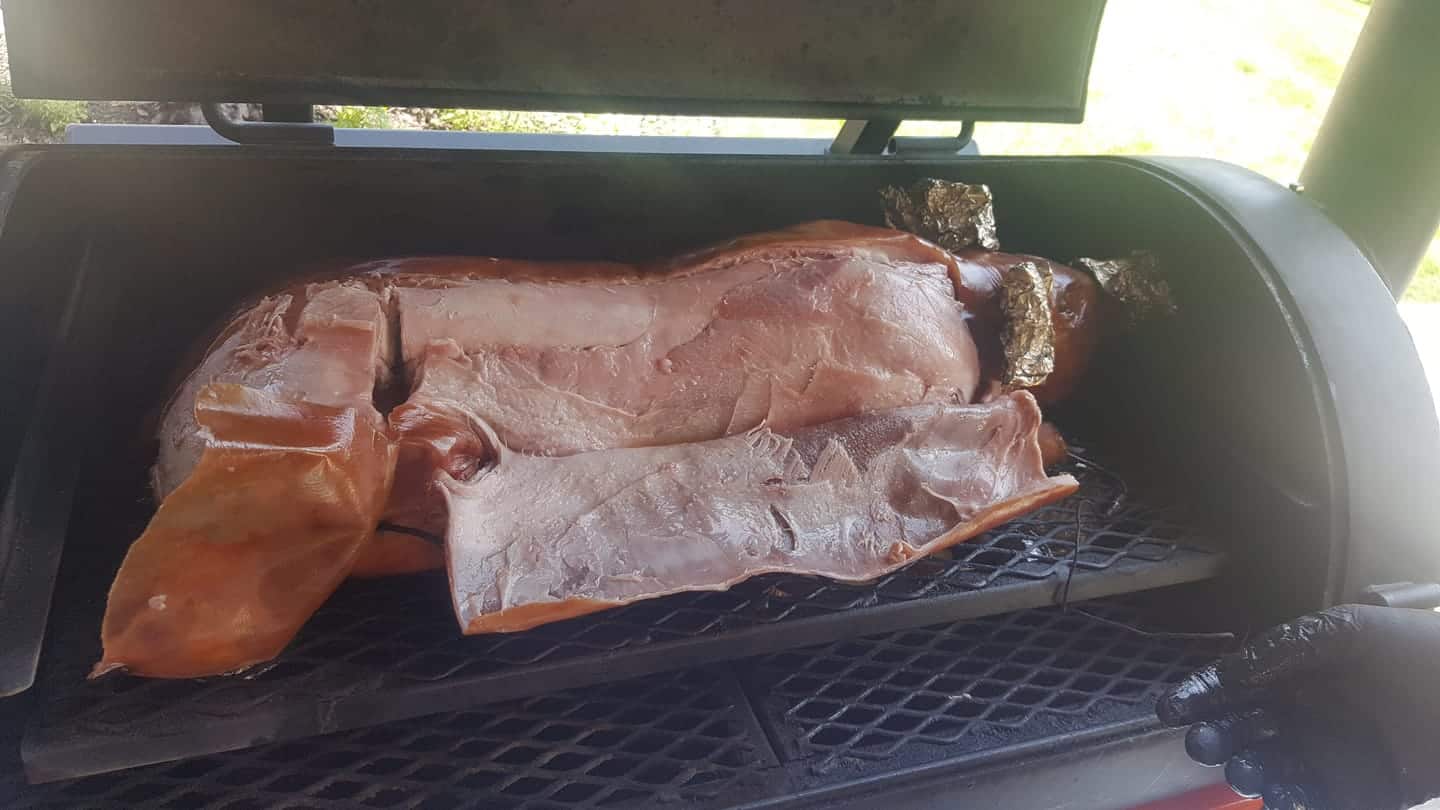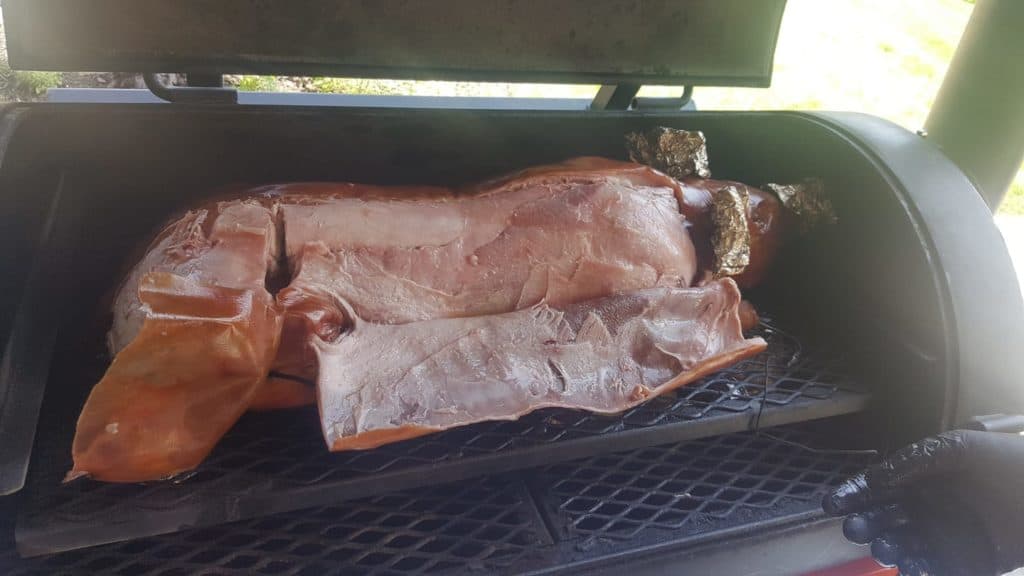 The sauce used in ENC style pork is a tangy-peppery combination of vinegar and spices. There is no tomato sauce used here, and it is a polar opposite to the sweet sauces used in Kansas City. In my opinion, this sauce really allows the wonderful flavor of the smoked pork to shine through.
Pork Butt
Pork butt has nothing to do with the pigs hind quarters and is actually the top section of the pork shoulder. You may also hear it referred to as a blade roast, shoulder butt, or Boston butt, named after the wooden "butts" that the pork was stored in. Combined with the lower section, or picnic, they make up an entire pork shoulder. This cut is very well marbled and so makes the perfect cut for juicy pulled pork.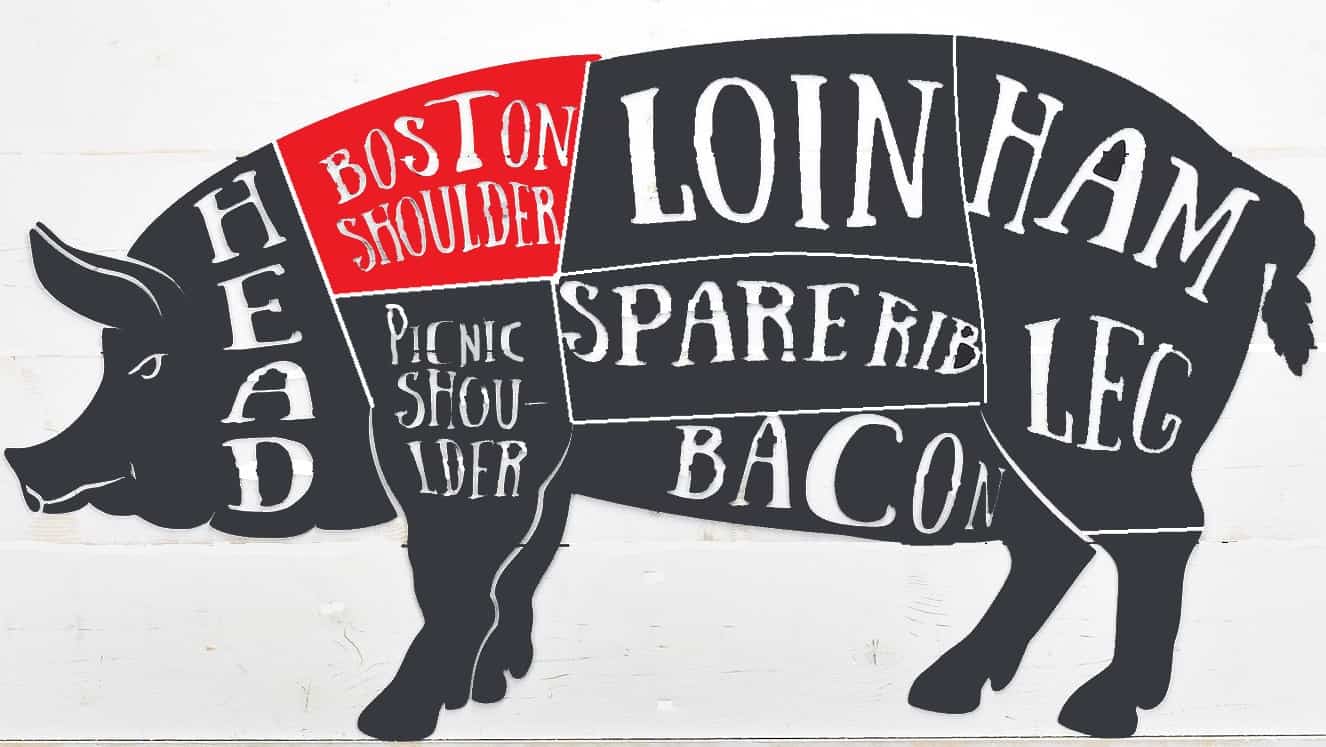 Making the Eastern North Carolina Pulled Pork
Trim and prep the pork butt
The first step is trimming your pork butt. These days, most pork butts come pretty well pre trimmed. There will likely be a side that still contains a layer of fat. Based on personal preference you can decide how much of this to remove. Pork butts already have a lot of intramuscular fat so I tend to remove all of it so I have more surface area to apply rub to. Some people prefer to leave it on or score it. Choice is yours.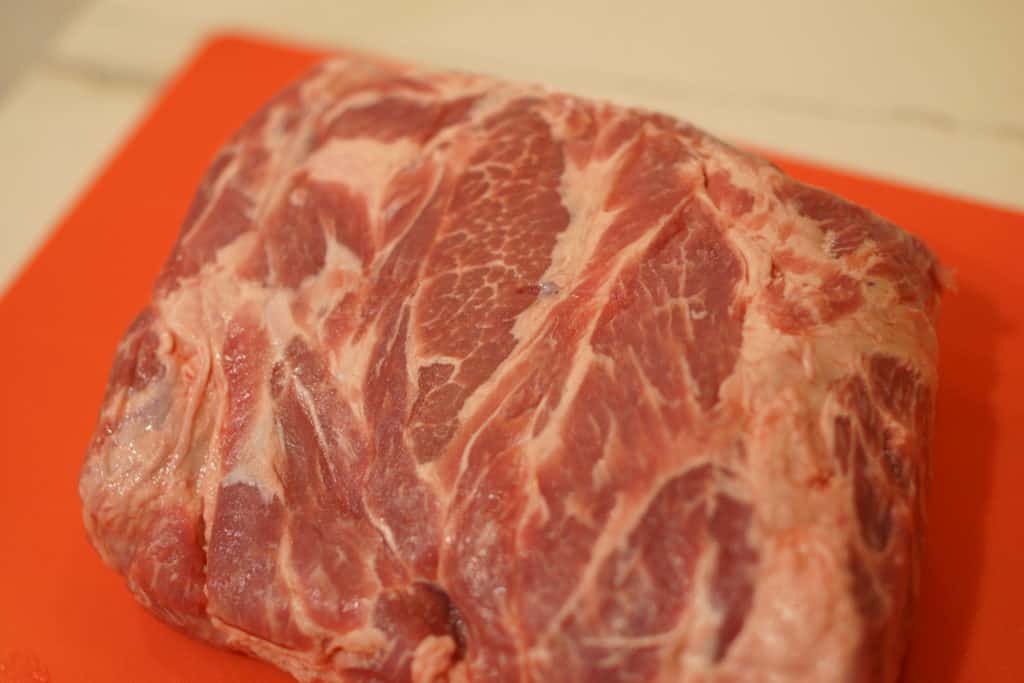 Once trimmed, coat the meat in a layer of yellow mustard. This helps act as a binder for the rub and helps build a better bark. It does not effect the taste at all. My wife HATES mustard, and has not once mentioned a mustard flavor.
Next apply a generous layer of rub. Carolina pork is not sweet like you may find in Kansas City, so try not to use a rub with a lot of sugar. For this butt, I used Carolina Style Rub Some Butt seasoning and was pretty happy with the results.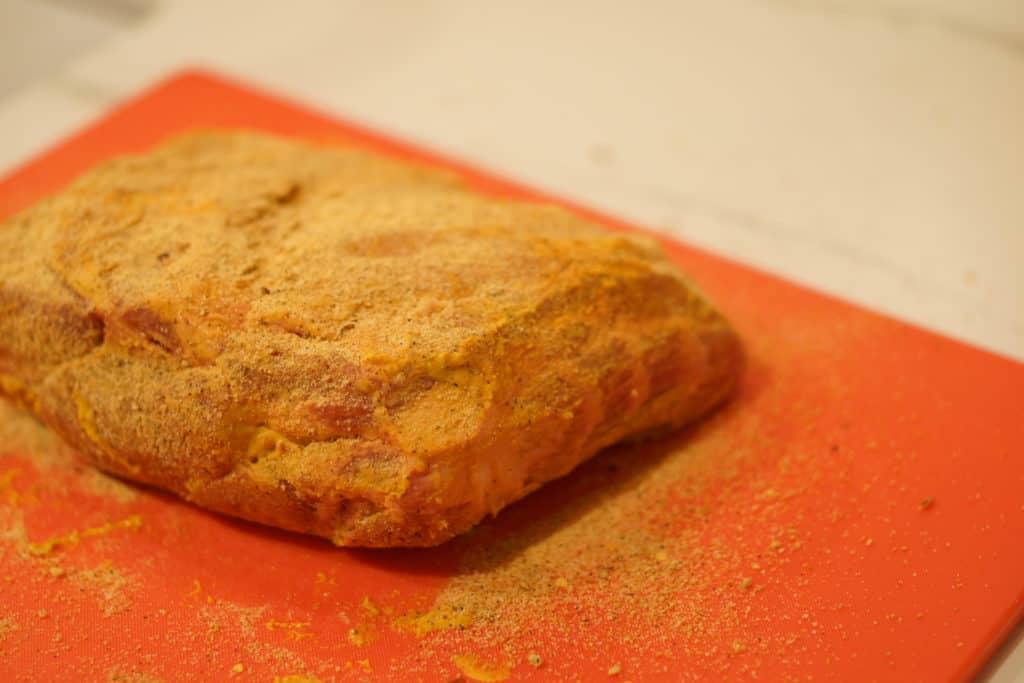 At this point I like to wrap the pork butt in Saran wrap or cover it and place back in the refrigerator overnight. This allows the salt in the rub to "sweat" the meat a bit.
Make the Eastern North Carolina Mop Sauce
The mop sauce is pretty simple to make but is a key to making fantastic Eastern North Carolina Pulled Pork. Gather your ingredients. We really like using smoked black pepper in this sauce, but if you can't find it, regular black pepper will work as well.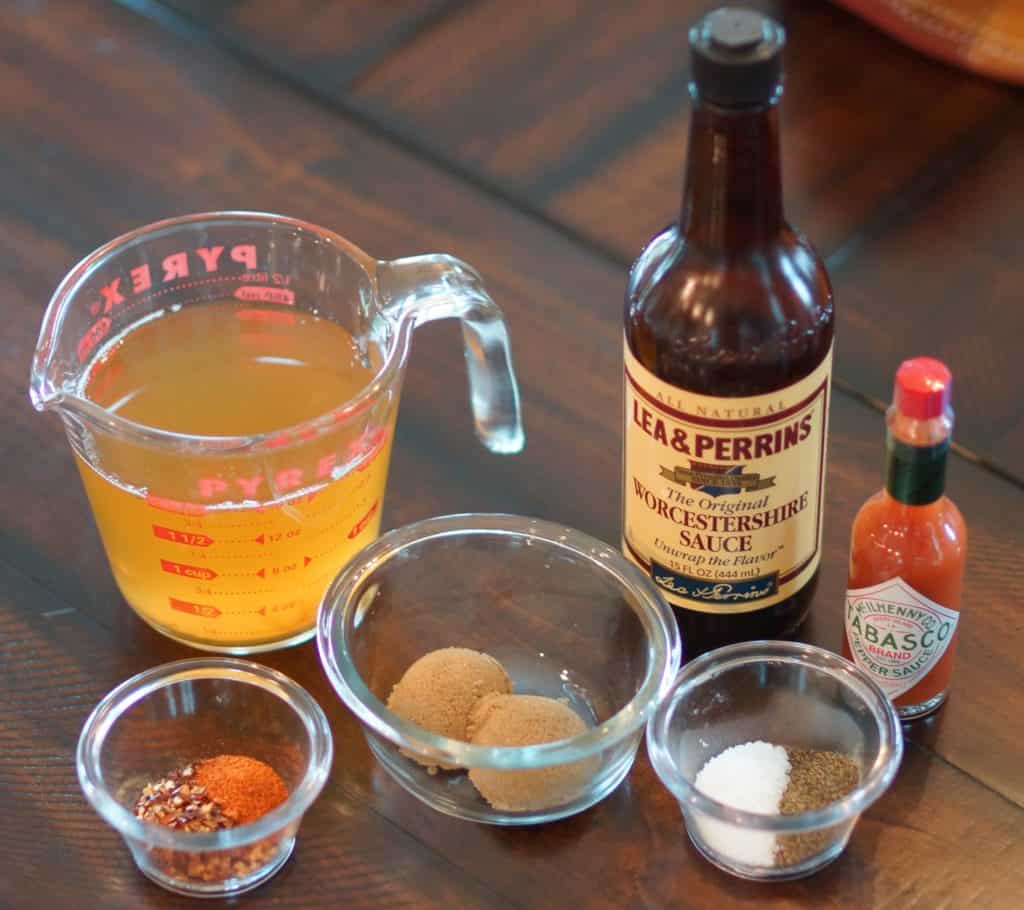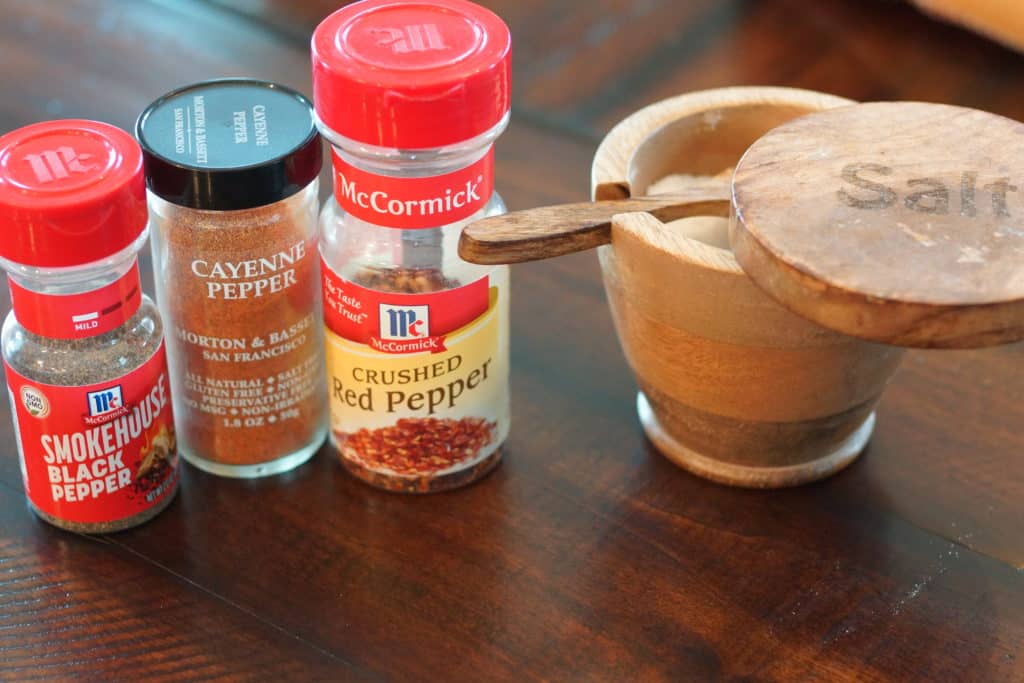 Seeing how this is a vinegar based sauce, it is important to use a high quality apple cider vinegar. This mop should have a little heat to it and we find that about 1 tablespoon of hot sauce gives it a nice warming heat. If you want it spicier, feel free to increase the amount of hot sauce.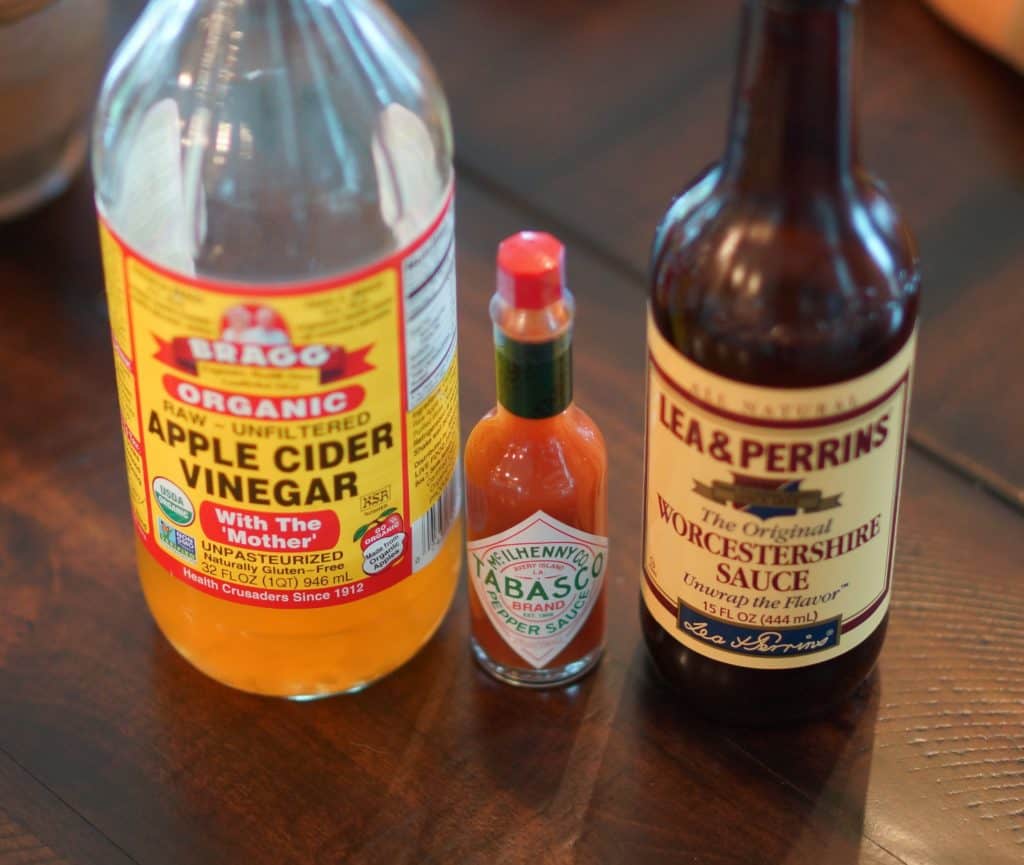 Combine all of the mop ingredients in a mason jar or other container with a lid. Shake well to combine.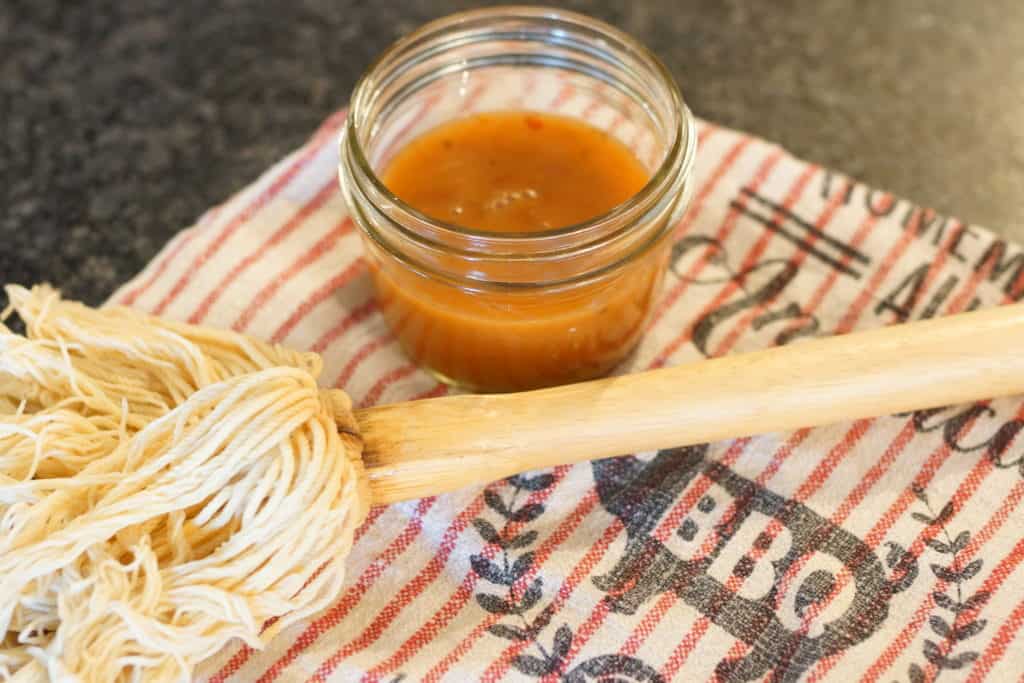 You will want to divide the mop sauce into 2 containers. One for mopping, and one for serving with the pork.
Smoking the Pork Butt
Preheat your smoker to 250 degrees.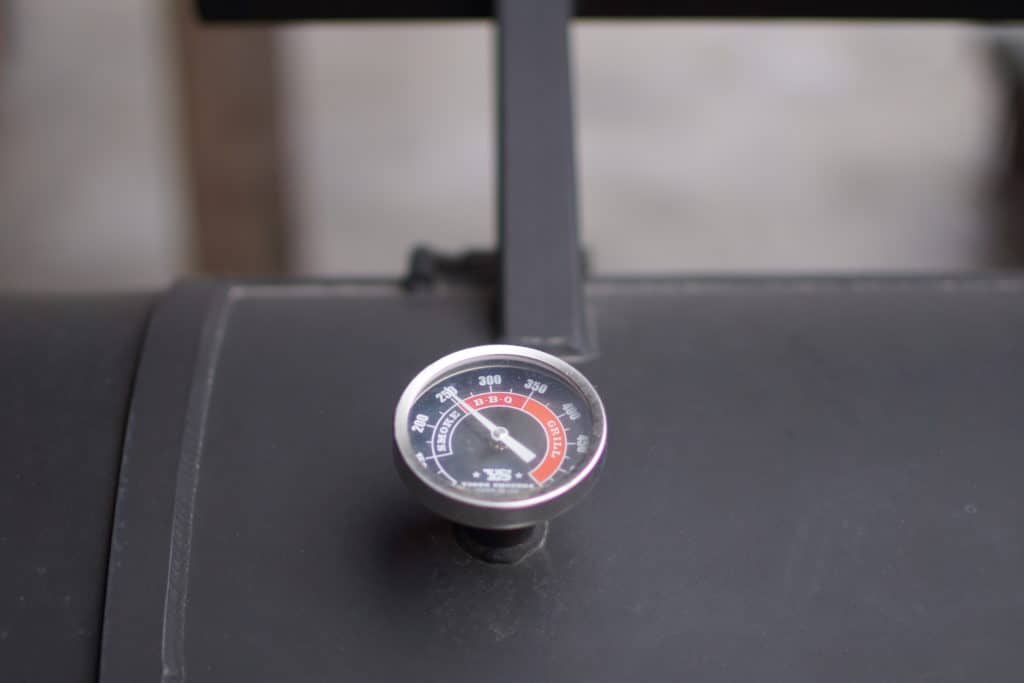 There is a lot of variation in how long it will take to cook a pork butt, so we strongly recommend using a temp probe to monitor the cook. You can read more about these meat probes HERE.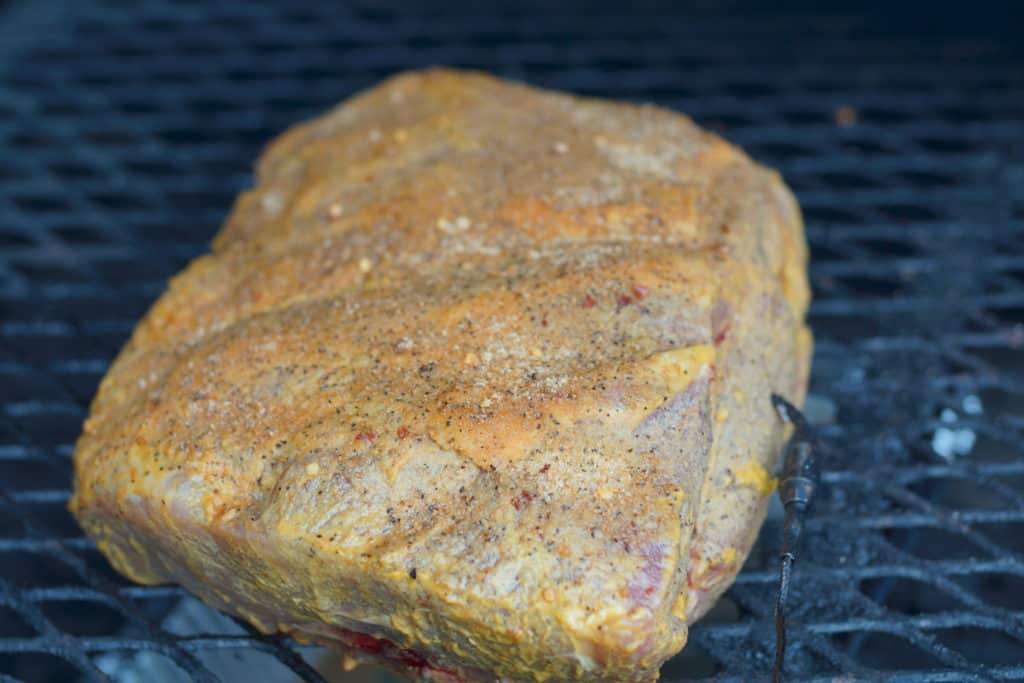 The overall cook time will vary but typically will take about 8-10 hours with an 8 pound pork butt. Again this is just a very rough estimate as we have had them done in 5 or take as long as 12. Every piece of meat is different, and different smokers cook differently, so please do yourself a favor and monitor the temperature.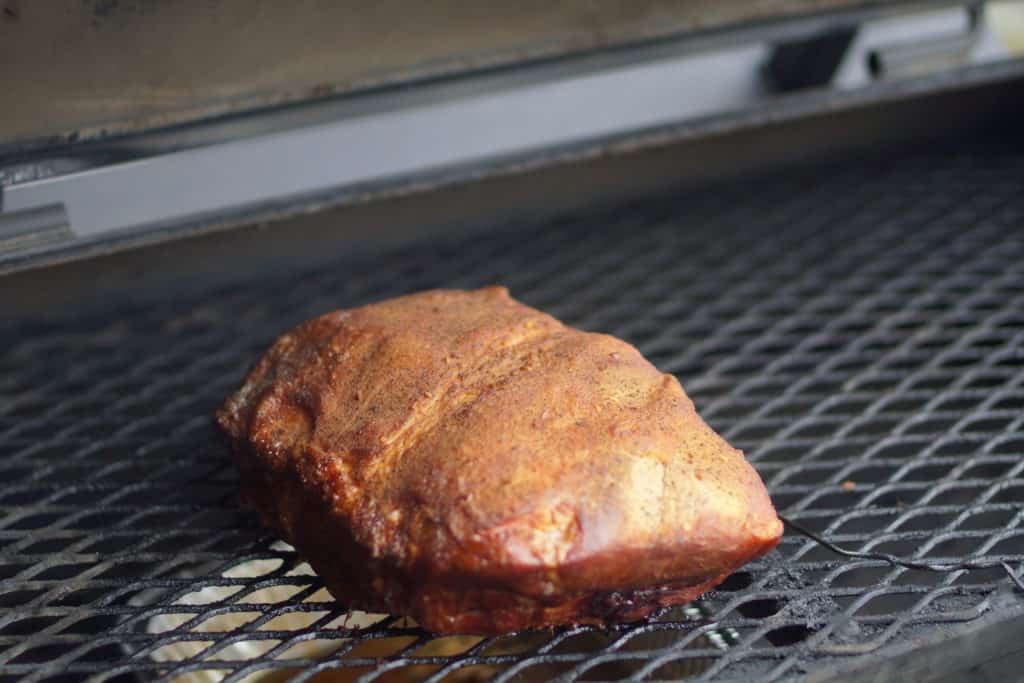 When to start mopping
When the bark has set and the pork has a nice crust on it, it is time to start mopping with the mop sauce. Again, depending on the rub you used this may vary, but typically occurs at an internal temperature of between 165 and 185 degrees. This is also about the point in time that you will hit "the stall" where you may go several hours with very minimal increase in the temperature of the pork. Don't panic, this is normal. This is due to evaporative cooling of the meat, that cools the meat at about the same rate that you are trying to warm it up.
We typically start by mopping the pork butt about every hour while it is still in the stall. Once the meat reaches about 185 degrees we increase the frequency of the mopping to about every 30 minutes until the pork is finished. Be sure to shake/mix your mop sauce each time before you use it.
When is the pork butt done?
The pork is done when the bone pulls freely our of the meat or when it is "probe tender". For appropriately probe tender it should feel like you are going though warm butter when probing the meat with an instant read thermometer. Pulled pork is much more forgiving than cuts of meat like a brisket, so it is ok if you do not have an instant read thermometer. If you are using an indwelling meat thermometer, pulling the pork butt off the smoker at about 203-205 degrees will get you pretty close.
Serving the Eastern North Carolina Pulled Pork
Large cuts of meat like pork butt and brisket benefit from a "rest" before eating. Wrap the meat tightly in foil and place in a cooler with towels. You can also put it in the oven at the lowest setting possible. If possible let the pork rest for at least 2 hours. This well help some of the juice to reabsorb back into the meat.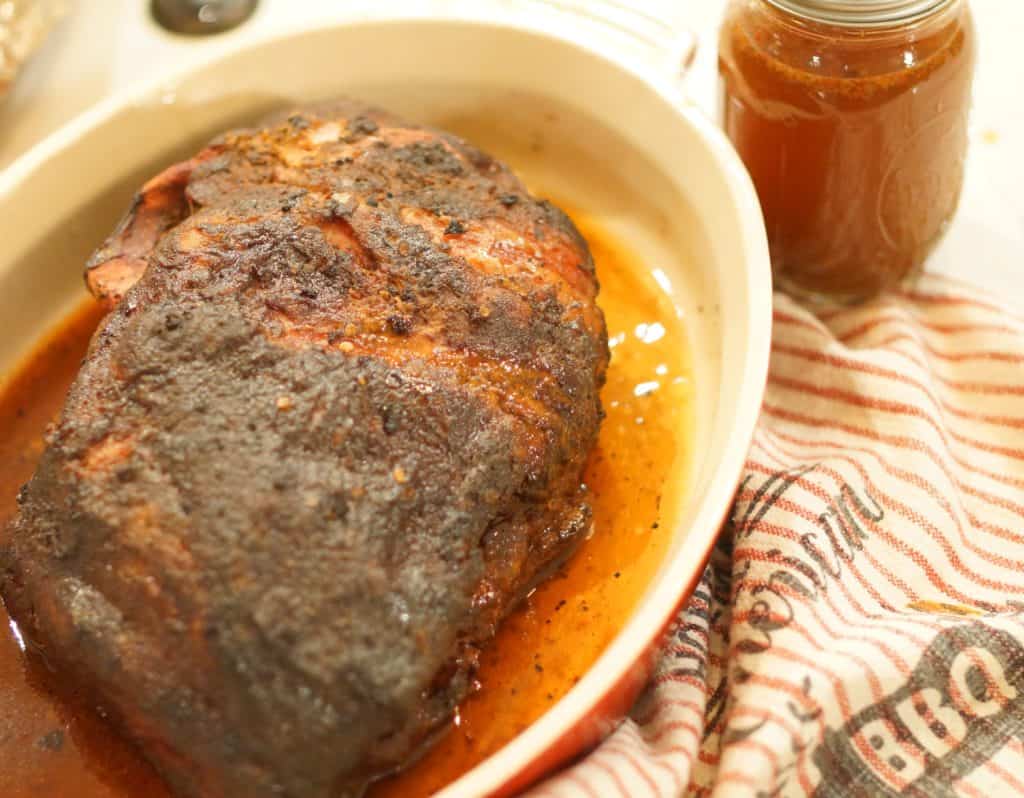 When you are ready to eat, pull the pork apart with 2 forks or use your hands if you have some insulated gloves. Mix with any of the juices left in the foil wrap.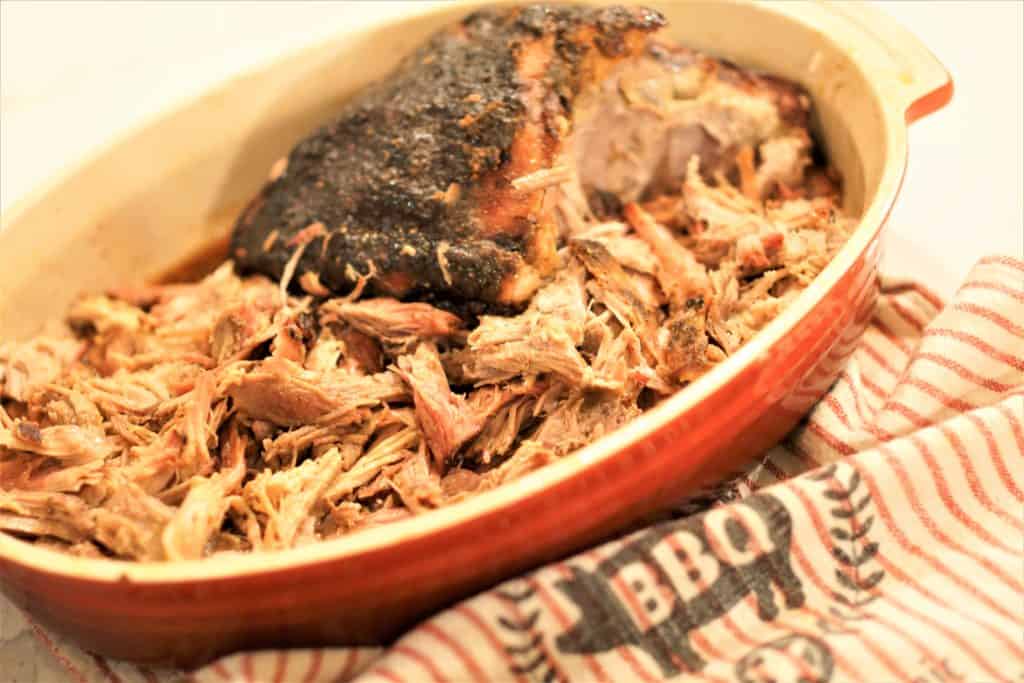 Serve with some additional ENC mop sauce and enjoy!
This pulled pork pairs well with some of our Southern sides such as Lexington Red Slaw, Cheesy Jalapeno Grits, and Smoked Mac and Cheese. Don't forget to wash it down with a cold glass of Southern Comfort Blackberry Bramble Style Arnold Palmer and save room for dessert because you are going to want to try our Fresh Blackberry Slump.
As always keep on eating and sharing and stay tuned on Facebook and Instagram for more updates and recipes. Also, please tag us on any recipes that you try at #CarneDiemBlog and @Carne_Diem_Culinary. We love seeing your cooking! Until next time, Carne Diem.
📖 Recipe
Eastern North Carolina Pulled Pork
In this Pitmaster's opinion, it is Eastern North Carolina Style Pulled Pork that reigns supreme as the best pulled pork in America. The tangy and slightly spicy vinegar based mopping sauce really allows the great flavor of the smoked pork to shine through.
Equipment
Smoker

Foil

Meat temperature probe
Ingredients  
1

8-10 Pound Pork Butt

bone-in

Yellow Mustard

Your Favorite BBQ Rub

Preferably not a sweet rub
ENC Mop Sauce
2

Cups

Apple Cider Vinegar

2

Tab

Brown Sugar

1

Tab

Tabasco

or your favorite hot pepper sauce

1

tea

Black Pepper

smokehouse (smoked) if you can find it

1

tea

Worcestershire Sauce

1

tea

Salt

1

tea

Red Pepper Flakes

½

tea

Cayenne Pepper
Instructions 
Trim the excess fat from the pork butt.

Slather the pork butt with yellow mustard, then apply a generous coating of rub.

Wrap the pork butt in plastic wrap and place in the refrigerator overnight.

Prepare the mopping sauce by combining all of the mop sauce ingredients in a lidded container. Shake to combine.

When ready to cook, heat your smoker to 250 degrees. Smoke the pork butt until the bark is set. This typically occurs at roughly an internal temperature of 165-185 degrees, but will depend on the rub.

Once the bark is set, begin mopping the pork butt with the mopping sauce each hour. Increase the mopping frequency to every 30 minutes once you reach 185 degrees.

If using an instant read thermometer, remove the pork butt from the smoker when it is probe tender. If only using an indwelling meat thermometer this is typically between 203-205 degrees. The bone should pull out cleanly from the pork butt at this point. Total cook time is typically 8-10 hours but can vary greatly, so monitor the meat temp.

Wrap the pork but in foil and rest for at least to hours in a cooler filled with towels, a Cambro, or an oven set to about 150-160 degrees.

At the end of the rest, pull the pork apart with forks or with insulated gloves. Combine with any juices left in the foil.

Serve with a side of the vinegar (mopping) sauce and enjoy.
Nutrition
Calories:
101
kcal
Carbohydrates:
4
g
Protein:
11
g
Fat:
3
g
Saturated Fat:
1
g
Polyunsaturated Fat:
1
g
Monounsaturated Fat:
1
g
Trans Fat:
1
g
Cholesterol:
34
mg
Sodium:
346
mg
Potassium:
255
mg
Fiber:
1
g
Sugar:
3
g
Vitamin A:
128
IU
Vitamin C:
1
mg
Calcium:
18
mg
Iron:
1
mg