Protein:
Origin: Spanish, European
Method: Grill or Smoker, Rotisserie
Jump to Recipe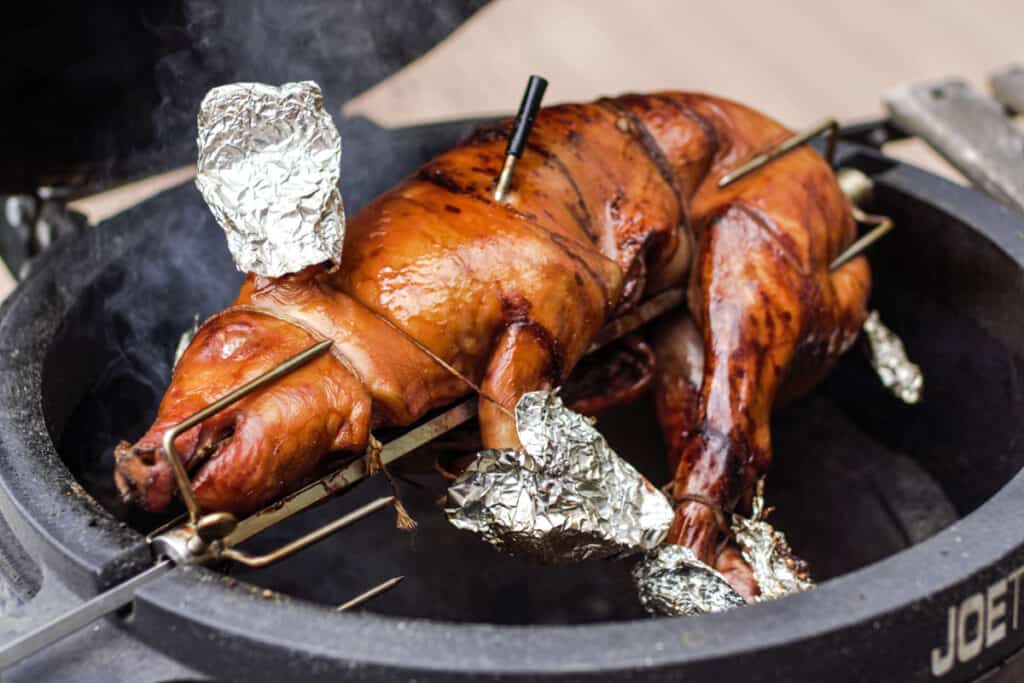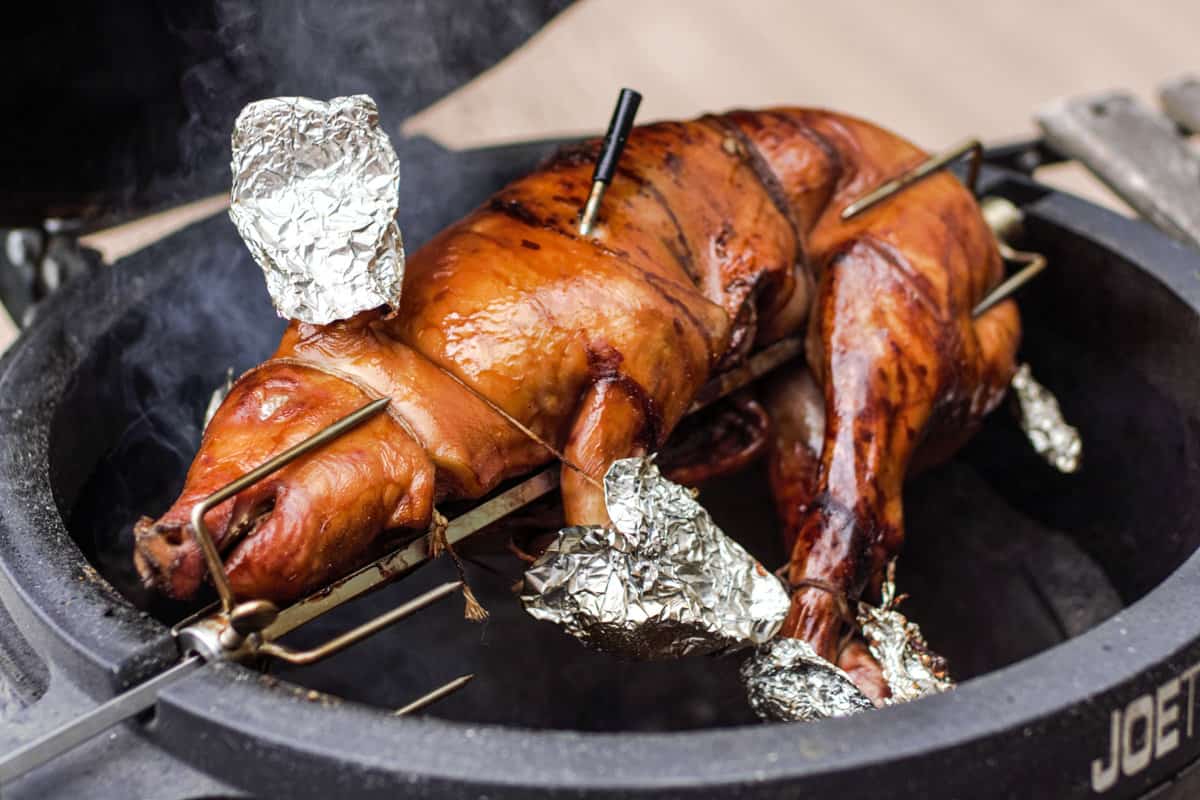 What is Cochinillo Asado?
Cochinillo Asado is a famous Spanish dish consisting of roasted suckling pig. The young suckling pigs are roasted until the meat is extremely tender and the skin is crispy. The dish is most famous in the town of Segovia, in the Castille region of Spain, where the chefs show of the tenderness of the Cochinillo Asado by cutting it tableside with a plate. Here we will show you step by step how to make cochinillo asado at home on your BBQ grill.
Making Cochinillo Asado on your Grill or Smoker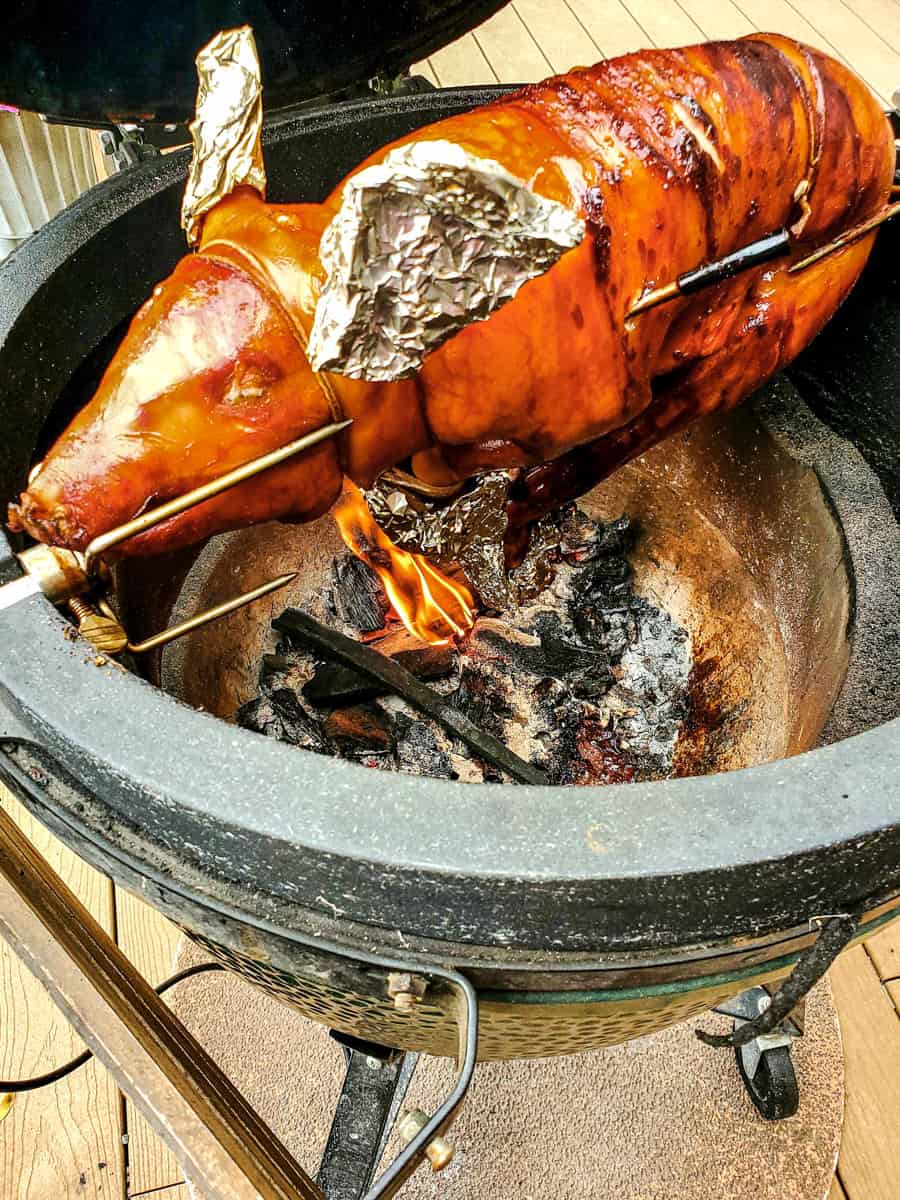 Selecting a Suckling Pig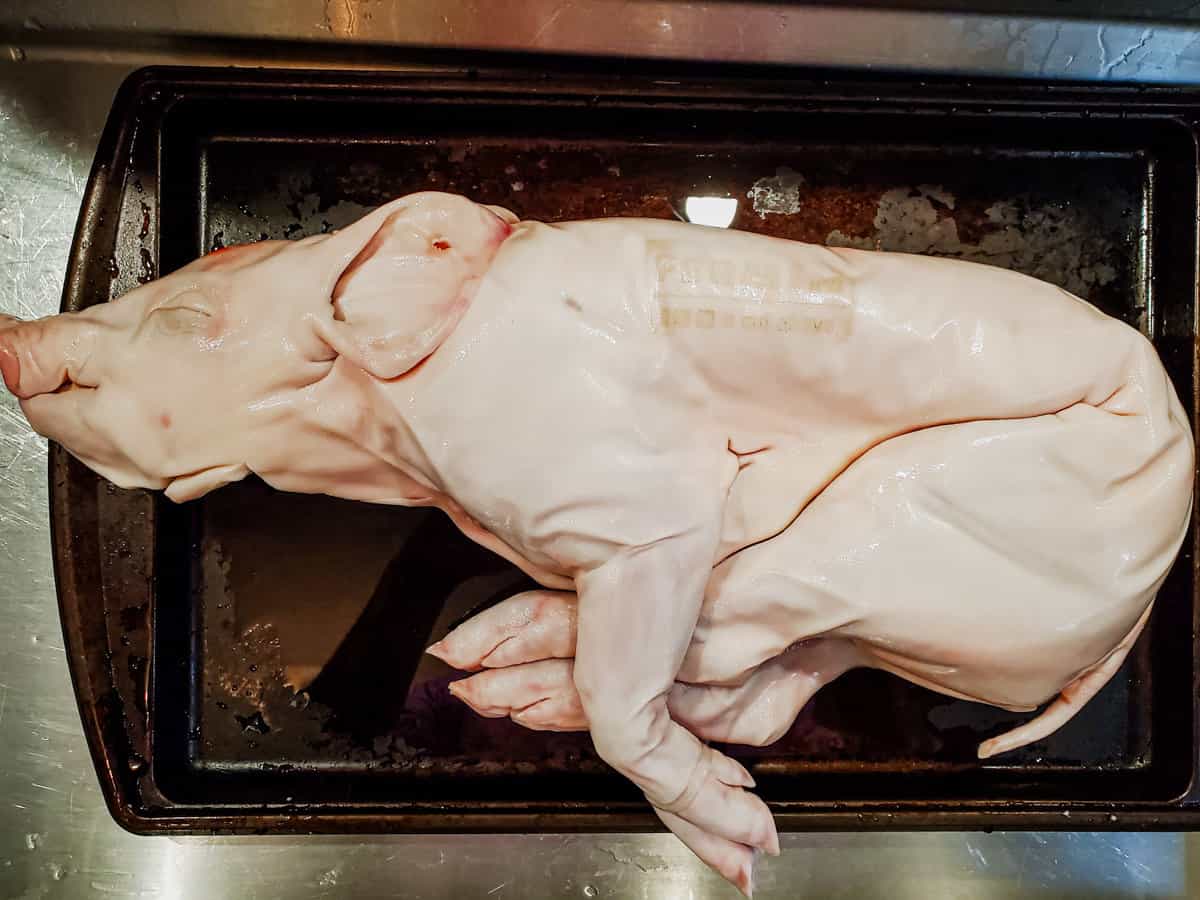 Suckling pigs are piglets that have not been weaned from their mother's milk and are typically taken to slaughter while under 6 weeks of age. You want to select a pig that is between 9-20 pounds. Some of that will be determined by the number of people you want to feed and the size of your smoker. For a roast suckling pig, figure about 1.5 pound per person being fed, when determining the dead weight of the pig you want to cook. Suckling pig is considered a specialty item so you may have to have your butcher order it for you or order it online. We bought our suckling pig from Wild Fork Foods and we were very happy with the pig we received. This was a 10-pound pig and was even imported from Spain.
For more great pork recipes to make on your grill or smokers be sure to check out some of our favorites:
How to Prep a Pig
Prepping a suckling pig for Cochinillo Asado is pretty straight forward. Thaw you pig in a refrigerator if it is frozen. This will typically take about 3-4 days depending on the size of your pig. On the day of the cook, rinse the pig well and wipe down with paper towels to remove any dirt or debris. If any organs, such as kidneys, are still present remove them. Most of the time they have already been removed, but occasionally they are still present.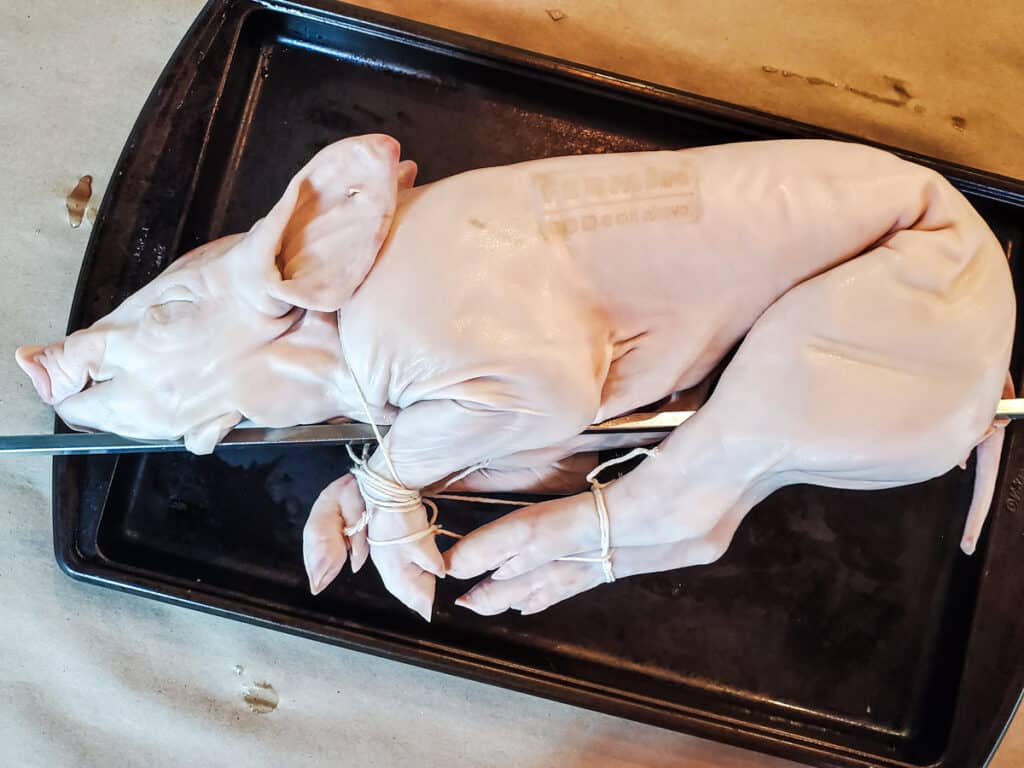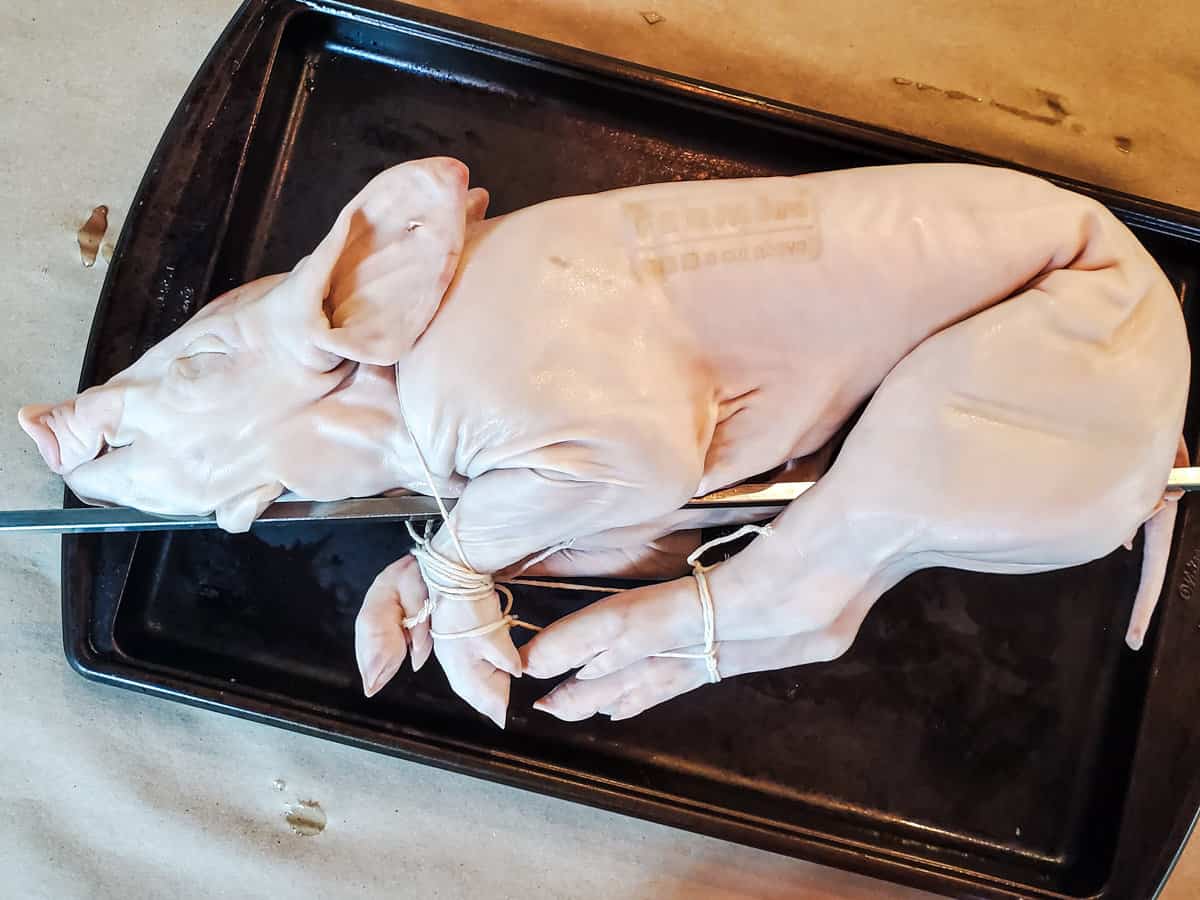 Dry the pig thoroughly, then rub the pig down with oil or lard. We used a Spanish olive oil for this which has a nuttier flavor than Italian olive oil. Next, liberally season the inside and outside of the pig with coarse salt and some black pepper. That is all there is to it. No additional seasonings are needed for suckling pig. Let the meat be the star.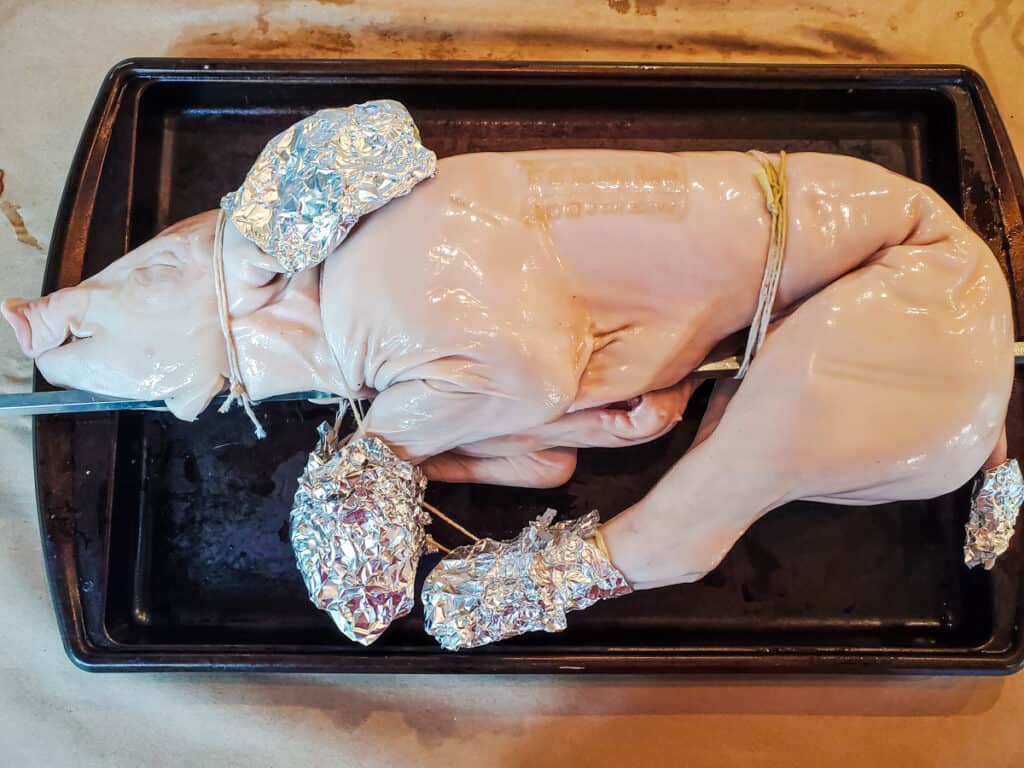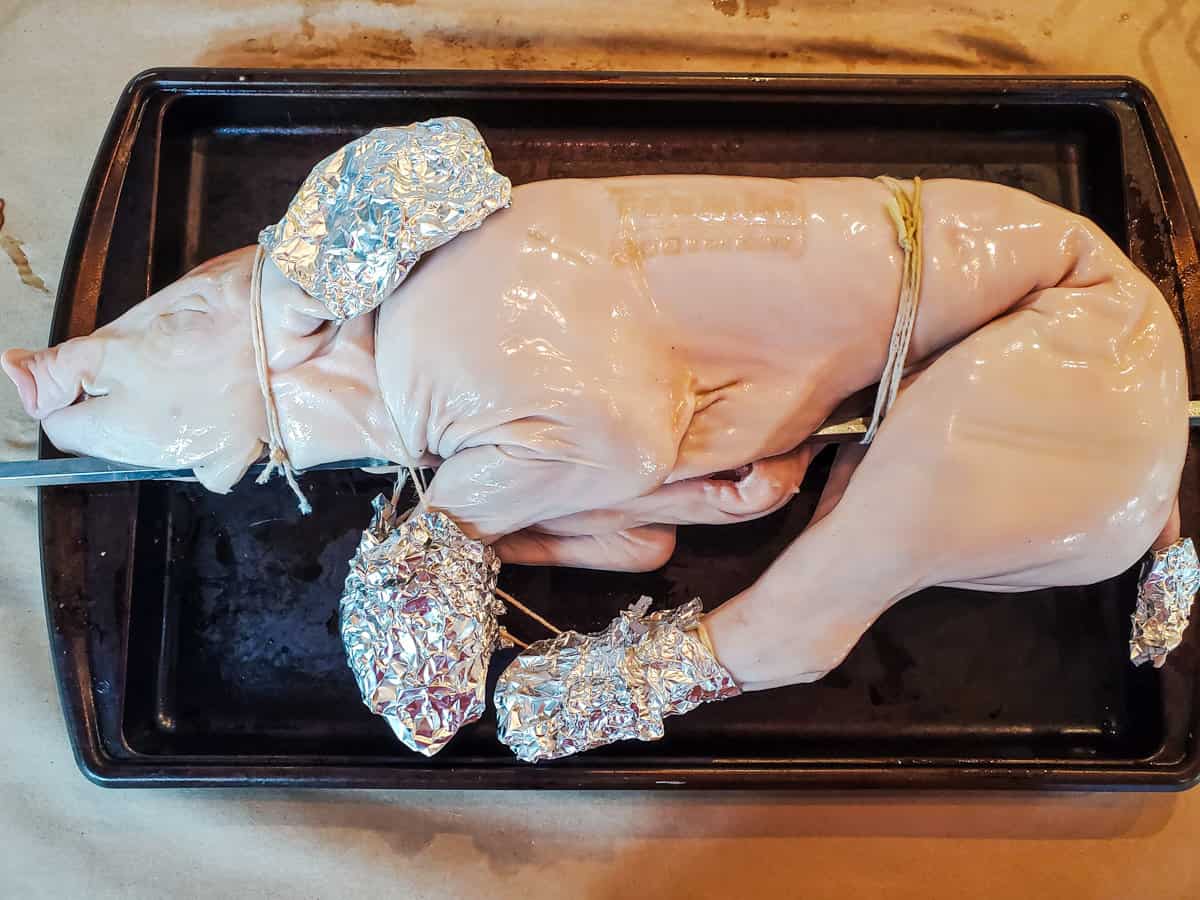 Next, you will want to wrap the ears, tail and feet in foil to prevent them from burning. If you are using a rotisserie, secure the feet together and then secure the legs so they remain up close to the body. Secure the pig to the rotisserie skewer. Butcher's twine works great for this purpose.
If you are roasting the pig in a pan, place the pig in a "racing position" with the front legs stretched in front of the pig and the hind legs folded up under the body.
Cooking Suckling Pig on your Grill or Smoker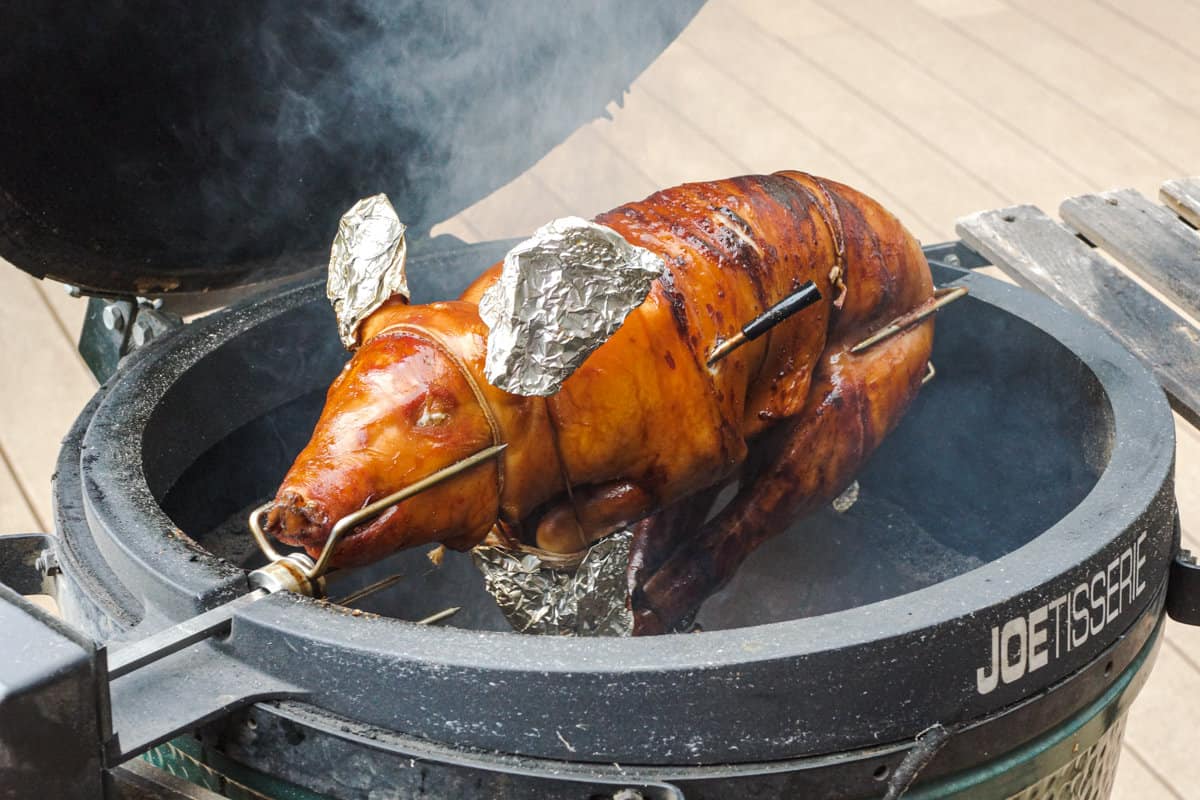 Prepare your grill or smoker to 250-275 degrees. For this recipe we cooked the pig on a rotisserie on our Big Green Egg. If you are roasting the pig on a pan, you will want to set up the grill for indirect heat. Check the progress of the pig about every 45 minutes. Be sure to monitor the cook with an instant read thermometer.
Be sure to check out some of our other favorite rotisserie recipes, like our Garlic Basted Rotisserie Picanha and Peruvian Roast Chicken: Pollo a la Brasa.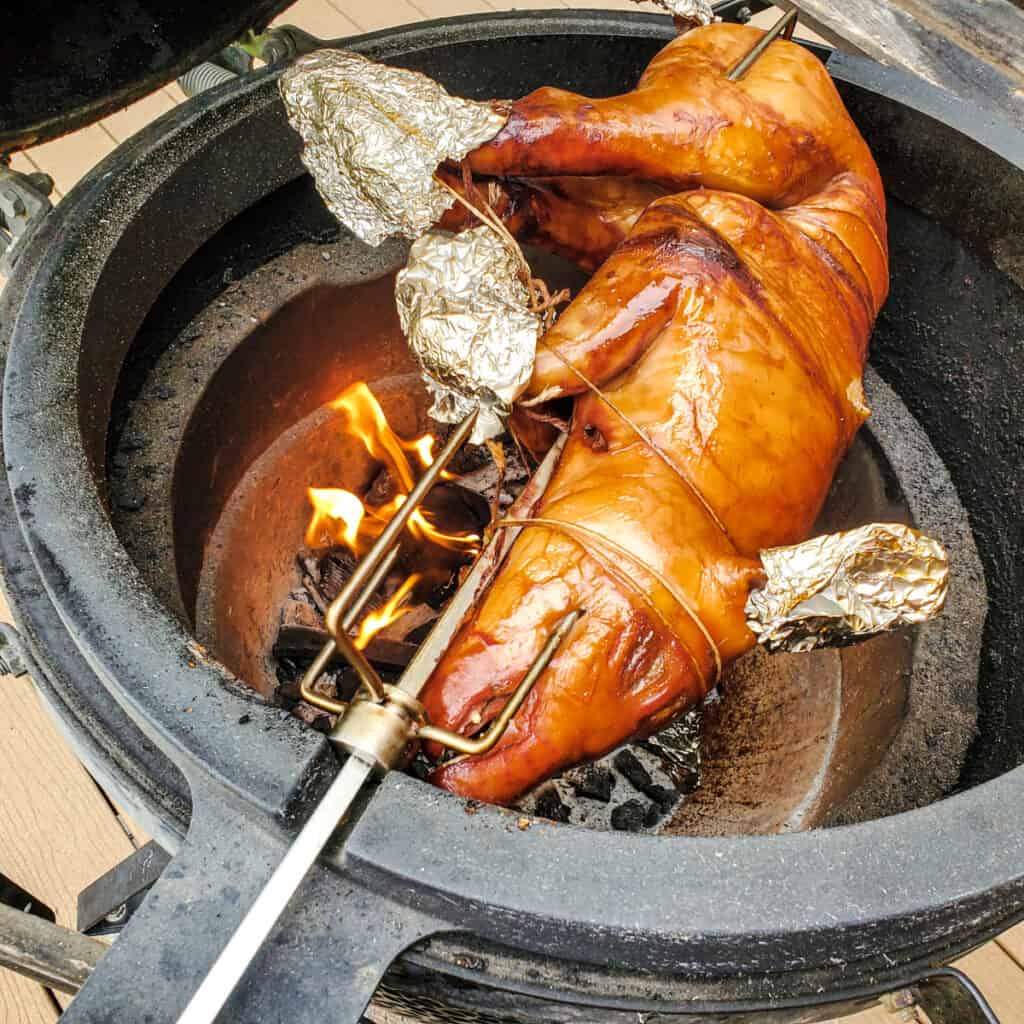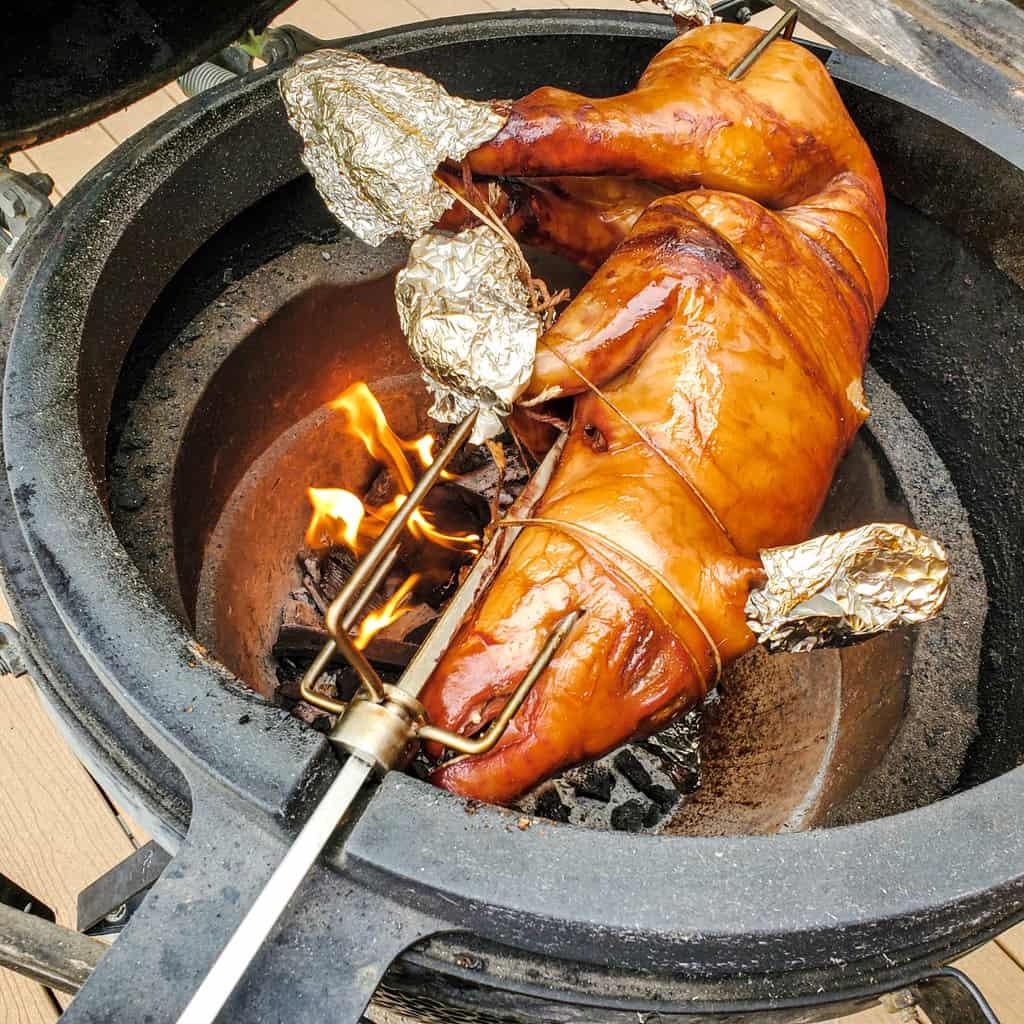 When the skin is nice and golden begin spraying the pig with cooking oil to help preserve the color and keep the skin from getting too dark. Roast the pig until it reaches an internal temperature of about 165 degrees in the shoulder and ham. At this point increase the temp of the grill or smoker to 400-450 degrees and cook for another 20-30 minutes, until the skin is crispy. Watch carefully to make sure the skin is not burning.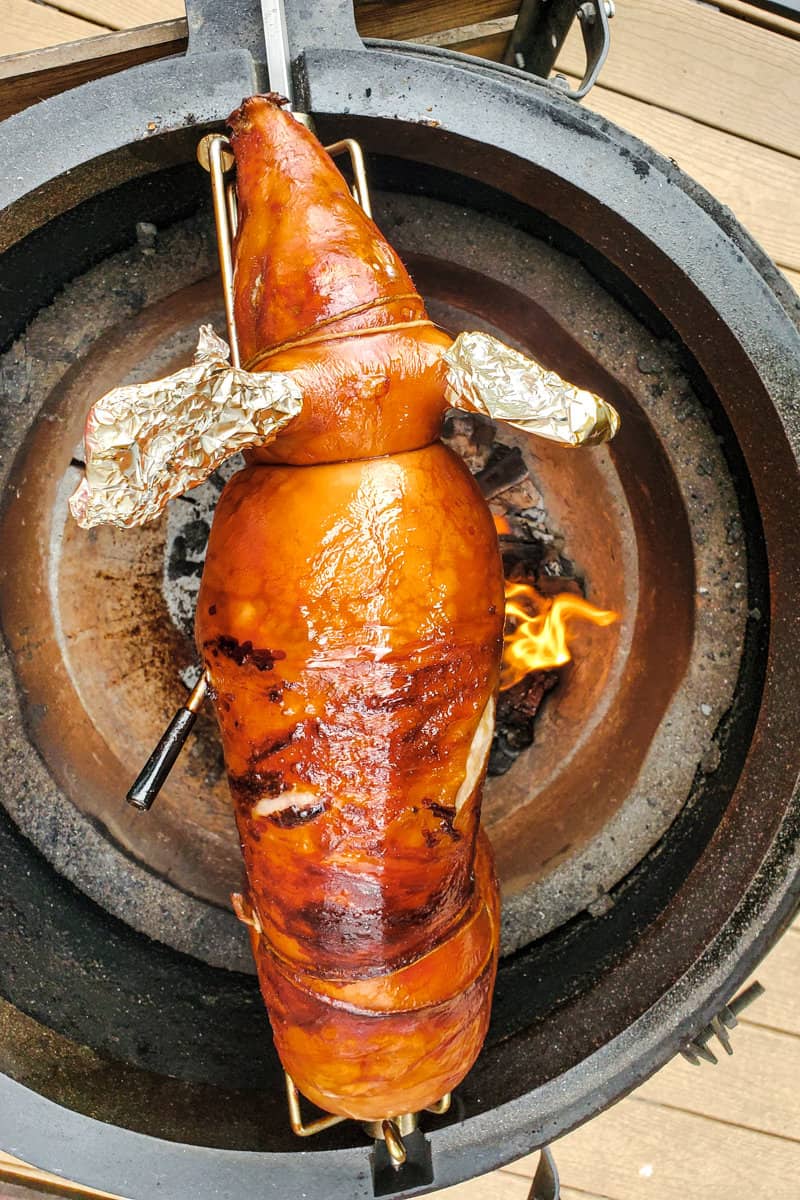 The skin is perfect when you can tap it and it sounds hollow. You should be also to easily poke through the skin with a fork and it will give a crackling sound, like crumbling a potato chip.
Serving Cochinillo Asado
Once the pig is done, remove it from the grill or rotisserie and place it on a serving platter. Tent with foil and allow to rest for about 20 minutes. As desired decorate your platter and serve.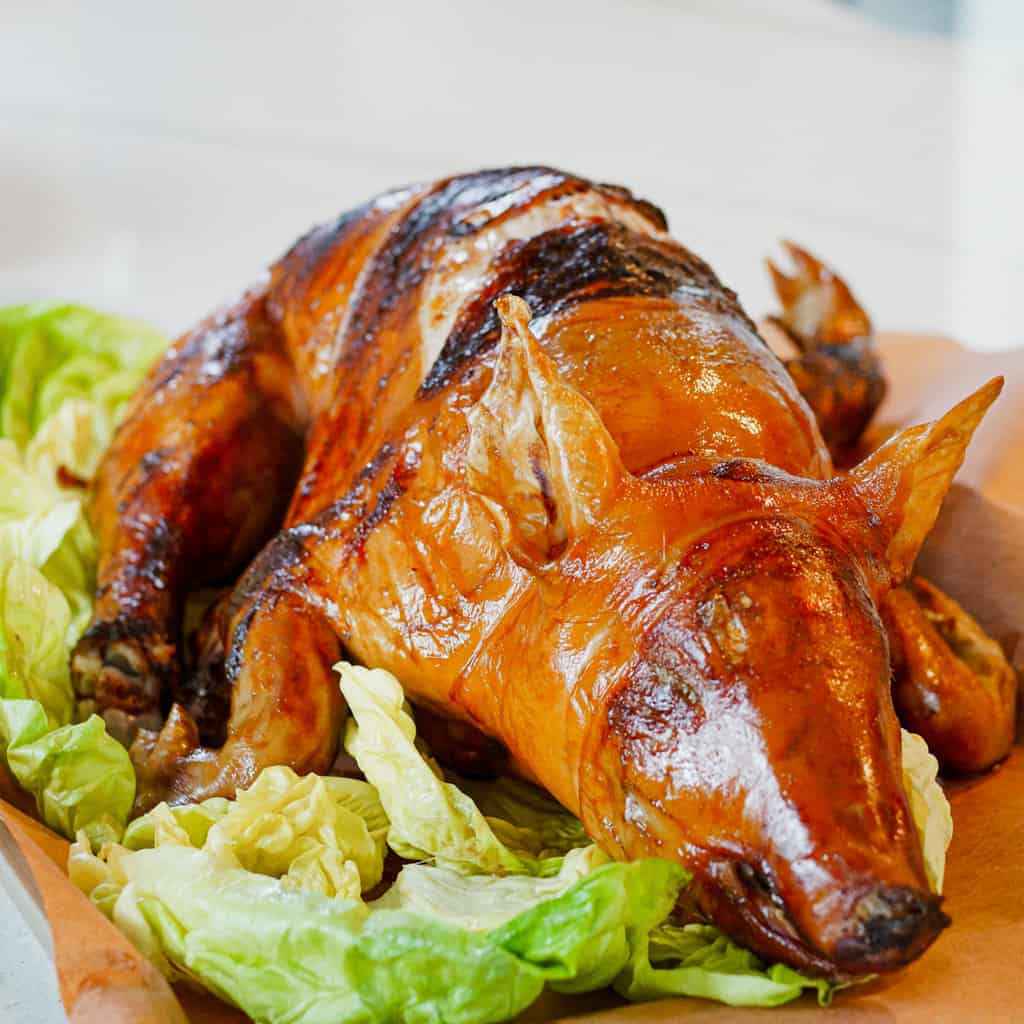 Traditional cochinillo asado is served as the centerpiece of a meal. If you cooked the pig on a roasting pan, you could use the drippings to make a fantastic gravy to serve with the pig. Roasted potatoes and veggies are also common.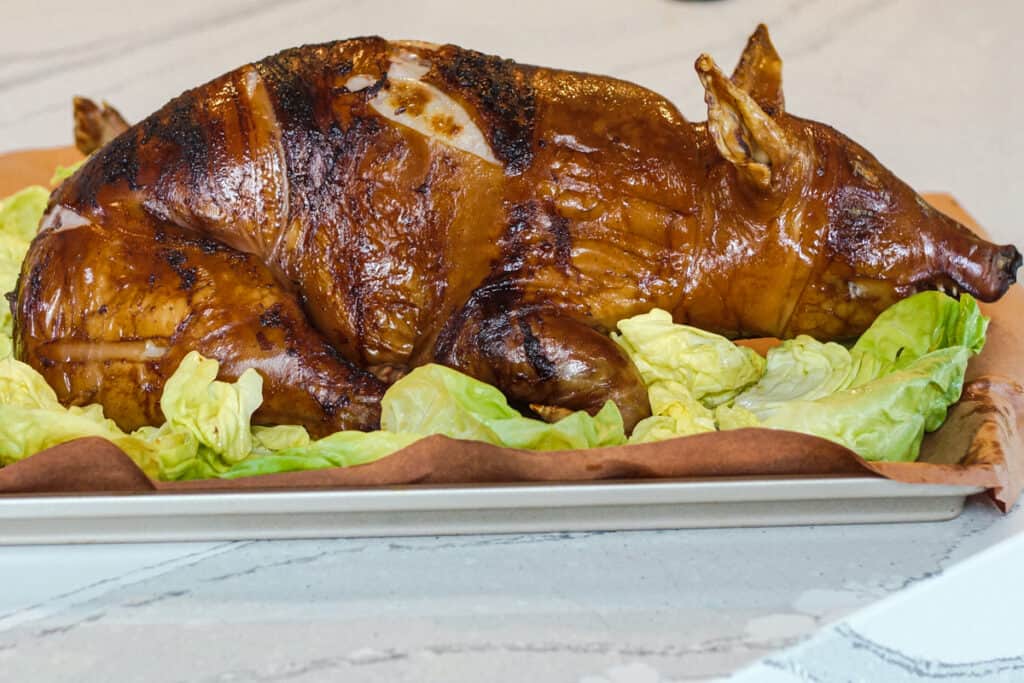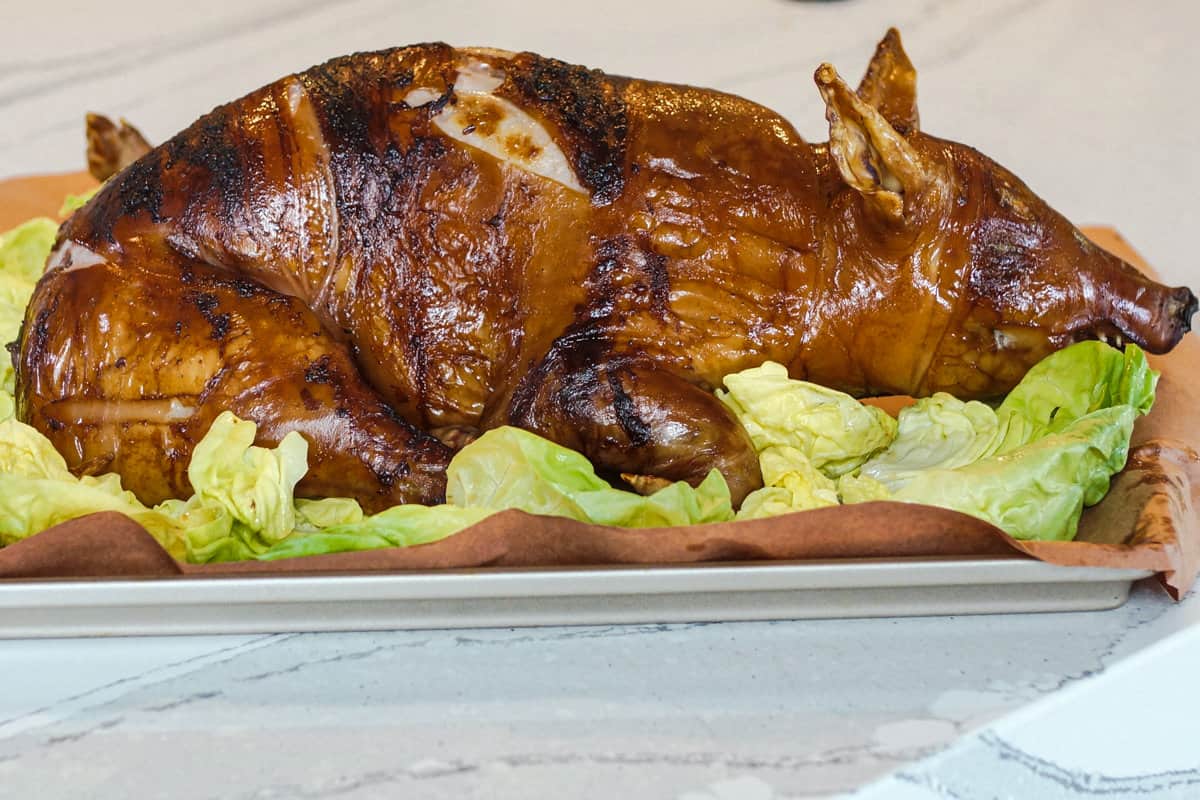 This Spanish suckling pig also pairs perfectly with some Spanish Inspired Pasta Salad, bacon wrapped dates, and a glass of red wine or Blackberry Red Sangria.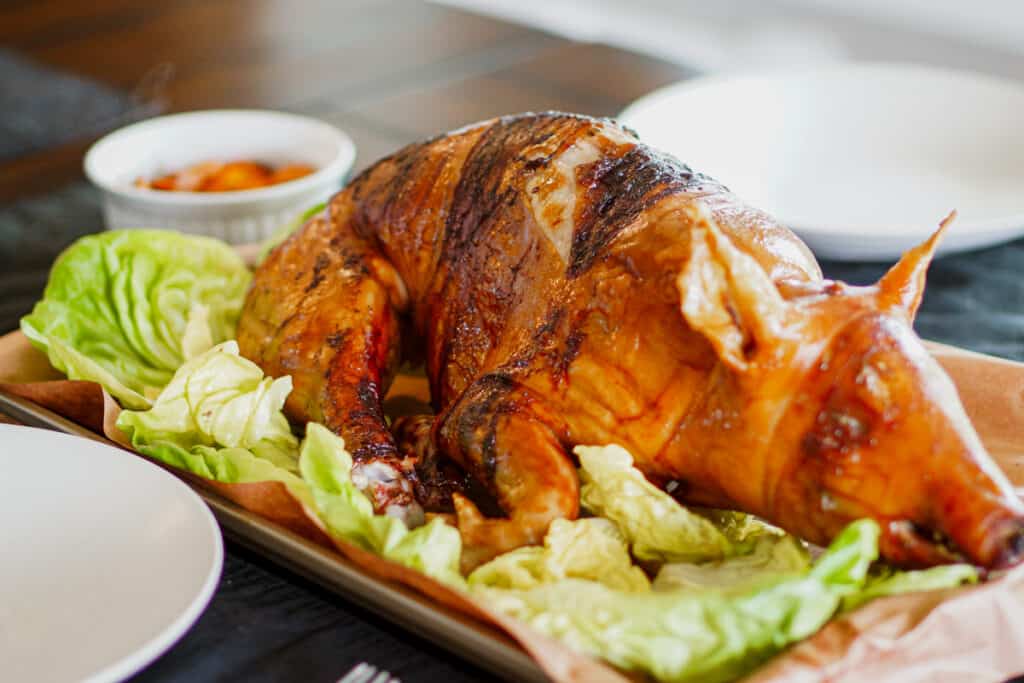 For another one of our Spanish classics be sure to check out our Wood-Fired Seafood Paella.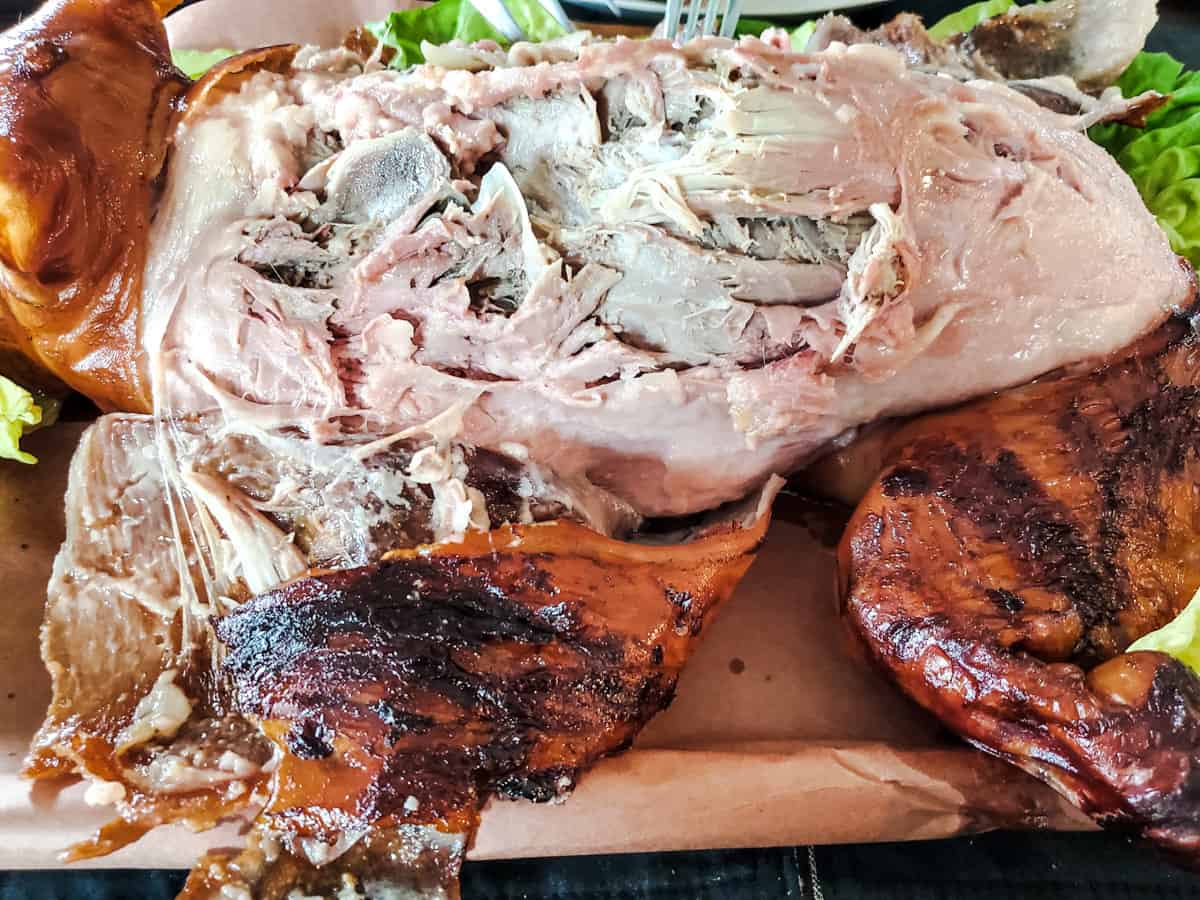 Thank you for taking the time to visit our blog. If you tried and enjoyed our recipe, please share with others and please leave us a comment and review. We also love to see your pics so don't forget to tag us @Carne_Diem_Culinary or #CarneDiemBlog. To be notified of future recipes please follow us on Facebook, Instagram, or Pinterest, or sign up for our e-mail notifications. Until next time, Carne Diem!
📖 Recipe
Cochinillo Asado: Spanish Roasted Suckling Pig
Cochinillo Asado is a roasted suckling pig dish from the Castile region of Spain. This recipe shows you how to make this famous dish on your grill or smoker, but can easily be translated to making in your home oven.
Ingredients  
10-20

pound

Suckling Pig

2

tablespoons

olive oil

1

tablespoon

Coarse Kosher Salt

1

teaspoon

Fresh cracked black pepper
Instructions 
Thaw the suckling pig in the refrigerator, if frozen.

Remove any organs, if present. Thoroughly rinse the suckling pig then dry off with paper towels.

Once dry, rub the outside of the suckling pig with olive oil then season the inside and outside of the pig with salt and pepper.

Secure the pig to the rotisserie and cover the tail, feet, and ears with foil. If cooking in a roasting pan, position the pig with the front legs facing forward and the rear legs up under the pig. See above for more details.

Roast the pig at 275 degrees until it reaches an internal temperature of 165 degrees in the shoulders and hams. Check on the pig about every 45 minutes, and when the skin color is to your liking, begin spraying the pig with cooking oil. This step typically takes about 2-3 hours but will vary, based on the size of your pig.

Once the internal temperature has reached 165, bump the temperature up to 400-450 degrees to crisp up the skin. This typically takes about 20-30 minutes but keep an eye on the progress to make sure the skin does not burn.

Remove from the grill, rotisserie, or oven and tent with foil. Allow to rest for about 20 minutes before serving.
Nutrition
Calories:
725
kcal
Carbohydrates:
0.2
g
Protein:
90
g
Fat:
38
g
Saturated Fat:
12
g
Polyunsaturated Fat:
4
g
Monounsaturated Fat:
18
g
Cholesterol:
309
mg
Sodium:
1513
mg
Potassium:
1577
mg
Fiber:
0.1
g
Sugar:
0.002
g
Vitamin A:
29
IU
Vitamin C:
4
mg
Calcium:
67
mg
Iron:
6
mg