Last Updated on November 8, 2022 by Carne Diem
Protein:
Method: Rotisserie, Grill, Smoker
Jump to Recipe
What is Picanha? A brief history
This cut of beef, above all others, probably did the most for me in terms of opening up my horizons to Nose to Tail cooking.  Picanha is a part of the subprimal sirloin, and is basically the rump cap muscle.  In America, this cut is typically divided into other cuts as part of the rump, round, loin, or as top sirloin steaks with the fat cap all removed. This is truly a shame, because this is one of the most tender, flavorful, prized cuts of the entire beef.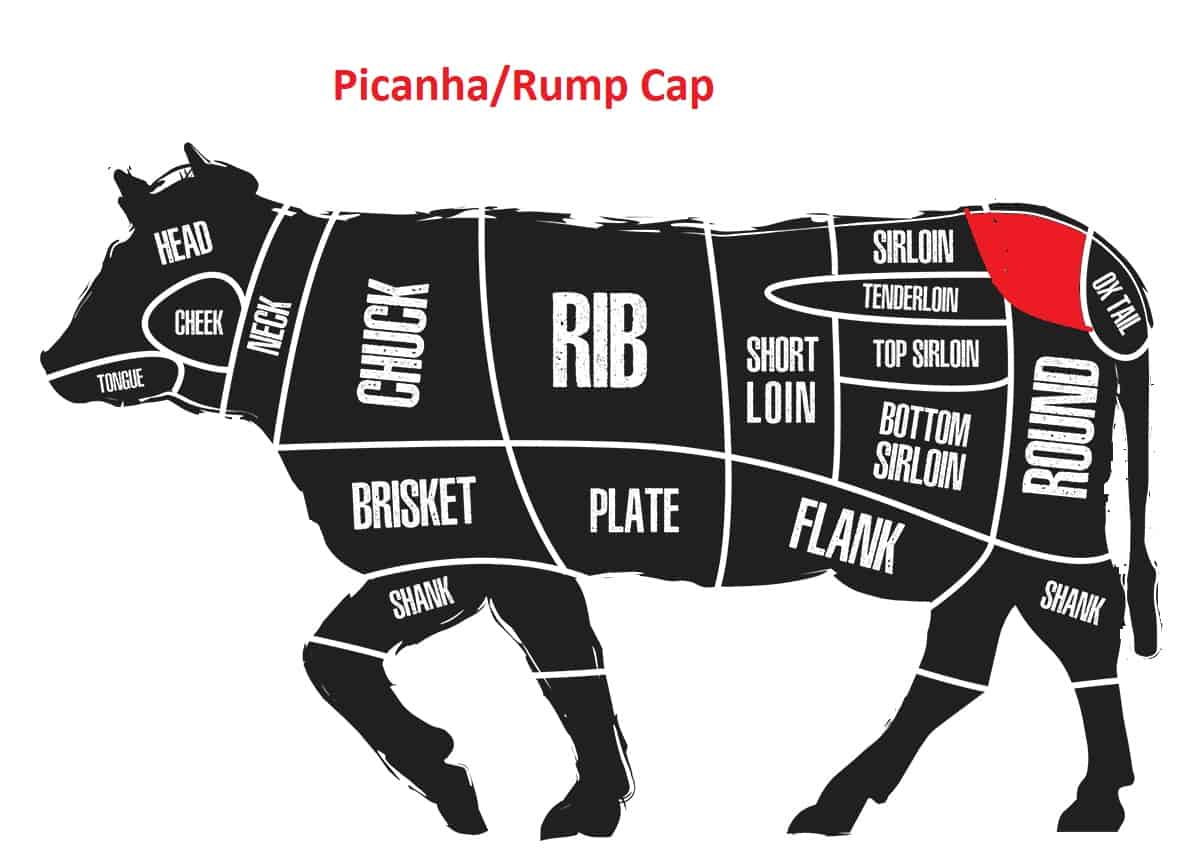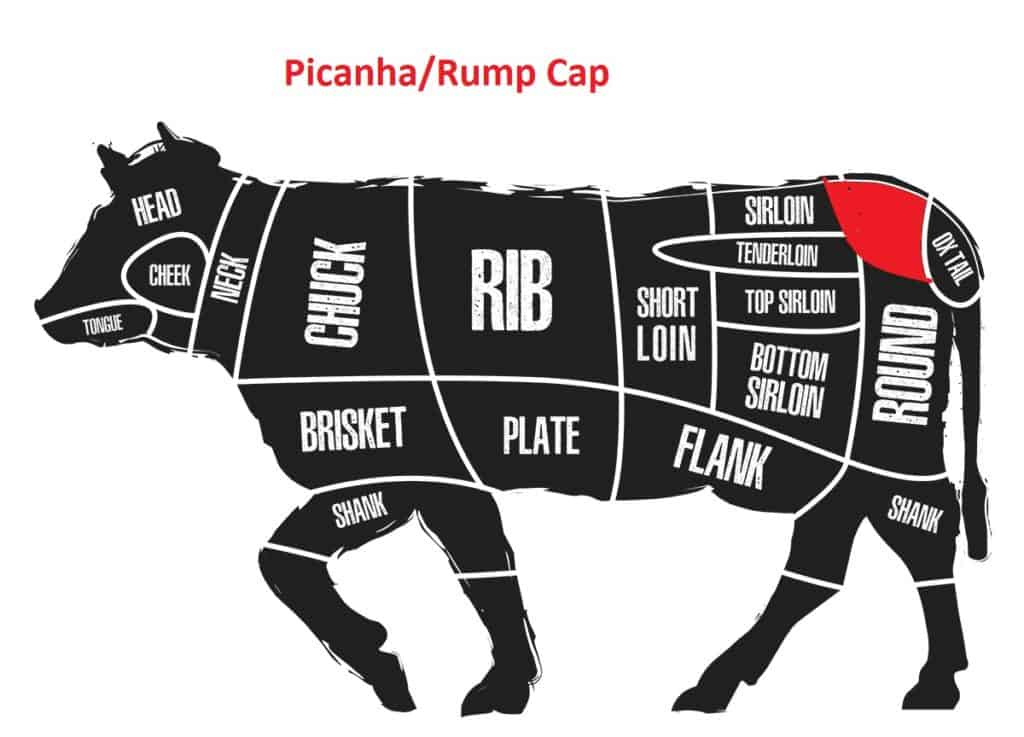 The cut itself was named after a picana, which was a pole used to herd cattle in Spain and Portugal.  If it sounds a little familiar, it is one of the most popular cuts typically seen at Brazilian steakhouses like Fogo De Chao. In the U.S. you may also see the cut referred to as a top sirloin cap roast, coulotte, or rump cover.
Choosing and preparing the picanha
This recipe is extremely easy, and the most difficult part may be sourcing the meat. It is becoming increasingly more available at local butcher shops, and I even spotted a couple at Whole Foods a few weeks ago.  If you truly want to splurge, you can order some wagyu picanha at Snake River Farms or KC Cattle Company. Both provide some fantastic AMERICAN WAGYU BEEF.
Picanha can vary in size from 2-5 pounds and we have found a 3 pound roast works pretty well.  Choose one that is well marbled and has at least a ¼ inch fat cap. Brazilian Picanha typically requires almost no trimming. Don't even think about touching the fat cap! There may be a small section of silver skin to remove on the opposite side of the roast, but other than that, dry it off and get ready to cook..
How to trim and cut picanha for cooking on a rotisserie
After drying off the meat it is time to trim it. If you are skewering the meat you will want to cut the roast against the grain so that your final cut is also against the grain. This is a very important step. If your final cut is with the grain the meat can seem tough.
If you are making this into picanha steaks for your grill you will want to cut the roast with the grain so your final cut will be against the grain. Typically, you can cut into 3-4 large chunks.
How to best season picanha
I am a big fan of using different rubs and spices on large cuts of meat, but trust me when I say that with this cut, just let the meat's beefy flavor speak for itself.  A little bit of coarse salt and a bit of basting is all this rump cap needs to provide a perfect, beefy flavor bomb.  This has quickly become a favorite in our household, and it is not uncommon for our family of 5 to easily put away a 3 pound roast. You can go pretty liberal with the salt as it helps for a perfect flavor packed crust on the Garlic Based Rotisserie Picanha.
How to skewer the rump cap for the rotisserie
After generously seasoning with the salt, curl each section into a C shape and skewer on the rotisserie. Again, watch the direction that you skewer the meat so that your final cuts will be against the grain. The smaller cuts will cook faster to the larger ones that work great if your diners have a range of how they prefer their picanha cooked. If everyone wants a similar doneness, then place the smaller cuts toward the middle to help everything cook more evenly.
Cooking the Garlic Basted Picanha on a BBQ Grill vs. a Rotisserie
I have included two different methods for cooking the picanha.  If at all possible I highly recommend the rotisserie method. This method most closely mirrors the methods used in Brazil. The slow roasting also allows the fat cap to render slowly, basting the meat with flavor.  If rotisserie is not an option, you can also turn out a great picanha by simply searing on the grill, then basting the meat and slowly bringing the meat up to final temp.  Both methods are described here. 
Rotisserie Method for cooking Garlic Picanha
We prepare our picanha on a Big Green Egg fitted with a Joetisserie but you can use any grill and rotisserie system that you choose. Heat your grill to about 300 degrees. It is best to have a small fire, so don't overfill the smoker with wood or charcoal. The meat will be basted frequently and the oil in the basting liquid and the fat from the meat will cause some flare ups, so you may see your temp rise above 300 degrees as you cook. Some people have also found it helpful to build your fire on only one side of the smoker.
If you are looking for more great recipes to make on your rotisserie, then be sure to give our Peruvian Roast Chicken: Pollo a la Brasa, Grilled Brazilian Fraldinha , and Spanish Cochinillo Asado: Roast Suckling Pig a try.
We like to use a simple garlic baste consisting of olive oil, garlic, and a little lemon juice. We typically baste about every 10-15 minutes.
As the picanha cooks, the fat will begin to render and caramelize, and will continuously baste the meat. Total cooking time typically takes 45 minutes to an hour and a half, depending on how hot the smoker ends up getting and the thickness of the picanha. I recommend to start checking temps in the largest piece of meat after about 45 minutes.
Remove the picanha from the rotisserie when the largest piece of meat is about 10 degrees below your desired temp. The carry over temp will take it the rest of the way. We typically take it off at about 125-130 degrees for a nice medium rare.
Cooking Brazilian picanha on a grill or smoker
Prepare the picanha as described above. Skewer the meat onto a kebab type skewer.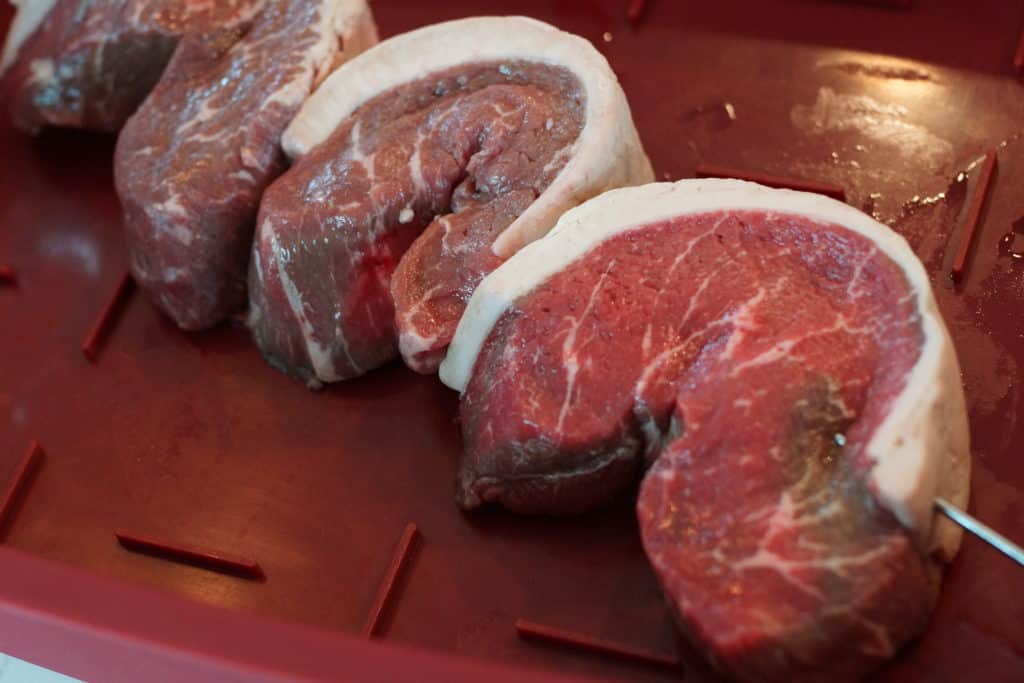 Set up your grill for both direct and indirect heat. Heat the smoker to about 300 degrees. Give both sides of the picanha a brief sear, about 3-5 minutes per side, then move the meat to indirect heat with the fat cap up. Baste the meat about every 15 minutes with the garlic baste. Continue cooking until the meat reaches your desired temp.
After removing from the smoker, let the meat rest for about 5 minutes.
Serving Grilled Picanha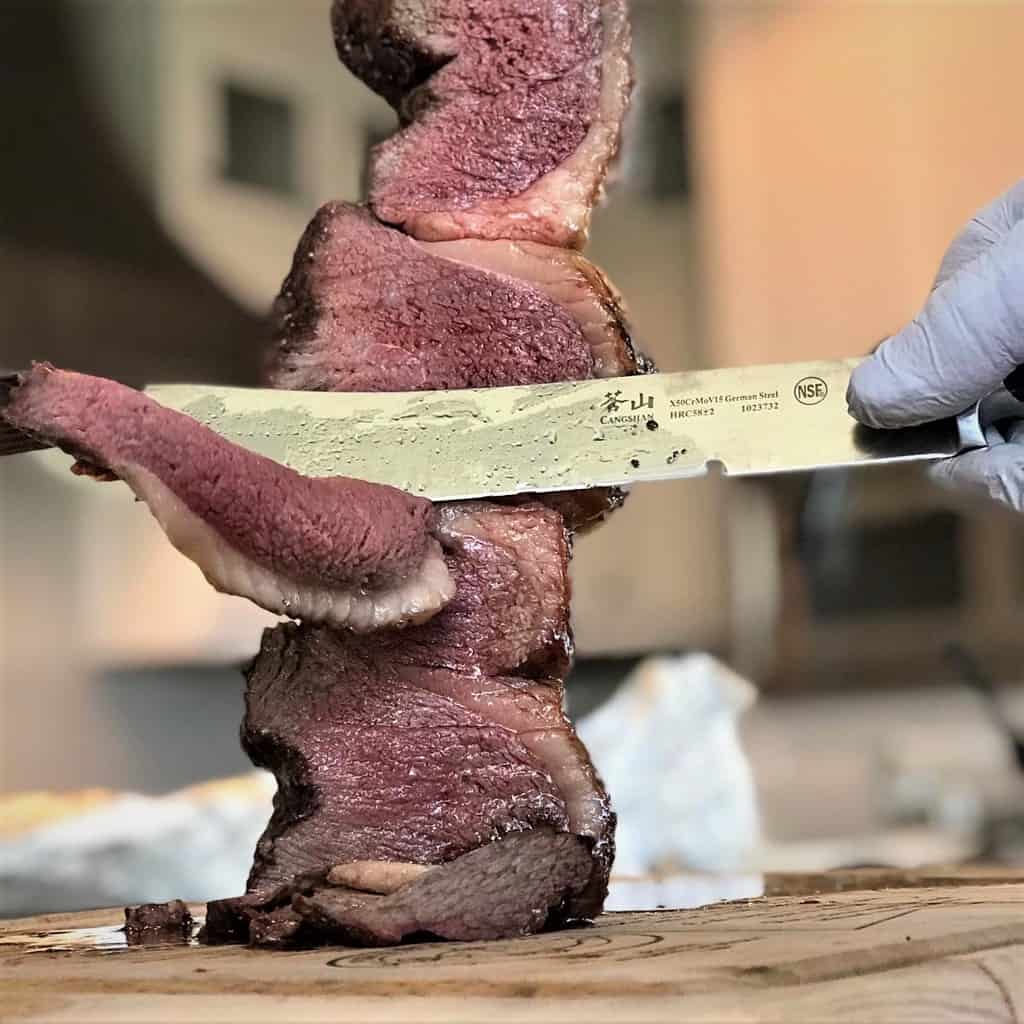 Next slice the picanha into thin slices. The smaller pieces will be more done then the larger pieces which works out well for our family, because everyone can find some meat cooked just to their liking.
Serve everyone slices of the picanha Brazilian style then wrap in foil and keep warm in the oven until you are ready for garlic picanha round 2.
Serving the Rotisserie Picanha
We like to eat the picanha with some black beans and rice. It also goes perfectly with Brazilian feijoada and fried plantains.
If you are in the mood for some more South American recipes, be sure to check out our Argentinian Empanadas with Beef Tenderloin, Peruvian Lomo Saltado: Stir-fried sirloin steak and fries, Anticuchos de pollo, or Venezuelan Shredded Beef Arepas: Carne Mechada.
Thanks again for visiting Carne Diem. If you tried and enjoyed our recipe, please share with others. Also don't forget to tag us @Carne_Diem_Culinary or #CarneDiemBlog, we love to see your pics! To be notified of future recipes please follow us on Facebook,  Instagram, or Pinterest, or sign up for our e-mail notifications.
📖 Recipe
Rotisserie Garlic Picanha
Picanha has quickly become one of our family's favorite cuts of beef. Sometimes referred to as rump cap or coulotte, this flavorful cut is cooked on a rotisserie or smoker and basted with garlic oil to take it to the next level of flavor.
Equipment
Grill or Smoker

Rotisserie (not required but better)
Ingredients  
2-3

pound

Picanha

also called coulotte or rump cap

Coarse Kosher Salt
Garlic Baste
¼

cup

Olive Oil

1

Tab

Garlic Squeeze, paste, or fresh chopped garlic

1

tea

Lemon Juice
Instructions 
Dry the picanha, then slice (against the grain) into 3-4 pieces.

Form each piece into a C shape and place on a skewer or rotisserie skewer.

Salt liberally with coarse kosher or sea salt.
Garlic Baste
Add all ingredients for the garlic baste in a small bowl and stir to combine well.
Cooking the picanha
If using a rotisserie, heat the grill or smoker to about 300 degrees. Cook the picanha to desired temp, basting with the garlic oil every 10-15 minutes.

If cooking on a traditional grill or smoker, sear each side of the picanha for about 3 minutes, then cook over indirect heat until you reach desired temp. Baste with the garlic oil about every 15 minutes.

Remove from heat and rest for about 5 minutes.

Thinly slice the meat off the skewer and serve with black beans and white rice.
Notes
The smaller pieces will be more done than the larger pieces, enabling you to serve meat to different doneness preferences.
Nutrition
Calories:
275
kcal
Carbohydrates:
1
g
Protein:
34
g
Fat:
14
g
Saturated Fat:
3
g
Polyunsaturated Fat:
1
g
Monounsaturated Fat:
9
g
Cholesterol:
89
mg
Sodium:
85
mg
Potassium:
551
mg
Fiber:
1
g
Sugar:
1
g
Vitamin A:
1
IU
Vitamin C:
1
mg
Calcium:
38
mg
Iron:
3
mg