Protein:
Method: Grill or Rotisserie
Jump to Recipe
One of our favorite cuts of meat to get at Brazilian steakhouses, this Brazilian "flank steak" is super easy to make at home on your grill. Needing only a simple seasoning and quick sear, this churrasco steak can be on your table in about 30 minutes.
What is Brazilian Fraldinha?
Brazilian Fraldinha is a thin and well marbled piece of meat, commonly referred to as churrasco flank steak. Literally translated, fraldinha translates to flap meat or "little diaper." There is not a exact cut in the U.S. that correlates with Brazilian fraldinha as the cut typically includes part of the flank steak, part of the bottom sirloin, and part of the beef short loin.
What cut of beef can be used for Brazilian Fraldinha?
Bavette steak, flap meat, or flank steak would be the best commonly found substitutions for fraldinha in the U.S. We prefer flap beet or bavette as it tends to be more tender and marbled than flank steak. For our grilled fraldinha we used Black Angus flap meat from Wild Fork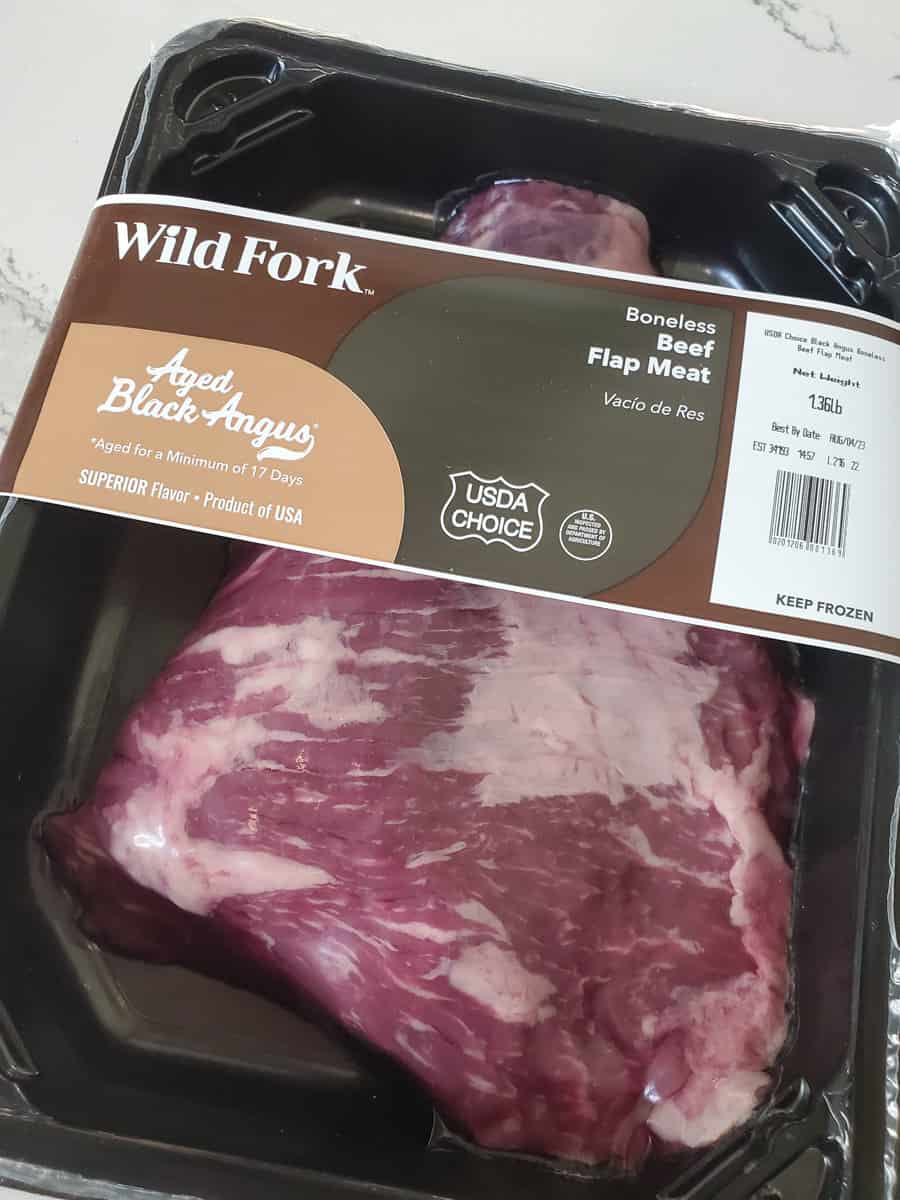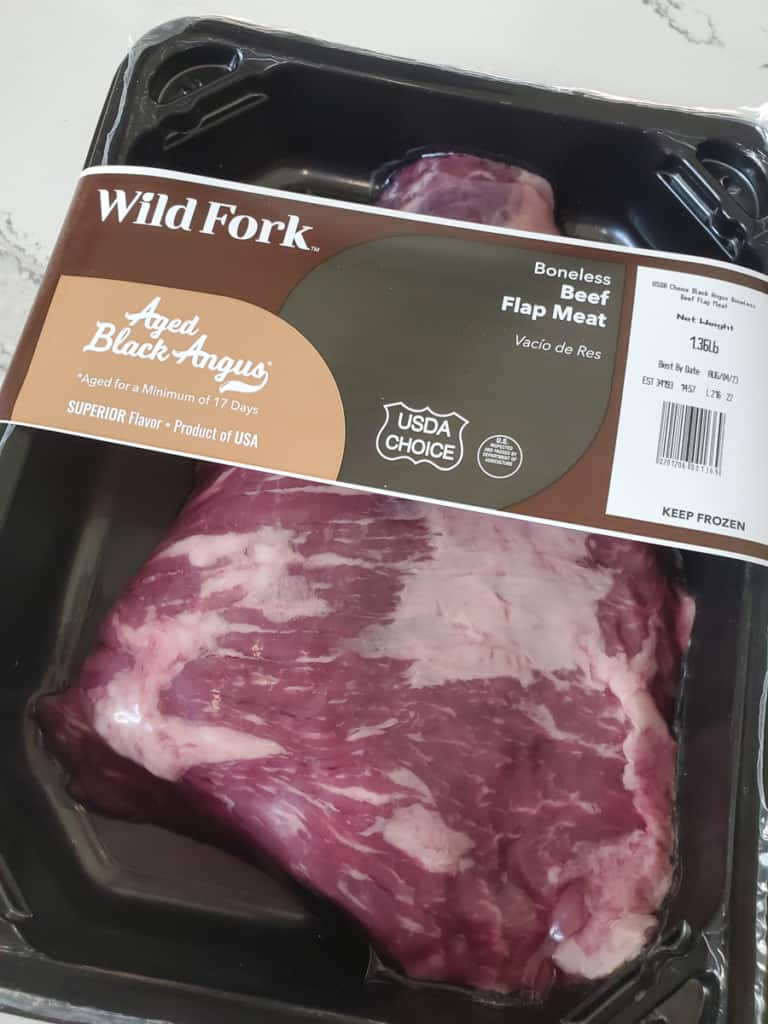 We think you will love the big beefy favor of bavette steak so much that you may want to grab a couple extras to make some Belgian Steak Frites With Sous Vide Bavette Steak too.
How to Make Brazilian Fraldinha
Similar to other churrasco cuts of meat, like picanha, the recipe should include simple seasoning and should let the meat remain the star. For this grilled churrasco style fraldinha the flap meat is simply seasoned with coarse salt and then grilled over high heat, or cooked on a rotisserie.
To prepare the meat, trim any excess hard fat or silver skin from the fraldinha or bavette steak.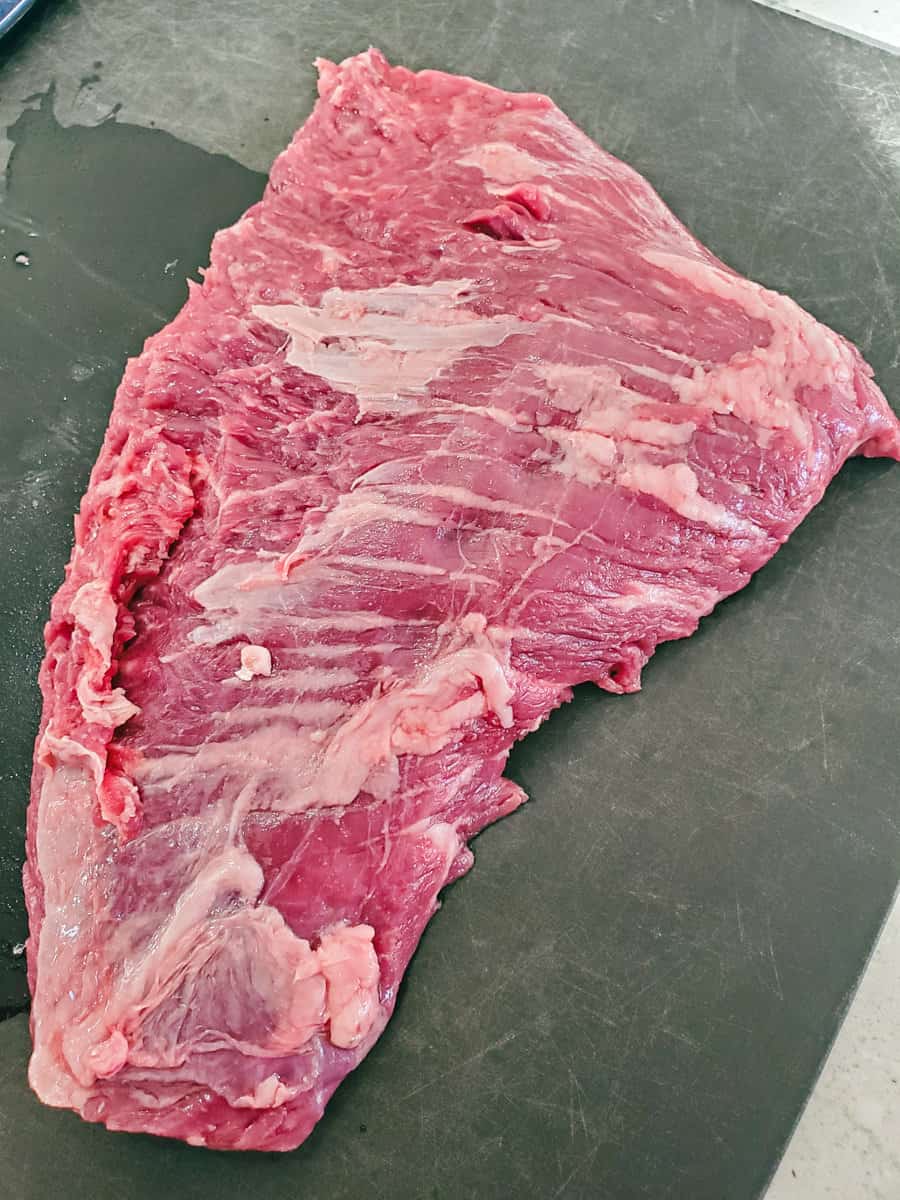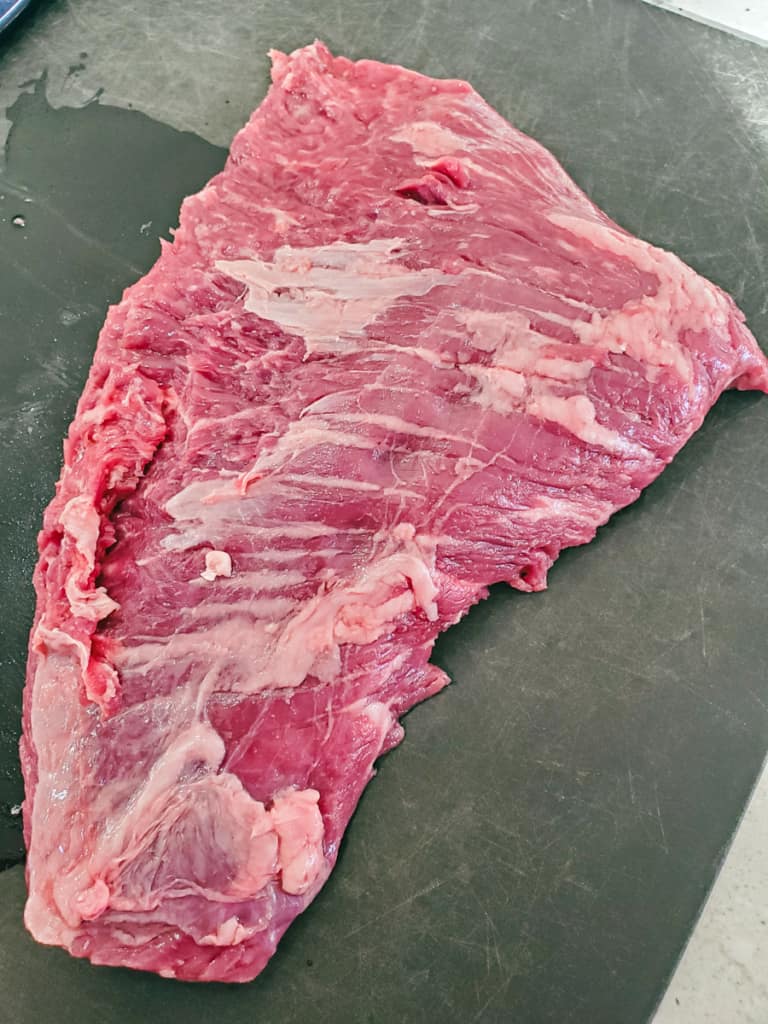 Next, liberally season the Brazilian flank steak on both sides with coarse salt. You can be pretty heavy handed, and some of the salt will be removed before serving. We prefer to use a coarse Himalayan sea salt.
If using a rotisserie, skewer the meat onto the rotisserie skewer.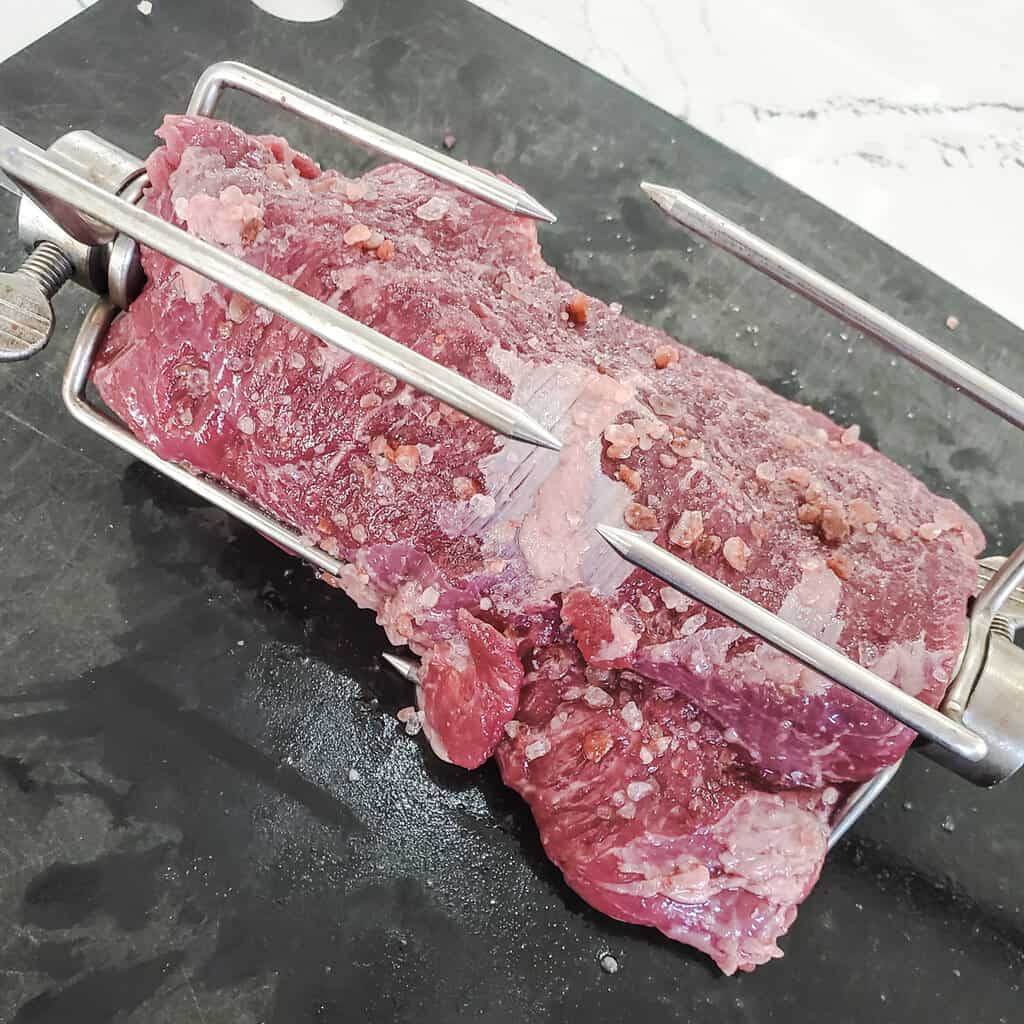 Cooking Brazilian Fraldinha On Your Grill
Our favorite way to prepare Brazilian Fraldinha at home is by using a rotisserie. We love the even cooking and added flavor from the meat juices cooking on the hot coals below. For this recipe we cooked the churrasco flank steak on our Big Green Egg with the use of a Joetisserie.
Next, fire up your grill, and set up for direct heat. We have found a temperature of about 400-500 degrees works best to get a nice char on the outside of the steak.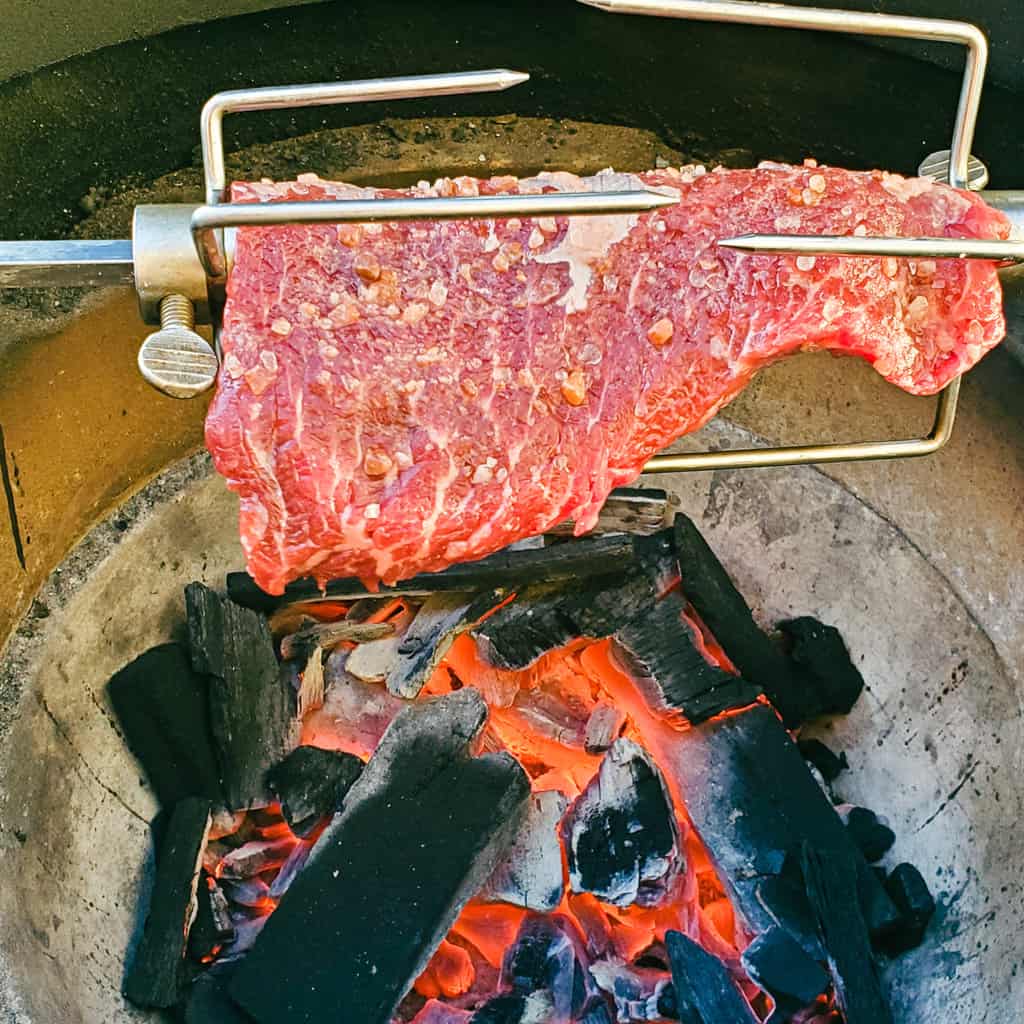 Cook the fraldinha over direct heat. If cooking directly on the grill, flip the meat every few minutes. If you are using a rotisserie, check the meat temperature about every 5 minutes.
Typically the grilled fraldinha is done in about 15-20 minutes, but time can vary depending on the size of the flap meat and cooking method. Remove the steak about 5-7 degrees below your desired temperature as there will be some carry over temp. This grilled fraldinha took about 20 minutes to get to medium rare, and then 25 minutes to get to medium.
Once you have reached your desired temperature, remove the Brazilian flank steak from the grill. Rest on a cutting board for about 5 minutes, cover with a piece of foil.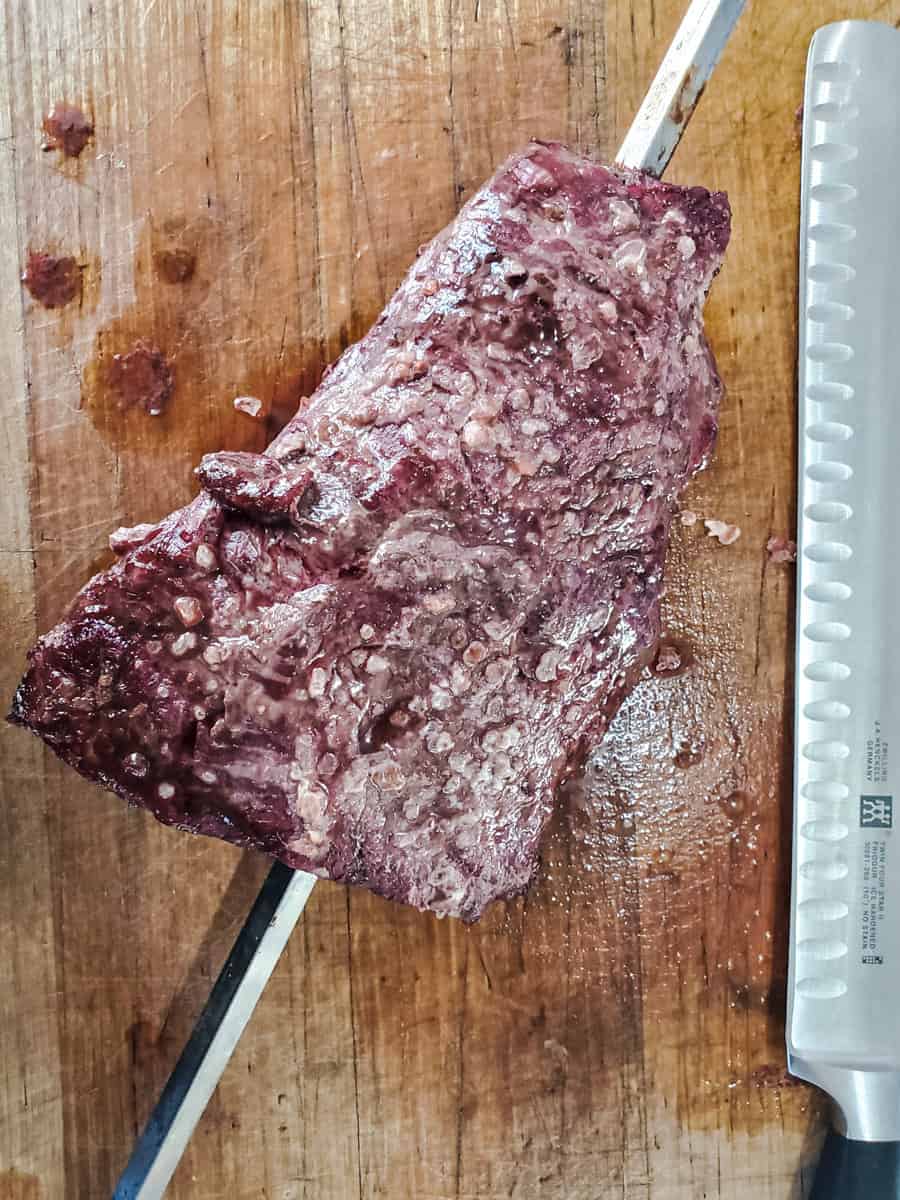 When ready to serve, scape off any large pieces of salt remaining on the steak. To serve the grilled fraldinha slice the steak thinly, against the grain. It is very important that you are cutting against the grain to maintain tenderness of this cut. If you used a rotisserie, or cooked on a skewer, you can walk around churrasco style and slice the meat tableside.
What to Serve with Brazilian Flank Steak
Finally, it is time to enjoy your Brazilian churrasco style steak. The grilled fraldinha pairs perfectly with refried black beans, rice, fried plantains or bananas, and don't forget the National dish of Brazil: Feijoada. The grilled Brazilian steak would also pair well with our Malbec Sauce For Steak or our Easy Chimichurri Recipe. Wash the meal down with a glass or 2 of South American wine or even a Blackberry Red Sangria or Caipirinha.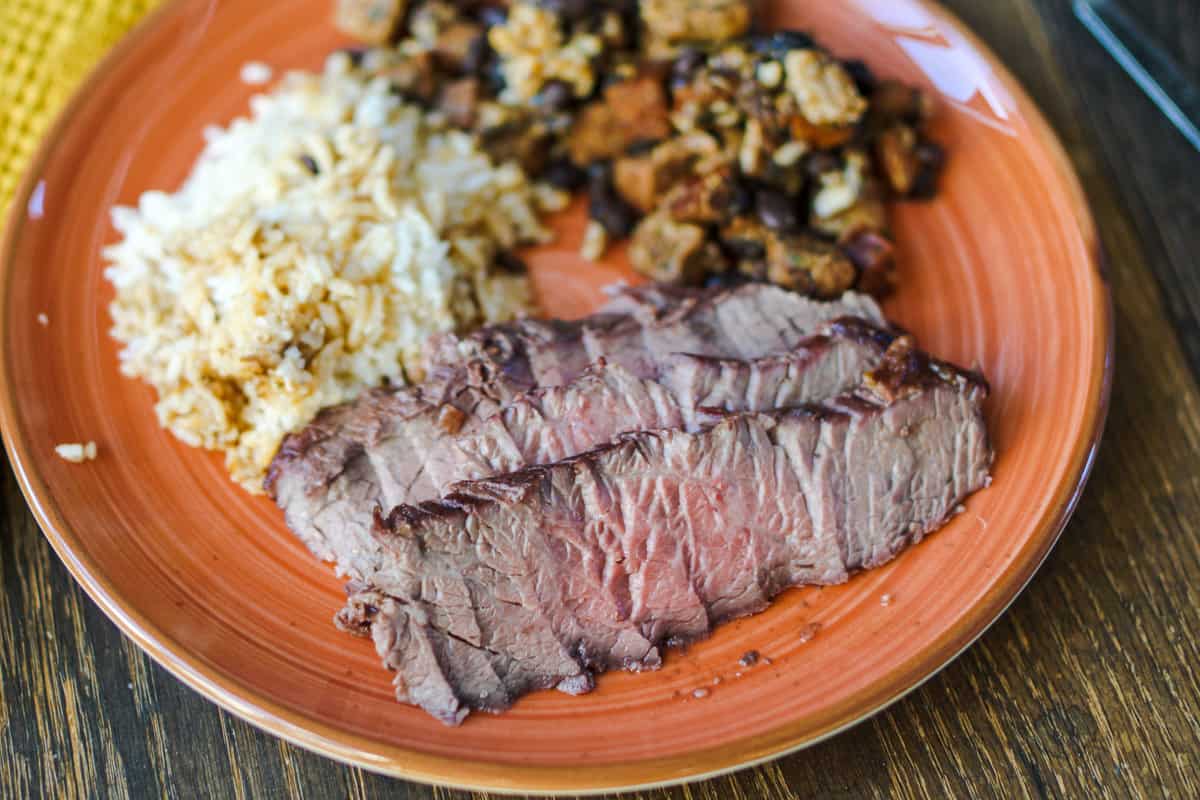 For more great South American meats and sides be sure to give some of these classic recipes a try:
Thank you for taking the time to visit our blog. If you tried and enjoyed our recipe, please share with others and please leave us a comment and review. We also love to see your pics so don't forget to tag us @Carne_Diem_Culinary or #CarneDiemBlog. To be notified of future recipes please follow us on Facebook, Instagram, or Pinterest, or sign up for our e-mail notifications. Until next time, Carne Diem!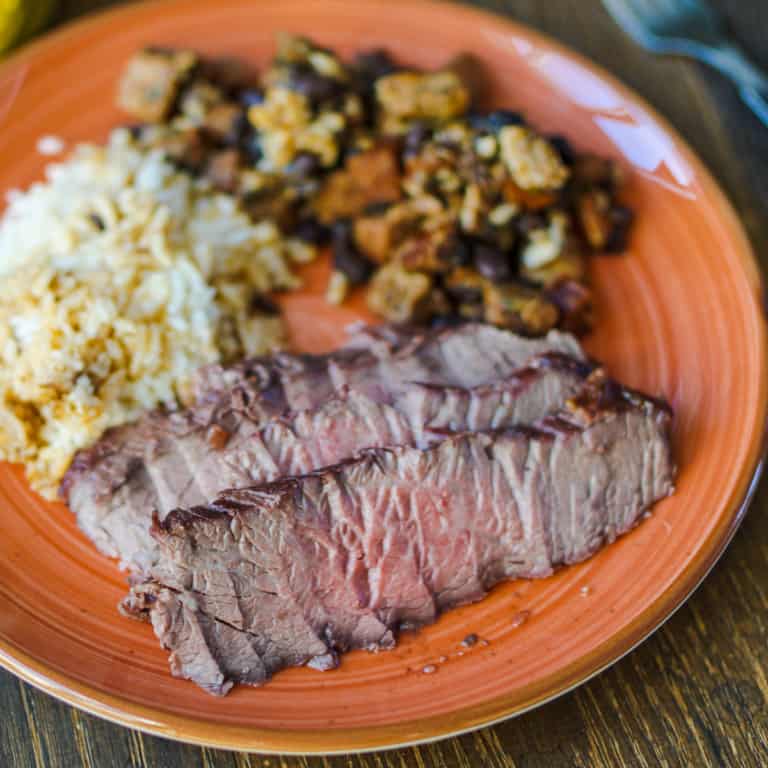 Brazilian Fraldinha
This grilled fraldinha recipe uses the lesser known flap meat or bavette steak to make this churrasco favorite at home. Grilled over high heat or on a rotisserie, the churrasco "flank steak" is super easy to make and packed with flavor.
Ingredients  
2-3

pound

flap steak, bavette steak, or flank steak

Coarse sea salt
Instructions 
Trim excess hard fat and silver skin from the meat.

Liberally season both side of the meat with coarse sea salt.

If using a rotisserie or skewers, skewer the meat.

Preheat your grill for 450 degrees and set up for direct heat.

Grill the meat over direct heat, flipping ever few minutes. If using a rotisserie, check the meat temp after 10 minutes, then every 5 minutes.

Remove the meat when it is about 5-7 degrees below your desired doneness.

Move the meat to a cutting board and rest under foil for about 5 minutes.

Thinly slice, against the grain, and serve.
Nutrition
Calories:
311
kcal
Protein:
49
g
Fat:
11
g
Saturated Fat:
5
g
Polyunsaturated Fat:
0.4
g
Monounsaturated Fat:
4
g
Cholesterol:
136
mg
Sodium:
3608
mg
Potassium:
774
mg
Calcium:
50
mg
Iron:
4
mg