Protein:
Origin: European, Belgian
Jump to Recipe
Steak frites, or steak and fries, is considered by many to be the national dish of Belgium, and can be found throughout Belgium and France. Grilled steak is paired with crispy fries, and makes for a delicious quick lunch or dinner. In this recipe we used our sous vide to perfectly cook the steak before giving it a quick sear in a hot cast iron pan.
For our Belgian Steak Frites we chose to use Bavette steak due to its great flavor. There is often some confusion as to where the bavette steak originates. Also referred to as flap meat, some believe that the cut is synonymous with flank steak but this is not quite true. The bavette is actually comprised of the bottom part of the sirloin, toward the back of the cow. It is situated below the sirloin and just above the flank steak. Texture wise, this sirloin flap steak takes on a lot of similar characteristics to flank steak, loaded with flavor but needs to be cooked and cut properly to make it tender. For churrasco lovers, it also makes for a killer Grilled Brazilian Fraldinha.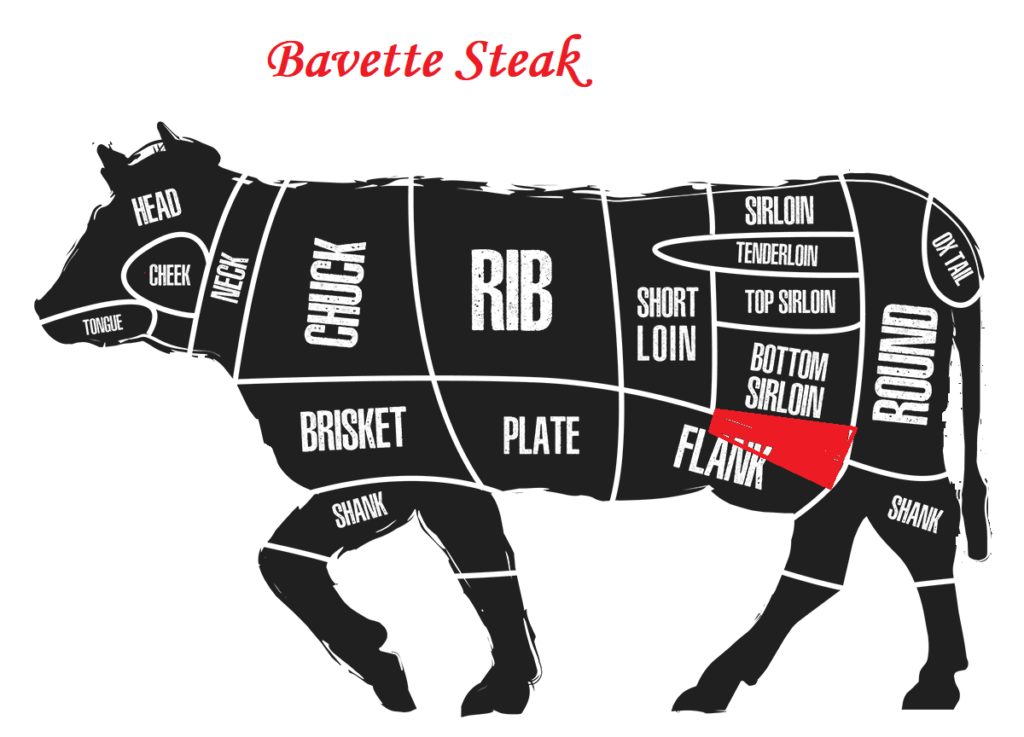 For this recipe we ordered our bavette from one of our favorite local cattle companies, KC Cattle Co. Started and run by U.S. military veterans this company has been providing some high quality American Wagyu beef and is one of our favorite sources for great tasting beef. Another great source for great high quality AMERICAN WAGYU BEEF Snake River Farms, which also delivers nationally.
Preparing the Belgian Steak Frites
To prepare the bavette steak, pat the meat dry and remove any hard fat from the surface of the meat. Liberally season both sides of the steak with kosher salt, granulated garlic, and fresh ground black pepper, or with your favorite SPG (Salt, pepper, garlic) style rub.
Cooking the Sous Vide Bavette Steak
Place the seasoned steak in a vacuum seal back or sous vide bag with a few sprigs of fresh thyme and rosemary. Seal the bag, making sure there are no leaks. You can learn more about sous vide cooking on our Tools of the Trade Page, or by clicking here.
Set your water bath temperature to 125 degrees for a finished product of about medium rare. If you would like the meat more done you can increase the water bath temp accordingly, but remember to set the temp about 5-10 degrees below your desired finishing temp as bavette is a pretty thin cut and the internal temp will increase during the final sear. We do not recommend cooking a bavette steak to anything above medium doneness.
Cook the Sous Vide Bavette Steak for about 2 hours. Unlike some meats, and even other cuts of beef, a bavette steak does not benefit from a really long cook in the sous vide. As you go beyond 2 hours, the meat fibers will begin to tighten and the meat will become tougher. 1.5-2 hours is about perfect for a bavette steak.
If you are looking for more great sous vide recipes, then check out our recipes for Sous Vide Florentine Style Porterhouse or Teres Major with His and Her Sauces. For a more traditional grilled steak check out our Reverse Seared Argentinian Ribeye With Chimichurri Sauce.
Searing the Belgian Steak Frites
When the bavette steak is done cooking in the sous vide remove it from the water bath. Heat a neutral oil with a high smoke point over high heat. Avocado oil is great for this purpose.
You really want the oil very hot to get a good sear so working under a hood is a good idea.
See the chart below for the smoke point of other cooking oils and fats so you can choose an appropriate oil.
| Oil/Fat | Smoke Point ºF | Smoke Point °C |
| --- | --- | --- |
| Refined Avocado Oil | 520ºF | 270°C |
| Safflower Oil | 510ºF | 265ºC |
| Soybean Oil | 450ºF | 232ºC |
| Peanut Oil | 450ºF | 232ºC |
| Ghee or Clarified Butter | 450ºF | 232ºC |
| Corn Oil | 450ºF | 232ºC |
| Vegetable Oil | 400-450ºF | 204-232ºC |
| Beef Tallow | 400ºF | 204ºC |
| Canola Oil | 400ºF | 204ºC |
| Grapeseed Oil | 390ºF | 199ºC |
| Unrefined or Virgin Avocado Oil | 375ºF | 190ºC |
| Pork Fat or Lard | 370ºF | 188ºC |
| Duck Fat | 375ºF | 190ºC |
| Vegetable Shortening | 360ºF | 182ºC |
| Extra Virgin or Unrefined Coconut Oil | 350ºF | 177ºC |
| Extra Virgin Olive Oil | 325-375ºF | 163-190ºC |
| Butter | 302ºF | 150ºC |
Smoke points of common fats and oils
Once the oil is heated, add the rosemary and thyme sprigs from the sous vide bag and fry them for a couple minutes to infuse the oil with their flavor. Remove them from the oil before they begin to burn.
Sear the bavette steak for about 2 minutes per side in the hot oil. Be careful as the oil is extremely hot and may splatter. Use a splatter shield if you have one and heat resistant gloves are also helpful.
Slicing and plating the Belgian Steak Frites
After searing the steak remove it to a cutting board and let the meat rest for a couple minutes. For serving we like to halve the bavette steak by cutting it into 2 smaller portions. This first cut will be with the grain. We then slice these smaller halves into slices by cutting against the grain
Top the steak with a little coarse sea salt or Maldon salt flakes. To complete the meal serve with your favorite French fries. We also serve this with our Always Crispy French Fries seasoned with a little truffle salt. Enjoy with a Campari Old Fashioned or a glass of wine.
Thanks again for visiting Carne Diem. If you tried and enjoyed our recipe, please share with others. Also don't forget to tag us @Carne_Diem_Culinary or #CarneDiemBlog, we love to see your pics! To be notified of future recipes please follow us on Facebook,  Instagram, or Pinterest, or sign up for our e-mail notifications.
📖 Recipe
Belgian Steak Frites with Sous Vide Bavette Steak
Steak frites, or steak and fries, is a classic dish found in brasseries across Europe. In this version we use a sous vide bavette steak cooked to perfection and paired with crispy truffle fries.
Equipment
Sous vide

Cast Iron Pan or Skillet
Ingredients  
2-3

pound

Bavette Steak

1

tea

Each: Kosher Salt, Fresh Ground Black Pepper, Garlic Powder

or 1 tablespoon of SPG rub. Use more or less to taste

2

sprigs

Fresh Thyme

2

sprigs

Fresh Rosemary

¼

cup

Avocado Oil

Or other oil with a high smoke point

Maldon or Other Sea Salt

½

pound

French Fries

Cooked per instructions

½

tea

Truffle Salt

optional
Instructions 
Pat the steak dry and trim any hard fat off of the steak.

Generously season both sides of the steak with the salt, pepper, and garlic to taste.

Place the bavette steak in a sous vide or vacuum seal bag along with the sprigs of thyme and rosemary. Seal the bag and cook with a sous vide at a temperature of 125 degrees for 2 hours. This will result in a medium rare steak after the sear. Adjust the temp as desired for your cooking preference. We do not recommend cooking this cut above medium.

Remove the steak from the water bath and heat the oil in a heavy bottomed skillet over high heat.

Briefly fry the thyme and rosemary sprigs to impart their flavor, then remove from the oil.

Sear the bavette steak about 2 minutes per side to get a nice dark sear on the steak.

Remove the steak to a cutting board and rest for about 5 minutes. Halve the bavette steak by cutting once with the grain, then slice the steak halves against the grain for serving.
Nutrition
Calories:
1158
kcal
Carbohydrates:
34
g
Protein:
100
g
Fat:
67
g
Saturated Fat:
18
g
Polyunsaturated Fat:
6
g
Monounsaturated Fat:
38
g
Cholesterol:
272
mg
Sodium:
1959
mg
Potassium:
2041
mg
Fiber:
5
g
Vitamin A:
50
IU
Vitamin C:
9
mg
Calcium:
111
mg
Iron:
9
mg