Protein:
Origin: European, Italian
Method: Grill or Smoker
Jump to Recipe
Reminiscent of some high-end steakhouse steaks, cheese crusted steaks are sure to impress. These Italian inspired Quattro Formaggi Crusted Steaks are topped with a blend of fontina, gorgonzola, smoked mozzarella, and grated parmesan. These are the perfect special occasion steak for a romantic dinner.
What is Quattro Formaggi?
Quattro formaggi literally translates to four cheese in Italian. Typically consisting of a blue cheese, parmesan, mozzarella, and a soft cheese like fontina, Quattro formaggi is a classic topping for pizza in Italy or used as a sauce for pasta.
Making the Four Cheese Crusted Steak
While we love a good Blue Cheese Crusted Filet Mignon or steak with a gorgonzola crust, sometimes we want a steak with a little less funk. Blending the blue cheese or gorgonzola cheese with additional cheeses strikes the perfect balance for a cheese crusted steak.
To make the Quattro Formaggi Steak you will need the steaks of your choice, some steak seasoning, and the 4 cheeses for your crust. Simply shred your cheeses and mix together. This recipe should provide enough cheese topping for about 4-6 steaks, depending on the size and type of steak used.
What cut is best for a cheese crusted steak?
In our opinion a high-grade filet mignon is the best cut of steak to make a steak with a cheese crust. Other cuts like strip steak, bacon wrapped sirloin, or ribeye are good choices as well.
For more great steak recipes check out some of these classic steak recipes from around the world:
Season and grill your steaks
Generously season the steak with your favorite steak rub or just some coarse salt and pepper. A classic SPG rub works great, as does our Chicago Style Steak Rub or Ancho Espresso Steak Rub if you want a little spice added to your steak.
Grill your steak with your desired method, whether it be a traditional sear, or reverse sear method. With a traditional sear method add the steak cheese topping for about the final 5-7 minutes of indirect cooking. If using a reverse sear method, add the cheese as soon as you flip the steak for the final time.
A final method is to pull the steaks off about 7 degrees below your desired temperature and place the cheese crusted streak under a broiler for a couple minutes until the cheese is melted and slightly browned.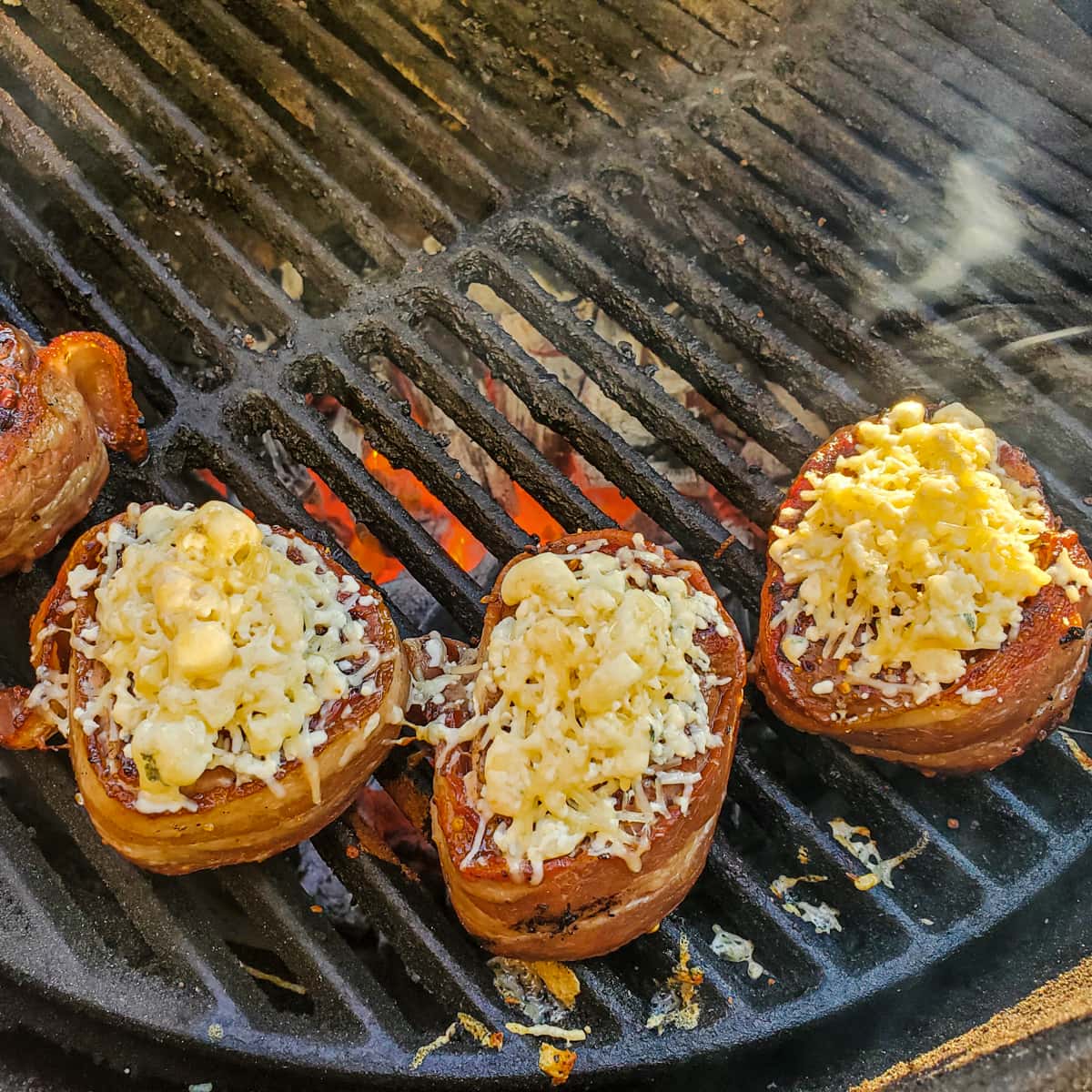 Once the steaks are done cooking, remove from the heat and let the steaks rest for about 3 minutes before serving.
What to serve with Quattro Formaggi Crusted Steak
Serve the Quattro formaggi topped steaks with your favorite sides like baked potatoes, Smoked Au Gratin Potatoes, Fried Mashed Potato Cakes with Herbes de Provence Butter, or Smoked Jalapeno Twice Baked Potatoes.
The flavorful steaks also go well with our Malbec Sauce For Steak or Stout Sauce for Steak.
Dig in and enjoy your Quattro Formaggi Crusted Steaks!
Thank you for taking the time to visit our blog. If you tried and enjoyed our recipe, please share with others and please leave us a comment and review. We also love to see your pics so don't forget to tag us @Carne_Diem_Culinary or #CarneDiemBlog. To be notified of future recipes please follow us on Facebook, Instagram, or Pinterest, or sign up for our e-mail notifications. Until next time, Carne Diem!
📖 Recipe
Quattro Formaggi Crusted Steak
This Italian inspired 4 cheese crusted steak recipe is topped with gorgonzola, smoked mozzarella, parmesan and fontina cheese. This elegant steak recipe makes for a perfect special occasion meal.
Ingredients  
¼

Cup

Crumbled Gorgonzola

¼

Cup

Smoked Mozzarella

Shredded

¼

Cup

Parmesan

Shredded

¼

Cup

Fontina

Shredded

4

Steak

4

teaspoons

Beef or Steak Rub
Instructions 
In a bowl, combine the 4 cheeses and mix well to combine.

Generously season the steaks with your choice of steak or beef seasoning.

Grill your steaks using your desired method, topping the steaks with the 4-cheese mixture for about the final 5-7 minutes of indirect cooking. Alternately, remove the steaks from the heat about 7 degrees below your desired temperature, top with cheese, and place under a broiler for about 2 minutes until the cheese crust is melted and slightly browned.
Nutrition
Calories:
110
kcal
Carbohydrates:
2
g
Protein:
8
g
Fat:
8
g
Saturated Fat:
5
g
Polyunsaturated Fat:
0.3
g
Monounsaturated Fat:
2
g
Cholesterol:
25
mg
Sodium:
292
mg
Potassium:
52
mg
Fiber:
0.2
g
Sugar:
0.3
g
Vitamin A:
278
IU
Vitamin C:
0.2
mg
Calcium:
212
mg
Iron:
1
mg