Last Updated on October 25, 2022 by Carne Diem
Protein:
Method: Grill, Smoker, or Firepit
Jump to Recipe
In America there is little doubt that ribeye reigns supreme as the king of steaks. Well marbled fat makes it one of the most flavorful cuts of steak, and cooked correctly it can be one of the most tender. I tend to be a purist when it comes to ribeye, believing less is more. It typically does not need a lot of pomp and circumstance. Minimal seasoning is necessary and using a sauce is almost unheard of. I will admit, however, that a lot of this changed on a recent trip.
I had the pleasure of eating at a fantastic Argentinean eatery producing one phenomenal ribeye with some of the best chimichurri I have ever had. Chef Pablo at Pablo's Corner in Bandon, Oregon, opened my eyes to the way a proper Argentinian Ribeye should be. Sure I have had chimichurri sauce before, but always found it too "grassy" or earthy to really appreciate it. It is not until you have a chimichurri sauce done the right way that you really appreciate the intricacies of this classic condiment. Eating a chimichurri sauce that you can tell is made with love, makes all of the difference in the world. While I am not claiming to rival Chef Pablo's chimichurri sauce, after a lot of trial and error, I can say I have found a recipe that I am proud of and that I have made "with love".
Cooking the Reverse Seared Argentinian Ribeye
Selecting your meat
Unless you are cooking for just yourself, I have found that doing a reverse sear method is by far the best way to cook most steaks. A reverse sear allows more control over the cook and allows you to develop more flavor and a better smoke profile for your meat. For this recipe you will want to buy a 2-3 pound standing rib roast. This is the same cut as prime rib. Bone in or boneless will both work so feel free to use whichever you like. For this reverse sear ribeye, you will basically be smoking the ribeye roast like a prime rib, before slicing it into individual steaks and searing them to finish.
What is a ribeye steak?
Ribeye comes from the rib section of the beef, located between the chuck and the short loin. When selecting your steak, pick a well marbled steak. We always try to go at least Prime, but often you can find some well marbled Choice cuts as well.
Prepare the Chimichurri Sauce
Chimichurri is a basic condiment originating from Uruguay and Argentina. There are many variations but most consist of fresh parsley, garlic, olive oil, and red wine vinegar. Our version also includes fresh oregano and diced chili.
To make the Chimichurri sauce for the Reverse Seared Argentinian Ribeye you will need ¾ cup Italian flat leaf parsley, 2 tablespoons red wine vinegar, ½ cup extra virgin olive oil, 1 small jalapeno or Fresno pepper finely diced, 1 tablespoon fresh oregano minced, 1 tablespoon garlic minced, and 1 teaspoon sea salt.
Finely chop the parsley, oregano, and jalapeno. Honestly, I am not sure why, but hand chopping the herbs for the chimichurri seams to make a big difference in the final result. Using a food processor always seems to result in a subpar chimichurri.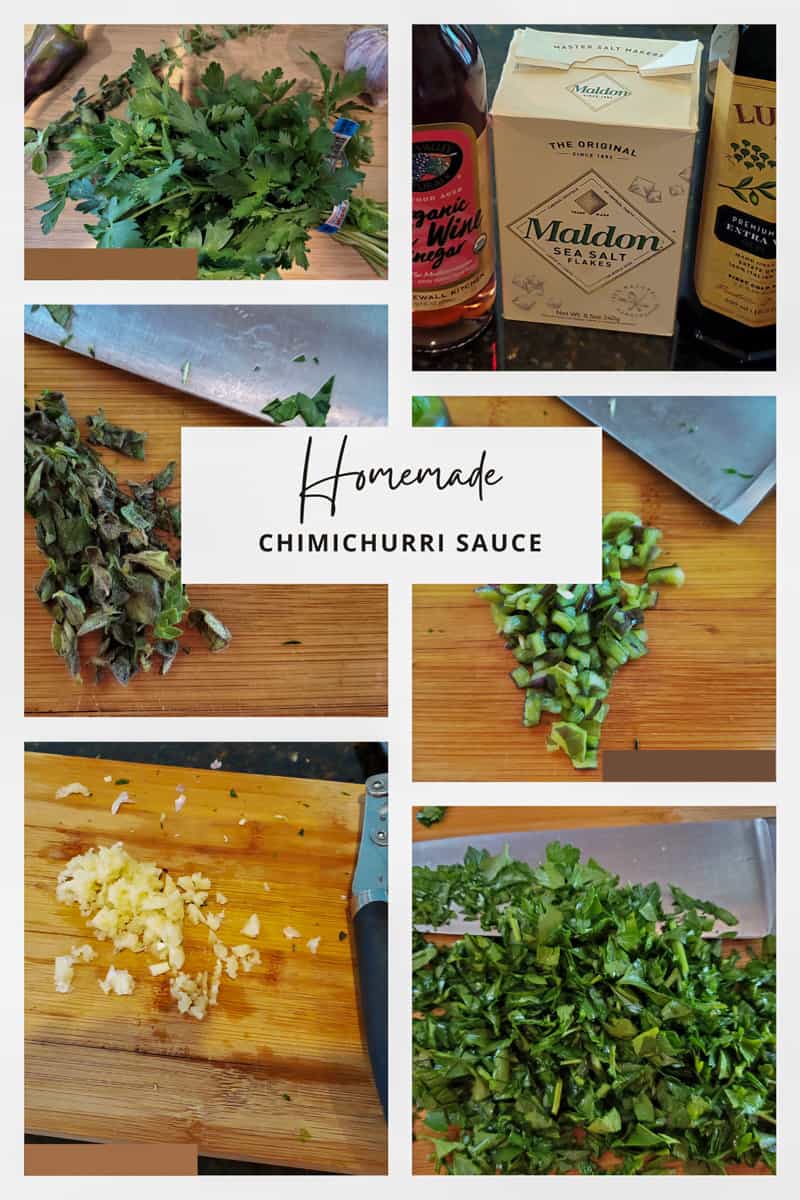 Mix the diced herbs and jalapeno with the minced garlic, sea salt, olive oil, and red wine vinegar. Cover and let the flavors meld at room temp for 4 hours or overnight. Again, go with a high quality extra virgin olive oil and red wine vinegar.
Season the Ribeye with course salt
When you are ready to start making your Reverse Seared Ribeye, remove the ribeye from the fridge and get ready to season it. Throughout Argentina, the most common salt for any asado or barbecue, is sal parrillera, a coarse refined rock salt used to season the large cuts of South American beef. As sal parrillera is not always readily available in the U.S. we often substitute coarse Himalayan Pink Salt. We prefer to find the coarsest grind that we can find and crush it down just a tad in a mortar and pestle.
Liberally season the top and bottom of the ribeye roast with the coarse salt. It is going to seem like a lot of salt, but it is going to form a nice crust on the steaks.
Let the ribeye roast set at room temp while you prepare your grill or smoker, or up to 2 hours. Alternatively you can cover the ribeye with plastic wrap and place in the refrigerator to give the salt ample time to penetrate into the meat.
Reverse sear the ribeye roast
Heat your grill or smoker to about 225-275 degrees. Place the ribeye roast on the grill fat side down. You are going to want to monitor the cook with an In Meat/Grill Thermometer. We are a big fan of Fireboard products. When cooking directly over fire or on a firepit, like our Breeo with Outpost system, we also really like the Tappecue Airprobe2. It enables us to monitor the temp of the meat and the grate temp with one wireless probe.
You will want to flip the meat about every 10 minutes to cook it evenly. We prefer doing this cook over direct heat like a true parrilla, but you can cook over indirect heat as well, you just might not achieve the same level of char and the cook may take a little longer. If cooking over an open fire or with a Santa Maria style set up, you will want to raise and lower your grate level to try to maintain an even heat. It is always better to error on the side of cooking too low and taking too long, versus cooking too high and burning the meat.
Continue to cook the ribeye roast over low-medium heat until it reaches a temp about 15 degrees below your desired final temp. For us, we like our finished steak at medium rare so we pull it off the heat at about 123 degrees.
Sear and finish the Reverse Seared Argentinian Ribeye
At this point you want to set up your grill or smoker for high heat. This may mean increasing the temp, moving to cook over direct heat, or finishing the cook in a very hot cast iron pan. If cooking the ribeye on a Breeo, we typically finish the cook on the sear plate.
Slice the ribeye roast into the desired number of portions. Note: it will be cooked pretty rare at this point. You are going to bring it up to desired temp with the sear.
Sear the steak about 1-2 minutes per side over the hottest part of your grill or in a really hot cast iron pan on your stove. You really want to try to achieve a nice dark char. If using something like GrillGrates, this is also your chance to get those nice grill marks.
If finishing the Reverse Seared Argentinean Ribeye on a Santa Maria style grill or parrilla, drop the grate level all the way down to finish off searing the steaks.
If cooking on a Breeo finish the steaks on the sear plate.
If in the sad event you find that you have overcooked your steak or do not have a means to sear it, you can bring the steak to the desired temp, let it rest for five minutes and then slice, but it will be lacking that classic char.
Serving the Reverse Seared Argentinian Ribeye
Serve the ribeye with the fresh chimichurri sauce, some grilled veggies, some warm bread and a nice glass of Malbec.
Looking for more great South American steak recipes? Be sure to check out these classic recipes for Rotisserie Picanha, Uruguay's Chivito: The Ultimate Steak Sandwich, or Peruvian Lomo Saltado: Stir-fried sirloin steak and fries.
Need some inspiring sides to go with your Reverse Seared Argentinian Ribeye? Check out these perfect side dishes that may just show up your steak.
Smoked Jalapeno Twice Baked Potatoes
Charro Beans With Hickory Smoked Bacon
Thanks again for visiting Carne Diem. If you tried and enjoyed our recipe, please share with others. Also don't forget to tag us @Carne_Diem_Culinary or #CarneDiemBlog, we love to see your pics! To be notified of future recipes please follow us on Facebook,  Instagram, or Pinterest, or sign up for our e-mail notifications.
📖 Recipe
Reverse Seared Argentinian Ribeye With Chimichurri Sauce
Using a reverse sear is the best way to cook steaks, especially if cooking for a group. These Reverse Seared Argentinian Ribeyes with a fresh made Chimichurri Sauce are the ultimate South American dish for meat lovers.
Ingredients  
Chimichurri Sauce
¾

Cup

Italian Flat Leaf Parsley

2

Tab

Red Wine Vinegar

½

Cup

EVOO

1

Small Jalapeno or Fresno Pepper

Finely diced

1

Tab

Fresh Oregano

minced

1

Tab

Garlic

minced

1

tea

Sea Salt
Reverse Seared Ribeye
2-3

Pound

Ribeye Roast/Standing Rib Roast/Prime Rib Roast

2-4

Tablespoons

Coarse Sea Salt
Instructions 
Chimichurri Sauce
Finely chop the parsley and oregano. Dice the jalapenos and mince the garlic.

In a small bowl, combine all of the chimichurri ingredients. Let set, covered, at room temperature for at least 4 hours or overnight.
Reverse Seared Ribeye
Generously season the top and bottom of the ribeye roast with the coarse salt. Let set at room temp for 1-2 hours, or cover with plastic wrap and rest in the refrigerator overnight.

Heat your grill or smoker to 225-275 degrees. Begin cooking the ribeye roast, fat side down. Cook to an internal temperature of about 15 degrees below your desired finishing temp. For a medium rare, cook to 123 degrees.

Remove the ribeye roast from the grill or smoker and prepare to cook over high heat. Slice the ribeye roast into individual steaks. Sear the steaks over high heat for 1-2 minutes per side.

Remove from heat and rest for about 5 minutes. Serve with the chimichurri sauce.
Nutrition
Calories:
928
kcal
Carbohydrates:
2
g
Protein:
31
g
Fat:
87
g
Saturated Fat:
29
g
Polyunsaturated Fat:
5
g
Monounsaturated Fat:
46
g
Cholesterol:
137
mg
Sodium:
4179
mg
Potassium:
600
mg
Fiber:
1
g
Sugar:
1
g
Vitamin A:
1007
IU
Vitamin C:
20
mg
Calcium:
60
mg
Iron:
5
mg