Jump to Recipe
What is a Paloma?
A paloma is a refreshing cocktail originating in Mexico, and considered by some to be the National drink of Mexico. A Paloma typically consists of tequila, grapefruit soda, and lime juice. In our version we swap the tequila for a smokier mezcal.
How is Mezcal Different From Tequila?
While both tequila and mezcal are both liquors originating in Mexico and derived from agave, there are some differences. Technically tequila can be considered a type of mezcal. While mezcal can be made from any of over 30 different varieties of agave, tequila must be made from blue agave. This results in a much broader range of flavor profiles in mezcal compared to tequila. In addition, there is some variation in the distillation process. While tequila is typically distilled from steamed agave, mezcal is traditionally distilled from agave that had been cooked in earthen pits or stone ovens. This adds to the smoky flavor sometimes attributed to mezcal.
How to Make a Mezcal Paloma
To make our Mezcal Paloma you will need your favorite mezcal, some lime juice, and a grapefruit soda. While any type of grapefruit soda, such as Fresca or Squirt, will work in a Paloma our personal favorite is Grapefruit Jarritos. Jarritos can be found in most Latin markets and is also typically carried at World Market if you have one nearby.
To make our Mezcal Paloma we typically use 2.5 parts grapefruit soda to 1-part mezcal. We then top with a splash of lime juice and some ice. Traditionally mezcal is consumed with worm salt, though not typically as a rimmed glass. If you are in love with worm salt, you can certainly use it to rim your glass or use a traditional salt rimmed glass. Our favorite is rimming the glass with Tajin, which provides a little bit of spice to go with the smokiness of the cocktail. For those that prefer a little bit sweeter Paloma, you can add ½-part Agave syrup or simple syrup to the cocktail.
What type of Mezcal is best for a Mezcal Paloma?
Any type of mezcal can be used for a Mezcal Paloma so use your favorite. Similar to tequila, mezcal takes on different tastes the longer it is aged. Joven is mezcal that is unaged or aged for less than 2 months and is the preference for many as you can better pick up on the differences between the growing regions and the agave plant used. My personal favorite is Añejo that has been aged for 1-3 years in oak barrels, so it picks up more of a whiskey, barrel aged taste. Reposado is aged for 2-12 months so it splits the difference in flavor profiles between the 2 extremes.

Once you have mixed up you Paloma, why not enjoy it with some classic Mexican dishes. Check out some of our favorite Mexican recipes here:
Thank you for taking the time to visit our blog. If you tried and enjoyed our recipe, please share with others and please leave us a comment and review. We also love to see your pics so don't forget to tag us @Carne_Diem_Culinary or #CarneDiemBlog. To be notified of future recipes please follow us on Facebook, Instagram, or Pinterest, or sign up for our e-mail notifications. Until next time, Carne Diem!
📖 Recipe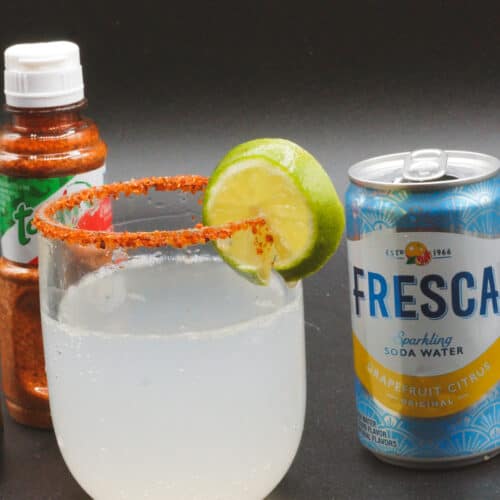 Mezcal Paloma
This Mezcal Paloma add a smoky element to the classic Mexican paloma. Mezcal and grapefruit soda combine for a refreshing Mexican cocktail.
Ingredients  
4

ounces

Mezcal

10

ounces

Grapefruit Soda

splash

Lime Juice

Tajin

optional for rimming glass
Instructions 
Optionally rim your glass with salt or Tajin.

Combine the mezcal, grapefruit soda and lime juice in the glass. Add a splash of fresh lime juice.

Add ice to fill the glass and enjoy.
Nutrition
Calories:
378
kcal
Carbohydrates:
30
g
Protein:
0.3
g
Sodium:
29
mg
Potassium:
5
mg
Sugar:
29
g
Calcium:
6
mg
Iron:
0.1
mg