Origin: American Midwest
Jump to Recipe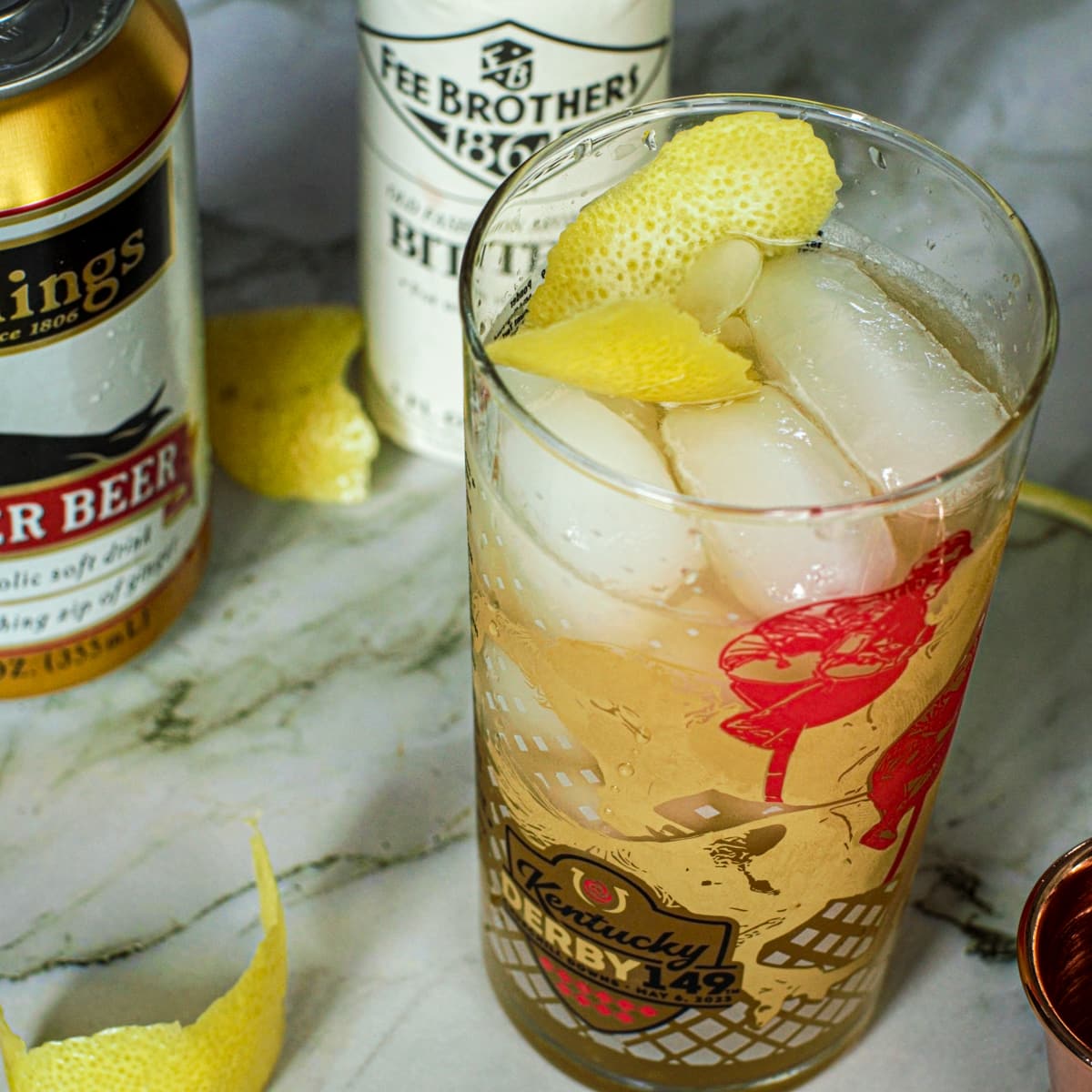 Living in Kansas City, the Horsefeather is considered a local classic. You are likely to find this ginger beer based cocktail in about every bar in town. Outside of the Midwest, however, this cocktail recipe is not as well-known yet, though it should be! This easy cocktail with bourbon only takes a few ingredients and is ready to enjoy in a few minutes.
What is a Horsefeather Cocktail?
The Horsefeather is a bourbon-based cocktail created in the Kansas City area and is a play-off of the classic horse's neck cocktail. Believed to have been created (or at least popularized) in the college town of Lawerence, Kansas the popularity of the drink soon spread east to nearby Kansas City. A Kansas City Horsefeather recipe typically consists of rye or bourbon mixed with spicy ginger beer, some bitters, and a squeeze of lemon juice.
Rumor has it the drink was consumed in mass by Jayhawk fans trying the forget about the college's football team when needed something a little stronger than the straight ginger beer or Shirley Temples they typically consumed (I may have made that part up, but it seems to fit).
What is the difference between a Horsefeather and a Kentucky Mule?
Both a Kansas City Horsefeather and Kentucky Mule are spinoffs of the classic Moscow Mule with bourbon used instead of vodka. A Horsefeather drink is more likely to contain lemon or lemon juice and bitters, while a Kentucky Mule cocktail is more likely to include lime juice. Both drinks use bourbon or rye whiskey and ginger beer. In Kentucky, you may hear the drink referred to as a Bourbon Mule, or a Moscow Mule with Bourbon, but Horsefeather is the classic name.
How to make a Horsefeather Cocktail
To make this simple bourbon cocktail you just need a lemon, ginger beer, rye or bourbon whiskey, and some bitters. You will also want some ice and lemon peel or a lemon wedge to garnish the drink.
To make the Kansas City cocktail, simply stir together the rye or bourbon, ginger beer and about 4 dashes of bitters. Next, give it a squeeze of lemon juice and pour into a tall glass like a Collins glass. Finally, fill the glass with ice and garnish with a lemon wedge or lemon peel.
What alcohol is used in a Horsefeather drink?
Classically, a Horsefeather cocktail recipe is made with rye whisky, however, bourbon or blended whiskey is also popular around Kansas City.
What is the best Ginger Beer for a Horsefeather Drink?
As ginger beer is the largest component of a Horsefeather cocktail recipe, you want to use a high-quality ginger beer. Typically, the spicier the better. Gosling's, Bundaberg, Reed's and Maine Root make some of the best ginger beer's for making a Horsefeather cocktail.
Is ginger ale used in a Horsefeather Cocktail?
Ginger ale is classically used in the Horse's Neck cocktail, which is one of the major differences between the 2 cocktails. For a Horsefeather recipe you want to use the spicier ginger beer.
What do you serve with a Horsefeather Cocktail?
Kansas Citians love meat and BBQ and a Kansas City Horsefeather pairs well with both. Enjoy the drink with smoked meats like brisket, burnt ends, or pulled pork. Serving the refreshing bourbon cocktail while grilling steaks like our Quattro Formaggi Crusted Steak or Argentinian Ribeye is another great way to enjoy the cocktail.
Be sure to try more of the best drink and cocktail recipes here:
Thank you for taking the time to visit our blog. If you tried and enjoyed our recipe, please share with others and please leave us a comment and review. We also love to see your pics so don't forget to tag us @Carne_Diem_Culinary or #CarneDiemBlog. To be notified of future recipes please follow us on Facebook, Instagram, or Pinterest, or sign up for our e-mail notifications. Until next time, Carne Diem!
📖 Recipe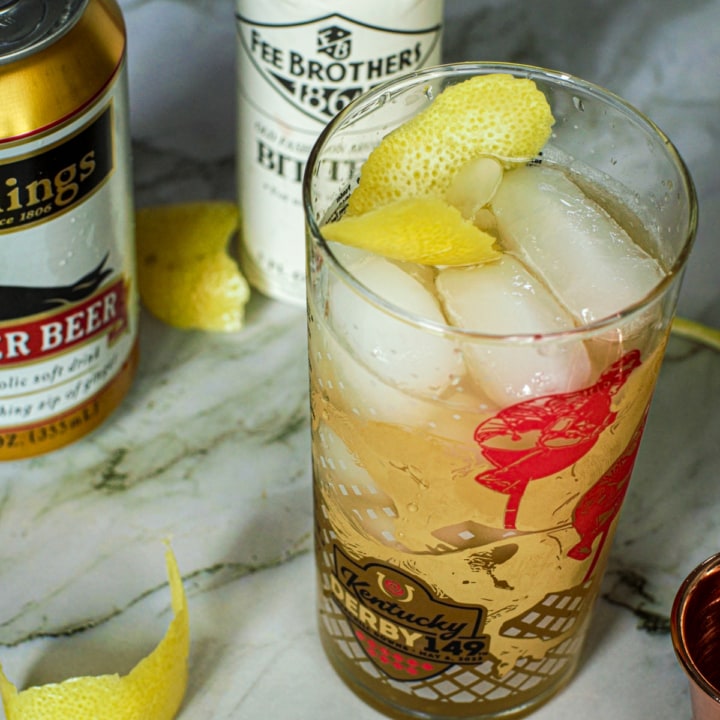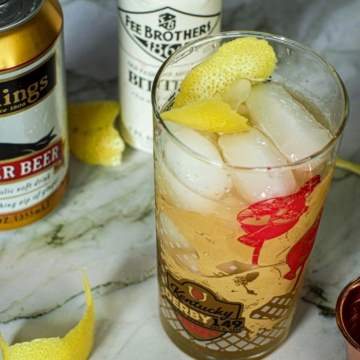 Kansas City's Horsefeather Cocktail
This whisky-based cocktail made with ginger beer is a classic in Kansas City. With just 4 simple ingredients this cocktail is both simple and delicious.
Ingredients  
2

Ounces

Bourbon

or Rye

4

Ounces

Ginger Beer

4

dashes

Bitters

1

squeeze

Lemon juice

Lemon Peel
Instructions 
Mix the bourbon, ginger beer, lemon juice and bitters and pour into a glass.

Fill with ice and top with the lemon peel.
Nutrition
Calories:
190
kcal
Carbohydrates:
12
g
Protein:
0.03
g
Fat:
0.01
g
Sodium:
9
mg
Potassium:
6
mg
Fiber:
0.2
g
Sugar:
11
g
Vitamin A:
1
IU
Vitamin C:
3
mg
Calcium:
6
mg
Iron:
0.2
mg