Protein: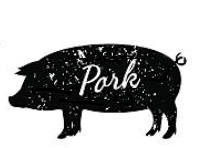 Origin: Nose To Tail Cooking
Method: Grill or Smoker
Jump to Recipe
Bacon Wrapped Pork Tenderloin
This was another of the "must have" recipes for the launch of the food blog. The first real smoker I ever purchased was a Big Green Egg from an "Eggfest Event" at a local pool and patio store. I was so proud of that smoker and I still am, as I still cook on it frequently 15 years later. Ceramic smokers are by far the most versatile smoker out there, and with minimal maintenance they will last you a lifetime. If you are looking for a "One stop shop" grill/smoker, this is it, as long as you don't plan on moving it around a lot and don't mind moderate babysitting of the smoker.
For those of you interested in some pros and cons of different smoker and grill types, I highly recommend checking out AmazingRibs.com. Their site has a wealth of information on different smokers including reviews and ratings so you can find the perfect grill to suit your needs. Check them out here:
Shortly after purchasing my Big Green Egg, the wife and I decided to take a road trip to the Big Green Egg festival in Atlanta, Georgia. This festival had professional pitmasters cooking their favorite recipes between fast paced trips around the Atlanta Speedway.
After sampling our way around the speedway we discovered many new recipes to cook up upon our return home, however, none has had the longevity of this bacon wrapped pork tenderloin. Over the years we have "fancied it up" a bit with a bacon weave (see below), but it still remains a family favorite for a quick family night dining on the patio.
Making the Bacon Wrapped Pork Tenderloin
This recipe comes together pretty quickly. Simply trim the tenderloin of any excess fat then slather that bad boy up with some Hak's Smoked Maple Mustard (Spoiler Alert this is the secret to our award winning ribs, but you won't find that info on the rib page. Congrats on the Easter egg). If you can't find Hak's, plain yellow mustard will suffice.
Next put a very generous dusting of your favorite rub on the pork. This time we are using Killer Hogs The BBQ Rub, but we change it up every time we make it so use your favorite or make your own.
Next you are going to wrap that meat up tight in a heavenly bacon blanket. If you made a bacon weave set it ⅓ distance from the top. The bacon weave should be on top of Saran Wrap - see the picture of the weave above to see what the finished product is like. You may choose to simply wrap the bacon strips around the tenderloin, but you may need some toothpicks to hold it all together if you choose to do it this way.
Pull the Saran Wrap to bring the upper third of the bacon over the pork.
Nest bring the bottom up to cover the tenderloin.
Pull the Saran Wrap back from the bottom and top making sure the bacon weave stays in place. Dust with your seasoning of choice. We went with Killer Hogs The BBQ Rub due to the beautiful mahogany color it imparts.
Now that your bacon wrapped pork tenderloin is prepared, it is time for the best part. It's grilling time! Throw that bad boy on the grill and smoke it at 300 degrees until the internal temp reaches 145 degrees, rotating the grate 90 degrees every 30 minutes. ALWAYS COOK TO TEMP! When it comes to grilling and BBQ, times are simply estimates. Each piece of meat is different and will take differing amounts of time to cook.
Use an Instant Read Thermometer
Invest in an instant read thermometer such as a ThermaPen. It is single handily the most important piece of equipment you can have in your arsenal when cooking meat, and you will not find a pitmaster without one. You can also use a continuous meat thermometer as well to help monitor your cook, and we have had great luck with Fireboard products. For more information on Instant Read Thermometers and in-meat thermometers such as Fireboard, please check out our Equipment/Tools of the trade page here:
When the meat hits 145 degrees as checked with a meat thermometer pull the meat from the smoker to a cutting board, cover in foil, and rest for 5 minutes. Remove the foil and take a couple pics to post to your Facebook and Instagram accounts.
Slice it up and serve it with your favorite salad and starch, or just eat the pork because who needs anything other than meat.
Looking for more awesome pork recipes, then be sure to try our Barbeque Char Siu and German Pork Chops, and Hawaiian Kalua Style Pork a try.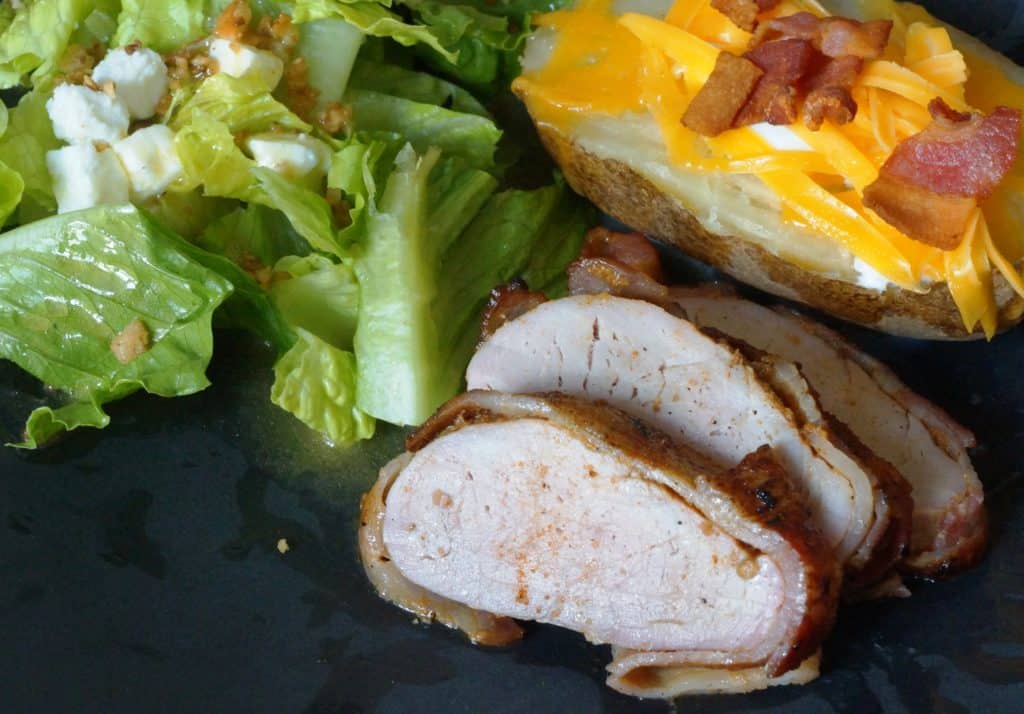 Thank you for taking the time to visit our blog. If you tried and enjoyed our recipe please share with others and please leave us a comment and review. We also love to see your pics so don't forget to tag us @Carne_Diem_Culinary or #CarneDiemBlog. To be notified of future recipes please follow us on Facebook,  Instagram, or Pinterest, or sign up for our e-mail notifications. Until next time, Carne Diem!
📖 Recipe
Bacon Wrapped Pork Tenderloin
This recipe comes together quickly, for a great weeknight dinner on the grill, and plenty of opportunity to make this recipe your own with your favorite BBQ rub.
Ingredients  
1

Pork Tenderloin

7

Slices

Center Cut Bacon

Mustard

Favorite BBQ Rub for Pork
Instructions 
Trim excess fat from the pork tenderloin.

Rub the tenderloin with the mustard, then liberally apply rub to all sides of the tenderloin.

Wrap the tenderloin in bacon. (See pics if you wish to do a bacon weave, which we like as it helps maintain the shape of the bacon and keep it on the tenderloin).

Sprinkle with additional rub.

Heat your smoker to 300 degrees, and cook the tenderloin until the internal temp of the pork is about 145 degrees. This typically takes 1-2 hours, but always go by the temp of the meat, not time.

Remove the pork to a cutting board and let rest for about 5 minutes before slicing and serving.
Nutrition
Calories:
470
kcal
Carbohydrates:
1
g
Protein:
66
g
Fat:
21
g
Saturated Fat:
7
g
Polyunsaturated Fat:
3
g
Monounsaturated Fat:
9
g
Trans Fat:
1
g
Cholesterol:
213
mg
Sodium:
327
mg
Potassium:
1239
mg
Vitamin A:
16
IU
Calcium:
19
mg
Iron:
3
mg