Protein:
Method: Flat top or Griddle
Jump to Recipe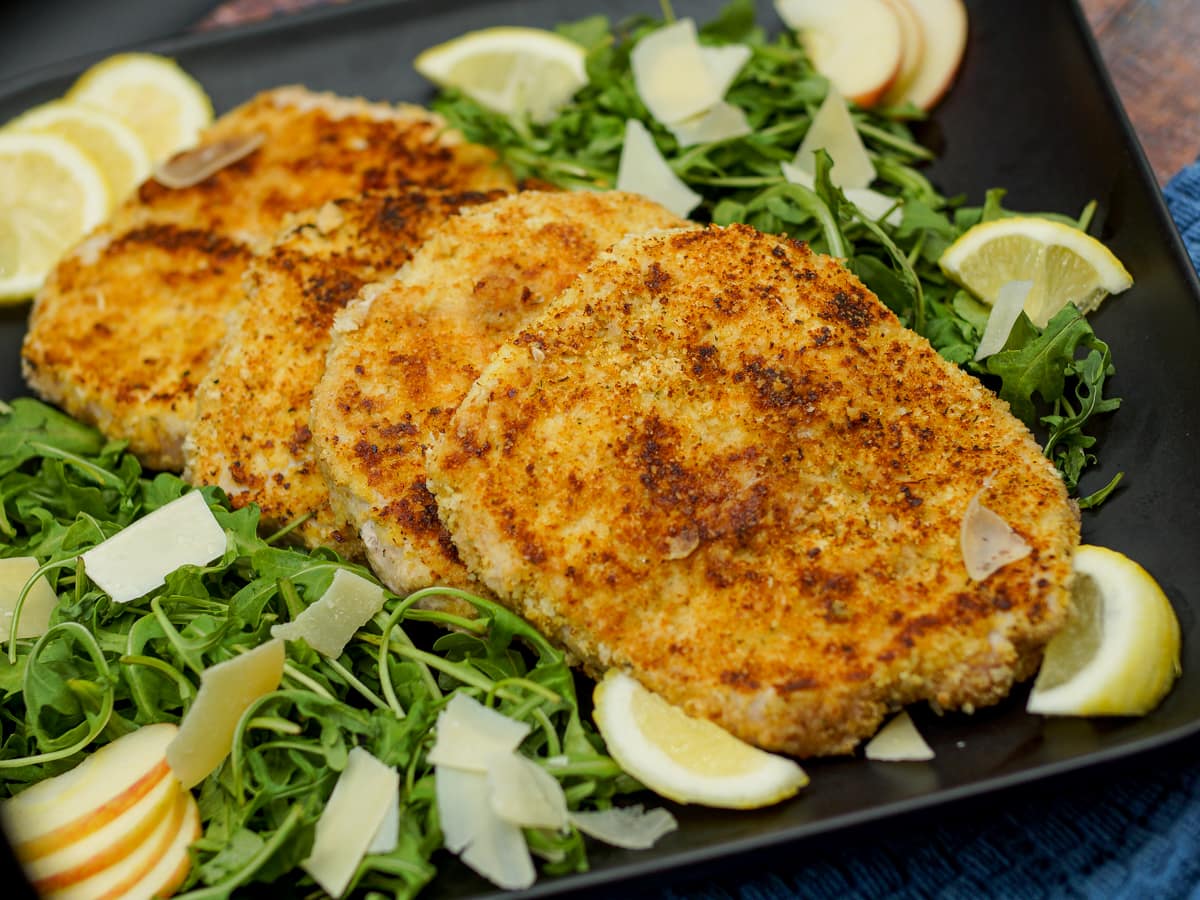 Pork Milanese is a great pork chop recipe to make on your Blackstone or flat top griddle. These breaded Italian pork chops are simply seasoned with lemon, parmesan cheese, Dijon mustard, and seasoned breadcrumbs and then cooked up on a Blackstone for a quick and easy meal. What is not to love about pork chops on a flat top griddle!
What is Pork Milanese?
Originating in Milan, Italy, Pork Milanese is a thinly cut pork cutlet that is seasoned, breaded and fried. It is similar to Schnitzel from Austria or Germany but is more likely to contain parmesan or other seasonings in the breading. The original dish consisted of veal, but today chicken and pork Milanese are also popular.
Making Homemade Pork Milanese
This Pork Milanese recipe makes enough breaded pork chops for 4 people, but the recipe is easily increased of halved. It makes for a great weekday meal because you can have the entire meal ready in about 30 minutes.
Prepare the pork chops
To prepare the pork chops for Italian Pork Milanese pound the pork chops thin with a meat mallet. You want the chops about ¼ of an inch thick.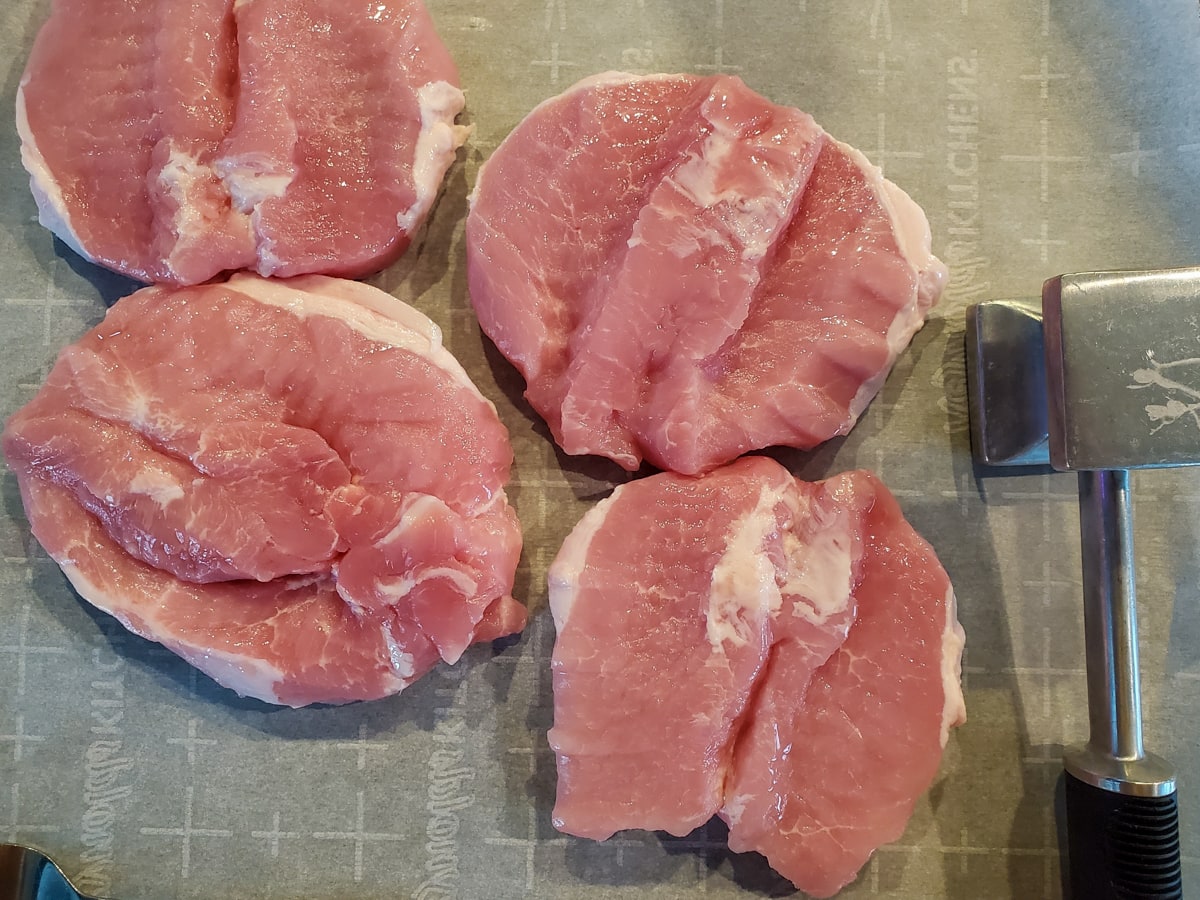 What is the best cut of pork for Pork Milanese?
Most boneless pork chops work well for Milanese style pork. We typically use butterfly pork chops. Regular pork loin chops or pork cutlets work well too.
Seasoning the Italian Breaded Pork Chops
To make the seasoned breading for the Pork Milanese your will need Italian style breadcrumbs, parmesan cheese, a lemon, salt and pepper. You will also need some Dijon style mustard and eggs to coat the butterflied pork chops with prior to breading.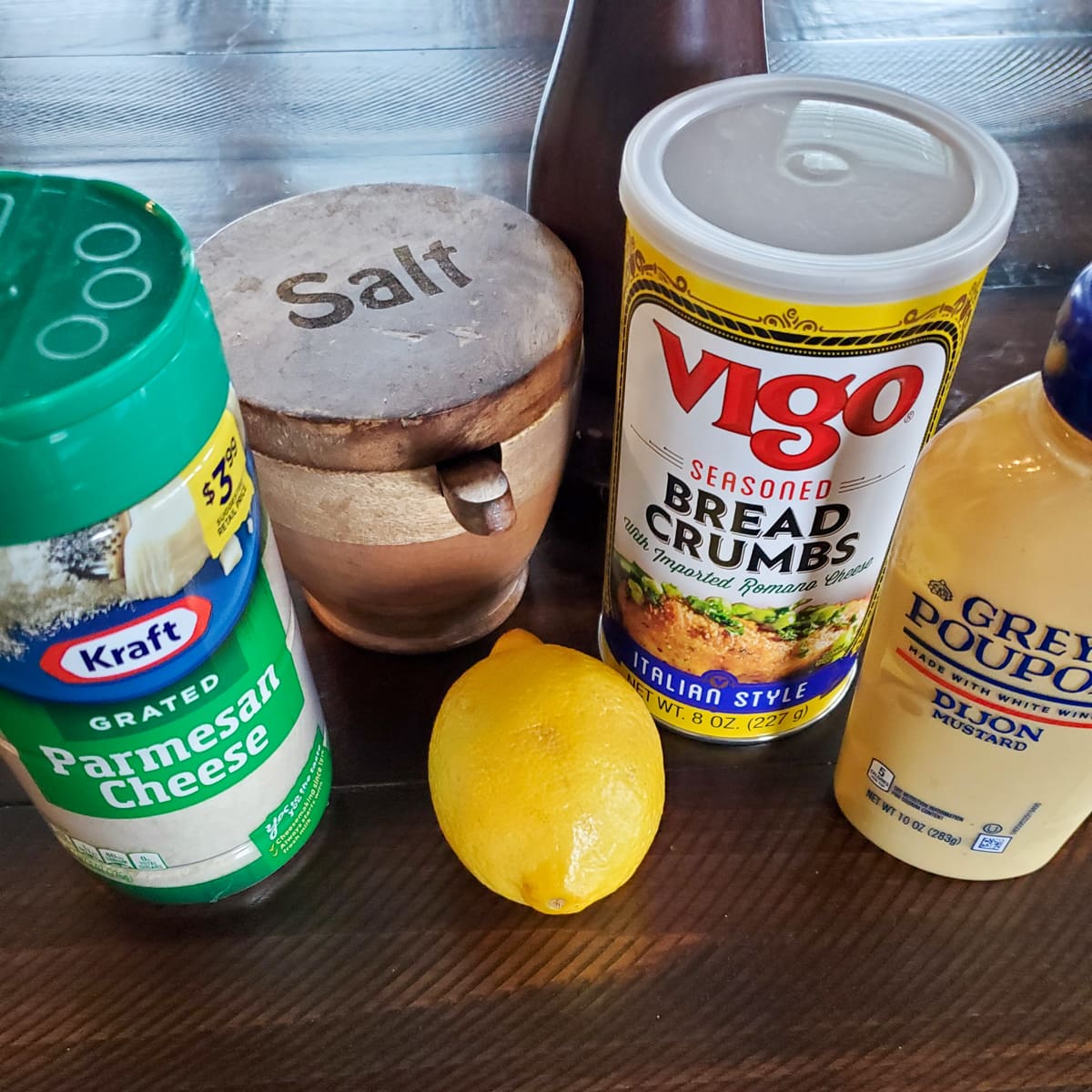 In a medium sized bowl, beat eggs and the Dijon mustard together.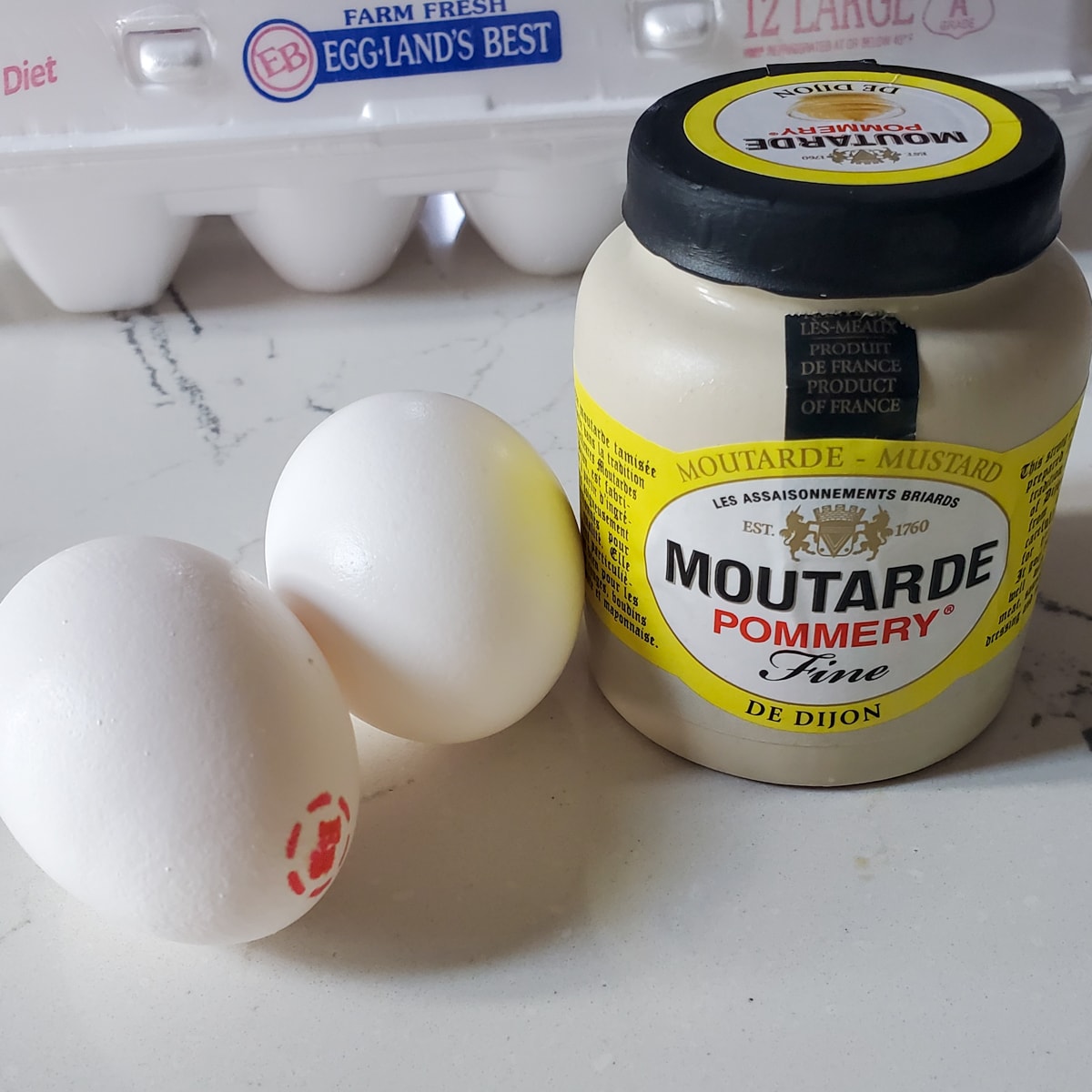 In a second bowl, or on a shallow pan, zest the lemon. You will need about 1 teaspoon of lemon zest for this recipe.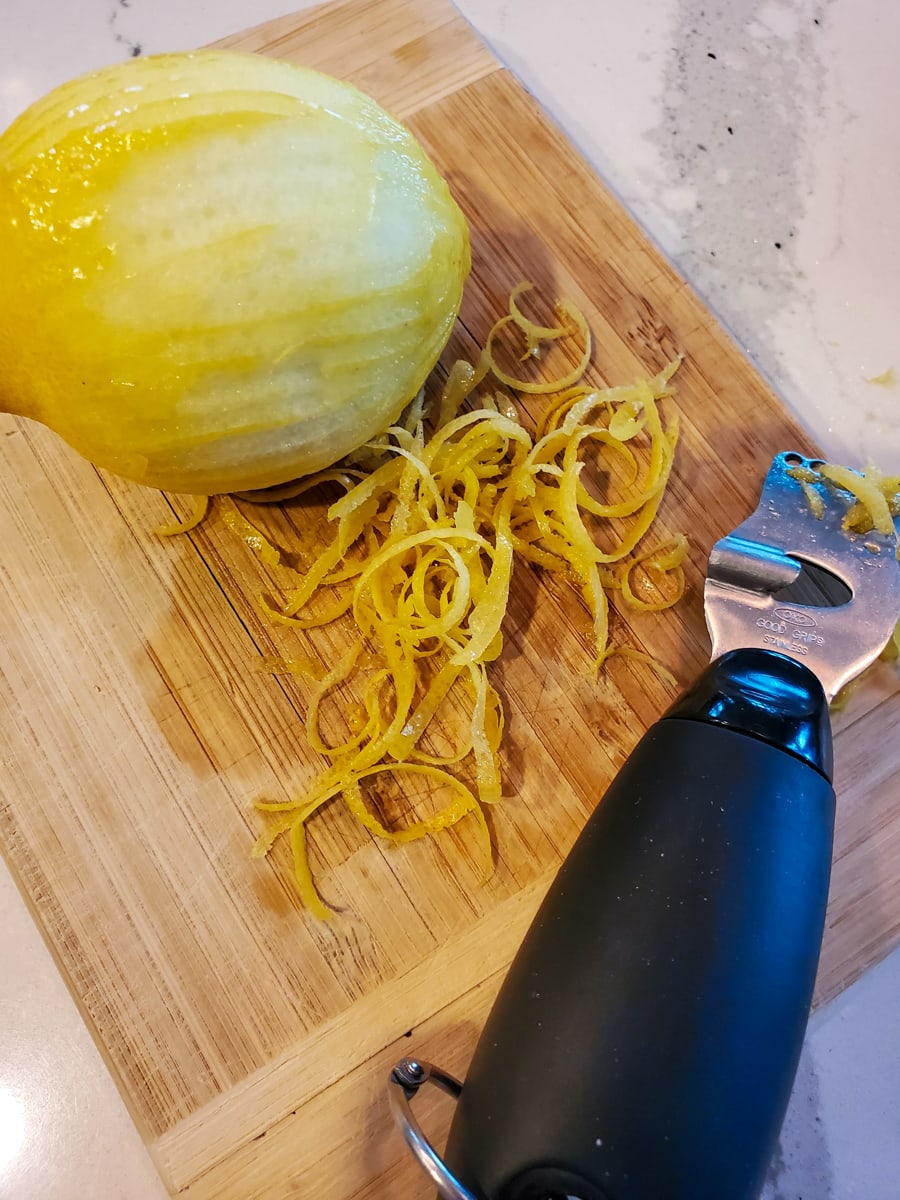 Combine all of the remaining breading ingredients in the bowl or pan with the lemon zest and mix well to combine.
Dip the pork chops in the egg mixture and allow excess egg to drip off. Next, dip the butterflied pork chops in the seasoned breadcrumb mixture.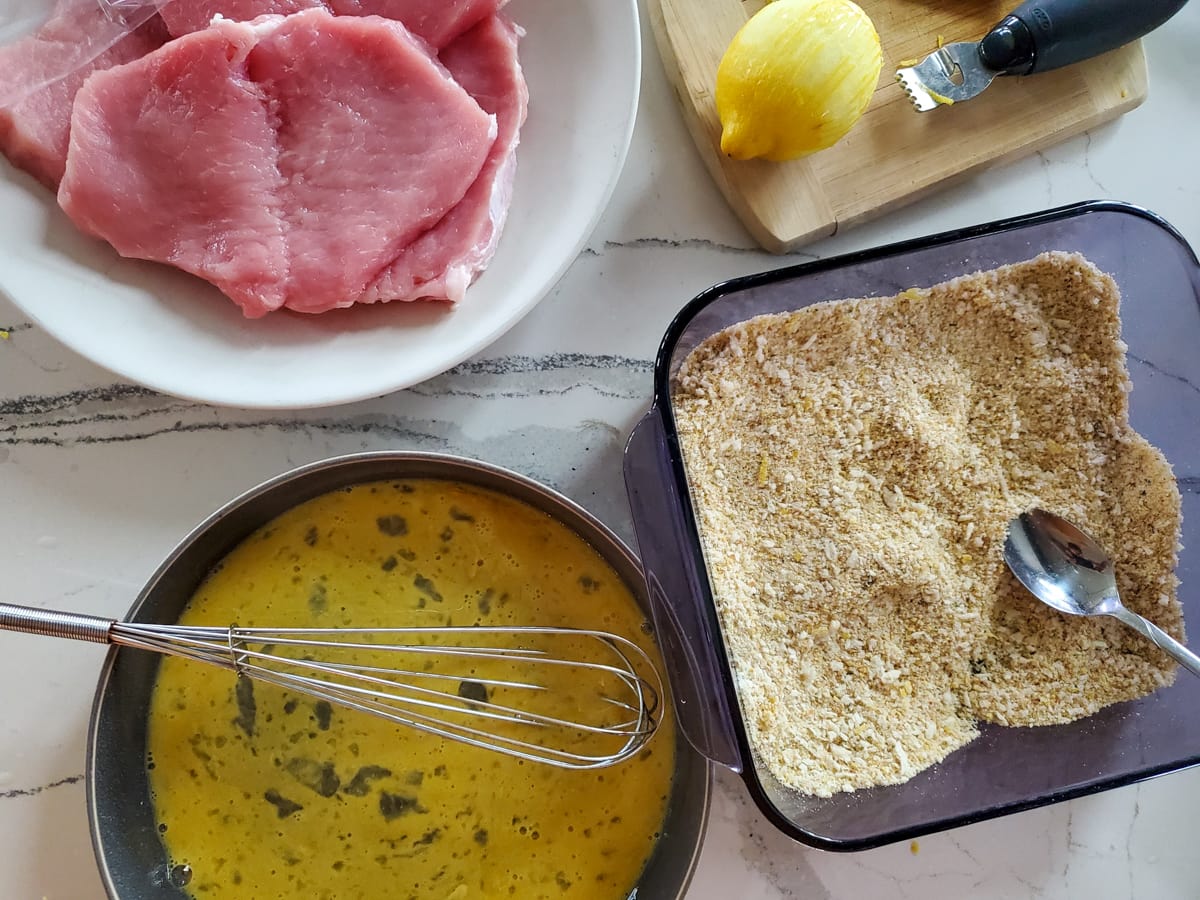 Make sure both sides of the breaded Italian pork chops are covered with the breadcrumbs, then place the pork chops on a wire rack for 5-10 minutes. Repeat with the remaining pork chops.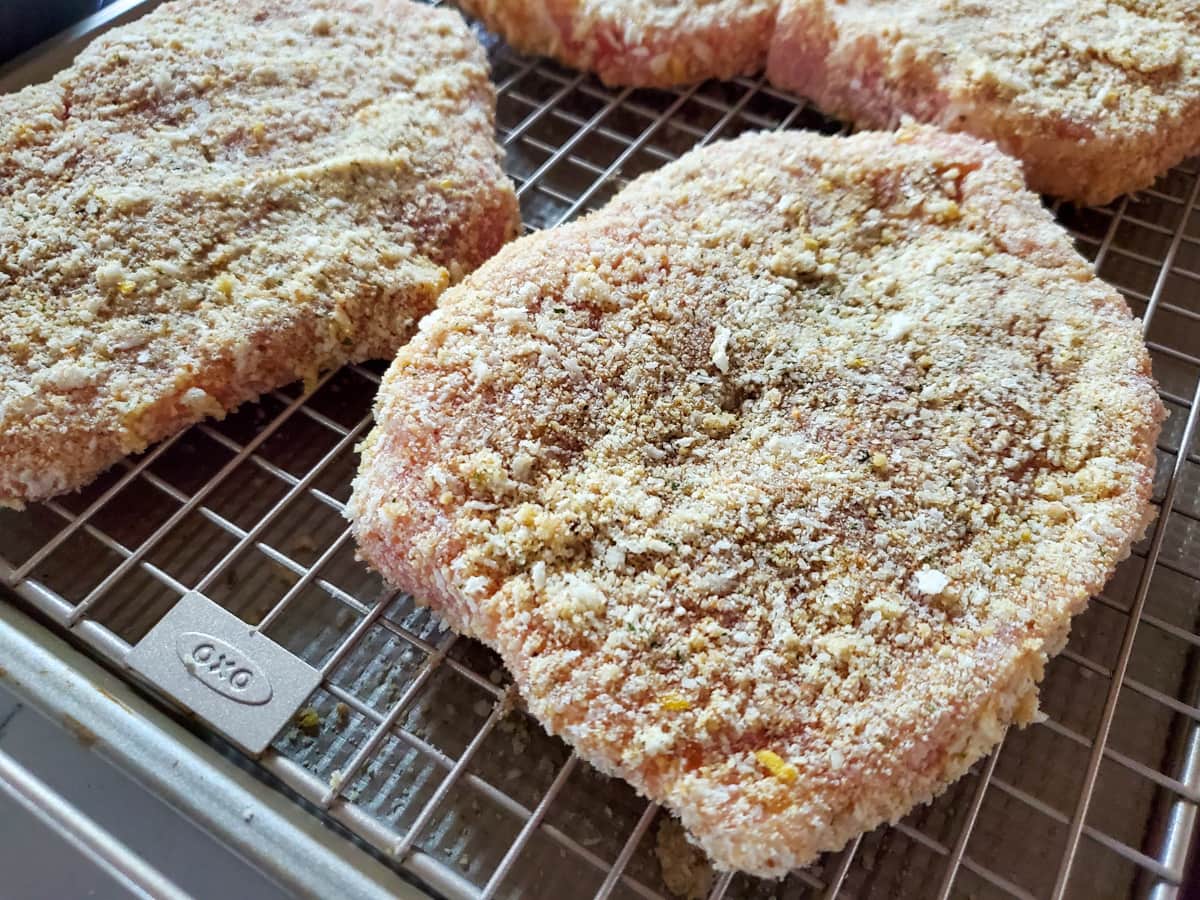 Cooking Pork Milanese or a Blackstone or Flat Top
Heat your Blackstone or griddle, such as a Cooking Steel, to medium heat, or about 350 degrees.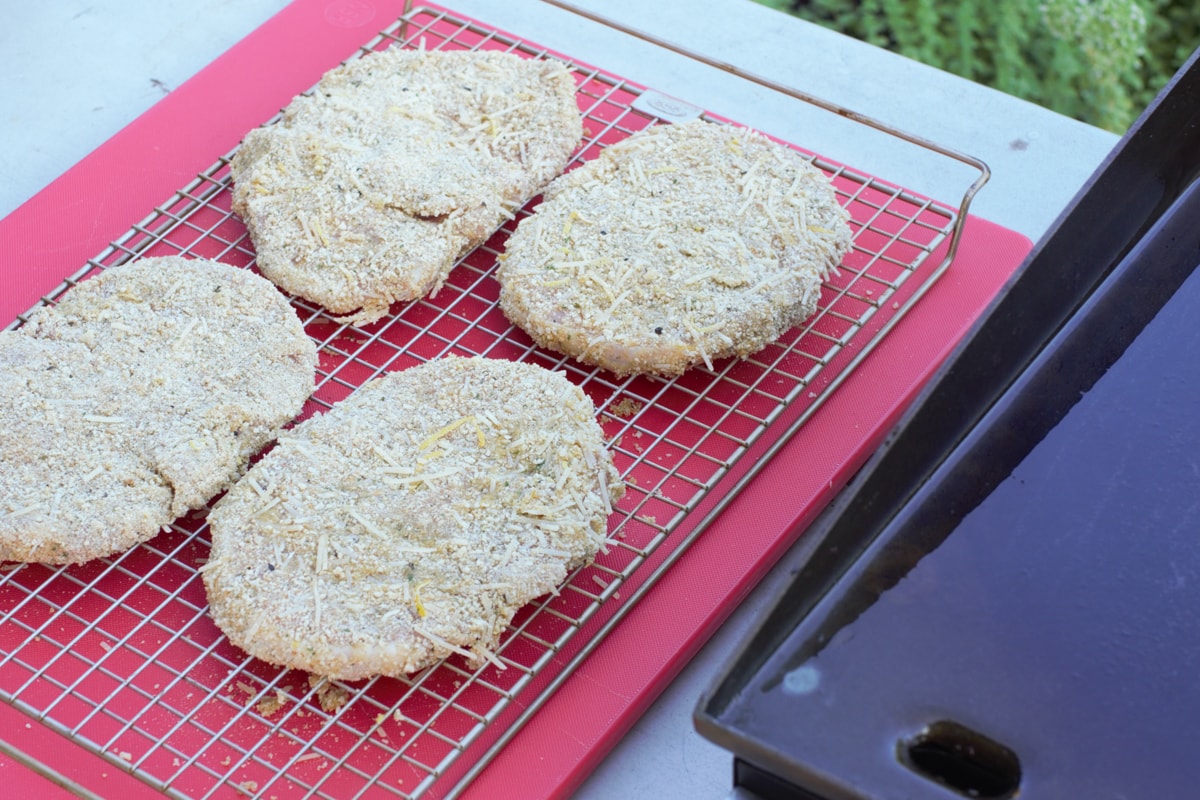 Making these pork chops on a Blackstone or griddle is super easy and takes less than 15 minutes.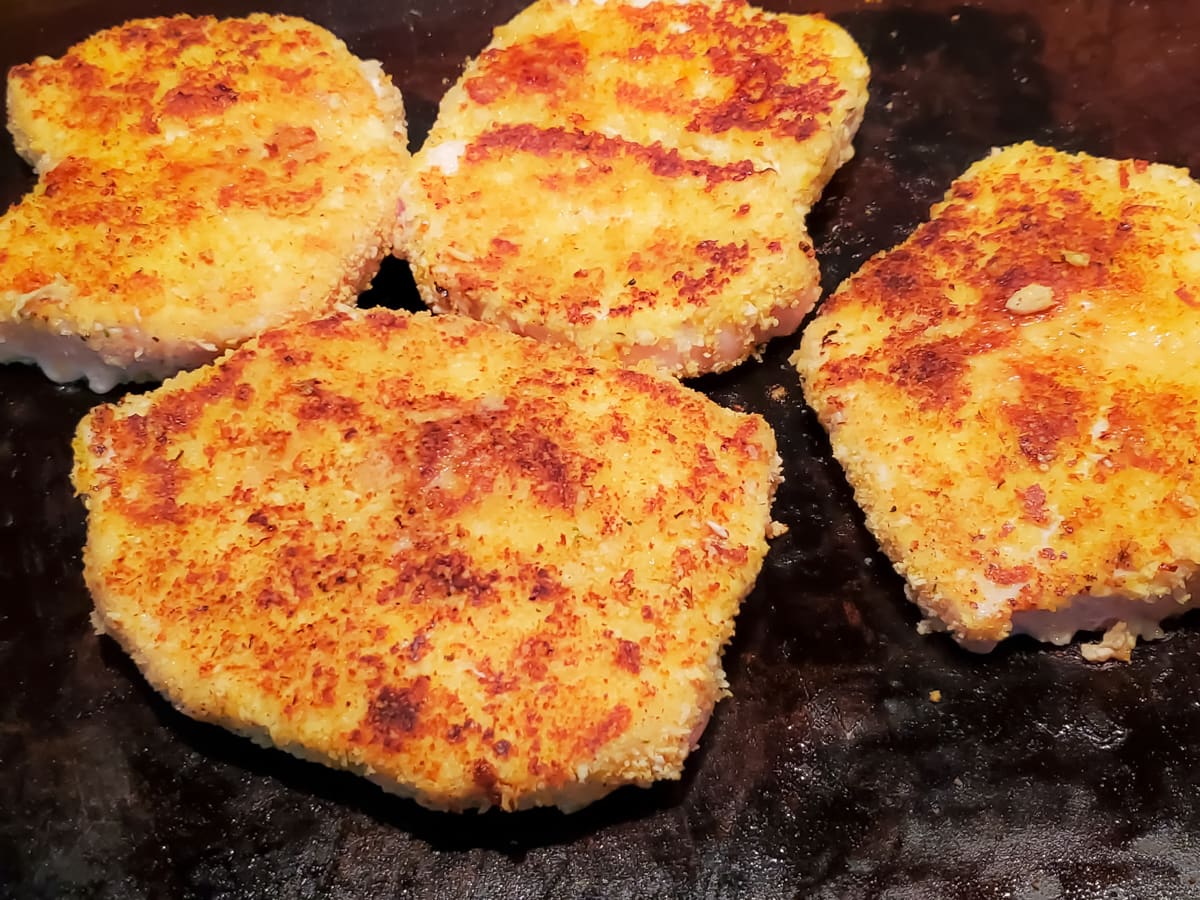 Once the griddle is preheated, oil the griddle well then cook the breaded pork chops for about 5-7 minutes per side.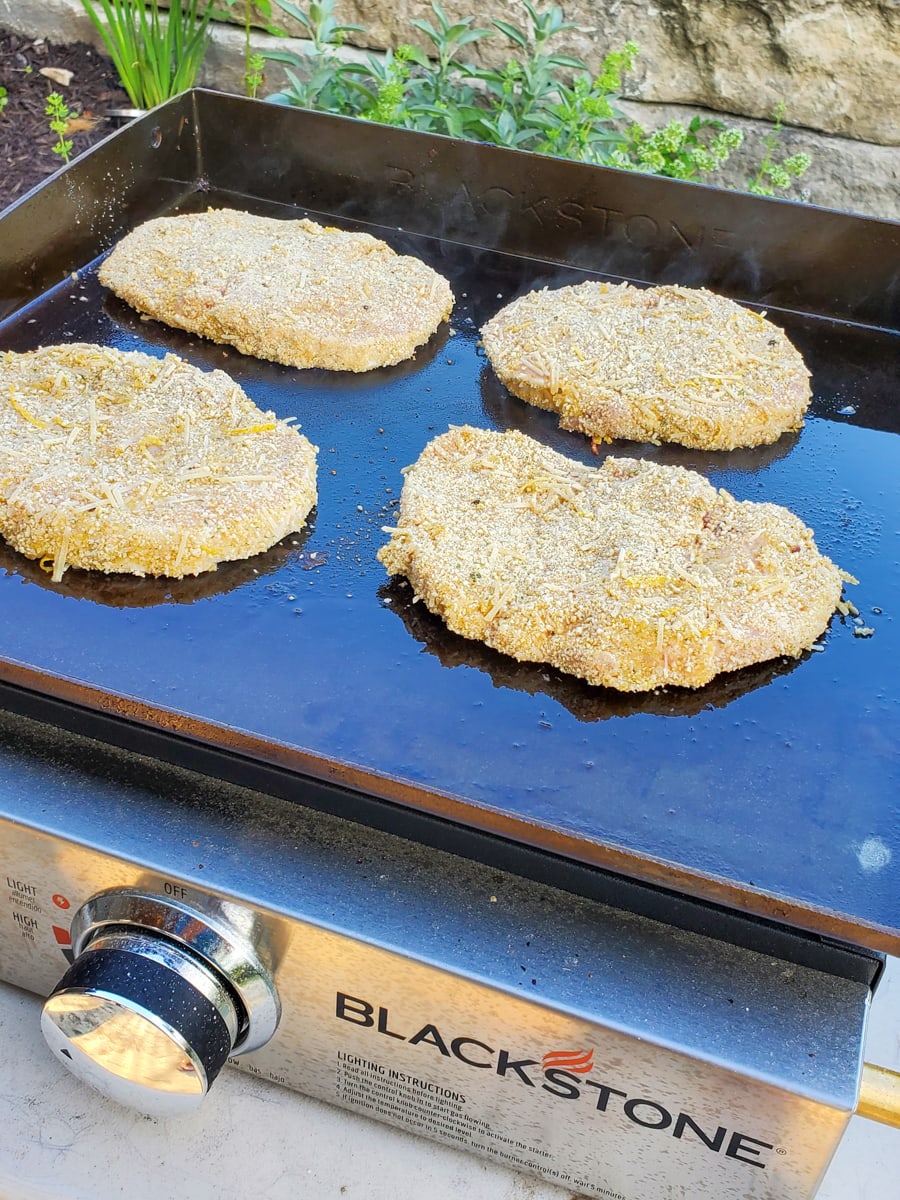 The pork is done when it reaches an internal temp of 145 degrees.  This typically takes 10-15 minutes total cooking time depending on the thickness of the pork chops.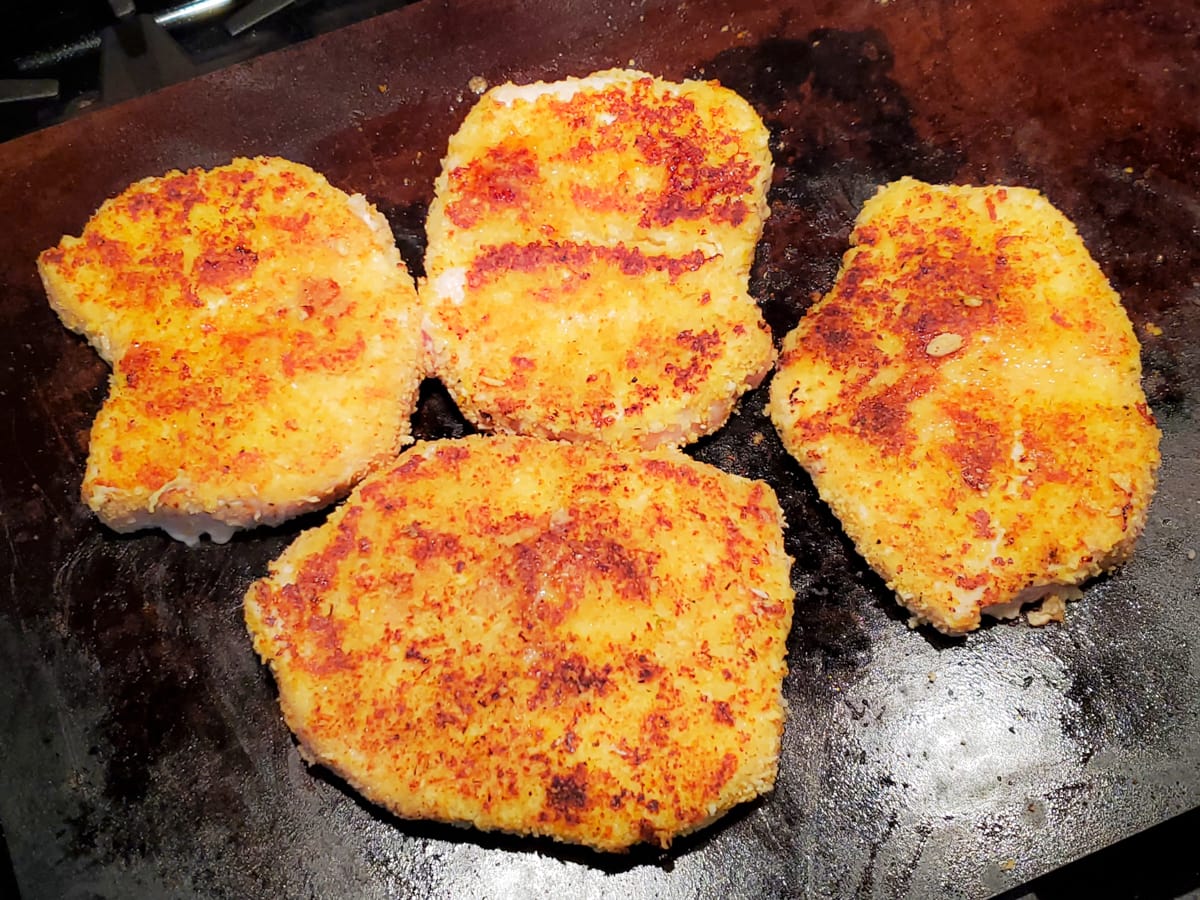 Be sure to check out some of the rest of the best recipes to cook on your Blackstone this summer.
If you don't have a Blackstone or flat top griddle this recipe can be easily made in a cast iron pan or a large skillet.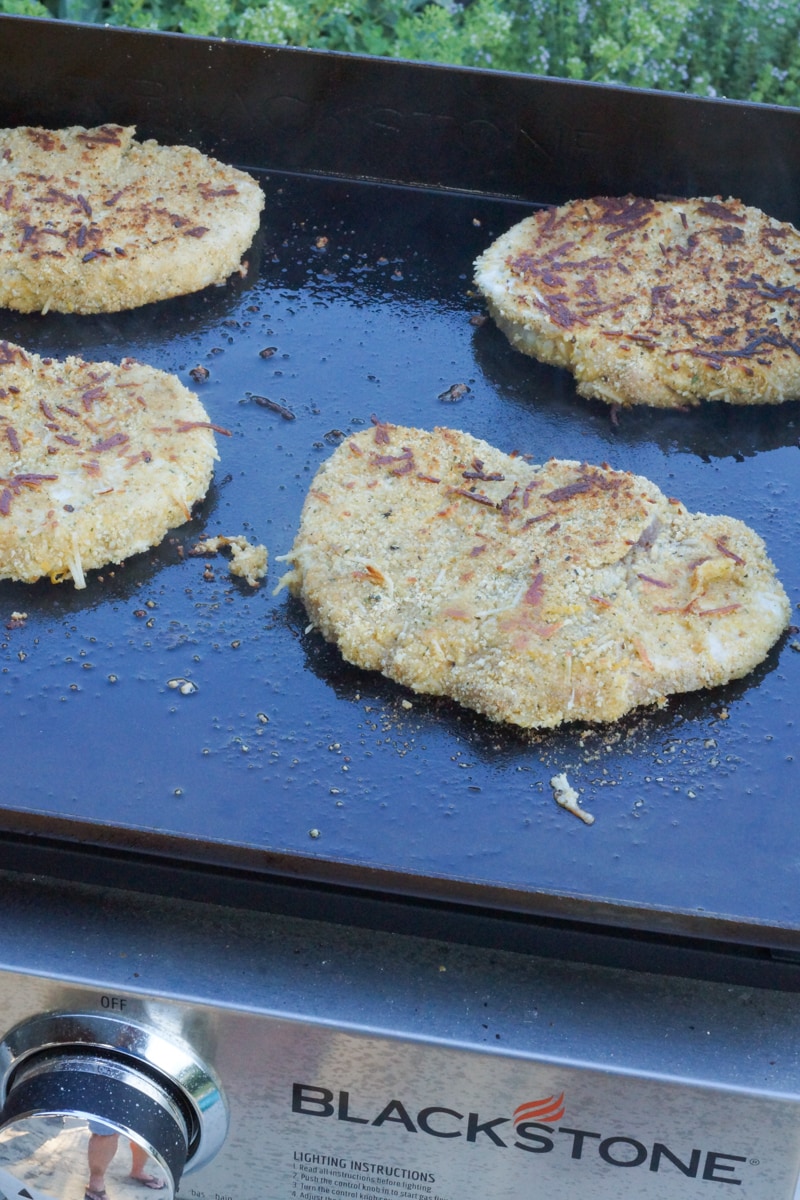 What to serve with Pork Milanese
Italian Pork Milanese goes well served with a light arugula salad with some fresh parmesan. Fresh lemon wedges are also commonly served with the breaded pork cutlets. Other salads like a caprese salad or Italian Panzanella Salad also pair well.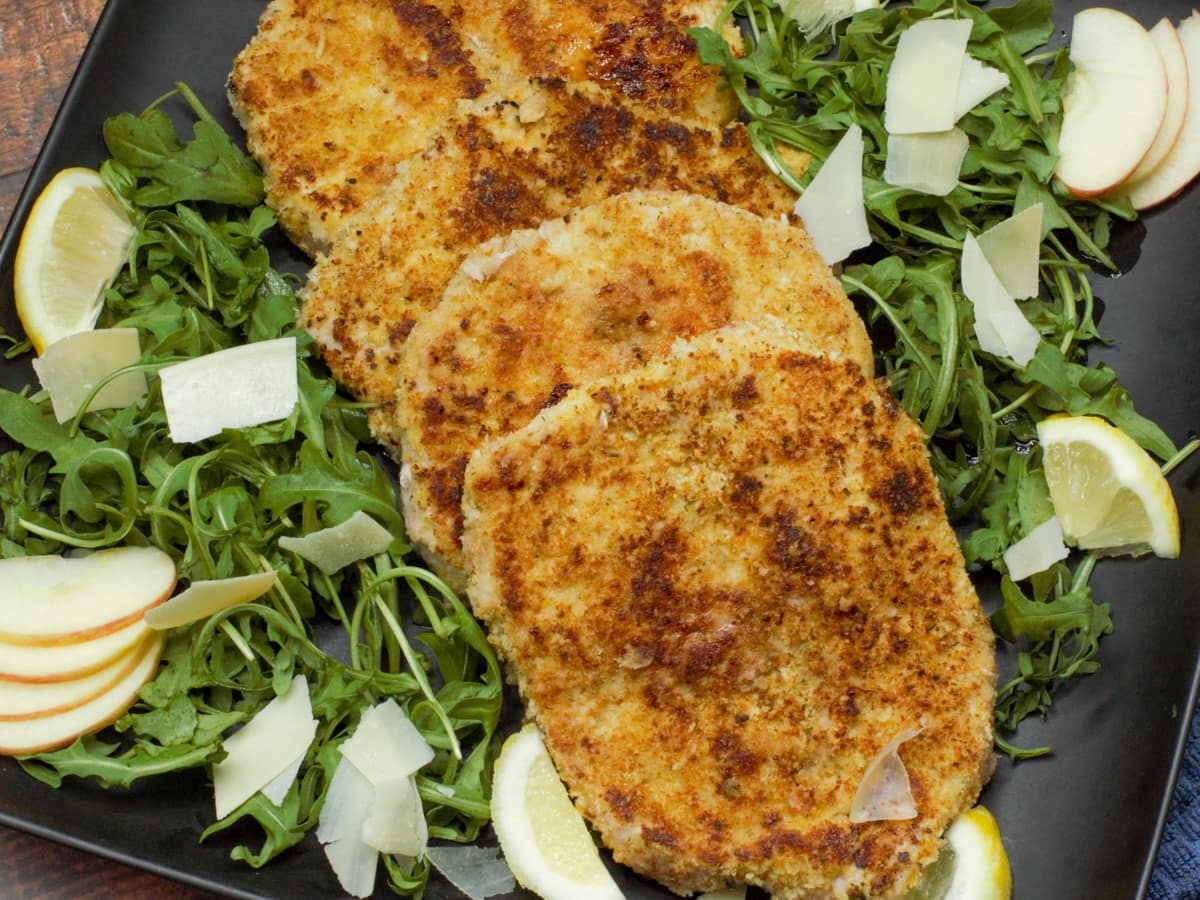 For more great Italian recipes, be sure to try some of our other Italian favorites: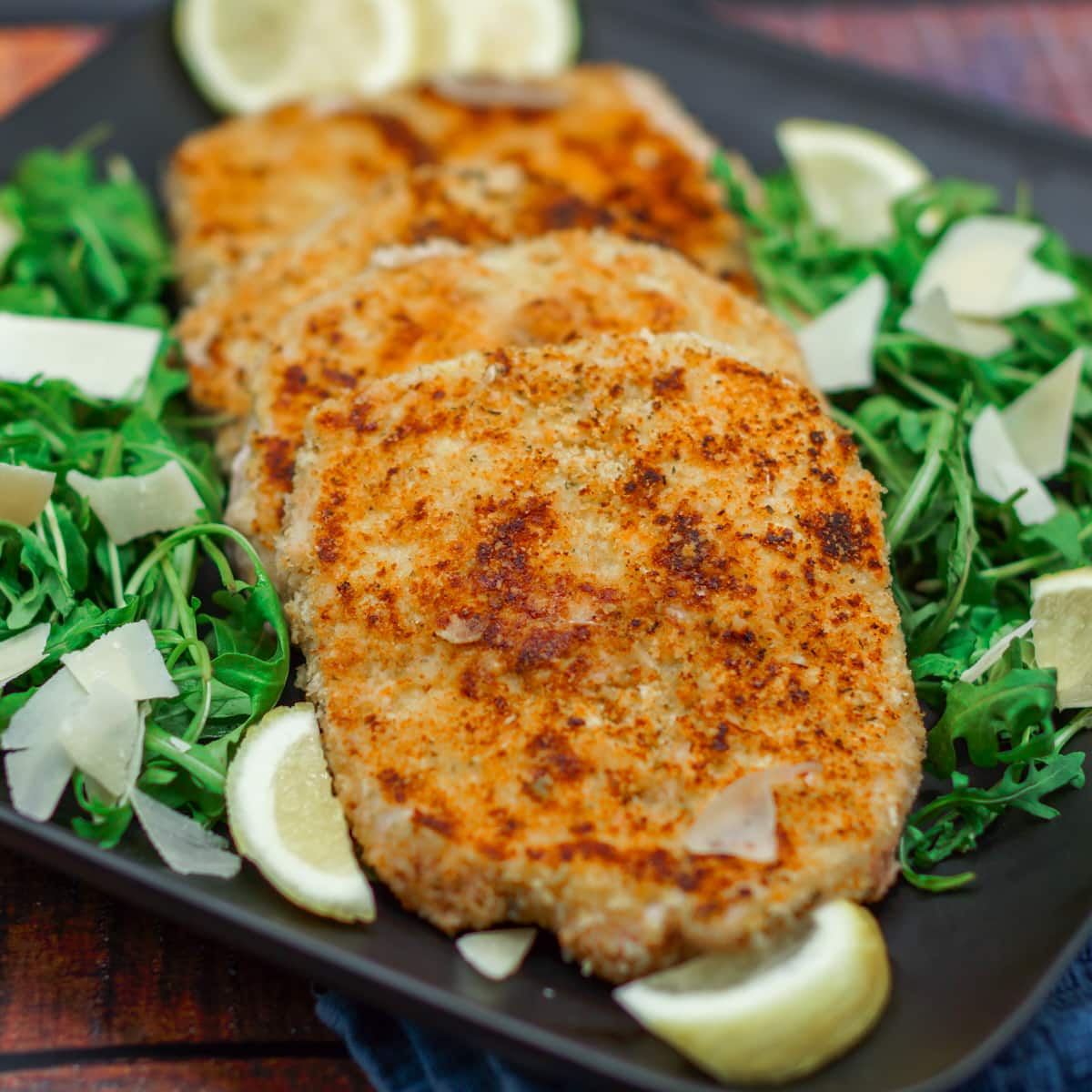 Thank you for taking the time to visit our blog. If you tried and enjoyed our recipe, please share with others and please leave us a comment and review. We also love to see your pics so don't forget to tag us @Carne_Diem_Culinary or #CarneDiemBlog. To be notified of future recipes please follow us on Facebook, Instagram, or Pinterest, or sign up for our e-mail notifications. Until next time, Carne Diem!
📖 Recipe
Blackstone Griddle Pork Milanese
These seasoned and breaded Italian pork cutlets are fried up perfectly on a Blackstone griddle, flat top or frying pan. The pork Milanese is then served atop a fresh arugula salad.
Ingredients  
4

Butterfly Pork Chops

2

Eggs

1

Tablespoon

Dijon Mustard

2

Cups

Arugula salad

for serving
Breading:
1

Cup

Italian Bread Crumbs

½

Cup

Parmesan Cheese

1

teaspoon

Lemon Zest

½

teaspoon

salt

½

teaspoon

Black Pepper
Instructions 
Beat together the eggs and the mustard.

Combine all of the breading ingredients in a medium sized bowl or shallow pan.

Pound the pork chops thin with a meat mallet.

Dip the pork chops in the egg mixture then the breading. Place on a wire rack for 5-10 minutes.

Heat the griddle, Blackstone, or flat top over medium heat, about 350 degrees.

Oil the griddle well then cook the breaded pork chops for about 5-7 minutes per side. The pork is done when it reaches an internal temp of 145 degrees. This typically takes 10-15 minutes total cooking time depending on the thickness of the pork chops.

Serve warm with arugula salad
Nutrition
Calories:
1625
kcal
Carbohydrates:
86
g
Protein:
162
g
Fat:
66
g
Saturated Fat:
26
g
Polyunsaturated Fat:
10
g
Monounsaturated Fat:
25
g
Trans Fat:
0.4
g
Cholesterol:
722
mg
Sodium:
4115
mg
Potassium:
2483
mg
Fiber:
7
g
Sugar:
8
g
Vitamin A:
1136
IU
Vitamin C:
6
mg
Calcium:
914
mg
Iron:
11
mg