Protien:
Method: Stovetop, Smoker or Oven
Jump to Recipe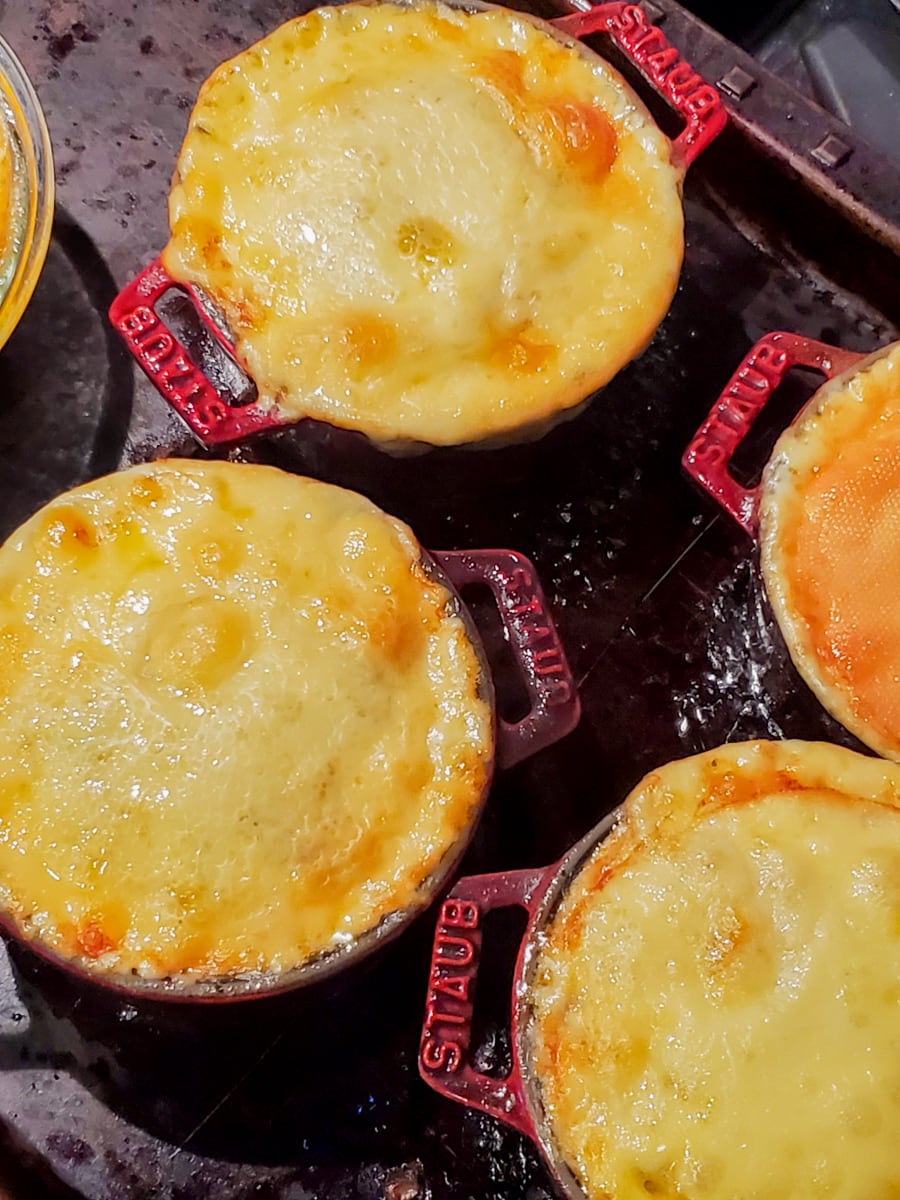 Those that know me well, know that the one food that I love almost as much as meat, is cheese. We fell in love with Keshi Yena during a recent visit to Aruba and Curacao. Seasoned meat is stuffed into cheese crust of Edam or gouda cheese and baked until bubbly and perfect.
History of Keshi Yena
Keshi Yena is a famous meat and cheese dish originating in the ABC Islands (Aruba, Bonaire, and Curaçao). The dish was born in these islands during the time of slave trading and Dutch rule of the islands. It is said that as the slave masters ate their rounds of gouda and edam, they did so from the inside out. When only the rind remained, the hollowed out cheese was given given to the slaves, along with any meat scraps from the day. The slaves would then fill the cheese shells with the meat scraps and some seasoning and bake or steam the dish until the cheese was melted and the meat was cooked through.
Todays versions of Keshi Yena can vary greatly. Chicken and ground beef are the most common fillings though almost any protein can be used. The meat mixture is then seasoned and often mixed with raisins, olives, and peppers to add even more flavor to this fantastic dish. Today, the dish can be found cooked in individual dishes or ramekins or as a larger shared casserole. We have done both and like it equally both ways.
Making the Keshi Yena Recipe
Prepare your ingredients
Our Keshi Yena uses common ingredients and is super easy to make. You will need an onion, garlic, a green bell pepper, a scotch bonnet or habanero pepper and flat leaf parsley. We chose ground beef for our Keshi Yena but ground or diced chicken would work just as well. You will need about ¾ of a pound of protein for this dish.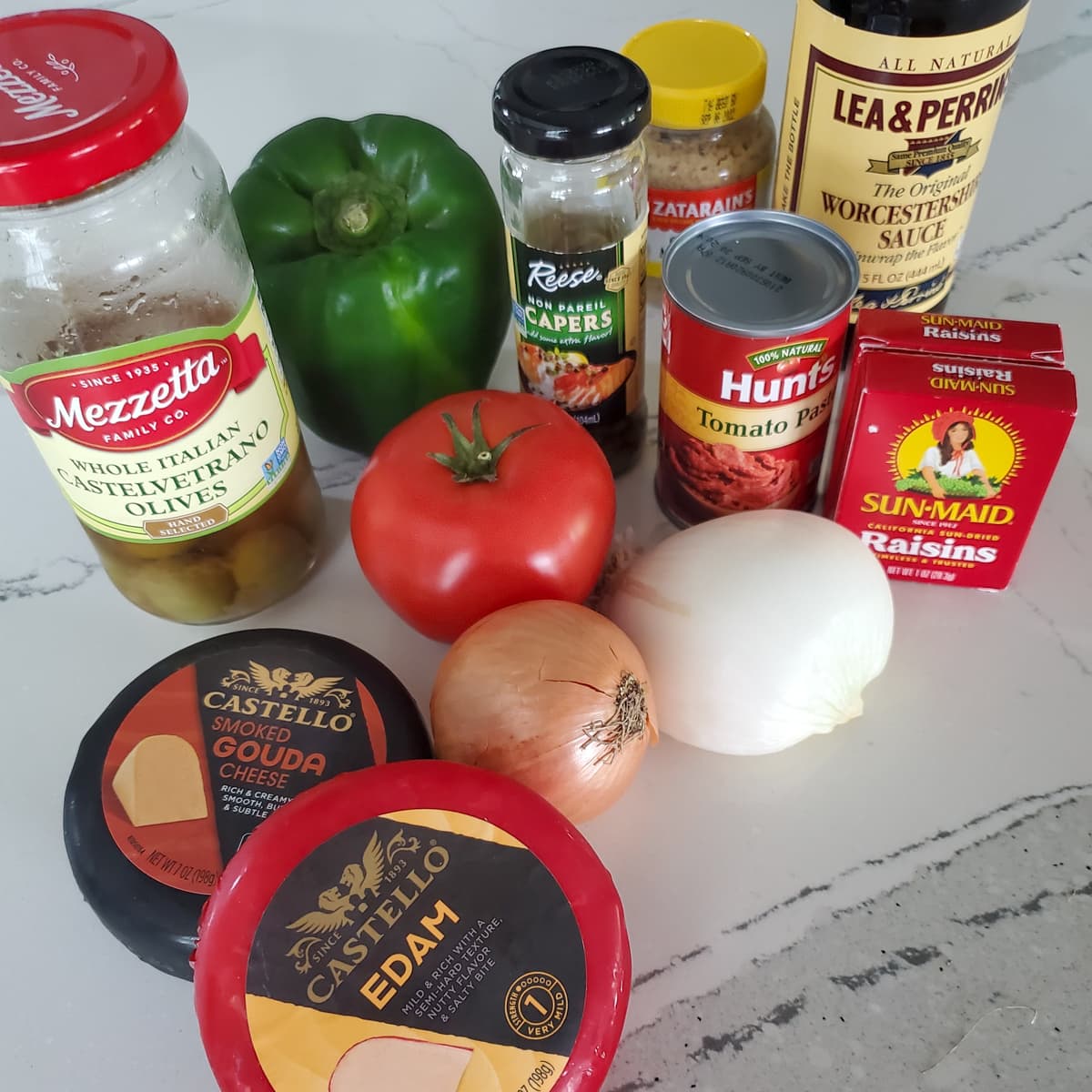 Start the Keshi Yena recipe by dicing the veggies and set them to the side. Finely chop the parsley. Take care handling the Scoth Bonnet pepper. IF you can't find Scotch Bonnet peppers, you can substitute habanero in the recipe.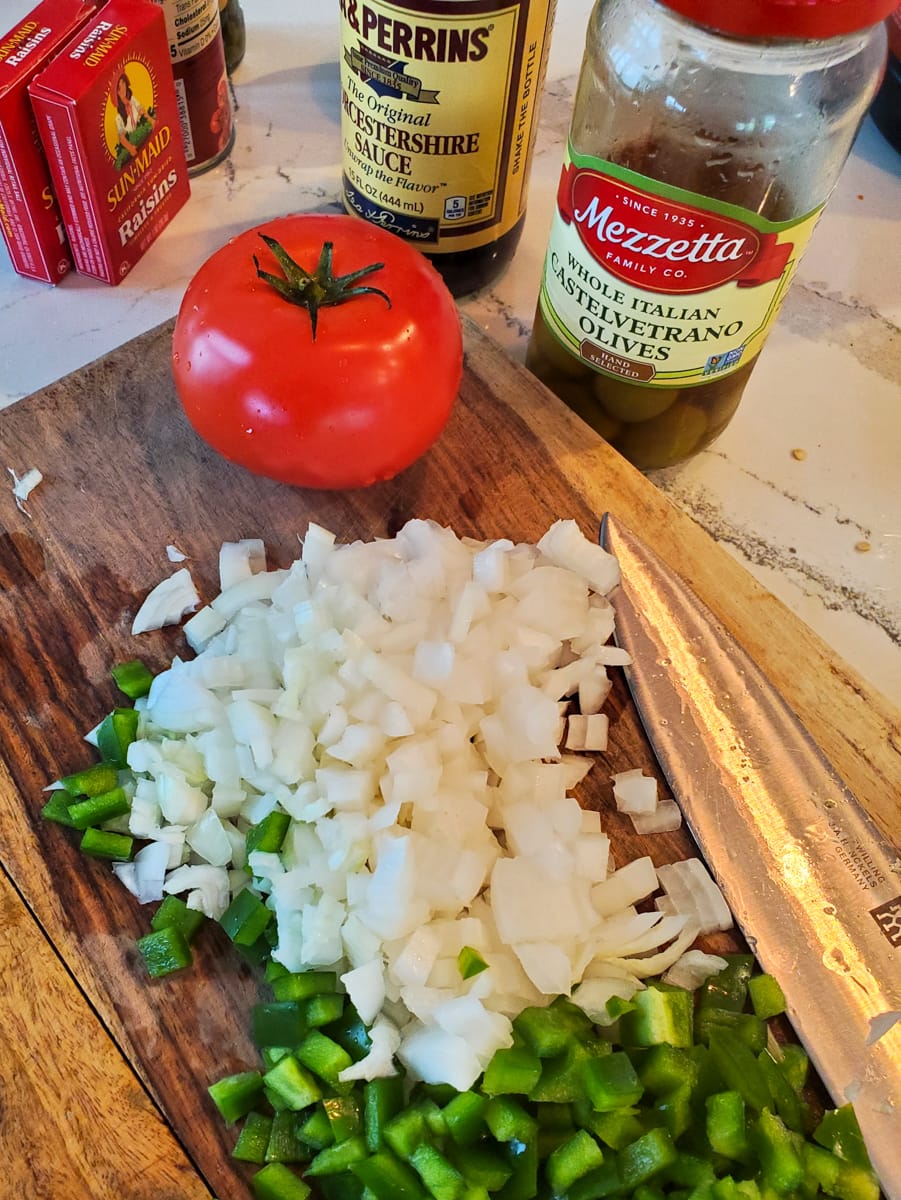 The meat mixture will also be seasoned with capers, green olives (diced), raisins and tomato (diced) along with mustard, ketchup, tomato paste and Worcestershire sauce. Castelvetrano olives are our favorite olives due to their mild flavor, but feel free to use your favorite or what you have on hand.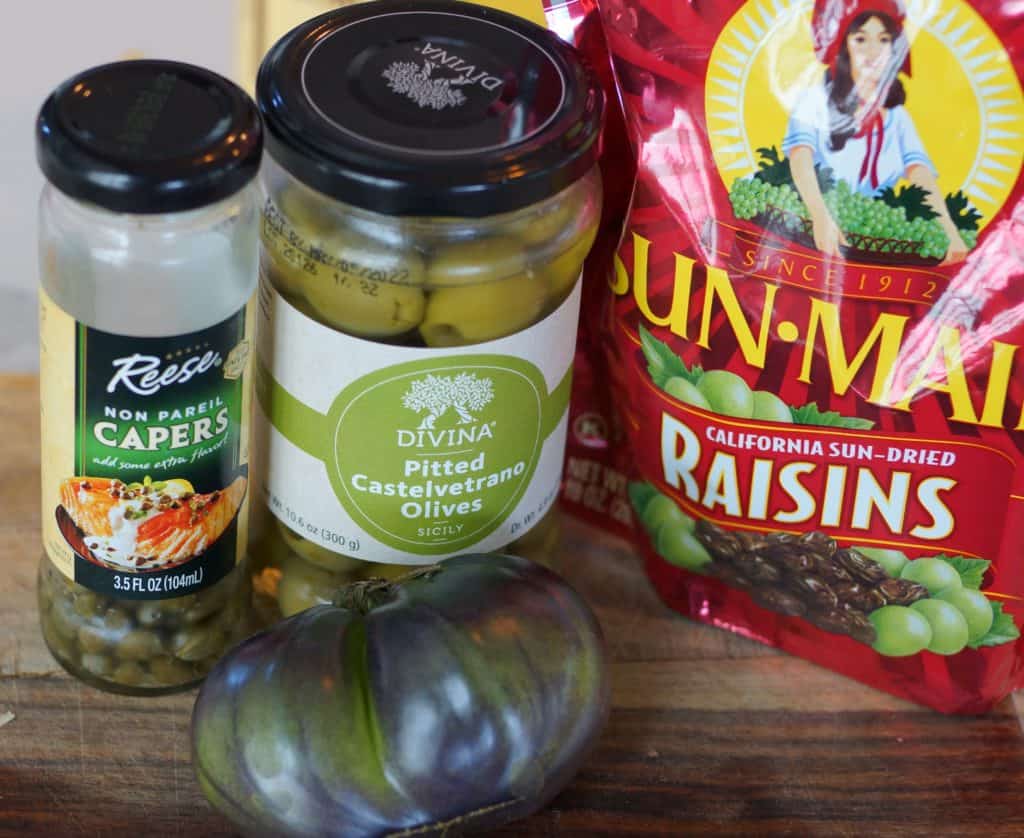 Prepare the filling for the Keshi Yena
Heat a couple tablespoons of oil in a large skillet over medium heat. Sauté the onions and peppers until they are soft. Add in the garlic and cook for about 1 minute.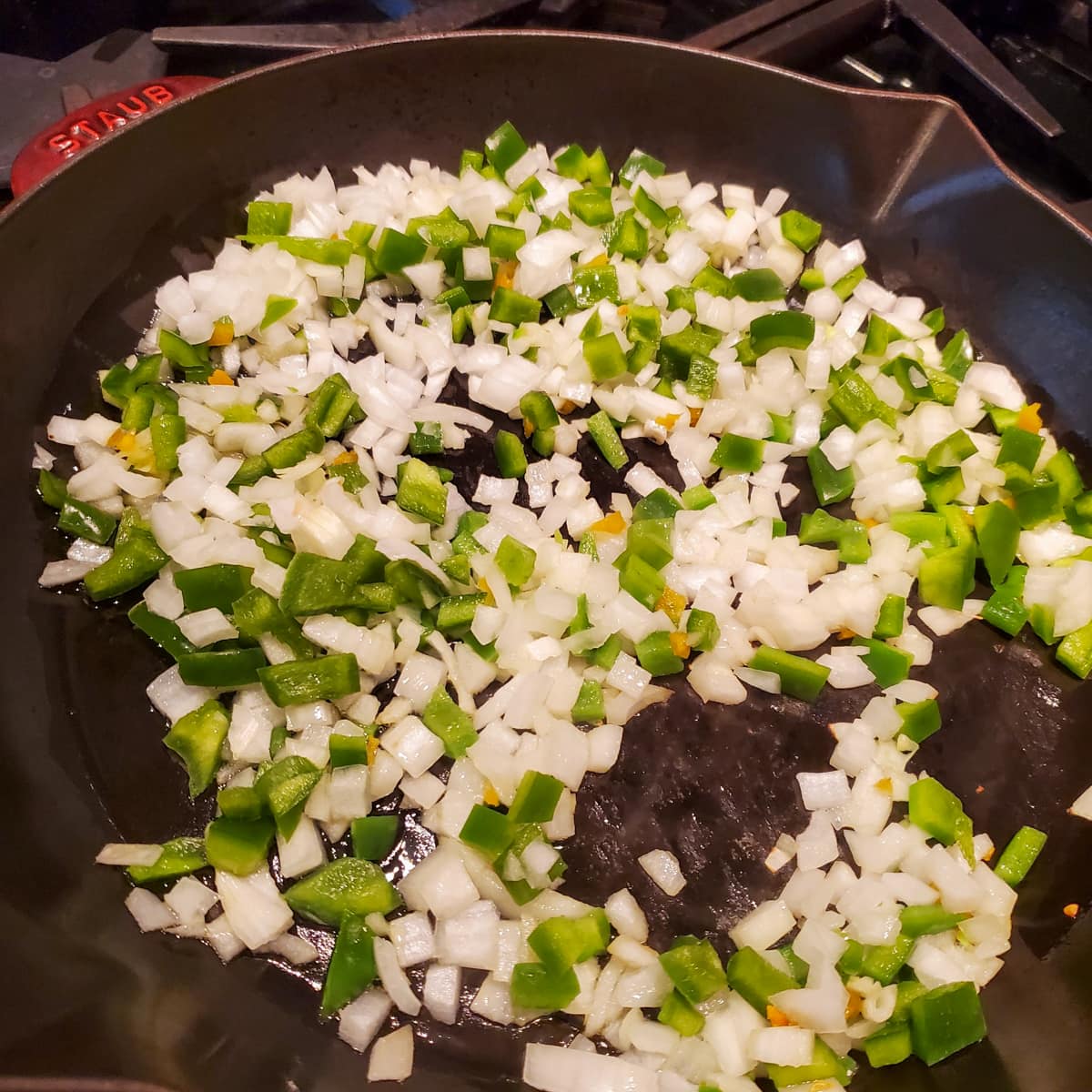 Add in the ground beef and parsley and cook until the meat is just about cooked through. Drain the grease and return the pan with the beef Keshi Yena filling to the stove.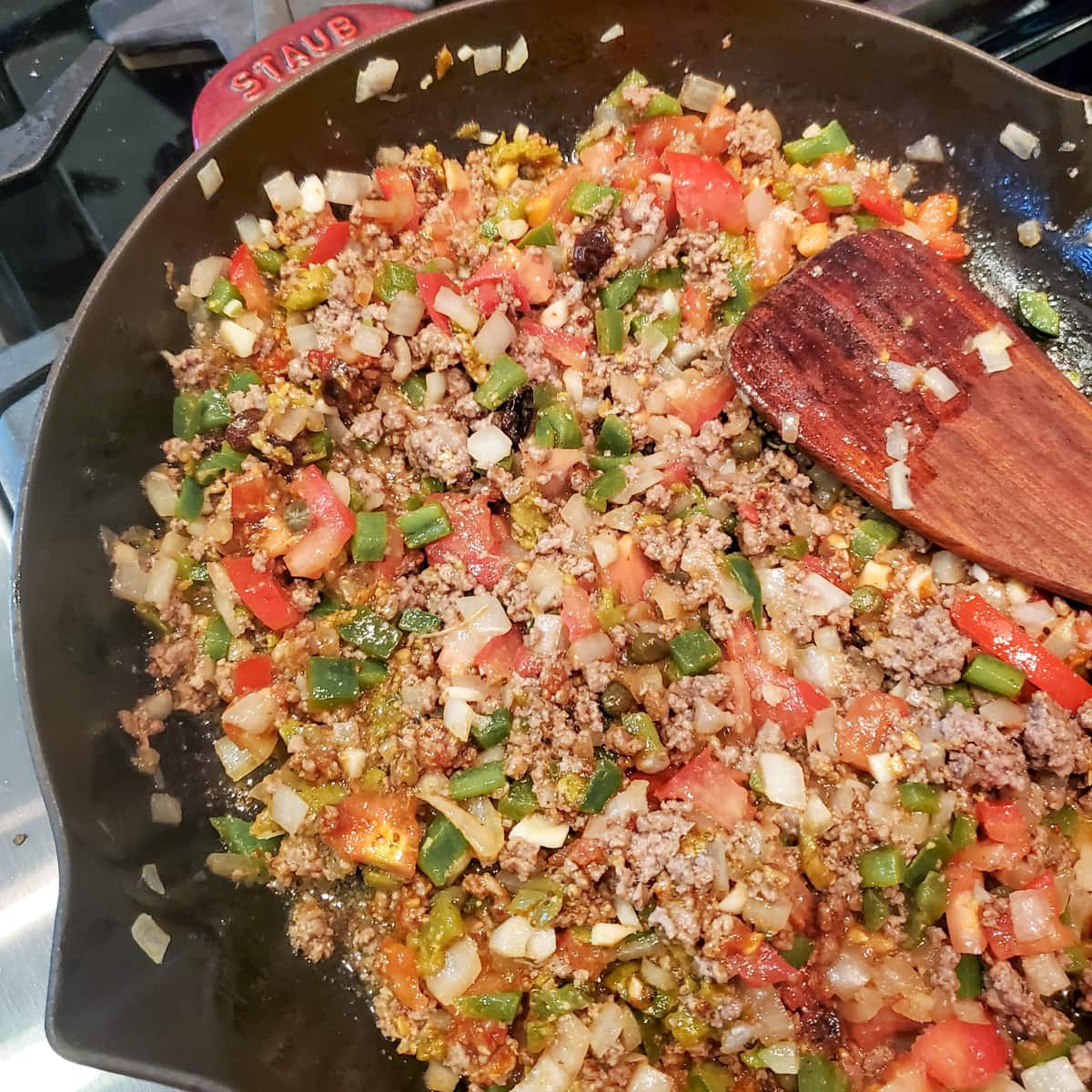 Stir in the capers, diced olives, raisins, diced tomato, Worcestershire sauce, ketchup, mustard, and tomato paste. Stir well to combine then season with salt and pepper. Cook the mixture for 5 minutes then remove from the heat.
Let the pan cool for a couple minutes then stir in the beaten eggs.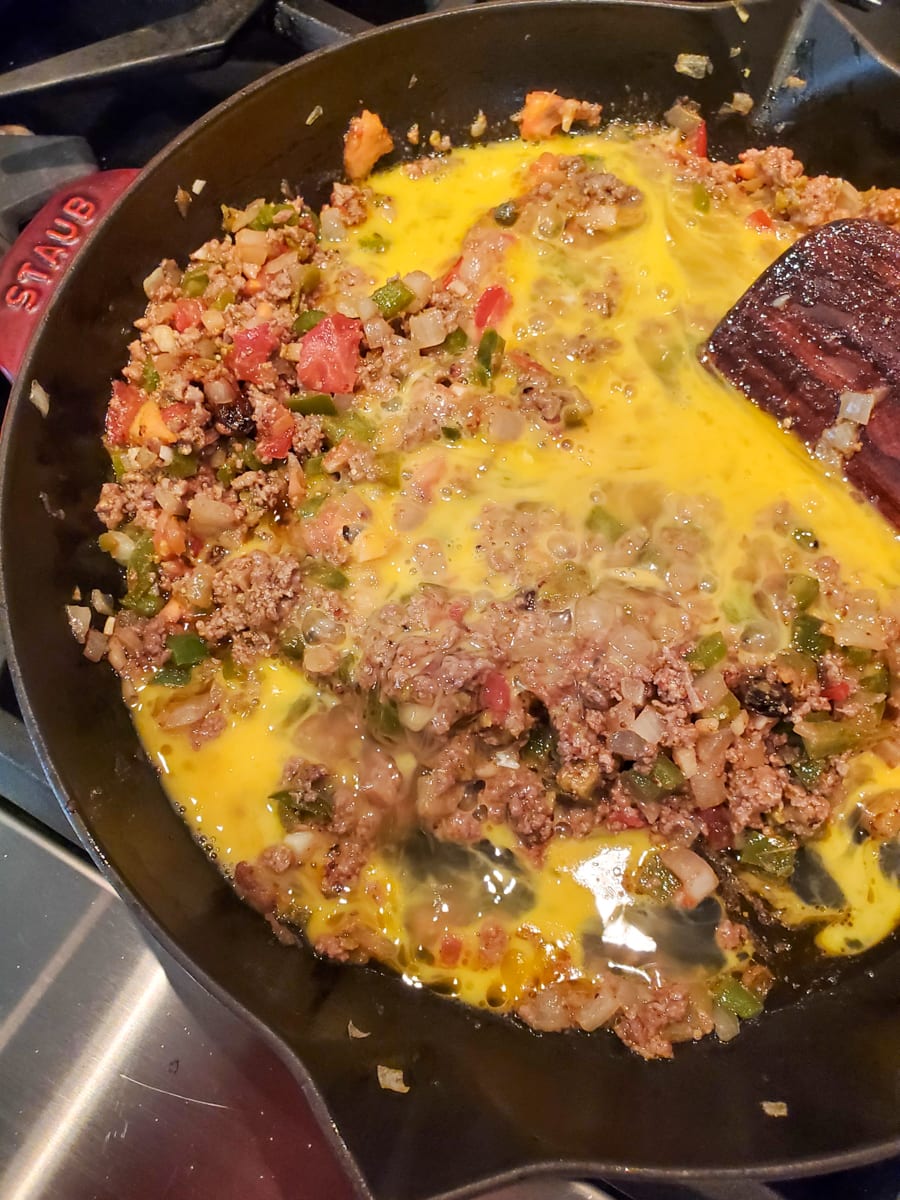 Preparing the Keshi Yena
Preheat your oven or smoker to 350 degrees. While the oven is heating up, prepare your cheese.
What is the best cheese for making keshi yena?
This dish is traditionally made with Edam or Gouda cheese and both are fantastic. We have also grown to love using a smoked Gouda as well.
Line the casserole dish or ramekins with the cheese
Line the bottom of an 8x10 casserole dish or 6 ramekins with slices of cheese.
We like the appearance of making Keshi Yena in mini ramekins and this was closer to the version we were served in Aruba and Curacao, but the dish turns out just as well in a casserole dish if you prefer to make the Keshi Yena recipe that way.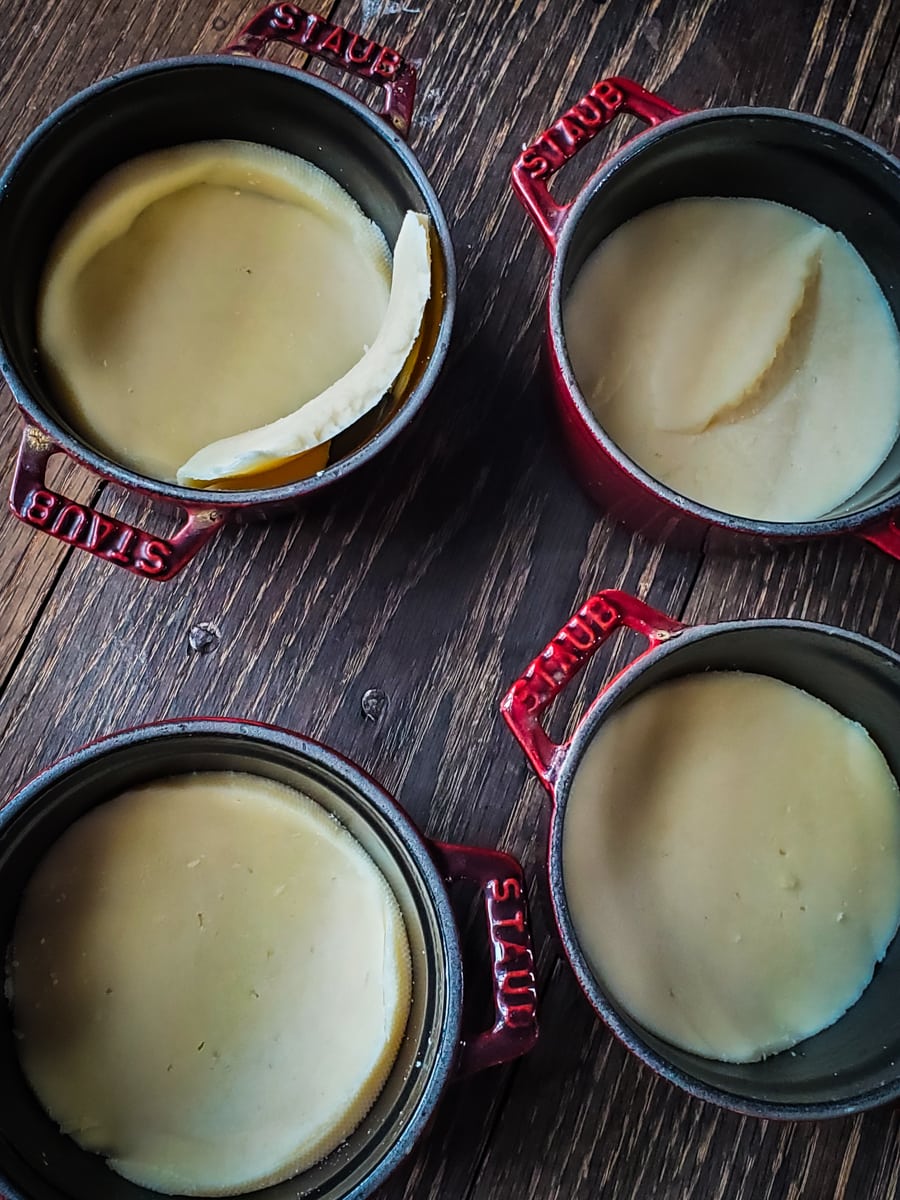 Fill and top the Caribbean stuffed cheese
Next, top the cheese layer with the seasoned meat mixture.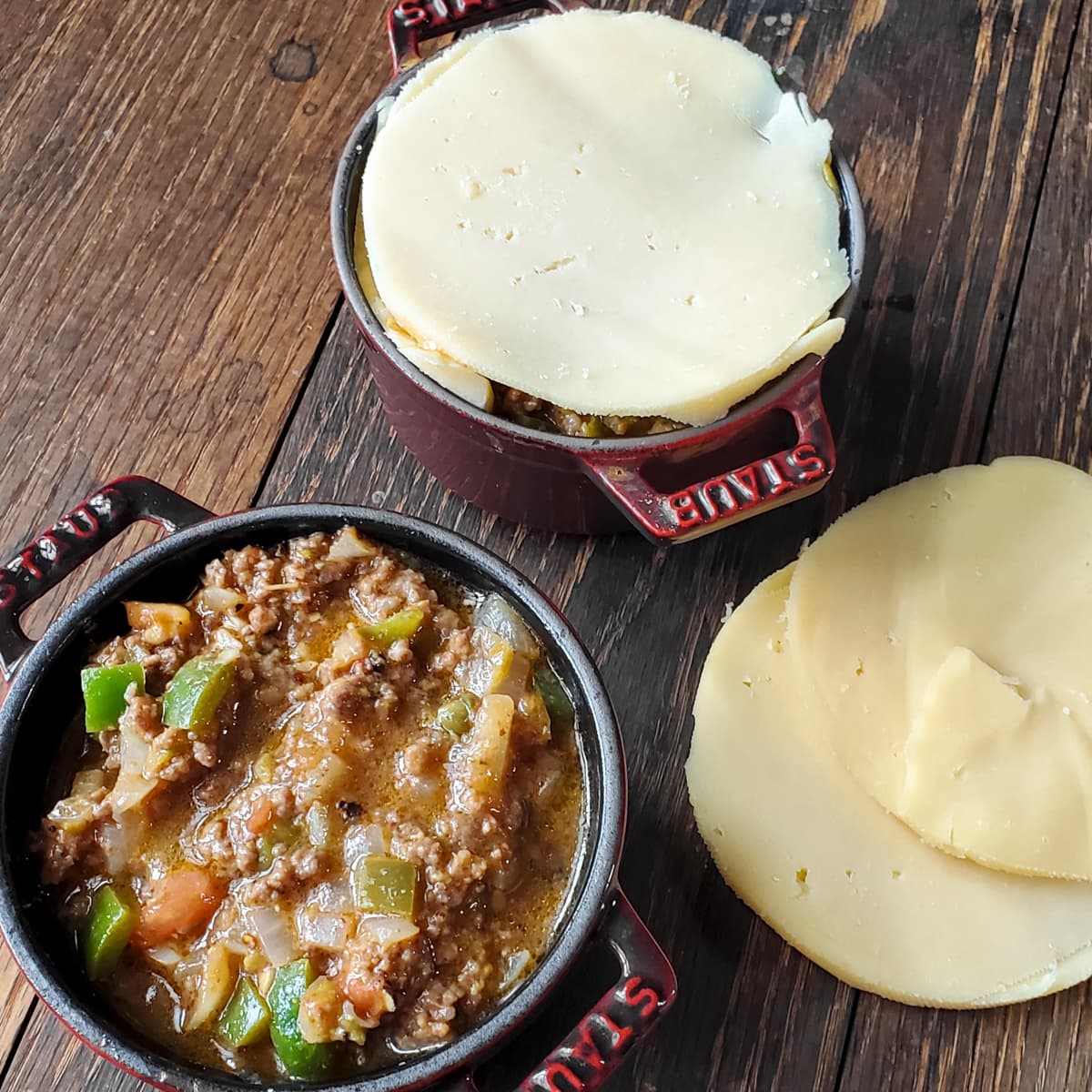 Finally, cover the meat with additional slices of the Edam or Gouda. If you desire a more browned topping you can brush the top of the cheese with an egg wash.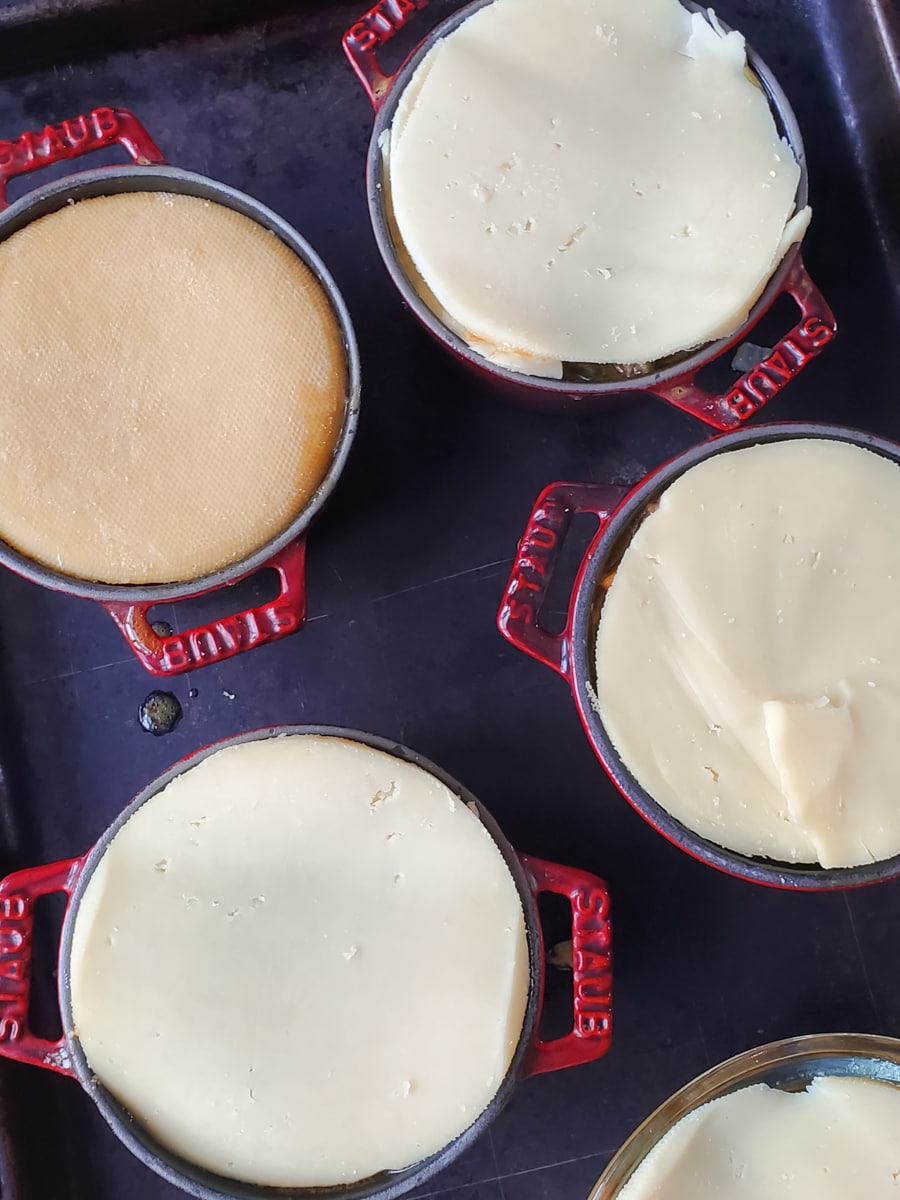 Bake the Keshi Yena
Place the ramekins or casserole dish into the 350-degree oven or smoker. Bake, uncovered, for about 35-45 minutes. The cheese should be nicely melted and slightly browned. If you are using ramekins, the dish may be done sooner. Keep an eye on it to prevent burning.
Serve the Keshi Yena warm with some Caribbean vegetables or Caribbean Rice and Beans. Our Caribbean Fire Shrimp also make a perfect appetizer for this meal and don't forget to wash it down with a refreshing Coconut Mai Tai.
If you enjoyed this be sure to check out our Smoked Lasagna and check out some of our other ground beef recipes like our Navajo Frybread Tacos with Seasoned Bison, Dutch Oven Crumbly Burger: Maid Rite Style Loose Meat Sandwich, Spicy Cheese Stuffed Smoked Meatloaf and Authentic Swedish Meatballs: Köttbullar.
Thank you for taking the time to visit our blog. If you tried and enjoyed our recipe, please share with others and please leave us a comment and review. We also love to see your pics so don't forget to tag us @Carne_Diem_Culinary or #CarneDiemBlog. To be notified of future recipes please follow us on Facebook, Instagram, or Pinterest, or sign up for our e-mail notifications. Until next time, Carne Diem!
📖 Recipe
Keshi Yena
Keshi Yena is the National dish of Dutch island of Aruba. Seasoned ground beef is encased in melty, gooey Edam or gouda cheese. Easy to make and mild in flavor, this is a must try Caribbean dish.
Equipment
Skillet

8x10 casserole dish or 6 ramekins
Ingredients  
2

Tab

Oil

1

Yellow or White Onion

diced or sliced

1

Scotch Bonnet Pepper or Habanero

finely diced

3

cloves

Garlic

finely chopped or minced

1

Green Bell Pepper

diced

¾

lb

Ground Beef

1

Tab

Parsley

rough chopped

1

tea

Salt and Pepper

1

Tomato

diced

¼

cup

Olives

diced

1

Tab

Raisins

1

tea

Capers

1

Tab

Ketchup

1

Tab

Tomato Paste

1

Tab

Spicy Mustard

1

Tab

Worcestershire Sauce

3

Eggs

beaten
Instructions 
Heat the oil in a large sauté pan or skillet on medium heat. Sauté the peppers and onions for about 5 minutes, until onions just start to be translucent. Then add the garlic for about a minute.

Add the meat and parsley together into the pan and cook until the meat is just about cooked through. Drain the grease and return to the stove.

Add all the other ingredients except the eggs. Cook for 5 minutes. Turn off the heat and rest for 2 minutes then stir in the egg.

Slice the Gouda or Edam cheese into thin slices. Line the bottom and sides of your casserole dish or the bottom or your ramekins with slices of the cheese.

Add the meat mixture on top of the sliced cheese.

Top with the additional slices of cheese. If desired, brush the top of the cheese with an egg wash.

Bake the dish, uncovered, for 35-45 minutes, or until the cheese is melty and lightly browned. If using ramekins, cook time may be shorter so keep an eye on it.
Nutrition
Calories:
259
kcal
Carbohydrates:
8
g
Protein:
14
g
Fat:
19
g
Saturated Fat:
6
g
Polyunsaturated Fat:
2
g
Monounsaturated Fat:
9
g
Trans Fat:
1
g
Cholesterol:
122
mg
Sodium:
657
mg
Potassium:
393
mg
Fiber:
2
g
Sugar:
3
g
Vitamin A:
516
IU
Vitamin C:
25
mg
Calcium:
44
mg
Iron:
2
mg