Last Updated on December 5, 2023 by Carne Diem
Protein: Fish, Branzino
Method: Grill
Jump to Recipe
This Mediterranean inspired European sea bass is stuffed with orzo, feta, and lemon and then grilled until moist and flaky.
Along with red snapper, sea bass species like branzino some of our favorite fish to grill. These European sea bass hold up well to the high heat of the BBQ grill, and when cooked whole can be stuffed with endless great fillings. One of our favorite ways to prepare branzino is this Grilled Feta and Orzo Stuffed Branzino recipe. It makes for a great Mediterranean twist for this grilled fish recipe.
What are Branzino?
Branzino is a European bass that is popular in Italian, Greek and Mediterranean cooking. It has a mild and subtly sweet taste similar to halibut and other sea bass species. It has high levels of Omega-3 fatty acids, and vitamins like vitamin A, E, and D and well as essential minerals like calcium, potassium, zinc, magnesium, and phosphorus. Branzino also typically low levels of pollutants like mercury, making it a pretty heathy fish to eat. Along with Grilled Snapper, it is one of the best fish to cook on your grill.
How to make Feta and Orzo Stuffed Branzino
To make the Grilled Feta and Orzo Stuffed Branzino you will need feta cheese (preferably herbed feta), orzo, a couple lemons, and 3-4 whole branzino that have been gutted and cleaned. For the orzo you will need a tablespoon of butter, and some lemon zest. You will also need salt and pepper to taste as well.
We like to use an herbed feta for extra flavor for the stuffed fish, but you can use plain feta as well. If it is not already crumbled, then break about 4 ounces of the feta into small crumbles into a bowl.
Zest some of the lemon peel into a small and reserve for the risotto. Thinly slice the lemon and set aside.
Rinse the branzino and pat dry then lightly salt and pepper the inside of the fish.
Prepare the Orzo
Prepare the orzo for the stuffed branzino according to the package instructions. Typically, we add about 1 tablespoon of butter and about a teaspoon of lemon zest per cup of uncooked orzo to give it a fresh, citrusy flavor and creamy consistency.
What is orzo?
While orzo may resemble a grain, it is actually a very small, oval shaped pasta. This pastina, or "little pasta" can be made from different flours, such as semolina, or whole wheat. In Italian, orzo, literal translates to "barley" due to its close resemblance to the grain.
Cut a few vertical slits along the body of the branzino then stuff with some of the cooked orzo and the crumbled feta cheese.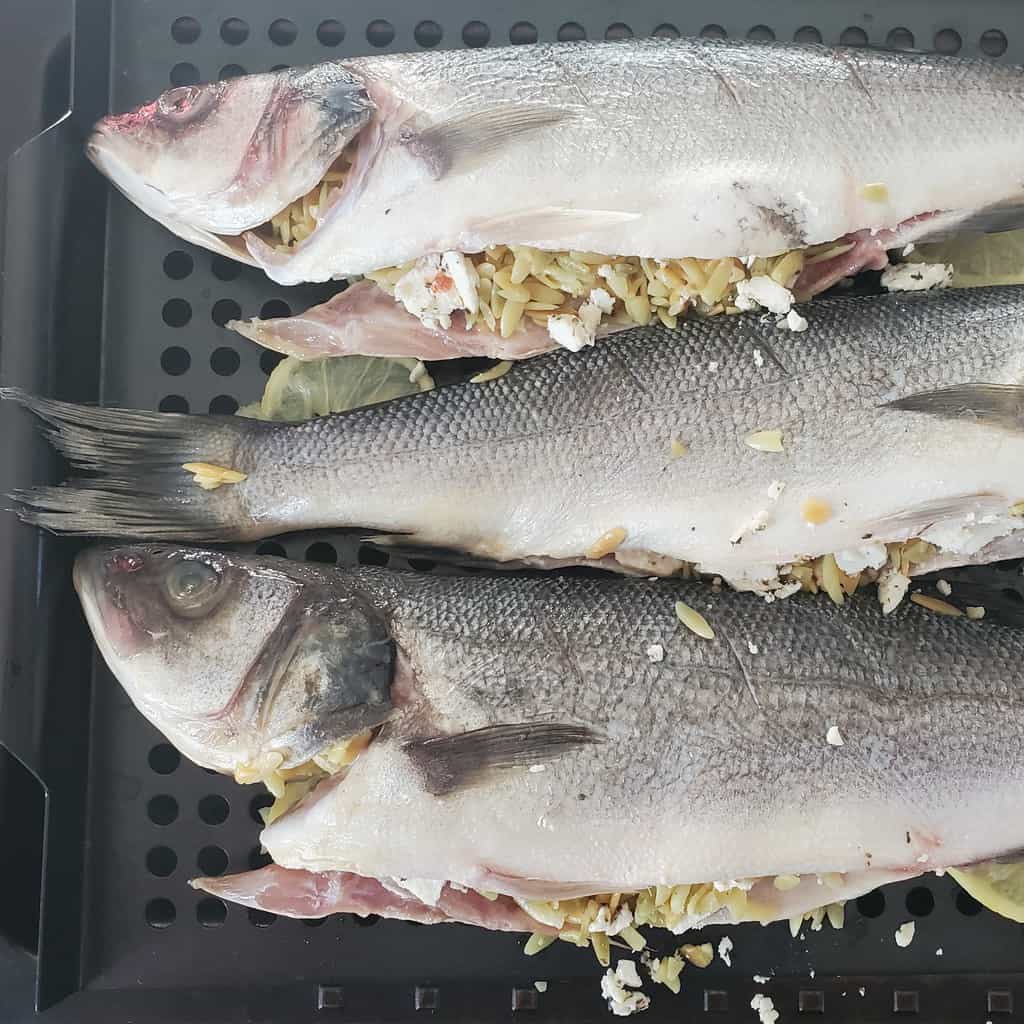 How to grill branzino
Preheat your grill or smoker. You can grill over direct heat, or we prefer to cook the branzino over indirect heat at a higher temperature. We cooked this branzino at 425 degrees, indirect, on our Big Green Egg.
Make sure your grill grates or grill pan are well oiled then line with the lemon slices. Place the European sea bass on top of the lemon slices.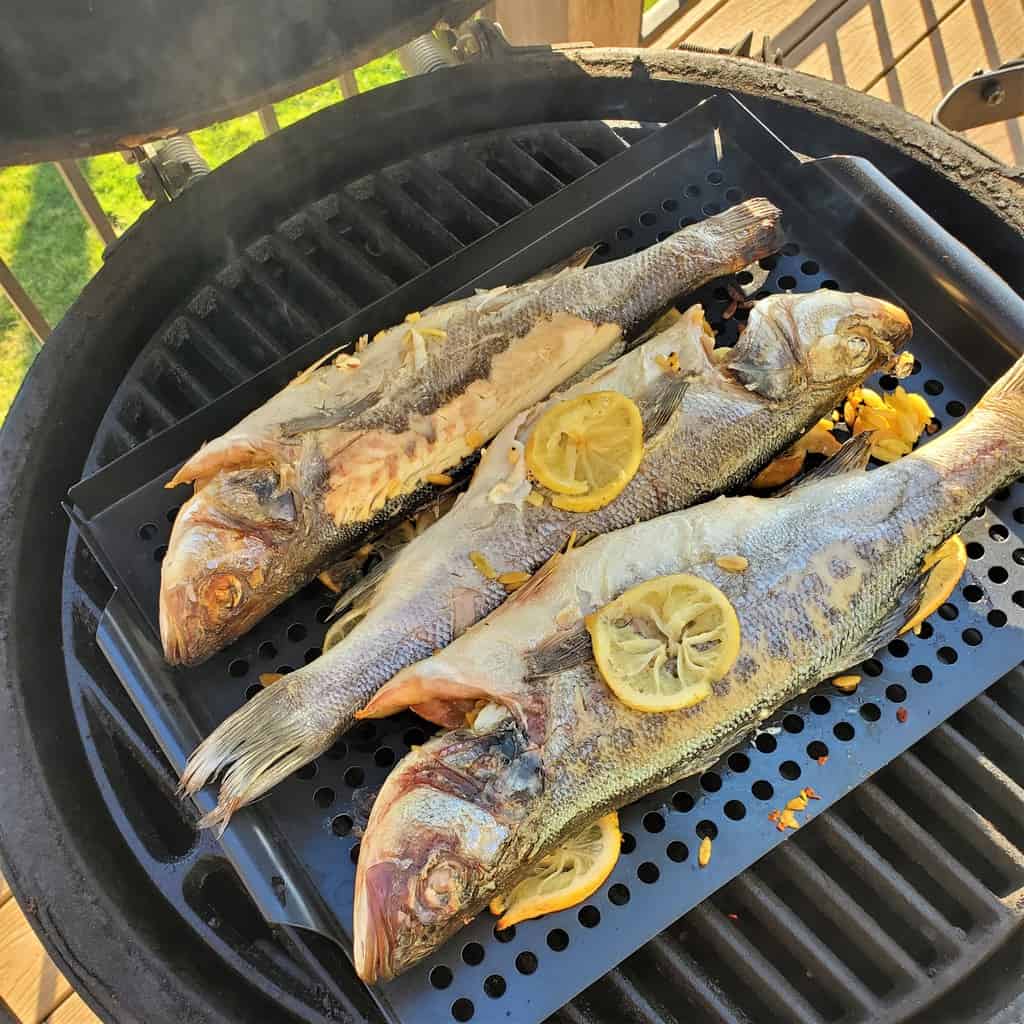 Typically, the stuffed branzino takes about 20 minutes to cook, flipping halfway through. The fish can be cooked directly on the grates, but we prefer to cook the fish on a grill pan as it makes it easier to rotate the fish during cooking.
The fish is done when the meat flakes easily with a fork and the internal temperature is 145 degrees as checked with an instant read thermometer.
Eating and serving grilled branzino
We like to serve the Grilled Feta and Orzo Stuffed Branzino with some additional lemon orzo and grilled veggies like asparagus or Brussel sprouts. It also goes well with our Spanish inspired pasta salad. Serve with your favorite beer or a glass of Blackberry Red Sangria.
Can you eat branzino skin?
Absolutely. Branzino skin is perfectly safe to eat and healthy for you. It is especially great when it has been crisped up on the grill like in this recipe.
Does cooked branzino have bones I need to worry about?
Whole branzino does have some small bones that you will want to be mindful of. When eating the Grilled Feta and Orzo Stuffed Branzino, or any whole grilled fish, we find it most helpful to eat by running your fork parallel to the bones. This help limit the bones from breaking off while eating.
Looking for more great Mediterranean inspired dishes? These are some of our favorites:
Frequently Asked Questions
What temperature should branzino be cooked to?
Branzino is best cooked to an internal temperature of 140 degrees if it comes from a trusted source. The USDA recommends cooking all fish to 145 degrees.
Are branzino a sustainable fish?
According to Global Seafoods, branzino is a sustainable fish, as many are farmed. It is best to know the source of the fish as some farms have higher sanitary standards than others.
Thank you for taking the time to visit our blog. If you tried and enjoyed our recipe, please share with others and please leave us a comment and review. We also love to see your pics so don't forget to tag us @Carne_Diem_Culinary or #CarneDiemBlog. To be notified of future recipes please follow us on Facebook, Instagram, or Pinterest, or sign up for our e-mail notifications. Until next time, Carne Diem!
📖 Recipe
Grilled Branzino Stuffed with Feta and Orzo
European sea bass, or branzino, is the perfect fish for cooking on your grill. With its fresh Mediterranean flavors, this Grilled Feta and Orzo Stuffed Branzino will be the star of your next BBQ.
Ingredients  
4

whole

Branzino

gutted and cleaned

1

lemon

zested and cut into slices

4

ounces

Feta

preferably herb flavored, crumbled

1

Cup

Orzo

1

Tab

butter

salt and pepper

to taste
Instructions 
Rinse the branzino and pat dry. Season the inside with salt and pepper to taste.

Cook the orzo, al dente according to the package instructions then stir in the butter and 1 teaspoon of the lemon zest.

Stuff the branzino with the orzo and crumbled feta.

Preheat your grill to 450 degrees and set up for indirect heat.

Make sure the grill grate is well oiled or use a grill basket of pan. Place the lemon slices on the grill grate and then the fish on top of the lemon slices. Cook the stuffed branzino for about 7-10 minutes then flip the fish over and cook an additional 7-10 minutes or until the internal temperature of the fish reaches 145 degrees.

Remove the fish and serve with additional lemon orzo and grilled veggies.
Nutrition
Calories:
248
kcal
Carbohydrates:
32
g
Protein:
9
g
Fat:
10
g
Saturated Fat:
6
g
Polyunsaturated Fat:
1
g
Monounsaturated Fat:
2
g
Trans Fat:
1
g
Cholesterol:
34
mg
Sodium:
349
mg
Potassium:
142
mg
Fiber:
2
g
Sugar:
2
g
Vitamin A:
214
IU
Vitamin C:
14
mg
Calcium:
156
mg
Iron:
1
mg