Protein:
Method: Grill, Firepit, Swenker
Jump to Recipe
Schwenkbraten is a German grilled pork dish popular in the Western German regions of Saarland, Rheinland, and the Mosel Valley. This dish consists of marinated pork that is grilled over an open flame. Literally translating to "swinging pork" the dish is traditionally cooked on a Schwenker, which is a swinging grill raised above a camp fire of fire bowl. For our Schwenkbraten we built a modified schwenker above our Breeo firepit. For those not as inclined to built out a schwenker grill, the dish also turns out great when cooked on a traditional grill.
Making the Authentic Schwenkbraten
Authentic Schwenkbraten is made up of individual pork cuts that are marinated overnight or longer before being grilled. Traditionally fattier cuts are used like pork steaks from a pork shoulder or pork neck or collar. Pork collar is a great cut when you can find it and we have had great luck with pork collar from Snake River Farms. This is the same cut we used for our Barbeque Char Siu. This time around we chose to do thick cut pork chops because we already had a large pork loin on hand. You will need about 2 pounds of pork for the recipe.
Prepare the marinade for the Authentic Schwenkbraten
The marinade for the Authentic Schwenkbraten is pretty simple, using fairly common ingredients. The juniper berries may be the one uncommon ingredient in the recipe. To make the marinade you will need:
2 Yellow Onions 
½ Cup Canola Oil
15 Black Peppercorns 
5 Juniper Berries 
3 Garlic Cloves 
1 Tab German Mustard or Grainy Mustard
1 tea Fresh Thyme 
2 tea Paprika
1 tea Dried Oregano
1 tea Salt
¼ tea Cayenne
If you can't find fresh thyme, substitute an equal amount of dried thyme. Use smoked or sweet paprika depending on your preference. The smoked paprika will add a little for spice to the dish versus the sweet paprika but neither are overly spicy.
For the mustard use a German style mustard or a grainy type spicy mustard. If you choose not to use whole black peppercorns, you may substitute about ½ teaspoon ground black pepper.
Place the peppercorns and juniper berries in a bowl or use a mortar and pestle, and lightly crush the peppercorns and juniper berries.
Thinly slice the onions and then chop or mince the garlic. Place in a bowl or large zip lock bag.
Combine the rest of the marinade ingredients and mix well to combine. Next, add the pork and stir until the pork is evenly covered. Marinade the pork for at least 24 hours or up to 3 days, flipping the pork about every 12 hours.
Cooking the Authentic Schwenkbraten
When you are ready to cook, heat your grill to about 400 degrees and set up for 2 zone cooking. Remove the pork from the marinade and reserve the onion. Wrap the marinated onions in foil and set aside.
Grill the pork chops over the medium-high heat for about 3-5 minutes per side. Cook the foil wrapped onions at the same time on the hottest section of your grill.
After cooking 3 minutes per side, flip the pork one more time and move to the cooler section of your grill or to indirect heat.
Cook to an internal temperature of 140 degrees. The amount of time this will take will vary based on the thickness of your pork and type of pork you used. On average the pork should finish in about an additional 10-15 minutes, but check about every 5 minutes with an Instant Read Thermometer. Carryover temp will take the pork to 145 degrees.
Cooking your Swinging Pork on a Schwenker
As mentioned we love applying traditional methods to these dishes so we set out to fabricate a schwenker to make some Authentic Schwenkbraten.
We built our schwenkwer using some inexpensive parts from the hardware store and rigged our Breeo X-series for the cook. We were not disappointed in the cook.
If you choose to cook using this method we found it best to try to set up your pit so it had a hotter and cooler side.
Cook the pork chops or pork steaks for about 5 minutes per side, slowly rotating the grill. Flip one last time and check the temperature of the pork.
Once you have the outside of the pork grilled you can spin the pork to the cooler side of the grill. If you have some pieces that are cooking quicker than others spin them to the cooler side of the grill while heating the rest on the warmer side. Pull the Schwenkbraten off when it reaches 140 degrees internal temperature. Remove the onions at the same time making sure they are at least 145 degrees.
Serving the German Swinging Pork
This Authentic Schwenkbratren pairs perfectly with homemade applesauce and German potato dumplings or spaetzle, along with the grilled marinated onions.
Use the pork as part of an Oktoberfest inspired meal, along with pretzels, beer cheese, and brats. Or make it a German feast along side Wiener Schnitzel, Bierocks and Sauerbraten.
Thank you for taking the time to visit our blog. If you tried and enjoyed our recipe please share with others and please leave us a comment and review. We also love to see your pics so don't forget to tag us @Carne_Diem_Culinary or #CarneDiemBlog. To be notified of future recipes please follow us on Facebook,  Instagram, or Pinterest, or sign up for our e-mail notifications. Until next time, Carne Diem!
📖 Recipe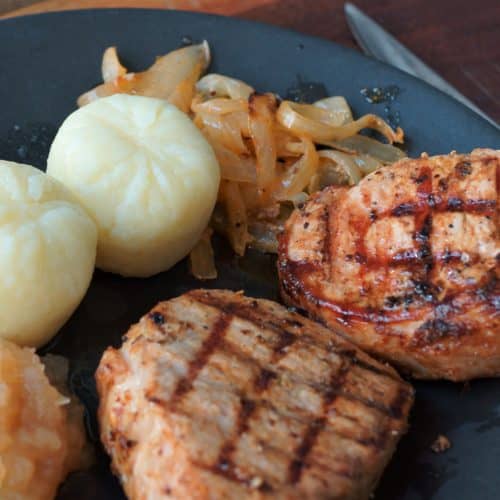 Schwenkbraten: German Grilled Pork Chops
It is time to get in the swing of the Oktoberfest season with our Authentic Schwenkbraten (pun intended). These German pork chops are marinated for 24-72 hours and then grilled to perfection over an open flame. Wash it down with a 64 ounce stein of beer and you are in food heaven.
Ingredients  
2

Pounds

Pork Chops or Pork Steaks
Marinade
2

Yellow Onions

Thinly Sliced

½

Cup

Canola Oil

15

Black Peppercorns

Crushed

5

Juniper Berries

Crushed

3

Garlic Cloves

Minced or finely chopped

1

Tab

German Mustard or Grainy Mustard

2

tea

Paprika

Smoked or Sweet

1

tea

Fresh Thyme

or died

1

tea

Dried Oregano

1

tea

Salt

¼

tea

Cayenne
Instructions 
Combine the marinade ingredients in a bowl or bag and mix to combine.

Add the pork chops or pork steaks to the marinade. Cover and refrigerate overnight, or up to 3 days.

Prepare your grill or smoker for medium-high heat (about 400 degrees) and direct cooking.

Remove the pork from the marinade and wrap the marinated onions in foil.

Place the onions in their foil packet and the pork on the grill. Grill the pork chops for about 3-5 minutes per side. Flip 1 more time and move to a cooler section of the grill or to indirect heat.

Continue to cook until you reach an internal temperature of 140 degrees then remove from the grill. Actual cook time will depend on the thickness of the pork chops and the cut of pork you are using. Carryover temp with bring the pork to at least 145 degrees.

Serve warm with your favorite German sides.
Nutrition
Calories:
420
kcal
Carbohydrates:
5
g
Protein:
33
g
Fat:
29
g
Saturated Fat:
5
g
Polyunsaturated Fat:
7
g
Monounsaturated Fat:
16
g
Trans Fat:
1
g
Cholesterol:
101
mg
Sodium:
490
mg
Potassium:
639
mg
Fiber:
1
g
Sugar:
2
g
Vitamin A:
77
IU
Vitamin C:
4
mg
Calcium:
31
mg
Iron:
1
mg