Protein:
Method: Grill or Smoker
Jump to Recipe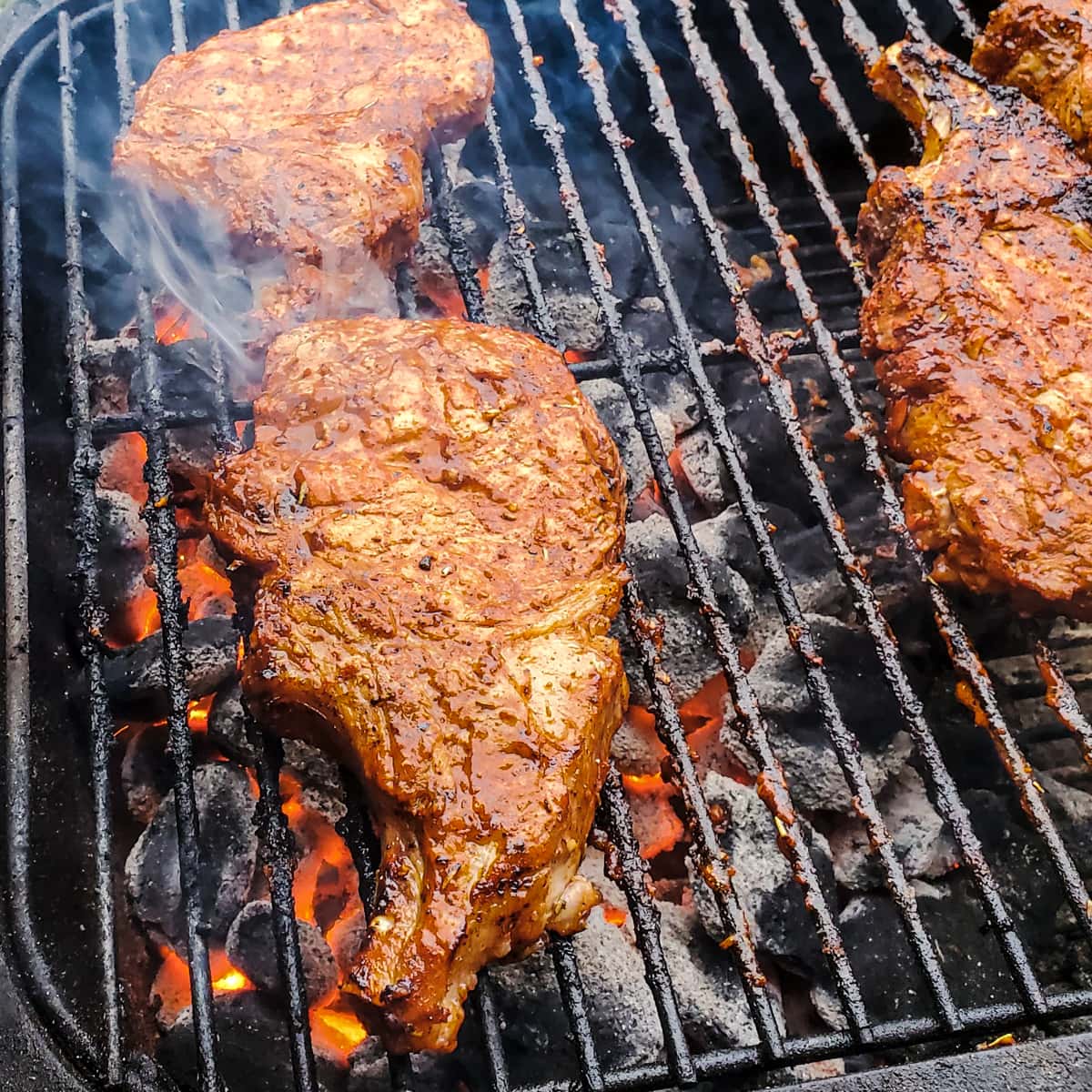 When you are from Kansas City, you are expected to know how to tailgate, and no one does tailgating better than the Kansas City Chiefs. Our Kansas City Tomahawk Pork Chops are a favorite tailgating food to enjoy with friends before the big game. We take bone in pork chops and marinate them overnight. The tomahawk chops are then grilled over charcoal and finished in a bath of beer and Kansas City BBQ sauce. The result is some fall apart tender pork, that your friends will be raving about.
Making the Tomahawk Pork Chops
To make the grilled Tomahawk Pork Chops you need some quality bone in pork loin chops. We find the best and most cost-effective way to do this is to purchase a bone in pork rib roast and then cut your own pork chops. Of course, you can also have your butcher do this for you.
This is the same cut of pork used to make our Smoked Pork Crown Roast, one of our holiday favorites.
For more great pork recipes be sure to check out some of our best pork recipes here:
Prepare the grilled pork chop marinade
To make the marinade for the grilled pork chops you will need olive oil, apple cider vinegar, Worcestershire sauce, pineapple juice, garlic, salt, pepper, brown sugar, rosemary, smoked paprika, and achiote paste.
Mix the pork marinade together, making sure to get the achiote paste completely dissolved. Place the marinade in a large plastic bag or a non-reactive bowl. Note: achiote may stain some plastics so we recommend using a disposable Ziplock bag if possible. Add the tomahawk pork chops to the marinade and make sure they are all covered. Place in the refrigerator overnight
If you have extra achiote paste, be sure to try our Trompo Al Pastor Tacos on Your Grill, Pollo Asado al Carbon: Mexican Grilled Chicken, or Cochinita Pibil. Achiote paste can be found in most Latin markets or you can purchase it on Amazon.
Making the Tomahawk Pork Chops on your Grill or Smoker
Prepare your grill or smoker for direct heat and preheat to about 400 degrees. Remove the Kansas City Tomahawk chops from the marinade and shake off the excess marinade. Grill the bone in pork chops for about 3-5 minutes then flip over. Baste the pork chops with some Kansas City style BBQ sauce and grill for an additional 3-5 minutes.
We used a tangy Gates BBQ sauce for this recipe, but use your favorite.
Flip the tomahawk pork chops over again and baste with additional sauce. Flip one more time a baste again with BBQ sauce. Cook the pork chops to an internal temperature of 145 degrees.
Place the cooked pork chops in a foil pan and pour in 12 ounces of light or wheat beer. Next stir in about ½ cup of BBQ sauce and mix to combine. Simmer the pork chops in the pan until tender or until you are ready to eat. The marinated grilled pork chops are ok to eat as soon as they are done grilling but will become more tender the longer they simmer.
Serve the grilled marinated pork chops up with some of our other game day favorites like these Smoked Dry Rubbed Chicken Wings or Smoked Taco Dip. Enjoy your grilled BBQ pork chops and GO CHIEFS!
Thank you for taking the time to visit our blog. If you tried and enjoyed our recipe, please share with others and please leave us a comment and review. We also love to see your pics so don't forget to tag us @Carne_Diem_Culinary or #CarneDiemBlog. To be notified of future recipes please follow us on Facebook, Instagram, or Pinterest, or sign up for our e-mail notifications. Until next time, Carne Diem!
📖 Recipe
Grilled Tomahawk Pork Chops
These marinated tomahawk pork chops are a favorite game day tailgating food. These bone in chops are grilled to perfection before simmering in a bath of beer and BBQ sauce until fall apart tender.
Ingredients  
Bone in Pork Roast

6-8 bone

1

Bottle of Wheat Beer

½

Cup

BBQ Sauce
Marinade
½

Cup

Olive Oil

¼

Cup

Apple Cider Vinegar

¼

Cup

Pineapple Juice

2

Garlic Cloves

minced

2

Tablespoons

Achiote Paste

1

Tablespoons

Worcestershire Sauce

1

Tablespoon

Brown Sugar

2

teaspoons

Kosher Salt

1

teaspoon

Smoked Paprika

1

teaspoon

Dried Rosemary

1

teaspoon

Black Pepper
Instructions 
Combine the marinade ingredients and mix to combine.

Slice the bone in pork loin roast into individual bone in tomahawk chops. Place in the marinade and refrigerate overnight.

Prepare your grill or smoker for direct cooking and heat to 400 degrees.

Grill the marinated pork chops, flipping about every 3 minutes and basting with some of the BBQ sauce.

Once the pork chops reach an internal temperature of 145 degrees place them in a foil pan. Add a 12-ounce bottle of beer and ½ cup BBQ sauce and mix to combine. Return the pan to the grill and reduce the heat to medium or about 300 degrees.

Simmer in the beer-bbq sauce until tender, or about 1 hour, flipping the meat as needed.
Nutrition
Calories:
477
kcal
Carbohydrates:
10
g
Protein:
52
g
Fat:
23
g
Saturated Fat:
5
g
Polyunsaturated Fat:
2
g
Monounsaturated Fat:
13
g
Cholesterol:
143
mg
Sodium:
1003
mg
Potassium:
914
mg
Fiber:
0.2
g
Sugar:
7
g
Vitamin A:
127
IU
Vitamin C:
1
mg
Calcium:
22
mg
Iron:
2
mg