Last Updated on October 16, 2023 by Carne Diem
Origin: North American, American Southeast
Jump to Recipe
This Carolina style red coleslaw is the perfect side for your summer barbeque. The tangy ketchup and vinegar based slaw is the perfect pair for pulled pork, ribs or brisket.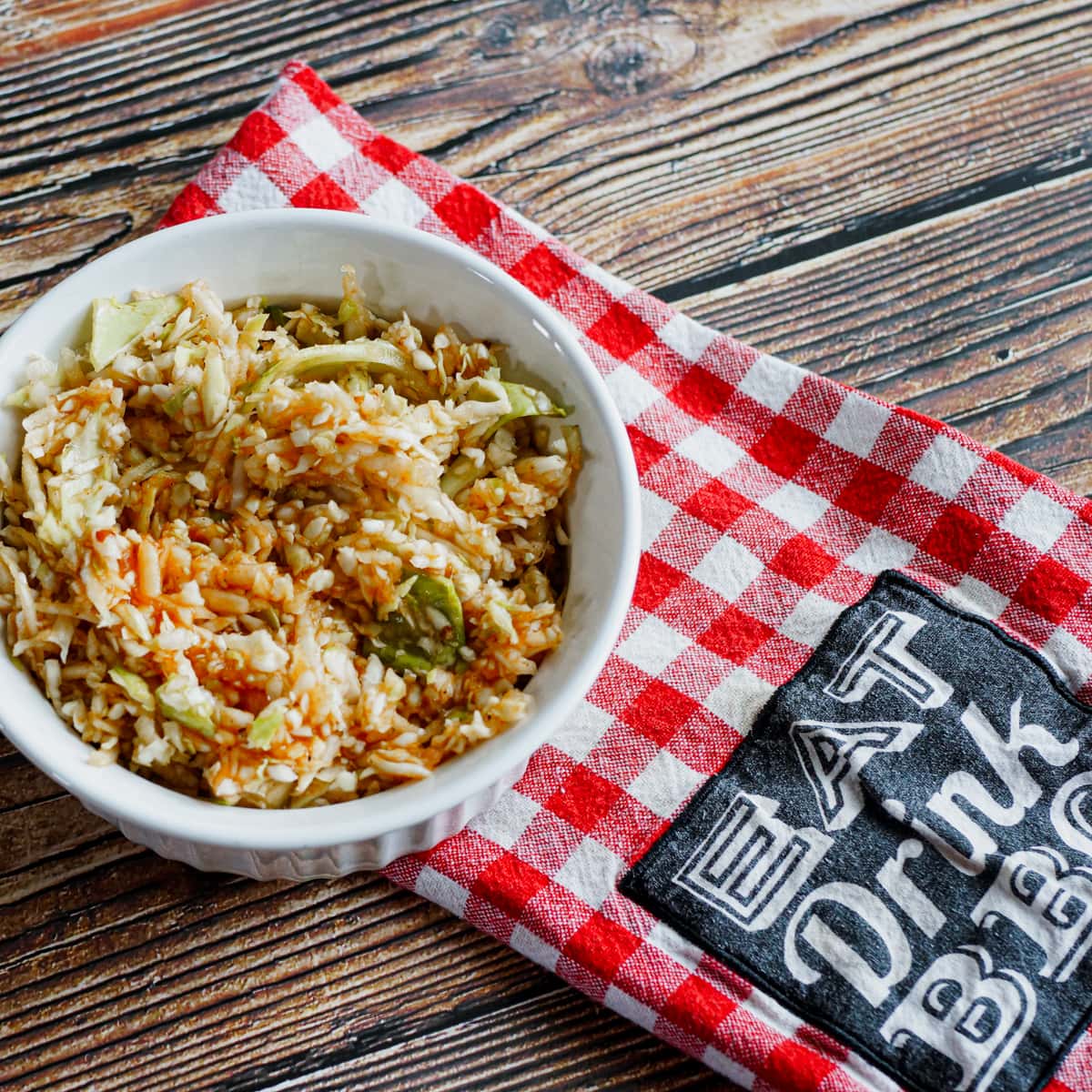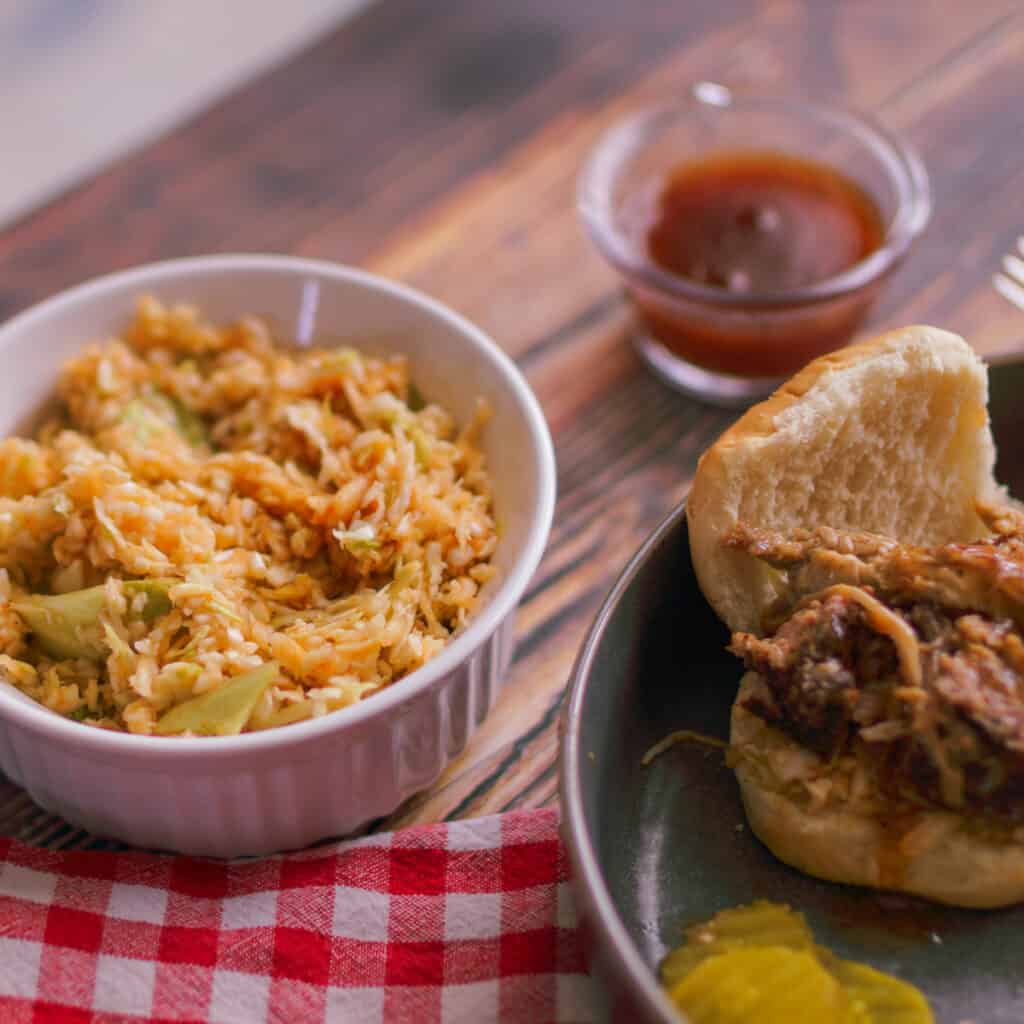 What is Lexington style coleslaw?
Lexington Style Red Slaw is a popular coleslaw made in the Piedmont or Lexington area of the Western Carolinas. While the Eastern Carolinas traditionally flavor their pork with a spicy vinegar sauce and serve it along with a more traditional style mayonnaise-based slaw, in the Western parts of the Carolinas they began adding ketchup or tomato paste to the vinegar-based sauce. Locally referred to as dip, or Lexington dip, this tangy ketchup-based sauce is used to flavor pulled pork and used as a base for their red coleslaw.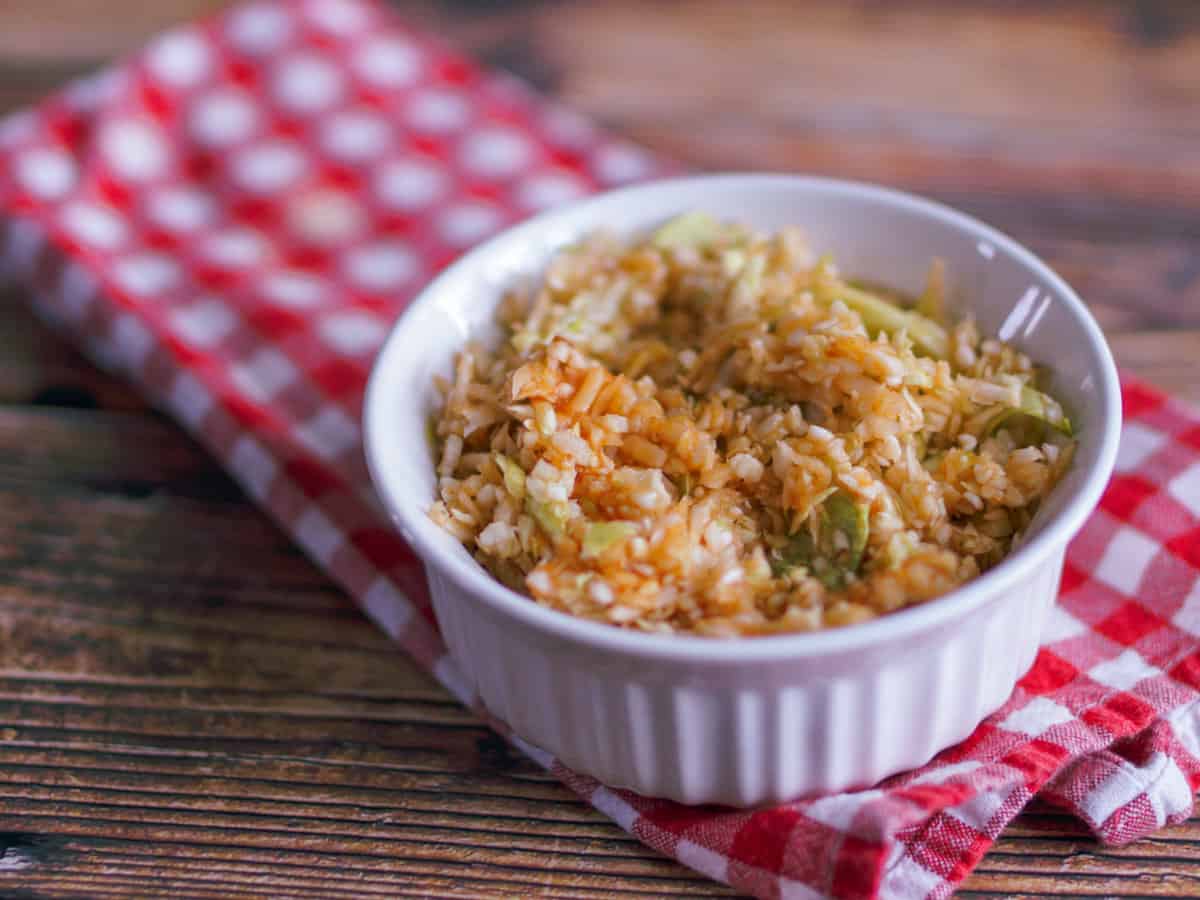 How to Make Carolina Red Slaw
To make Lexington Style Coleslaw you will need a head of cabbage and some simple ingredients to make the Lexington dip. Our dressing for this Carolina coleslaw consists of apple cider vinegar, ketchup, salt, red chili flakes, cayenne pepper, honey, brown sugar, Worcestershire sauce, and black pepper. Despite being called red slaw, Lexington style coleslaw is typically made with green cabbage.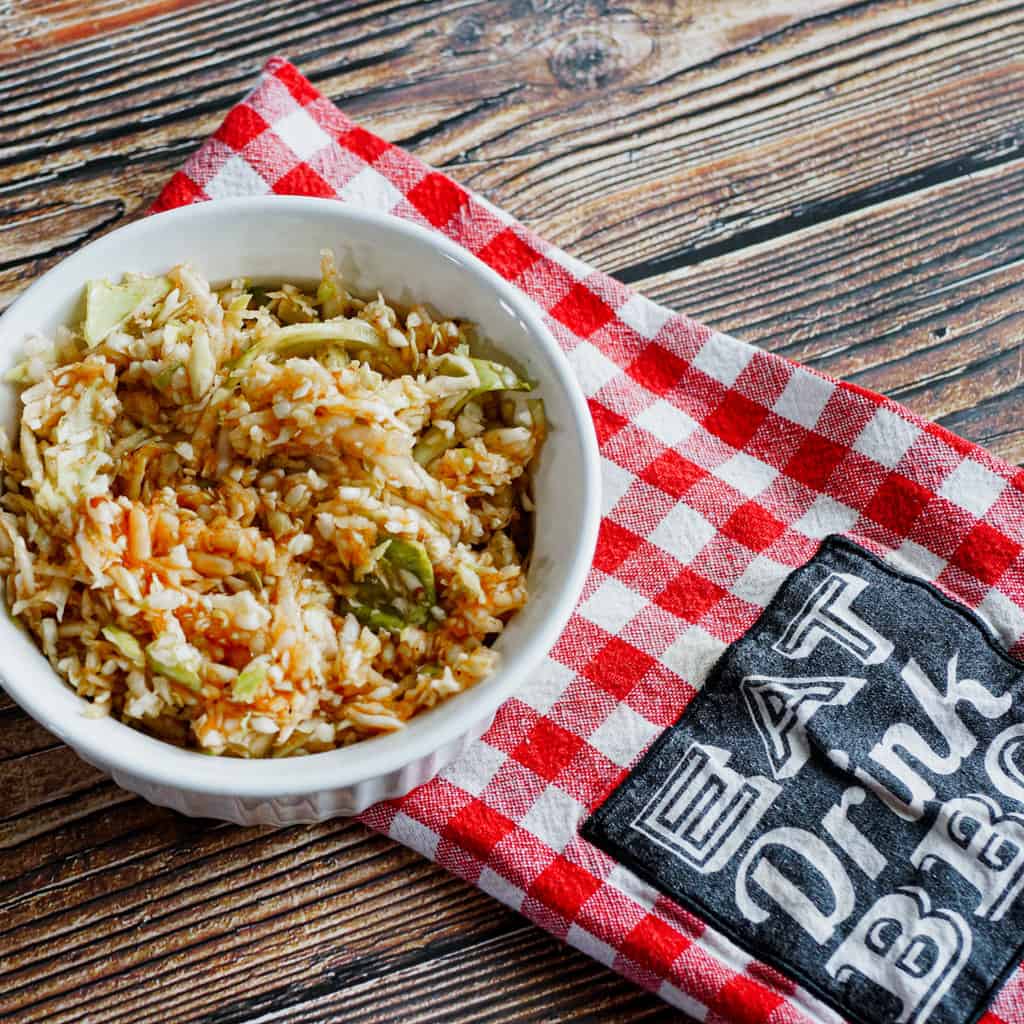 Making the Lexington Dip
To make the dressing for the Carolina Red Slaw, combine all of the dressing ingredients in a non-reactive bowl and whisk together to combine. Make sure it is well mixed and all of the sugar is dissolved and there are no lumps. Place the Lexington dip in the refrigerator for 2-4 hours.
Prepare the cabbage for the Lexington Style Red Coleslaw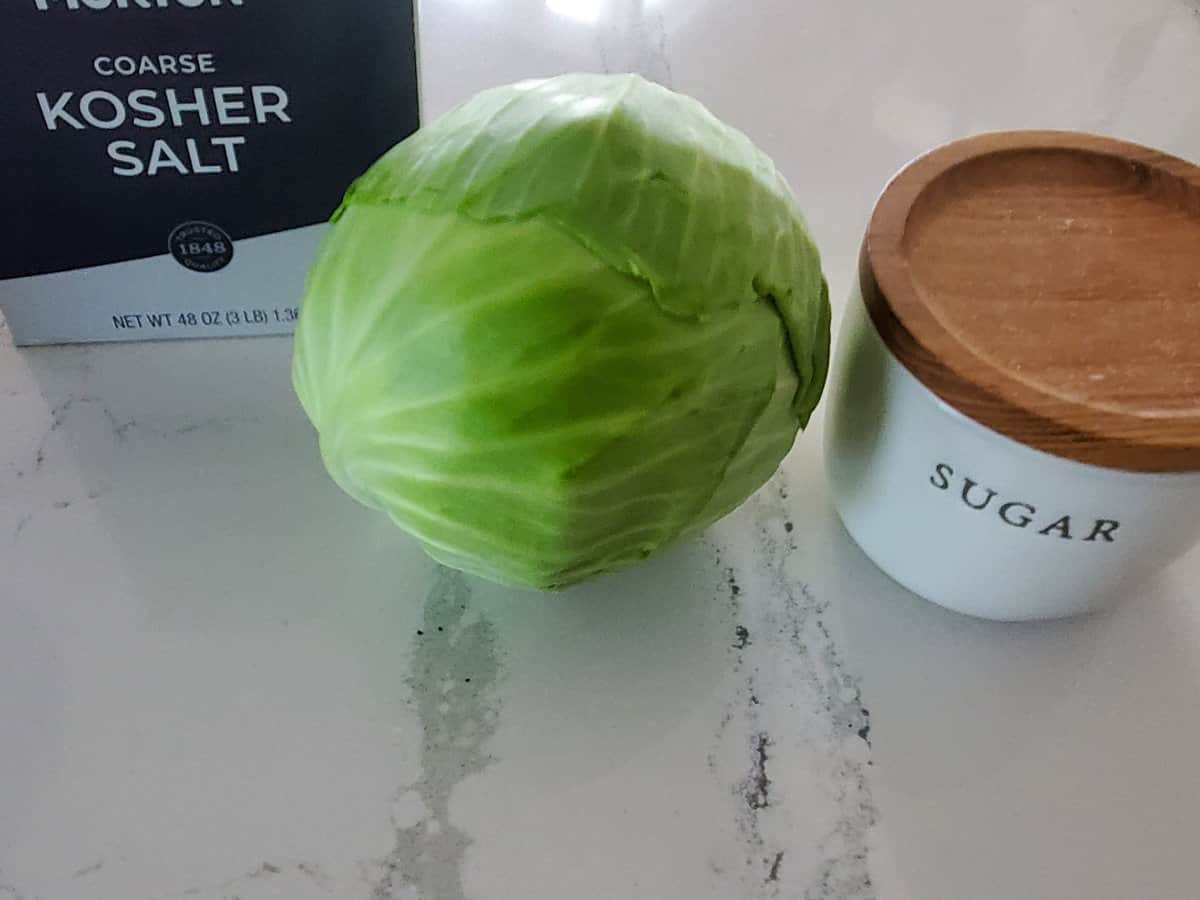 Remove the core from the cabbage then shred or chop the cabbage. Most frequently you will see more of a chopped cabbage type slaw in the Carolinas. We find it easiest to core the cabbage and then cut the head into ⅛ths and then shred with a course shredding attachment on a food processor.
How to make sure your coleslaw stays crispy and crunchy
There are few things worse than soggy coleslaw. To make sure that your cabbage retains a perfect crunch, toss the shredded cabbage with some salt and sugar. Allow the cabbage to sit for 1-2 hours. The salt allows for some of the moisture to be drawn out of the cabbage.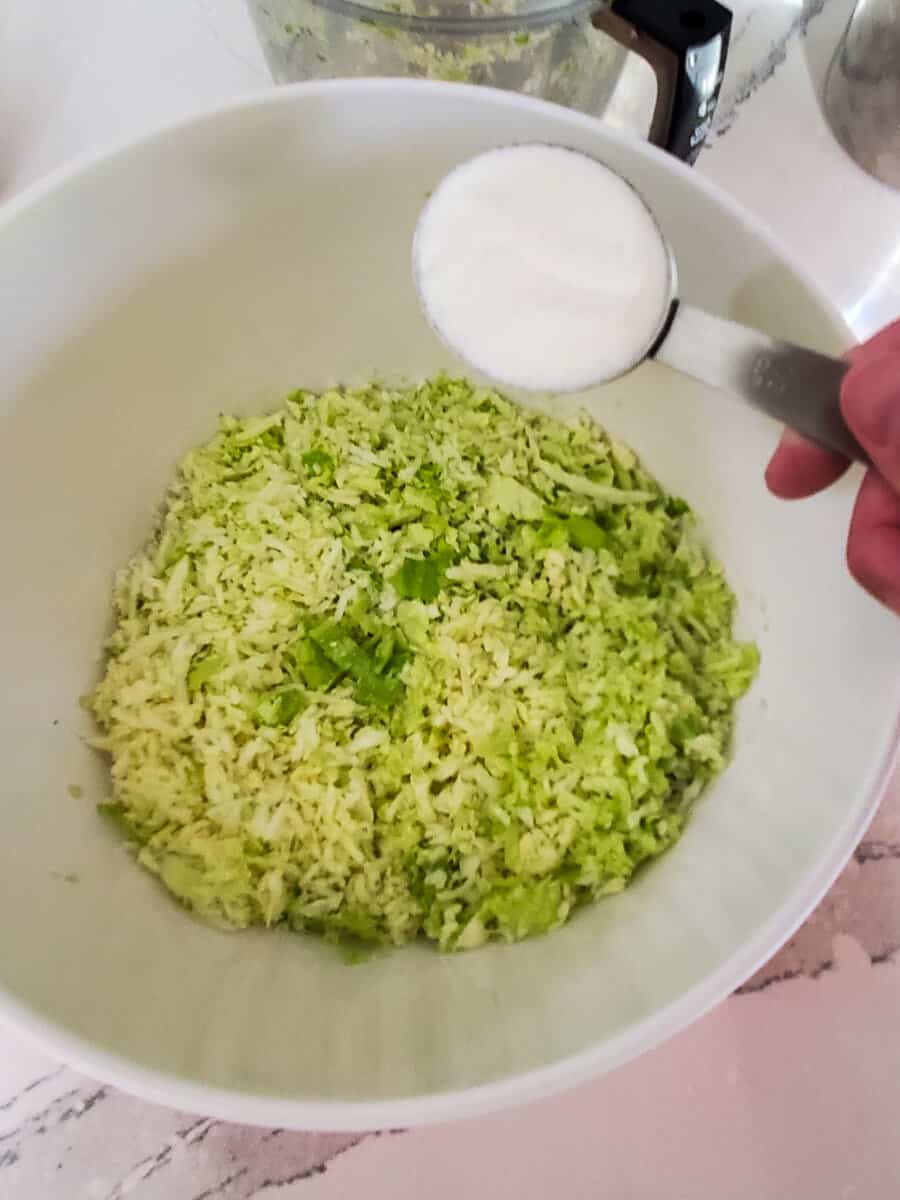 After 1-2 hours, rinse the cabbage well in a colander to remove the salt. Allow the excess water to drain off and pat dry with paper towels.
Once dry, toss the shredded cabbage with the red dressing. Mix well to combine and keep refrigerated until you are ready to eat. The coleslaw should keep fine for a few days in the refrigerator.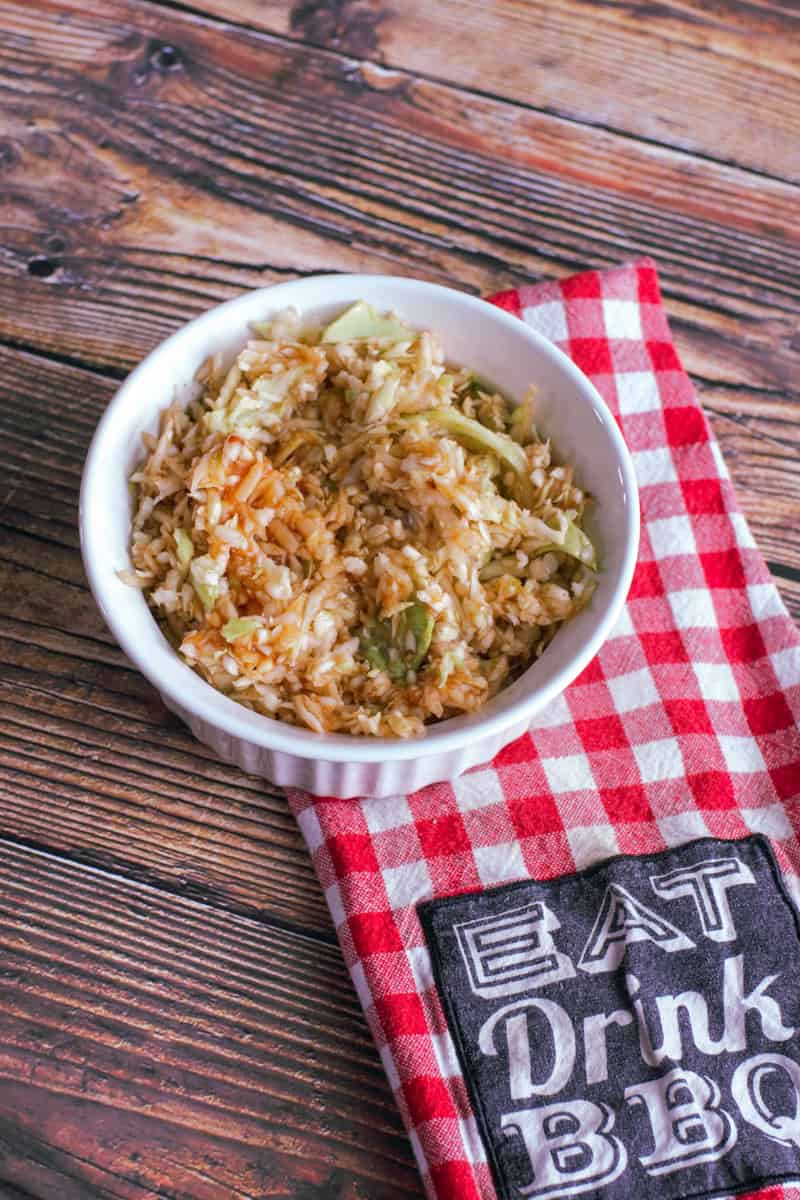 What to serve with Lexington Style Red Coleslaw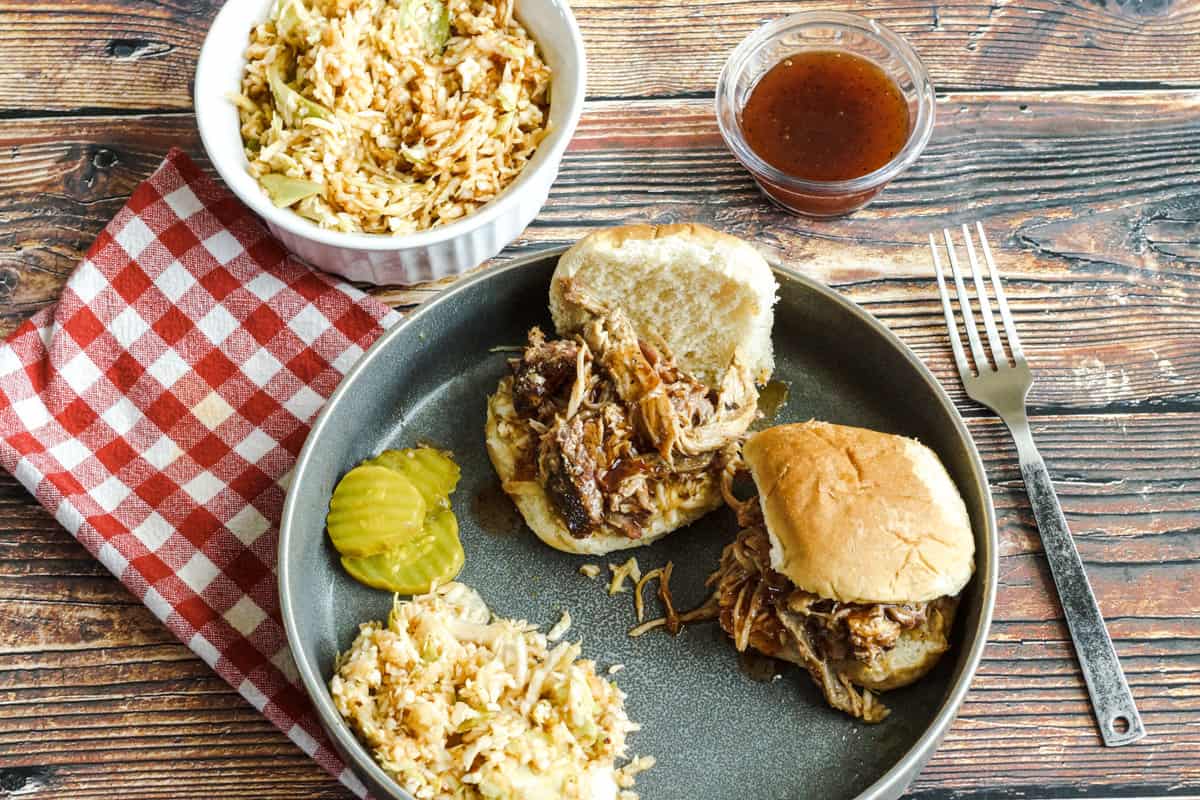 Lexington Style Red Slaw makes a perfect side for your favorite BBQ meats like Eastern North Carolina Style Puled Pork, spare ribs, Beef Short Rib Burnt Ends, or Beef Ribs. It also goes great on dishes like pulled pork nachos or even on BBQ burgers.
For more great BBQ side dishes be sure to check out this this of our favorites: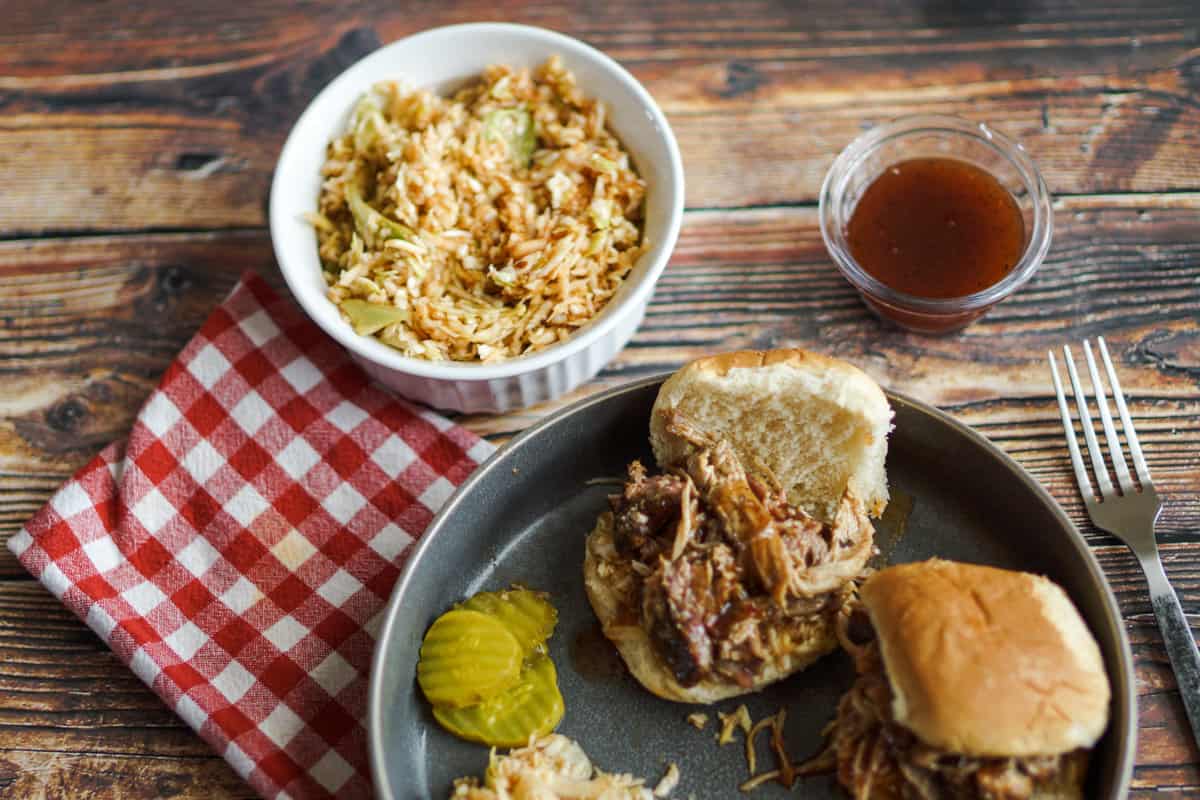 Frequently Asked Questions
What is Carolina Red Coleslaw
Also known as Lexington style coleslaw, red slaw is a vinegar and ketchup based coleslaw popular at barbeque restaurants in the Western Carolinas.
How long will cold coleslaw last in the refrigerator?
Red coleslaw should be refrigerated and will last longer than its mayo based counterpart, but leftovers should still be consumed within 5 days.
Thank you for taking the time to visit our blog. If you tried and enjoyed our recipe, please share with others and please leave us a comment and review. We also love to see your pics so don't forget to tag us @Carne_Diem_Culinary or #CarneDiemBlog. To be notified of future recipes please follow us on Facebook, Instagram, or Pinterest, or sign up for our e-mail notifications. Until next time, Carne Diem!
📖 Recipe
Lexington Style Red Coleslaw
This tangy Lexington Style Red Coleslaw is a staple of Piedmont style BBQ in North Carolina and makes for the perfect side for Carolina BBQ. This red slaw is the perfect balance of spicy, sweet, and tangy.
Ingredients  
1

Medium Head

Cabbage

⅓

Cup

Sugar

2

Tablespoons

Kosher Salt
Dressing
½

Cup

Apple Cider Vinegar

½

Cup

Ketchup

2

teaspoons

Brown Sugar

¼

teaspoon

Black Pepper

¼

teaspoon

Crushed Red Pepper Flakes

⅛

teaspoon

Cayenne Pepper

¼

teaspoon

Worcestershire Sauce

¼

teaspoon

Salt
Instructions 
Combine all of the dressing ingredients in a bowl and stir to combine well. Place in the refrigerator.

Core and shred or chop the green cabbage. Place in a bowl or colander and toss with the sugar and salt. Allow to sit for 1-2 hours.

Rinse the cabbage in a colander to remove most of the salt and sugar mixture. Pat the cabbage dry with a paper towel.

Mix the cabbage with the red slaw dressing and stir until it is evenly combined.

Refrigerate until serving, for up to 3 days.
Nutrition
Calories:
83
kcal
Carbohydrates:
20
g
Protein:
2
g
Fat:
0.2
g
Saturated Fat:
0.05
g
Polyunsaturated Fat:
0.03
g
Monounsaturated Fat:
0.02
g
Sodium:
1978
mg
Potassium:
252
mg
Fiber:
3
g
Sugar:
16
g
Vitamin A:
220
IU
Vitamin C:
42
mg
Calcium:
51
mg
Iron:
1
mg