Last Updated on March 10, 2022 by Carne Diem
Protein:
Method: Grill or Smoker
Jump to Recipe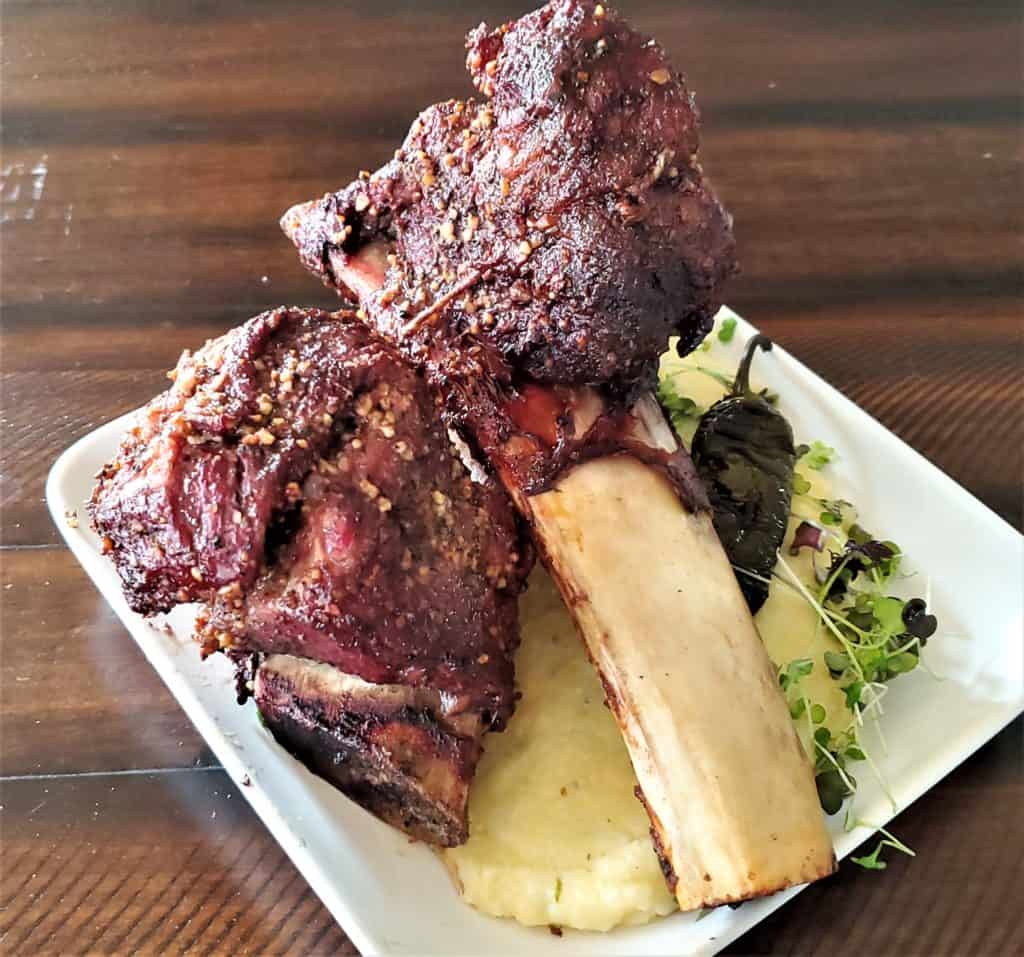 Beef short ribs are one of my favorite meats to smoke, and I am so happy that they are becoming more available. I even found them at Costco last time I went which is great news. These "dino ribs" not only look cool, they pack a lot of great beef flavor similar to a brisket. We smoke this version hot and fast giving it just enough smoke flavor to pair with the tender beef.
Beef Short Ribs: The Cut
Beef short ribs, also sometimes called dino ribs or plate ribs, come from plate section of the beef. Technically beef short ribs can also be cut from the chuck, rib, or brisket section, however, this is not as common as the meat typically ends up in other cuts. These ribs have a large bone with a layer of meat on top, that typically varies in thickness. This differs from the back ribs, in which most of the meat is in between the bone. Make sure you get short ribs. The meat from short ribs, tends to be rather fatty so it takes well to slow cooking methods like those for brisket. Avoid the urge to grill this cut like a steak, you will end up with tough meat.
Making the Beef Short Rib Tomahawks
Selecting your beef
Select ribs or a plate that is well marbled. Prime works great but you can still turn out a killer beef short rib tomahawk with choice. For a special occasion you may even consider splurging for some wagyu. For this recipe you can purchase the short ribs individually or as a plate. When purchasing a plate the short rib plates typically contain 3-4 bones. Trimming and separating the ribs is easy.
Trim the short ribs and form the beef short rib tomahawks
Trim the excess fat and silver skin from the top of the short ribs. If you bought a plate there will typically also be a membrane on the back that you will want to remove. Don not fret about getting every last piece of fat off. A lot of it will render down.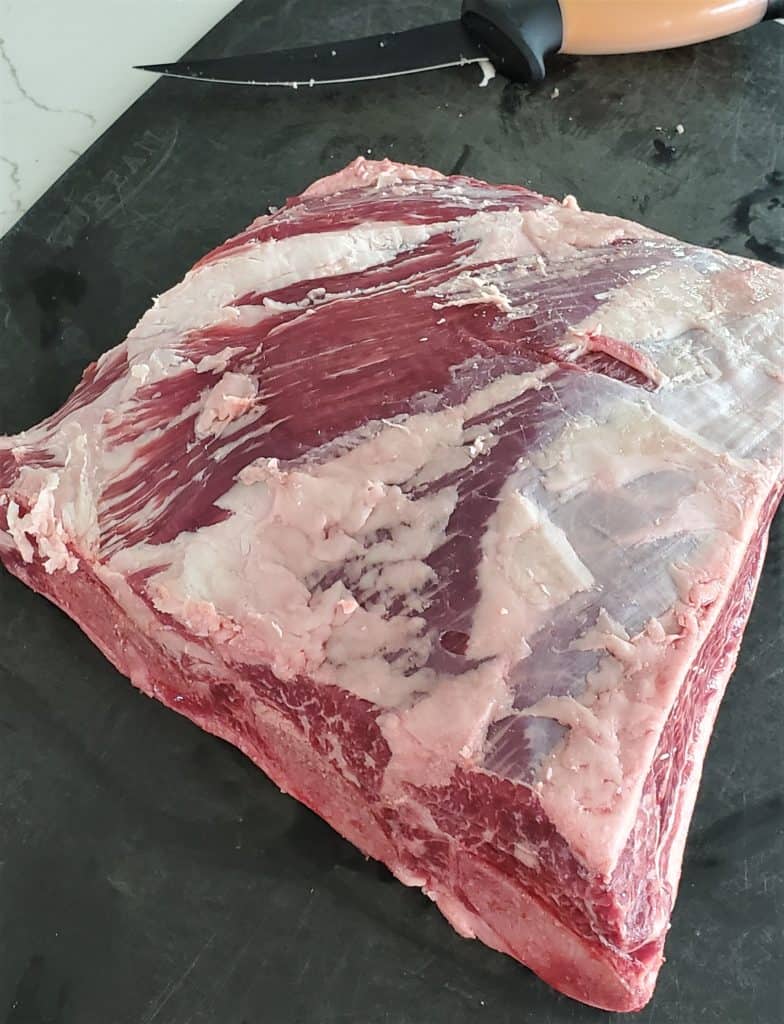 If you are working with an entire plate rib, then next cut the plate ribs into individual ribs. Again, a plate typically contains 3-4 ribs, though many of the 4 rib plates may have a rib that is a little lacking in meat.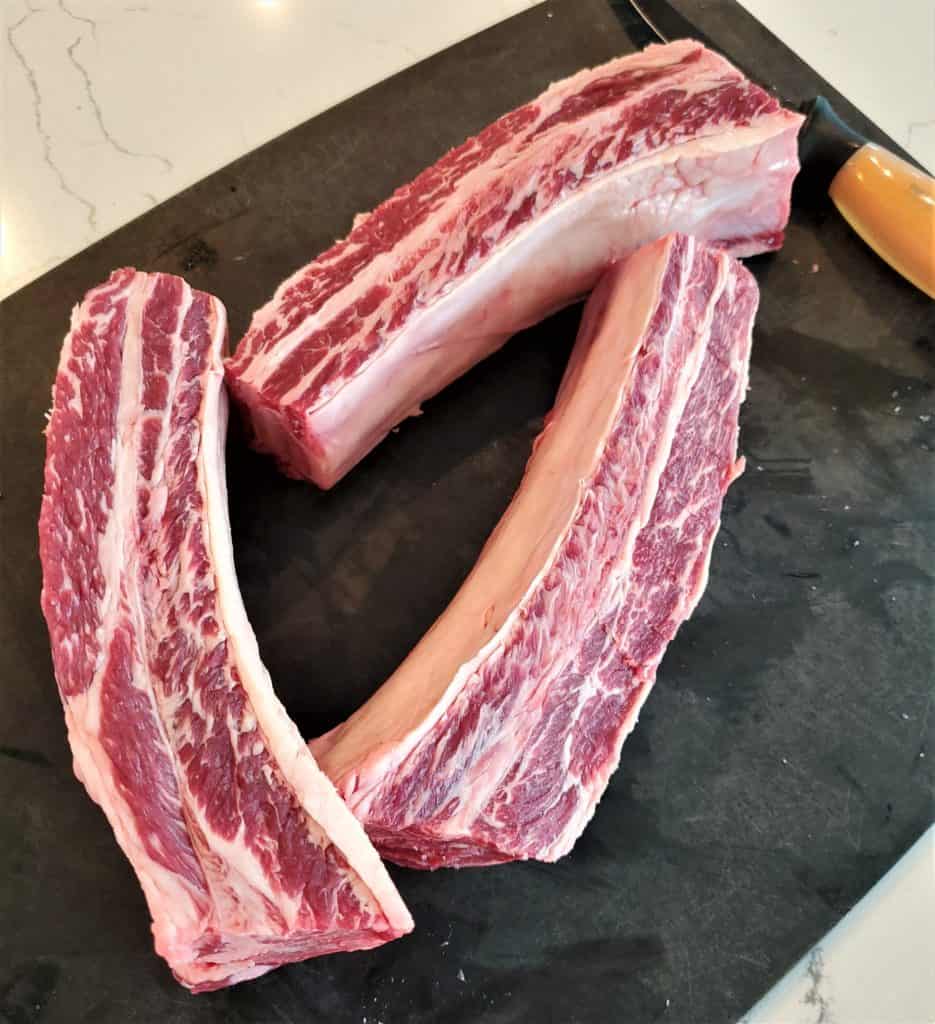 To form your Beef Short Rib Tomahawks, use a sharp knife to cut the meat off the bone about ⅔ of the way up the bone. Most of the ribs will have a smaller and a larger side. Be certain to begin cutting from the smaller side. There may also be a little excess meat to trim from the sides of the rib. We like to grind this up for burgers or you can cook it up for stew or chili.
Season the ribs
Before forming the tomahawks we like to hit the ribs with a little bit of seasoning. Fell free to use your favorite beef or brisket rub. For these we used a simple SPG (salt, pepper, garlic) rub.
Next roll the meat up toward the top of the bone to form your tomahawk. Tie the meat together with some butchers twine so that it maintains its shape. You may want to use a couple pieces to keep the meat from separating as it cooks. Once the meat is all rolled up and tied, use your knife to scrape and remove any excess meat from the rest of the bone. Frenching the bone here is not absolutely necessary but it makes for a much nicer presentation. Finally, wrap the exposed bone with foil to keep it from burning. Sprinkle with additional rub/seasoning. (Note: beef ribs will not require as much rub as a brisket so don't overdo it).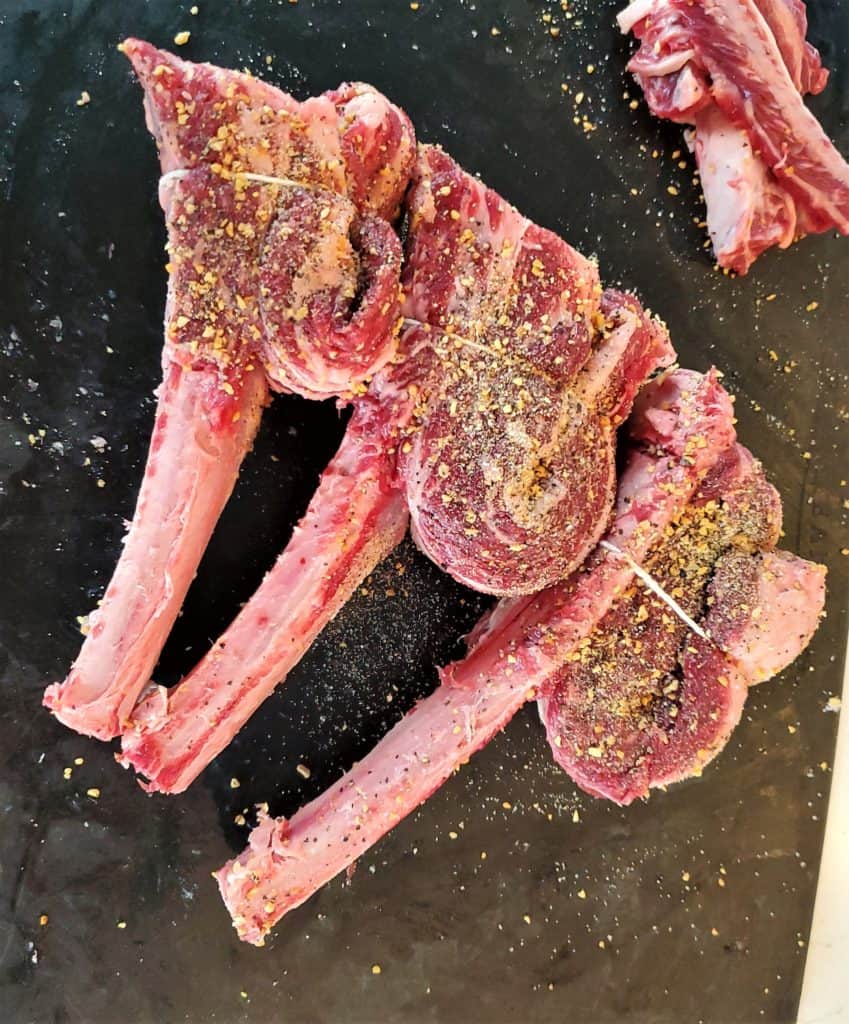 Cooking the Beef Short Rib Tomahawks
Heat your smoker for 300 degrees. We find this temp works great for these Beef Short Rib Tomahawks, especially if using a drum smoker like our Gateway. If you are more comfortable smoking at lower temps then you can certainly cook these at 250 or even 225 but they will take longer. As always, we recommend monitoring your meat with a meat thermometer. For this cook we are using our Tappecue wireless thermometer.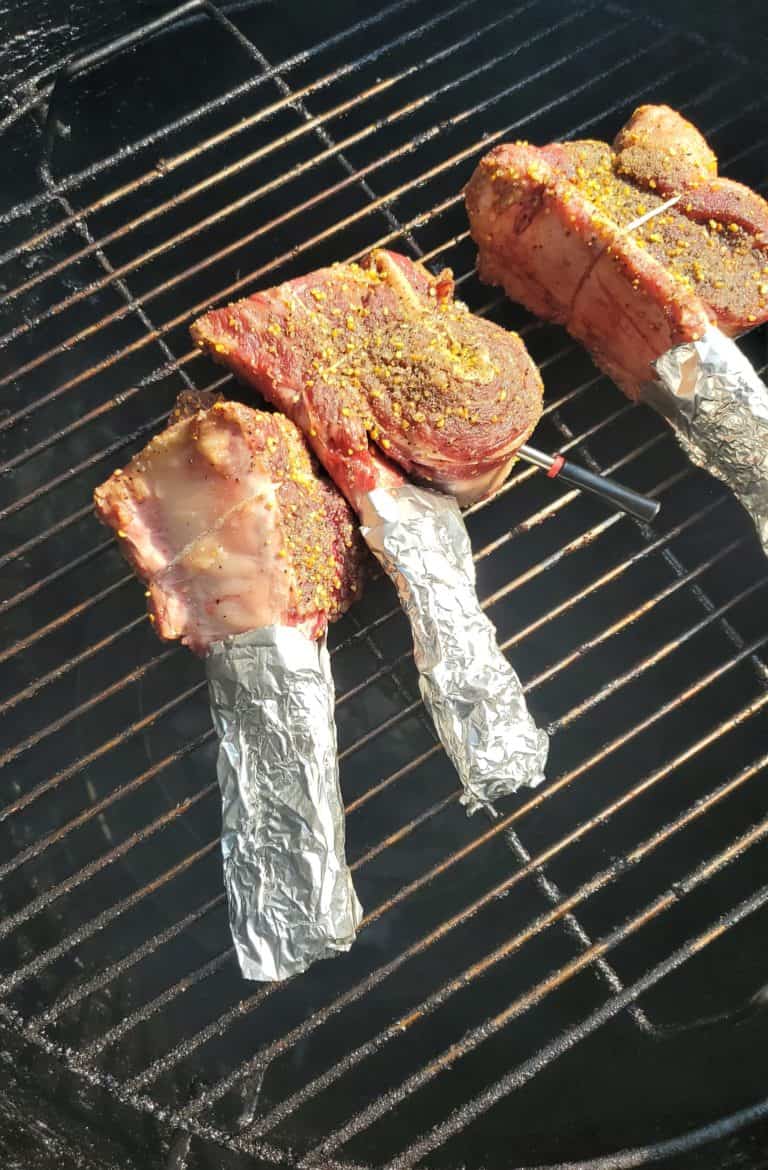 As mentioned above, these short ribs really take well to being cooked like a brisket. We like to cook them until the rub has formed a nice crust. At this point you may wrap them if you choose. They turn out great either way, but our preference is to wrap them with foil once a nice crust has formed just to speed things along a little bit and to retain a little bit more of the moisture.
When the beef short ribs reach about 200 degrees internal temp, you can start testing them for tenderness. Similar to testing a brisket you are looking for the meat to probe like probing warm butter. If you cooked these at 300 degrees this is typically around 205-207. If you cooked at a lower temp tenderness may be closer to 203-205. Cooking at 300 degrees and wrapping, the cook typically takes about 2-3 hours. Cooking at a lower temp with no wrapping can take considerably longer so monitor your meat temp.
Once you are happy with the tenderness, remove the ribs from the smoker and let them rest for about 5 minutes before serving.
Pairing these Beef Short Rib Tomahawk Steaks with some Cheesy Jalapeno Grits, makes for an epic dinner. They also go well with a side of Smoky Hatch Mac and Cheese and an Old Fashioned or a great pasta salad.
If you are in the mood for more beef short rib recipes, then be sure to try our Beef Short Rib Burnt Ends. If you are looking for more date night quality meals then be sure to try our Reverse Seared Teres Major with His and Her Sauces or our Filet Mignon with Goat Cheese Sauce and Grand Marnier Sautéed Peppers.
Thanks again for visiting Carne Diem. If you tried and enjoyed our recipe, please share with others. Also don't forget to tag us @Carne_Diem_Culinary or #CarneDiemBlog, we love to see your pics! To be notified of future recipes please follow us on Facebook,  Instagram, or Pinterest, or sign up for our e-mail notifications.
📖 Recipe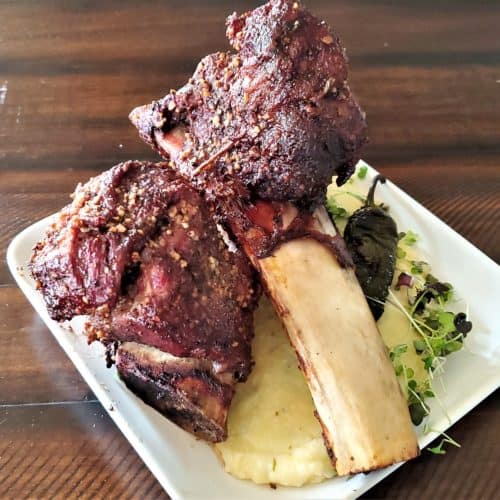 Beef Short Rib Tomahawk
This elegant version of beef short ribs will certainly wow your guests. These Beef Short Rib Tomahawks are smoked hot and fast and ready for dinner in under 3 hours.
Ingredients  
4

Beef Short Ribs

or one Beef Rib Plate

½

Cup

Beef, Brisket, or SPG rub
Instructions 
Trim the excess fat from the ribs and remove the membrane from the back of the ribs if present. If they came as a plate, cut between the bones to separate into individual ribs. Using a sharp knife, start from the smaller bone end of the ribs and separate the meat from the bone, cutting about ⅔-3/4 of the way up the bone. Repeat with the remaining ribs.

Season the ribs with your desired seasoning then roll the meat up the bone. Tie with butchers twine and season with additional rub. Cover the exposed bones with foil.

Preheat a smoker or grill to 300 degrees. Cook over indirect heat rotating and flipping about every 30 minutes. If desired wrap with foil once you have achieved a nice crust on the meat. If you are cooking at 300 degrees and wrapping expect the cook to take about 2-3 hours. If you choose not to wrap or cook at a lower temp it will take additional time to cook. Ideally remove the meat when it probes tender or reaches an internal temp of about 207 degrees (when cooking at 300 degrees).

Remove the ribs from the smoker and let rest for about 5 minutes before serving.
Nutrition
Calories:
29
kcal
Carbohydrates:
6
g
Protein:
1
g
Fat:
1
g
Saturated Fat:
1
g
Polyunsaturated Fat:
1
g
Monounsaturated Fat:
1
g
Cholesterol:
1
mg
Sodium:
3
mg
Potassium:
63
mg
Fiber:
1
g
Sugar:
1
g
Vitamin A:
230
IU
Vitamin C:
1
mg
Calcium:
87
mg
Iron:
3
mg