From smoked fish to grilled shrimp we have collected some of the best grilled seafood recipes from around the world. Leave the burgers and hotdogs in the fridge and step up your grill game with some of these grilled seafood recipes that you have to try this summer.
Best Fish Recipes For Your Grill or Smoker
Cooking fish on your grill or smoker is a fantastic way to prepare fish. Grilled fish is one of our favorite ways to cook fish, adding that perfect smoky element to the seafood. We have collected some of the best grilled fish recipes here.
While it is traditionally fried, making this whole red snapper on your grill is another great way to prepare this Jamaican style fish recipe.
This grilled whitefish is topped with ta bright lemon and herb sauce that is perfect for your summer BBQ.
Pizza ovens are not just for pizza. This cedar planked salmon recipe is made in a home pizza oven, though it turns out equally great on your grill or smoker.
Another fantastic salmon recipe, this Asian inspired grilled salmon is served with a salty and slightly spicy soy based sauce, that compliments the Korean inspired fish perfectly.
This hot smoked salmon recipe gives you step by step instructions to make this Seattle style smoked fish recipe at home.
Halibut is one of our favorite fish to throw on the grill. This elevated grilled halibut with served with a truffle vinaigrette for when you want to add a little class to your barbeque get together.
This simple Seared Tuna is served with a spicy avocado-jalapeno sauce and an be ready to eat in minutes.
Barramundi has become increasingly popular over the last years. This barramundi recipe is cooked on your grill with grilled radishes and pesto.
This Greek inspired stuffed Branzino is filled with salty feta and creamy Orzo and then the whole fish is grilled to perfection.
This fantastic Mahi Mahi recipe is packed with flavor with a slightly spicy chili seasoning and fresh lime butter.
Trout is another great fish to cook whole on your grill or smoker. This smoked trout is sure to impress.
Topped with mango salsa, this grilled grouper is reminiscent or some of the great grilled fish dishes you can enjoy across the Caribbean.
These grilled halibut cheeks are wrapped in bacon and are the perfect finger food for your next cook out.
Topped with a flavorful basil pesto, these grilled swordfish steaks are great for a Mediterranean inspired seafood feast.
Rockfish is a fantastic fish to grill, and this version is served with grilled shrimp, making it a filling grilled seafood meal.
Best Grilled Shrimp Recipes
Throw another shrimp on the barbie! While that phrase may be little more than a marketing gimmick, shrimp is indeed some of the best seafood to cook on your grill. Here are some of our favorite grilled and smoked seafood dishes from around the world.
Creole barbeque shrimp is not typically made on an actual BBQ grill, but this cast iron version is perfect for making on your grill or smoker, and is ready in minutes.
A great meal for your next camp out, these shrimp foil packets are a great campfire dish. It is like a personal sized seafood boil!
Whole prawns help retain all of the moisture and flavor in these garlic butter shellfish.
Coconuts are stuffed with curry spiced shrimp and vegetables and then roasted over a live fire in this elegant island inspired dish.
Need a seafood recipe to impress your guests? This Cajun seafood boil recipe is a seafood lovers dream come true.
Best Shellfish Recipes for Your Grill or Smoker
These Drago's inspired oysters are simply the best way to enjoy this southern inspired oyster dish.
These smoked oysters are the perfect appetizer for your next dinner party.
I love scallops, and I love bourbon, so these seared scallops topped with a rich bourbon sauce is a dream come true.
These Caribbean style lobster are another perfect recipe to make for a group. Served with a tropical fruit salsa, they are great grilled or steamed.
These spicy stuffed clams are the perfect appetizer for your seafood inspired cookout.
These lobster tails are smoked until perfectly tender and smoky. They are surer to be a hit with seafood lovers.
This quick and easy grilled lobster tail recipe is great when you want to make your cookout a little more elegant.
This Spanish classic is perfect for serving to a crowd. Saffron flavored Bomba rice is loaded with your favorite fish and shellfish.
These wood fired cooked mussels are a classic Balkan dish. These black mussels are sautéed in garlic, parsley and white wine are are a must try dish for shellfish lovers.
Looking for more great cookout ideas to make this summer? Check out some of our must try Blackstone griddle and flat top recipes.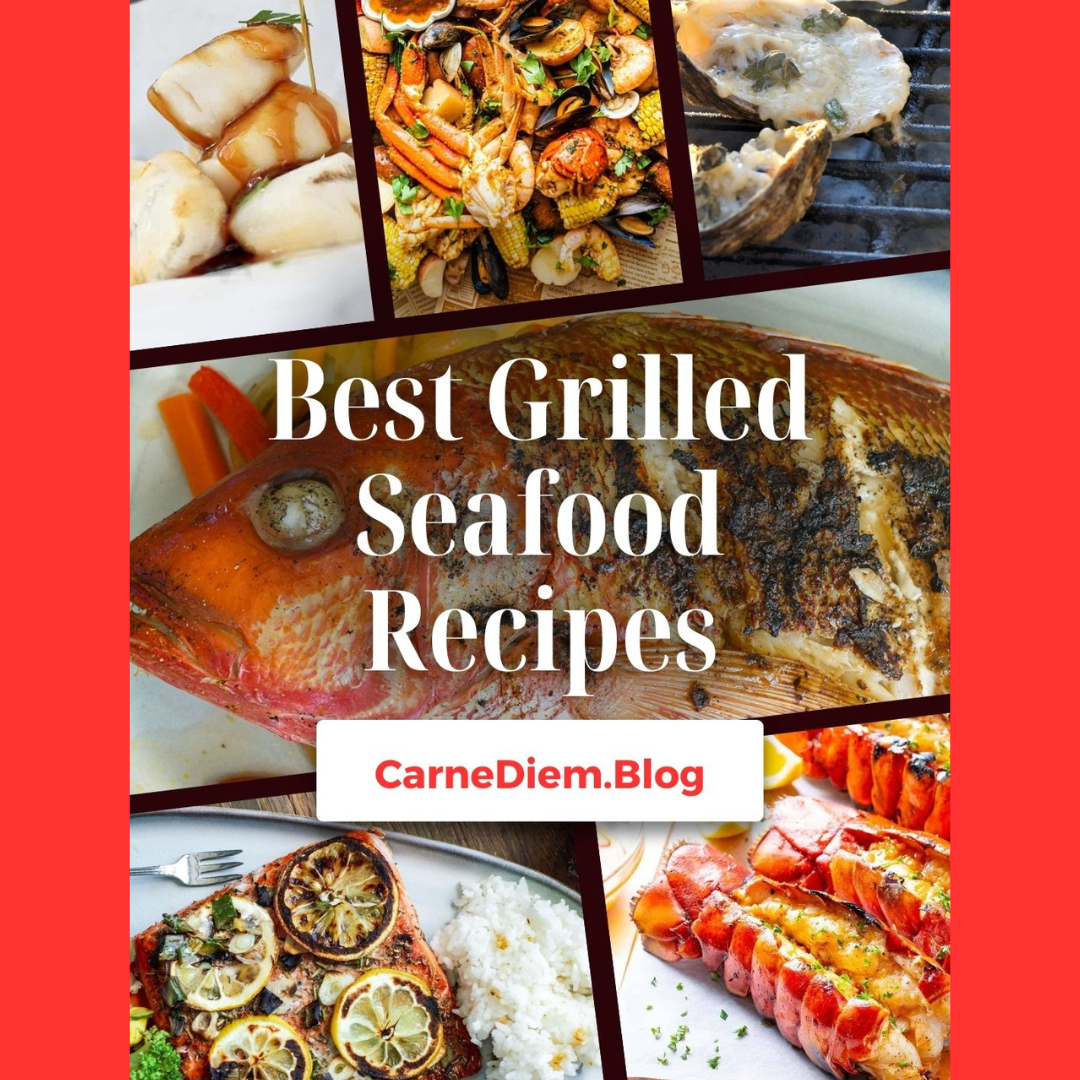 Thank you for taking the time to visit our blog. If you tried and enjoyed our recipe, please share with others and please leave us a comment and review. We also love to see your pics so don't forget to tag us @Carne_Diem_Culinary or #CarneDiemBlog. To be notified of future recipes please follow us on Facebook, Instagram, or Pinterest, or sign up for our e-mail notifications. Until next time, Carne Diem!