Last Updated on November 14, 2023 by Carne Diem
Protein: Seafood
Origin: Asian, Taste of the Islands
Method: Grill, Smoker or Stovetop
Jump to Recipe
Our miso marinated black cods recipe is inspired by the Roy's Misoyaki Butterfish recipe and others that we enjoyed during our time in Maui. The velvety and flavorful fish was served with a sweet onion and ginger relish and was one of our favorite dishes on the island. In our version of the classic Hawaiian dish we smoke the miso marinated sablefish for an extra level of flavor.
Background on Miso Butterfish
Also known as misoyaki butterfish, miso butterfish is a popular Hawaiian-Japanese fusion dish that is very popular in Hawaii. Sablefish or black cod marinated in miso is cooked and served with a tangy vinaigrette relish. The dish is popular throughout the Hawaiian islands where it is served at local eateries like Roy's.
Making the Smoked Misoyaki Butterfish
Selecting the black cod for the miso butterfish
To make the misoyaki butterfish recipe you will need to buy some black cod. You may also see this labeled as sablefish or blue cod. Despite the name, black cod is not a member of the cod family. Black cod are a deepwater species found in the cold waters of the Pacific Ocean. It is renowned for its rich buttery taste, helping to earn it the nickname "butterfish."
When selecting the black cod, try to find fish that is as fresh as possible. You can use fillets of fish or sablefish steaks in this miso marinated fish recipe. If you cannot find fresh black cod, try to find fish that is flash frozen.
Prepare the miso marinade for black cod
To make the marinade for the miso butterfish you will need sake, mirin, miso paste, and sugar. Optionally, you can also simmer Kombu in the miso marinade for some added umami flavor.
Miso- Miso is a fermented soy bean paste popular in Japanese cuisine. Miso comes in a number of different varieties or types, but for making Misoyaki Butterfish you want to use white miso. You may also see this referred to as Shiro Miso.
Sake- Sake is a Japanese rice wine made from fermenting polished rice. There are 5 main types of sake: Junmai-shu, Ginjo-shu, Daiginjo-shu, Honjozo-shu and Namazake and any will work with this butterfish recipe.
Mirin- Mirin is a sweet cooking wine popular in Japanese cooking. It is somewhat similar to sake but is typically sweeter and with a lower alcohol content. If you cannot find mirin you can substitute sweet sherry or simply increase the sake and sugar in the miso marinade recipe.
Sugar- Sugar adds a subtle sweetness to the miso marinade recipe and also helps form a nice caramelized coating on the outside of the sablefish as it cooks.
Kombu- Kombu is an edible dried kelp used frequently in Japanese soup stocks like dashi. We like the depth of flavor that kombu adds to the marinade but it is an optional ingredient if you can't find it or choose not to use it.
Combine the marinade ingredients in a sauce pan and bring to a boil. Reduce the heat to a simmer and cook for 20 minutes. After 20 minutes, remove the marinade from the heat and cool.
Make the Vinaigrette Relish for the black cod
The Asian inspired vinaigrette for the fish is made with rice wine vinegar, oil, soy sauce, onion, peppers, ginger, green onion, cilantro, lemon and daikon.
The relish can be made with 2 bell peppers, or 6 sweet peppers depending on preference. Thinly slice or dice the peppers, onion, and daikon. Finely chop the green onion and cilantro and mince the fresh ginger.
Heat the olive oil over medium low heat in a pan or skillet and briefly sauté the sweet onion, daikon, ginger, and peppers until just soft. Remove everything to a bowl and allow to cool slightly before mixing in the remaining vinaigrette ingredients.
Cover and reserve the sweet pepper-onion vinaigrette for serving.
Marinate the Black Cod
In a nonreactive container add the miso-sake marinade and the portions of the black cod. Marinate the fish for 24-72 hours depending on how strong of a flavor you want. The fish should be covered and refrigerated while marinating.
Cooking the Black Cod on a Smoker
Preheat your grill or smoker to 300 degrees. For a more profound smoke flavor you can smoke at a longer temperature for a longer period of time.
When smoking fish it is best to use mild flavored woods. Alder, maple, cedar and fruit woods work well with fish. If you are cooking black cod on a pellet smoker, like a Traeger, you can get away with slightly stronger woods like hickory or pecan.
Cook the miso butterfish over indirect heat until it reaches an internal temperature of 145 degrees. At 300 degrees, this will typically take about 20-30 minutes, but will take longer if you are smoking the sablefish at a lower temperature.
Making Misoyaki Butterfish on a stovetop
If you want to make a more traditional miso marinated black cod recipe you can cook the butterfish on your stovetop. Simply heat a pan with a thin layer of cooking oil over medium-low heat. Cook the fish for about 4-5 minutes per side, or until the temp reaches an internal temperature of 145 when checked with an instant read thermometer.
What to Serve with Miso Butterfish
To serve, top the smoked miso marinated black cod with the vinaigrette relish. The dish pairs well with black or forbidden rice, or try our Caribbean Rice and Beans. Grilled vegetables or sweet potatoes also work well with the misoyaki butterfish recipe.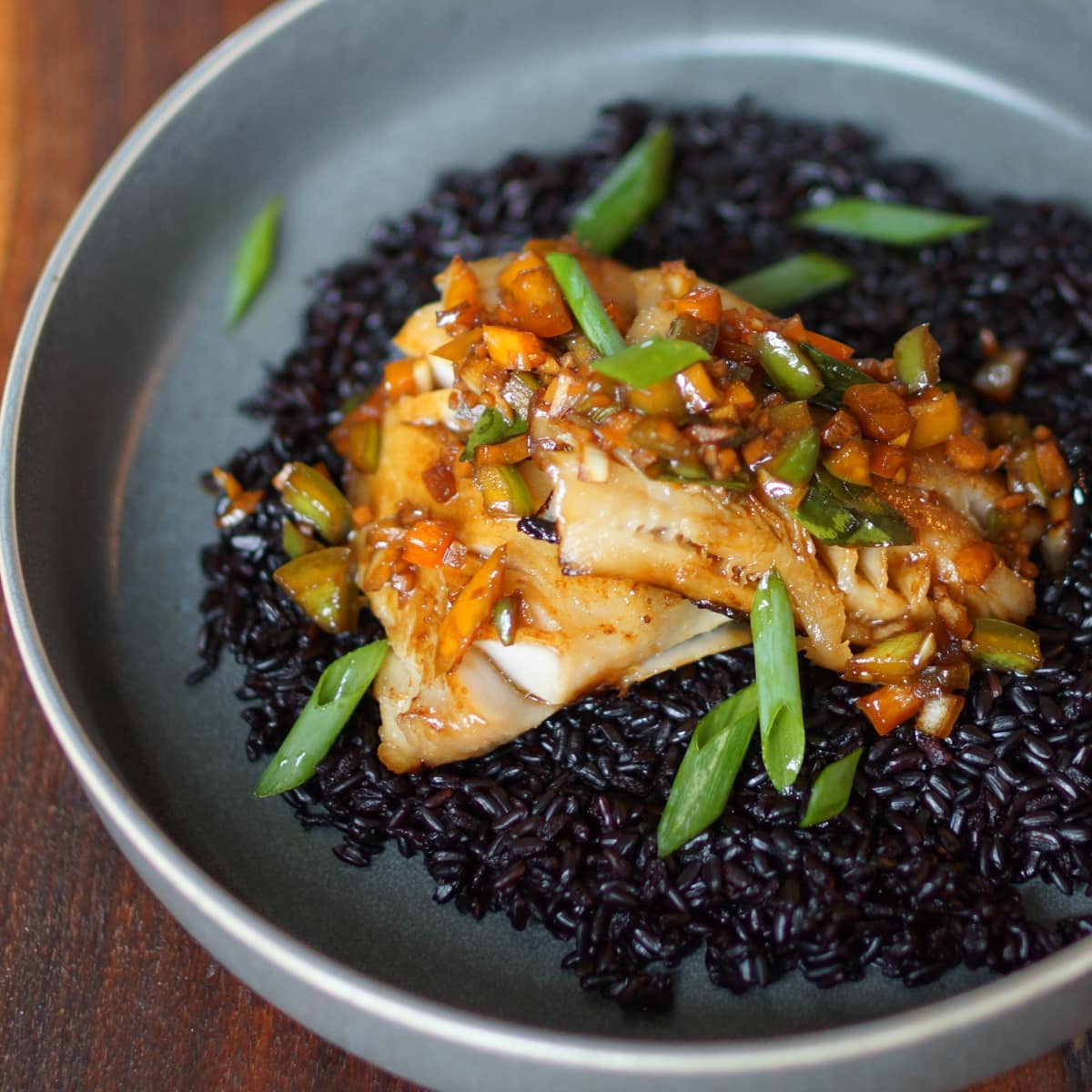 Finish your meal off with a glass of sake or a Coconut Mai Tai and a slice of Samoas Coconut Cream Pie.
For more great Hawaiian and Caribbean inspired recipes, check out some of the best tropical recipes here:
Frequently Asked Questions
What type of fish is Misoyaki Butterfish?
Misoyaki butterfish is made from miso marinated black cod or sablefish. This Japanese fusion dish is popular in the Hawaiian islands.
What type of miso paste do you use to make Misoyaki Butterfish?
To make miso marinated sablefish or butterfish, you want to use shiro miso. This is also known as white miso.
What is the best temperature to cook black cod to?
Due to the fat content on the fish, black cod, sablefish, and butterfish is best cooked to an internal temperature of 140-150 degrees.
Is misoyaki butterfish a gluten free recipe?
Due to the soy sauce in the recipe, misoyaki butterfish is not a gluten free recipe. In addition, many brands of miso may also contain gluten.
Are black cod a sustainable fish?
Despite the increase in popularity black cod or sablefish are not labelled as overfished and are a sustainable seafood. The fish has earned a Green "Best Choice" Rating by the Monterey Bay Aquarium Seafood Watch.
Thank you for taking the time to visit our blog. If you tried and enjoyed our recipe, please share with others and please leave us a comment and review. We also love to see your pics so don't forget to tag us @Carne_Diem_Culinary or #CarneDiemBlog. To be notified of future recipes please follow us on Facebook, Instagram, or Pinterest, or sign up for our e-mail notifications. Until next time, Carne Diem!
📖 Recipe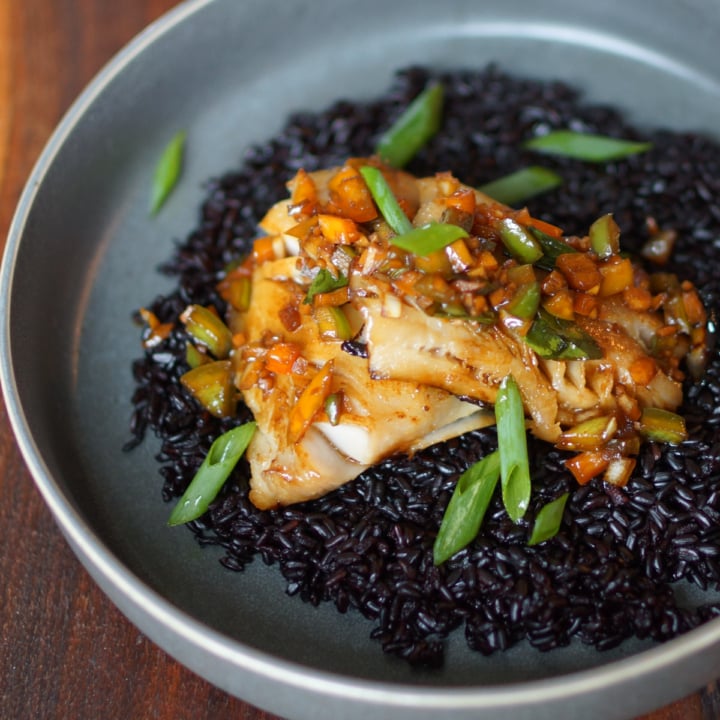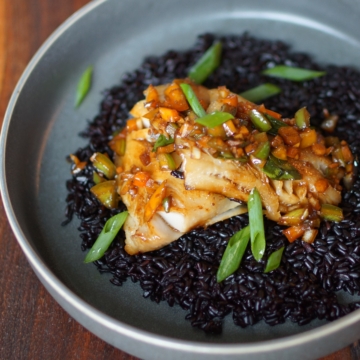 Smoked Misoyaki Butterfish
This miso marinated black cod recipe is marinated in a mixture of sake, mirin, and white miso before being cooked on a smoker and served with a tangy onion, ginger, and sweet pepper vinaigrette relish.
Ingredients  
2

Pounds

Sablefish

Black cod
Miso Marinade
6

Ounces

Sake

6

Ounces

Mirin

2

Ounces

Shiro White Miso

¼

Cup

Sugar
Vinaigrette
6

Sweet Peppers

diced

½

Sweet Onion

diced

1

Tablespoon

Ginger

minced

¼

Cup

Daikon

Shredded

¼

Cup

Cilantro

½

Cup

Olive Oil

½

Cup

Soy Sauce

2

Tablespoons

Rice Wine Vinegar

1

Lemon

Juiced
Instructions 
Miso Marinade
Add the marinade ingredients to a saucepan slowly bring to a boil then reduce to simmer. Simmer the marinade for 20 minutes, then remove from the heat. If using Kombu, remove the Kombu from the marinade.

Allow the marinade to cool to room temperature.
Marinate the sablefish
Rinse the fish and cut into 6 equal portions.

Marinate the black cod for 24-72 hours, covered, in the refrigerator.
Prepare the sweet pepper and onion vinaigrette
Finely slice or dice the sweet onion, peppers, and daikon. You can also shred the daikon for a finer consistency.

Finely chop the cilantro and slice the green onion. Mince the ginger.

Heat the olive oil over medium low heat and briefly sauté the sweet onion, peppers, daikon, and ginger, until soft.

Remove from the heat and place in a bowl. Combine with the remaining vinaigrette ingredients.

Cover and reserve until needed.
Smoking the Black Cod
Remove the fish from the marinade and preheat your grill or smoker to 300 degrees, set up for indirect heat.

Cook the cod at 300 degrees, indirect, until done. This typically takes about 20 minutes. The internal temperature of the fish should be about 140-150 degrees.

Serve the fish over rice and topped with the sweet pepper and onion vinaigrette.
Nutrition
Calories:
453
kcal
Carbohydrates:
36
g
Protein:
28
g
Fat:
20
g
Saturated Fat:
3
g
Polyunsaturated Fat:
3
g
Monounsaturated Fat:
13
g
Trans Fat:
0.01
g
Cholesterol:
71
mg
Sodium:
2117
mg
Potassium:
752
mg
Fiber:
4
g
Sugar:
23
g
Vitamin A:
3792
IU
Vitamin C:
164
mg
Calcium:
44
mg
Iron:
2
mg