Protein: Seafood, Salmon
Method: Pizza Oven, Wood Fire Oven
Jump to Recipe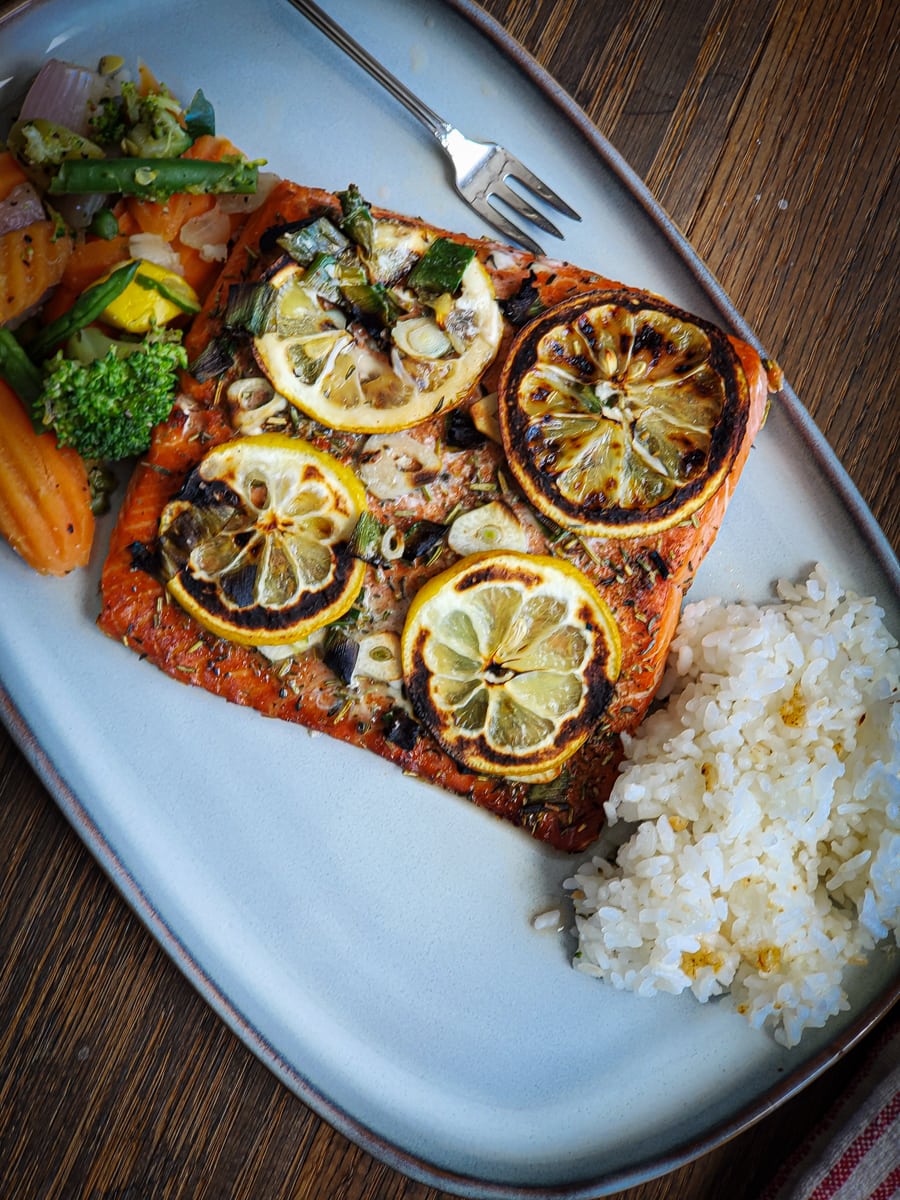 Wood fire ovens like an Ooni pizza oven have become very popular over the years and are able to turn out restaurant quality pizzas at home. These wood fire ovens can also be used to make other great foods like steak, veggies, bread, and wood fired seafood like this pizza oven wood plank salmon. This easy salmon recipe is one of the best salmon recipes to make in your home pizza oven or wood fire oven.
What is the best salmon for Wood Plank Salmon?
Whenever we are cooking salmon on a wood plank, we tend to prefer wild caught Pacific salmon. Not only is Pacific salmon more visually appealing than the paler Atlantic or farm raised salmon, they are also richer in flavor than Atlantic salmon. Our favorite salmon species is Sockeye but Coho, and Chinook (King) salmon are also excellent choices.
Making the Wood Plank Salmon in a Pizza Oven
Making wood plank salmon in an Ooni is super easy and results in a perfectly smoky salmon. To make this easy wood plank salmon recipe you just need a wood plank, a seafood seasoning (or use the easy homemade seasoning below), lemon, garlic, and green onions.
If you are looking for more great salmon or other fish recipes, be sure to check out some of our most popular fish recipes:
Make the easy homemade Salmon Seasoning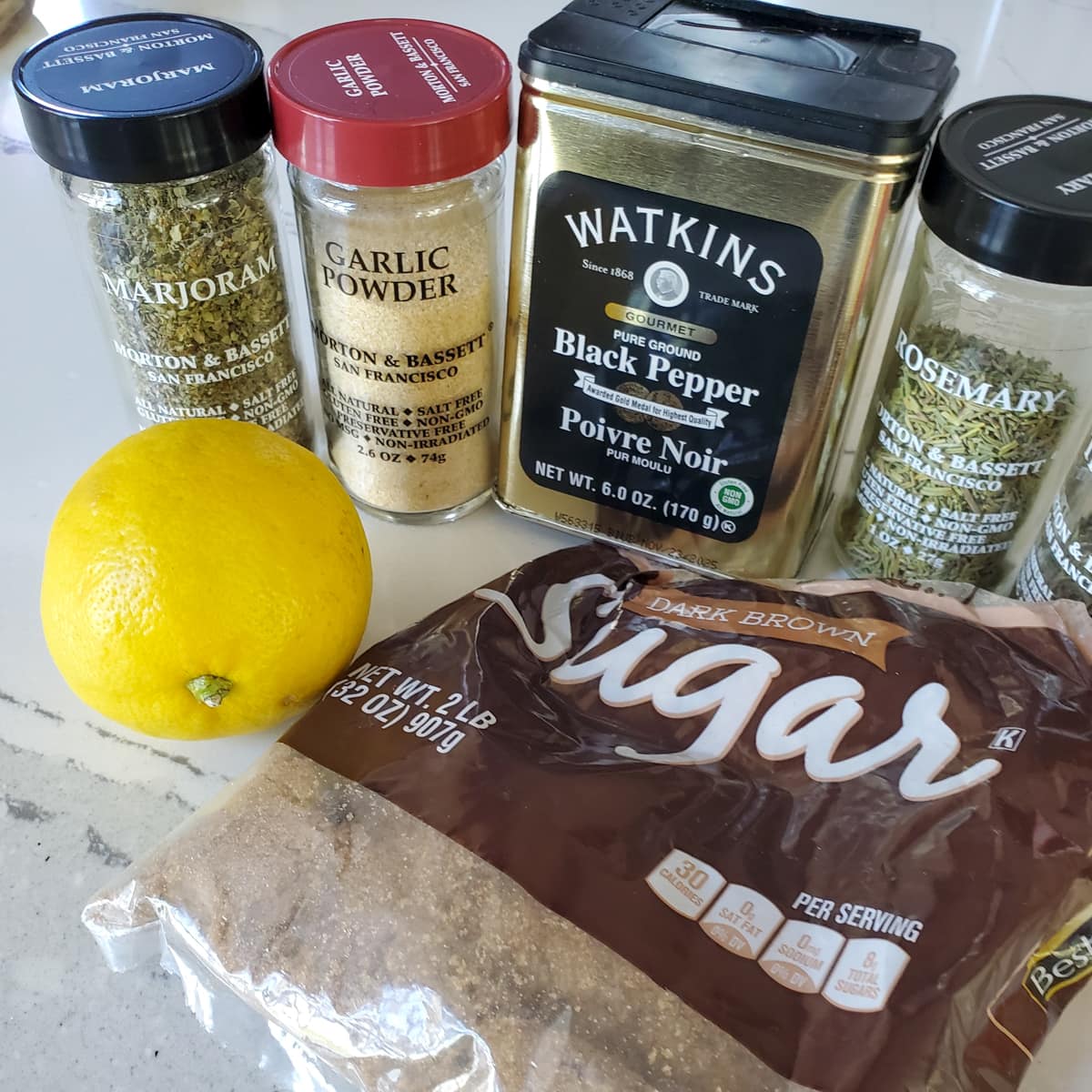 To make the homemade salmon seasoning you will need brown sugar, thyme, rosemary, cumin, paprika, garlic powder, marjoram, salt and black pepper. The fish seasoning is super easy to make and pairs perfectly with the salmon but works great on other types of fish as well. If you do not want to make the seafood seasoning from scratch, you can feel free to use your favorite.
Just mix the salmon seasoning ingredients together in a bowl and set aside. This recipe provides enough seafood rub to season about a half of salmon.
Prep your ingredients.
Prepare the ingredients for the salmon by dicing the green onion and slicing the garlic and lemon.
Prepare and season the salmon fillets
Rinse the salmon and pat dry with paper towels. For quicker cooking, and to cook more evenly, you may wish to precut the salmon into individual portions. You can also cook the entire salmon fillet whole. When cooking the entire salmon fillet the ends tend to get done before the middle, which works out if those you are serving prefer different doneness levels of their salmon. Place the salmon fillets on a plate, or in a glass bowl, and season liberally with the seafood seasoning.
Next, top the salmon with the garlic slices and the green onions. Finish by topping with the lemon slices and then place the salmon fillets on the wood plank, skin side down.
What is the best wood for wood plank salmon?
When making wood plank salmon our favorites are alder plank salmon or cedar plank salmon. Other woods that work well with fish include maple or fruit woods like cherry or apple.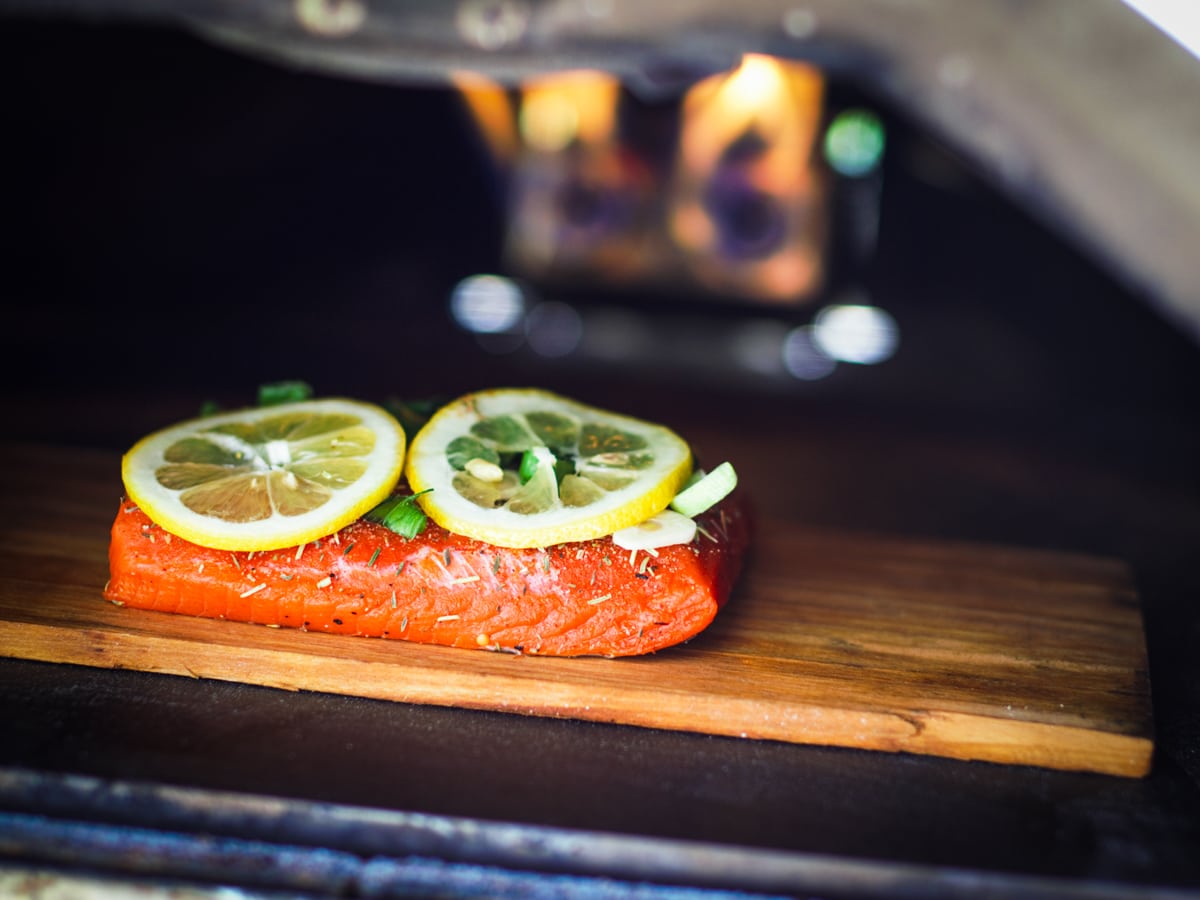 Do I need to soak my wood plank?
While we typically recommend soaking your wood when making wood plank salmon on a grill, where you are cooking directly over a fire, we do not recommend soaking the plank for this salmon in your Ooni pizza oven. Adding wet wood to the top of a pizza stone can cause it to crack. Additionally, you want the wood plank to begin to smolder on the hot stone or pizza steel, to impart a smokier flavor to the fish. The wood plank salmon is best cooked toward the front half of the oven, and we have never had an issue with the wood plank catching fire in the pizza oven.
Cooking the wood plank salmon in your Ooni pizza oven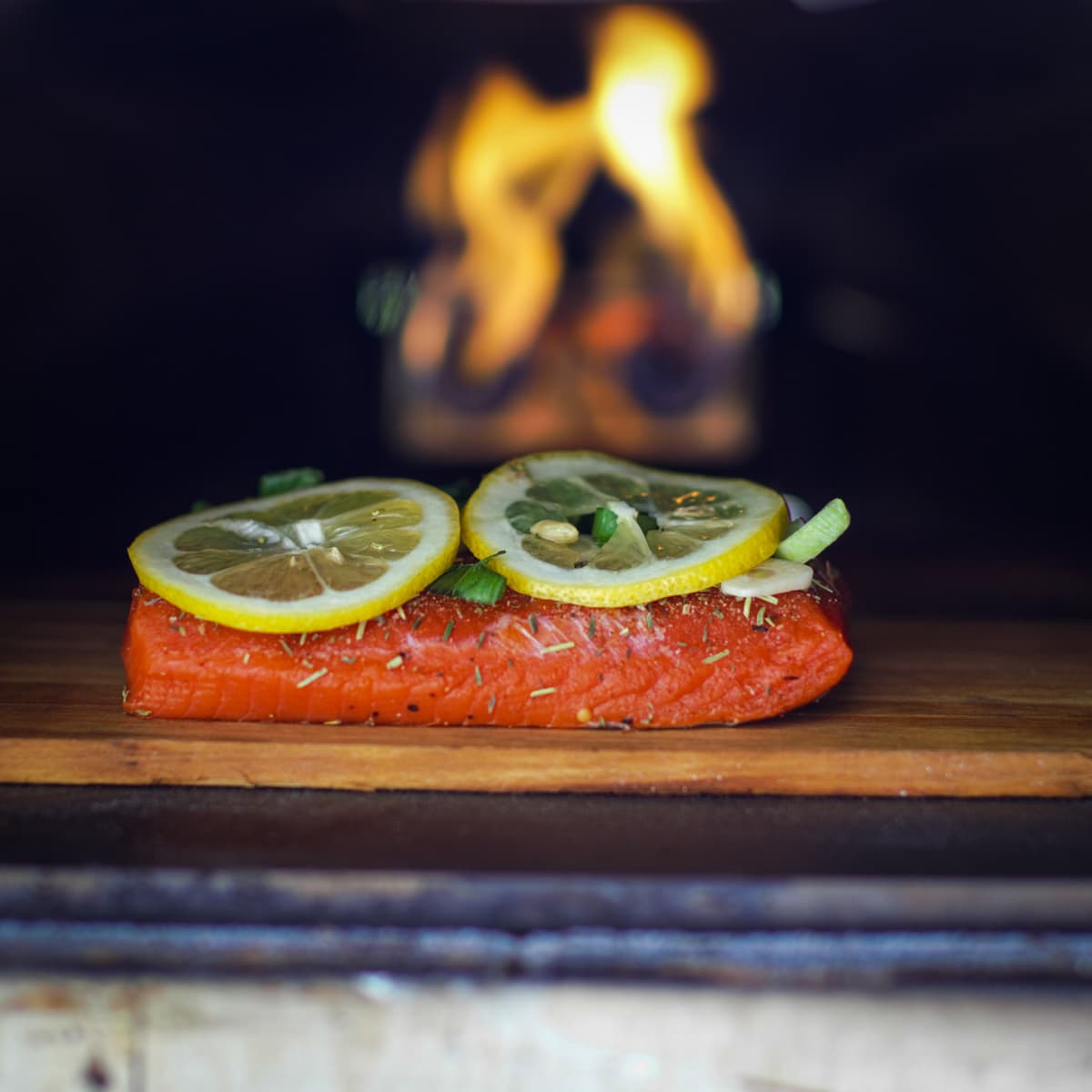 Preheat your pizza oven to 450-500 degrees Fahrenheit and allow your pizza stone or pizza steel at least 30 minutes to heat up.
Place the wood plank, with the salmon, in the front half of the pizza oven with the thicker part of the salmon closer to the fire. Cook for about 3-5 minutes, then carefully rotate the planked salmon so the thinner side of the salmon is closer to the fire. Cook an additional 3-5 minutes, then start checking for doneness.
The salmon is done when you can flake it with a fork. According to the USDA, salmon should be cooked to 145 degrees. This will result in a well done and dry salmon. Our person favorite is cooking salmon to an internal temperature of 115 degrees, which is at the upper end of medium rare. For medium cooked salmon, continue to cook to an internal temperature of 120-125 F. Note: for farm raised salmon cook the salmon to at least 120 degrees.
What to serve with wood plank salmon?
Cedar plank and other wood plank salmon pair great with grilled vegetables like grilled asparagus, zucchini, or a vegetable medley. Grilled sweet potatoes and roasted potatoes are also great sides for salmon.
Some of our favorite recipes to sere alongside this wood fired planked salmon are our Grilled Endive Salad with Poppy Seed Dressing, Smoked Au Gratin Potatoes, rice, and a glass or two of Blackberry Red Sangria.
While you are here, why not try more of our wood fired and pizza oven recipes:
Thank you for taking the time to visit our blog. If you tried and enjoyed our recipe please share with others and please leave us a comment and review. We also love to see your pics so don't forget to tag us @Carne_Diem_Culinary or #CarneDiemBlog. To be notified of future recipes please follow us on Facebook, Instagram, or Pinterest, or sign up for our e-mail notifications. Until next time, Carne Diem!
📖 Recipe
Wood Plank Salmon in a Pizza Oven
This wood plank salmon is seasoned with a savory salmon rub then topped with garlic, green onions, and lemon, making for a quick and easy recipe to make in your pizza oven, like an Ooni.
Ingredients  
Salmon Fillet

1

Lemon

Sliced

3

Garlic Cloves

Sliced
Salmon Seasoning
1

teaspoon

Brown Sugar

1

teaspoon

Paprika

1

teaspoon

Thyme

1

teaspoon

Rosemary

1

teaspoon

Garlic Powder

¼

teaspoon

Cumin

¼

teaspoon

Marjoram

¼

teaspoon

Black Pepper
Instructions 
Combine the salmon seasoning ingredients in a bowl and mix to combine.

Prep your ingredients by thinly slicing the garlic and lemons, and chopping the green onions.

Rinse the salmon and pat dry. Season the salmon liberally with the seafood seasoning.

Top with the green onions and garlic slices, and then the lemon slices.

Place the salmon fillet on an dry wood plank, skin side down.

Preheat your pizza oven to 450-500 degrees and allow to heat for at least 30 minutes.

Place the wood plank salmon in the front half of the pizza oven, with the thickest part of the salmon toward the fire. Cook 3-5 minutes then rotate the salmon 180 degrees and cooks an additional 3-5 minutes.

Rotate the thicker side of the salmon back toward the fire and cook to desired doneness (115F for medium rare, 125F for medium, 145F for well done)
Nutrition
Calories:
261
kcal
Carbohydrates:
5
g
Protein:
34
g
Fat:
11
g
Saturated Fat:
2
g
Polyunsaturated Fat:
4
g
Monounsaturated Fat:
4
g
Cholesterol:
94
mg
Sodium:
77
mg
Potassium:
900
mg
Fiber:
1
g
Sugar:
2
g
Vitamin A:
140
IU
Vitamin C:
17
mg
Calcium:
37
mg
Iron:
2
mg