Last Updated on July 11, 2023 by Carne Diem
Protein: Shellfish
Origin: American South
Method: Grill or Smoker
Jump to Recipe
For me oysters were, for the longest time, a food that held absolutely no appeal to me.  They were filed away in the category of foods along with uni (sea urchin) and mushrooms on pizza as foods that no matter how many times I tried I just could not stand them.  For me the biggest issue was not that they were raw (I love sushi) or the taste (bring on the brine), but the texture.  For me it was just an obstacle I could not get over to enjoy oysters.
All of that changed for me during a trip to New Orleans a few years ago when Drago's, "Home of the Charbroiled Oyster," entered my life.  The first time there, my wife and I started off ordering the smallest order we could because, like me, she had a strong dislike of oysters, but we figured that we needed to try them, because "when in Rome..."  Needless to say, that after the first bite, our opinion of oysters was changed for good.  Add in the fact that our then 8 year old fell in love with shellfish that day (a love affair that continues now that he is 10 and waiters continue to be impressed  watching him put away platters of mussels, clams, and oysters), and that small order quickly became several more large orders.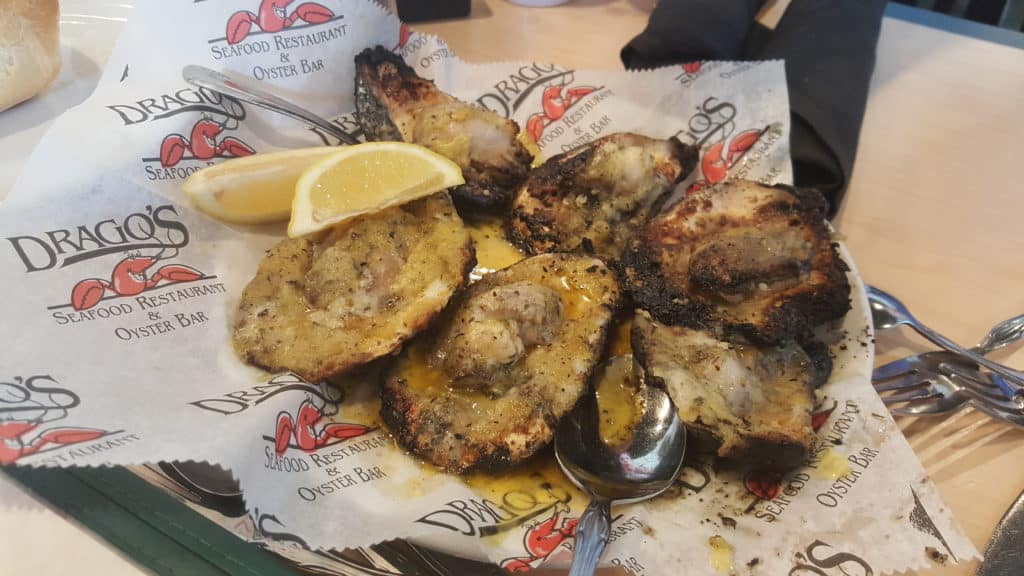 There continues to be something about the smokiness of the charbroiling combined with the saltiness of the cooked oyster liquor that simply makes this a match made in heaven.  The following recipe is a chargrilled oyster recipe that we have tweaked over the years and find to be pretty perfect. Now if someone can just find me a recipe that makes mushrooms taste good on pizza.
Making the Drago's Inspired Chargrilled Oysters
Selecting your oysters
There are countless oysters out there, but you do not need to stress too much about which one to pick. Feel free to use a favorite, or if you are new to oysters, we like Blue Point Oysters due to their availability, size, ease of shucking, and meatiness. Every oyster has a unique taste and texture depending on where it was grown and water conditions. In all honestly, with a chargrilled oyster you are unlikely to notice these subtle variations so go with a large, affordable oyster, with a "deep bowl" to help hold in all of that oyster liquor, and garlic butter. Save the petite oysters for the raw bar.
Once you have selected your oysters and brought them home, keep them chilled in the refrigerator. I find it best to keep them in their bag in a bowl covered with a damp cloth. Don't let them sit in fresh water or rinse them until ready to use. Just prior to cooking, give them a good rinse and shuck them. It will take practice but try to reserve as much oyster liquor as possible.
How to Shuck an Oyster
To shuck an oyster can be very frustrating the first couple times you do it. Once you get the hang of it, however, it is fun and a good way to impress your friends. It is a lot easier with a shucking knife, which is inexpensive, but you can accomplish the same thing with a sturdy dinner knife (a rounded, not a sharp knife). A lot of seafood shops will carry shucking knives or you can get them cheaply on Amazon.
To shuck the oyster, hold the oyster flat side up and simply work the tip of the knife into the hinge of the oyster, until you feel it give. Next slightly turn the knife like you are turning a doorknob, (don't use like a lever), to slightly open the shell. Third slide the knife along the top shell to free the meat from the shell and remove the top shell. There are a lot of videos on the internet showing how to do this and I highly recommend watching a couple to learn the technique well.
Let's get those New Orleans Style Chargrilled Oysters on the grill
Heat your smoker or grill to high heat and set up for direct cooking. For this recipe we used our Big Green Egg, but you can use any grill.
In a bowl, mix the melted butter with garlic and pepper and mix well to combine. Next, pour a spoonful over each oyster. Add a dash of your favorite hot sauce to each oyster.
Place the oysters over the direct heat and cook on the grill, topping with more sauce as needed. Be cautious there will be flare ups from the dripping oil/butter so be prepared.
Top the Drago's Inspired Oysters with cheese
When cooked through, move to indirect heat and top each oyster with Parmesan cheese and a pinch of oregano. This typically takes about 5-7 minutes depending on the heat of your grill. Remember, these are typically eaten raw, so don't worry too much about doneness. A rule of thumb, however, is if the butter is starting to foam in the oyster it is likely cooked.
Continue cooking until the cheese is melted (1-3 minutes) and remove to a serving plate. Be careful when removing them as they will be hot. We find sturdy BBQ gloves work well to remove the oysters. Feel free to eat with a fork, or slurp away like a pro.
These New Orleans Style Oysters make a great start to your Marti Gras inspired meal. Serve them along with some of our New Orleans Style BBQ Shrimp, Chicken a la Mer, and Cheesy Jalapeno Grits.
Looking for more shellfish recipes? Be sure to check out our Wood-Fired Seafood Paella or Wood Fired Croatian Mussels: Dagnje na Buzaru, and Grilled Clams Casino.
Did you know that oysters are an aphrodisiac? You did? Then please leave a rating and comment below (spare the details this is a family friendly site).
Thank you for taking the time to visit our blog. If you tried and enjoyed our recipe, please share with others and please leave us a comment and review. We also love to see your pics so don't forget to tag us @Carne_Diem_Culinary or #CarneDiemBlog. To be notified of future recipes please follow us on Facebook, Instagram, or Pinterest, or sign up for our e-mail notifications. Until next time, Carne Diem!
📖 Recipe
Chargrilled Oysters
There is nothing quite like a chargrilled oyster. A great gateway to this delicacy, the smoke and char adds to the delicate, briny flavor of the oyster. Add some cheese and you are on a trip to flavor town.
Ingredients  
12

Large Fresh Oysters

We prefer Blue Point

4

oz

butter

melted

1

Tab

Garlic Squeeze or minced garlic

½

tea

Smoked Black Pepper

1

dash

Favorite Hot Sauce

Grated Parmesan-Romano Cheese

about 1 oz

Fresh Oregano
Instructions 
Rinse and shuck the oysters, reserving as much oyster liquor as possible. See notes for shucking instructions.

Heat a grill to high heat

Mix melted butter with garlic and pepper and pour a spoonful over each oyster. Then dash each oyster with a bit of hot sauce.

Place the oysters over the direct heat and cook, topping with more sauce as needed (caution there will be flare ups from the dripping oil/butter).

When cooked through, move to indirect heat and top each oyster with cheese and a pinch of oregano. Cook until the cheese in melted.

Remove to a serving plate and slurp away, or be overtly proper and eat them with a fork.
Nutrition
Calories:
212
kcal
Carbohydrates:
2
g
Protein:
1
g
Fat:
23
g
Saturated Fat:
15
g
Polyunsaturated Fat:
1
g
Monounsaturated Fat:
6
g
Trans Fat:
1
g
Cholesterol:
63
mg
Sodium:
207
mg
Potassium:
32
mg
Fiber:
1
g
Sugar:
1
g
Vitamin A:
712
IU
Vitamin C:
1
mg
Calcium:
17
mg
Iron:
1
mg