Protein:
Method: Griddle or Flat top
Jump to Recipe
I was first introduced to New York's signature sandwich, during a recent visit to Manhattan, and was instantly in love. The chopped cheese sandwich was a quick and inexpensive meal while touring around the city. Super flavorful chopped hamburger patties were topped with melted cheese, tomato slices and lettuce. It was like a Philly Cheesesteak's flavorful cousin.
What is a Chopped Cheese Sandwich
Also known as simply chop cheese, a New York Style Chopped cheese sandwich is a hot sub sandwich which developed a cult following in the boroughs of New York, especially The Bronx and the Harlem neighborhood in Manhattan. These quick and inexpensive sandwiches are popular in local bodegas and corner stores throughout New York. Authentic chopped cheese sandwiches typically consist of chopped ground beef topped with melted American cheese, lettuce and tomatoes and served on a deli or hoagie roll with mayonnaise, ketchup, or other assorted condiments.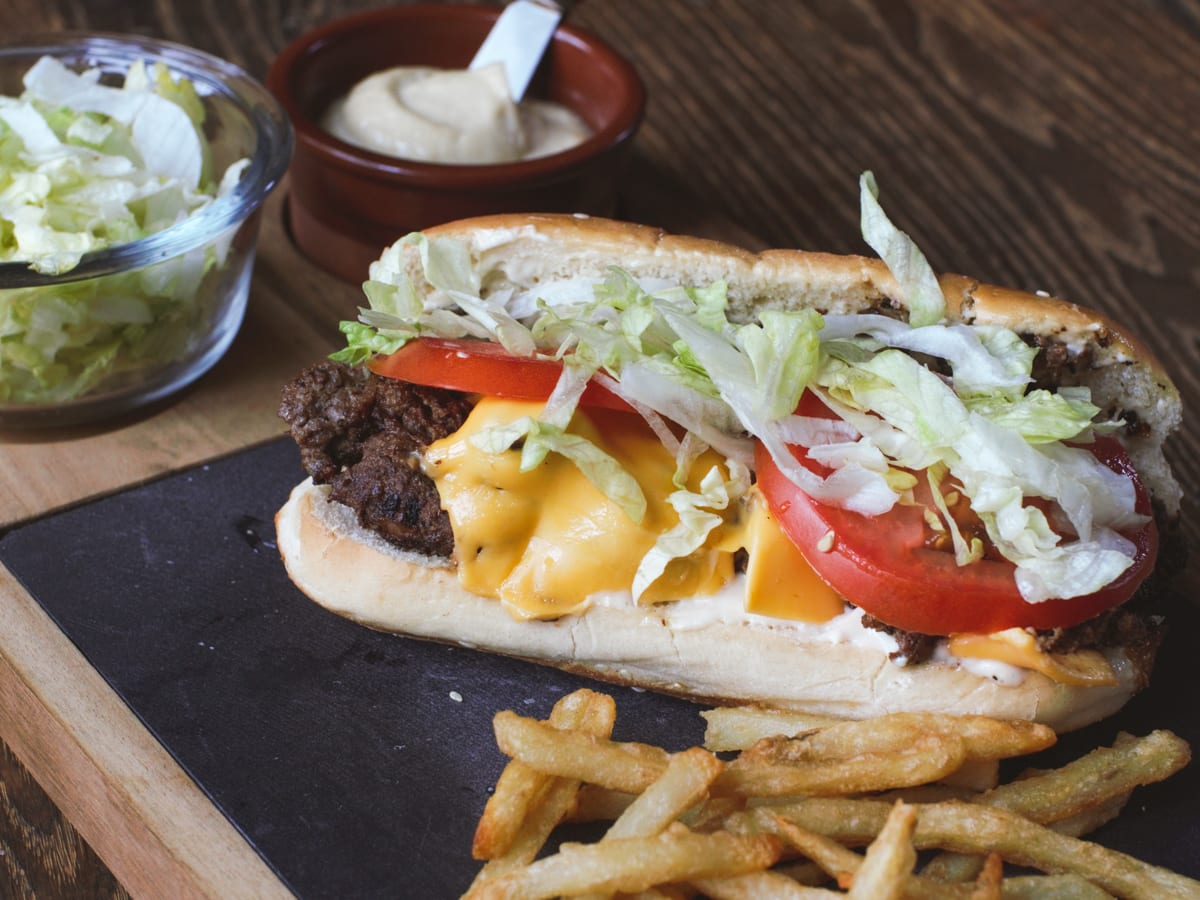 Making a Chopped Cheese Sandwich
To make a traditional chop cheese sandwich you will need ground beef, hoagie rolls, tomatoes, onion, lettuce, and burger seasoning. You can also include your favorite burger condiments. Our personal favorite is garlic aioli.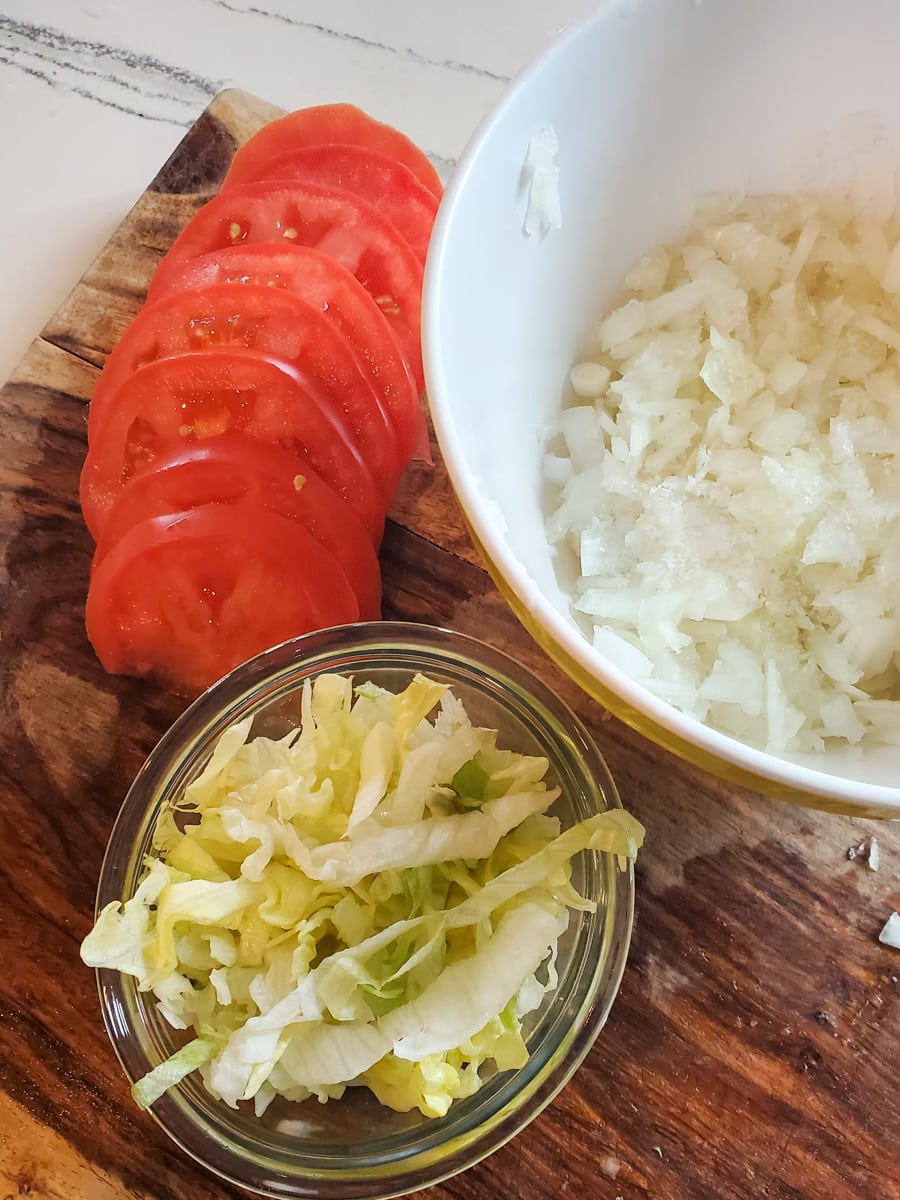 What is the best meat for a Chopped Cheese Sandwich?
Just like with burgers, we find using a ground beef with a sufficient amount of fat content is key to making the best Chop Cheese Sandwich. This is especially true when you are making sandwiches on a griddle like a Blackstone or Cooking Steel. 85:15 ground beef has become our go to for this sandwich, but 80:20 works well too.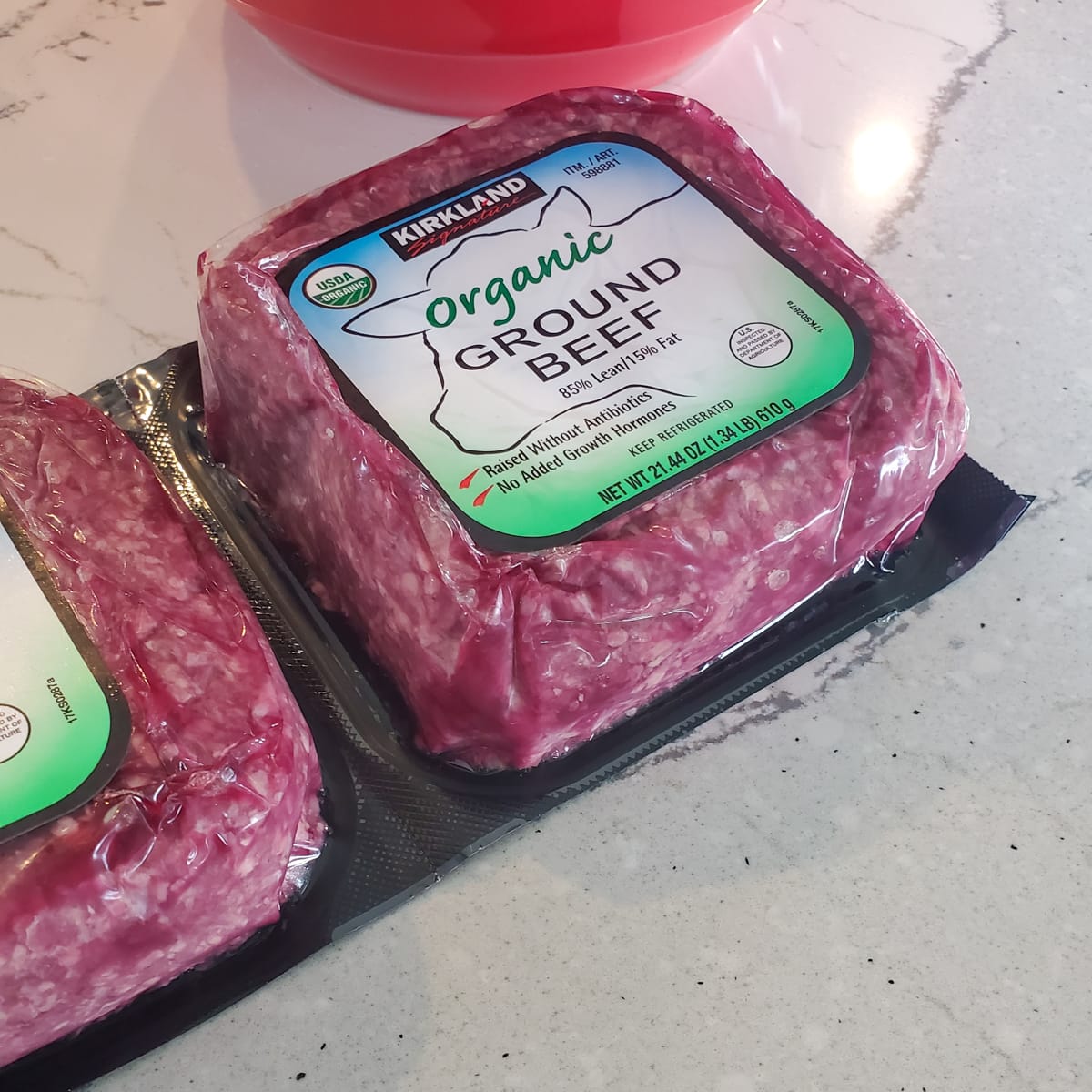 What is the best cheese to use on a New York Chop Cheese Sandwich?
Ask any local New Yorker, what cheese to use on a traditional and authentic chopped cheese sandwich and American cheese will almost unanimously be the answer. American cheese is to a New York chopped cheese, what Cheese Wiz is to a Philly Cheesesteak. So, if you want to stay authentic, there is really no substitute for the slices of processed cheese. That said, we often mix it up with different styles of American cheese, such as slices with Jalapeno, when we want to add a little kick to our bodega style sandwich.
Prep the sandwich
To prep the sandwich, slice your tomato and shred your lettuce. Shred the onion into a small bowl. We find shredding the onion and mixing in with the burger patties works best to help keep moisture in the meat and to keep the onions from burning on the griddle. Once the onion is shredded, season with about ½ teaspoon of salt. This well help draw out excess moisture from the onion. Mix and allow to sit for about 20 minutes. Drain the liquid from the onions and use a paper towel to press out additional moisture from the shredded onions.
Prepare the Burger Patties
To make the burger patties for the chop cheese combine the beef patties with the burger seasoning. We typically use our easy homemade burger seasoning, but you can use your favorite, or a simple SPG rub works well too. Next add in the shredded onion, and mix well to combine.
Next, form the meat mixture into about 6 equal sized balls, about 8 ounces each.
Cooking the Chopped Cheese on your Blackstone or Flat Top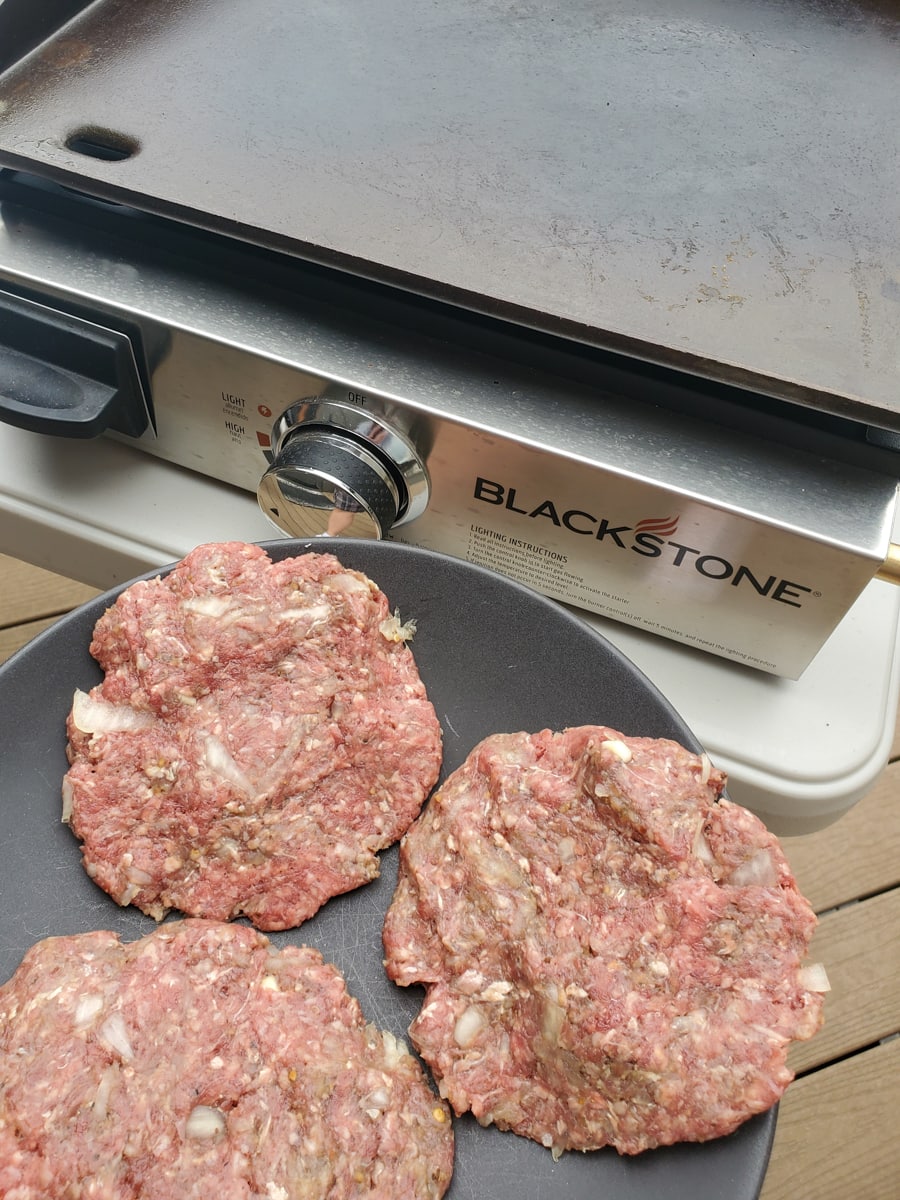 Preheat your griddle of flat top to high heat, and oil well with an oil with a high smoke point, like avocado oil. Flatten the meatballs into thin patties and add to the grill.
Cook the patties for about 2-3 minutes then flip and season with some additional burger seasoning. The burgers should have a nice, caramelized crust at this point.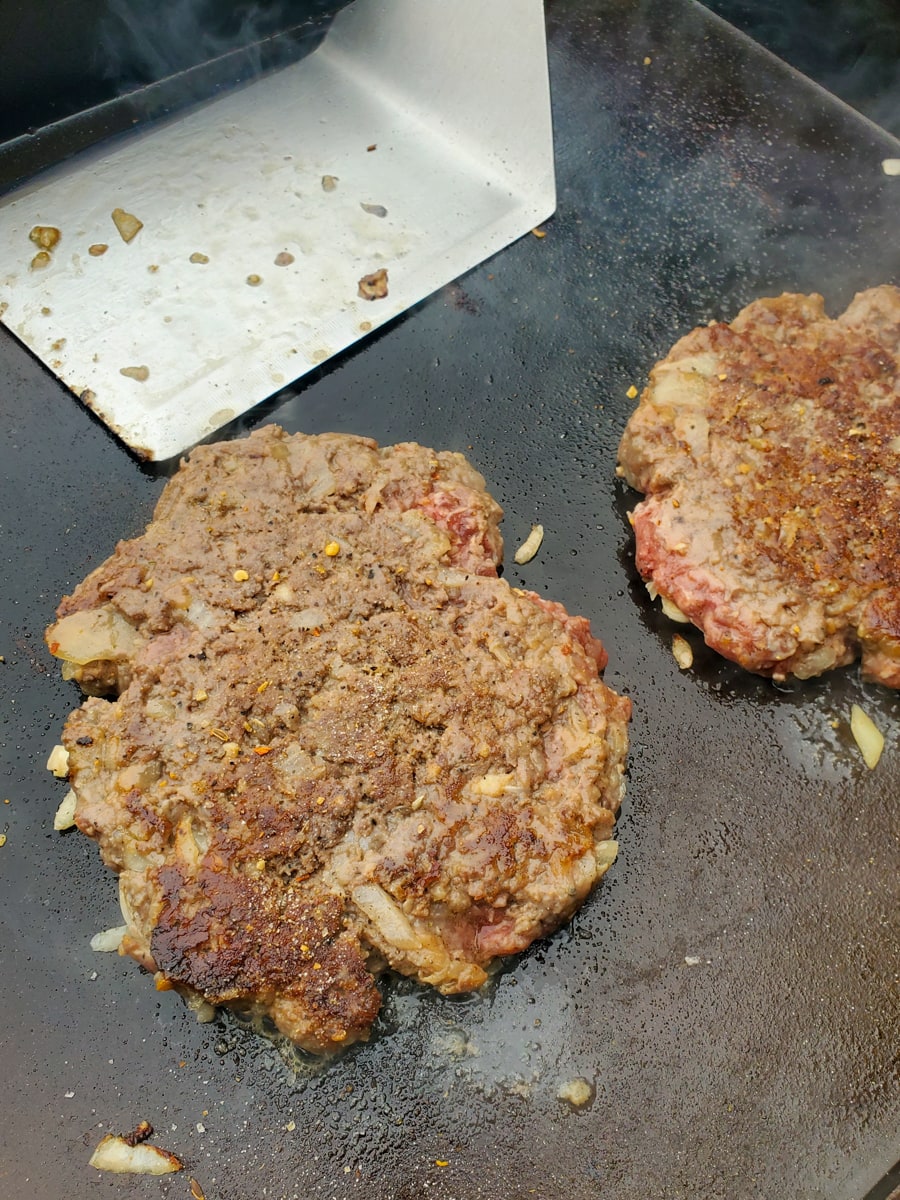 Cook for an additional 2 minutes then chop the patty with a heavy spatula, breaking the burger into small pieces.
Next, top the chopped ground beef with the American cheese. If desired, toast the hoagie rolls on the Blackstone or griddle. Once toasted, spread a layer of the garlic aioli on the inside of the hoagie or sandwich roll. Once the cheese has melted, carefully scoop the beef and cheese into the sandwich roll.
Check out our ever-growing list of the best Blackstone and griddle recipes here: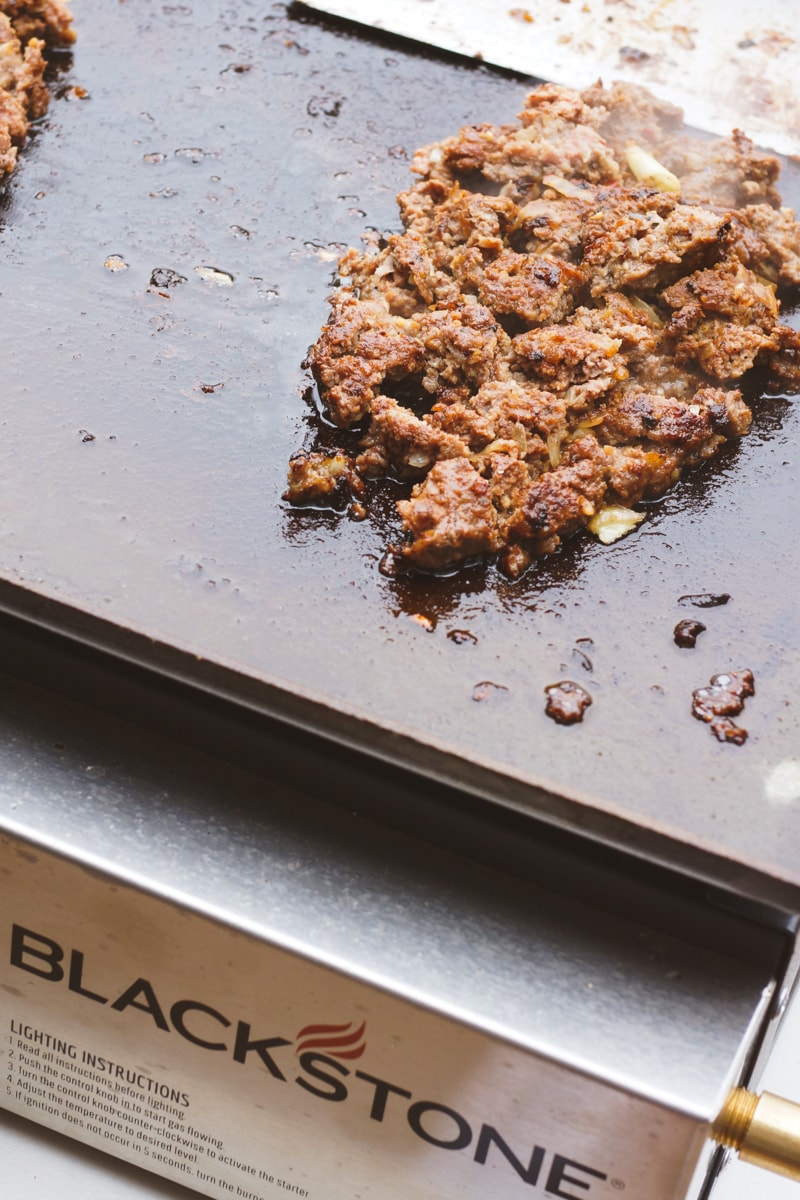 Finishing the sandwich
Top the New York beef sandwich with slices of tomato and shredded lettuce. Add any additional condiments as desired.
Be sure to check out more great sandwich recipes from around the globe:
What to serve with a Bodega style Chopped Cheese Sandwich
Chop cheese sandwiches are typically served with chips or crispy French Fries. Additionally, you can mix it up with sides like a pasta salad, grilled corn salad, or bowl of Fire Roasted Tomato Soup.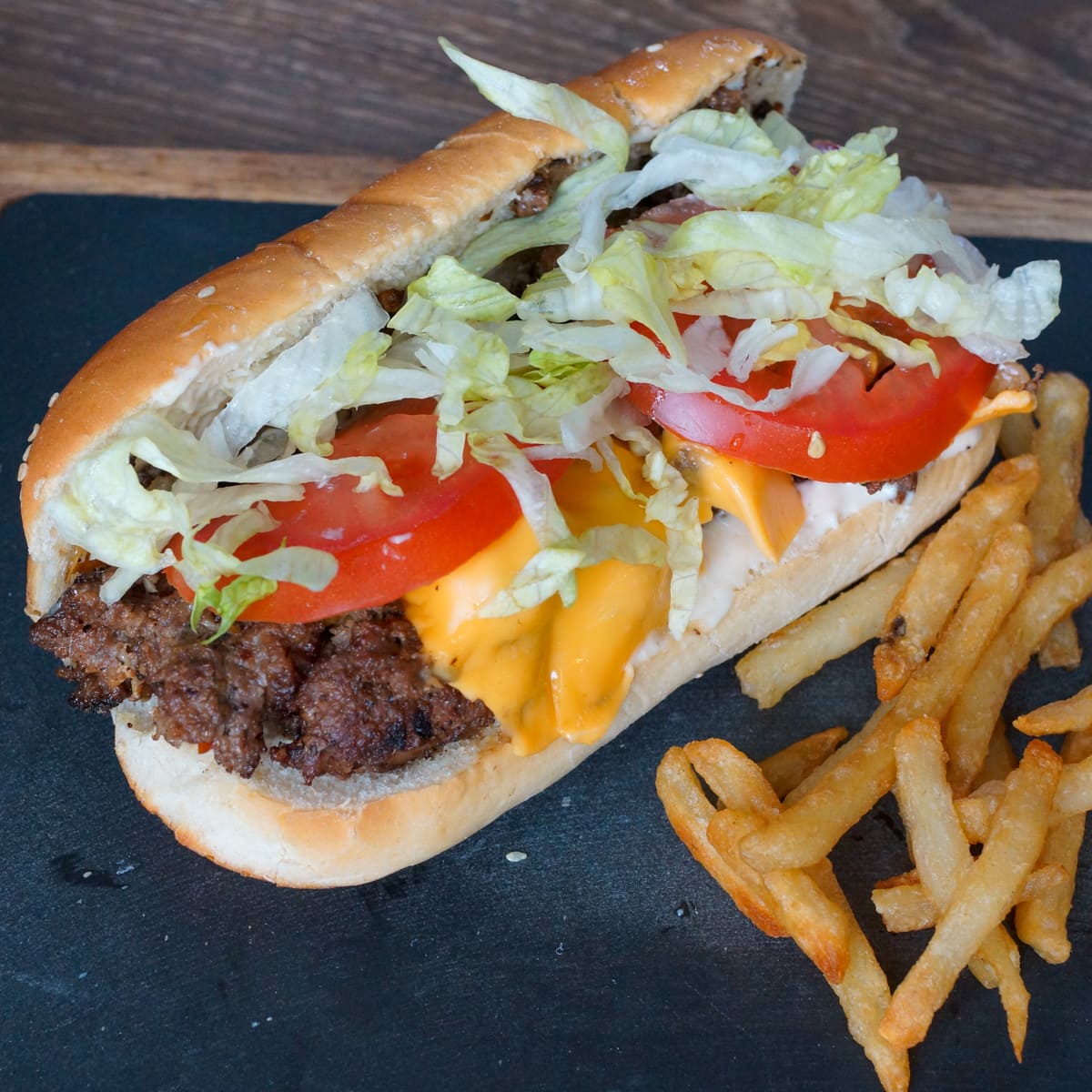 Thank you for taking the time to visit our blog. If you tried and enjoyed our recipe, please share with others and please leave us a comment and review. We also love to see your pics so don't forget to tag us @Carne_Diem_Culinary or #CarneDiemBlog. To be notified of future recipes please follow us on Facebook, Instagram, or Pinterest, or sign up for our e-mail notifications. Until next time, Carne Diem!
📖 Recipe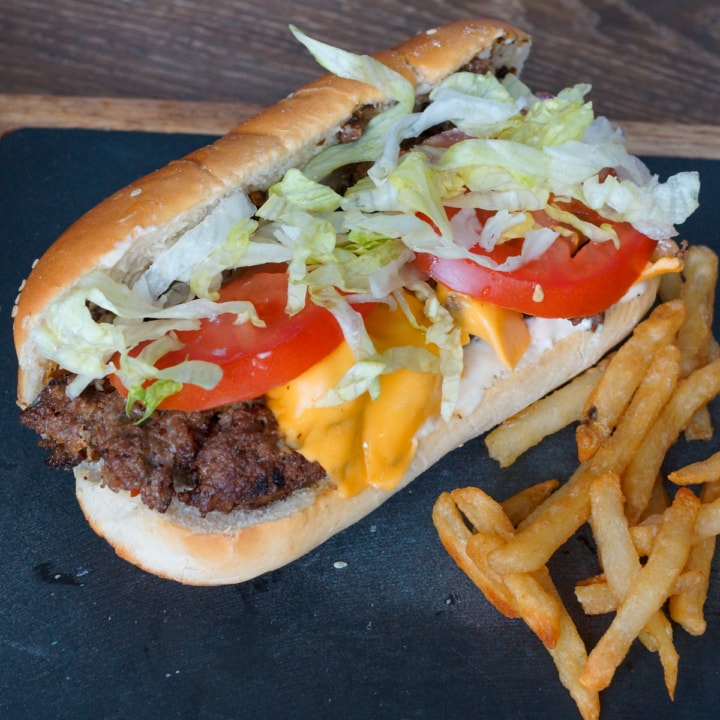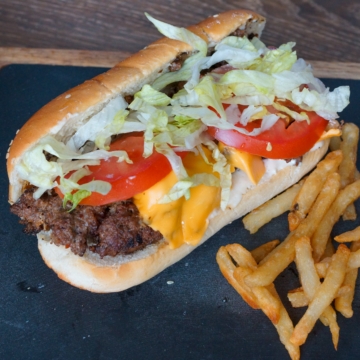 New York Chopped Cheese Sandwich
This New York Bodega style sandwich is a quick and easy recipe to make on your Blackstone, griddle, or flat top. Chopped seasoned hamburger patties and cheese are grilled up perfectly and served on hoagie rolls with tomato, lettuce, and garlic aioli.
Ingredients  
3

pounds

Ground Beef

Preferably 85:15

1

Sweet Onion

Shredded

3

Tablespoons

Burger Seasoning or SPG rub

1

Tablespoon

Seasoning Salt

2

Slicer Tomatoes

3

Cups

Shredded Lettuce

1

Cup

Aioli or Garlic Mayonnaise

6

Hoagie Rolls
Instructions 
Shred the onion into a small bowl and sprinkle with about ½ teaspoon of salt. Mix well and let sit for about 20 minutes. Drain the liquid, and use a paper towel to squeeze additional moisture out of the onions.

In a bowl, combine the ground beef, shredded onion, and burger seasoning. Mix well to evenly combine.

Form into 6 equal sized meatballs, about 8 ounces each. Form the balls into flat patties.

Preheat your Blackstone griddle, or flat top to high heat. Lightly oil with an oil with a high smoke point.

Grill the burger patties for about 2-3 minutes, then flip and season with the seasoning salt and press flat. Cook for an additional 2 minutes then chop the burger patties into small pieces with a spatula.

Top each of the chopped beef patties with 2 slices of American cheese.

If desired toast the hoagie rolls, then spread the inside of the rolls with the aioli or garlic mayonnaise.

Once the cheese has melted top the hoagie or sandwich rolls with the chopped cheese meat. Top each sandwich with sliced tomato, shredded lettuce, and any additional toppings you desire.

Enjoy the New York Chopped Cheese Sandwich warm.
Nutrition
Calories:
973
kcal
Carbohydrates:
49
g
Protein:
46
g
Fat:
63
g
Saturated Fat:
20
g
Polyunsaturated Fat:
1
g
Monounsaturated Fat:
20
g
Trans Fat:
3
g
Cholesterol:
173
mg
Sodium:
1968
mg
Potassium:
919
mg
Fiber:
6
g
Sugar:
9
g
Vitamin A:
649
IU
Vitamin C:
9
mg
Calcium:
188
mg
Iron:
18
mg