Last Updated on October 20, 2023 by Carne Diem
Protein:
Origin: American Northeast, North American
Method: Grill or Smoker
Jump to Recipe
This smoked cheesesteak recipe is loaded with smoked ribeye steak. The seasoned beef is then finished on a flat top like a Blackstone and topped with melted cheese, onions, and bells peppers.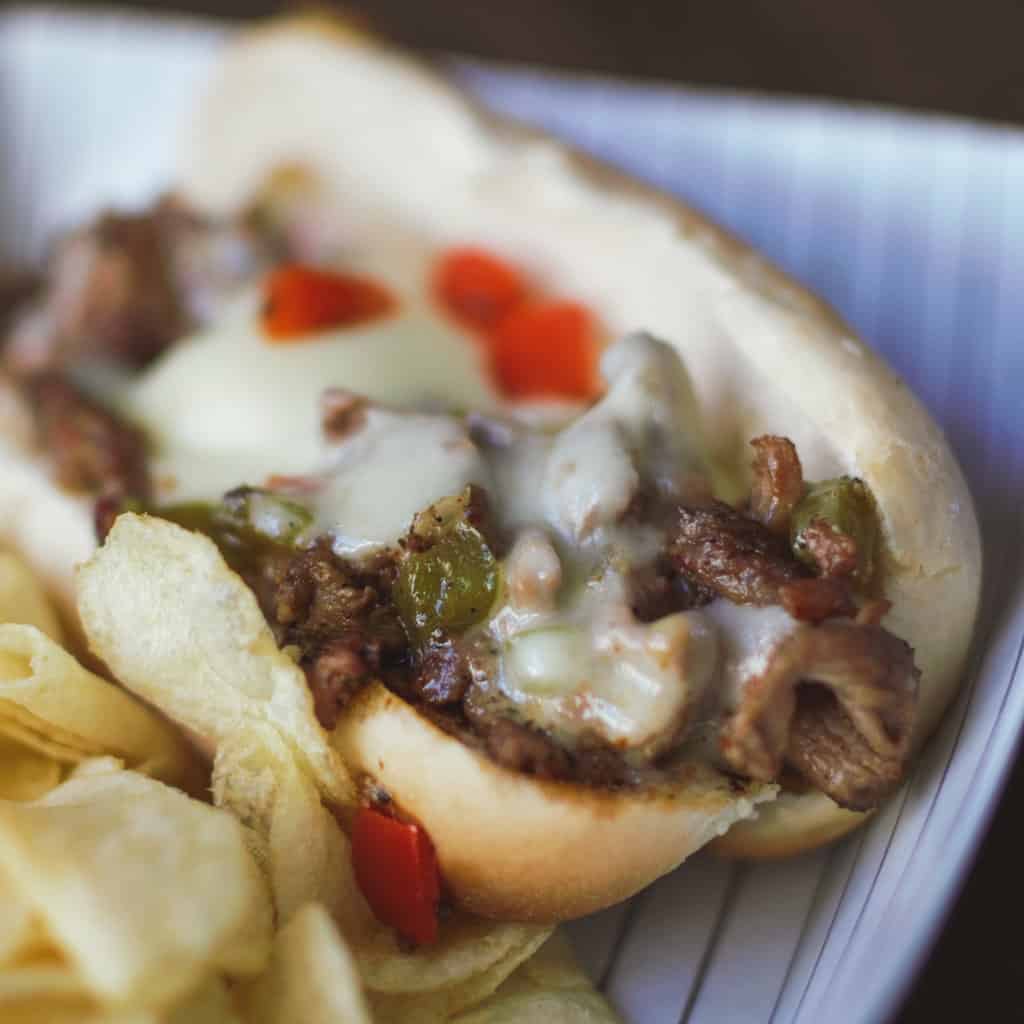 Cheesesteaks are a classic meat and cheese sandwich made famous in Philidelphia. The original cheesesteak is believed to have been invented in the 1930's by a local hotdog vender in Philadelphia and has since become the city's most famous culinary export. Thinly sliced beef steak is topped with melted cheese and served on a soft hoagie roll. Present day, there are many variations of the cheesesteak. In our Smoked Philly Cheesesteak, we slow smoke the ribeye roast before thinly slicing the steak and finishing the cheesesteak on a Blackstone or other griddle.
Making a Smoked Philly Cheesesteak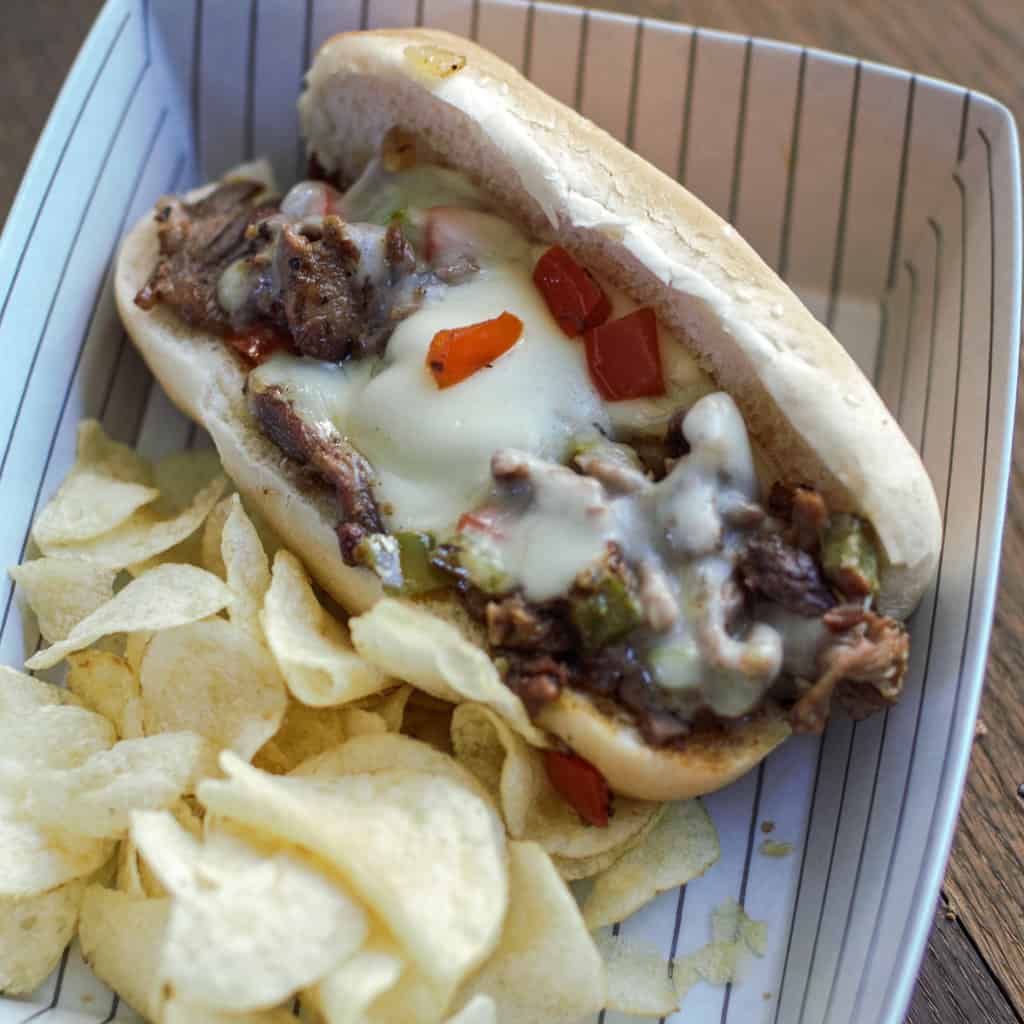 What Meat is Best for a Philly Cheesesteak?
When it comes to making a great cheesesteak, ribeye reigns supreme. Ribeye, when cooked correctly, is tender and packed full of flavor. We also use ribeye for our smoked cheesesteak, which is super easy as ribeye roasts are pretty common to find. In a pinch, other steak cuts like strip steak can be used. Be sure to pick a steak or roast that is well marbled for maximum flavor. For this Smoked Philly Cheesesteak recipe, you will need about a 2–3 pound ribeye roast or thick cut steak.
For more great recipes using ribeye steaks or a ribeye roast check out some of our favorites:
Make the Best Philly Cheesesteak Seasoning
To make the seasoning for the cheesesteak you will need salt, pepper, thyme, oregano, basil, garlic powder, onion powder, garlic salt and cayenne pepper. Combine the ingredients in a bowl and set aside until needed. You will also need about 1 tablespoon for SPG (salt, pepper, garlic) rub. Use your favorite or if you want to make up just enough to use in this recipe, combine 1.5 teaspoons of kosher salt, 1.5 teaspoons of black pepper, and 1 teaspoon of garlic powder.
Prep your veggies
Next it is time to prep your cheesesteak veggies. Traditional cheesesteaks often included diced onions, but more veggies are becoming common. We prefer to use 1 diced yellow onion, a diced red bell pepper, and a diced green bell pepper. This will give you enough veggies for about 3 pounds of meat. If you love mushrooms, you can also include those.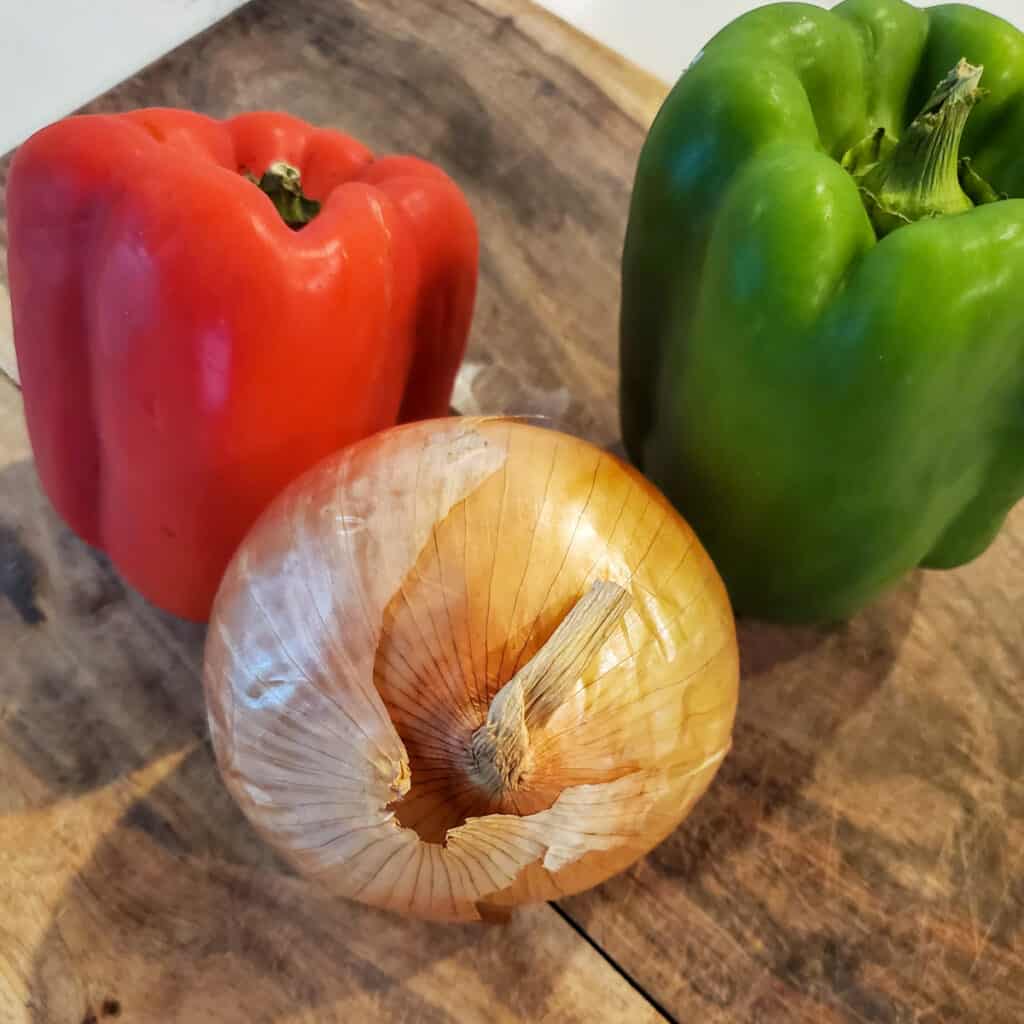 After dicing the onion and peppers, place the veggies in a bowl. Cover and refrigerate until needed.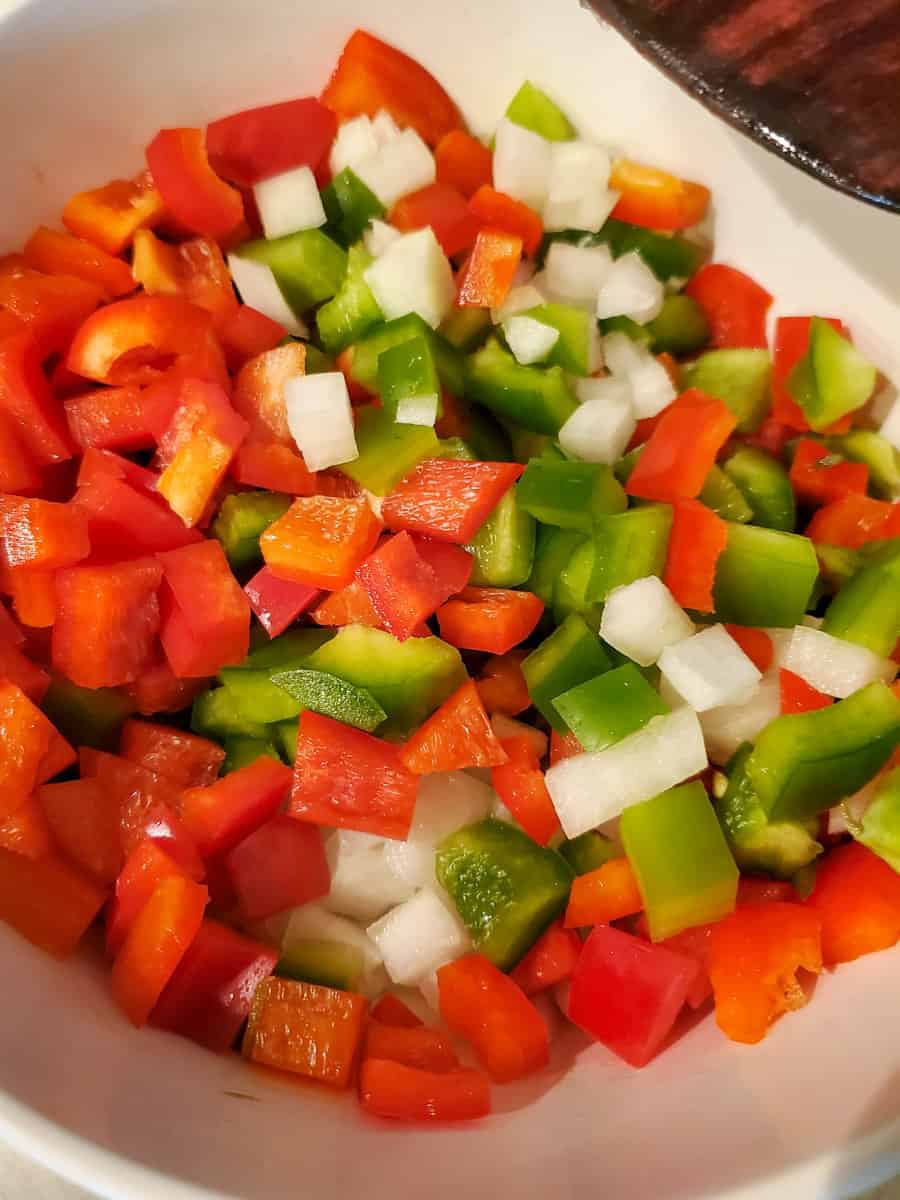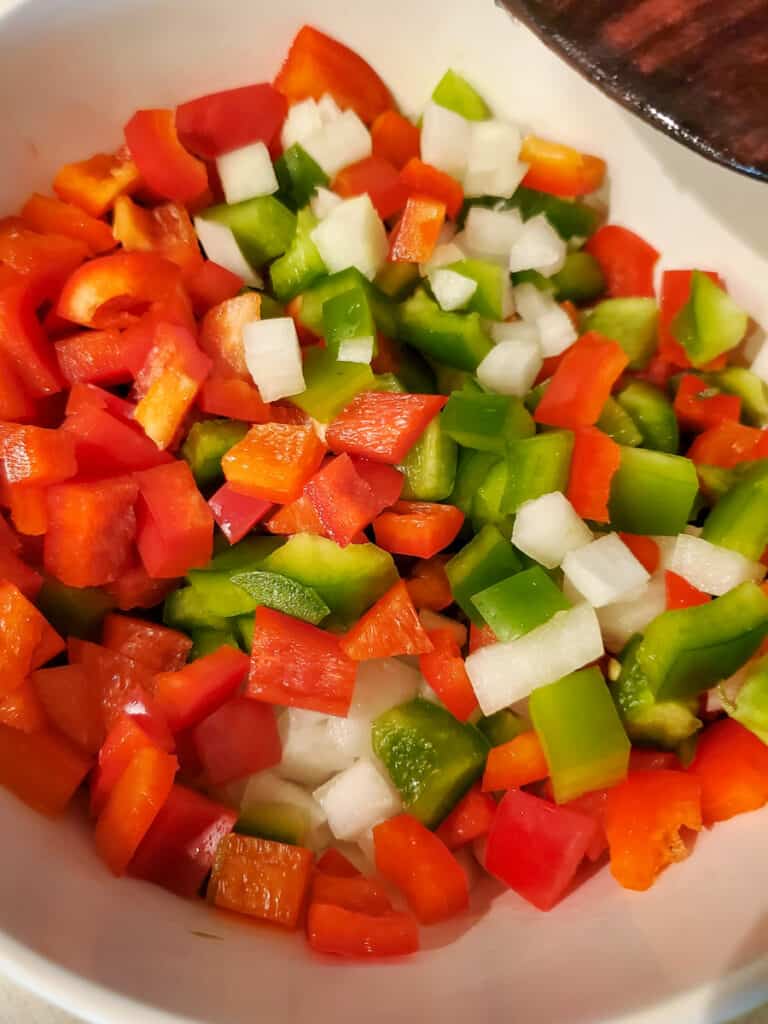 Smoke the Ribeye Roast for the Cheesesteak
Now it is time to season and smoke your ribeye. First combine 1 tablespoon of the SPG rub with 1 tablespoon of the cheesesteak seasoning. Reserve the remaining Philly seasoning. Trim any excess fat from the ribeye and pat dry. Sprinkle all sides of the ribeye roast with the seasoning mixture.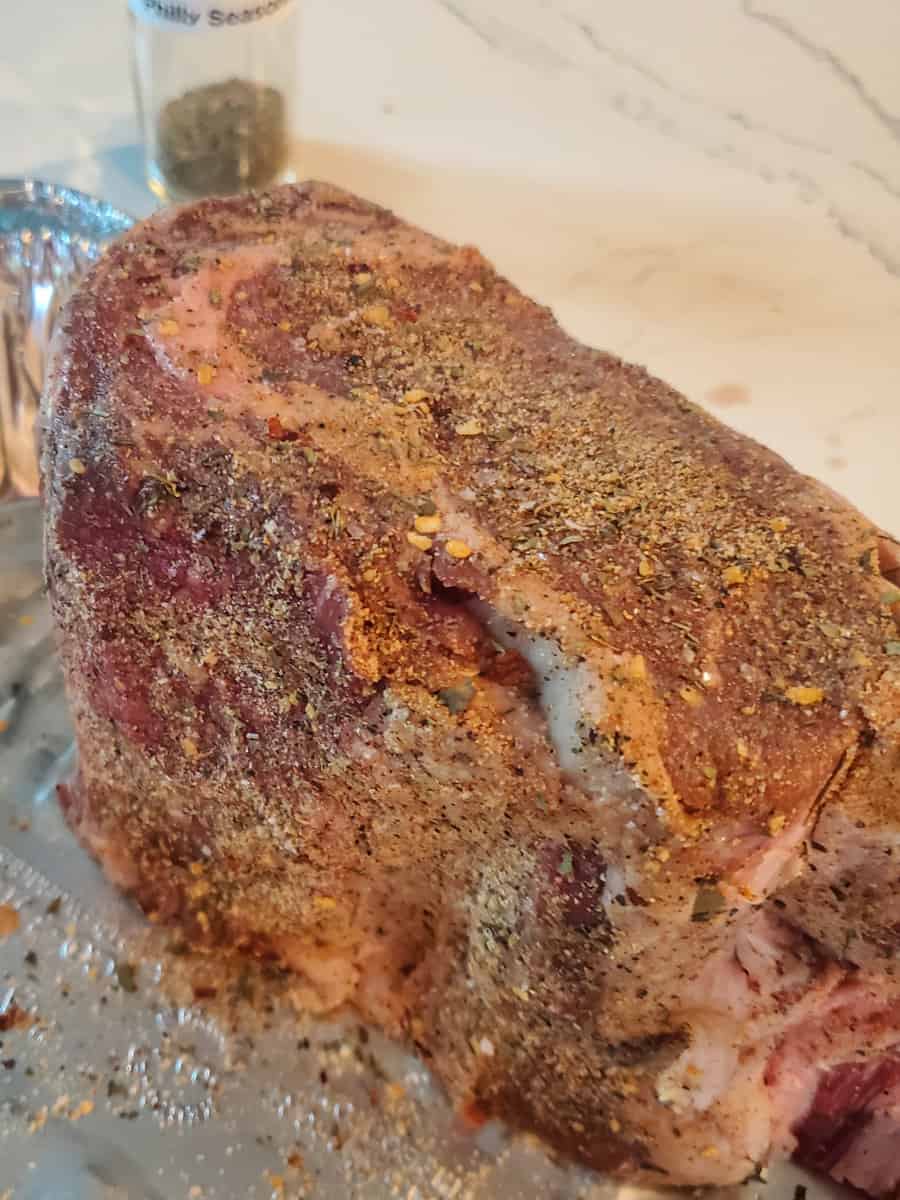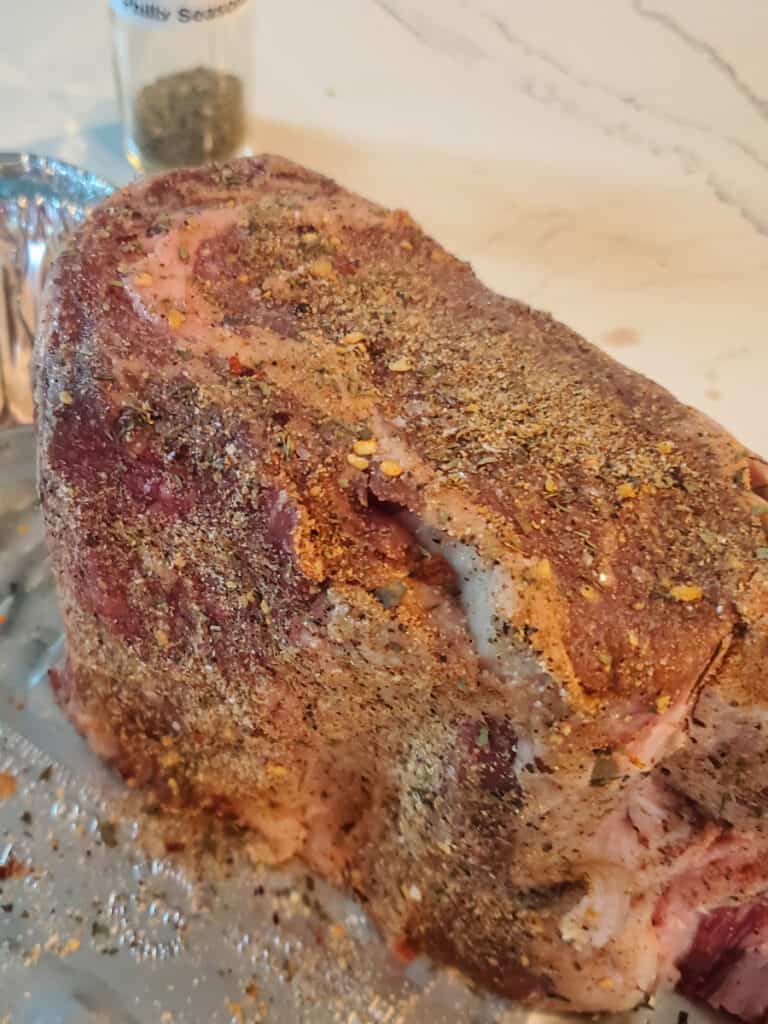 Prepare your grill or smoker for indirect heat, at about 250 degrees. We like to make our Smoked Cheesesteaks over pecan or post oak, but if you prefer a milder smoke flavor use a fruit wood like apple or cherry.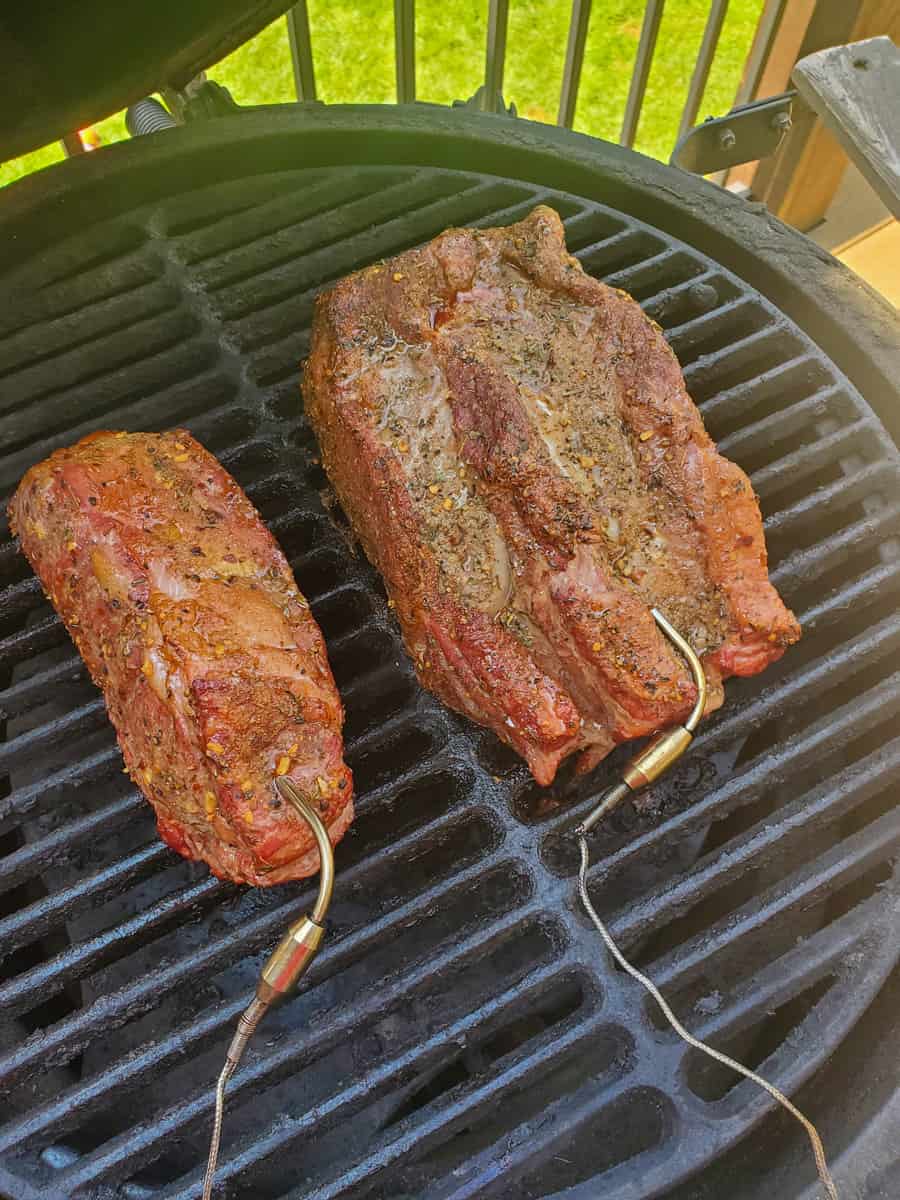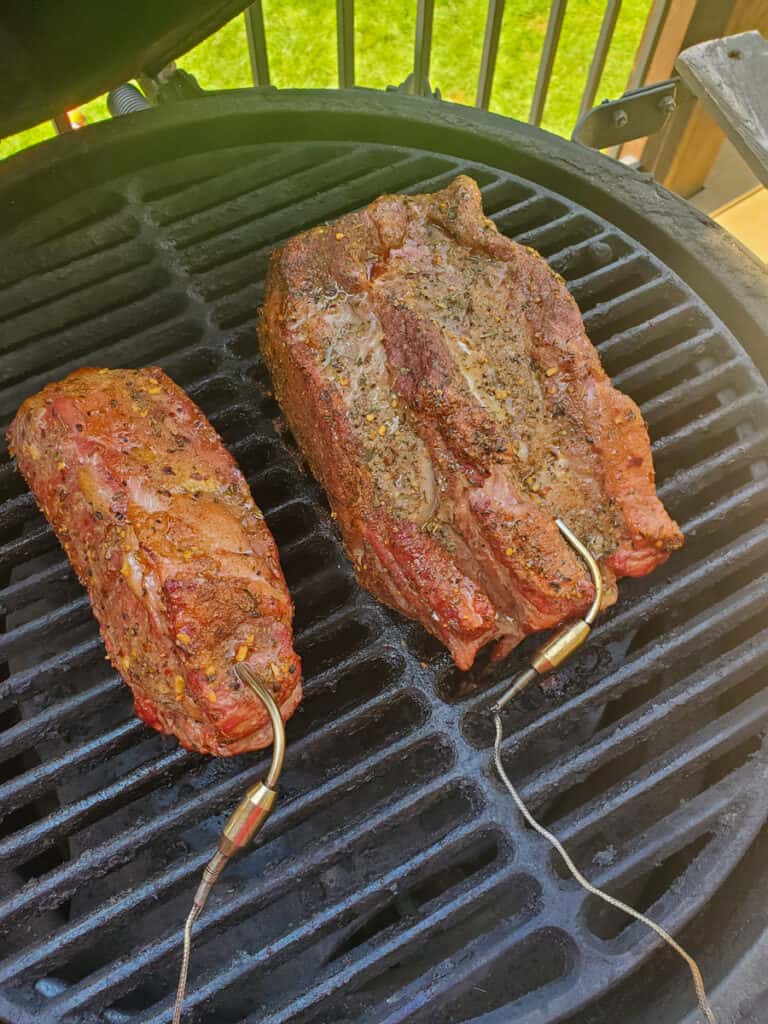 Smoke the ribeye roast until it reaches and internal temperature of about 100-105 degrees, then remove from the smoker. This gives the ribeye a nice smoke flavor while still leaving the center rare, so it does not overcook when you finish cooking it on the griddle.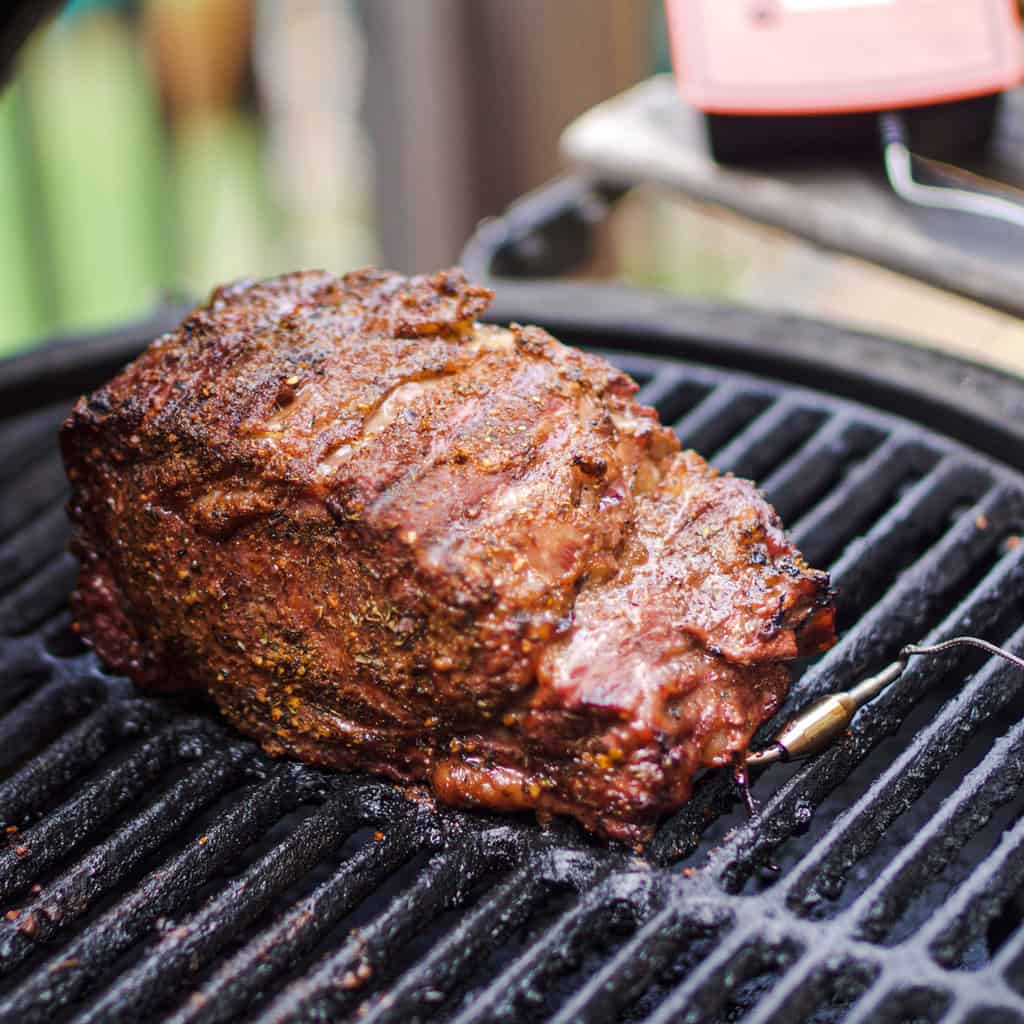 Total smoking time will vary based on your smoker type and the thickness of your ribeye, but typically allow about 1-2 hours. Wrap the smoked ribeye roast in foil and place it in the refrigerator for 1-2 hours or overnight.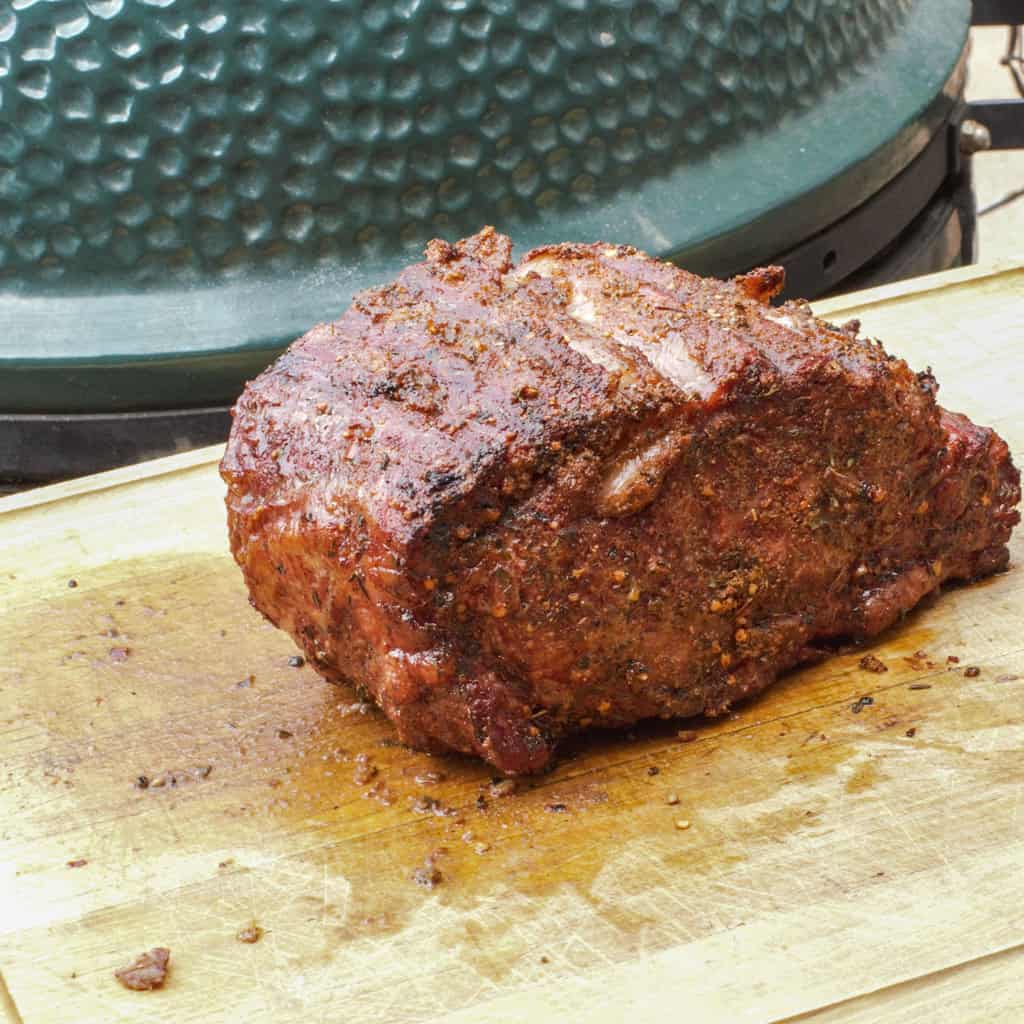 Preparing the Sliced Ribeye for Philly Cheesesteak
When you are ready to cook your Smoked Philly Cheesesteak, remove the smoked ribeye from the refrigerator and place it in the freezer for about 30 minutes. This will make the ribeye easier to slice thinly. Move the ribeye to a cutting board and slice as thin as you can using a sharp knife. For best results and the most tender steak, cut against the grain of the meat.
Using a food processor prepare thinly sliced ribeye for Philly Cheesesteaks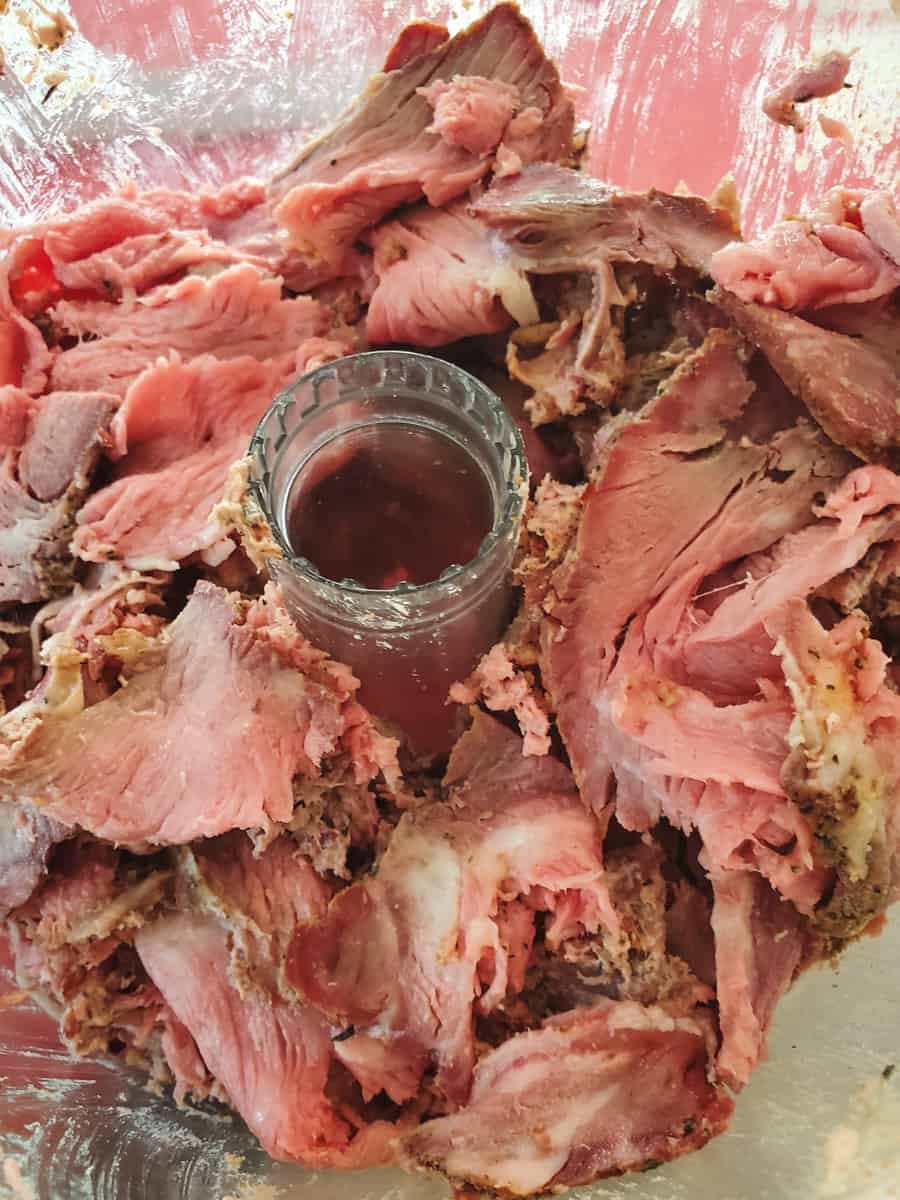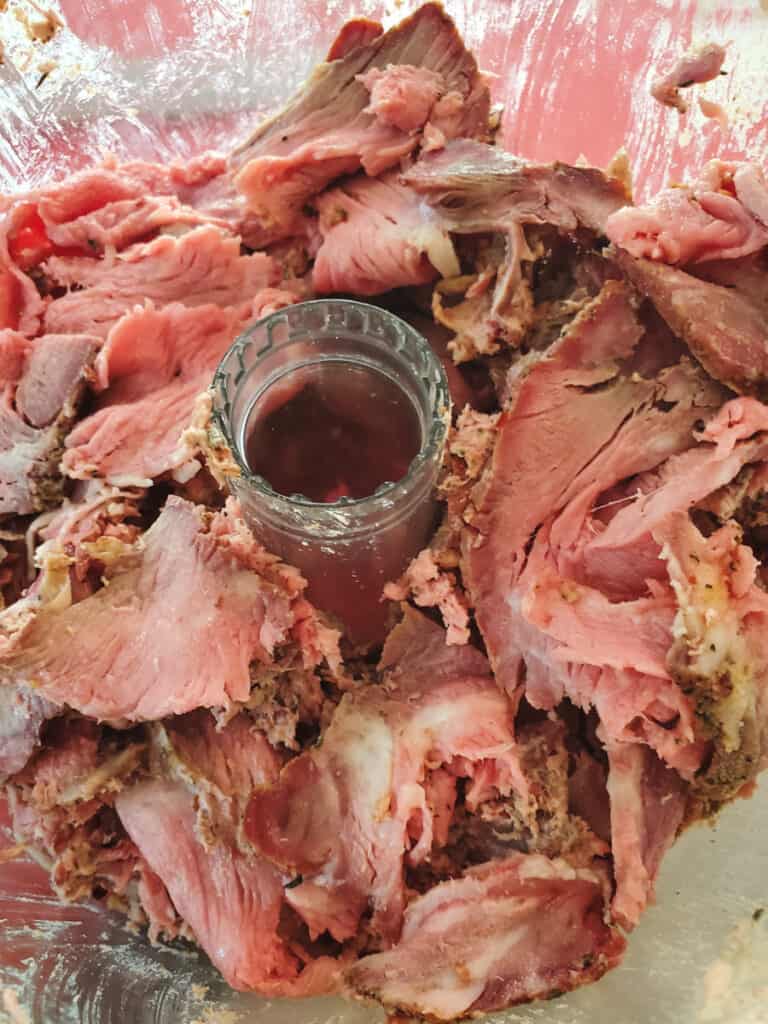 To make quicker work of preparing the thin sliced ribeye, remove the ribeye from the freezer and cut the roast into chunks that will fit in your food processor. Use the slicing attachment to quickly and thinly slice the ribeye. For our food processor, we find a blade thickness setting of 4 to 4.5 works well for cheesesteaks. You do not want to go too thin of the steak will become mushy. Test with a smaller piece first to make sure you are obtaining the thickness that you want.
Cooking the cheesesteak on a griddle
Prepare your griddle and set to medium-high heat, about 375-400 degrees. Any flat top of griddle such as a Blackstone or Cooking Steel with work for this recipe. Oil the griddle with vegetable oil, or any oil with a high smoke point. If you wish to cook inside, you can also use a large cast iron or heavy bottomed skillet. Sauté the veggies until just softened.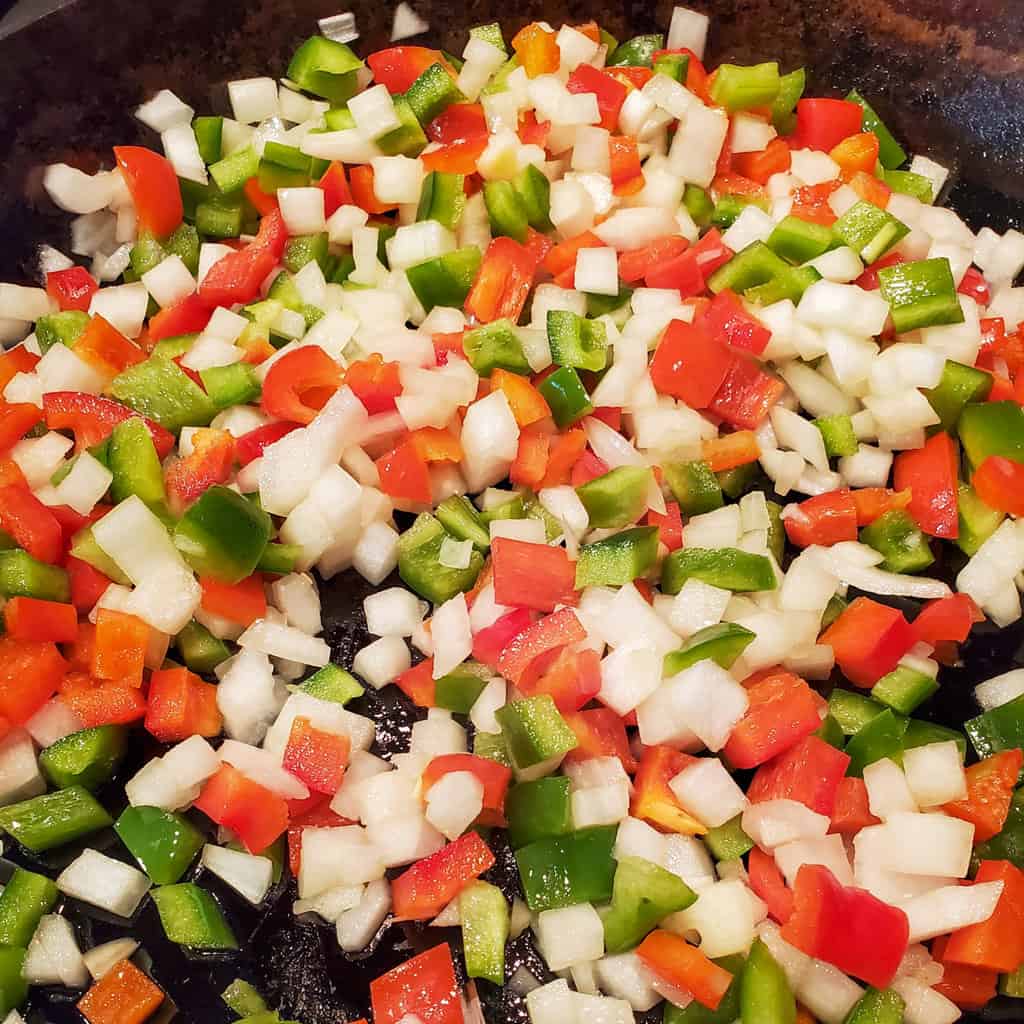 Next, add in the thinly sliced smoked ribeye and the rest of the cheesesteak seasoning and cook until the meat is just cooked through. Stir frequently to make sure the seasoning is evenly mixed in.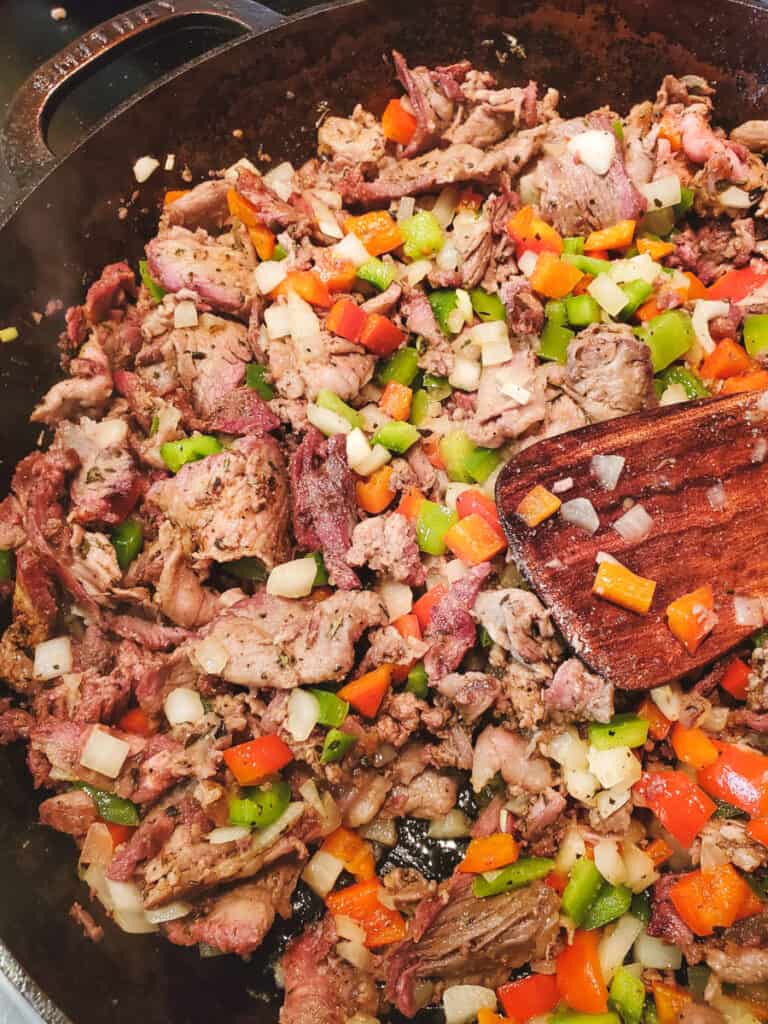 For these Smoked Philly Cheesesteaks, we finished them off on the same Big Green Egg that we used for smoking, equipped with a Cooking Steel griddle.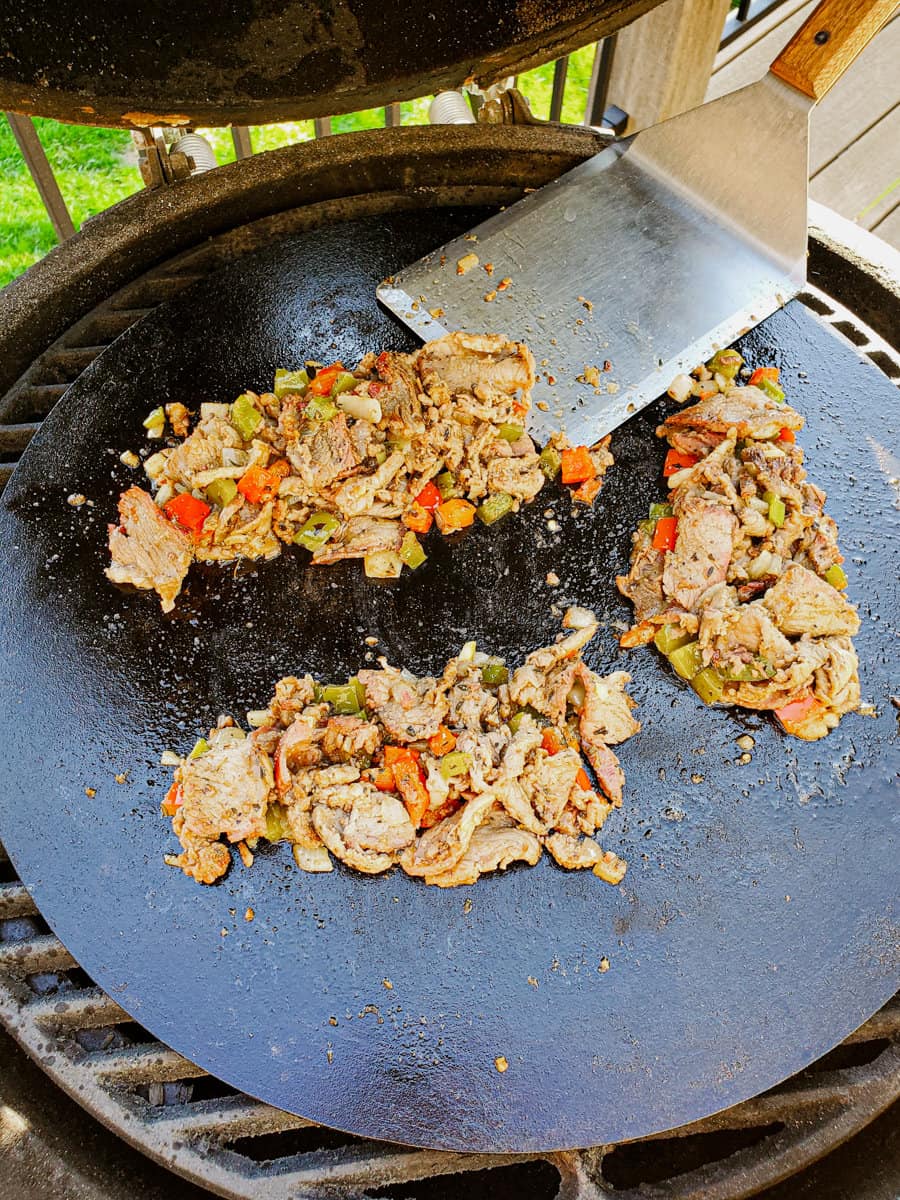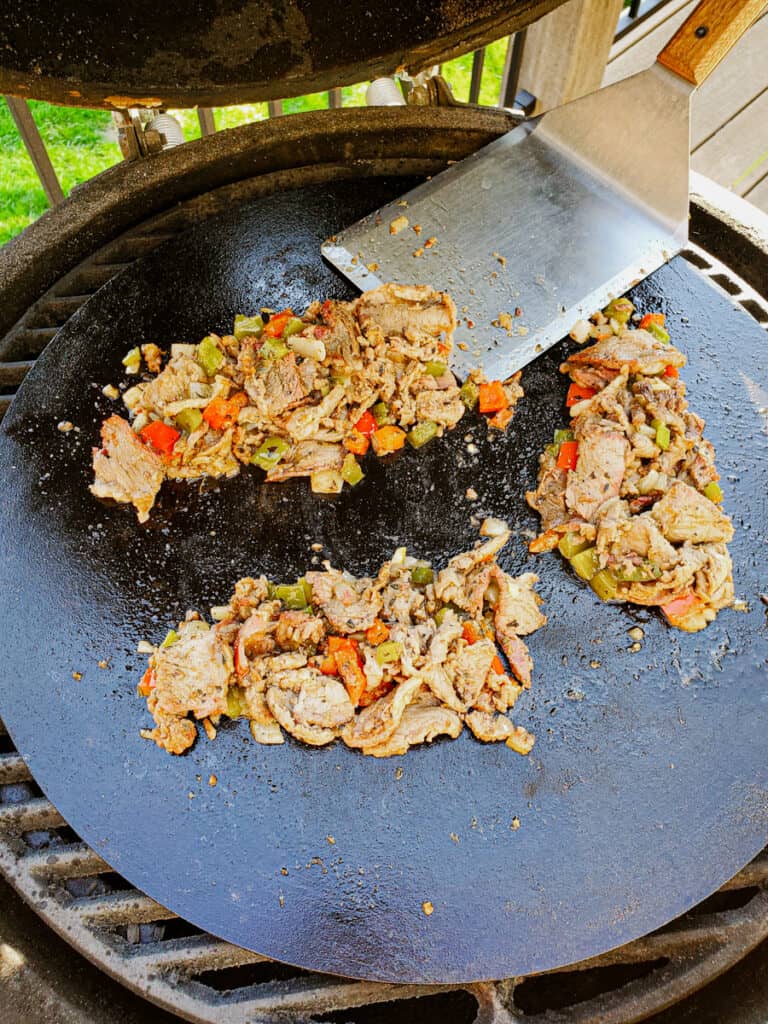 Looking for more recipes for your Blackstone or Cooking Steel? Here are some of the best recipes to make on a griddle or flattop: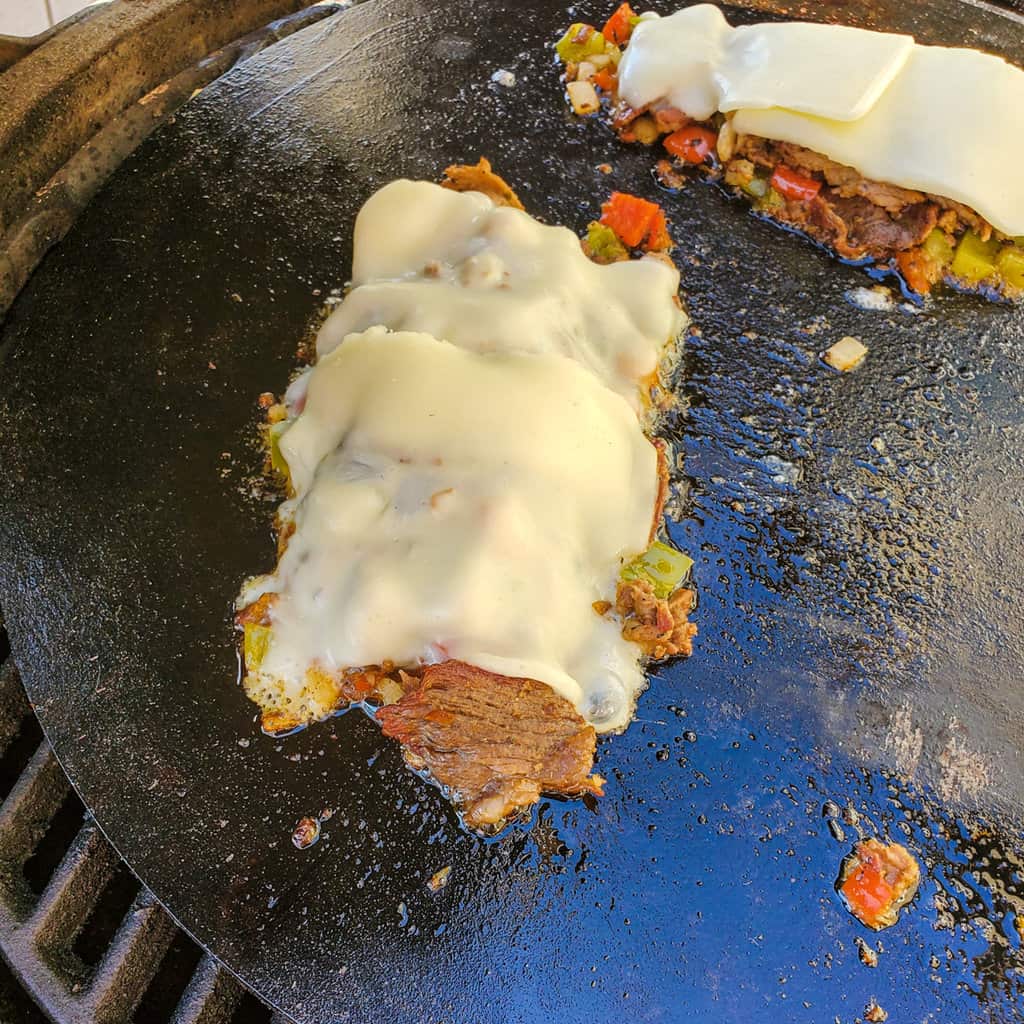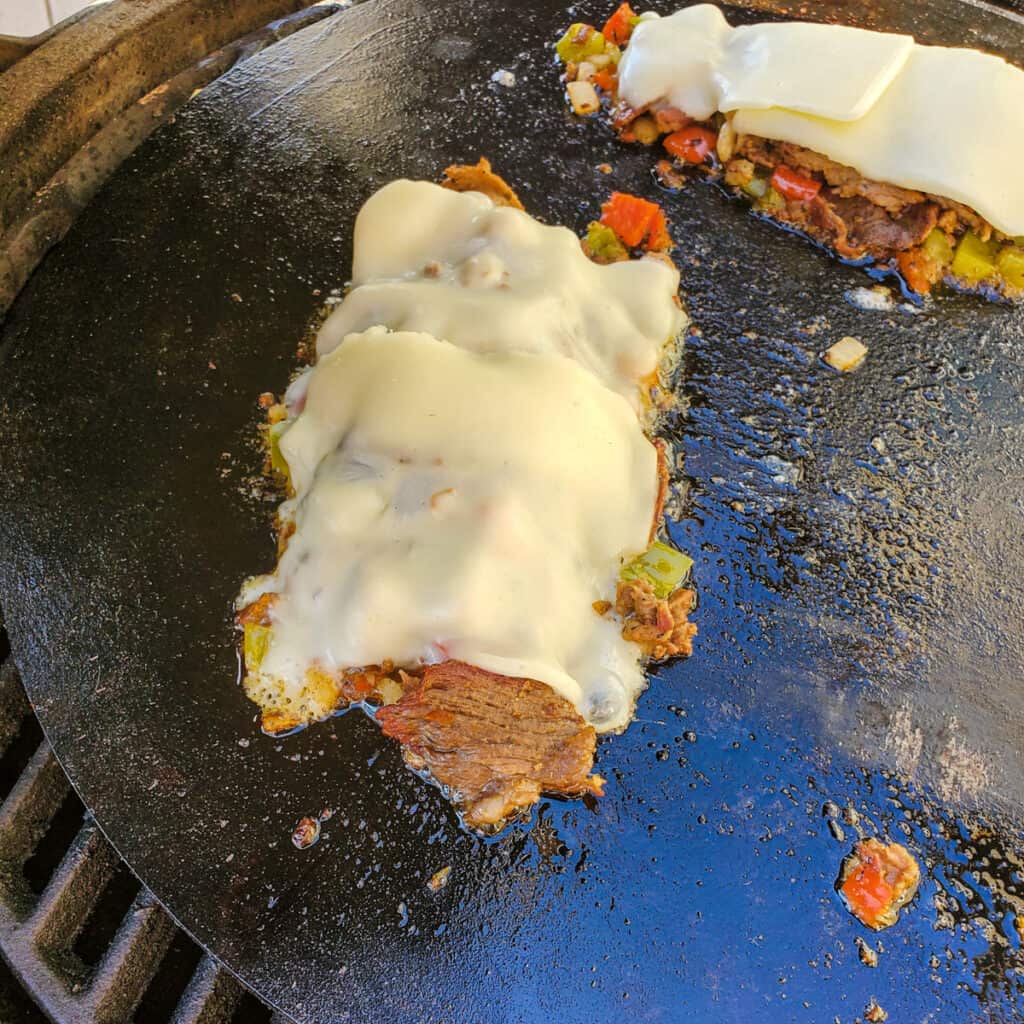 Next, divide the cheesesteak filling into serving sizes and top with the provolone or Provel cheese. Cook until the cheese is melted and then carefully scoop the cheesesteak meat into a warm hoagie.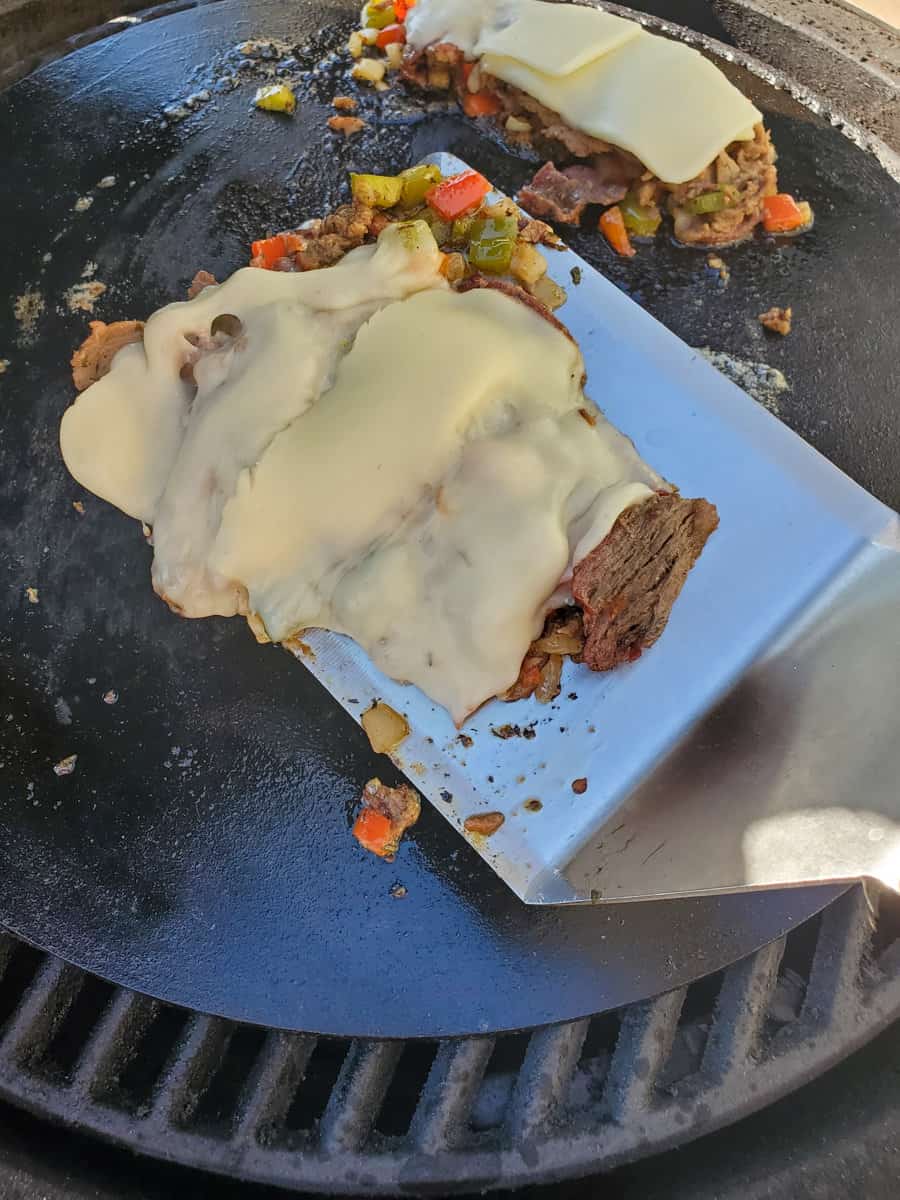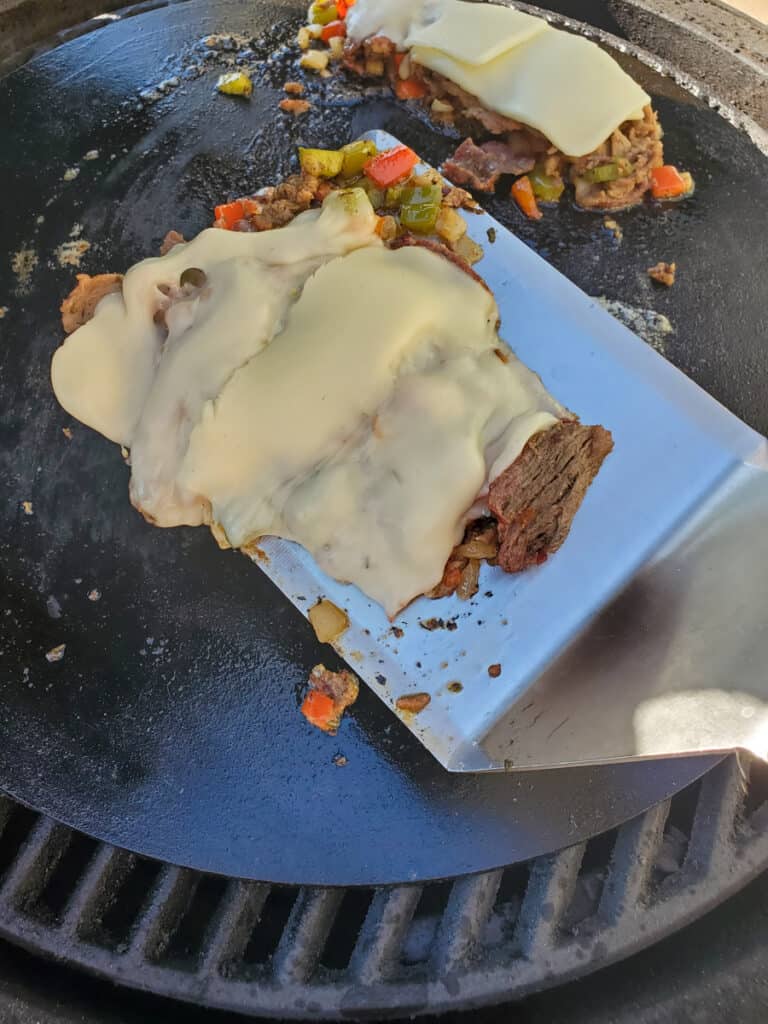 Add any additional toppings, like lettuce or tomato, if desired. Top with cheese wiz and dig in!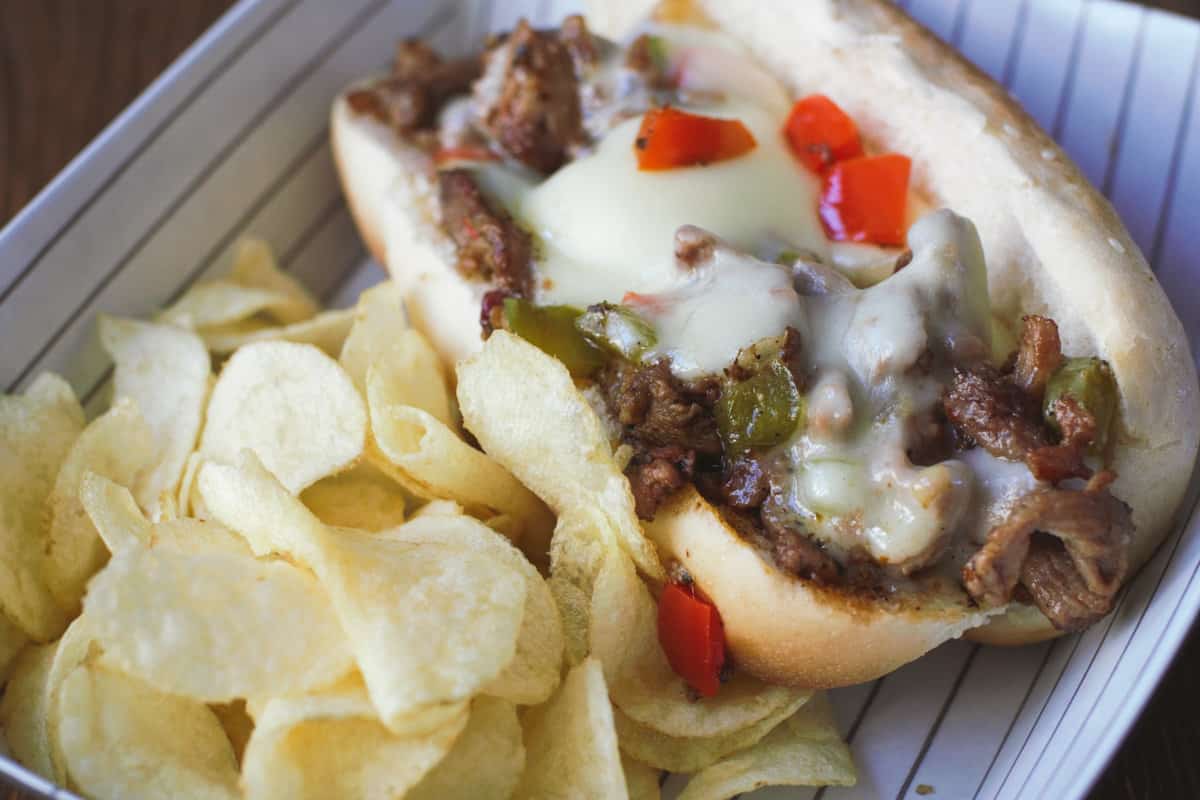 What is the Best Cheese for a Philly Cheesesteak?
Other than the steak, cheese is the most important ingredient in a great cheesesteak. Traditionally provolone, white American cheese, or a processed cheese, like Cheese Wiz are used. Sometimes a mixture of these cheeses may be used. For our smoked Philly Cheesesteaks we used a combination of provolone, and Provel cheese, and then topped them off with some Cheese Wiz as desired. Provel cheese is a processed cheese famous in St. Louis. It consists of a mixture of cheddar, Swiss, and smoked provolone and works great on cheese steaks as it melts easily and provides some great flavor.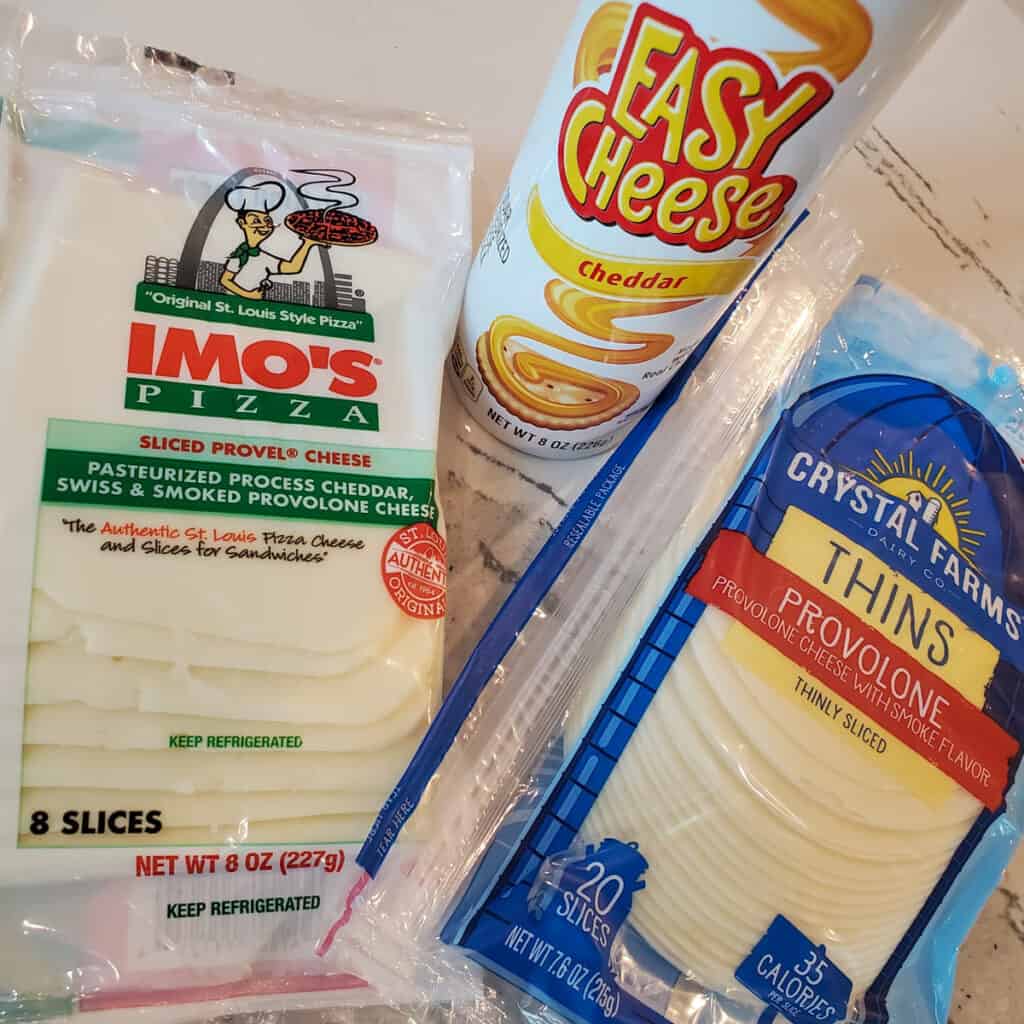 Best way to reheat Philly Cheesesteaks
To make cheesesteaks with leftovers we find it easiest to reheat in the oven. Top both sides of the hoagie with cheese and then top with the meat mixture.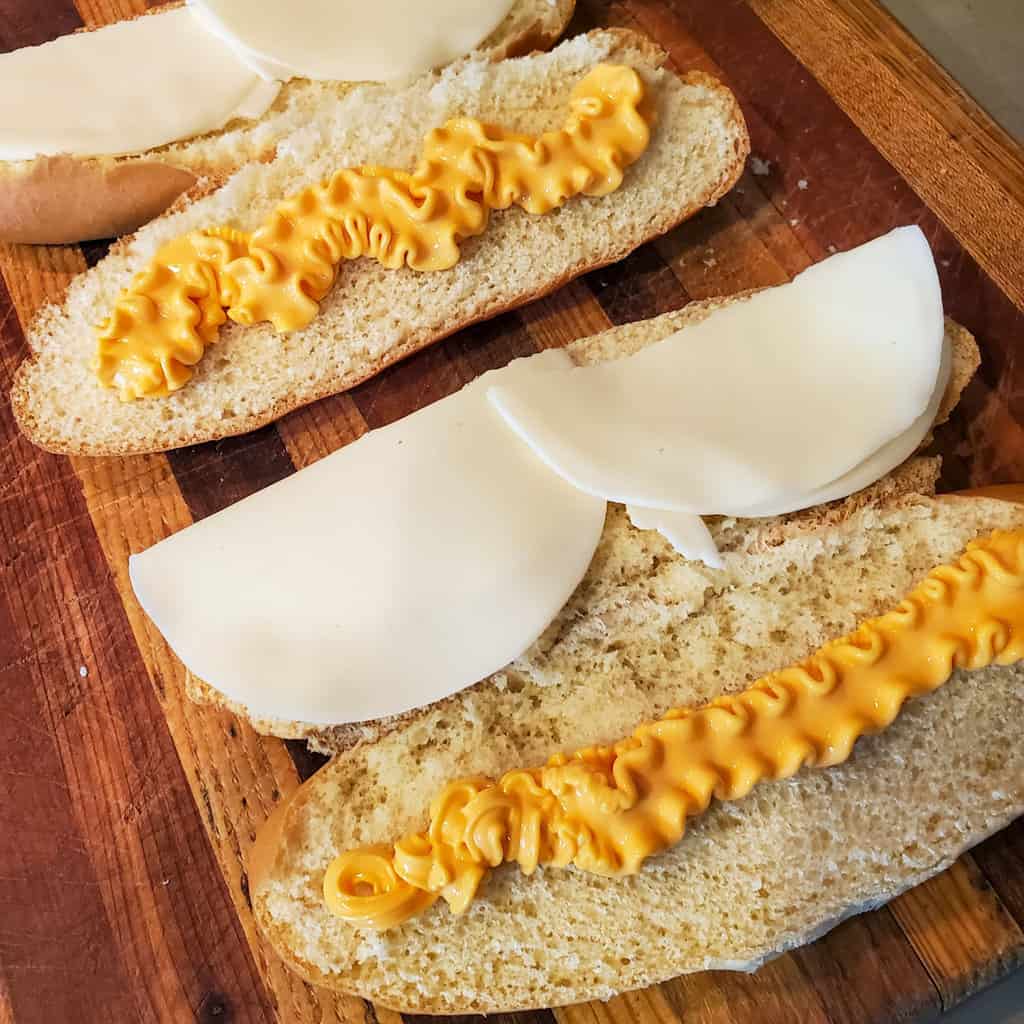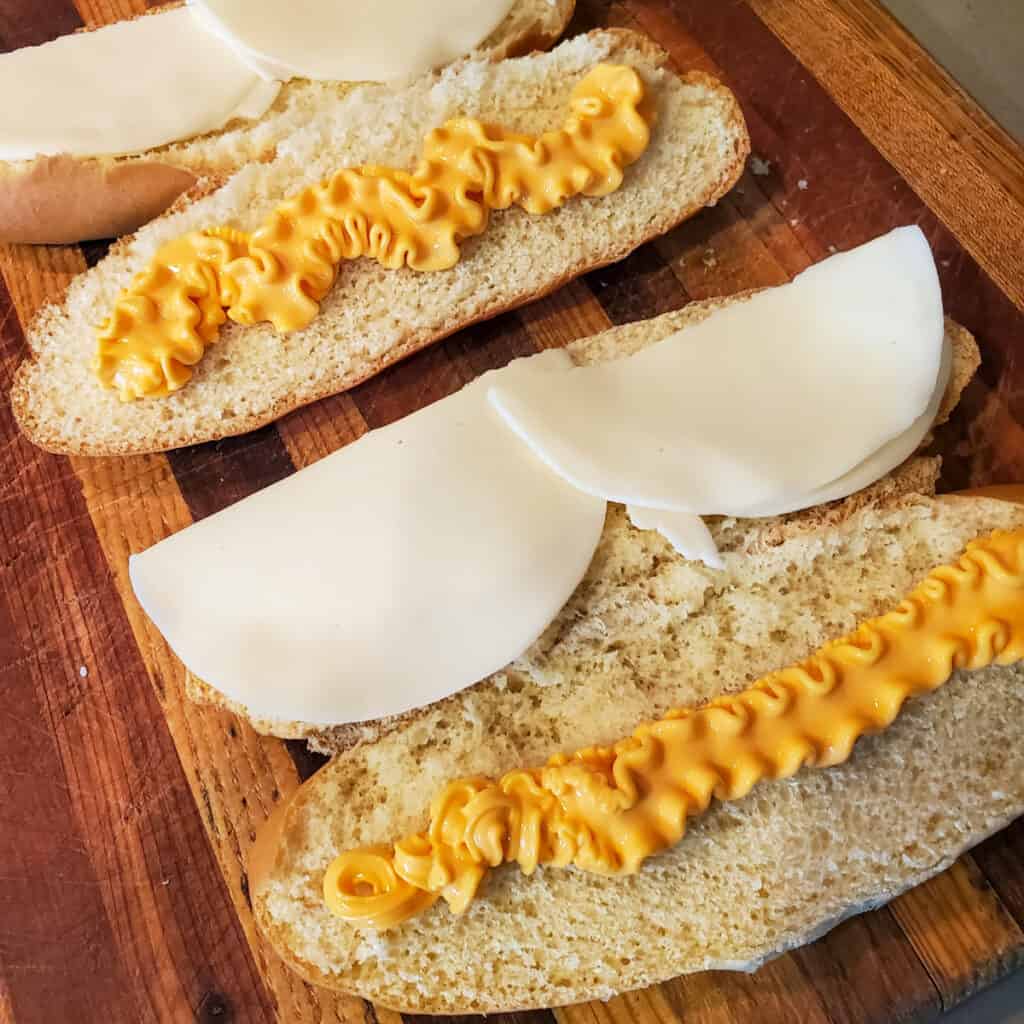 Heat, uncovered at 350 degrees for about 10 minutes, or until warmed through and the cheese is melted. Leftovers can also be used to make our Philly Cheesesteak Stuffed Bell Peppers.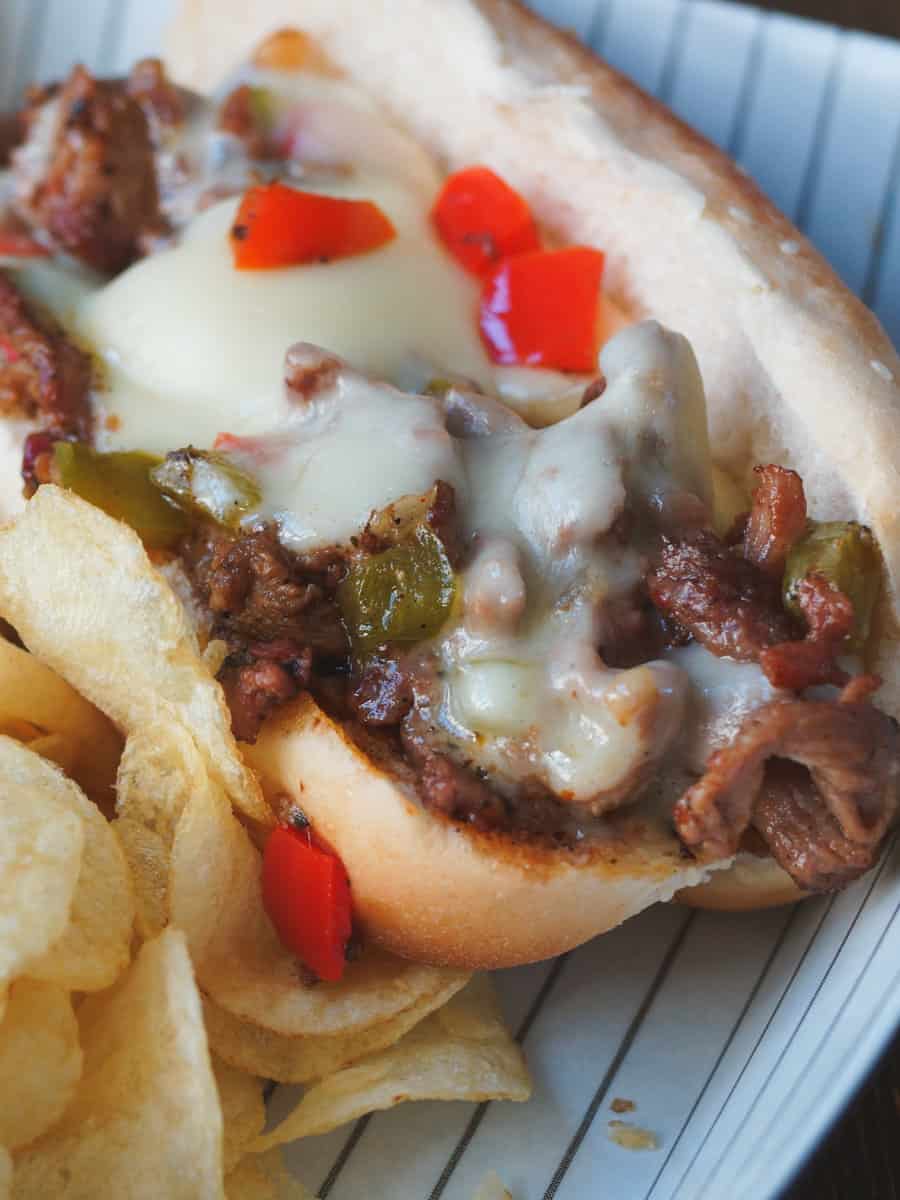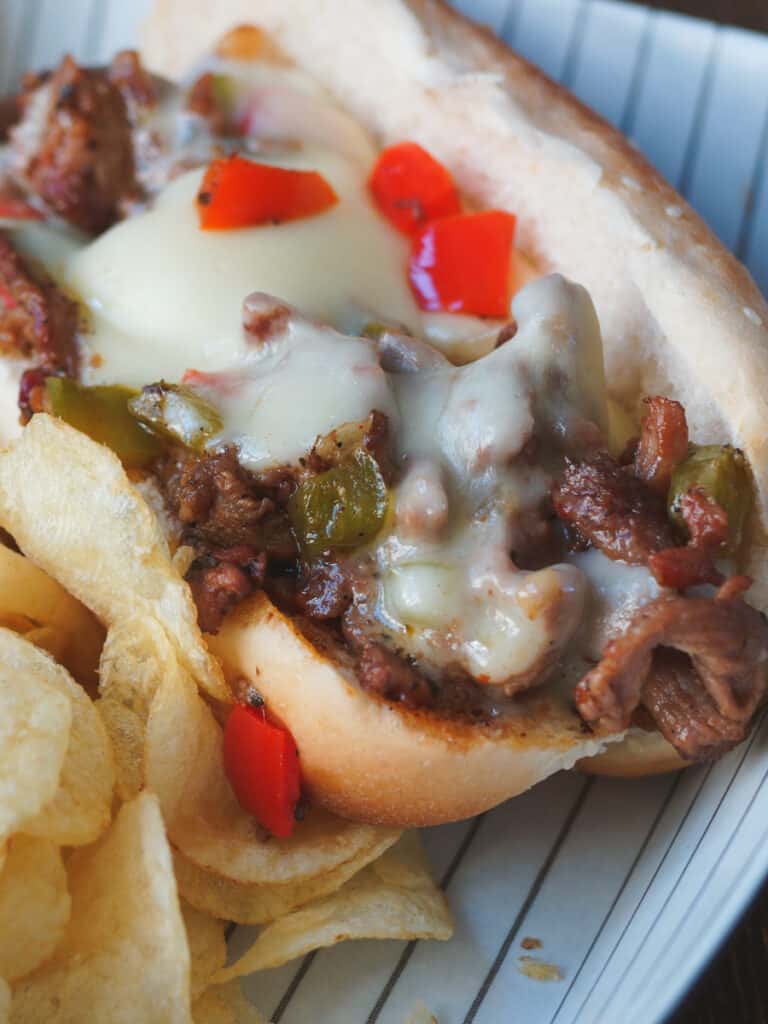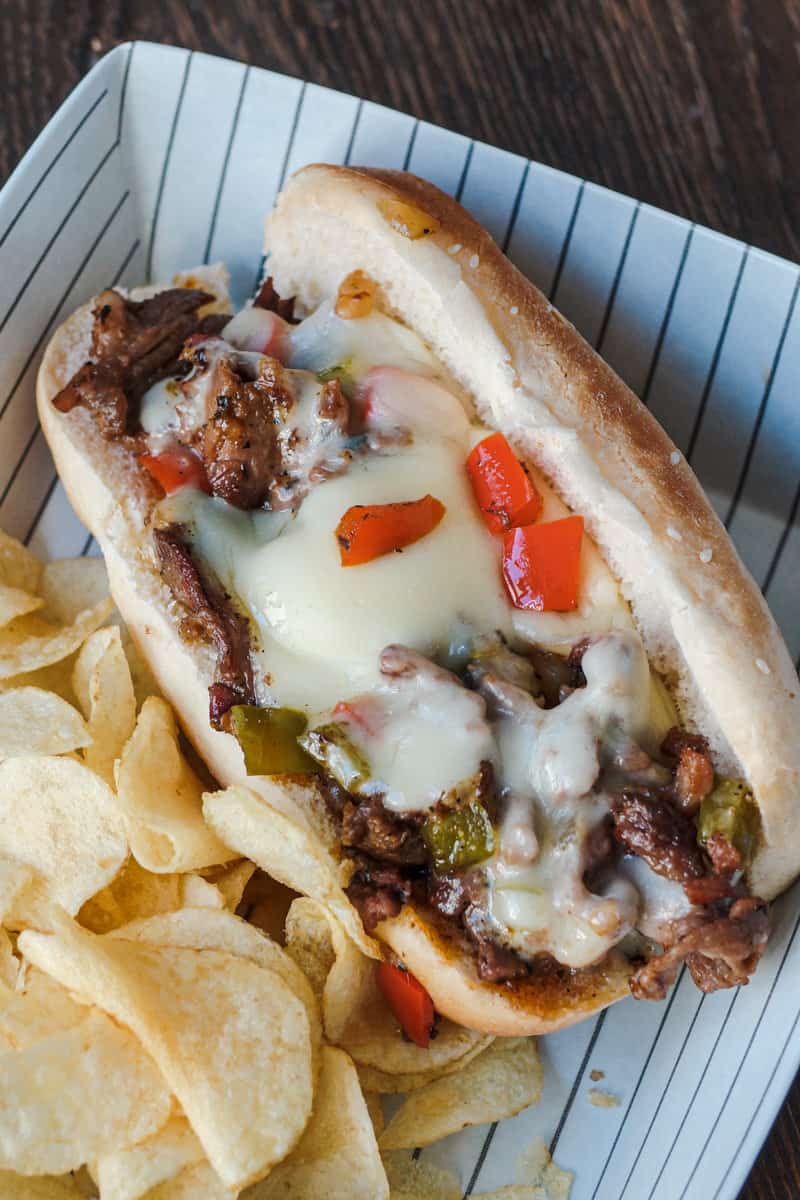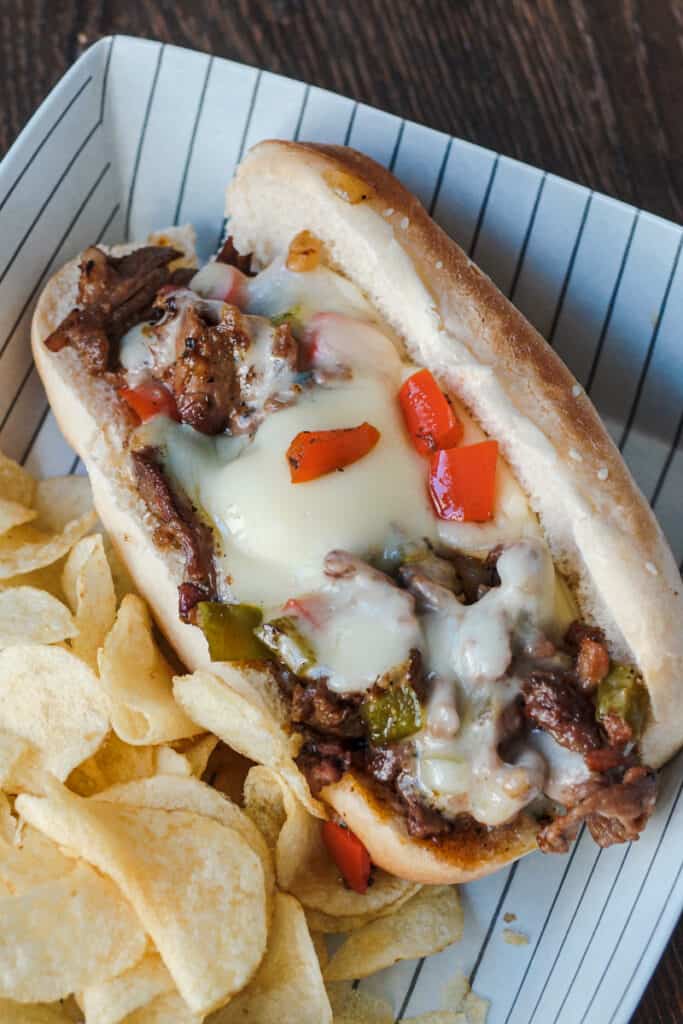 For more great sandwich recipes, be sure to check out our Grilled Banh Mi, Roasted Pork Caribbean Sandwich, Tempura Pork Tenderloin Sandwich and Grilled Steak Chivito Sandwich.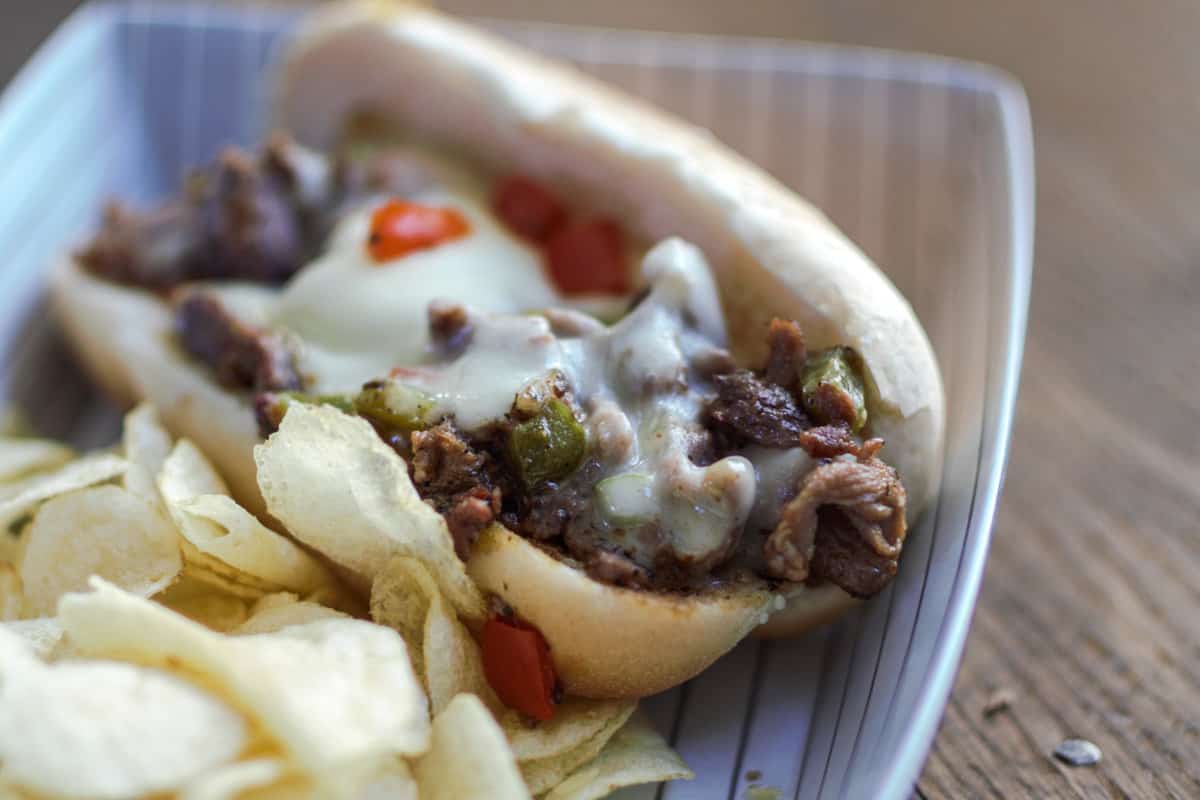 Frequently Asked Questions?
How long does it take to make a smoked cheesesteak?
Cook time can vary depending on the size of the ribeye roast you are smoking, but it typically takes about 2-3 hours to smoke the ribeye roast and then about 10 minutes to finish the cheesesteaks on a griddle like a Blackstone.
Are peppers and onions traditionally used on a cheesesteak?
Onions are a common ingredient in cheesesteaks. Peppers and mushrooms are not traditional toppings on a cheese steak. They are, however, delicious so use them if you want to.
What are the most famous restaurants for cheesesteaks?
Pat's King of Steaks and Geno's in Philadelphia are the two most famous cheesesteak restaurants and have been making the sandwiches since the 1930's
Thank you for taking the time to visit our blog. If you tried and enjoyed our recipe, please share with others and please leave us a comment and review. We also love to see your pics so don't forget to tag us @Carne_Diem_Culinary or #CarneDiemBlog. To be notified of future recipes please follow us on Facebook, Instagram, or Pinterest, or sign up for our e-mail notifications. Until next time, Carne Diem!
📖 Recipe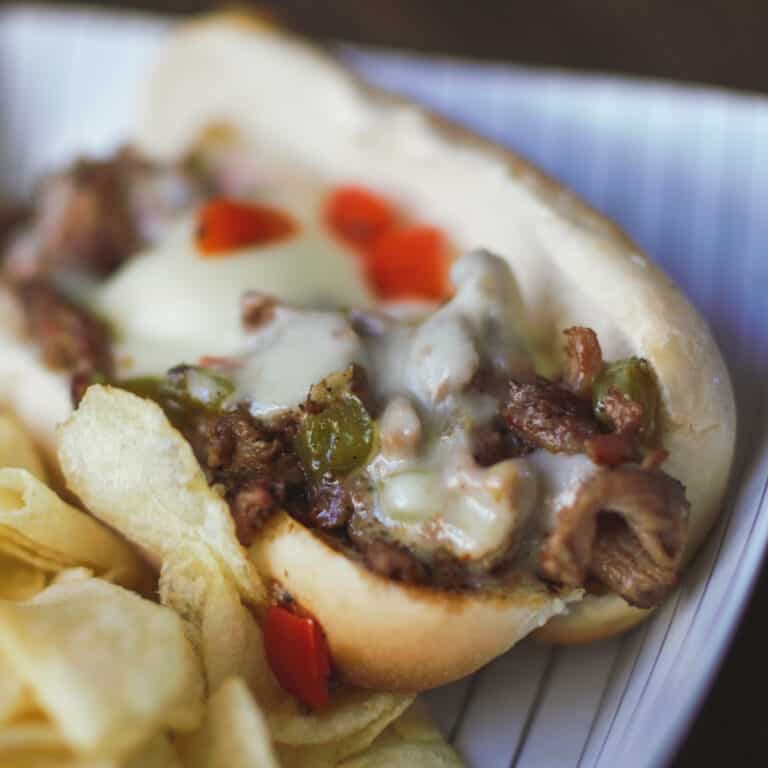 Smoked Philly Cheesesteak
This Smoked Philly Cheesesteak is made from slow smoked ribeye roast which is then sliced thin and finished on a flat top with sauteed veggies and melty cheese.
Ingredients  
2-3

Pound

Boneless Ribeye Roast

1

Tablespoon

SPG Rub

Salt, Pepper, Garlic Rub

8

Hoagie Rolls

1

Yellow Onion

diced

1

Red Bell Pepper

diced

1

Green Bell Pepper

diced

16

slices

Provolone or Provel Cheese

1

Can

Cheese Wiz

optional
Philly Cheesesteak Seasoning
1

teaspoon

Black Pepper

1

teaspoon

Sweet Paprika

1

teaspoon

Onion Powder

1

teaspoon

Garlic Powder

1

teaspoon

Thyme

1

teaspoon

Oregano

1

teaspoon

Basil

½

teaspoon

Cayenne

½

teaspoon

Garlic Salt

½

teaspoon

Salt
Instructions 
Combine the spices for the Philly seasoning and mix to combine.

Trim the excess fat from the ribeye roast and dry the meat.

Combine 1 tablespoon of SPG rub with 1 tablespoon of the Philly seasoning and coat all sides of the ribeye roast.

Prepare your smoker for indirect heat and about 250 degrees. Smoke the ribeye roast to an internal temperature of about 100-105 degrees, then remove from the heat.

Wrap the ribeye in foil and cool in the refrigerator for 1-2 hours. Move to the freezer 30 minutes.

Remove the roast from the freezer and thinly slice the ribeye using a sharp knife or the slicing attachment of a food processor.

Heat a flat top griddle of large cast iron pan over medium high heat (375-400 degrees). Oil well with an oil with a high smoke point such as vegetable oil or avocado oil.

Sauté the veggies until just soft then add the sliced ribeye and the remaining Philly cheesesteak seasoning. Cook, stirring frequently, until the meat is just about cooked through.

Separate the meat into portions and top each portion with the cheese slices.

Once the cheese is melted, use a spatula to scoop each portion into a hoagie roll. Top with any additional toppings or cheese wiz if desired.
Nutrition
Calories:
662
kcal
Carbohydrates:
37
g
Protein:
31
g
Fat:
43
g
Saturated Fat:
19
g
Polyunsaturated Fat:
1
g
Monounsaturated Fat:
16
g
Trans Fat:
0.001
g
Cholesterol:
95
mg
Sodium:
1786
mg
Potassium:
404
mg
Fiber:
2
g
Sugar:
6
g
Vitamin A:
1050
IU
Vitamin C:
33
mg
Calcium:
318
mg
Iron:
13
mg