Last Updated on January 13, 2022 by Carne Diem
Protein:
Origin: North American, American
Technique: Flat Top or Grill
Jump to Recipe
Origin of the Beef Tostada Burger with Bacon Patty, AKA the Ultimate American Cheeseburger
I have to admit, that I am a bit of a "best list" junky.  There is just something about working my way through a "best of" list that is very rewarding to me.  One of those vices is the great American hamburger.  During my travels in the US I often find myself researching where I might find the best hamburger in the area.  Hamburgers are undoubtedly the quintessential American food.  Of all of the burgers I have eaten, two still stand out to me to this day.  Chris Madrid's Tostada Burger in San Antonio, Texas, and the Bacon Cheeseburger from Hodad's in Ocean Beach, just outside San Diego.  Both of these burgers continue to make "best burger in America" lists and for a very good reason.
Chris Madrid's-San Antonio, TX
Chris Madrid's opened in 1977 and became a staple of the San Antonio community. Based off the ever popular San Antonio style bean burger, the Tostada Burger quickly became one of the cities most iconic burgers. From the first time I tried this burger, about 10 years ago, I was hooked.
Hodad's-Ocean Beach, CA
What sets Hodad's burger apart from the rest is the bacon.  Not just any bacon, either.  They simmer down the smoky, fatty port belly, chop it up, then fry up a crispy bacon patty, to top their already exceptional burger. This burger is not just popular with the local surfer community either, it has become a SoCal foodie destination.
How to make the Beef Tostada Burger with Bacon Patty
When it came time to come up with my first burger recipe on this blog, I was truly torn as to which burger to choose. Thankfully, my indecisiveness led me to make the decision that any burger connoisseur would make. Combine my favorite parts of each burger into The Ultimate American Cheeseburger.
Obviously, if you are trying to make the best cheeseburger in America you need to use the best beef possible. Thus we choose a 50/50 mix of 80/20 beef and Wagyu beef. During times that we do not feel like splurging on Wagyu beef, we replace it with ground brisket with equally delicious results.
We like to season the beef mixture with about 1 tablespoons of Johnny's Seasoning, or you can use your favorite burger seasoning.
Using a burger press or your hands, form into 4 equal, ½ pound patties. Do not over work the meat but be sure the patties will maintain their form through cooking.
Making the bacon patty
To make the bacon patty you will need 12 ounces of your favorite thick cut bacon. Cut the bacon strips in half and boil for 30 minutes.  Remove to a cutting board, cool and rough chop.
Form the cooked bacon into patties, approximately the same size as your burgers.
Heat a flat top grill to 375 degrees.  The burgers can be made on a regular grill, but cooked on a flat top is how they are traditionally done and this method has never steered us wrong with this recipe. Cook bacon patties at three minutes per side with a bacon press. Be careful during the first flip to be certain the bacon patties do not fall apart. Once they crisp up, they will maintain their shape.
Heat burgers three minutes per side, then turn off the griddle and cover with cheese and let steam for three minutes, until the cheese is melted. Check the internal temp of the burger to make sure it is cooked to your desired temp.
Topping the Beef Tostada Burger with Bacon Patty
The traditional Chris Madrid Tostada burger is topped with refried beans, slightly broken corn chips, tomato, lettuce, onion, and a melted cheddar cheese. For our burger we use similar toppings but add grilled onions, and swap the cheddar with a smoked spreadable cheese (Kaukauna) similar to the Cheese Wiz seen frequently in other bean burgers around the city. We also will occasionally use spreadable beer cheese and have been pleased with the results.
Warm the refried beans on the stovetop prior to putting on the burger.
To finish the burger spread the refried beans on the top bun then cover with the corn chips. Place the bacon patty on the bottom bun and top with the tomato and lettuce.
Finish by placing the burger patty with the melted cheese, and topping with the grilled onions. Through the top on the burger and enjoy. You may need a couple extra napkins for this one.
No burger is complete without a side of fries, and few are better than our Always Crispy French Fries or maybe a side of Italian Style Parmesan Wings. Looking for more ground beef recipes, be sure to check out our recipes for our Navajo Flatbread Tacos and our Bierocks.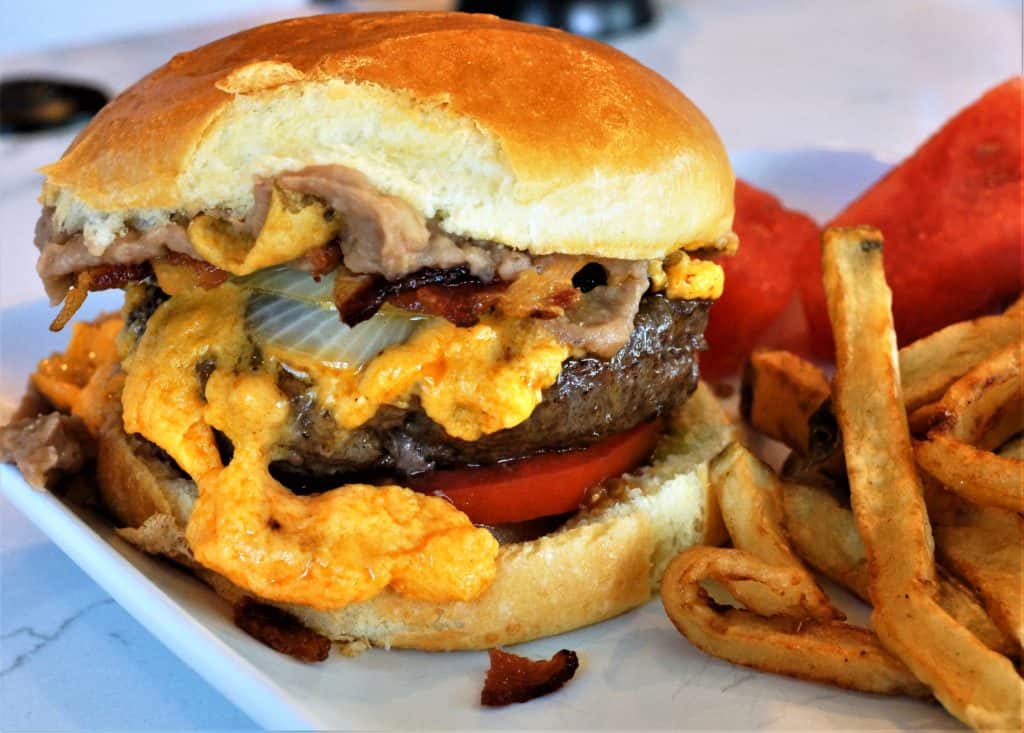 For more great burger recipes, check out our Brisket Burger Sliders with Horseradish Aioli, or Texas Rattlesnake Burger.
Thanks again for visiting Carne Diem. If you tried and enjoyed our recipe, please share with others. Also don't forget to tag us @Carne_Diem_Culinary or #CarneDiemBlog, we love to see your pics! To be notified of future recipes please follow us on Facebook,  Instagram, or Pinterest, or sign up for our e-mail notifications.
📖 Recipe
Tostada Burger with Bacon Patty
A perfect union of two of the best cheeseburgers in America: Chris Madrid's Tostada Burger and Hodad's Bacon Burger. Our ultimate American cheeseburger has melty cheddar cheese, creamy beans, crunchy corn chips, and a bacon patty to accompany the wagyu beef patty.
Equipment
Flattop grill, grill or frying pan
Ingredients  
16

ounces

80/20 Ground Beef

16

ounces

Ground Wagyu or Ground Brisket

12

ounces

Thick Sliced Smoked Bacon

Spreadable Cheese

1

can

Refried Beans

1

Tomato

sliced

1

Onion

sliced and grilled

Romaine Lettuce

Chopped

Frito Corn Chips

gently broken

4

Hamburger Buns

Preferably potato buns or bolillo
Instructions 
Mix the hamburger and ground wagyu with about 1 tablespoon of Johnny's seasoning. Gently for into four ½ pound patties.

To make the bacon patty you will need 12 ounces of your favorite thick cut bacon. Cut the bacon strips in half and boil for 30 minutes.  Remove to a cutting board, cool and rough chop. Form into 4 equal patties.

Heat a flattop grill to 375 degrees. Fry the bacon patties for 3 minutes per side, or until nice and crispy. A bacon press helps a lot to cook the bacon evenly. Remove from heat and set aside.

Cook the burger patties for 3 minutes per side then top with cheese and cook until the meat has reached desired temp and the cheese is melted.

Warm the beans in a small pot on the stove.

On the top bun, spread an even layer of refried beans and top with the broken corn chips.

On the bottom bun add the lettuce, tomato, bacon patty, and then the burger patty. Top with the grilled onions and then the top bun.

Enjoy with a side of fries or tots.
Nutrition
Calories:
996
kcal
Carbohydrates:
33
g
Protein:
61
g
Fat:
67
g
Saturated Fat:
23
g
Polyunsaturated Fat:
7
g
Monounsaturated Fat:
29
g
Trans Fat:
2
g
Cholesterol:
207
mg
Sodium:
1306
mg
Potassium:
1016
mg
Fiber:
4
g
Sugar:
6
g
Vitamin A:
340
IU
Vitamin C:
7
mg
Calcium:
135
mg
Iron:
7
mg