Protein:
Origin: Asian, Korean
Method: Stovetop
Jump to Recipe
A few years ago the wife and I went through a bit of a home meal delivery phase.  With 3 young children, the plans helped limit the time we spent at the store shopping, and as a spice and sauce hoarder, my wife appreciated that I could try new dishes without buying up large portions of spices and sauces that I was not likely to use more than a couple times a year.  During this time we began to notice 1 particular ingredient that made an appearance in more than a few meals: Gochujang.  We quickly fell in love with this spicy, sweet, Korean unami bomb.  For us, Gochujang was the new Sriracha.  
Of the many recipes we tried, a family favorite became a fusion type Korean beef burrito, with a Gochujang Mayo.  Over the years we have modified this recipe a few times, and one of the itterations was developed during a short lived, "Carb Free" phase.  One of the things to come from this phase, other than my constant starvation for bread, was the development of the Korean Lettuce Boat recipe.  
Making the Korean Style Lettuce Wraps
Prepare the aioli
For this recipe we also decided to make our own aioli instead of using store bought Mayonnaise like the original recipe called for. If you have never made your own aioli please give it a try. It is so easy and so worth it. If you absolutely have to you can replace the fresh made aioli with mayo and a little garlic, but it will not be nearly as good, and your regrets will keep you up at night.
Making aioli only requires a few ingredients that you likely have sitting at home already: eggs, garlic, olive oil, a little mustard powder, and lemon juice, plus a little salt and pepper to takes. You can check out the complete recipe at the bottom of the post.
After you have prepared your aioli, (or decide to take the cowards path and use mayo), combine ½ cup of aioli and 1 tablespoon of gochujang sauce and mix until smooth and combined. You can make this a day or so ahead of time and the finished aioli will keep for a couple weeks in the refrigerator. Gochujang is a spicy Korean condiment that is becoming increasingly more available in the Asian aisle of most supermarkets. If you can't find it you can also order it from Amazon.
Gather and prep you ingredients
Now it is time to gather your ingredients and lets get cooking!
Dice the yellow onion and cut the green onion on the bias.
Sauté the veggies
Heat fire oil over medium heat, then saute the yellow onions and 2 tablespoons of green onion until they are just beginning to get soft. Depending on the heat of your pan, this typically takes about 2 or 3 minutes. If you don't have fire or chili oil you can use regular cooking oil with about ¼ tea of crushed red pepper, or leave the pepper out if you want less heat.
Cook the meat for the Korean Style Lettuce Wraps
Next up is the meat. You now have a decision to make. We have found that a mixture of ½ beef and ½ lamb works wonderfully for this dish, but you can adjust the ratio to your preference, and we have made this as an all beef recipe when we did not have any ground lamb on hand, and it still turned out pretty tasty.
Add in beef and lamb, and a pinch of salt and pepper to taste. Brown the meat for about 5 minutes and then drain the fat out if you prefer, though we typically leave it in.
Season the meat
Next add the sesame oil, soy sauce, sugar, remaining 2 tea of gochujang, and carrots and stir to combine. Cook for about 1 minute until everything is well combined and the sugar is fully melted into the mixture.
Finally add and stir in the kimchi and cook for 1-2 minutes more.
Remove the pan from the heat.
Serving the Korean Style Lettuce Wraps
Divide the meat between the lettuce boats and drizzle with the gochujang aioli, then top with the green onion. Enjoy! If you are looking for more Asian inspired dishes be sure to try our Barbeque Char Siu or our Flat Top Chicken Fried Rice.
Thanks again for visiting Carne Diem. If you tried and enjoyed our recipe, please share with others. Also don't forget to tag us @Carne_Diem_Culinary or #CarneDiemBlog, we love to see your pics! To be notified of future recipes please follow us on Facebook,  Instagram, or Pinterest, or sign up for our e-mail notifications.
Korean Style Beef and Lamb Lettuce Wraps
This dish hits the perfect notes of savory, spicy, and sour. These Korean Style Lettuce Wraps are filled with seasoned ground beef and lamb and topped with a slightly spicy gochujang aioli.
Ingredients  
1

Head of Romaine or 2 Baby Bok Choy

½

Pound

Ground Beef

½

Pound

Ground Lamb

½

Yellow Onion

diced

3

Green Onion

Sliced on the bias. Divided

¼

Cup

Aioli

1

Tab

Gochujang

plus 2 tea

1

Tab

Hot Pepper Oil

1

Tab

Sesame Oil

2

Tab

Dark Soy Sauce

1

tea

Dark Brown Sugar

1

Cup

Carrot

shredded

½

Cup

Kimchi

coarsely chopped
Instructions 
Combine aioli and 1 Tab of gochujang sauce and stir until smooth and combined.

Heat hot pepper oil over medium heat, add the yellow onions and 2 tablespoons of green onions and saute until just soft (2-3 minutes).

Add in beef and lamb and and a pinch of salt and pepper to taste, brown the meat (about 5 minutes). If desired, drain the fat.

Add the sesame oil, soy sauce, brown sugar, and carrots and cook for about 1 minute.

Stir in the kimchi and cook for 1-2 minutes more.

Remove the pan from the heat

Divide the meat between the lettuce boats and drizzle with the gochujang aioli, then top with the remaining green onion.
Nutrition
Calories:
471
kcal
Carbohydrates:
10
g
Protein:
21
g
Fat:
37
g
Saturated Fat:
12
g
Polyunsaturated Fat:
3
g
Monounsaturated Fat:
14
g
Trans Fat:
1
g
Cholesterol:
86
mg
Sodium:
732
mg
Potassium:
531
mg
Fiber:
2
g
Sugar:
4
g
Vitamin A:
7904
IU
Vitamin C:
6
mg
Calcium:
52
mg
Iron:
3
mg
Continue on for the aioli recipe.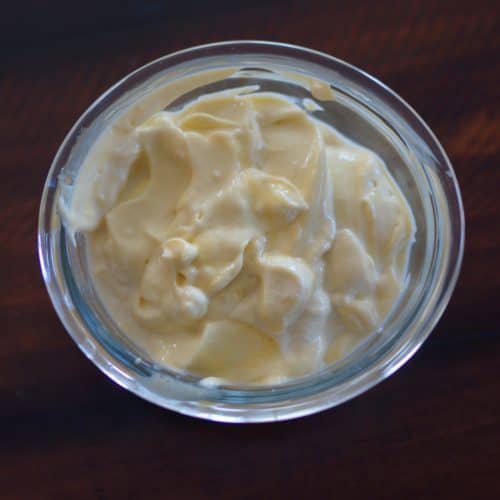 Garlic Aioli
This fresh aioli is so easy to make, and so much better than store bought mayo. Take your recipes to the next level and impress your friends with this creamy, garlicky, delight.
Equipment
Food processor or blender
Ingredients  
2

Egg Yolks

beaten

½

Lemon

juiced

⅔

cup

Olive Oil

½

tea

Mustard Powder

½

tea

Kosher Salt

1

Tab

Garlic Squeeze or 2 tea Minced Garlic
Instructions 
Combine the egg yolks, lemon juice, garlic, mustard powder, and salt in a food processor or blender and pulse to combine well.

With the food processor running, slowly drizzle in the oil into the food processor over about 1.5-2 minutes.

That is it! We told you it was easy, and fresh is so much better. Better yet, the aioli will keep in the fridge for up to two weeks if you store it in an airtight container, so you can use it along side several of your favorite recipes.
Nutrition
Calories:
358
kcal
Carbohydrates:
3
g
Protein:
2
g
Fat:
39
g
Saturated Fat:
6
g
Polyunsaturated Fat:
4
g
Monounsaturated Fat:
27
g
Cholesterol:
98
mg
Sodium:
297
mg
Potassium:
46
mg
Fiber:
1
g
Sugar:
1
g
Vitamin A:
133
IU
Vitamin C:
8
mg
Calcium:
23
mg
Iron:
1
mg