Last Updated on October 16, 2023 by Carne Diem
Origin: British, European
Jump to Recipe
Banoffee pie was one of my favorite desserts while living abroad in England. This British dessert was the perfect blend of bananas, sweet duche de leche, and espresso whipped cream. We elevate this classic English dessert recipe with caramelized bananas and a liquor infused whipped cream topping.
I must freely admit that few desserts tug at the old sentimental heart strings more than Banoffee Pie. I am almost certain that I ate this dessert every night for a good 9 months. Thankfully for me this banana toffee dessert recipe is so easy to make at home. Eating this recipe brings me back to the days living at Queen's Wing at Cambridge and remains our of my favorite British dessert recipes to this day.
Making the Banoffee Pie with Caramelized Bananas
The Banana Toffee pie only requires a handful of ingredients. Bananas, sweetened condensed milk (or dulce de leche), heavy cream, powdered sugar, instant coffee, brown sugar, and a graham cracker crust are all you need. You may also use an liquor like Kahlua to infuse in the whip cream topping if desired and will need a little butter or oil for caramelizing the bananas.
The pie crust
The first step in making the Banoffee Pie with Caramelized bananas is selecting your crust. A traditional British Banana Toffee Pie typically consists of making a crust out of digestive biscuits (cookies). If you can find them they are well worth the effort, but we did not have any on hand so we used a less traditional Graham cracker crust. Use a favorite recipe if you have one, but for this version we are keeping things super simple. This pie recipe should make enough filling for 2 standard sized pie crusts, or you can choose to make a slightly large, deep dish version of the pie.
Choosing your toffee caramel layer for the banana pie
While the name Banoffee is a combination of the words banana and toffee, traditionally the pie is made with a dulce de leche made by boiling sweetened condensed milk.
You can use a canned or jarred dulce de leche for the banana toffee pie or make your own from scratch. Sometimes dulce de leche is found near the sweetened condensed milk or frequently in the Hispanic aisle of the grocery store. You can also purchase jars of dulce de leche on Amazon.
Making homemade dulce de leche with sweetened condensed milk
There are a few options for making the dulce de leche, if you choose to do it from scratch. The classic "easy" way is to gently simmer a can of sweetened condensed milk. This is the way we have always done it, however, this method is not without risk. You will see warnings on the can stating not to cook in the can. This is due to the fact that if you heat the can too quickly, or let the water evaporate so it is no longer fully covering the can, the can runs a real risk of exploding and leaving your kitchen covered in a sweet gooey mess of caramel napalm. This risk has increased now that most cans now come with an even flimsier pull tab top.
Trying to lessen the risk
To somewhat lessen these risks we take a number of precautions. First, we use a larger pot so that we can be certain there is always a significant amount of water over the top of the can. Next, we start the can in the room temp water and slowly bring it up to a gentle simmer. Don't just drop the can into a pot of boiling water. Finally, we have started doing this process in a cast iron Dutch oven with a heavy lid in place. The hope is that if the can were to explode, the mess should stay mostly confined to the Dutch oven, and not all over the walls, ceiling, or God forbid our family members. Again, even with the extra precautions this process is not without risk, so please be careful or feel free to use store bought dulce de leche.
If you decide to test fate, remove the label from the can of sweetened condensed milk and place it in a large pot that can be fitted with a lid. Cover the can completely with water. Place the lid on the pot and slowly increase the temp to a simmer over medium heat. Decrease the heat once the water begins to boil/simmer. Heat the milk for 3 hours, then turn off the heat and allow everything to cool to room temp.
Additional methods for making dulce de leche
We have also come across methods of making dulce de leche using sweetened condensed milk cooked in a water bath, in the oven. This method seams safer, as the milk is not in a pressurized can, but we have not tried it, so if anyone has and likes this method please leave a comment!
Slowly cooking the sweetened condensed milk in a water bath on the stove, is a final method. This method carries the least risk, but will be the most labor intensive method.
Making the Caramelized Bananas for the Banana Toffee Pie
To make the caramelized bananas you will need to slice about 4-5 bananas, and caramelize them in a pan. Evenly coat the banana slices with the brown sugar and then heat a couple tablespoons of butter or oil in a large pan or skillet over medium heat. We use brown sugar in this recipe as that is more appropriate to the toffee flavors we are aiming for in the Banoffee Pie with Caramelized Bananas.
Working in batches, cook the bananas until caramelized and browned, about 2-3 minutes, then flip and cook the other side. Remove from the skillet and repeat with the remaining bananas.
For a slightly less rich version of the pie, use half caramelized bananas and half plain banana slices.
Making Banoffee Pie whipped topping
To make the coffee flavored whipped topping for the Banoffee Pie you will need 1 pint heavy whipping cream, a touch of instant espresso, and about a tablespoon of powdered sugar. We also prefer to add about 1 tablespoon of Kahlua to the whipped cream.
Making the Kalua espresso whipped cream with a beater
To make the whipped cream topping with a traditional mixer, combine the ingredients in a bowl. Beat with a mixer until stiff peaks begin to form.
Take care not to over beat the cream or you will end up with more of a fluff instead of a silky smooth whipped topping.
Making the Espresso Whipped Cream Topping using an iSi Whip
One of our favorite kitchen gadgets, is our iSi Gourmet Whipper. It allows us to make infused whipped cream toppings in seconds. The iSi using mini CO2 cartridges to effortlessly make the whipped cream.
To use the iSi whipper, mix the espresso powder, Kahlua, and powdered sugar with the heavy cream and add to the whipper. Screw on the cap, and load one CO2 charge. Once the CO2 is infused give the whipper a few shakes and you are ready to dispense you espresso whipped cream topping.
Finishing the Banoffee Pie with Caramelized Bananas
To finish the pie, evenly spread the dulce de leche over the bottom and sides of the 2 pie crusts.
Next, layer the bananas on top of the dulce de leche in a nice even layer.
Finally, top the Banoffee Pie with Caramelized Bananas with the whipped cream topping.
If desired, top the pie with some cocoa powder or chocolate shavings.
Chill the pie for at least 30 minutes before serving, and refrigerate the leftovers. Enjoy with a warm glass of Whipped Irish Coffee: Irish Dalgona.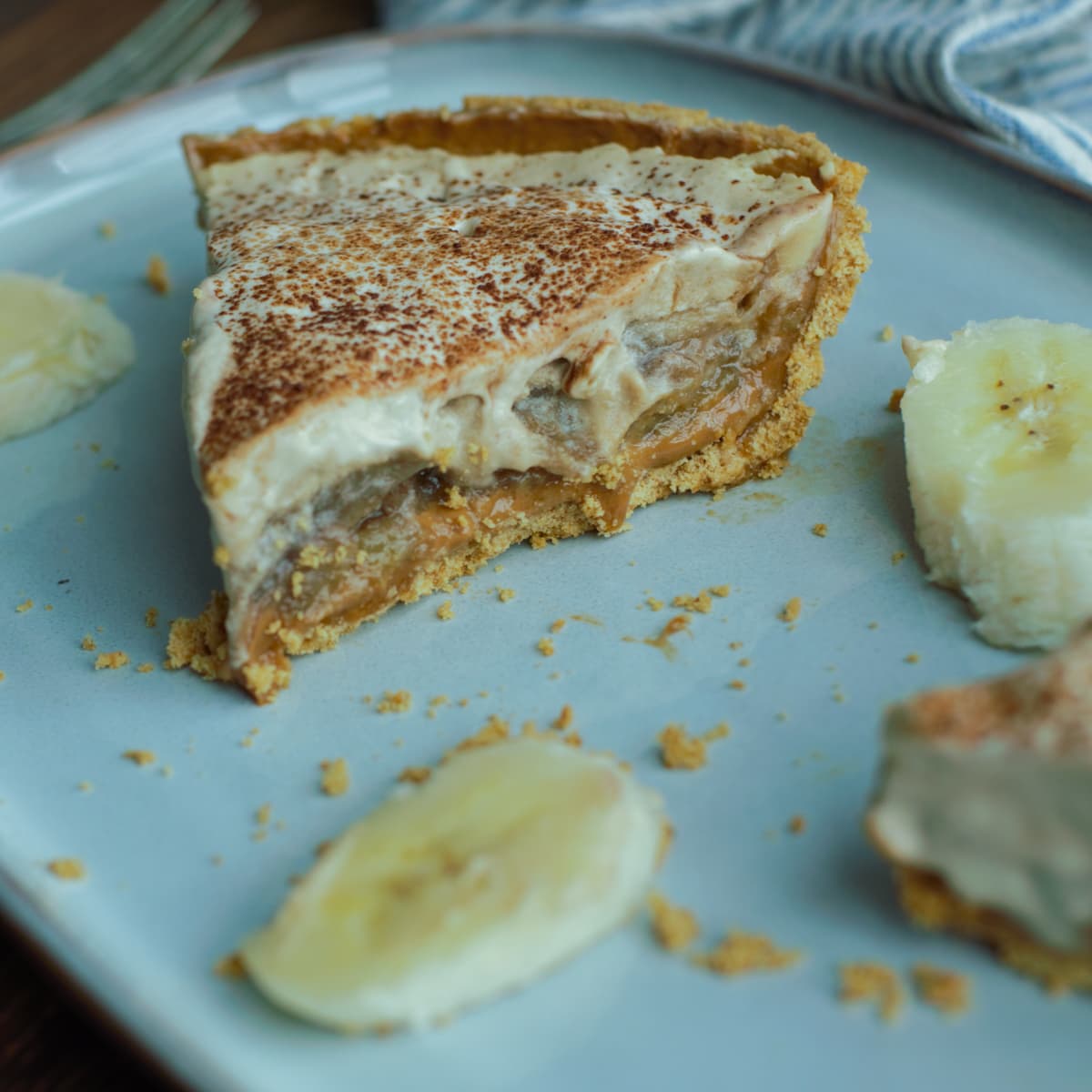 Indulge your sweet tooth with more of our favorite dessert recipes from around the world:
Banoffee Pie Variations
Over the years we have tried mixing things up and made a variety of different versions of the banana pie. Here are a few of our favorites.
Banana Lover's Banoffee Pie-
For this version of the Banoffee pie recipe, simply switch out the Kalua for some banana liquor. We like 99 Banana brand but any banana infused liquor will work.
Chocolate Lover's Banoffee Pie-
For this version of the pie replace the Kalua in the alcohol infused whipped cream with Bailey's or your favorite chocolate liquor. Top with chocolate shavings.
Caramel and Banana Pie-
If you are having problems finding Dulce de Leche and don't feel like making it from scratch, try replacing the dulce de leche with caramel. Caramel ice cream topping works well for spreading on the pie crust.
What to Serve Banoffee Pie With
Living in England we always had the British banana dessert dishes like Chicken Kiev or Beer Battered Fish and Chips. It would also go well with other British or Irish dishes like British Chicken Tikka Masala, Bangers and Mash, Irish Steak and Guinness Pie, and Homemade Corned Beef.
Some non-traditional parings could include Kiwi Mince and Cheese Pies: Beef and Cheddar Hand-Pies or a spicy Nashville Hot Chicken Sandwich.
Frequently Asked Questions
What is the origin of Banoffee Pie?
Banoffee Pie was a creation of the The Hungry Monk Restaurant, in East Sussex, England in the 1970's where is quickly became one of their most popular menu items.
What is the best ripeness for the bananas for Banoffee pie?
We find the best bananas are yellow and just starting to get some dark spots. This gives some added sweetness to the bananas while they still remain firm enough to not become mushy. Under ripe bananas will be the most firm but lack sweetness, and overripe bananas become mushy and are difficult to work with.
What is the difference between caramel, toffee, and dulce de leche
In short caramel is make with white cane sugar while toffee is made with brown sugar. Dulce de leche is made by slowly heating sweetened condensed milk.
How do I make the pie less sweet?
If you find that the pie is too sweet for you, try caramelizing only half of the bananas and use plain banana slices for the remainder of the pie.
How long will leftover banoffee pie last?
Leftover pie should be covered with plastic wrap and refrigerated. It is best fresh, but should be consumed within 2-3 days.
Thank you so much for visiting our blog. If you tried and enjoyed our recipe please share with others and please leave us a comment and review. We also love to see your pics so don't forget to tag us @Carne_Diem_Culinary or #CarneDiemBlog. To be notified of future recipes please follow us on Facebook,  Instagram, or Pinterest, or sign up for our e-mail notifications. Until next time, Carne Diem!
📖 Recipe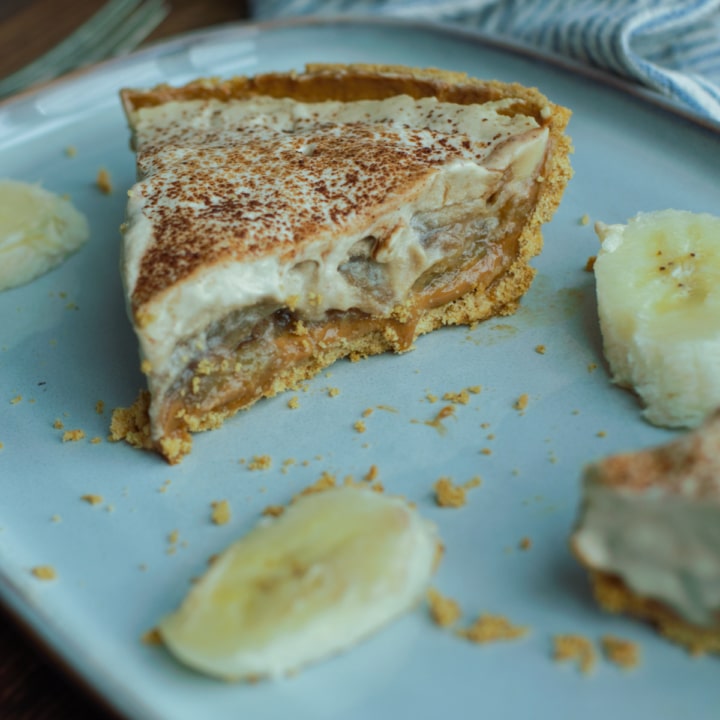 Banoffee Pie with Caramelized Bananas and Kalua Whipped Cream
Banoffee Pie is an English pie consisting of sweet dulce de leche, ripe bananas, and a coffee flavored whipped cream topping. We make this version with caramelized bananas and a Kalua infused whipped cream topping.
Ingredients  
2

Graham Cracker Crusts

Cocoa Powder or Chocolate Shaving for Topping

optional
Dulce de Leche Topping
1

can

Sweetened Condensed Milk

or store bought dulce de leche
Caramelized Bananas
5

Ripe Bananas

½

Cup

Light Brown Sugar
Whipped Cream Topping
1

pint

Heavy Whipping Cream

1

Tablespoon

Kalua or Coffee Liqueur

1

Tablespoon

Powdered Sugar

1

teaspoon

Instant Espresso or Coffee
Instructions 
Spread the dulce de leche over the pie crust. See notes in the blog regarding making this from scratch.
Making the Caramelized Bananas
Slice the bananas into coins about ¼ inch thick, and coat with the brown sugar.

Heat a couple tablespoons of butter or oil in a skillet over medium heat. In batches caramelize the bananas, about 3 minutes per side. Remove from the skillet and repeat with the remaining bananas.
Make the whipped cream topping
In a medium sized bowl, with a hand mixer, whip the heavy cream, powdered sugar, Kalua, and instant espresso. Beat until stiff peaks form.
Assemble the Pie
Top the dulce de leche layer with the caramelized bananas

Top the pies with the whipped topping.

If desired top the pie with a sprinkle of cocoa powder or chocolate shavings.

Refrigerate the pie for about 30 minutes before serving.
Nutrition
Calories:
468
kcal
Carbohydrates:
59
g
Protein:
6
g
Fat:
24
g
Saturated Fat:
12
g
Polyunsaturated Fat:
1
g
Monounsaturated Fat:
9
g
Cholesterol:
56
mg
Sodium:
189
mg
Potassium:
383
mg
Fiber:
2
g
Sugar:
40
g
Vitamin A:
700
IU
Vitamin C:
5
mg
Calcium:
138
mg
Iron:
1
mg