Our blog's motto has been 'Travel, Eat, Share' and was based upon the principals of sharing great foods from around the world that we discover during our travels and recreate at home. We have spent the last couple years discovering great local restaurants and rediscovering some old favorites. Sticking with the 'Share' in our motto we wanted to share a local's guide to our favorite local eats. Last year we started with our list of the The Best Tacos in Kansas City. This year we continue with the best cheeseburgers in the city.
We travelled all around the Kansas City metro area in search of the best burgers in the city. After taking recommendations from friends, followers, and local Facebook groups we made our way across the city hitting up local burger joints. From smash burgers to gourmet pub style burgers, and steakhouses to dives and diners we tried them all. Here is our definitive guide to the best burgers in Kansas City.
Best Gourmet Burgers in Kansas City
Sometimes you want a simple no frills burger, but then there are those times when you want the biggest, fattest, most elaborate burger you can find. These gourmet burgers raise the bar with premium toppings and high-quality beef.
The Winner: BK Classic Burger at Beer Kitchen in Westport
435 Westport Road | Kansas City, MO 64111 | 816-389-4180
Beer Kitchen | Kansas City's Original Gastropub (beerkitchenkc.com)
This Westport restaurant had several worthy burgers on their menu, but you don't really need to look past their house burger. The BK Classic Burger was everything a great cheeseburger should be. Thick, juicy, and perfectly cooked this gourmet burger doesn't need to rely on crazy toppings, just classic perfection. Don't forget to grab some Cheesy Ancho Corn Dip while you are there.
Other Gourmet Burger's Worth Trying
SOB Burger at Mason Jar
941 N 74th Dr. | Kansas City, KS 66112 | 913-242-8165
Mason Jar in Kansas City, Kansas was a restaurant that I did not know a lot about before I started searching for the best cheeseburgers in KC. It, however, came up as a frequent recommendation on Kansas City food groups that I belong to, and all of the hype was correct. Again, every burger we tried at Mason Jar was well executed, but the SOB Burger earns the top spot. The ½-pound burger patty consists of ground chorizo sausage and ground chuck topped with queso, tomato, avocado, grilled poblano pepper, crushed tortilla chips, and chipotle mayo. Grab some tater kegs while you are there to complete your meal.
Butcher Blend Burger at KoZaks Laketown Grill in Smithville
1018 S Hwy 169 | Smithville, MO 64089 | 816-873-3444
Restaurant Smithville | United States | Kozak's Laketown Grill (kozakslaketowngrill.com)
Want some great food? Those in the know make the trip up north to Smithville to enjoy some of the best food in the city, and KoZaks burgers are some of the best things on the menu. While I have never had a bad burger at KoZaks, their Butcher Blend Burger has become my go to cheeseburger. Their burger blend consisting of beef, pork and bacon is topped with smoked gouda and bourbon bacon jam. Simply fantastic every time.
Burger State in Waldo
8920 Wornall RD | Kansas City, MO 64114 | 816-214-8551
Burger State (burgerstatekc.com)
Burger State in Waldo was one of the first Kansas City Burger restaurants we tried when we began compiling this list of the best hamburgers in Kansas City, and they remained near the top of the list throughout. Their Double State Burger is what I was going to place at the top of the list, but due to my son's insistence that Burger State's Chili Burger was not only his favorite burger at the restaurant, but in all of Kansas City, we are going to give it a shout out too. You really can't go wrong with either cheeseburger.
Honorable Mention: The Dry Rub Burger at Third Street Social
The dry rub burger at Third Street Social in Lee's Summit and South Plaza just missed the cut, but definitely worth checking out.
Best Smash Burgers in Kansas City
Smash burgers have become the trendy way to make burgers in recent years, and there is no shortage of great smash burgers in Kansas City. Thin griddle fried patties are caramelized meat perfection and let you double or triple stack your burgers for more cheeseburger goodness.
The Winner: Danny's Burger Shack
8002 N Oak Trwy Suite 107 | Kansas City, MO 64118 | 816-801-9487
Home | Danny's Burger Shack LLC (dannysburgershack.com)
One of Kansas City's best food trucks moved into a permanent location this year. The move, however, has not stopped them from making some of the best cheeseburgers in Kansas City. Belly up to the bar at their North Kansas City location and watch these burger masters at work. Danny's Burger Shack's triple smash burger earns the top spot for our favorite smash burger in KC. Perfectly seasoned and amazingly juicy for a smash burger, this was our unanimous decision for best smash burger.
Other Burger's Worthy of Smashing
Big Red Food Truck
918-815-6864
This Kansas City food truck continues to cook up some of our favorite smash burgers in the city. Follow them on Facebook to see where they will be located throughout the week or, if you happen to see them as you are driving around the city, be sure to stop and grab a couple burgers and some chili cheese tots.
Cosmo's Burger at Lenexa Market
8750 Penrose Ln | Lenexa, KS 66219 |
7438 Wornall Road | Kansas City, MO 64114 (21 and over only)
Cosmo Burger (cosmoburgerkc.com)
This pop-up burger joint inside Waldo's Dodson's Bar and Commons opened a second location in Lenexa Public Market and burger loving families rejoiced. Even in the new location, Cosmo's Burgers are grilling up top notch smash burgers that rank among the best in Kansas City.
Best Diners, Drive-ins and Dives to get a Burger in Kansas City
From Westport Flea Market to the 300 Burger at Cosmo Bowl and night owl's favorite Town Topic, Kansas City has no shortage of historically great burgers in unassuming or unexpected places. Add in the large list of historic diners and drive-ins around the city and you are never far from a great burger.
The Winner: Tay's Burger Shack
1019 Armour Rd | North Kansas City, MO 64116 | 816-541-8282
It is no longer a secret that this small burger shop in North Kansas City makes one of the best cheeseburgers in the city. This non-assuming burger shack is always packed with locals that know that when you want a great burger fast, you drop into Tay's.
Other Burgers Worth a Trip
Big Boy Cheeseburger at Paul's Drive-in in Jackson County
10424 Blue Ridge Blvd | Kansas City, MO 64134 | 816-761-5700
Paul's Drive In - Classic Smash Burgers and Ice Cream Desserts! (paulsclassic.com)
This drive-in burger joint has been cooking up burgers for the citizens of South Kansas City since 1960 and show no signs of slowing down. When you want a good old-fashioned burger with no frills, give Paul's a try. Not only are their burgers tasty, but their onion rings also show up on our list of one of our favorite side dishes.
Snack Shack on Johnson Drive
6018 Johnson Drive | Mission, KS 66202 | 913-381-3200
Home (thesnackshackonjohnsondr.com)
Not to be confused with national chain Shake Shack, this old school diner has been a favorite of Johnson County citizens for decades. Moving from downtown Overland Park to Johnson drive has not changed the fact they still make a great burger. The Bobby Burger with grilled onions and jalapeno's is the burger to get.
Double Cheeseburger at Kitty's Cafe in Midtown
810 E 31st St. | Kansas City, MO 64109 | 816-753-9711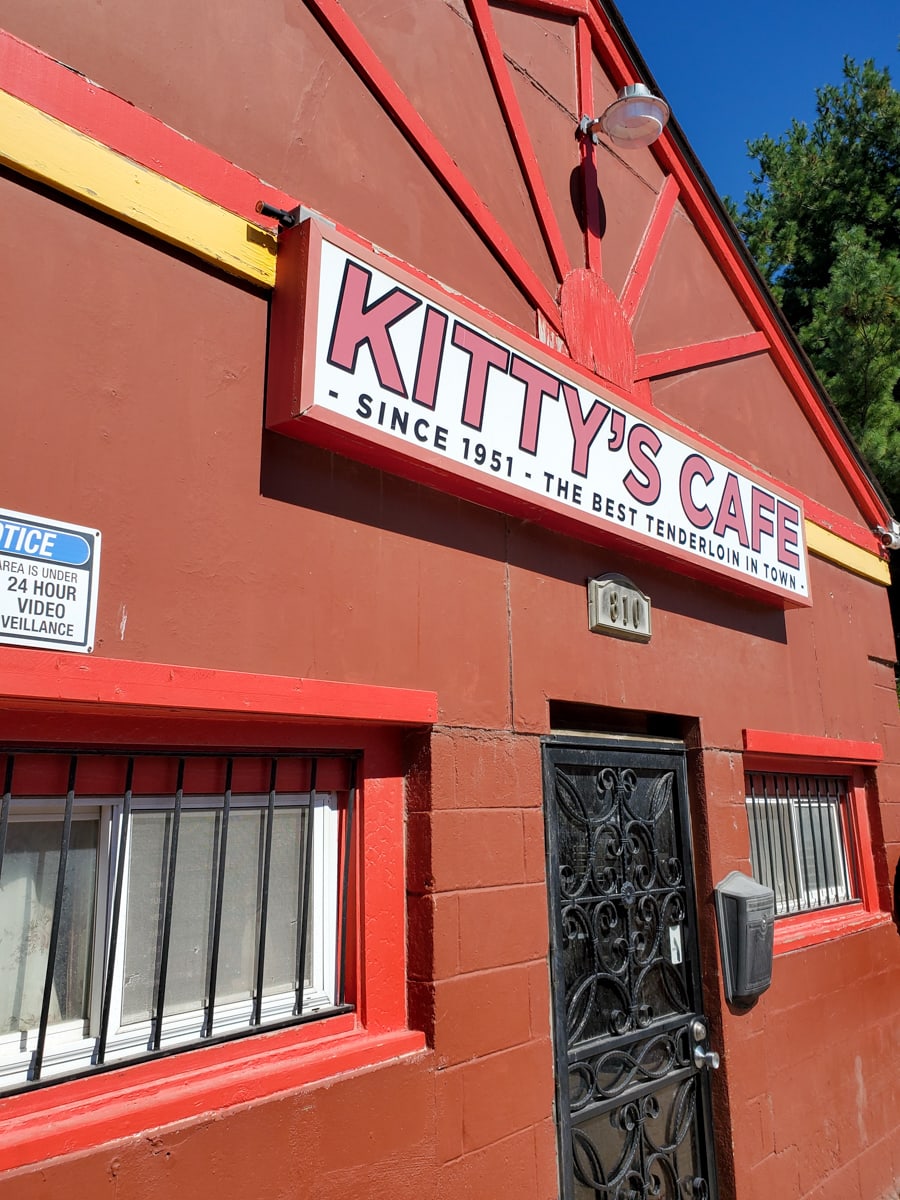 Kitty's Cafe was just named one of the 50 best restaurants in America by the New York Times. While this ranking is in large part due to Kitty's world-famous pork tenderloin sandwich, don't sleep on their burgers either. Again, this is a no-nonsense, no frills type of joint that has just perfected serving great food. Kitty's is cash only so be sure to stop by the ATM before stopping in.
Honorable Mention: The Kelly Burger at Grandstand Burgers
4942 Merriam Drive | Overland Park, Kansas 66203 | 913-362-0111
Grandstand Burgers - Burgers, Burger Restaurant, Hamburger
While many of the other burger joints on the list serve the thinner, flat top grilled burgers, Grandstand serves up a more substantial burger and is one on the best values on this entire list. Be sure to try the Kelly Burger topped with bacon and ham. It is their best seller for a reason.
Staying in? Try some of our most popular burger recipes that you can make at home:
Best Burger Side Dishes in Kansas City
Let's face it, when you grab a hamburger, you are ordering a side with it. Thankfully, there were some great sides to go along with these juicy burgers. These were some of our favorites along the way.
Best French Fries
The classic burger side dish, French Fries always pair well with a burger.
Winner: Truffle Fries at Tailleur
The gourmet burger at Tailleur in midtown just missed our top gourmet burger list, but their truffle fries were really the star of the show.
Runner Up: Belgian Fries from Beer Kitchen
If you want to learn how to make some of the most wonderful and crispy fries at home be sure to check out our recipe for Always Crispy French Fries.
Best Onion Rings
Winner: Paul's Drive in
The onion rings at Paul's Drive-in in Jackson County were our favorite classic, diner and drive-in style onion rings that we tried. Healthy, absolutely not. Delicious, no doubt.
Runner Up: Thin Crispy Onion Rings from Wahl Burger
Best Gourmet sides
Winner: Asian BBQ Pulled Pork Nachos at Kozaks in Smithville
Ok, so technically this is more of an appetizer than a side, but we would be doing you a huge disservice if we did not recommend these nachos. Already the recipient of several awards and best of list over the years, these Asian inspired nachos live up to the hype. We fell so in love with these nachos that they were the inspiration behind our Asian Beef Short Rib Nachos.
Did we miss one of your favorites, or is there a new hidden gem that we should know about. Leave a comment and let us know, and we will update this list with any new favorites.
Thank you for taking the time to visit our blog. If you tried and enjoyed our recipe, please share with others and please leave us a comment and review. We also love to see your pics so don't forget to tag us @Carne_Diem_Culinary or #CarneDiemBlog. To be notified of future recipes please follow us on Facebook, Instagram, or Pinterest, or sign up for our e-mail notifications. Until next time, Carne Diem!