Last Updated on October 25, 2022 by Carne Diem
Protein:
Method: Grill or Smoker
Jump to Recipe
This jerk chicken recipe has been a labor of love over the last many years. This recipe has probably undergone more versions and revisions than any other recipe that we make. We have tried a lot of different jerk recipes over the years. Recipes from friends, recipes from the internet, and even recipes from locals in Jamaica but we could never quite find "the perfect jerk" for making at home. Finally after a lot of trial and error we have found a jerk marinade and recipe that we are really proud of. It has just the right amount of heat balanced by a perfect amount of sweetness, while still retaining that authentic jerk flavor from the allspice berries. Give it a try we think you will enjoy it as much as we do.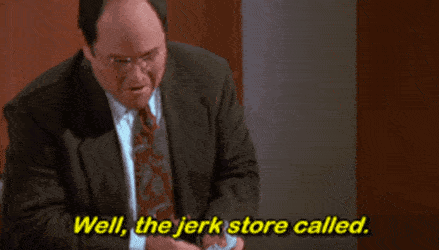 Making the Jamaican Style Jerk Chicken
Preparing the marinade
Gather your ingredients
As mentioned above this marinade has been a labor of love with a lot of tweaking to get it to where I like it. That said it is also easily changeable to meet your tastes. To make the marinade you will need the following:
8-12 Scotch Bonnet Peppers- Stems and seeds removed
4 Green Onions
2 Tab Whole All-Spice
3 Tab Fresh Thyme
1 White Onion peeled
¼ Cup Beer
¼ Cup White or Dark Rum
¼ Cup White Vinegar
1 Cup Brown Sugar
8 Garlic Cloves
1 tea Cinnamon
1 tea Nutmeg
3 Tab Soy Sauce
1 Tab Worcestershire Sauce
1 tea Garlic Paste
½ Jar Grace Hot Pepper Sauce or more to taste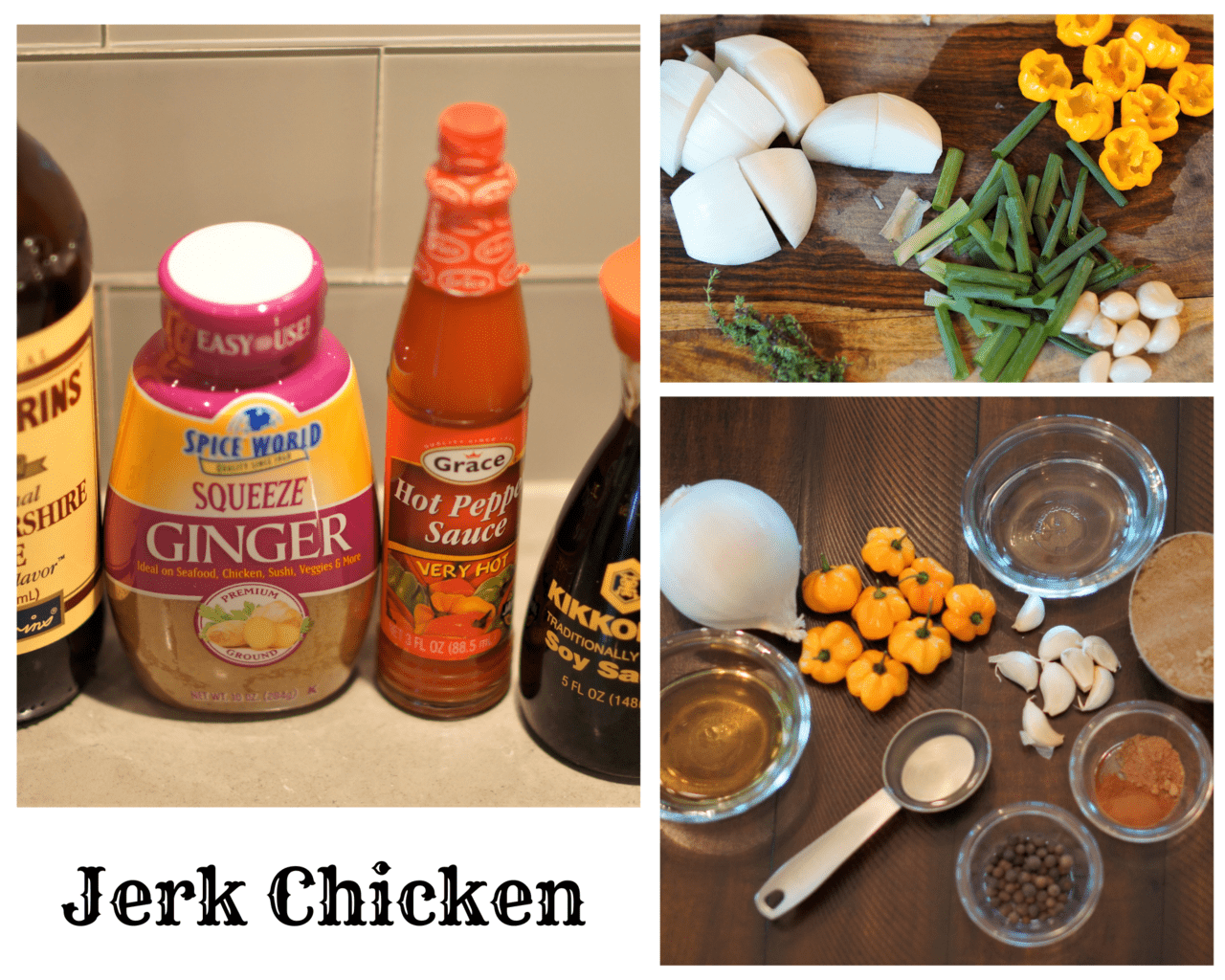 This will result in a flavorful marinade. Using the 8 scotch bonnet peppers typically gives off the sweetness of the scotch bonnet flavor while remaining fairly mild when used as a marinade and basting liquid. This is a fairly kid friendly version. If you want more heat use 12 or even more scotch bonnets or increase the amount of the Grace hot sauce. If you can't find Grace hot sauce you can use another hot sauce with scotch bonnet peppers of what you have on hand. The Grace sauce is frequently available at many grocery stores, World Market, and on Amazon.
Some of the recipes that I received from locals use Browning in lieu of soy sauce. We prefer the flavor of the soy sauce and we always have that on hand, but by all means use the Browning if you prefer.
Blend the marinade
Peel and quarter the onions and peel the garlic. Next, add the onions, peppers, and garlic to a blender or food processor and blend until finely chopped.
Scape down the sides and then add the remaining ingredients. Blend until smooth and well combined.
This recipe may make more sauce than you need for one batch of Grilled Jamaican Jerk Chicken. We also typically make a much larger batch depending on how many peppers we have from our garden. Extra marinade is easily canned so you can enjoy the flavors of Jamaican jerk chicken year round.
Marinating the Jamaican Jerk Chicken
When grilling chicken we find dark meat works best. It holds up to the higher cooking temps without drying out. You can use white meat chicken but it will run the risk of drying out if you cook it much past 165 degrees. The marinade also works fantastic for a whole spatchcock chicken or chicken halves or quarters as well.
In a plastic bag or nonreactive container add the chicken and just enough marinade to coat all of the chicken. You will want to reserve about ½-1 cup of marinade for basting the chicken as it cooks, depending on how much chicken you are cooking. Refrigerate and let the chicken marinate for at least 4 hours of overnight.
Grilling the Jamaican Jerk Chicken
While you can certainly smoke the chicken in this recipe, we find that jerk chicken is best when grilled. The higher temps crisp up the skin (there is nothing worse than rubbery chicken skin). Jerk chicken is also one of the few recipes where I actually love that slightly charred outside of the chicken, just like I remember it from Jamaica. We typically set up our grill for direct and indirect heat at about 400 degrees.
For Authentic Jamaican flavor use some pimento wood
If you want that true authentic Jamaican jerk flavor, you want to use pimento wood. Pimento wood is the wood of the same tree that produces the all-spice berries used in Jamaican cooking. Unfortunetly it has become extremely difficult to source outside Jamaica and can be pretty pricy when you do find it. In addition, there is not really a great substitute either. We source out pimento wood from pimentowood.com which may be the only approved source of pimento wood available in the United States. Sadly pimento wood is very popular and it is very frequently sold out. If they have it in stock buy the biggest pieces that you can.
If you do obtain authentic pimento wood you are going to want to make it last. This is one of the few times that I actually attempt to get smoldering wood. In order to preserve the pimento wood while still trying to maximize the flavor from the wood I typically form a foil boat around the wood chunks and place it on the hot coals, kind of like a makeshift smoke box. This prevents the wood from burning up in the first few minutes and will produce a bit more smoke. As a disclaimer, this will possibly result in some dirty smoke, however, with the short cook grilling the chicken we have not noticed any off flavors and in our opinion is better than using up all of you pimento in one cook.
Grill the chicken man!
Once your grill has reached temp place the marinated chicken onto the grill over direct heat. Cook for about 3-5 minutes.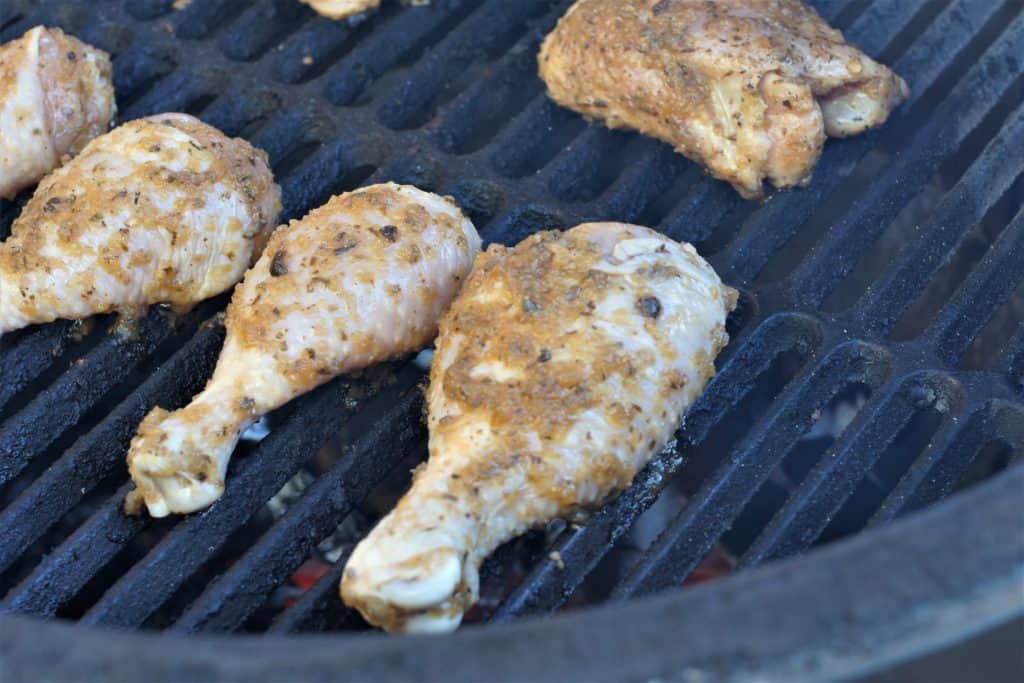 Flip the chicken over and cook for an additional 3-5 minutes or until you obtain the color and char you are looking for.
Just after flipping, baste the chicken with some of the reserved marinade/basting sauce (do not use the marinade that the raw chicken was in).
Do note that the sugar in the rub will begin to burn, which does give it a nice char on the outside but don't go too crazy or leave it unattended for too long. When you are happy with your grill marks, move the chicken to indirect heat. Continue to cook the chicken until it reaches an internal temp of about 175-190 for dark meat, or no more than 165 for white meat. Note: dark meat is safe to eat at 165, but is better and more tender at an internal temp of at least 175. Use an Instant Read Thermometer to guide your cook. It is like a Grill Master's lightsaber. Cooking based only on time is totally Padawan level.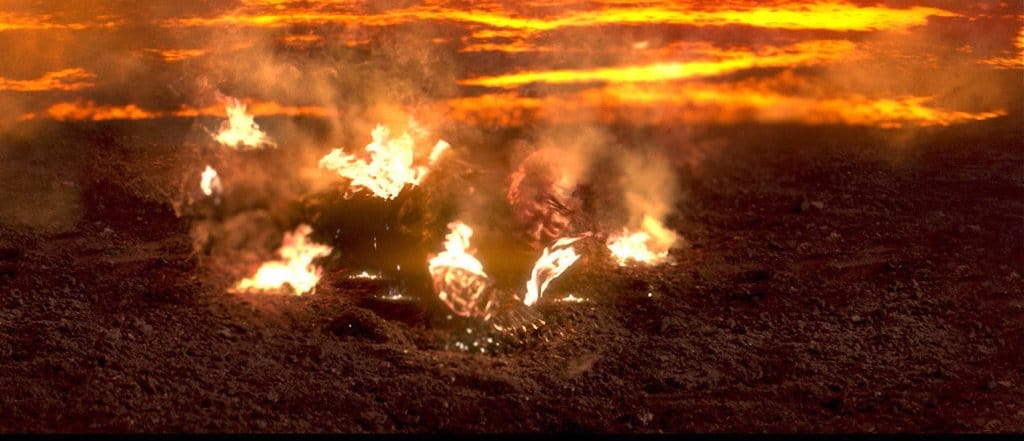 Notes on cooking the Grilled Jamaican Grilled Chicken on a firepit or open flame
We really love this recipe cooked over and open flame or over a firepit like our Breeo X-Series. The technique is similar as when cooking on a traditional grill. Begin with the grill grate closer to the flame to grill the outside of the chicken. When cooking over a fire pit I do tend to flip the chicken a little more frequently until I can better estimate the grate temp. You can also use an infrared thermometer to give you a grate temp but that is not really necessary.
After you have obtained the color you like on the chicken and crisped up the skin, raise the grate level to a medium heat. You should be able to hold your hand over the grate (Not on! I don't need lawsuits) for about 5-6 seconds before it become too hot and you need to move your hand. As mentioned above cook the dark meet chicken to at least 175 degrees and white meat to 165 degrees.
If you are cooking for a crowd I sometime cook in batches and place the cooked chicken in a foil pan with some additional marinade to keep warm while I cook the rest of the chicken.
Serve the Grilled Jamaican Jerk Chicken
Serve the chicken with grilled vegetables and Caribbean inspired rice.
Looking for more spicy chicken recipes? Give our Nashville Hot Chicken Sandwich, Taiwanese Night Market Spicy Fried Chicken, or Bunny Chow: South African Durban Style Chicken Curry a try. Want a little less spice? Try our Grilled Chicken Spiedini or Moroccan Tagine Style Chicken and Olives.
Throw in some Grilled Jamaican Beef Patties, Caribbean Fire Shrimp, or Oxtail Stew to make it a full meal.
Thank you for taking the time to visit our blog. If you tried and enjoyed our recipe please share with others and please leave us a comment and review. We also love to see your pics so don't forget to tag us @Carne_Diem_Culinary or #CarneDiemBlog. To be notified of future recipes please follow us on Facebook,  Instagram, or Pinterest, or sign up for our e-mail notifications. Until next time, Carne Diem!
📖 Recipe
Jamaican Jerk Chicken
The pinnacle of Jamaican cuisine, grilled jerk chicken is packed with flavor. If there was ever a dish that could tell a story of its people this is it. This Grilled Jamaican Jerk Chicken is, in our opinion, one of the great culinary delights in the world.
Ingredients  
2

pounds

Chicken

pieces, quarters, or whole spatchcocked
Marinade
8-12

Scotch Bonnet Peppers

Stems and seeds removed

4

Green Onions

2

Tab

Whole All-Spice

3

Tab

Fresh Thyme

1

White Onion

peeled

¼

Cup

Beer

¼

Cup

White or Dark Rum

¼

Cup

White Vinegar

1

Cup

Brown Sugar

8

Garlic Cloves

1

tea

Cinnamon

1

tea

Nutmeg

3

Tab

Soy Sauce

1

Tab

Worcestershire Sauce

1

tea

Garlic Paste

½

Jar

Grace Hot Pepper Sauce

or more to taste
Instructions 
Add the onions, peppers, and garlic to a blender or food processor and blend until chopped.

Scape down the sides and then add the remaining ingredients. Blend until smooth and well combined.

Reserve about ½ cup of the marinade then add the rest to the chicken. Coat the chicken well and marinade for at least 4 hours or overnight.

Prepare your grill for direct and indirect heat and heat to about 400 degrees.

Grill the chicken for about 3-5 minutes per side, basting with the reserved jerk sauce every few minutes.

Once the skin in nice and crispy move the chicken to indirect heat and cook until the temperature reaches at least 175-190 for dark meat and just at 165 degrees for white meat.
Nutrition
Calories:
551
kcal
Carbohydrates:
68
g
Protein:
24
g
Fat:
17
g
Saturated Fat:
5
g
Polyunsaturated Fat:
4
g
Monounsaturated Fat:
7
g
Trans Fat:
1
g
Cholesterol:
82
mg
Sodium:
1086
mg
Potassium:
596
mg
Fiber:
3
g
Sugar:
57
g
Vitamin A:
749
IU
Vitamin C:
53
mg
Calcium:
148
mg
Iron:
4
mg