Last Updated on October 20, 2023 by Carne Diem
Jump to Recipe
This homemade breakfast sausage is made with fresh herbs like sage and thyme and packed with flavor with the additions of Herbes de Provence, garlic, sweet paprika, and crushed red pepper. This easy sausage recipe is the perfect way to use fresh ground pork and can be ready to cook up for breakfast in minutes.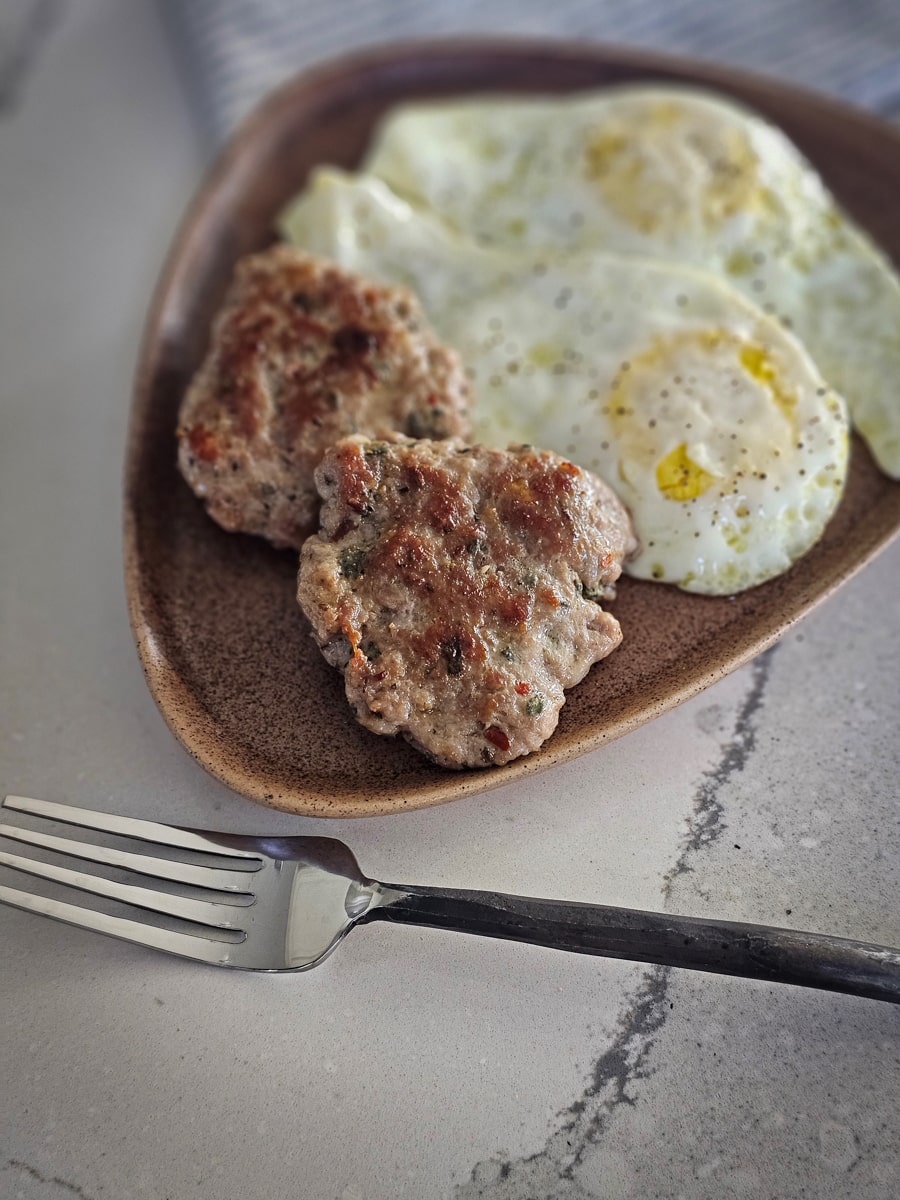 We first started making our fresh pork sausage about 12 years ago when we bought a whole hog from a co-worker. We were surprised at just how easy it was to make breakfast sausage with fresh ground pork at home. It was also a budget friendly recipe compared to buying store bought brands like Jimmy Dean. Best yet, we could customize the flavors of our sausage so it always ended up just the way we like it. Making homemade breakfast sausages with fresh herbs is one of our favorite sausage recipes that we make.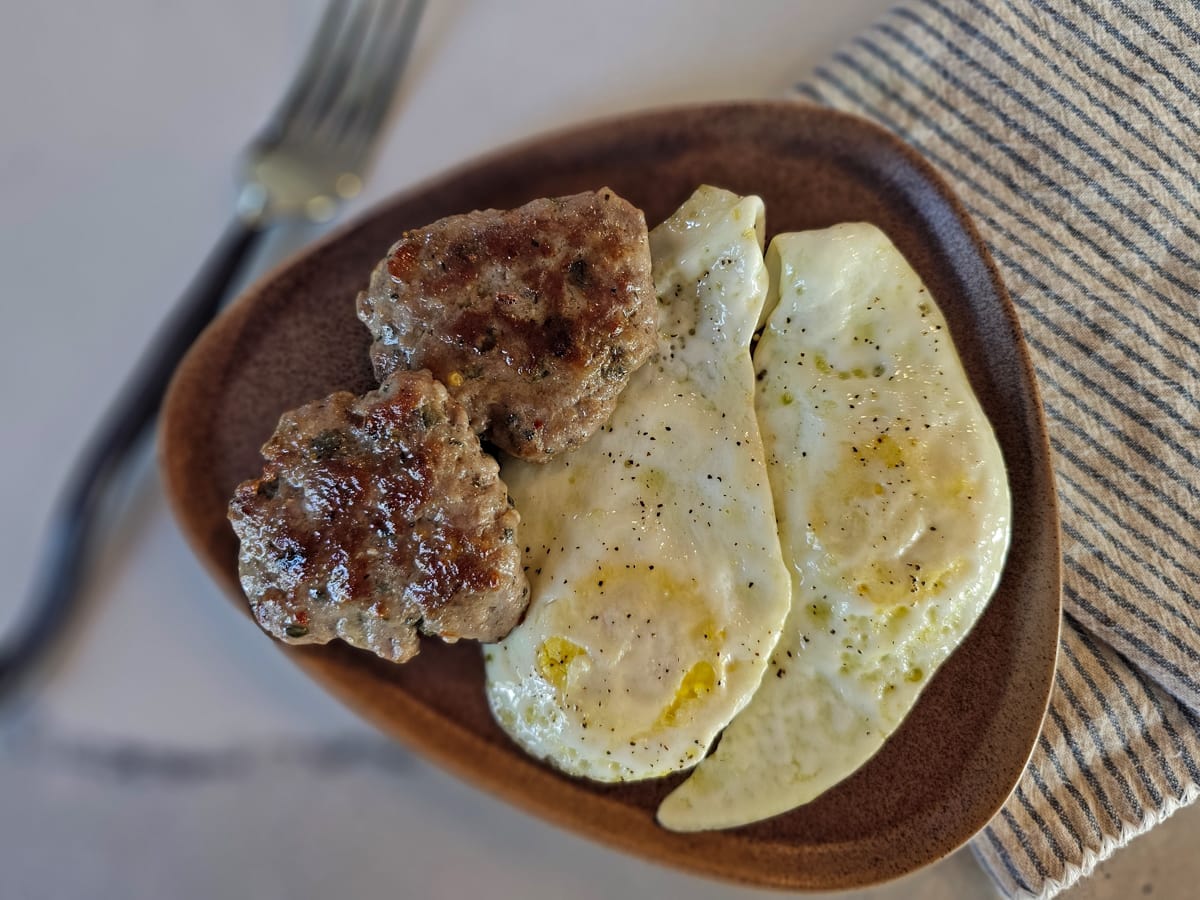 Making the Homemade Pork Breakfast Sausage
To make the fresh ground pork breakfast sausage recipe you will need 1 pound of fresh ground pork, some fresh herbs like sage and thyme, and a homemade breakfast sausage seasoning. The entire process can be done in under 5 minutes.
Ingredients for the fresh ground pork breakfast sausage
Fresh Ground Pork- You will need 1 pound of fresh ground pork for the breakfast sausage recipe. We recommend supporting a local farmer or butcher. We purchase our fresh pork products from Paradise Locker Meats, but support a local farm in your area.
Sage- Fresh sage provides the primary flavor for this homemade ground pork breakfast sausage. Sage provides a deep earthy flavor to the fresh sausage.
Fresh Thyme- Fresh thyme provides a bit of herby and savory flavor to the breakfast sausage recipe.
Herbes de Provence- Herbes de Provence is an herb mix typically consisting of an extensive list of herbs like lavender, savory, thyme, rosemary, and oregano. If you do not have Herbes de Provence on hand you can mix equal portions of rosemary, oregano, lavender and any other dried herbs of your choosing.
Garlic Powder-A touch of garlic powder helps to balance out the flavors of the breakfast sausage seasoning mix.
Crushed Red Pepper Flakes- Making the breakfast sausage with crushed red pepper adds a hint of spice to the sausage. You can adjust the spice level by adding more crushed pepper, if desired.
Sweet Paprika- The use of sweet paprika adds a bit of sweet and fruity flavor to the ground pork sausage.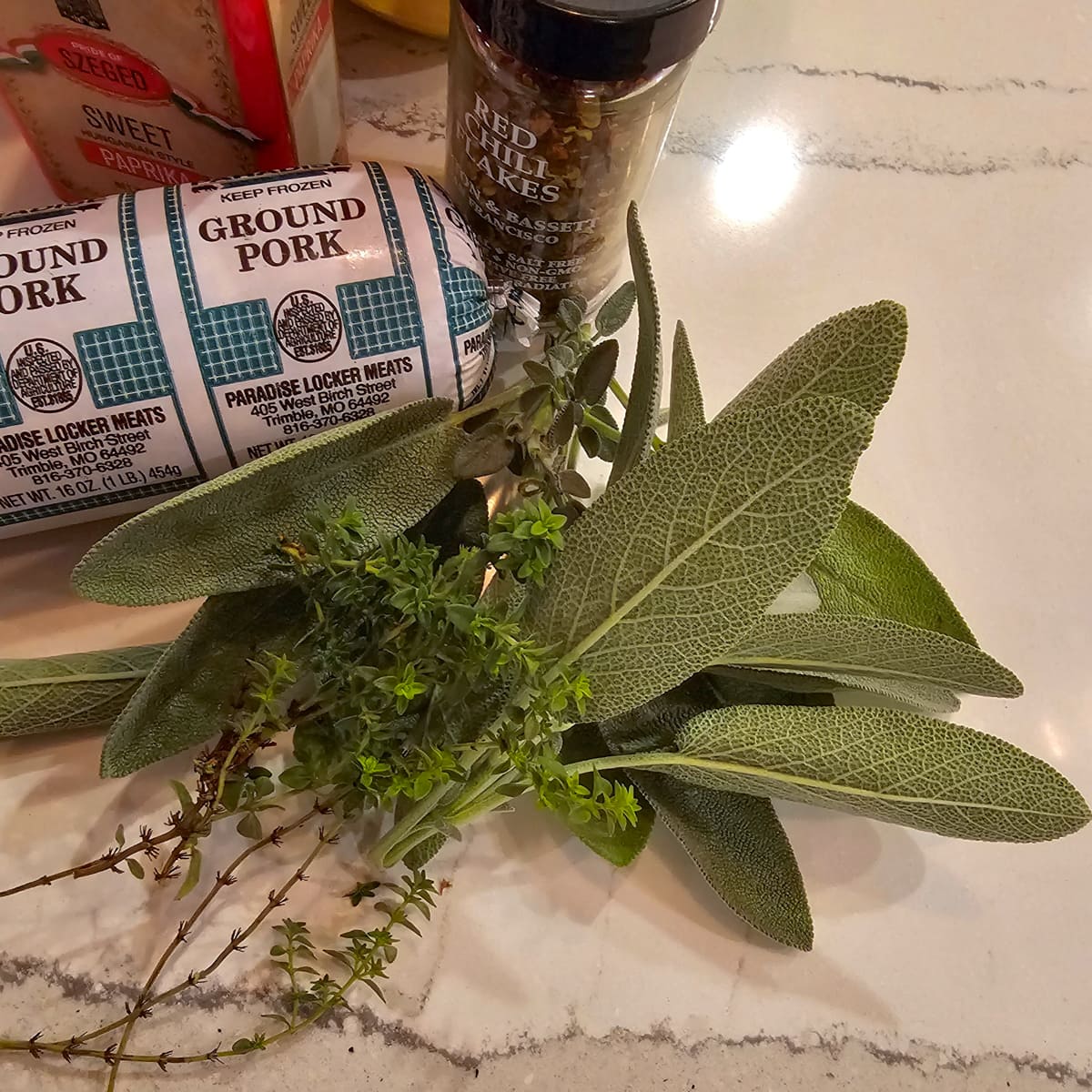 Prep the fresh herbs for the sausage
To prepare the fresh herbs, finely chop the fresh sage and remove the thyme leaves from the stems. This is quickly accomplished by grasping the thyme at the top of the stem and running your fingers down the stem. You will need about 1 teaspoon of fresh thyme and 1 tablespoon of fresh sage.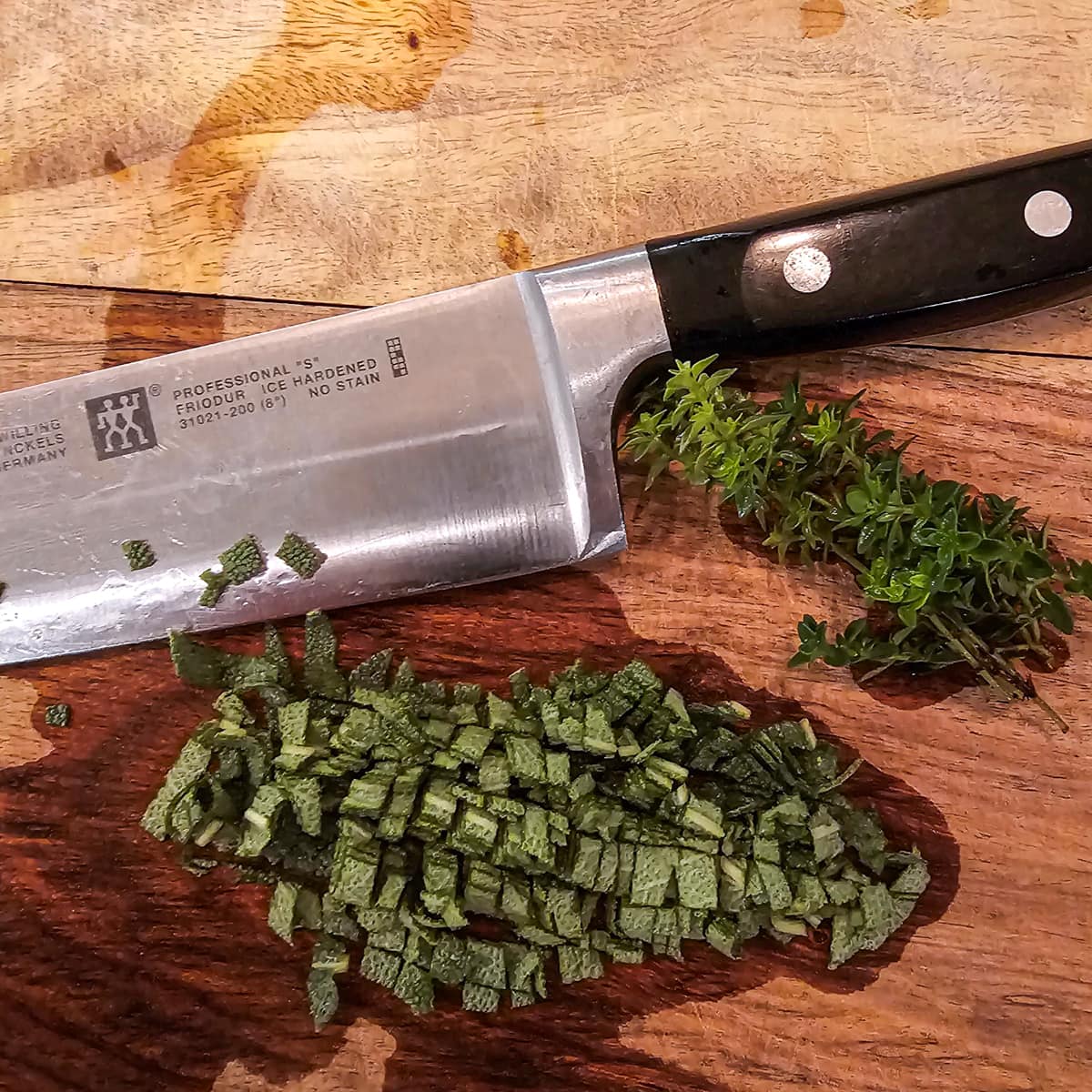 Prepare the homemade breakfast sausage seasoning
This breakfast sausage seasoning recipe is made with garlic powder, sweet paprika, Herbes de Provence, salt and crushed red pepper. Simply mix the ingredients together and set aside.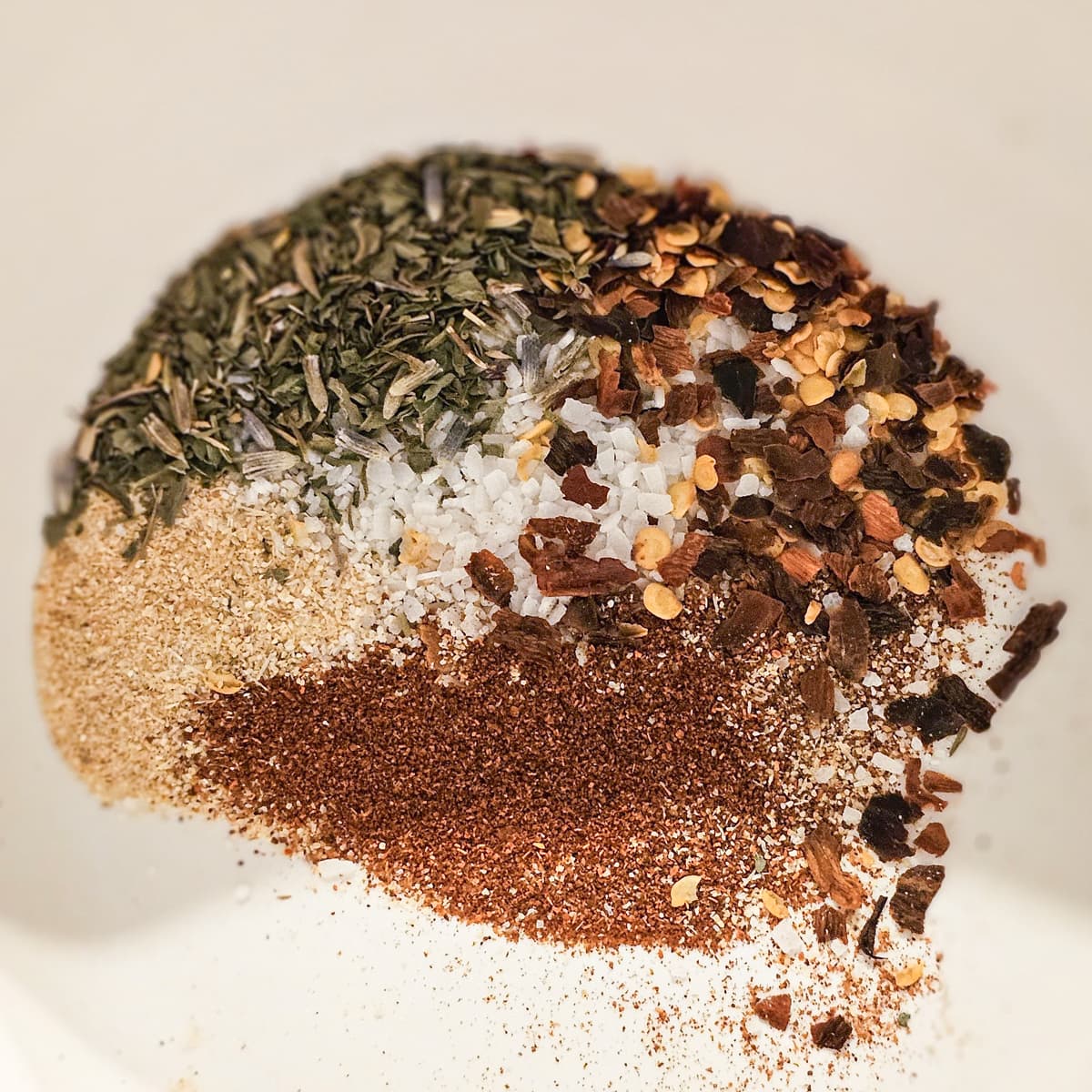 Finishing the homemade fresh sage sausage
In a bowl, combine the sausage seasoning mix, fresh herbs and ground pork. To improve the distribution off the seasoning, we find it helps to add about 1 tablespoon of water with the dry seasonings before combining, This helps to prevent getting large clumps and pockets of seasoning.
From here your fresh homemade breakfast sausage is ready to use. Form into hand formed sausage patties or breakfast links. If you are not using the sausage right away, place in an airtight container and use of freeze within 2 days.
Breakfast is the most important meal of the day, so don't stop with just sausage. Make it a complete meal with some of our other breakfast recipes:
Favorite fresh pork sausage variations
This homemade breakfast sausage makes a great base an endless number of recipe variations. Here are a few of our favorites:
Homemade Hot Breakfast Sausage-
To turn up the heat in your fresh sausage simply add about ½ teaspoon of cayenne pepper to your seasoning mix and go from there to adjust the spice level to your preference.
Maple Breakfast Sausage-
To make a maple version of the breakfast sausage add a couple tablespoons of maple syrup to the fresh sausage. For a real treat use some bourbon maple syrup and use the extra to make our Maple Bourbon Pecan Pie or Bourbon Maple Hot Smoked Salmon.
Uses for Homemade Breakfast Sausage
In addition to simply making DIY sausage patties or breakfast links, the fresh herbed breakfast sausage is also great on breakfast sandwiches, as part of an egg scramble or skillet, used in some killer biscuits and gravy, or used as a topping or filling for breakfast dishes like our Mexican Migas or Colorado Style Green Chili Smothered Burritos.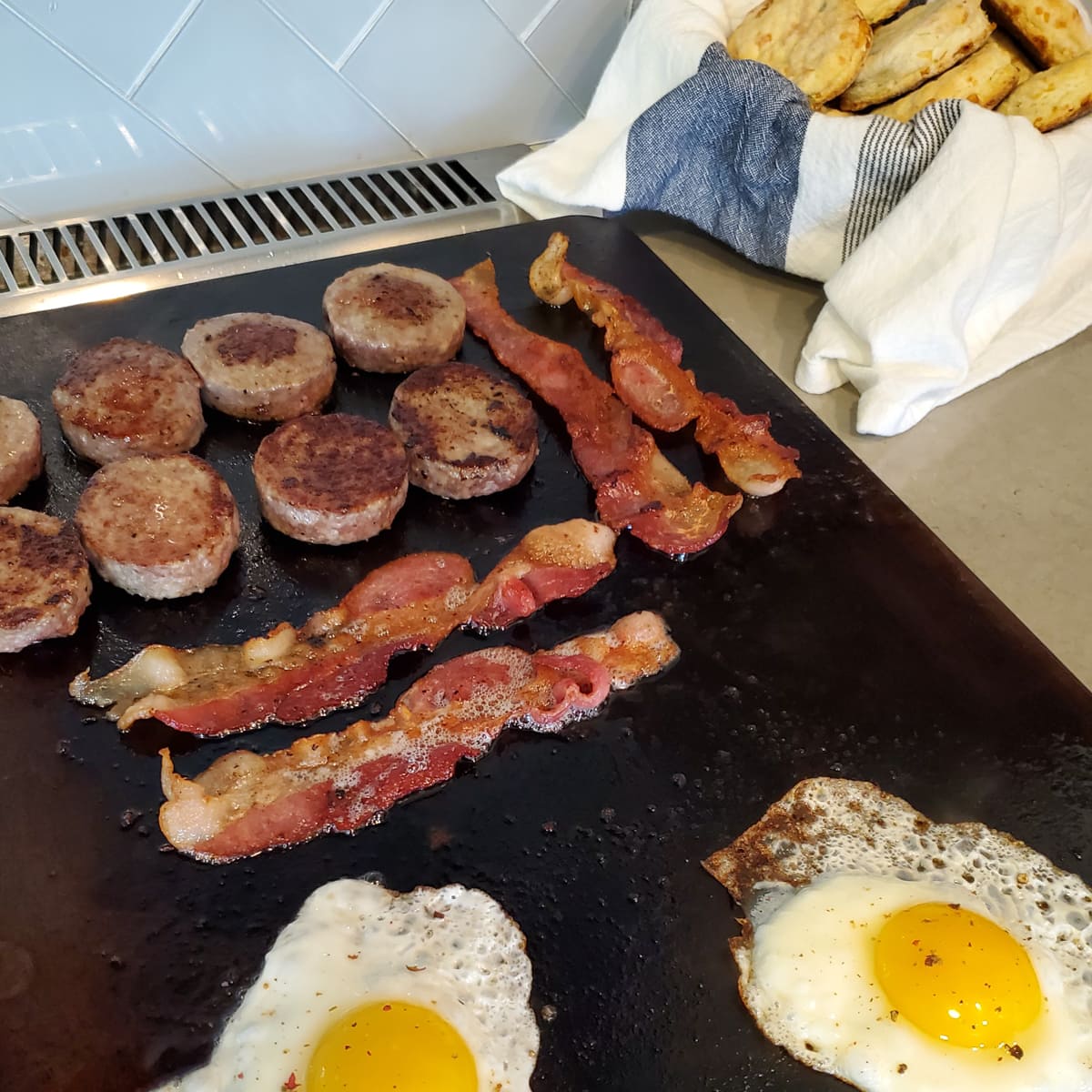 To cook the homemade sausage, cook in a skillet, pan or flat top like a Blackstone over medium heat. Flip the sausage patties about every 3-4 minutes and cook until browned and until the internal temperature of the sausage has reached 160 degrees.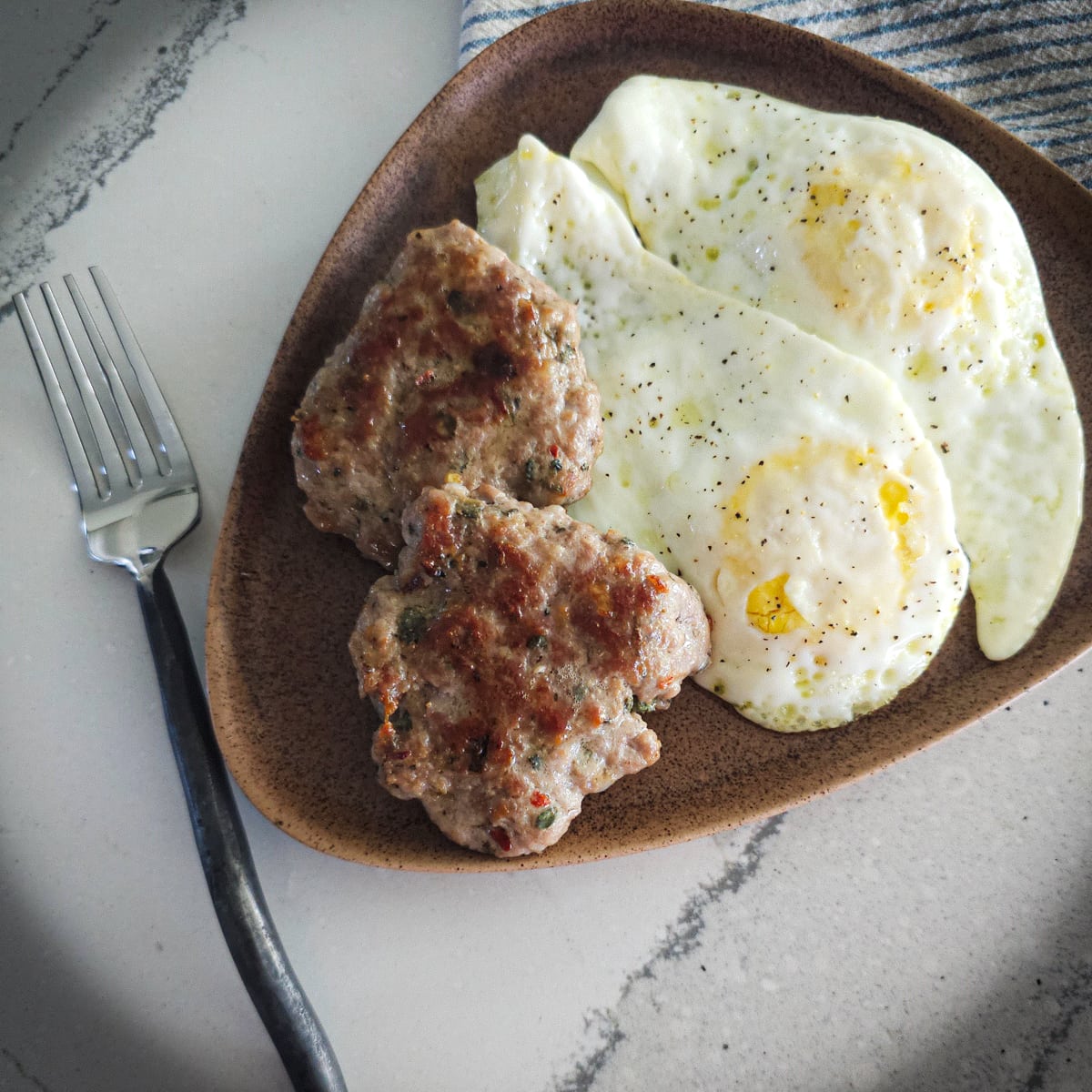 Frequently Asked Questions
Is this a gluten free sausage recipe?
Yes, our homemade breakfast sausage is free of fillers and is completely gluten free.
How long does homemade fresh pork sausage last in a refrigerator?
Fresh, raw breakfast sausage should be refrigerated and used within 2 days. Cooked breakfast sausage should be used within 3-4 days of cooking.
What temperature does fresh breakfast sausage need to be cooked to?
According to the USDA, raw ground sausage needs to be cooked to an internal temperature of 160 degrees.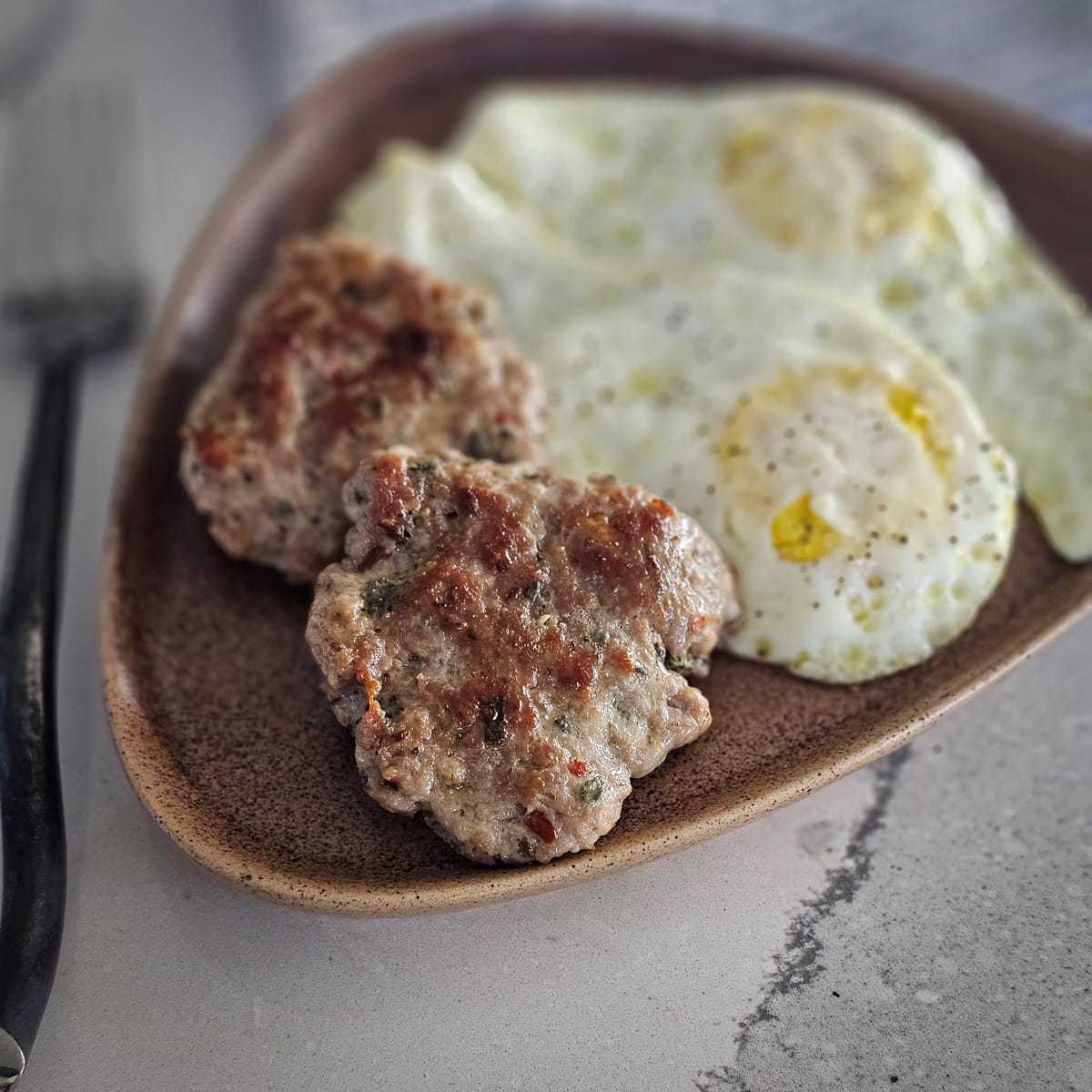 Thank you for taking the time to visit our blog. If you tried and enjoyed our recipe, please share with others and please leave us a comment and review. We also love to see your pics so don't forget to tag us @Carne_Diem_Culinary or #CarneDiemBlog. To be notified of future recipes please follow us on Facebook, Instagram, or Pinterest, or sign up for our e-mail notifications. Until next time, Carne Diem!
📖 Recipe
Homemade Breakfast Sausage with Fresh Herbs
Farm fresh ground pork and fresh herbs like sage and thyme combine with a bold seasoning mix of paprika, crushed red pepper, garlic, and Herbes de Provence in this quick and easy homemade breakfast sausage recipe.
Ingredients  
1

pound

Ground Pork

1

Tablespoon

Fresh Sage

1

teaspoon

Fresh Thyme
Homemade Breakfast Sausage Seasoning
1

teaspoon

Salt

½

teaspoon

Herbes de Provence

½

teaspoon

Garlic Powder

½

teaspoon

Crushed Red Pepper Flakes

¼

teaspoon

Sweet Paprika
Instructions 
Rinse the fresh herbs and remove the thyme leaves from the stems and finely chop the sage.

Combine all the the ingredients in a bowl and mix well, until the ingredients are evenly distributed.

Cover and refrigerate until ready to use. Use within 3 days.
Nutrition
Calories:
202
kcal
Carbohydrates:
1
g
Protein:
13
g
Fat:
16
g
Saturated Fat:
6
g
Polyunsaturated Fat:
1
g
Monounsaturated Fat:
7
g
Cholesterol:
54
mg
Sodium:
433
mg
Potassium:
232
mg
Fiber:
0.3
g
Sugar:
0.03
g
Vitamin A:
115
IU
Vitamin C:
1
mg
Calcium:
21
mg
Iron:
1
mg