Jump to Recipe
It is almost Halloween and you are carving pumpkins with the kids. Don't throw away those seeds! They are perfect for a salty snack that you can enjoy for the next few weeks. The recipe for these roasted pumpkin seeds is short and sweet just like this post. Our base recipe is the same, but we will leave you with several ways to finish off these smoked pumpkin seeds that are sure to please the entire family.
If you are looking for more great appetizer ideas then be sure to check out our Cast Iron Spinach Artichoke Dip, Jalapeno Hummus, and Asiago Nachos.
Making the Roasted Pumpkin Seeds
Harvesting the Seeds
To start, you will need about six cups of seeds which you can get from about four pumpkins. Cut the top off of your pumpkins and start scooping and pulling the seeds out. Separate the seeds from the "guts" but don't wash the seeds!
This is always a fun family affair as the kids love "getting their hands dirty" to pull out the guts of the pumpkins.
Place the seeds in a large bowl. Do not rinse the seeds but do try to remove the large, stringy, strands of pulp.
Roasting Pumpkin Seeds on Your Grill or Smoker
Once you have all yours seeds harvested, spread them into a large foil pan or large sheet pan. Preheat your smoker to 250 degrees. Melt the butter and add the Worcestershire Sauce to the butter and pour all over your seeds. Salt generously and start roasting!
You will want 2-3 tablespoons of butter and 3 tablespoons of Worcestershire sauce to season 6 cups of seeds. If you don't have six cups of seeds, reduce the amount of butter and Worcestershire sauce accordingly.
Once you start roasting, salt generously and stir the seeds around every 30 minutes. Continue this for about 2 hours or until the seeds are nicely roasted, dry and crunchy. Roasting time can vary greatly depending on the size of your pan, number of seeds, etc. Typically it will go a bit and seem like you are not making any progress, then they will finally appear to be "drying out." At this point you have about another 30 minutes to get them nice and roasted. If you are choosing to add vinegar or some other wet flavor additive, add it during the final 30 minutes of roasting so your seeds aren't soggy.
You can add other dry flavorings to your roasted pumpkin seeds during the final 30 minutes or after you are done roasting. Store the finished and cooled seeds in an airtight container or bag for two weeks and enjoy!
Looking for more Halloween recipe ideas, check out these delicious Pizza Calzones: Skullzone (Halloween Pizza Stuffed Skulls)
Finishing up the Roasted Pumpkin Seeds
The best part of these smoked pumpkin seeds is the multiple ways that you can finish them off. The base recipe should yield about 6 cups of seeds, which is more than enough to try out a few different recipes. Our kids love them as is with just the basic recipe, so eating them that way is perfectly fine, too.
Togarashi Spiced Seeds
One of my favorite ways to eat these seeds is by giving them a little kick. I love the flavor profile of Japanese Togarashi. Simply sprinkle 1 teaspoon of seasoning per 1 cup of seeds. You can do this at the end of roasting, or to get the seasoning to adhere better, add it the last 30 minutes of roasting.
Salt and Vinegar Seeds
Add ½ teaspoon of salt and 1 teaspoon of distilled white vinegar per cup of seeds. For this type, it is best to add the salt and vinegar to the last 30 minutes of roasting, so the seeds do not become soggy.
BBQ Flavor Roasted Pumpkin Seeds
Sprinkle 1 teaspoon of seasoning per 1 cup of seeds during the last 30 minutes of roasting or just as the seeds are finished roasting. Use your favorite BBQ rub, but pay attention to the salt content in the rub, as the seeds are pretty salty to begin with.
Thank you for taking the time to visit our blog. If you tried and enjoyed our recipe please share with others and please leave us a comment and review. We also love to see your pics so don't forget to tag us @Carne_Diem_Culinary or #CarneDiemBlog. To be notified of future recipes please follow us on Facebook,  Instagram, or Pinterest, or sign up for our e-mail notifications. Until next time, Carne Diem!
📖 Recipe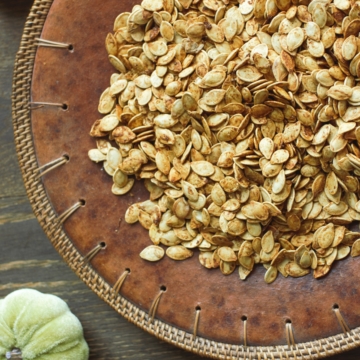 Roasted Pumpkin Seeds
The best part of carving Jack-O-Lanterns is roasting the seeds you have pulled from the messy insides of the pumpkin! With so many different flavor options, everyone in the family can enjoy their favorite.
Ingredients  
6

Cups

Pumpkin Seeds

Generally from about 4 pumpkins

2-3

Tab

Butter

3

Tab

Worcestershire Sauce
Instructions 
Remove the tops from the pumpkins and scoop out the seeds to a large bowl. Do not rinse the seeds but try to remove the large strands of pulp.

Preheat your oven or smoker to 250 degrees.

Measure the amount of seeds you have to determine how much butter and Worchestershire Sauce you will be using. We harvested six cups of seeds from four pumpkins.

Melt two tablespoons of butter and then add 3 tablespoons of Smoked or Original Worchestershire Sauce to the butter.

Spread the seeds out in a large foil pan or metal sheet pan. Pour the butter and Worchestershire Sauce over the seeds. Heavily salt the seeds and mix the seeds around.

Place the seeds in the oven or smoker. Every 30 minutes, salt the seeds again heavily, mix the seeds, and continue roasting. Continue this for 1 ½ hours to 2 hours. If you are adding vinegar, do so during the last 30 minutes to keep the seeds from being soggy. You can also add other dry flavorings during the final 30 minutes of roasting or after the seeds are completely roasted.

Remove the roasted, dry seeds from the oven after 1 ½ to 2 hours of roasting and enjoy them after they have cooled or store them in an airtight container or bag up to two weeks after roasting.
Nutrition
Calories:
398
kcal
Carbohydrates:
9
g
Protein:
19
g
Fat:
35
g
Saturated Fat:
8
g
Polyunsaturated Fat:
14
g
Monounsaturated Fat:
11
g
Trans Fat:
1
g
Cholesterol:
10
mg
Sodium:
121
mg
Potassium:
587
mg
Fiber:
4
g
Sugar:
2
g
Vitamin A:
134
IU
Vitamin C:
2
mg
Calcium:
40
mg
Iron:
6
mg